Rings / Women
Grandma's Birthday Coming Up? Check our Selection for Grandmother Rings!
Grandmother rings are the newest ring to derive from the well-known mother's ring. If you haven't already heard of the mother's ring, the ring includes the birthstone of all her children. So the latest trend to hit the high street is the grandmother ring.
Like the mother ring, this one includes the birthstone of her children and grandchildren. This ring is, therefore, a great way of having a personalized piece of jewelry that carries plenty of sentimental value.
With this ring you can choose the number of birthstones to feature in the ring and the type of metal, making it a great birthday gift for grandma!
Choosing grandmother rings
Whether you're choosing grandmother ring for yourself, your mum or grandmother there are some important things to consider. Take, for instance, the type of metal you'd prefer, how many birthstones to include and what size of the ring you should get.
When it comes to the metal type, it's best to do some research and find out what your grandmother's favorite metal type is. Normally there will be a choice of white gold, yellow gold, rose gold, silver or platinum.
When it comes to choosing the birthstones for your ring, there are lots to things to think about. Whether you want to include the birthstones of the grandchildren or whether you should include children as well.
This decision really comes down to personal preference and how many children and grandchildren there are in the family. It will also depend on the type of ring you choose and how many stones it will hold. It's important to remember the more birthstones you include in the ring, the higher the price of the ring.
Another thing to consider is which finger your grandmother is likely to wear her ring on as well as the type of jewelry she likes to wear and which finger she prefers to wear her rings on.
Also, if you can, try and sneak one of her rings to the local jewelers so you can check the size. That way, when you order her ring, this will guarantee you have the correct size.
The meaning of grandmother rings
A grandmother ring is a piece of jewelry that represents a grandmother's diverse family. The most striking thing about it is the colorful birthstones that represent the birthdays of your grandmother's children or grandchildren.
When it comes to the gemstones can either be authentic birthstones or can be artificially simulated stones. You may also have the choice of personalizing the ring with an inscription or even including the name of your child or grandchild alongside the birthstone.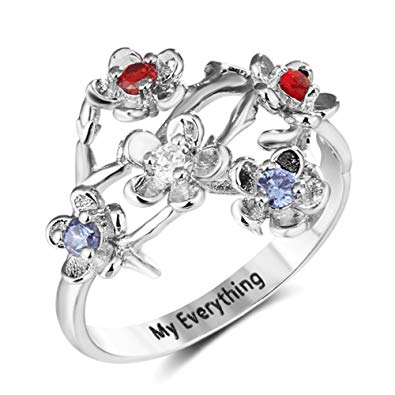 This type of ring is a lovely way of displaying the pride she has for her family, without saying a single word. The ring is also a classic piece of jewelry that has plenty of sparkles and will never grow old or lose its style. A grandmother ring will be a firm favorite in any grandmother's jewelry box and will never grow tacky.
Month, birthstone and color of the birthstone for grandmother rings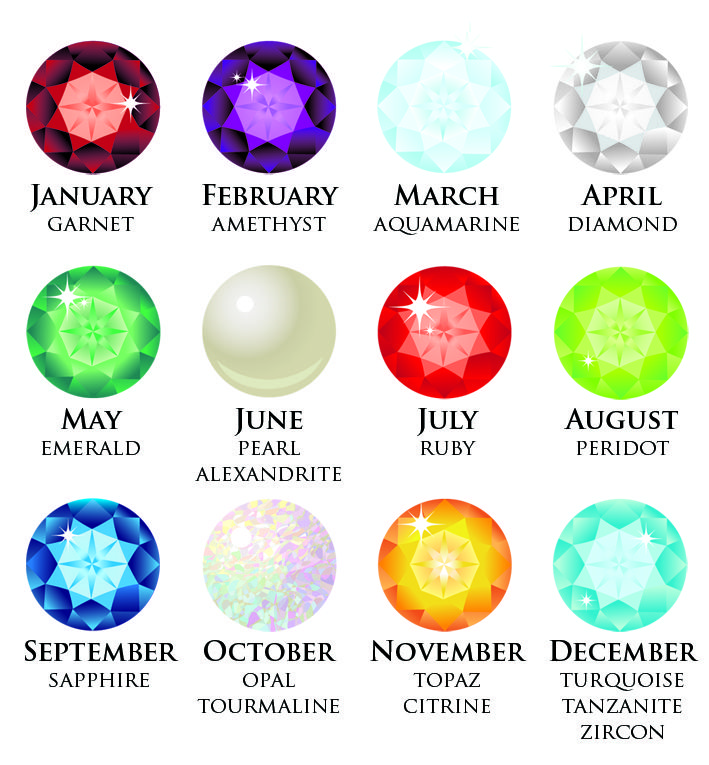 Our 10 favorite grandmother rings!

1. Diamondido 4 Simulated Gemstone Ring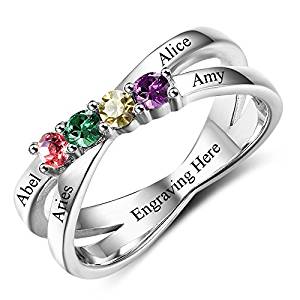 Silver and colored gemstones look great together and this grandmother ring is no exception! This pretty silver ring is made up of two intertwined bands that cross over each other.
Along with one band, this ring features space for four gemstones while there is also room to include the name of four grandchildren or children. The ring also offers the option to include a personalized engraving on the inside of the band.
Made from rhodium-plated brass this gorgeous ring could definitely be a mistake for white gold or sterling silver piece. The rhodium-plated brass not only ensures that the ring is durable but prevents it from tarnishing. The rhodium-plated band also has a lovely shine and smooth finish to it.
As explained previously, the great thing about this type of ring is that they can include the simulated birthstone of grandchildren and children.
Within this particular piece, the gemstones will be securely held in place by a 4 prong setting. The selected birthstones will also be shaped into a round shape.
It offers even more personalization in the form of the grandchildren's name and a personalized message on the inner band. The names are written in a handwritten font, giving them a scripted feel.
The message featured on the inner band also allows you to include a unique message that will hold a lot of meaning to the receiver.
This pretty ring has been packaged in a cute brown ring box that includes a message and decorative flower on the lid of the box.
2. Lam Hub Fong Infinity Ring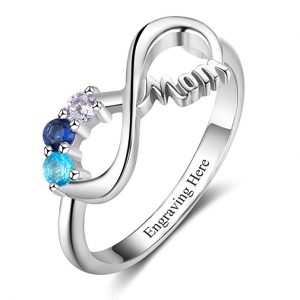 This pretty piece has been crafted into an elegant bow-shaped ring. One side of the bow features three gemstones while the other side of the bow features a lovely personalized message saying 'Mum'.
If you're looking for a present for both your mum and your children's grandmother, this ring would make a lovely gift!
It has been crafted using a rhodium-plated brass metal. Not only does this mean the ring will be very durable, but it will also prevent it from tarnishing.
Made from rhodium, this metal will also leave the ring with a beautiful smooth shine that will light up any room! The ring also allows for three gemstones to be featured. To ensure the gemstones are secure, they have been secured through a prong setting.
The rhodium-plated brass band has been designed to include the word 'Mum' on the right side of the bow, giving it some lovely personalization. The inner band also allows you to include a special message for your children's grandmother, making this ring extra special.
Packaged in a jewelry box with a polishing cloth, this ring would make a great birthday present for the grandmother in your life. Made to feature three birthstones, this ring will make a very special present for grandmother which she will cherish for years to come.
It has been designed and made by Lam Hub Fong who is located in California, USA and create unique pieces of jewelry that feature birthstones and personalized engravings.
They create a variety of jewelry pieces including necklaces, bracelets, bangles, rings, and pendants. If you're looking for a special gift, this designer is a great place to start!
3. NANA  Ring in Sterling Silver or 10k Gold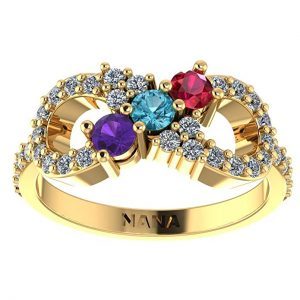 We love a splash of gold, so why not take a look at this is stunning yellow-gold grandmother ring from Central Diamond Centre. It will be a great addition to anyone's wardrobe!
Priced at a high price, this ring has been designed in a bow shape and has been decorated when an array of colorful gemstones. If you like your jewels, you'll love this piece.
This gorgeous piece has been made from 10k yellow- gold and has been shaped into a bow shape ring. Depending on how many birthstones you'd like to feature, this ring can include between one and six colorful gemstones.
A variety of colorless gems also work really well in complementing the gemstones. Each stone has been shaped so it's a round shape and is held securely in place by four prongs.
One of the reasons why we like this ring so much is because of yellow-gold metal. This gold adds a lot of warmth and richness to the ring and will complete your outfit very well.
The color gold also represents a mystical power, divinity and brings a person a certain level of status that is gained from wearing gold. However, if you don't like yellow gold this supplier offers you the choice to choose from sterling silver, white gold or rose gold as well.
This stunning ring is designed by NANA and is being sold by Central Diamond Centre. Looking at NANA's jewelry collection, the design and sell a variety of jewelry pieces including stud earrings, sparkling pendants, and colorful rings!
Their jewelry also ranges from medium to high prices. If you have a higher budget allocated for your grandmother ring this ring would make a fantastic gift!
4. Love Jewelry Personalized Ring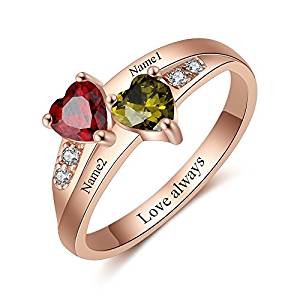 Heart-shaped gemstones are the perfect symbol to represent the love you have for your grandmother. Featuring them in this ring will make her feel truly special and will remind her how much she is loved by the whole family.
This gorgeous piece consists of two overlapping bands made in a rose gold color. Both heart-shaped birthstones are positioned center stage on this band, allowing them to complement one another.
This band also features a bit of glitz and glamour, in the form of clear diamonds either side of the gemstones. There is also the opportunity to feature the name of your grandchildren, giving the ring some additional personalization.
Lets also not forget the opportunity to feature a message like 'Love always' on the inner part of the band.
This beautiful ring has been made from a rose gold rhodium plated brass color. Not only does the use of rhodium prevent tarnishing but it will also ensure the ring is durable which means it will last for years and years to come.
The two birthstones have also been cut into a heart shape and a cubic zirconia birthstone features in each setting. It also features small round colorless gemstones alongside the heart-shaped gemstone.
This piece has been designed and sold by Love Jewelry for a high price. Love Jewelry offers an extensive collection of jewelry consisting of rings, pendants, necklaces, bangles, and bracelets.
One thing all of these pieces have in common is colorful birthstones. What this jeweler does well is that they offer a variety of different designs to suit your style.
They also manage to make every individual piece feel unique and different from the other piece. What more could you ask for?
5. Engraved 3 Childrens' Names Ring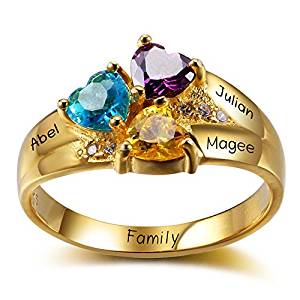 This is another of our favorite gold grandmother rings! This piece consists of a single band at the back of the ring and a double band at the front. It is then designed with three heart gemstones, clustered together, representing the close relationship between the grandchildren.
The position of all three grandmother rings definitely creates a united symbol and closeness of the family and grandchildren. You could also interpret the positioning of the three stones as a heart. Next to each gemstone, there is space to include the name of your grandchild which gives the ring even more meaning.
On the inner band of the ring, there is also the word 'Family' that signifies the importance of family. Whoever gets this as a birthday present, their grandmother will be very happy!
This piece will come in a lovely gift box that will make your grandmother feel very special. It is thought that the simulated birthstones can bring good luck and happiness to the receiver.
Birthstone can also improve someone's self-confidence. This ring is extremely comfortable which makes it great to wear on an everyday occasion.
It has been made by Diamondido who specialize in making personalized gifts. Take a look at their collection, you know you want to!
6. U'r Family Ring 1 to 9 Simulated Birthstones

If simplistic jewelry is your style then take a look at this gorgeous grandmother ring from NANA! In a simple sterling silver band, this ring can feature up to nine simulated birthstones. If you've got a huge family and your mum has got heaps of grandchildren, this would make the perfect ring to wear.
Made from sterling silver, this ring has a lovely smooth shine to it! The band is a slim ring and has a mirror-polished edge to it. The smoothness of the band also makes it extremely comfortable to wear so you won't want to take this lovely ring off.
The great thing about it is that if you don't have as many as nine birthstones to include in this ring, the designer will include a clear Swarovski zirconia simulated diamond in the blank space.
These clear diamonds will work well in reflecting the colorful birthstones and complementing them. Each gemstone featured in this ring has been cut to a round shape, measuring approximately 3.0mm and is about 2.5mm thick. The gemstones are also held securely in place by a prong setting.
What we love about it is that it will match any outfit. This is definitely a timeless piece of jewelry that would be a fabulous addition to anyone's collection of jewelry.
This ring would make a lovely birthday gift for your grandmother or mum. It looks like a fantastic piece of artwork and is a great piece of sentimental jewelry that she'll cherish for years to come.
This particular piece is also available in rose gold, white gold or yellow gold. The ring is also being sold for a  high price but is well worth the money!
Sold by Central Diamond Centre, one thing's for sure, you can expect to see lots of diamonds in your ring!
7. Diamondido Personalized Gift Ring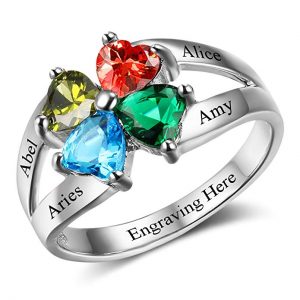 If you like flower-inspired jewelry this jeweler has done well in creating a gorgeous ring that represents a flower in the form of four separate birthstones. This colorful flower really does take center stage in this ring!
The name of each grandchild is also featured alongside each simulated birthstone. There is also the option of including a personalized message in the inner band of this ring. There is a lot of attention to detail that has gone into this ring and that's why we simply love it.
It has been made from a rhodium-plated brass. This not only makes it durable but will also prevent it from tarnishing. Each gemstone has also been held securely in place by a three-prong setting which overall creates a lovely flower.
This grandmother ring offers heaps of personalization within it. From the birthstones to the ring band, there is plenty of opportunities to make it one of a kind.
The band provides enough room for the grandchild's name to be featured alongside the birthstone. The inner band also allows a word or phrase to be included in the ring.
Giving this ring as a birthday present to your mum or grandmother will definitely show her how much you care and love her.
Yet again, we've chosen a Diamondido ring because we love their collection of jewelry so much. If you like their collection too, take a look at their website now!
8. NANA Princess – Silver or 10k White, Yellow or Rose Gold Ring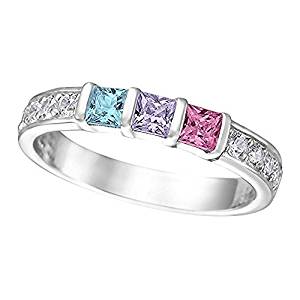 This simple piece has been beautifully designed with a single band of dazzling diamonds. Red, blue, green… whatever the color, this ring has been made to feature lots of gems.
Each individual birthstone has also been separated by a small metal bar avoiding the birthstones merging into one another. This ring is definitely suited to a younger grandma because of its modern look and feel.
This lovely ring has been created using a sterling silver metal. This choice of metal not only makes the ring extremely shiny but also very smooth and comfortable to wear.
What's great about this ring is that you have the option of including up to six simulated birthstones. Even if you don't have as many as six birthstones to feature in the ring the designer will include clear diamonds in their place!
Each colorful gemstone has been created from a cubic zirconia gem and has been shaped into a princess cut, measuring approximately 3.5mm wide by 1.9mm thick.
What's great about sterling silver is that this metal is thought to bring the wearer calm and balance to their life. Sterling silver is also known for mirroring the sole and being reflective.
It is also believed that it brings the owner protection from evil and negativity. These are just a few reasons why we love it so much!
However, if you don't like sterling silver the designer has given you the option of purchasing this stunning ring in rose gold, white gold or yellow gold, giving you plenty of choices when it comes to the metal type. This ring also arrives in a pretty little jewelry box that will protect your ring.
9. Diamondido Mom Ring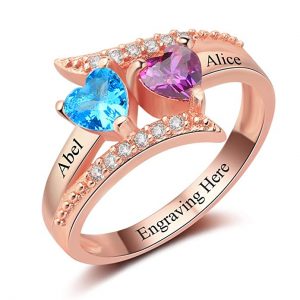 The popularity of rose gold jewelry continues to rise so we had to include this rose gold ring in our top ten list of grandmother rings! This rose gold band has two hearts positioned in the center of this ring.
Above and below these gemstones features a strip of rose gold metal which includes clear sparkling diamonds. What makes this ring different to the others is that it includes plenty of jewels that make it truly sparkle!
It also includes a rhodium-plated brass coating that makes it durable as well as shiny. The ring features colorless cubic zirconia stones and two simulated birthstones securely positioned in place by a three-prong setting.
Alongside the two hearts, there is also space along the band to include the name of your grandchildren. On the inner side of the band, there is also the option to include a message. There is plenty of opportunities to personalize this ring for your grandmother and make it really special!
It has been made by Diamondido and is being sold for a low price. If you take a look at their selection they offer a variety of jewelry including rings, pendants, and necklaces, all of which include colorful birthstones.
Sold at a low price, if you love your ring so much why not buy a second one so you can wear one on each finger. Take a look at their collection!
10. NANA Ropse Grandmother Rings
To finish off our list we've decided to choose this high priced ring because it has a very unique style. If you've got some extra dollars to spend, take a look at this piece!
This option can feature up to ten simulated birthstones, depending on how many grandchildren or children you have. The simulated birthstones have been cut into a round shape and have been secured in place by a prong setting. The band also includes colorless cubic zirconia jewels which are 2.5 inches by 3.5 inches in length.
What makes it unique is that it includes a rope style boarder along the top and bottom of the ring. If you don't like rose gold, it is also available in sterling silver, 10k white gold, yellow gold, and platinum-plated silver.
It is being sold by our good friends at Central Diamond Centre. Packaged in a lovely ring box, you'll adore these grandmother rings as soon as it arrives. Browse their collection – you'll be spoilt for choice!
There you have it. These grandmother rings are our top choices. Let us know what is yours!