Princess Cut Engagement Rings: Our Favorite Selection!
last updated:
Dec 02, 2021
There's no doubt that princess cut engagement rings are the perfect way to tell your partner you want to spend the rest of your lives together.
With their classic brilliance, they're a showstopping accessory your lover will wear daily. Also, with their popularity, you can guarantee there are several unique ring styles to choose from.
When hunting for the perfect engagement ring that shouts, "Forever," consider these fabulous styles. We've curated a list of some of the most iconic rings you're bound to find.
Top 7 Picks!
1

. Gabriel & Co. White Gold Princess Cut Diamond Ring
The Gabriel & Co. 14K white gold princess cut diamond ring combines modern and vintage accents. It's the type of engagement ring that's sure to impress even the pickiest fashionista. With a classic princess cut diamond front and center, you'll find it's a fantastic way to showcase your undying love.
Read more
The traditional placement of the surrounding diamonds complements the center set princess cut diamond perfectly.
The center stone measures 5.5mm with a total carat weight of .09 carats. You'll find it's the ideal alternative to a large carat diamond, as it looks similar in size and has a more affordable price tag.
When combined with the other diamonds set into the band, you'll have a total of one carat worth of diamonds.
One of the more unique features of this engagement ring is that it can be customized to your desires.
You can choose from an assortment of diamond cuts as well as the carat weight you're interested in. With each customization, the ring becomes more and more unique to you and your partner.
2

. Clara Pucci Princess Cut Simulated Diamond Ring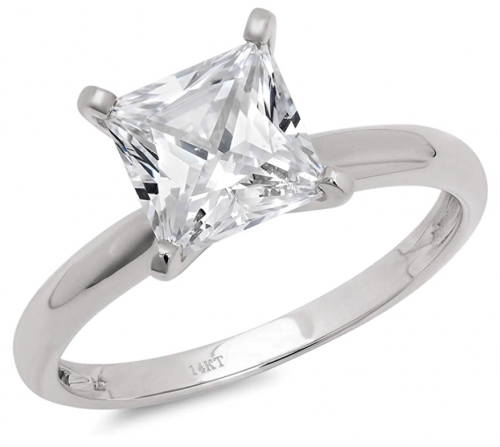 Are you looking for a princess cut engagement ring that is simple? There is definitely a special kind of beauty in simplicity. This ring is all about featuring that princess cut stone that you have been dreaming of. It is made of solid 14k white gold and is a well-priced designer piece.
Read more
The stone is a cubic zirconia diamond that keeps that price where you want it, while also offering the quality that you are looking for.
It comes in sizes 3.5-11. We don't often see princess cut engagement rings that are made available to order in such small sizes, so we love that it has an abundance of sizing options to ensure that you will be able to get one that is perfect for you or your significant other.
In order to make sure that you can keep the sparkle that you love so much about it, simply make sure to clean it.
That can be as easy as taking warm water with a little bit of mild soap to dip it and softly wipe it clean every now and then if you see the sparkle start to fade. This engagement piece is a gorgeous and simple piece that is sure to invite smiles and compliments.
3

. Blue Nile Micropave Diamond Engagement Ring
If you love the idea of princess cut diamonds, but with a little more sparkle, this engagement ring is designed for you. The Blue Nile petite micropave diamond engagement ring capitalizes on everything we love about simple princess cut rings. However, it also boasts even more glistening gemstones that are sure to impress.
Read more
Many outstanding features set this ring as one of our top choices on this list. First, you'll fall in love with the spectacularly cut princess diamond that sits comfortably in the ring's center.
Surrounding the perfectly sized center diamond is 22 individual round diamonds inlaid into the band.
In total, there are 22 round diamonds, giving you a total carat weight of .09 for the entire ring. It's also important to note the average clarity for the diamond is VS2, which is remarkable for this price point.
As an added benefit, the average color is H, giving you a sparkling brilliance that's unforgettable.
One of the more unique features is its band type. Crafted from pure platinum, this band is one of the most luxurious you'll come across. The band's total width is 1.7mm, making it the perfect thickness for dainty jewelry lovers.
4

. Helzberg Lab Grown Diamond Engagement Ring
If you love the idea of owning a diamond ring but want to ensure it's conflict-free, lab-grown diamonds are ideal. The Helzberg lab grown diamond engagement ring has everything you could possibly want in a minimalistic, modern engagement ring. We guarantee you'll fall in love with its simplicity at first glance, making it the ideal choice.
Read more
Lab-grown diamonds are booming in popularity as they're crafted using eco-friendly and conflict-free methods.
It's .5 carats, making it the perfect middle ground for an affordable yet still luxurious engagement ring. The sparkling brilliance of the diamond looks identical to a naturally sourced diamond, speaking to its overall quality. Also, it's GCAL-certified, which assures that you have a quality diamond on your hands.
The stunning 14K white gold band is beautifully polished and elevates the appeal of the ring. You'll also find the piece is available in numerous sizes, making it easy to find the perfect fit.
Proposing to your significant other only happens once in your lifetime, and you need the perfect ring to match the milestone. The VRAI The Duet is a phenomenal option with its unique architecture and glistening diamonds. You'll fall in love with its uniqueness, making it ideal for the boldest jewelry lovers around.
Read more
By far, the most significant feature of this ring is its structural design, setting it apart from others. You'll find there are dual bands that merge together to create a graceful silhouette.
The design takes its inspiration from the joining of two lives into one. Both bands are separate towards the front and conjoin at the back, turning into one streamlined bar. You'll fall in love with the slender nature of the band, which nestles gently at the base of the finger.
There's a beautiful combination of modernism and vintage appeal that makes this ring incredibly versatile. The stunning pave band paired with inlaid diamonds and the centered princess cut diamond set it apart. In total, you'll have .19ctw pave and .38ctw double pave diamonds.
The center princess-cut diamond can be adjusted based on your preference for diamond size. However, 1.5ct is a superb choice for a showstopping engagement ring your partner won't soon forget.
6

. Brilliant Earth Elle Engagement Ring
Choosing the perfect engagement ring is more than finding a piece that matches your partner's style. You'll also want something that can transcend through the ages and look just as iconic as the day you bought it.
Read more
The Brilliant Earth Elle engagement ring offers everything you would expect in a timeless ring crafted with immaculate details.
It's easy to get carried away with engagement rings by adding so many diamonds that it takes away from the authentic beauty of the main stone. This engagement ring solves this problem by offering a simple and minimalistic design. There's no doubt it's bound to be the perfect way to say, "I love you."
Instead of opting for an over-the-top piece, the Brilliant Earth Elle Engagement Ring focuses on the most refined simplicity. It boasts a thin, feminine band paired with a perfectly sized diamond set directly in the center.
With a princess cut stone, you'll have the perfect display of your intent to spend forever with your partner.
Also, you have complete control over the carat size, opting for a diamond as small as 1/3 carat to two carats.
The minimal 18K yellow gold band is perfectly polished, making it smooth and secure when worn on the finger.
7

. Dazzlingrock Collection Princess & Round Cut Diamond Ring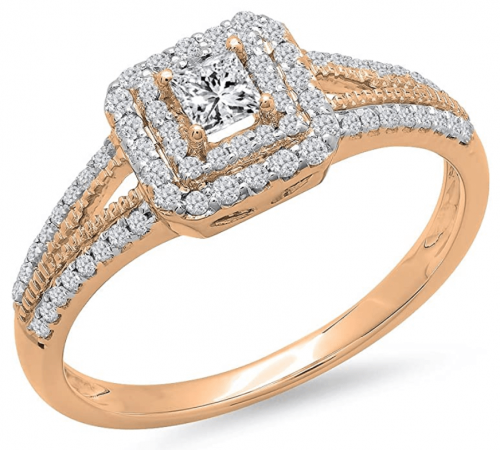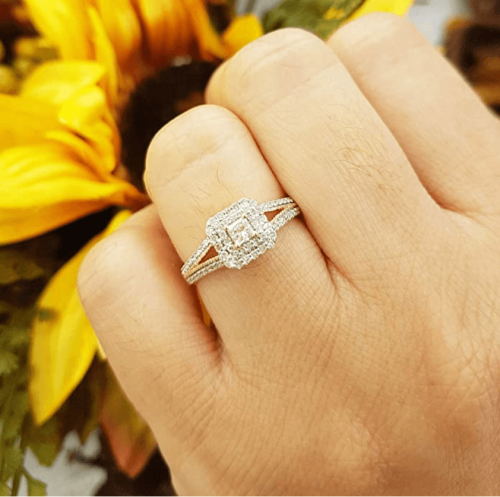 This is a quality piece that is priced fair. It comes in three colors, including rose gold, white gold, and yellow gold. It is available in sizes 4 to 10 and can be resized to ensure that it is money well spent and a piece that you can keep forever without having to worry about it falling off.
Read more
The diamonds in this ring are real and are each stunning in and of themselves, making a combination that is jaw-dropping!
This halo style piece is all centered around the perfectly sized princess cut diamond. The halo effect comes into play as the princess cut diamond is outlined with smaller circular diamonds. They surround this center stone not once, but twice.
The contrast in diamond shapes and sizes catches your eye immediately with this piece. We love the way that the entire halo part of this ring is displayed on a prong setting that makes it stand out just right.
Though it is definitely flashy and full of sparkle, the entire diamond count is right around 0.50 carats.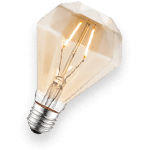 What does princess cut mean?
The princess cut means that the face of the gem that is facing upwards is flat and rectangular or square shaped. Then, from a side perspective, the gemstone is pointed down in an upside-down pyramid type shape.
This specific type of cut is the second most popular of any type of cut, right behind the classic round brilliant shape.
Is princess cut in style?
The Princess cut is timeless and has been seen and used for decades! It is such a simple and elegant way to present a diamond or gemstone.
Because of that, this is a gorgeous and very popular option for any ring, but especially an engagement ring.
Frequently Asked Questions
q:

What is a princess cut ring?

a:

When searching for the perfect engagement ring, you'll come across an assortment of cut types. From round to princess, there are multiple styles to consider. When discussing a princess cut ring, you'll be looking at diamonds with a square-shaped face.

Princess cut rings are known to have a flash of incredible brilliance and fire that sets them apart from the rest. Also, they are by far the most popular choice for the majority of engagement rings.

In most instances, princess cut diamonds are square, although you can find them rectangular as well.
q:

What's the difference between princess cut and diamond cut?

a:

The term "diamond cut" doesn't refer to a specific stone shape, unlike princess cut. Diamond cut can come in various shapes and sizes, including baguette, princess, and round. It's important to consider the brilliance and fire of each diamond cut to determine which is most suitable for your engagement ring.

The cut of your diamond is one of the most important factors that can affect its price. Poorly cut diamonds don't sparkle as much, thus making them a less expensive option. However, a perfectly cut diamond will have noticeable signs of brilliance that reflect light from every direction.
q:

Why is princess cut more expensive?

a:

Interestingly, princess cut diamonds are one of the lesser expensive options when it comes to engagement rings. Higher prices can be associated with larger carat weights, however. If you compare a princess cut diamond to a round diamond, you'll find their prices are significantly lower.

During the cutting process, princess cut diamonds use more of the raw diamond to create the gem for a ring. Therefore, the cost is often lower than with cuts that use less of a rough stone. On the other hand, round stone diamonds use only 40% of the rough diamond, making them more expensive.
q:

Are princess cut rings out of style?

a:

Princess cut rings have a style that will never become unpopular because it offers classic beauty. With the pristinely cut edges and the sparkling brilliance, they're still a top option worldwide.

If you want to purchase an engagement ring that's sure to attract the highest number of eyes, this diamond cut is your best option.