Mix / Rings / Wedding Jewelry
Pick Your Rings from Our Top Wedding Trio Finds!
The wedding industry is one of the largest revenue sources in the United States. Well over $50 billion dollars a year are dropped at bridal boutiques, cake bakeries, florists and other wedding service industries in the United States alone. For couples who want to match their full set, it may be difficult to find a complete matched set when all three rings are purchased separately. While not all couples want or need a coordinated wedding ring set, many do prefer to have consistency. That is where the wedding band trio comes in.
While for most brides the honeymoon and dress are the biggest single expenses, the wedding rings come in a close third. The average amount spent on an engagement ring alone is six thousand dollars in the US. And that's just for the engagement ring.  Most folks also add a wedding band to that rock and a band for the partner to match or complement. All that bling can start to chip away at that wedding budget.
But What About Price?
There is an old standard many folks still abide by. It states that an engagement ring should be two month's salary. This is a terrible rule of thumb. Not only does it leave a huge discrepancy between different earning, but it is also a completely arbitrary number.  
The idea was first introduced by a De Beers ad. It was a campaign launched in the 1940s by the jewelry retailer in a bid to boost their sales.  At the time, less than ten percent of engagement rings featured a diamond. In fact, engagement rings had fallen off in popularity slight after World War II, much fewer diamond ones. The diamond broker launched the campaign and the rule they literally made up stuck in social consciousness.

Not only is it a complete fabrication but it makes no sense. Purchasing a wedding set should consider two factors; a) your budget and spending ability and b)you and your betrothed's tastes. If you or your fiance-to-be love a simulated emerald engagement ring that costs less than one hundred bucks, that is the ring you should go with. There should be no pressure to select the high dollar ring dripping with more diamonds than you care for (or can afford) just because you think the cost should be higher.
The cost of an engagement ring or wedding set has no bearing on how much you love each other. The rings are outward symbols of your deep love for each other. The could cost twenty or twenty thousand but it does not mean you love each other less if you went with the bargain option.
Tips for Selecting Your Wedding Trio
Wedding trios are fantastic. You get a matched set of rings for both people, the engagement and wedding band are designed to fit with each other so there are no awkward angles once both rings are worn full time.  
However, it can be a challenge to find a ring that suits the taste of both people as well as the lifestyles. Here are a few of our most useful tips when selecting a wedding trio right for both of you.
✓ Wear Pattern: You will have to make the choice pretty early if you will be wearing your ring or ring set full time. There is absolutely no shame in taking the ring(s) off for work, hobby, cleaning, or activities. Professionals in several fields are unable to wear their wedding rings, particularly their high-profile engagement rings or even rings at all, while in practice. If you know that you will not be able to wear your ring or ring set full time, consider purchasing a matched chain separately so you can safely tuck away your rings. This way you keep them safe and close to your heart when it is otherwise unwise or unsafe to keep them on your finger.
✓ Metal Choice: For folks who work with their hands a lot or tend to encounter a higher than usual amount of dirt or grime, you might consider a less traditional metal.  Gold is a nominally soft material and prone to scratching. It may even warp is pressed or squeezed hard enough.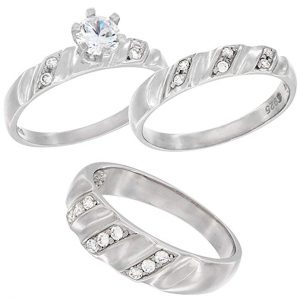 If you will be wearing your ring set in environments wherein there is a greater risk of damage, consider tungsten, platinum, palladium, or titanium.
✓ Lifestyle Match: Your style vibe may scream mile-high princess cut solitaire in carats so high as to be shameful. And those tall, high-profile rings are statement-making to be sure. However, it may not be a wonderful choice for your lifestyle. You will either need to acquiesce to not wearing it full time or select a ring better suited for your line of work or recreation. If you lead an active lifestyle, prong-set stones high off the finger may get in the way. They can scratch you or damage and snag surfaces and clothes. Additionally, it presents a higher risk of losing the stone if constantly bumped and scratched. Be sure your ring choice will not become annoying a few years down the road.
✓ Taste: This is a ring set you and your significant other will be wearing for quite some time (unless you choose to upgrade. See below.)  It is important that you love the ring. It is most important you will continue to love the ring ten, twenty, or fifty years down the road.  
Jewelry trends come and go. Your own tastes will inevitably change as well. While we are the first folks to love a good one of a kind piece, when it comes to wedding jewelry, even we admit the classics are classics for a reason. The timelessness of the designs means even if you stop loving dolphins or gothic jewelry, you do not end up with a wedding ring stuck in that part of your taste history.
✓ Quality & Upgradability: Keeping price in mind, there are no hard and fast rules that you cannot upgrade your rings on major anniversaries, it is not uncommon for couples to purchase a starter set. This saves money for the wedding, living expenses, and honeymoon funds. Plus you get to look forward to new, fancier jewelry every few years. That is a bonus in our book. You can also save cash by picking the rings you love but opting for lab-created versions of your stones of choice. Upgrade them to the real deal when money is less tight.
We have located ten fantastic picks of a wedding band trio to inspire your own ring shopping.
Our 10 Favorite Picks!
1. Simple Band and Feature Setting Trio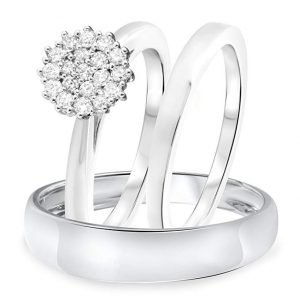 Classics are classics for a reason. We see no reason not to start with the simple and elegant wedding band trio from My Trio. The engagement ring features a flower-shaped pave setting featuring a half-carat of glistening white diamonds.  Beyond that clever use of stone, the rings are simply 14k white gold polished to an almost mirror shine.
The gentleman's band is slightly wider than the lady's band. As for the wearability of the engagement ring and lady's band together, we really could not ask for more.  Because the band of the engagement ring is the same height off the finger as the lady's band when nesting together, the floral pave set simply slides right over the top. They fit together effortlessly to form almost one single ring after the wedding.
This is really the most you can ask for from an engagement set. And the gentlemen's ring is straightforward. This set is perfect for a couple who wants to celebrate their nuptials with rings but are not the biggest fans of either ring or wearing the same pieces daily.  These bands will blend into other looks beautifully.
2. ⅓ Carat Diamond Micro-Pave Trio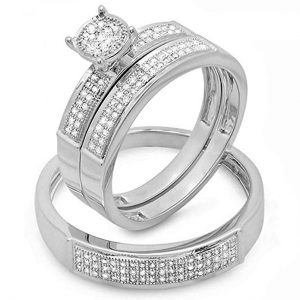 Available in our choice of sterling silver or white gold in 10k or 14k, this trio set features bands of glistening micro-pave set diamonds on both wedding bands. The engagement ring portion of the set also features a pave set disc in a four prong setting as well as more micro-pave set stone across the shoulders. This gives the illusion of a profile feature stone but keeps the price in the more reasonable ranges.
One hundred and thirty-six individual round cut diamonds dance across all three pieces of this ring. The lady's engagement ring and band both feature two rows of diamonds while then gentlemen's features three rows of diamonds. Pave settings are a fantastic way to make a little diamond go a long way. While one hundred and thirty-six is quite a lot of rock, the pieces are small.
Micro-pave capitalizes on the smallest bits of diamonds in the biggest way. They set them carefully so that the facets and light-catching ability are maximized and space them perfectly so the line between setting bead and stone is indistinguishable during regular wear.
3. ½ Carat Diamond Rose Gold Pave Set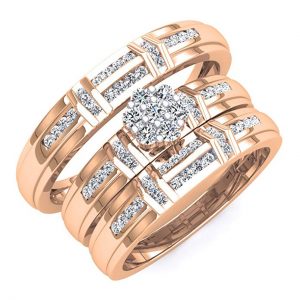 Staying with the pave set, we move up just step into more substantial size diamonds. This set of three features a full half carat between them. Warm, blushing rose gold frames sixty-five I-J, I1-I2 diamonds. We love the angular detailing in the design of the rings.
Bars of rose gold stretch across the face and shoulders of all three rings. It is a very architectural detail and harkens back to the art deco period. With their love of lines and angles, the 1920s produced some stunning pieces utilizing geometric patterns and lines.  This ring set definitely draws inspiration from that!
As with the previous set, a faux solitaire setting effect is achieved with the pave set. This set offers up seven diamonds carefully set in the shape of a flower. Dazzling Rock, the creators of this wedding band trio, cleverly chose to use sterling silver setting beads as opposed to the rose gold of the set. This helps the beads blend in with the setting, furthering the illusion of one massive chunk of ice.
4. Sterling Silver Solitaire and Pave Cubic Zirconia Trio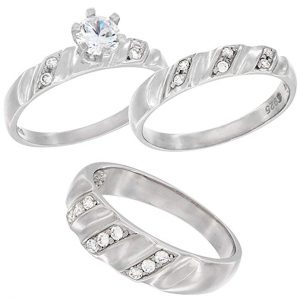 This dainty set is the first of our selections to offer a true solitaire. This one is in cubic zirconia. The lab-created diamond equivalent gives all the brilliance of a gal's best friend but at a far more economical cost. This is a fine example of selecting a well-priced piece to upgrade later.  
925 Sterling Silver encases nineteen round cut ideal cubic zirconia. Ideal stones are cut and finished at the highest possible quality. This means the facets and faces are properly angled and aligned. Light refracts off every angle providing the most dazzling sparkle. Since cubic zirconia treats light similarly, to the untrained eye, there is almost no difference.
The stones are slashed into the rings on a bias or diagonal. Three stripes of three stones each glisten from the gentlemen's ring while two stripes of two stones appear on each of the lady's rings. The effect is quite elegant. Opposite the rows of gems are textural elements on the same bias. It adds a visual distinction that we appreciate immensely in this design.
5. Cubic Zirconia and Brushed Sterling Silver Set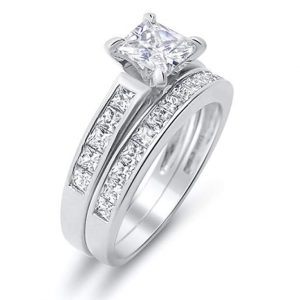 A second set featuring cubic zirconia, this one offers a lot of bling on the lady's pair and a simple, matte finish on the gentleman's ring. A princess cut gem is prong set above a row of pave set stones for the engagement ring. The lady's band has a matched pave set collection of diamonte stones.
The gentleman's ring is simple and subtle. The 925 Sterling Silver is finished with a brushed look, leaving an understated matte finish.  Without additional stones to draw attention to it, the gentlemen's ring is purely about the symbolism of the ring itself without all the added fuss of gems or stones. This also means it is easier to care for.
This is a fantastic set for couples who have unmatched taste in the level of showiness in their jewelry. The wearer who prefers muted looks or does not wear much jewelry will find the gentlemen's ring a perfect match.  However, it is still a wonderful set for the partner who prefers a bolder approach to rings.
6. Starburst Pave and Marquise Effect Set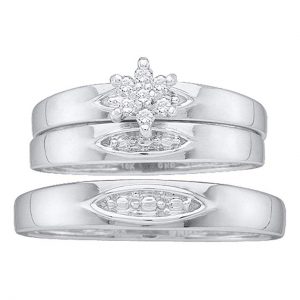 This 10k white gold trio makes clever use of slightly lower grade diamonds with highly polished metal work to keep an economically priced set looking just as lush as the high-dollar matches. Since wedding rings are as much about the commitment a couple is making as they are the look and feel of rich stone work, we love the ability to save a little money and still walk away with some ice. This is a fine set to meet both those goals.
Seven I3 graded white diamonds are arranged in a dramatic starburst shape on the lady's engagement ring. This lady's band features three similar stones pave set into a marquise style shape. This gives the illusion of a vintage style marquise set diamond.  
The gentleman's band is an exact match to the lady's band. The gleaming white gold is the perfect complement to the otherwise muted use of stones.  It is a perfect starter set for couples who intend to upgrade sets in the future or replace lower-graded stones with more valuable alternatives down the road.
7. Yellow Gold and Cubic Zirconia Wrapped Pave Trio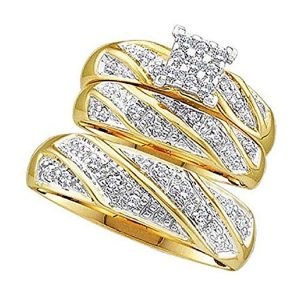 The first of our recommendations in yellow gold, this pays homage to decades gone by wherein yellow gold was the best and only choice for a respectable wedding set. This 14k gold plated over 925 sterling silver gives all the warmth and inviting nature of yellow gold. However, it is so coated in brilliant round cut cubic zirconia, it feels more like the gold is meant only as a support structure for the gems.
A whole host of stones are pave set across the surface of all three rings with a slightly irregular layout in design. This gives a very serpentine look that is just different enough to create a unique yet still classic piece. The lady's engagement ring also includes a faux princess cut pave setting with white setting beads to further the illusion.
All three rings are on the wider side of our selections. This makes it a trio more ideal for people with a taste for bolder jewelry aesthetics. Essentially, it is not for the faint of heart. Since wedding rings are a daily wear item for the vast majority of people, this one takes a certain type of style to pull off. It is not for everyone but for those with whom it resounds, it is positively perfect.
8. Round Cut Solitaire Contoured Complementary Set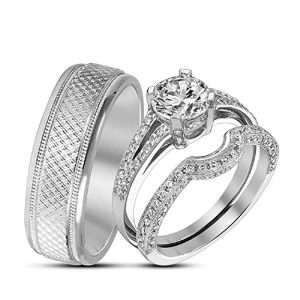 This set is another that does not directly match between the lady's pair and the gentlemen's band. The still go together beautifully but, once more, allow for separate styling tastes. 14k white gold plated over 925 sterling silver holds white cubic zirconia tastefully for the lady's pair.
The feature stone is round-cut cubic zirconia in a four-prong setting, embraced by a slew of pave set stones.  The ring splits in the center to allow the gallery space needed for the feature stone. This is known as a split shank ring.
Many split shank rings present difficulties in finding a suitable matching wedding band. The irregular shape of the ring creates unique challenges. Either you find agree to leave an awkward gapping between the rings or you find a contoured band to snug up to the crest of the gallery. This is where trio rings truly shine. This ring comes with a perfectly matched gem-encrusted contoured band.
The gentlemen's ring manages a bit of glitz without a drop of the gem. Laser created hatchwork provides shining surfaces to catch and refract light without needing to set in stones. It is still more detailed than a simple band but subdued enough for people with less obtrusive jewelry tastes.
9. Garnet and Black Gold Trio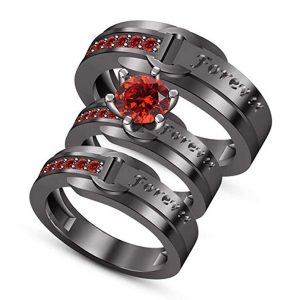 This less traditional pick features 14k black gold with a brilliant pop of red from simulated garnet. Combined with subtle sculptural detail and a lovely engraved element, this ring is certainly unique but with a timeless design sure to withstand the test of time.
The lady's pair features a solitaire stone in a six-prong setting. While garnet is far less traditional than diamond or cubic zirconia nowadays, historically most wedding rings, if they featured stones at all selected from brightly colored stones like emerald, garnet, and citrine.
The black gold plays off wonderfully with the warm red stones. Red traditionally the color of love and passion is also a lucky color in many lores. One-shoulder of all three rings includes more pave set garnet stones. The opposing shoulder is emblazoned with the word forever.
Visible on both the lady's and gentleman's band is a sculptural loop joining the engraving with the row of stones. It is a subtle detail but we love the subtle detail. It is almost as though those things are there just for your enjoyment as they may go unnoticed by most viewers.
10. Claddagh White Gold and Diamond Trio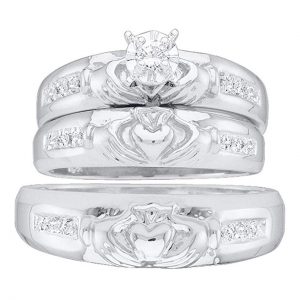 We will end with one of the most traditional designs for wedding rings. Irish Claddagh is a symbol of love and commitment. All three rings feature the hands clasping a heart.  
The lady's engagement ring places a cleverly mounted solitaire diamond atop the heart. The illusory setting makes great use of a smaller diamond and a carefully crafted setting to make it appear bigger than it is.  The stone may only be an eighth of a carat but that matters a little less when looking at all the sparkle this ring manages to produce.
Both the lady's band and the gentleman's band feature an otherwise unadorned Claddagh. While engaged the heart should be pointed out but on the left hand. Once married and the band added to the set, turn the engagement heart pointed inward toward the palm. This is the traditional use of the Claddagh but you can wear it any way you choose of course.
A Note on Sizing
Several of the rings we listed in this post come in the jeweler's standard sizes for men and women's rings. Ladies rings are standard size 7 and men's are standard size 10. Most professional storefront jewelers can easily resize your online purchase in a reasonable amount of time.  Do not let a ring sold in a limited size prevent you from committing to the purchase. You can always have a ring resized appropriately. Most reputable jewelers can add or subtract material from the lower side of the band without a noticeable seam in the metal.
It should be noted that infinity bands cannot be resized easily. Because infinity bands have stones that wrap all the way around the finger, it can present unique challenges in changing the fit. If you do not know your ring size, we recommend a visit to a jeweler. Because there is only 2-3mm difference from one ring size to the next, it is best to have confidence you have selected correctly. Especially when choosing an infinity band.
A Brief History of Wedding Bands
The exchange of rings during nuptials dates back, as with so many jewelry trends, to Ancient Egypt. Papyrus scrolls discovered details brides and grooms exchange rings made of woven grasses and reeds. Since the circle was an important symbol in Ancient Egyptian culture, this was often a high symbolic gesture during a wedding ceremony and unlikely something that the couple wore once wedded.
The Western tradition of putting on wedding rings and leaving them there is more closely aligned with Roman history.  Traditionally a man would present his new wife with a band of iron during the wedding. Originally this was tied to either a dowry (presented by a woman's family to her new husband) or a brideprice (presented by a man to his new bride's family in exchange for her hand.) It later came to represent fidelity.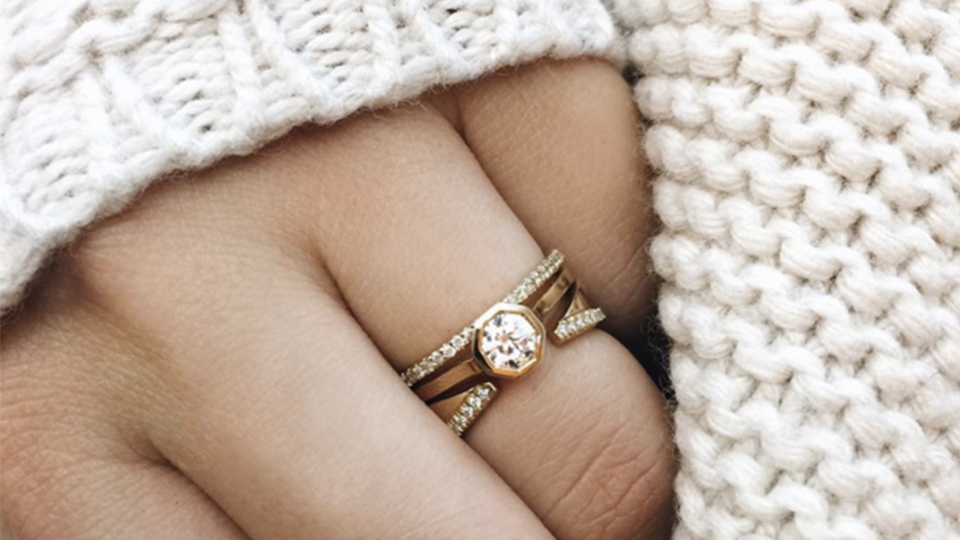 Through the Middle Ages, folks got clever with the purpose and use of the wedding ring. Of course, it was still a sign of commitment and promised fidelity. But certain ring types were also proof of that fidelity. Puzzle and stacking rings were common in the period.  Because they were difficult to remove and return in the same arrangement, a spouse could check their potentially straying mate's ring to confirm the ring had not been recently removed, thus giving the appearance of being unmarried.
While in the United States, typically only a woman wears an engagement ring, it is common in many European nations for both parties of the couple to wear a ring after the proposal. German, Dutch, and Austrian custom include double engagement rings. In some traditions, the bride is presented with a second, more fanciful ring at the wedding. This feels like the opposite of the United States tradition of the engagement ring typically being the fancier ring.  The wedding band that later accompanies it is typically plainer.
There is also variability in which hand a wedding ring is to be worn. The ring finger of the left hand is the most common if not traditional.  In several Latin countries, an engagement ring is worn on the left but moved to the right hand during the wedding.