Matching Bracelets for Couples that You Both Will Love!
last updated:
Sep 28, 2021
While matching your outfits can be a fun way to show off how great your relationship is, if you're not sure that you two could coordinate based on your styles being very different, there is another option: matching couples bracelets!
It's a great way to express how important the relationship is to you both, and can be as subtle or as bold as you both would like.
We've handpicked different couples bracelets for you to choose from. No matter your style, we're sure that your partner will want to wear at least one of these matching couples bracelets with you!
Top 6 Picks
1

. DESIMTION Red String of Fate Couples Bracelets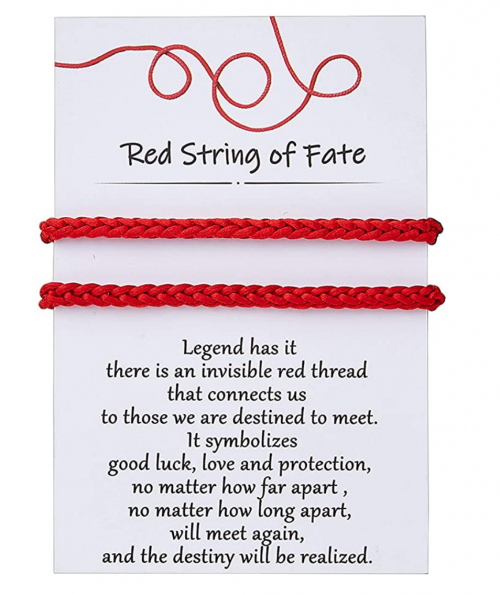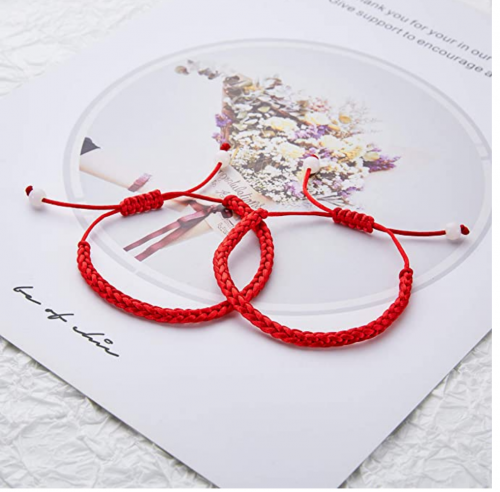 Red cord bracelet
Smooth rope
Highly adjustable
Hand braided style
Red string bracelets have boomed in popularity with their unique meaning and casual appeal. The DESIMTION Red String of Fate Couples Bracelets is precisely what you've been looking for if you want minimalistic couple's bracelets.
Read more
The simple and straightforward style of these bracelets makes them an iconic choice for all couples.
The comfortable, high-quality thread used for each bracelet is charming and chic with a multi-strand braided design.
You'll fall in love with the meaning behind red string bracelets, as they signify protection against evil.
It's also a symbol recognized in several cultures that offers lasting good luck and love.
Long-distance couples will get a unique vibe from their new bracelets, as the infinite design symbolizes your unending love, no matter the distance.
These bracelets are designed with impressive adjustability, making them comfortable for anyone to wear.
2

. Joyplancraft Black Polish Titanium Bracelets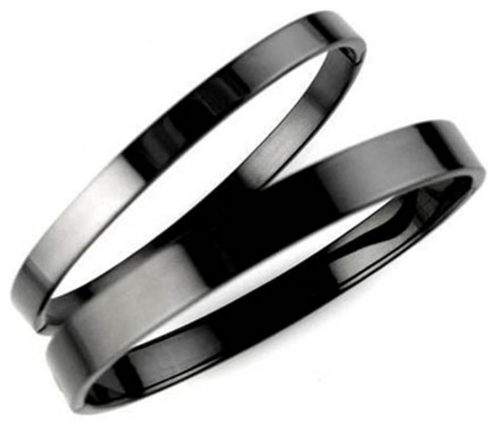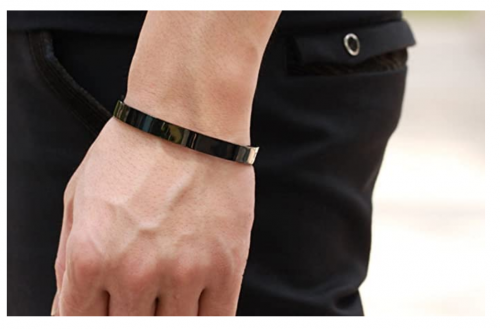 Titanium steel
Laser-cut edges
High-quality polishing
6.7" and 7" sizes
When you think of couple's bracelets, you likely think of hand-braided, casual everyday accessories.
Read more
If you're looking for a piece that's a little more elegant and elevated, the Joyplancraft Black Polish Titanium Stainless Steel bracelet is ideal.
Having coordinating bracelets with your loved one is a distinctive way to show off your bond. These prismatic bracelets have a unique radiance while also remaining low-profile and luxurious.
In this set, you'll receive two bracelets for both you and your partner. One bracelet is seven inches in circumference for larger wrists, while the other is just under seven inches for smaller wrists.
As the bracelets are designed to be bangles, they aren't adjustable, which is an important feature to note.
The quality of each piece is remarkable, offering a smooth and contemporary style.
3

. Valentines Morse Code Bracelets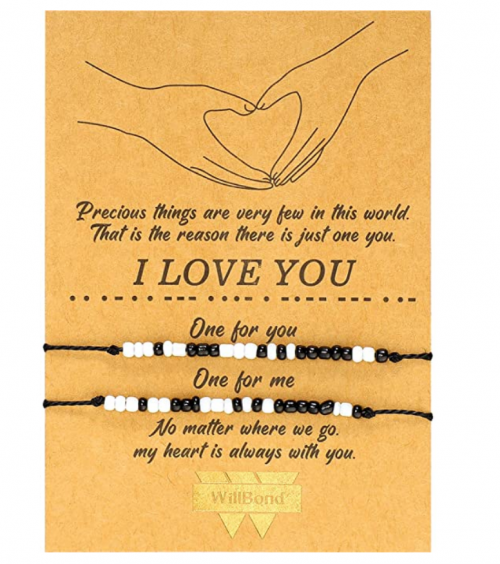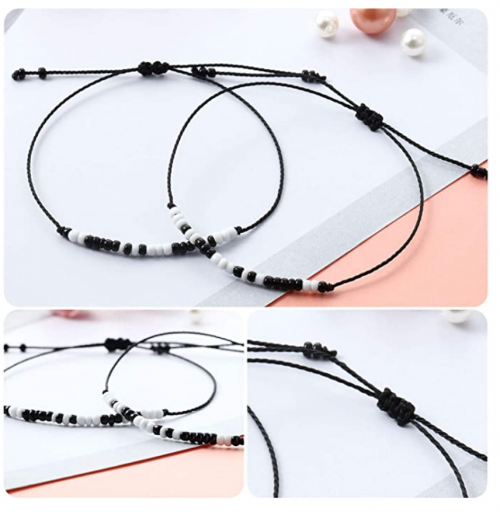 High-quality nylon cord
Hematite electroplated beads
Black and white classic style
Hidden morse code message
The bond between you and your partner is unique, much like the Valentines Morse Code Bracelets. These couple's bracelets have a hidden meaning that will sit close to your heart, much like your relationship.
Read more
By far, the most unique feature of these bracelets is how they're designed. Along the black cord bracelet, you'll find a line of individual beads specifically organized in morse code.
Each bracelet spells out "I love you," speaking to the hidden meaning of the accessories.
You and your partner will be able to share a secret code that is unknown by the average person to symbolize your commitment.
We love the idea of gifting this bracelet to a new partner to tell them how much you care about them.
It's also a unique couple's gift for the history buff in your life.
The quality of these bracelets outperforms many other handmade relationship bracelets.
4

. Liu Jun Couples Magnetic Bracelets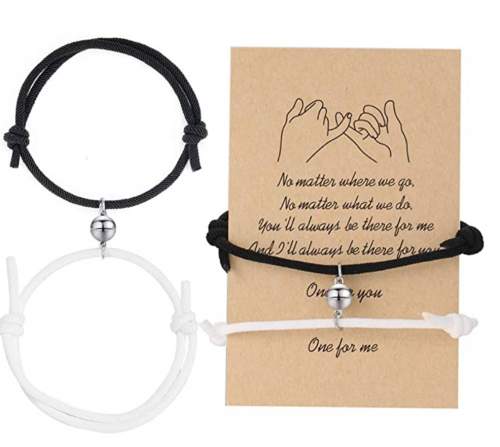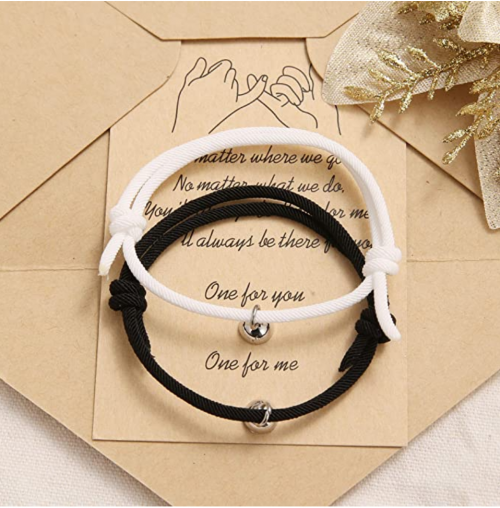 Black and white corded bracelets
316 stainless steel embellishments
Dainty magnetic charm
Fully adjustable size
When you first set sights on your partner, you probably felt like two magnets attracted to each other. These bracelets are the perfect addition to your collection of couple's jewelry with their chic style and beautiful features.
Read more
The magnetic bracelets are available in numerous colorways, but our favorite is black and white bracelets.
These two classic colors go with everything, and they help showcase the stunning embellishments of the bracelets.
You'll receive one black bracelet with silver accents and one white bracelet with silver accents in the set.
There's a tiny magnetic charm on each bracelet that will automatically connect to your partner's bracelet when you're close together.
This embellishment shows that you have a connection, whether you're in the same room or thousands of miles away.
5

. Wolentty His and Hers Matching Bracelets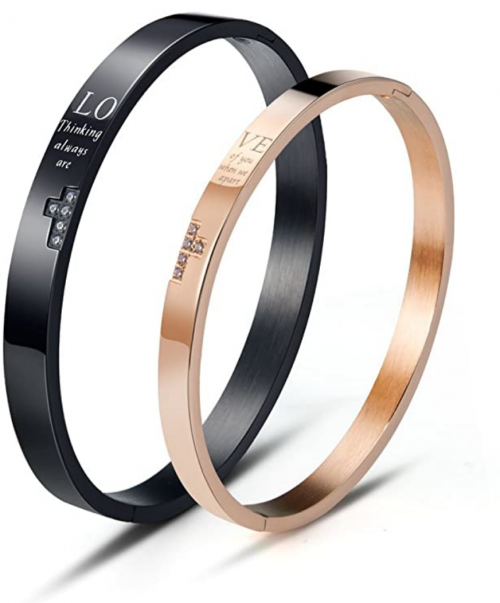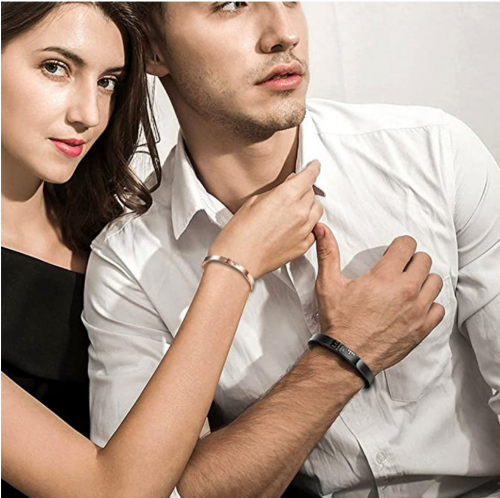 Stainelss steel
Link chain
18K
If your love is rooted in the Christian faith, then this pair of bracelets from Wolentty will be perfect for you.
Read more
This set contains one black bracelet, and one rose gold-colored bracelet with an inscription that goes across the two of them which reads, "LOVE – Thinking of you always when we are apart."
Faith can be an incredibly powerful way that people join together in a relationship, and what better way to express that dimension of your love than with these couple's set.
The set is made of stainless steel, which means these are hypoallergenic, tarnish-resistant, and lightweight.
In the center of both bracelets is inlaid cubic zirconia, which becomes the shape of the Christian cross when putting together.
These cross-matching couples bracelets come with a gift box as well, so if you want to surprise your significant other with these, you don't have to do any extra shopping!
6

. Be Genuine Personalized Matching Set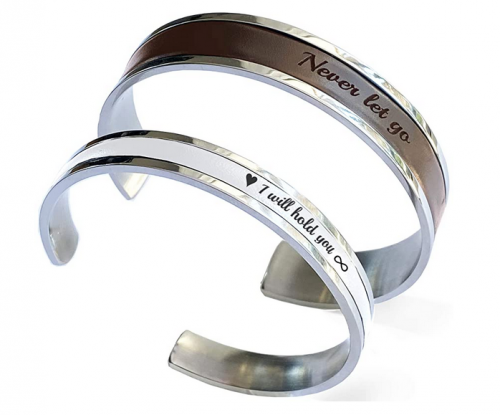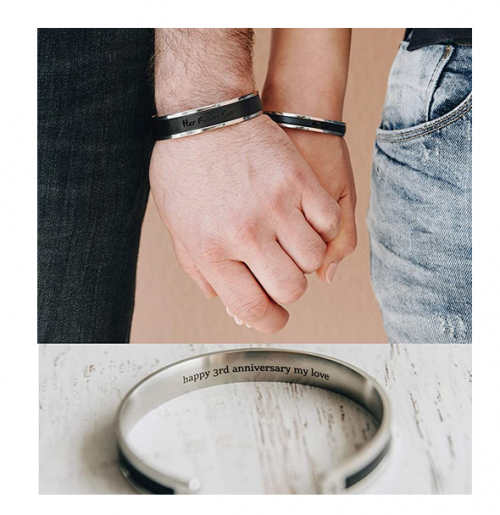 Personalized with your text
Adjustable by bending
Handmade bracelets
Made from stainless steel and leather inlaid into the cuff, these unique bracelets are lightweight and durable. The material does not tarnish, and is hypoallergenic!
Read more
Our favorite part about this set is that you can have custom engravings done up to 30 characters on the inside as well as the surface of the bracelets.
This is perfect for initials, an anniversary date, or another short phrase that is special to you both. Each engraving can be custom as well, so if you don't want the phrase to match, that's fine too!
It's perfect for those "his and hers" type of messages. The leather itself is also highly customizable, offering seven different shades to choose from.