Men / Mix / Women
Matching Bracelets for Couples that You Both Will Love!
Marianne 28 Feb 2020
8343
Are you part of a couple that likes matching their outfits together because you're so compatible even your fashion choices match? Do you channel your fashion choices from Bonpon511, the fashionable elderly Japanese couple on Instagram? They coordinate their outfits with each other nearly every day – talk about relationship goals! While matching your outfits can be a fun way to show off how great your relationship is, if you're not sure that you two could coordinate based on your styles being very different, there is another option: matching couples bracelets! It's a great way to express how important the relationship is to you both, and can be as subtle or as bold as you both would like.
Or perhaps you're farther apart than you'd like to be from your partner. People in long-distance relationships might especially like to have a set of matching couples bracelets. Being apart from each other for months at a time is hard enough, but even having a small memento you can wear can help. Knowing your significant other has on a matching piece of jewelry can help ease the divide, whether it's across the country or across the world. Some couples bracelets are customizable as well, allowing you to remind your love of a special phrase, date, or word that's important to you both. Little mementos like that can go a long way!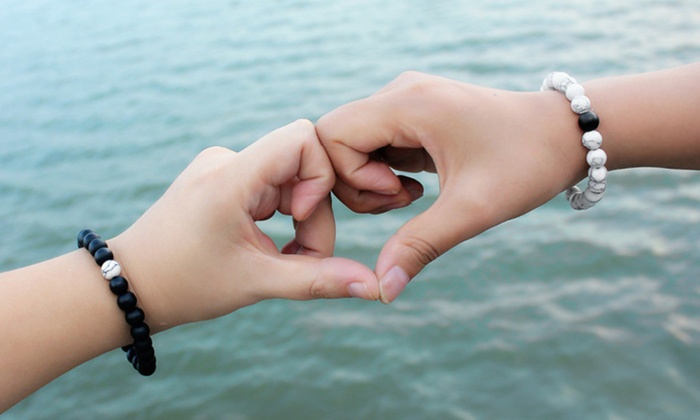 Regardless of the distance between you and your significant other, we know you love jewelry – that's why you're at Jewelry Jealousy! So why not share that love of jewelry with your partner?
We've handpicked ten different couples bracelets for you to choose from. No matter your style, we're sure that your partner will want to wear at least one of these matching couples bracelets with you!
Best Matching Bracelets for Couples
1. Believe London Distance Bracelets With Jewelry Bag & Meaning Card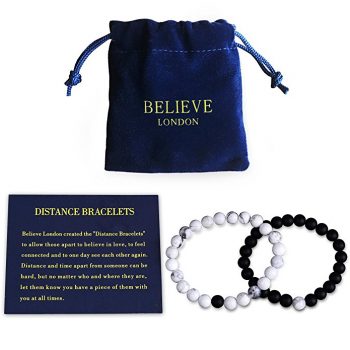 These bracelets were made for long distance couples! Believe London created these "Distance Bracelets" with the idea that they would allow those who are in love but physically separated, to feel connected and hopeful for seeing each other once again.
Made with black onyx and white howlite, each bracelet has one stone from each added into the others bracelet, reminding you that you always have a piece of them near you no matter how far away they are. The colors are simple and can be worn with a multitude of outfits as well. Black and white can match nearly anything! Distance bracelets are an excellent choice for military couples and traveling spouses, but they're also a beautiful gesture even if you're not long distance all the time. You can still have one of these bracelets to help you while your loved one is away, even if it's just while they're at work.
Believe London chose onyx and howlite due to their healing properties. They state that Onyx is a stone that aids in releasing negative emotions and stress, while howlite is an extremely calming stone. Putting these two together contrasting stones together is not just aesthetically pleasing, but could help alleviate the stressful emotions that come with a long-distance relationship. The company even offers a 125% money-back guarantee, so if you're not satisfied with your purchase, they will refund you 125% of the purchase price. That's an amazing guarantee to stand behind. It's a quality piece of jewelry and one that we would highly recommend.
2. His and Hers Cuff Bangle Bracelets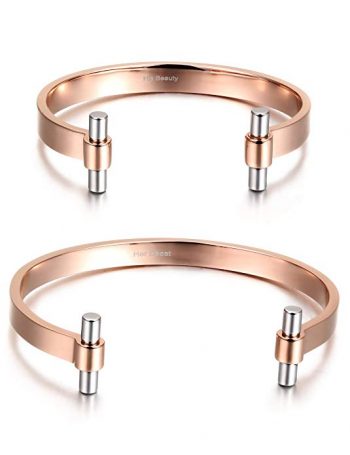 Do you prefer the look of metal in your jewelry? These bracelets from Jinbaoying are made from stainless steel, these ultra-polished bracelets are sleek and shiny. They are hypoallergenic, anti-tarnish, and the color won't fade either! These beautiful bracelets are also resizable, allowing you to fit it perfectly to your wrist. Plus, they have to match hidden messages engraved on the inside! There are several messages to choose from so you can be sure to find a phrase that's meaningful to both of you. You can't go wrong with these strong and sturdy bracelets for you and your loved one.
There are six different bracelets to choose from here. If you prefer the open cuff style, there is black, rose gold, silver, and gold. There are also two D-cuff bracelets that come in rose gold and yellow gold. With all of these color combinations available, you'll be able to find something that works for you and your partner's style. Since they're so versatile, you can choose to wear these a few different ways. With the open cuff ones, you could wear them traditionally with the open part on the bottom, or with the open part on your forearm. It gives a cute and unique way to wear it. These are stylish enough to go with any outfit, and the engraving on the inside makes the message inconspicuous, so you don't have to worry about dressing down when you wear these. They're perfect for the office too – subtle yet refined. You can be sure your partner will love the bracelet as much as you do!
3. Carrie Clover Long Distance
 Bracelets
The moment we laid eyes on these bracelets, we knew they had to be included in this list! Carrie Clover brings us these wonderful compass charm bracelets with an adjustable sliding knot nylon cord. The compass charm is silver-plated, so it's light and durable. The nylon is strong and adjustable so it will last for quite a long time. The bracelets are identical, so you'll be wearing the exact same bracelet as your lover, as opposed to a lot of couple's options that combine elements of one into the other. They're also quite minimalist, which allows you and your partner to dress in any way without worrying about an overstated piece of jewelry taking the attention away from your outfit. It's perfect
The best part? They come wrapped around a keepsake card that reads, "Distance is just a test to see how far LOVE can travel." What an incredibly sweet sentiment to someone in a long-distance relationship. It truly is a test to be separated that far apart, but this keepsake card helps remind us that sometimes tests are challenges to be fought for. Since these bracelets come wrapped around the keepsake card, there are a few ways you could choose to gift them. You could exchange them when you see each other in person and share the sweet sentiment shared on the card. If you'd prefer to send it through the mail, you could choose to keep one and mail the card and bracelet to your lover with a hand-written note on the card from yourself. It would be a great moment to share via video chat with each other!
4. Anchor Couples Bracelets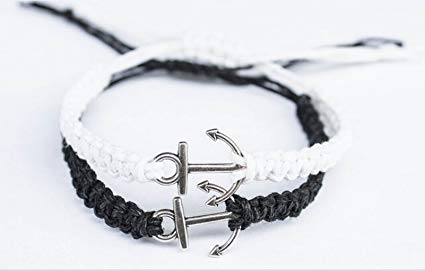 When life gets rough, are you each others' anchor? Express that sentiment with these macrame bracelets from Joyplancraft. The anchor has long been a symbol of hope, stability, and strength. In fact, the anchor was originally a symbol used on land as opposed to at sea! Christians used the anchor as a symbol of hope for other Christians while they were under Roman persecution in ancient times. When you deconstruct the shape of the anchor, it resembles a cross and a crescent moon. The cross is considered a masculine symbol, and the crescent moon on the bottom is feminine, and when combined they represent the combining of spirit as strength. The idea of hope comes from an anchor on a ship – it gives stability when at the port, but also allows a ship to set sail and be free to follow its destiny. What a perfect symbol of a beautiful relationship between two people!
They come in a pair, with one black and one white bracelet so you can choose the best color for each of you. Made from a braided rope, these will last quite a long time. Braided rope is durable, and withstands the elements very well. It's definitely something you could wear no matter what you're doing! The anchor charm is slightly less than 1″, so it won't be overbearing on your wrist. The men's size bracelet is 8″ long, and the women's bracelet is 7″. Both are adjustable, so if you need to make them smaller you definitely can.
5. POSHFEEL 8mm Natural Stone Beads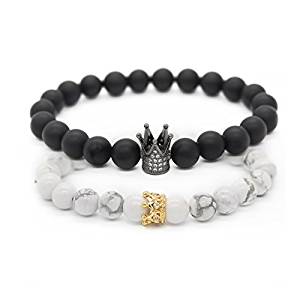 Are you "his queen?" Is he your "king?" Poshfeel has a great set of distance bracelets to represent that sentiment for you both! There are two different sets you can choose from. The black one is made of a matte black agate and has a black king's crown inlaid with cubic zirconia. It's subtlely flashy – just the right amount of sparkle! Coming in at 19cm (1.7″), this is the larger of the two bracelets. The other you can choose from is made of tiger's eye and features a gold-colored king's crown which is also inlaid with cubic zirconia. The white bracelet is in both sets, and is made from white howlite and has a gold queen's crown charm encircled in cubic zirconia. It measures 18.5cm (7.3″) and is the smaller of the two.
These are high-quality and delicately styled bracelets, and you can pair these with comfortable outfits, as the beads lend themselves to a more relaxed style. But don't be afraid to class it up, as the charms can add a little extra zing to your outfit, too!
For the women, feel free to match your bracelet to a bright white belt or any other gold accent with your jewelry. This set is perfect for a boyfriend and girlfriend who want to match bracelets, or for a long-distance couple. You could even exchange these if one of you is going off to college. Remember, even though your king is fighting in another land, you can be sure he's thinking of you every time he looks at his wrist with this set!
6. Flongo Men's Womens Taichi Yin Yang Matching Beads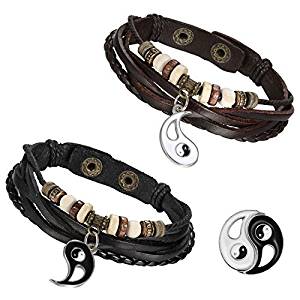 If you and your beau are more into natural materials for your jewelry, then check out these awesome banded leather cuff bracelets from Flongo. Made from genuine leather, they're lightweight and the snap makes the bracelets easy to put on and take off. They have the iconic "yin and yang" symbol split apart on each one, so when you put the charms together they become whole. Yin and yang is a Taoist symbol that represents two opposing forces that in fact work together and are complementary to one another despite their differences. As much of a spiritual philosophy to follow as one to abide by in a relationship, it's a beautiful way to symbolize your love for each other and how you are two unique, yet cooperative pieces of a whole.
These matching couples bracelets set have a multitude of braided and straight leather straps made into a single snap-closure style option. The black one has the black "yin" symbol in it, and the saddle brown one has the white "yang" symbol. Each of these has matching bead and leatherwork, as well. They're incredibly unique and fun to wear and will catch compliments no matter where you go. We're sure your partner will love wearing this bracelet as much as you do!
7. His and Hers Matching Set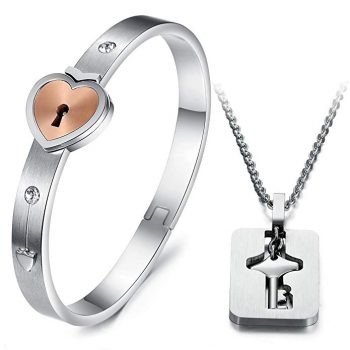 This is such a cute idea! As you can see, it's a little different than the other items on this list, but we wanted to include it because it holds the sentiment of the couple's bracelet nicely. Instead of two, this set comes with a bracelet and a necklace – but each is a component of the other! The bracelet has a lock that can only be unlocked by the key on the necklace – your lover literally has the key to your heart. The bracelet is made from titanium and is laser cut for the highest precision. It features a rose-gold colored lock, and a silver-colored wristband with cubic zirconia inlaid, giving it a bit of sparkle. The bracelet is very light, yet durable, and can withstand tremendous wear. Some people haven't even taken theirs off, and it looks just as beautiful as it did the day they were given it!
This set comes beautifully packaged from SunnyHouse Jewelry, and even includes a "love bean!" It's a small gift from the seller for their best wishes to you both as a couple that you can plant together and watch grow, just like your love. An incredibly sentimental gift, this is perfect for those still in their honeymoon phase, or even long-term couples who want to reaffirm their love for each other. Knowing that only that key can open the lock on the bracelet, it would make an amazing distance bracelet. Do your hearts belong only to each other, and what better way to express that than this bracelet set?
8. Wolentty His & Hers Couple Set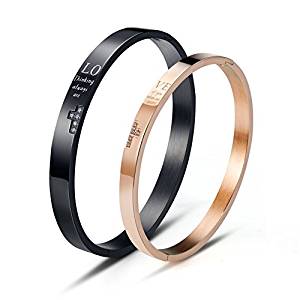 If your love is rooted in the Christian faith, then this pair of bracelets from Wolentty will be perfect for you. This set contains one black bracelet, and one rose gold-colored bracelet with an inscription that goes across the two of them which reads, "LOVE – Thinking of you always when we are apart." Faith can be an incredibly powerful way that people join together in a relationship, and what better way to express that dimension of your love than with these couple's set.
The set is made of stainless steel, which means these are hypoallergenic, tarnish-resistant, and lightweight. In the center of both bracelets is inlaid cubic zirconia, which becomes the shape of the Christian cross when putting together. The black one is the bigger of the two, and will fit someone's wrist from 6.5″ to 7.5″, and the slightly smaller rose gold one fits a wrist from 5.5″ to 6.5″. These cross-matching couples bracelet set come with a gift box as well, so if you want to surprise your significant other with these, you don't have to do any extra shopping! It's a great gift idea, and one we're sure your partner will love.
9. Personalized Matching Set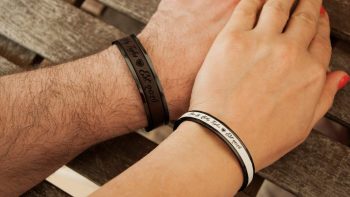 BeGenuine, a European brand known for modern and clean designs, has these beautiful couple's bracelets for sale. Made from stainless steel and leather inlaid into the cuff, these unique set are fit for both casual and dressy affairs. Stainless steel is a great material to have a piece made of – it's lightweight and durable, it does not tarnish, and is hypoallergenic! The smaller cuff (labeled as women's) is 0.5cm (0.4″) wide, with a 17.5cm (6.7″) circumference. The larger cuff (labeled as men's) is 1.8cm (.6″) wide, with an 18cm (7″) circumference. These are open cuffs and are adjustable by bending, so no matter if it's loose or snug, you can adjust it to fit your wrists.
The leather is able to be engraved with any phrase of your choosing up to 40 characters. This is perfect for initials, an anniversary date, or another short phrase that is special to you both. Each engraving can be custom as well, so if you don't want the phrase to match, that's fine too! It's perfect for those "his and hers" type of messages. The leather itself is also highly customizable, offering seven different shades to choose from. In natural colors, you have your choices of black, dark brown, and saddle brown. You can also choose red, green, blue, or white if you prefer leather to have a bit more "pop" against the stainless steel. Each bracelet can have its own individual leather color, so no worries if one of you likes a color more than another – you can have what's best for each of you.
Our favorite part about this set is that you can have custom engraving done up to 30 characters on the inside as well. This can be made unique for each person just as the outside, so no matter what you'd like to say, it can be as unique as each of you.
Hidden engraving is perfect for those secrets you only want to share with the other person, and is a great idea for someone in a long-distance relationship. Feeling blue about missing your beau? Just look inside your bracelet and see the special message from them. It's the little things that can make a hard day just a bit more bearable.
10. Personalized Leather Set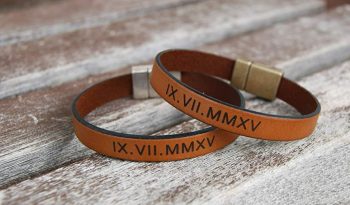 This set is definitely our favorite out of this list! Another great piece of jewelry from BeGenuine, these handmade leather bracelets that you can have customized to say your anniversary date in Roman numerals! It's a cute and cryptic way to share a special date between the two of you. If that's not your style, you can have them engrave anything of your choice – the artist states that you can have a phrase, coordinates, initials, or anything else that's important to you both put on these bracelets. You've got up to 45 characters, which is quite a bit of space to engrave something heartfelt for someone as special as your lover.
Aside from the text, these are highly customizable, allowing you to tailor them for each of you. There are also six different colors of leather you can choose from. If you like more natural colors, they have black, light brown, and dark brown leather. If you're more of a fan of brighter colors, you can have these in red, green, or blue – perfect if you have a color that's special to you. And even better yet, you can have individual colors for each of the bracelets, so even if you prefer your jewelry more with a splash of color and your significant other prefers black or brown, you'll both be happy!
The leather bracelets snap together with magnetic clasps and are finely detailed enough to be both for casual wear or for more of a dressy occasion. These are also customizable, and allow you to choose between silver or bronze for each. No more frustration about silver or gold – you can choose the one that you and your lover like the most and be happy that your choice is the one that suits you best, as well as your other half. These are highly recommended, and we couldn't be happier to share this beautiful custom made set with you.
Wrapping Up
We know it can be hard to find jewelry that both you and your partner would want to wear. Many people don't like the same styles and have different ideas of what's fashionable, and that might even be what attracted you to them in the first place! But no matter what you and your partner's style is, we're hoping that you could find at least one pair of matching couples bracelets you both loved on this list.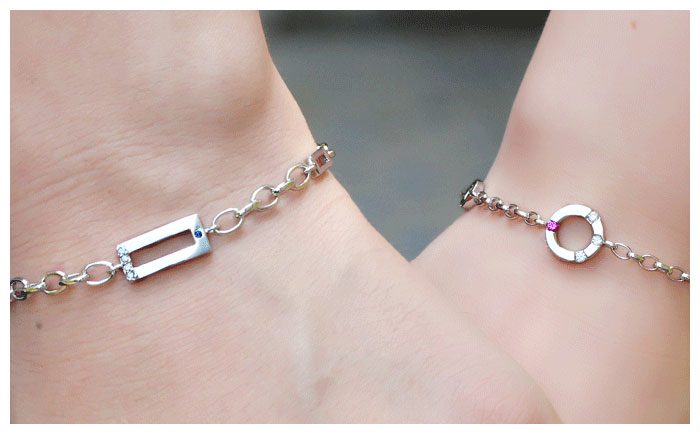 If you're into minimalist jewelry, we would suggest either the steel open cuff bracelets (2), the compass charm (3), or the braided anchor set (4). The lines on the bracelets are clean and would pair well with any outfit. Since they're subtle, they're acceptable for a multitude of occasions and allows you to have a memento of your lover without flashing it around to everyone else.
If both of your styles are a bit more eclectic or funky and would prefer the relationship to be a talking piece versus being subtle, you should go with either the braided leather yin and yang set (6)! It's such a cool concept, and the multiple straps of leather really give it a fun-loving vibe. Any of the beaded styles would be great as well since they exude the youthful and carefree spirit these types of bracelets have. Plus, the cross-matching of the bracelets works well and is a wonderful reminder of how each of you always has a piece of the other nearby. It's a sweet gesture and one that can be quite meaningful depending on the context of your relationship.
But if you're looking for a timeless appeal, we definitely suggest either of the two customizable bracelet sets from BeGenuine (9 & 10). The leather and steel combination is so classy and sleek, it's fit for wearing for any occasion. The lock and key bracelet (#7) is also an adorable idea, and we love the sentimentality behind any of these three. They're perfect for the couple who are just in love today as they were when they first met!
While jewelry might not say everything that you want it to when it comes to how deep and true your love is, it certainly can help! It can be hard to choose a bracelet that will match both you and your partner, especially when you might not have matching styles. Thankfully, what always does match are the values that you and your lover share in a relationship, and hopefully, this list helps with finding a beautiful set of jewelry that encapsulates those feelings of loyalty and love that you have for each other.
Which one of these bracelet sets is your favorite in the list? Let us know in the comments – we'd love to hear your opinion!