Mix / Necklaces / Women
10 Rose Quartz Necklaces That Are Simple And Beautiful
In 2016, color and hue giant Pantone named a color by the name of Rose Quartz as its color of the year. It had to share the spotlight with a pale shade of watery blue called Serenity but all the same, the color was everywhere. From the department store racks to the red carpet, the gorgeous pinky color got very popular, very quickly.  As a result, the rose quartz necklace has skyrocketed in popularity over the last few years.
Celebrities Rocking the Rosy Rocks
Lori Laughlin, who we all know and love as Aunt Becki from Full House and her long string of our guilty pleasures, Hallmark movies, knows how to use a simple elegant piece. Her rose quartz necklace wrapped in yellow gold over pink blouse toys at the edges of monotone looks. 
Gigi Hadid was photographed sporting a masterfully layered look including a rose quartz bottle. She looks so wonderfully refined yet still comfortably casual.  Maybe the rose quartz is keeping her calm and centered.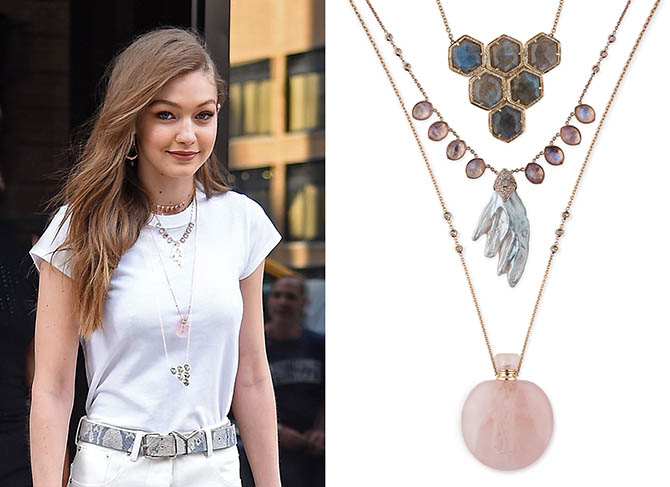 Even if they are not wearing them as jewelry, the list of stars who believe in the healing, calming, and centering powers of crystals is quite long. Katy Perry is said to keep a piece of rose quartz in her pocket. Uma Thurman and Kate Hudson also carry crystals on their person.
Singer Adele clings to crystals during her performances. She tells the story that prior to the 2016 Grammy Awards she had misplaced her crystals. Describing her own performance as "…the worst, most disastrous performance I have ever done," Adele promptly loaded up on spares.  
Kim Kardashian West was turned on to crystals and their reported effects after the famous robbery in Paris. She was so inspired by the energies she felt emanating from the rocks, she used their inspiration for the bottle design for her fragrance line that debuted at the end of 2017.  Specifically, she drew from citrine, quartz, and rose quartz when designing the now iconic bottle for KKW Fragrance.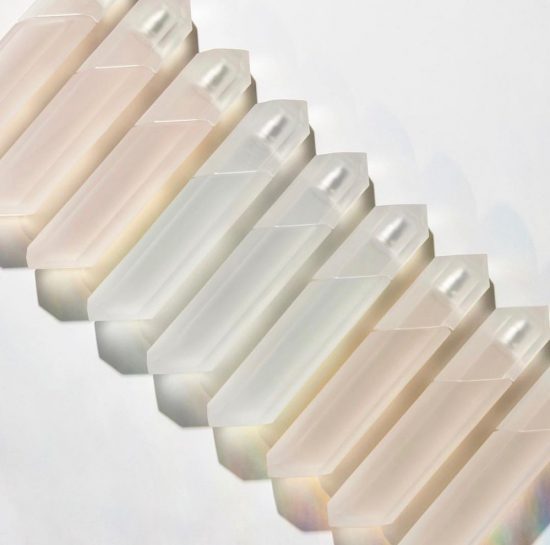 We've collected ten of rose quartz necklaces. These are simple and elegant. They feature the stone beautifully with very little additions of other stones or overdone metalwork.  It really allows the rosy rock to shine, highlighted by rather than sharing the spotlight with other elements of the piece
Our 10 Favorite Picks!
1. Raw Rose Quartz Necklace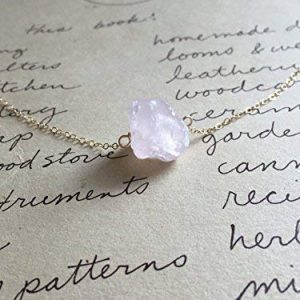 First on our list is the simplest presentation of the gorgeous stone we could find. A raw, rough-cut hunk of rose quartz hangs from a sixteen-inch chain. About the size of a dime, the necklace is dainty and unassuming. The back is cut flat so the chunky stone still lays flat against the chest. It takes it from a hunk of rock on a chain to inspired use of raw crystal. Clever design details like this will get us every time.
We love supporting individual artists so this piece is right up our alley. It is handmade by an artist organization by the name of Catching Wildflowers.  She crafts her gem and mineral-based creations in Maryland.
This raw rose quartz charm is so charming and positively perfect for layering. It comes with sixteen inches of 14k gold filled chain. This will hang it close to the collarbone. We actually recommend using an extender and dropping it down to eighteen or nineteen inches.  Pair it will a ribbon choker above and a nice chunky gold medallion or lariat style necklace.
Wear this necklace with a nature-inspired look. Large flower prints in a more muted palette would look wonderful. This is the perfect necklace to wear with those flower crowns you bought but are never sure how to style as well. Natural fabrics, loose cotton, and earth tones will make this necklace truly shine!
Because this is a natural stone, color and shape will certainly vary. Naturally rose quartz stays in the pink column but it can range from pale pink to a fuschia-fueled purple. No matter the stone you receive on your necklace, it will be a stunning addition to your collection.
2. Gold Dipped Necklace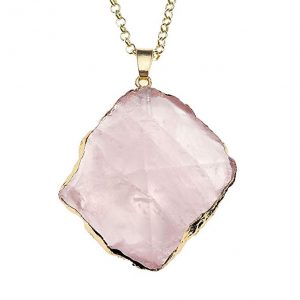 Our next find takes the raw feel of our first offering and bumps it up to the next level. The front portion is gently carved into an angular crystal shape. The back is left raw.  This is where the piece moves to the next level. The raw side of the rose quartz is dipped in gold-toned alloy.
This pendant is sizeable and although shape may vary slightly, it is a wonderful piece for the anchor of a layered look. Hung from a twenty four-inch chain you can absolutely use this for a Gigi Hadid inspired look. It will hang mid-torso, the perfect length for the almost palm-sized pendant.  
This also aligns it for the perfect height for a healing crystal use. Wear it with other complementary crystals both in color and purported powers. Add some citrine to boost your energy and carnelian for motivation. The sunny yellow citrine and bright red carnelian will push your color palette straight over into straight fire.
Because the rose quartz is solid and ringed with gold it can stand up to most prints and colors. We especially love this chunky piece against a dark background, especially if worn with other warm toned jewelry. It will really highlight the rose quartz itself and keep your overall look at a very neutral state.
3. Rosy Pink Quartz Teardrop Pendant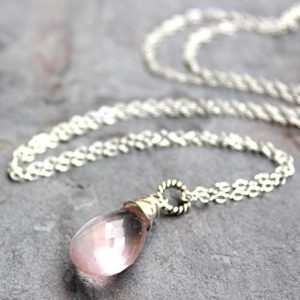 The second of our handmade picks, we love this beautifully faceted rosy stone. While labeled by the Florida-based designer, Aerides Designs as rose quartz, this may be a beautiful example of pink quartz. Pink quartz is often transparent or clear-ish.  Rose quartz is not. However, in the jewelry world, the terms are often interchangeable. That does not make us any less in love with it.
The blush-toned transparent stone is expertly faceted, wire wrapped, and mounted on a brilliant silver rope chain. Hanging at twenty-inches, this is ideal for the middle layer of a layered look. Combine it with other silver or white gold pieces. Normally we are all over mixing metals but this pale pink might get a little lost with an overly colorful palette.
We recommend this piece over a solid top. It will look best paired with pastel shades, white stones and gems, and gentle patterns. Try it with a pair of statement chandelier earrings and a few decorate chains above and below.
While the facets on the stone might try to make it look too fancy, the clever touch of wire wrapping around the top keeps it grounded and earthy. This means it can be paired with other earthy themes. Hang it with other finely cut crystals, especially polished and cut amethyst and polished larimar pieces. The pale pinks, purples, and blues will give a very airy feeling to your look, even in spite of the heavy stones.   
4. Himalayan Heart Pendant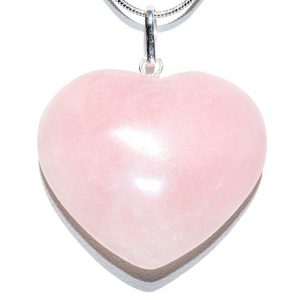 If rose quartz is the crystal of the heart, we believe we may have found the perfect piece for crystal healing enthusiasts. A large piece of rose quartz is carved into a gentle heart and polished to a splendid shine. It arrives on a beautiful twenty-inch silver chain hangs this heart right over your heart. It positions the love crystal in the perfect place to receive maximum energy if you believe in this method.
Quartz and its variations are found on every continent of the world. Although most of the commercially available varieties come out of Arkansas, Brazil, and Madagascar, a particular value is placed on quartz mined from the legendary Himalayas. This piece of rose quartz was ethically mined from the mountains home to Mount Everest, K2, and the deadly Annapurna.
There is something particularly mystical about the Himalayas. Perhaps it is their isolation or perhaps it is the strength of the people who live on and around them, but we cannot seem to get enough of items from the South Asian mountain range. From salt to crystals to a hub of adventure, the Himalayas hold such a power over the Western world.
Owning this simple, puffy heart means you will own a part of the mystical mountains. This necklace also includes a selenite charging crystal. For crystal enthusiasts, crystals must be periodically charged to put off the richest, most fulfilling energies. There are several rituals you can complete, but the quickest, shortest way is to expose it to a special crystal known as selenite.
5. Tree of Life Wire Wrapped Rose Quartz Necklace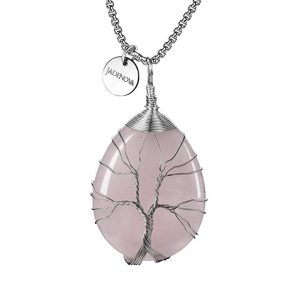 Offered by JadeNova, this combines two powerful ideas, crystal healing and the power of symbols. A sizeable piece of lovely rose quartz is carefully hand-wrapped in silver-toned copper wire.  The wire traipses across the surface of the stone to form a lovely tree of life.
The pendant is a hefty portion of rose quartz measuring over two inches. It comes on a generous twenty-four-inch chain so this will hang mid to high torso and is perfect for layering.  The bulky pendant will absolutely anchor any layered look. It should definitely be on the bottom of your look or worn as a solo piece for the weight of the piece, both visually and physically.
The tree of life is a shout-out to the tree of life in the garden of Eden according to Christian beliefs. According to Buddhists it represents the Bodhi tree where the Buddha received his enlightenment. In Nordic and Viking traditions it represents the source and fount of all knowledge.  
So combine this with the love-focused energies of the rose quartz in crystal healing lore and you have an amulet that arms you with loving wisdom. Combine this with a pair of tree of life earrings and a nice wire bangle set in rose gold and silver tones to really piece together a lovely and smart look.
6. Rose Quartz Japa Mala Beads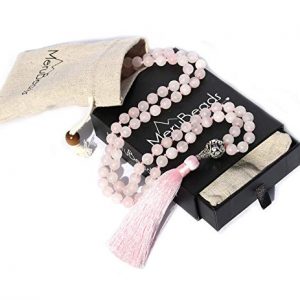 Once more our pick combines varying levels of spirituality. The heart stone of the healing crystals meets the centering of meditation practice in our next pick. For many, they are one and the same. This lovely set of rose quartz japa mala beads allows you to focus your meditation.
The rose quartz beads, all one hundred and eight of them, are left in as natural a state as possible after carving the stones into the spheres. This means they are a bit cloudy and not shining at all. Ideally, if you use the beads in meditative practice, your regular handling will polish them to a shine.  
Or wear them as a beautiful piece of jewelry and love on the natural pastel of the unpolished stones. A perfectly pink tassel is included on the end, as is traditional with japa mala beads. This will style wonderfully as a bracelet or a necklace because we can always use a good multi-tasker in our jewelry arsenal.
Japa mala beads are used to focus your meditation. If you are using the crystal healing methodology, each bead you touch infuses your heart chakra with positive, restorative energy. Traditionally you say one mantra for each bead, touching each one as you say it. We love the idea of using these rose quartz beads to list out one hundred and eight things you love.
7. Rose Quartz Triangle Pendant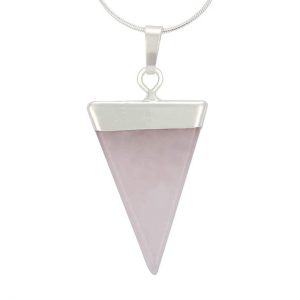 This next piece is perfect for anyone. It is just the right combination of gentleness with strength. A gorgeous piece of rose quartz is carved and polished into a smooth triangle. The stone is then capped with a lovely bar of 18k white gold. It is perfect for any lady. But we also love it for people who prefer traditionally masculine stylings.
While the triangle may look like a simple design choice, it can also be a powerful symbol by itself. Triangles are traditionally a shape of strength. Each bar supports the other in an endless cycle of strength and support. Traditionally triangles are also used in representations of the four elements, earth, wind, fire, and air.  When this impressive symbolism is combined with the loving and centering qualities of the rose quartz, it creates a wonderful way to celebrate your connection with the Earth and Mother Nature's loving care of it.
Wear this as a solo piece for sure. While most of our selections have absolutely worked for layered looks, something about the severe shape and strong gold bar along the top begs for this piece to stand alone. It comes with an eighteen-inch chain with an optional two-inch extender. This makes it the perfect height for a simple statement piece.
If you prefer a more masculine styling, we recommend moving this to a slightly longer twenty-two or twenty-four-inch chain for a hang further down the chest, moving toward torso. Consider pairing this with leather and bone pieces on the wrists or perhaps a cravat style bandana for the tie-in to the natural infusion of the stone and shape.
8. Bellabeat Lifestyle Tracker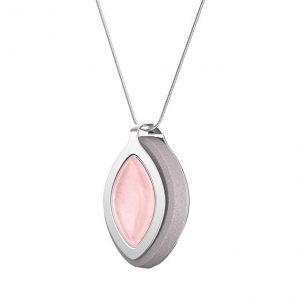 This is a brilliant combination of ancient beliefs and modern wearable technology. Bellabeat wearables are a stylish way to track your lifestyle.  All Bellabeat trackers feature a lovely leaf shape and a "stone" feel to the actual workhorse of the tracker. The metal clip on this particular one features an inset piece of rose quartz for added style.
The Bellabeat Lifestyle Trackers track steps, distance, caloric burn, sleeping, and stress among other things. It has a long lasting coin cell battery, you do not have to put this wearable on the charger. According to the manufacturer, even with daily use, twenty-four hours a day, you can go six months without changing the battery.
This is a bit of a different take on fitness trackers. This one has no outward display. Your fitness data is collected and accessible by an Android or iPhone app.
We love that this tracker can be worn so many ways. Wear it as a necklace for a wonderfully modern use of rose quartz over a natural stone finish. Use the clip and clip it to your blouse like a brooch. Or attach it to a chain for a bracelet. The more multi-taskers the better!
9. Rose Quartz Owl Pendant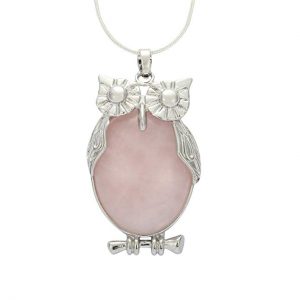 Our next to last pick is far more whimsical and fun than our previous offerings. While this still features the rose quartz with all its healing properties, it is set as the belly of an adorable silver owl.  
This is another combination of the love-centered meaning of the rose quartz and a symbol often associated with wisdom, learning, and knowledge. In traditional reiki chakra beliefs the two are intrinsically tied. The heart is kept functioning by the head and the headed is guided by the strong emotions of the heart. So as a pair of symbols the owl and the rose quartz make sense.
We love this piece as a solo piece on its eighteen-inch chain with the optional two-inch extender as either a solo or layered look. The pendant is not so large as to look too "blingy" worn high. Plus we love a good owl. They are very popular right now. Bonus this piece is great for the younger crowd as well.  At the price and style, you can gift it to children to start their jewelry collections with a wonderful and powerful piece!
10. Rose Quartz Capped Crystal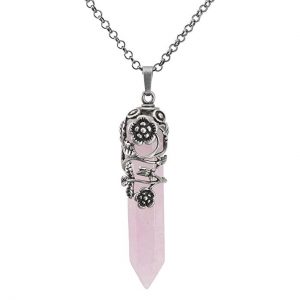 Our final pick is vintage inspired. A piece of rose quartz is cut into a crystal shape and capped with a sterling silver piece. The silver is sculpted into detailed filigree swirls and flowers and clings to the top of the crystal. There is a certain refined elegance in this piece. It reminds us of the pendants and pearls look of the art-deco period. We can absolutely see this crystal on the dance floor filled with flappers and dapper gentlemen.
Hung from a generous twenty-four-inch chain, this is a perfect anchor piece in a crystal-themed layered look. In fact, if you really want to capitalize on the love-centric rose quartz, pair it with even more rose quartz, especially that raw rock from the very top of our list.  
Wear this with a little black dress for a wonderful crystalline pop to an evening look. It draws on that beautiful vintage look of the design and adds a splash of color to an otherwise monotone look.
A Brief Look at the Geology of Rose Quartz
Rose quartz is, as its name suggests, a variant of the quartz family. Quartz is a massive term that covers a whole lot of ground in the semi-precious stone territory. Citrine, amethyst, even agate belong to the same geological organization.
Pure quartz is clear with a whitish tinge and forms the iconic six-sided crystal naturally. Rose quartz is a variant of this. However, due to various inclusions during its formation, rose quartz is never transparent like pure quartz is. It also does not naturally "grow" in the classic crystalline shape. It is often found in large, squarish chunks.
Rose quartz is a hard enough stone to be carved and polished. Its color saturation is typically pretty even. However, its tone can range from a very pale pink all the way up to nearly purple.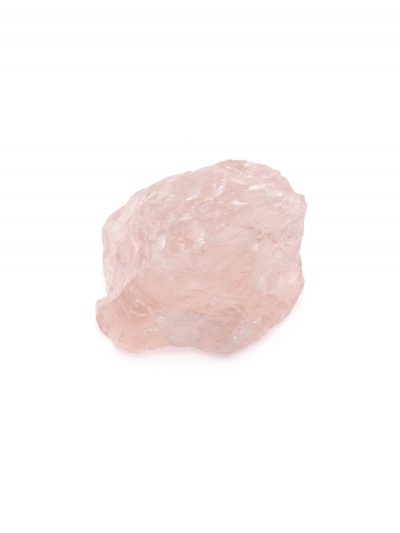 It should be noted that geologically speaking, there is a difference between pink quartz and rose quartz. Pink quartz is slightly less than pure quartz but quite different in molecular arrangement from rose quartz. It has small molecular differences from standard quartz that reflect a pink or pinkish white color. Pink quartz does naturally form in crystalline shapes.  
For the purposes of jewelry, however, little distinction is made. As a gem, both stones have pleasing qualities and are of relatively equivalent value. Most pieces featuring a pink crystal typically list itself as rose quartz.  In many circles, the terms are interchangeable.
Shape is not a wonderful indicator as rose quartz can be, and often is carved into that familiar crystal shape. To be particularly sure that you are calling the stones by the correct names, check translucency. If you can see through it or if a directed beam of light can shine through the stone, making it appear as if it is glowing, you probably have pink quartz. When the color is fairly similar throughout and no or very little light passes through, you probably have rose quartz.
Healing Powers of Crystals
It is widely believed that crystals have healing powers.  Rose quartz is no exception. According to crystal healing enthusiasts, rose quartz is tied to the heart chakra. It is rooted in the emotions of the heart. Love, both romantic and platonic, fondness, calmness, and centering are often tied to the presence of rose quartz.
For practitioners of mediation with crystals, rose quartz should be held in the left hand, the same side of the body as the heart. It can also be placed over the heart for the greatest impact. Hope, faith, and joy are tied to chakras, or energy centers higher than the body; the head, eye, and throat. All of these, however, are balanced over the heart. So focusing your attention on your heart and having a love-filled life, means it is easier to find and focus those higher energies.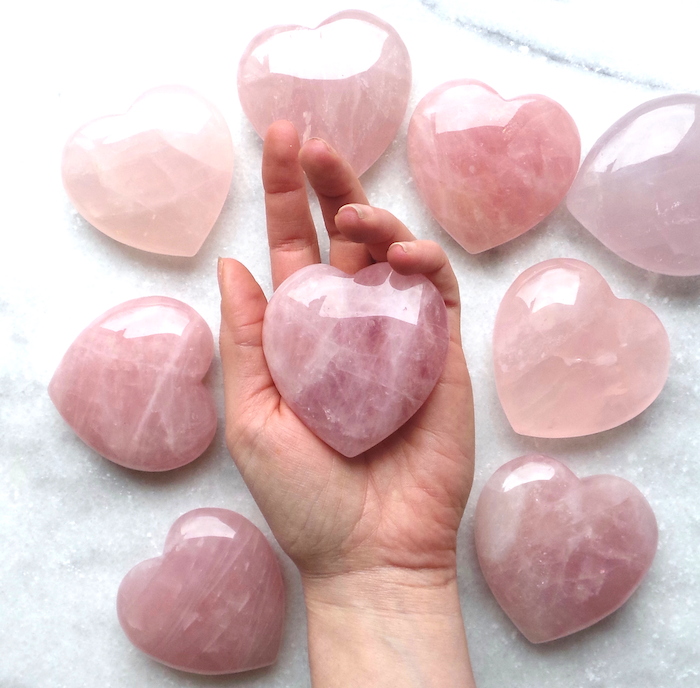 Rose quartz is also believed to give off energies that physically strengthen the heart.  This improves circulation and endurance. It is often a popular choice for runners and weightlifters who use crystals to focus energies.
Seeing as placing rose quartz over the heart is recommended by followers of the system, necklaces are the absolute answers. Even shorter chains keep the helpful rock centered over the chakra. While some crystals must apparently be used very sparingly so as not to overdue or unbalance the energies, rose quartz is a free-for-all in the practice.  You simply cannot have too much love. Rose quartz can have a positive effect over all the chakras by simply infusing them with loving energies. So wearing a rose quartz piece around your throat, even though it is a different chakra cannot hurt anything by the logic of crystallists.
Crystals and essential oils are often discussed together as well. For those who believe in the healing properties of both, there are specific pairings that work well with one another. According to essential oil experts, because rose quartz is a love-focused crystal you will want to pair oils with similar properties.  Ylang-Ylang, jasmine, lavender, bergamot, and, of course, rosehip complement the crystal's energy.
Caring for Rose Quartz
Rose quartz is a fairly hearty stone that is not particularly prone to scratching. It is not ill-affected by humidity although any sterling silver or gold that accompanies them may be. The biggest danger in storing rose quartz pieces is actually that it might scratch other pieces. As with most other materials, it is important to wipe down your rose quartz piece with a soft cloth. This removes the dirt and oils from the day.
Heavier pieces of quartz are best stored laying down, especially if they are hung from cloth or leather cord. Smaller pieces can be hung but should not share a hook so the stone does not scratch other pieces.
Be sure to follow specific information for mixed media pieces, or pieces that include other fine gems, enamel, or specialty metals. The rocks themselves will typically withstand most cleaning processes without ill-effect.