6 Emerald Rings and Why to Get One for Your Jewelry Collection!
last updated:
Apr 06, 2021
Emerald has always been one of the most desired stones for any jewelry but especially rings. The brilliance of the green gem captures the attention of onlookers while offering an effortless elegance to accessories.
It's easily one of the most radiant and reflective gemstones that can help to elevate your style. Let's explore some of the most fantastic emerald rings that add a dramatic flair to absolutely any outfit.
Our Top 6 Picks!
1

. Black Bow Jewelry Co. Stackable Emerald Band
Sterling silver
.10 carats of emeralds
Rhodium plating
Stackable design
The Black Bow Jewelry Co. sterling silver stackable emerald band is one of our top accent jewelry choices. It's also a beautiful piece to be worn on its own with its individually embedded emerald gemstones. You'll find it's one of the more minimalistic pieces with the perfect punch of color for eye-grabbing shimmer.
Read more
If you're looking for a wedding band, promise ring, or anniversary band, this is one of our top choices. The emerald band has a dainty aesthetic with decorative emeralds around it. You'll also love the shiny exterior of the sterling silver ring, which glistens effortlessly in the sunlight.
When paired with other pieces, it adds an edgy appeal with each stone encased in brilliant sterling silver. You'll find the material is easy to maintain with a standard jewelry polishing cloth. Also, it's resistant to rust, which makes it perfect for everyday wear.
As an added benefit, the ring features a coating of rhodium which is ideal for resilience. The rhodium also helps to ensure your ring maintains its iconic luster for longer. Compared to other rings, this piece requires far less maintenance over the years.
2

. Ruby and Oscar Heart Shaped Emerald Ring
Sterling silver
Cubic zirconia stones
Heart-shaped emerald
2.5 grams
The Ruby and Oscar heart-shaped emerald engagement ring is an outstanding choice for unique partners. It's an elegantly designed ring that resembles something a princess would wear on her way to the ball. The beautifully cut heart-shaped emerald is set perfectly in the center of the ring.
Read more
On either side, you'll find rows of cubic zirconia that glisten perfectly in natural light. The brilliantly etched stones are what makes this piece incredibly unique, along with the sterling silver band. All of the features are combined to create a brilliant contrast with translucent and reflective stones surrounding a deep green gem.
You'll find this ring looks identical to some of the most expensive pieces on the market. All of the gems are perfectly smooth, offering a sophisticated appeal perfect for any wearer. It also boasts fine details that are sure to capture the attention of anyone in the room.
The ring's streamlined design makes it the ideal option for someone interested in a sparkling engagement ring. However, its flattering finishing could also make it ideal as a promise ring or a loving gift for a family member.
3

. Ross-Simons .50 ct. Emerald Ring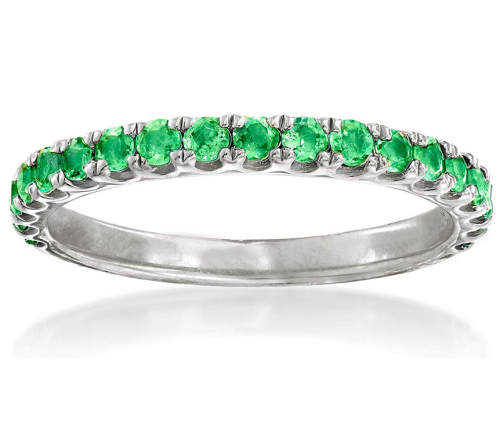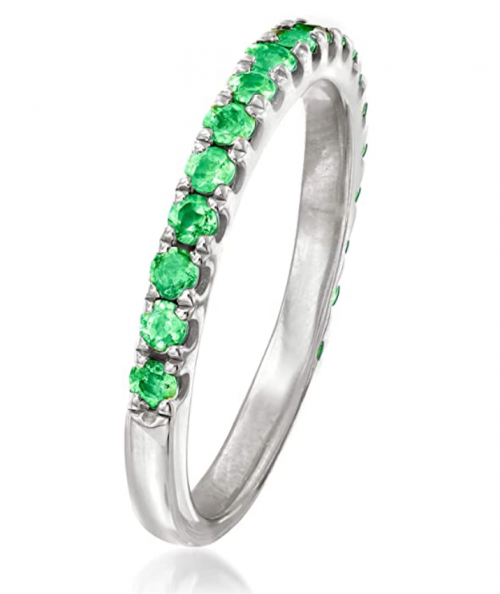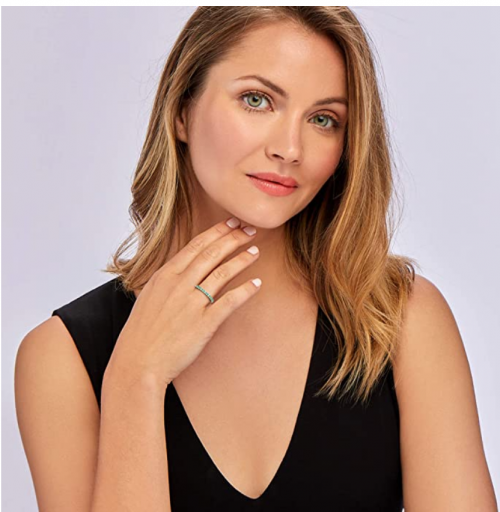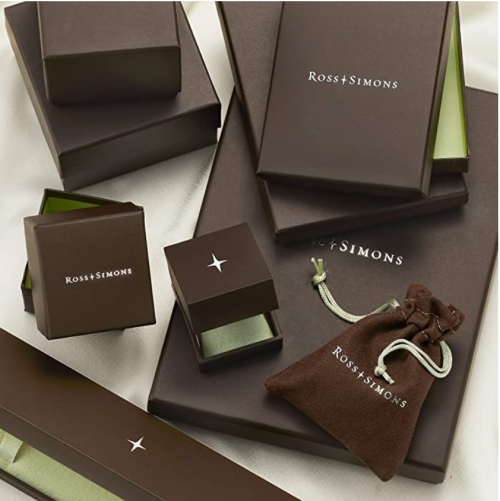 .925 sterling silver
Brilliant-cut emeralds
1/8" wide
Smooth and snag-free
Graceful elegance is the word that comes to mind when we set our sights on the Ross-Simons .50 ct. emerald ring in sterling silver. It's the perfect display of stylish emeralds embedded in a beautiful and simple sterling silver band. If you've been searching for a colorful wedding band, this is one of our top choices.
Read more
Its design is iconic as a standalone piece, especially as it's finely detailed to encapsulate a wedding band's classic style. On the ring, you'll find .50 carats of emeralds embedded in a solid sterling silver band.
The gorgeous contrast of the silver and emerald is what makes it a spectacular piece, easy to pair with anything. The band's width is also remarkable, measuring at 1/8" wide, making it perfect for dainty fingers. With the refined detailing, you're bound to fall in love with the piece as soon as you see it for the first time.
Each of the brilliant-cut emeralds offers a luxurious feeling to the piece, making it a stunning contribution to your collection. The materials are also beautifully shined, so they sparkle effortlessly in any lighting. You'll especially love the smooth rounded shape, making the ring comfortable to wear for hour son end.
This ring is one of our top choices for a whimsical wedding, especially if you have a high-class engagement ring. Its unique styling almost makes it look hand-crafted by expert artisans, setting it apart from other styles.
4

. Peora 6.50 Carats Simulated Emerald Ring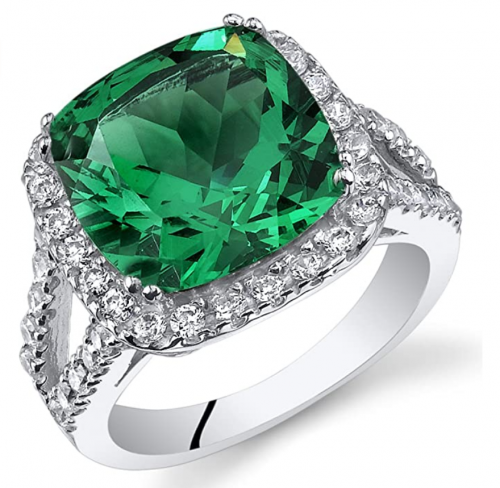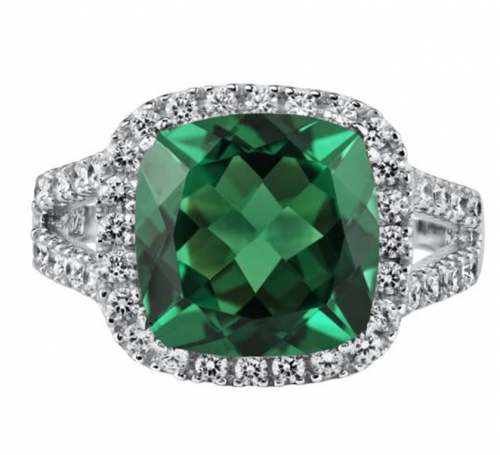 Sterling silver
Simulated emeralds
44 cubic zirconia stones
Affordable
First, let us talk about the features of this ring. It includes a gift box, exclusive styling, and craftsmanship that'll easily catch anyone's attention. At the center of the ring, you'll find the emerald stone giving off a rich forest green hue.
Read more
If you're someone who loves the green color and also doesn't mind the attention that a statement ring like this brings, we think you've found the perfect fit.
This option includes 44 pieces of white Cubic Zirconia that surround the emerald and also accentuate the sides of the ring. As usual, the maker opted for sterling silver as the go-to metal for making the ring.
A layer of rhodium was applied to the surface; this makes the metal much more resistant to tarnish and scratches.
5

. Merthus Emerald Geometric Shaped Ring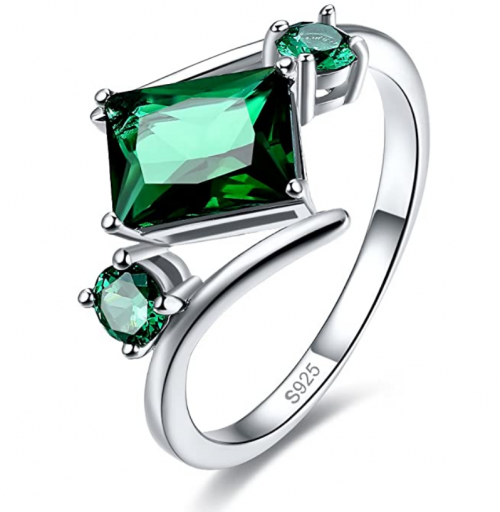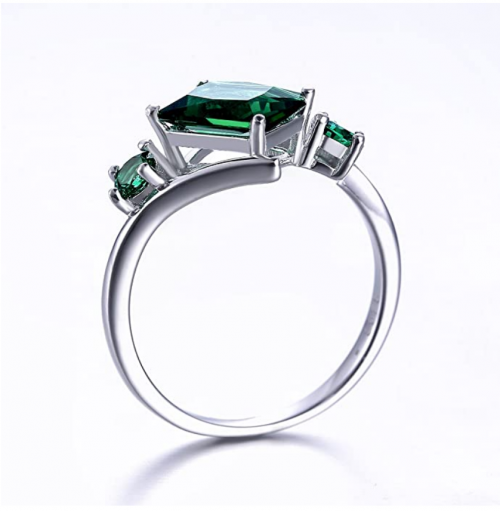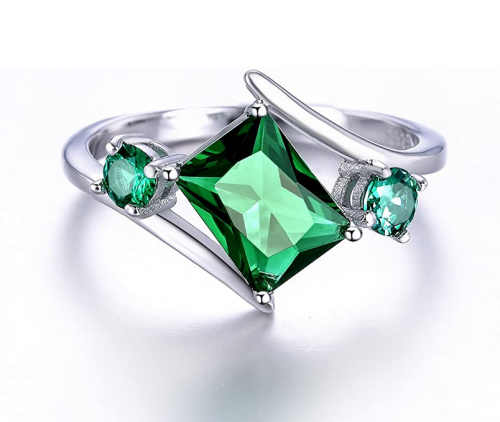 925 sterling silver
Lab-created emerald
Affordable
We love Merthus because of its collection of unique jewelry. They always employ the most different and unique designs and this emerald ring is just another example of their craftsmanship.
Read more
This ring is created from 925 sterling silver which is highly polished, well-crafted, and then coated with rhodium to ensure that it keeps its flawless form for as long as possible.
At the same time, the use of silver as the only metal in the ring means safety is never an issue. Silver, unlike other jewelry accessories, doesn't cause discoloration nor does it cause allergic reactions.
6

. Ruby and Oscar Princess Cut Three Band Ring
Sterling silver
Cubic zirconia stones
Princess cut emeralds
19mm width
The Ruby and Oscar princess cut emerald three band ring is the ring you've been dreaming of. It's fashion-forward without being too over the top and adds the perfect amount of glamour to your outfit. The ring is simple, sleek, and smooth, with a snag-free design that any sophisticated man or woman can sport.
Read more
There's plenty to appreciate with this flattering ring, especially if you're looking for something exquisite. Instead of having one solid emerald band, there are three bands included in the package. The streamlined emerald band is delicately encased in two other bands filled with glistening cubic zirconia gemstones.
The elegance of this piece is something to make a note of, as it transcends current trends, making it timeless. It's also rust-resistant, making it the perfect option for years of wear without signs of damage.
This ring is ideal for fashionistas looking to make a statement. However, it's finely detailed to showcase your more sophisticated side, as it's finished with sterling silver. You'll find this piece is easy to wear as an everyday accessory or as a high-fashion couture item.
One of our favorite features is how easy the rings are to slip on and off with the smoothed interior. The emeralds are also timeless, offering an air of superiority when worn on any finger.
FAQs
q:

Are emerald rings expensive?

a:

Did you know that emeralds are often regarded as being more expensive than diamonds? The gemstone's rarity makes them a far more luxurious option, especially as they're 20x harder to find. However, emeralds are a fantastic option for someone looking for a big stone at an affordable price.

Each emerald appears to be larger than diamonds but will carry the same carat weight because of its density. You'll easily be able to find a stone that looks significantly larger than a diamond but weighs precisely the same.
q:

Is emerald stronger than diamond?

a:

Emerald is not stronger than diamond; however, it's the second strongest gemstone you can find. Based on the Mohs scale of hardness, diamonds are rated as ten while emeralds are a nine. With that said, it's one of the most resilient gemstones you can get your hands on.
q:

Are emeralds a good investment?

a:

It's important to remember the rarity of emeralds is what makes them a significant investment for collectors. Not only are emeralds rare, but high-quality emeralds are even harder to find. You're most likely to find top-tier gemstones in Brazil and Colombia compared to the United States.

If you're able to find well-priced high-quality emeralds, they'll only become more valuable in the future.
q:

How can you tell a real emerald from a fake?

a:

The best way to test the validity of an emerald is to hold it up to a light. If it's held in front of a fire, the stone won't sparkle; it will instead have a dull shine.

You'll also find that it won't emit a rainbow reflection when held up to the light, which is a great way to inspect its quality.
Finally...
An emerald ring supposedly improves the well-being of the wearer and also brings good luck. We don't know how true this is (actually pretty far-fetched), but we do love the implications.
Emerald rings are one of the most beautiful pieces that you can invest in right now. The fact that they're quite different from the norm (diamond rings), is what makes them unique!