Rose Gold / Watches / Women
The Rose Gold Watches for Women on Our Shopping List
Marianne 10 Mar 2020
9925
Obviously, the reason why you're here is to take a peek at our shopping list. That's great! Since we built it just for you. Rose gold unlike the yellow kind that's too popular for our tastes sometimes, is reddish-brown. Rose gold watches for women are super cool way of showcasing these beautiful metal.
It's not too shiny, but it certainly will turn a few heads due to its hue. Also, you might want to know that one of the reasons why we don't prefer yellow gold isn't because it's super common. We just don't like it when we're with our partners. Rose gold, with its sometimes pink hue, is a goldmine for couples. The hue symbolizes romance, which at times, makes it better than all metals out there. The fact that it goes nicely with any skin tone is another huge plus for us.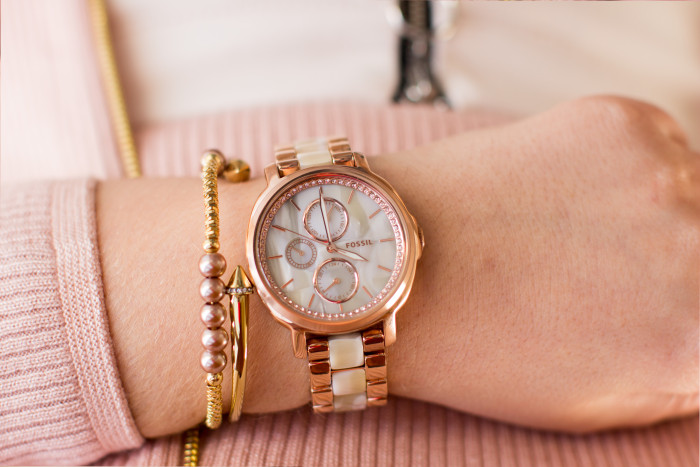 So, the topic is simple; we decided to focus a bit on watches! Those beauties that do not only tell the time but sets you apart (in a good way though) due to the class they put you in. Look at it this way: having a rose gold watch gives a special meaning to couples especially. It's a sweet and intricate combination of romance (love) and time, which we like to define like this.
'We'll Always Stand the Test of Time'
It's a cute way of looking at things, especially if your partner knows of this little fact too. So, any occasion you have, where both of your appearances are needed and you want to share a little secret code, we advise you get a rose gold watch, each! With that said, we want to show you some rose gold watches that we haven't gotten to buying (both for ourselves and others). But in the meantime, we thought why not just share it with you guys. It should add a spin (pun fully intended) to your wardrobe.
Rose Gold Watches on Our Shopping List
There's nothing wrong with looking good and these watches tell that story exactly.
1.SWEES Metal Bands Compatible Fitbit Charge 2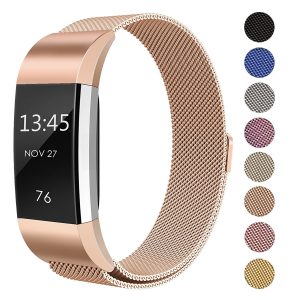 The first product on our list is unisex, but it's because of the rose gold option that we chose it. An obvious point, but there are not many Bluetooth watches that are plated with rose gold. The SWESS watch comes with different metal bands for wearers.
Here, we advise you to ask the person you're giving it to if it's a gift. No need to be working in the dark here, if that person (partner, friend, daughter, etc) won't even mind the question. The watch displays the time, your heart rate, and even allows you to set alarms. If you particularly have a person who loves to get physical a lot, we're sure they'll love a watch that allows them to mix sport with luxury. Literally!
They can wear it to all scenarios/parts of their life, whilst still gathering the necessary attention due to the watch's fresh looks. The watch uses a metal band that looks more like a mesh. Though, that actually serves a pretty important function. You know how typical leather or metal watch bracelets make you sweat, the holes made in this SWESS's watch keep you comfortable for as long as possible.
One more thing to note is that you could buy multiple bands with different colors. Though, we advise you to buy it after some time so as to savor the rose gold color. After that, you can experiment with different outfits.
2. Michael Kors Slim Runway Watch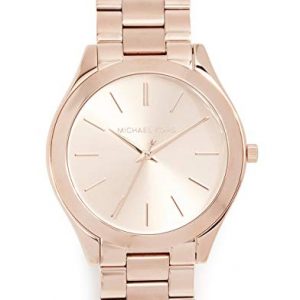 This Michael Kors watch looks sophisticated but clean, which is a combination that always screams feminity. To be straight with you, the watch's good looks alone are enough to win it a spot on our list. Maybe not 1st, but definitely not the last.
The watch has a 42mm stainless steel case which should perfectly size your partner or your daughter. They'll be able to pull off an awesome vintage look. Outside of the case, there's nothing else but the crown. A fact which certainly contributes to the aesthetic appeal. You also have a rose gold coated metal band holding the case. Going inside, it's extremely bright, with the hour markers and hands being colored rose gold.
If you're after a gift that looks expensive, but you don't want to splurge too much because of some particular reasons, this is what we recommend you get for that person. The name itself is hefty enough to command some street rep, and there's no girl out there who doesn't appreciate stares (even if it's a little).
Function-wise, the watch is luckily not lacking as well. You can take it swimming, showering, and you're also totally safe when it rains. It's a watch to stay due to its ruggedness.
3. Michael Kors MK8096 – Runway Chronograph
 The Runaway Chronograph from Michael Kors (a really nice name) is a metallic watch coated in rose gold. It has a really compact build that isn't in your face but is still striking with strong precision. The pink hue of the watch, which we know speaks romance adds a nice twist to any outfit you choose the watch for. Essentially, you'll be going with a combination of love
and luxury
. Better yet, let's call the combo a bang. It's a much better name in the grand scheme of things.
The Runaway has a 45mm steel case that houses a mineral dial window. One immediate benefit that we appreciate, and we think you will love too is the water-resistant capability. It's perfect for swimming, though if you're a diver, that's a no-go zone.
Outside of the case, there are three chronograph subdials that increase functionality. You can use it to tell the seconds, minutes, and hours, and then use everything to create timers if needed. Moving on, due to the brand name (yes, again), the watch is also useful as a wedding, birthday, or congratulatory gift. The name has a lot of weight, so imagine giving it to your daughter for her prom night. It's definitely a lovely idea if you want to see something of yours worn on her wrist every day.
4. U.S. Polo Assn. Women's USC40078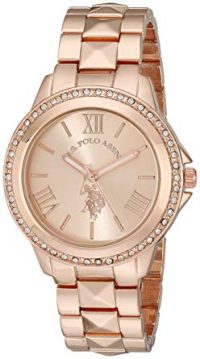 You know how the brain just skips a picture if you've already seen something similar once, that's what happened here too. We saw the typical, but the classy round-faced case, and the metallic band and dismissed it. But then we saw the attention to detail.
This U.S. Polo Assn. watch has a very bold design that you actually have to wear to feel. From the feel of the durable metal band to the comfortable weight of the case, your daughter will definitely love this as a gift. It's the perfect representation of beauty and girl power. The watch is made from a durable alloy, which was then coated in rose gold. Going closer, you'll notice the case, which measures 38mm in diameter by the way. Because of that balanced size, it's perfect for long periods of use. If you're looking for a break from your usual watches, but you don't want to go full out, we advise you to get this option.
The alloy used in making the watch makes sure it will see many years of use and lovely memories. You should get a watch for your man too, and wear it matching to any casual date you have planned. The watch uses a Miyota Quartz movement that's pretty accurate as well. In terms of functions, you can create timers with the three subdials.
5. Fossil Women's Riley Quartz Stainless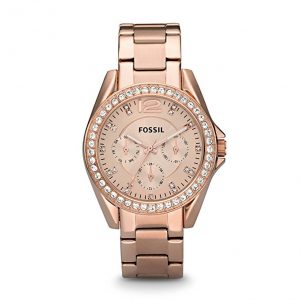 Like the name implies, this is a dress watch. Although, not that all of the watches above can't be used like so, but then this one is a little bit more specific. Just think about it this way; the Women's Riley Dress Watch is studded with shiny stones that'll try their best to attract gazes. Whether you want them to or not, will be based on your decision to take out or leave them at home. That point made, having the Riley Quartz Dress Watch on your wrist is perfect for those occasions where you need to create a sound impression as soon as you arrive.
Albeit, we should still give credit to other parts of the watch (not the stones only). It has a metal bracelet which is painted in rose gold. Though its hue isn't on the pink side (think yellow gold). There are subdials that tell you the second, minute, and even hours in case you want to use the timepiece as a stopwatch. It's perfectly ideal for any woman you know who is organized to a T. This feature will help her a lot, when she's planning her schedule.
Nevertheless, you might be worried about the watch being a wrong fit for the person you're gifting it to. Fortunately, the case measures 38mm, which is more or less a size that'll fit most women. It won't be too big, nor will it appear too small to both the wearer and other people. Finally, before we forget, you can swim with the watch strapped on also.
6. Michael Kors Women's Darci Rose Gold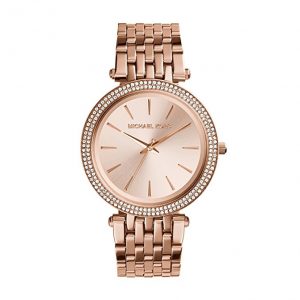 In design, it's a bit similar to the Anne Klein watch below. But then that one is so much cleaner, while this one emphasizes on personal beauty. Round the clock (pun fully intended), crystals are embedded so that the watch commands attention wherever it's worn too. It's perfect for any dinner. Kind of like the one you have planned for your anniversary or vacation (or even both). In fact, the watch is rugged enough (despite the good looks) to easily handle swimming, which makes it the ideal wear for vacations. You'll make an impression and your watch won't even feel the strain throughout the trip. So, heads up if you're looking for something special for your wife.
The Darci's case is 39mm, which is a size that's versatile enough for most wrists. Besides, the big size of the watch will spice up your wardrobe a lot. It looks classic, which is the opposite of the modern and trendy look that a perfectly fitted watch will give you. You need to change up your wardrobe once in a while is what we're saying. The quartz movement in the watch ensures there is no need for windings, as it's battery-powered. It's a self-operating watch that needs minimum maintenance to actually keep running. This builds it up to be a favorite of anyone you give it to.
7. Anne Klein Women's Rose Goldtone Bracelet Watch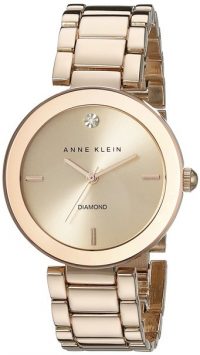 Looking at this Anne Klein timepiece, the first thing we noticed is that it excellently mixes an expensive vibe with functionality. We mean, anybody you give it to (including yourself), will immediately see the amount of work and thus, expenses poured into the watch. At the same time, it has a simple look (no intricate designs that'll block anything) that shows you exactly what you need. You only look at the time, and how you can manage it.
It's unlike a counterfeit with fake subdials that don't even work and could cause you an embarrassment. We would rather have you avoid those situations with quality watches. Everything inside and outside of the watch's case is coated in rose gold. From the hands to the hour markers, you'll notice the company has an eye for details.
Now, remember our earlier talk about a rose gold watch meaning long-lasting love? Basically, the same thing can be applied to friendships as well. If you have any birthday coming, or you and your friends are celebrating an event or occasion, then this is perfect for them. Don't overuse this point though. We like to keep the circle small, as it means all the difference.
Not to forget, the watch uses a quartz movement which creates a smooth operation. The watch will see a lot of wearer's decisions and memories. Hence, how about another gifting idea that focuses on that? What if you give it to your daughter? You don't need any occasion or reason to do that, as the fact that you'll be right next to her, one way or another is huge!
8. Anne Klein Rose Goldtone Crystal Bangle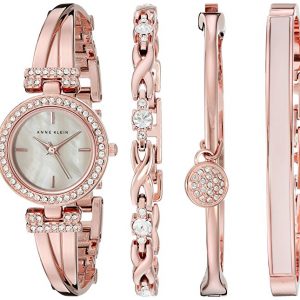 If the Runaway Chronograph's look doesn't quite agree with you, this Anne Klein watch is an alternative to consider. There are 4 accessories in the case, and each one is sexy and extremely feminine. We think, instead of considering this watch an alternative. Get both of them and wear them interchangeably, depending on the occasion. Heck, you can use the accessories (bracelets) of this watch, and combine it with a watch of the same hue.
It's totally the perfect watch for your partner, daughter/sister, or friend if she loves beautiful things. At least, everyone has that kind of girl in their lives, so you have a sweet gift idea.
Looking at the case, it measures 24mm and you'll notice the basic looking bezels. Inside, we find the rose gold hands and hour markers. A mineral window seals everything in. The watch is water-resistant up to 30m. So you don't have any reason to remove it as it can handle showers. Though, that point may be a bit unrealistic.
Attached to the case is a rose gold plated metallic band twisted to form an "X" and on the side, you'll find the crown. For the bracelets, they're studded with Swarovski for better and longer use. As you can see, it's rather posh in appearance, and that essentially makes it a dress watch. So congratulations, you also now have something to wear to any event where you want to look glamorous.
No matter, the one thing you have to know about this watch is that it doesn't handle water all that well. Heck, you can't take it swimming which is very much understandable since it's a dress watch and not a rugged timepiece. So don't mistakenly dip the watch in the water maybe when you want to wash the dishes since it's not built for that.
Frequently Asked Questions
How to take care of your rose gold plated watches?
The pain of a bad investment is something we all know, though it never gets easier. This is especially more true amongst women, as we sporadically have favorites dresses for days and weeks at a time. So, letting go isn't exactly one area that we'll easily collect an award. Because of this, you have to know how to take care of your rose gold watches. They are metals that have been coated with precious metal, so knowing the ideal way to clean and not scratch is crucial. Copy and paste this particular section if any of the watches above are acting as a gift too. Trust us, it'll be needed.
Method 1
The first thing to note is that you shouldn't get your rose gold watch wet. Ordinarily, it will last for years on your wrist even with you swimming, but you can definitely squeeze out a few more years from the paint job by doing this.
Gold, regardless if it's rose gold, is inert. On the other hand, the metal (stainless steel most of the time) underneath all that gold is the problem. It may easily react with water, which is definitely the opposite of what you want to happen. Although, if you're just washing the dishes or a few clothes, you have our go. Or maybe you're caught outside when it's raining or exercising. Just keep a note of the watch's water-resistant rating and use it below the recommended area to be on the safer side. That's what we do—at least when we're not showing off.
Method 2
It's either you wear your watch, then you apply your creams, perfume, etc on the remaining skin on your arm. Or, you apply everything you need before you go out and wait a few moments for everything to be absorbed by your skin. The first is prone to errors but if you can pull it off, great! On the other hand, the second one is perfect, just only if you are not running late.
Do either of this, and you're directly making sure your creams and perfume do not harm your watch. They can build up in the chain joints and harm the watch's life in the long run. And please, do note that this is applicable to both leather and metal band watches. Better safe than sorry.
Method 3
Use skin coating to create a thin, but effective barrier between your skin and the watch. It'll help prevent sweat from getting to your watch. Salt, we are not sure it'll do anything to your watch. On the other hand, the water there might cause another thing entirely. It's the same process (method 1) as getting your watch in contact with water.
The coating that creates the barrier is sold in jewelry stores by the way. Be sure to get some if you're ever out.
Method 4
Any dirty smear on your wristwatch, we advise you whip out some paste, dab a cotton ball into it, and then carefully rub across the watch's surface. Make sure the bands are cleaned (especially the joint if it's a metal band). If you're using a leather band, just clean out the sweat that may have stained the leather.
Tip: If you notice some nooks and crannies of the watch are hard to get to, you whip out a cotton bud this time around.
Method 5
If toothpaste doesn't work, then use jewelry cleaners built specifically for your watch. Ask the jeweler if you need more help with this. But on the chance the stain is proving difficult, upgrade to ammonia. Just don't use pure ammonia for the job as that may create more problems. The ratio you use is 1:6, which equals to 1 part ammonia, 6 equal parts water.
Dip the watch's band only in the ammonia for nothing more than 50 seconds, and clean the watch with a dry and soft cloth. If you want to clean the watch case, just dab a clean cloth in the mixture of ammonia and water, and use it to softly clean the case. Don't apply too much pressure to.
How to remove scratches from your rose gold watch?
Perhaps you've tried cleaning your rose gold watch, but the scratches are still around to stay, we think it may be that time to actually re-plate your gold watch. You buy a gold plating kit, open it up, and warm the gold solution up. After that, there's a basket inside the kit where you should put your rose gold watch on. Then you follow that by placing the basket in an activator disk. When that's done, put the activator disk into the gold solution that comes with the kit. When you're done (some seconds is ok), clean it with a dry cloth, and you're good to go.
How to pick rose gold watches for the occasion?
It's actually pretty common not to know the particular colors you can wear with your accessories and clothes. The first tip, despite the fact that it's somewhat obvious, is the watch's strap. Check the material of the watch and you should have an idea of where it should go.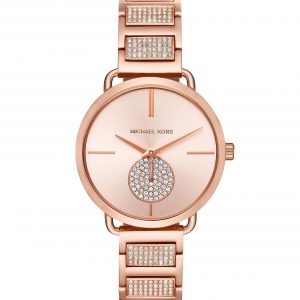 But let's still give an example. If you're going for official events, we advise you to avoid rubber straps. Choose black or brown leather watches (except if your cloth permits it) and pair it up with your outfits. For casual, everyday use, a watch made entirely out of gold isn't suitable. You're wasting its potential and also since it's obviously expensive, it deserves a reason that's worthy enough.
So, pick your rubber watch or even leather if you want to make a good impression. Still, it's actually better to have all these straps around. Or better yet, watches with different straps.
What colors does rose gold go with?
Next, up after that, we have the colors that you can choose for your rose gold watch. You can go with black, white, brown, and rustic orange. It's normal you have other colors other than this, so whenever you want to wear the watch, just hold the cloth right next to the watch. Then look for a third party to make sure that your decision on the combo isn't biased.
What does it mean to give a timepiece as a gift?
We want to expand on the significance of either gifting a watch or collecting one as a gift. If you ever find yourself in any of those scenarios, this is what everything means. If your man, child, parent, or friend gives you a watch as a present, he or she is essentially declaring that his or her love and commitment is timeless. A man tells his partner that he'll love her forever, your friend is telling you that your friendship is extremely valuable and the closest object to showing that is watching. If your parent, either father or mother, that kind of love is rather thick.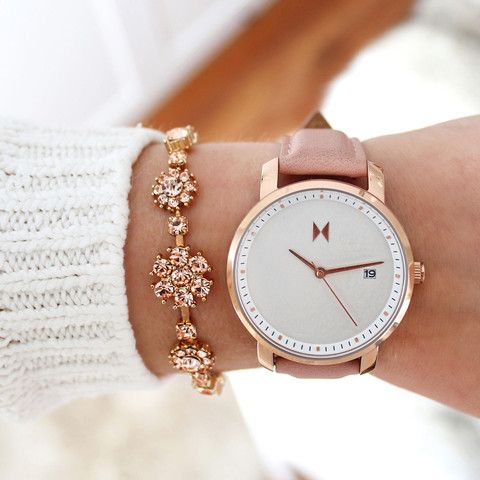 A deep, unconditional love that tells you they'll always be there for you in terms of backing (emotional, financial, or otherwise). A deep irony considering the fact that a watch tells the time constantly and it's specific, not even close to timeless. Other than that, a watch given to you by your partner means you have something of his on your person. Think of it like a permanent stamp that we'll only allow our precious person to put on us, indefinitely. Or you can be the one putting that stamp on someone. Either way, it sets a romantic tone.