Other / Women
Something Out of the Ordinary? Check Out These 10 Bamboo Earrings!
We all know that an outfit can be transformed with the right accessories. Adding texture and color in the form of jewelry can turn an outfit from bleak to sleek, giving you a new look instantly. Earrings in particular are a quick and easy way of keeping up to date with the latest fall trends, meaning you don't have to be a fashion guru to be on point. So if you're a lady that loves wearing her hoop earrings but you're looking to switch up your outfit and give it that wow factor, our stunning bamboo earrings are just what you've been looking for!
These eye catching ear candy are usually round, gold, chunky and large, with a bamboo texture. Made famous by R&B and hip hop group Salt-n-Pepa and rapper Roxanne Shante, bamboo earrings were famously brought into the 21st Century with a bang by Beyonce, Kelly and Michelle in the Destiny's Child Bootylicious music video. In the opening clip all three ladies are captured wearing their iconic gold bamboo earrings. Beyonce in particular wears her bamboo earrings as the ultimate accessory to complete her iconic look, alongside her gold cross necklace, elegant rings and a purple hat.

In recent years, bamboo earrings have made a massive comeback and have moved firmly into mainstream fashion thanks to icons such as, Nicki Minaj, Hilary Duff and even Rhianna. Worn by these A-list celebrities whilst on the red carpet, attending exclusive parties or simply popping out for a bite to eat, bamboo earrings have been reinvented and are once again the ultimate fashion accessory. A quick search for #bambooearrings on Instagram will show you the global love for these earrings!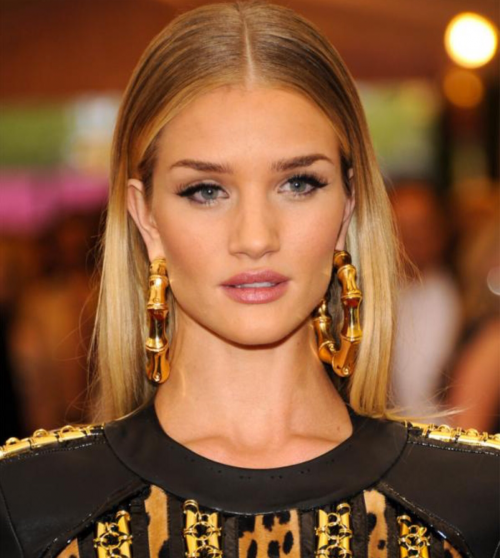 So when it comes to bamboo earrings, which color, shape or size should you choose? To save you time we've selected the best bamboo earrings on offer.
10 Bamboo earrings that will give you an A-list celebrity status
1. Punk Gold Tone Bamboo Big Hoops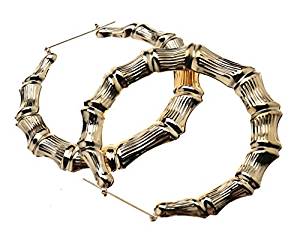 If you've never worn bamboo earrings before, where have you been? That said, we all have to start somewhere so to gently ease you into your new look we've selected these bamboo earrings from Micro Trader at a bargain price!
Made from gold rhodium plated alloy these earrings are 9cm in diameter and weigh 25g. Initially, it may take some time for your earlobes to adapt to the new weight but they'll soon grow to love their new best friends and will lap up the newly found attention you'll receive.
What makes these earrings unique is that the bamboo design appears on both sides of the earring instead of just one side. Dipped in a shiny gold tone these striking piece will be sure to add that extra something special to complete your outfit.
So whether you're looking to experiment with some new accessorises to bring you up to date with the latest fashion trends or you're simply looking for that little bit of swagger for that party you've been looking forward to, these will not disappoint.
2. SOURBAN Women Hip-hop Heart Hoops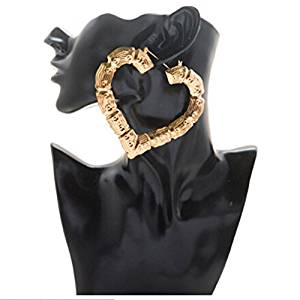 If you're searching for that ultimate fashion statement then look no further than these heart bamboo earrings exclusively sold by SOURBAN. If you live, eat and breathe fashion than you'll love these. Plus, once you buy these gorgeous earrings, all your friends will just have to have them!
Made from alloy, these gold bamboo textured earrings are shaped in a beautiful heart hoop defining them as a statement piece for anyone's jewellery box. The earrings are 8 x 6 cm in diameter making them a great size! They're also extremely light weight, giving a 'big tick' in the comfort box.
These are designed for the fashion lover who loves to make an entrance. If you've got bundles of style and charisma, they will be the perfect addition to your existing wardrobe.
The heart shaped hoop, which symbolises 'love', also makes a great gift for a special occasion like a birthday, anniversary or for Christmas. Whether you're after a present for a friend or loved one these would be a great choice. Sold by SOURBAN for an unbeatable price, why not treat yourself to these earrings, you deserve it!
3. 10k Yellow Gold Shiny Earrings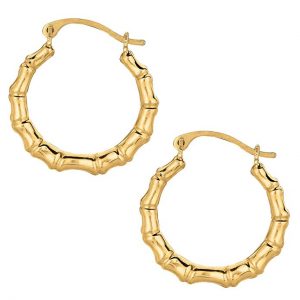 Class is written all over these bamboo hoops. Whether you're looking for some earrings to wear to the office or to a special meal out, these earrings ooze sophistication!
Jewelry Affairs really haven't scrimped on the quality of these earrings. Made from 10k yellow gold, this lightweight pair have a high end polished finish which you'll love. Different to our previous option these bamboo hoops come as a smaller size at 18mm in diameter, making these the perfect size to complement a smart blazer or floral chiffon blouse. A snap hinge closure also gives you extra security so you don't have to worry about these precious gems falling off, making them both sturdy and cute.
What makes these special is that even though they're real gold the pretty little number comes at a reasonable price when taking into consideration the quality and style. They also symbolise the iconic bamboo texture, making them once again a great choice if you're a newbie to this fashion trend.
Sold by Jewelry Affairs, we'd also suggest taking a browse on their website. As well as earrings this family run online store based in New York also sell charms, rings, bracelets and more!
4. Large Bamboo Hoops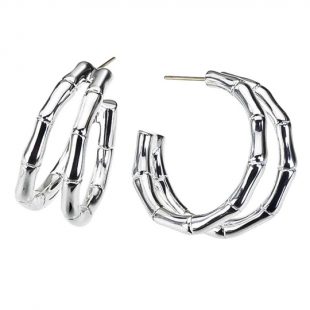 Double the hoop equals double the style with these earrings. When we said we'd bring you the top 10 bamboo earrings, we also promised to give you variety! If you love silver as well as gold jewellery you'll be pleased to hear that these earrings come in silver. Crafted by Fashion Jewelry, these double hoop earrings literally mean you're getting two hoops for the price of one. They're also a decent size at 3.25 inches in diameter. The snap closure on the back of the earring makes for easy opening and closing (that's extra points for comfort!), and the hooped earring is also available in the iconic gold tone which nicely catches the light. These may feel a little heavy at first but they are definitely worth the weight in style.
What's great about these is that the larger hoop frames the smaller hoop which makes them stand out. These are definitely eye catching and are the perfect accompaniment for your trendy casual wardrobe.
5. Large Assorted Coloured Earrings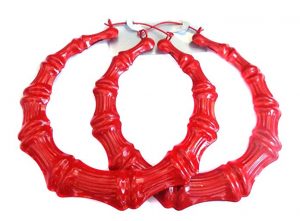 Colour, colour and colour! If there's one thing these aren't missing it's colour. If you love the bamboo textured earring trend reinvented by A-listers such as Rhianna but don't like the gold tone finish, these will be right up your street. Sold in red, green, blue, pink and white, you practically have the entire rainbow available to choose from. These colourful little numbers are also a great way to brighten up your day.
Fashion Jewelry has done well with reinventing these piece of jewelry by creating this fresh, colourful, punk vibe design. They are sold at a low price giving you no excuse to buy the whole assorted selection. They are 3.5 inches in diameter making them a descent size. If we had to describe them in one word they'd definitely have to be 'colourful'.
If you're looking for some other original and quirky accessorises to brighten up your outfit then Fashion Jewelry also sell a variety of pretty and unique gems that may take your fancy. So why not have a browse of their website (you know you want to!).
6. Tina & Co Personalised Hoops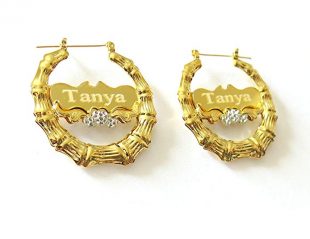 If you want to be centre stage and avoid any of your friends having the same bamboo earrings as you, then personalization is the way to go!
These customized earrings from Tina & Co will add that extra bit of glamour and sass to any outfit. Made from 18k gold, they embody the iconic bamboo textured finish are made to a high quality finish. 2 inches wide by 2 inches in length these are definitely made to be one of a kind. What makes these unique, I hear you ask? Well, the gold plated plaque situated across the inner hoop gives you space to personalise the earrings with your name.
A little bit of bling in the form of three crystal hearts lighten up your name and give it that extra sparkle. As well as your name this seller also gives you the option to include your favourite emoji on the front or back of the name plaque of the earring. A heart, cross, star or crystal are just some of the emojis available to choose from. You also have four different font styles to choose from when showing off your name.
Parcelled in a pretty little red box with a satin red ribbon bow these earrings would make a perfect anniversary, birthday or Christmas present. You also don't have to worry about gift wrapping these earrings because the supplier does it all for you.
So if you're looking for that extra bit of celebrity style to make you stand out from the crowd these are one of a kind! Jennifer Lopez has also been pictured wearing her own personalised hoops, similar to these, so you can show off being on trend at a fraction of the price! They certainly give that extra bit of glamour and wearing them will guarantee you'll be up there with the celebs.
7. Kenneth Jay Lane Satin Hoops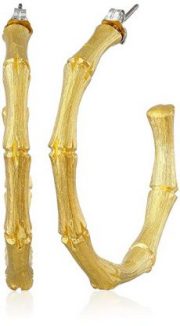 Think palm trees, golden sands and tropical oceans… A pair of these bamboo style bohemian earrings would be the perfect accessory to wear on that Mediterranean escape, summer cruise or holiday with the family.
Grab your bikini, kaftans and sarongs out of the wardrobe and get your relaxed chic look on. These are beautifully made from a gold plated base metal and are 1.4 inches in diameter making them a nice big size. What makes them different from the norm is that they're only three quarters in length in comparison to the typical full hoop which gives them more of a relaxed vibe. The bullet clutch attachment situated behind the earlobe also ensures those dazzling beauties don't fall off.
You'll be pleased to hear that Sex in the City actor Sarah Jessica Parker has worn jewelry from Kenneth Jane Lane. This world renowned fashion jeweler offers a unique range of upmarket costume jewelry and their website oozes luxury, elegance and most importantly, good taste. If it's good enough for Sarah Jessica Parker's wardrobe it's certainly good enough for you!
8. Double Accent Hollow Plain Hoops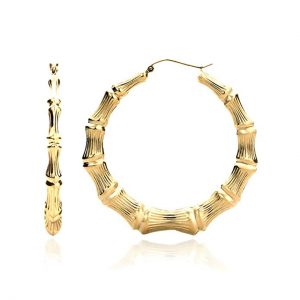 If you have a bigger budget to spend on earrings, these 14k gold bamboo earrings are a great buy. They also make the perfect present for that special person in your life! Great for wedding anniversaries, birthday milestones and special occasions alike, these stunning earrings will leave your wife, girlfriend or daughter saying 'wow'.
Sold by Double Accent, these jewellers offer a selection of beautiful and elegant jewelry. These prove that you can have style and substance! Take a sneak peak on their website and you'll find sparkle and shine galore. Let's also not forget the occasional diamond or two. Rings, earrings, bracelets and necklaces, take your pick.
Made from solid 14k gold these bamboo hoops can be purchased in various sizes including 18mm, 20mm, 25mm, 45mm, 55mm and 75mm, giving you plenty to choose from when it comes to the personal style of your loved one. What makes them special is that the beautifully crafted bamboo earrings simply gleam, eloquently lightening up the room.
What more could you want? Crafted from pure gold, these earrings will sustain their value and durability, making them a great option for the everyday lady who loves her hoops.
9. Belle Pink Gold Tone Hoops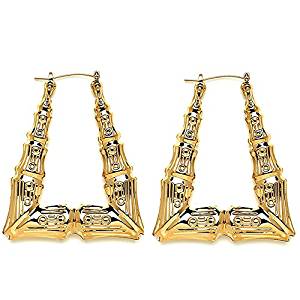 If you've already been wearing bamboo earrings for a while now and want an excuse to try something different, take a look at these triangular option  from Belle Pink. They're a great addition to your existing jewelry collection.
Crafted in a triangular shape using a gold tone finish these have a premium look and feel, but at a fraction of the price. At 4 x 4 inches in diameter, these are a great size and are reasonably light to wear. The pin catch backing also makes them very easy to put on and take off. The defined corners of these triangular earrings will also work wonders when it comes to enhancing your bone structure.
Theywould also make a great fashion accessory for a 1980s themed party. Get inspiration from Madonna's iconic 1980s fashion look, with her curls loosely tied back with a black headband bow. Accessorised with plenty of chunky black bangles, layered necklaces, lace white gloves and the all important leather jacket, you'll be the ultimate material girl! If you're looking to pull off Madonna's famous look, these earrings will certainly do the trick to complete the 1980s vibe you're going for.
10. K Cool Bamboo Textured Silver Hoops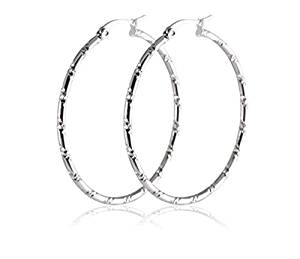 If you prefer silver over gold but still want to be a part of the latest fashion trend, these bamboo earrings are a perfect alternative.
If you're worried that these won't get heads turning, you can think again! Unlike typical chunky gold earrings, these come as a thinner hooped stainless steel design. When you purchase them from the designer K COOL, you'll notice that they've kept the bamboo texture and developed the earrings further by favouring a subtle design rather than a bold one.
Made to a size of 40mm in diameter and 2mm thickness, these offer a great size for an earring. One important thing to point out is that they have a more delicate feel compared to the sassy vibe that the other options have. So if that's your style, you'll love these!
The earrings also have a sturdy hinge clasp attachment making them easy to put on and take off.
Interestingly, K COOL has been crafting jewelry since 1996 making them a reliable and high quality manufacturer. They have a particular passion for producing stainless steel jewelry to the highest quality. They also value themselves on creating beautiful, healthy and fashionable accessories for fashion conscious people. K COOL even state that their jewellery doesn't include any nickel, reducing the risk of any allergic reactions or skin irritations occurring on your earlobe.
Another special little touch to shout about is that these stainless steel hoops come in a lovely little blue velvet pouch. This not only protects them but also gives that extra attention to detail that we love!
Pretty, stylish and dainty – we think these are a great alternative to try.
So that's our top ten suggestions for bamboo earrings. Whether you prefer trendy triangles, heavy doorknockers or dainty hoops, we've given you plenty of styles to explore when it comes to bamboo hoops. If you thought there was just one type to choose from, you were wrong! But don't worry, we'll forgive you. Now you are ready and prepared to enter the world of bamboo jewelry and give our A-list celebrities a run for their money. Don't forget to check out our additional style tips for more information on things to consider when choosing your pair. We hope that we've given you some useful things to consider and left you feeling inspired to experiment with your new look and start shopping!
Style Tips When Wearing Bamboo Hoops
Hair styles
Curly or straight, up or down, there are lots of options to think about when it comes to hair styles. Here are our top tips to consider when choosing which bamboo earrings to wear. If you're going with a curly look, a beautiful pair of large bamboo doorknockers would balance your look perfectly and show off those glossy curls. If you've got a short bob haircut, the larger the bamboo earrings, the better.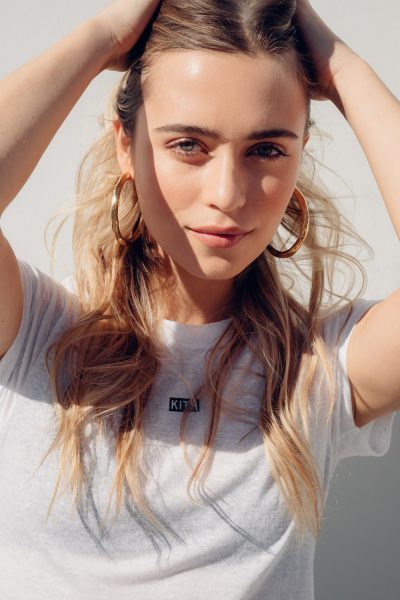 Maybe you're keen to get that serious, edgy, 80s look? We'd suggest tying your hair up in a ponytail or top bun to frame your prominent earrings. Don't be misled about bamboo earrings. They are brilliant to wear to a 80s themed party, but equally when worn in the right way, they're also a great accessory for an everyday look. Modelling a slightly smaller pair of earrings would also suit a tied up or hair down style.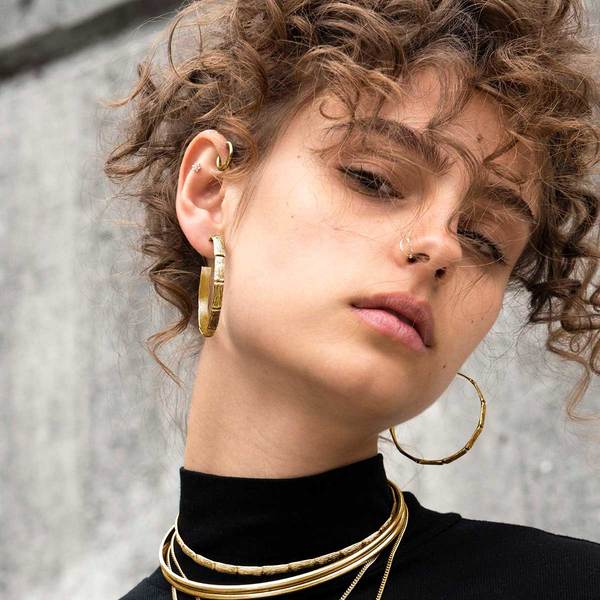 To help you decide which earrings are best for you our top ten list of bamboo earrings give you a choice for every occasion!
Makeup
When it comes to makeup and bamboo earrings, we suggest that the 'less is more look' is the way to go! Defining your eyes with black pencil or liquid eyeliner, paired with full lash black mascara will complement your bamboo earrings perfectly. If you're struggling to get that fuller eyelash look, why not try some fake eyelashes. They may be fiddly to put on initially but soon you'll be a pro at attaching them to your eyelashes and transforming your gorgeous lashes. They'll give you that extra depth so no one will be able to take their eyes off you.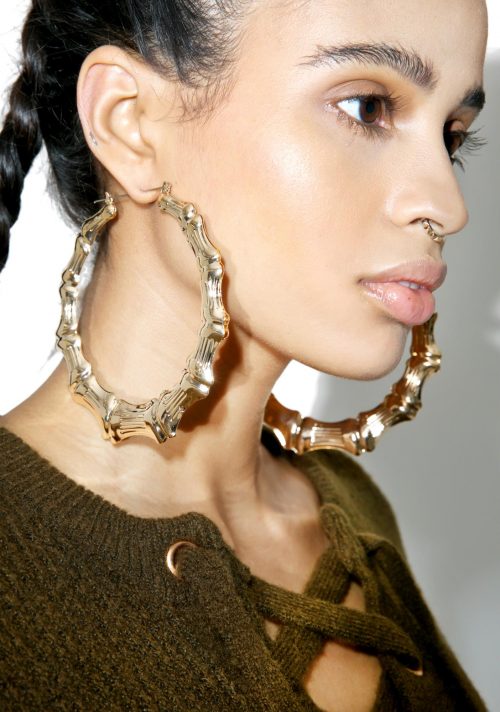 Again, when it comes to eye shadow, foundation and blusher, less is more with this style. You want your makeup to effortlessly enhance your earrings, not take centre stage. Let's also not forget lipstick. Shimmer gloss, red, pink or natural, take your pick. Any lipstick would go well with a pair of bamboo earrings.
Neckline
Stay away from over accessorising and complicating the neckline. What you want to create is an elegant flow from your hair, to your face, earrings and then neckline. By covering up your neckline with necklaces it could take away from your gorgeous neckline! If you feel happy having a lower neckline than this will extenuate your neck (and will show off a little cleavage). A wide neckline or gypsy style top would also work well.
Additional accessories
When it comes to additional accessories our top tip is to be selective. We're not saying don't accessorise with other jewellery, just don't over complicate your outfit. With a choice of necklaces, bangles, rings, (the list is endless!) you could easily get carried away and overdo it.
Outfit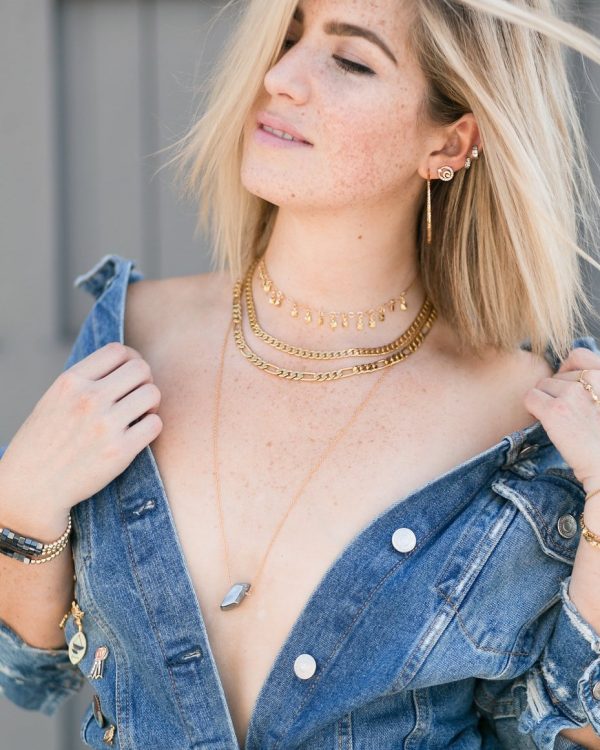 One thing you'll discover from our top 10 list is that they're very versatile. Whether you prefer modelling a sexy black top with a tight pair of jeans, a fitted blazer, tailored trousers and stilettos or a cute bikini with a sarong, you can wear your earrings with a range of outfits. That's one of the many reasons we love our bamboo earrings!