Mix / Personalized / Women
Our Favorite Name Bracelets for Less than 50 Bucks!
Name bracelets are a stunning and touching way to celebrate your identity and uniqueness. Shakespeare wrote the famous line "A rose by any other name would smell as sweet." But we think that calling a rose anything else would feel silly. The word perfectly describes the elegant fold of the petals, the famously brilliant red of the most famous variety and the sweet, distinctly floral smell.  Just like that rose, your name encapsulates you.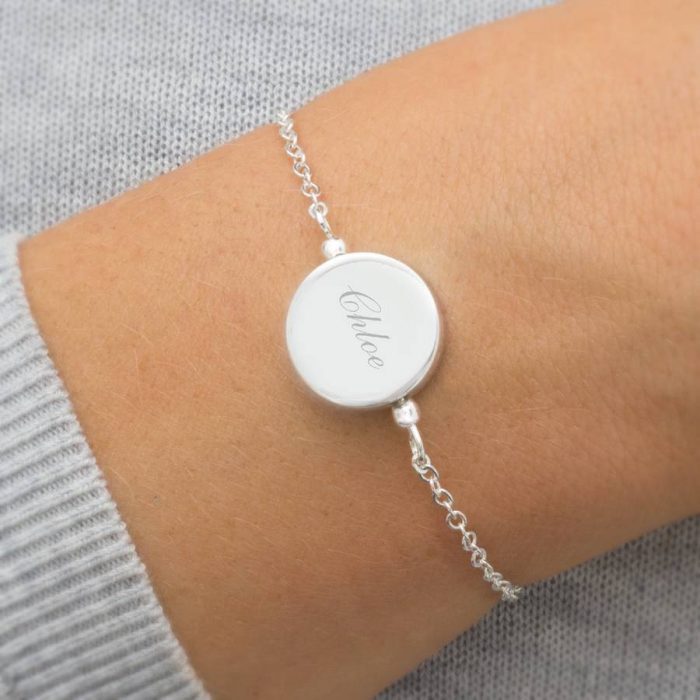 While most of us did not choose our names, we came to represent them and they came to represent us. Likewise, we did not name our friends or family, but we love the feeling of just hearing their names brings. It even comes to a point that when we see someone who shares our name but with a different spelling it somehow feels just off. Our spelling feels "correct" even though there is no wrong or right way to spell a name.
Name bracelets allow us to wear a constant reminder of our own personal tastes or the love we carry for that special someone in our lives. We've found our ten favorite name bracelets to share with you. Bonus! None of them will cost you more than fifty bucks! So you can show some love to a loved one and buy yourself a pair of earrings to match!
OurFavorite Picks!
1. Child's Name Bracelet with Birth Month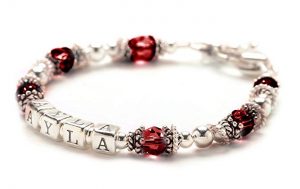 We will start with the classic name bracelet presentation. Infant name bracelets are an adorable keepsake gift for newborns, christenings, or naming ceremonies. And this one is absolutely perfect, featuring not only the baby's name in adorable letter block beads but sterling silver accents and Swarovski crystals in the child's birthstone.
In modern Western culture, we tend to know and announce the names of children months before they arrive. Some parents choose the names of their children well before they are even expecting them. Everything from family legacy names to completely unique, meaningful names to portmanteaus of the parents' names we tend to name our children well before they are born. However, this is a relatively new trend.  
Traditionally, even if the parents knew what the name would be, a baby's name was not announced until a few weeks to a few days after birth. This was done for a few reasons. The first was simply to gauge the survivability of the child. Prior to modern medicine, we enjoy today, there was a significantly higher infant mortality rate. It was considered to somehow be bad luck to give the child a name before it was born, in case it did not make it.
There are several cultures and religions that announce the name of a newborn, with reasons tied to both faith and tradition.  Several Christian faiths practice infant baptism or christening. The Jewish people hold an intricate ceremony for boys known as a brit malah. Hindus keep an elaborate tradition of holding a Namakarana on the 12th day after a child is born.
No matter the fashion in which a naming ceremony is held, it is customary to present the newborn with gifts to celebrate their arrival. Customary gifts included embroidered blankets, silver rattles, engraved infant spoons, and, of course, bracelets featuring the newborn's name.  And this bracelet is a prime choice! It is available in a range of sizes appropriate for newborn through teenagers. Made by creator Lily Brooke, you cannot go wrong with this classic selection for a touching, personalized gift for one of the newest members of the human race. It is perfect for a girl or a boy and will be a cherished treasure long after baby can no longer wear it.  
2. Signature Bracelet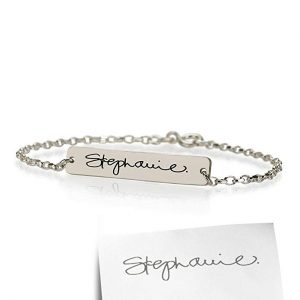 Get It Here
We adore this next name bracelet on our list. Remember all the endless days you spent as a teenager doodling your signature?  It might have featured your last name or perhaps your crush's but nevertheless, pages and pages of notebook paper were covered in loopy scrawls of your name. Women who marry and choose to take their partners name get to practice their signature twice. Countless brides-to-be have perched at their desks doodling their new married name, just like they did as a teenager. Once perfected your signature has become a mark of adulthood.  Everything from checks to contracts is verified by a signature. It is a unique mark of your identity.
This bracelet requires a signature as well, but not necessarily for purchase. Not only does this bracelet feature the name of your choice, but it also does so with a laser-etched signature or handwriting sample you provide. It doesn't get more personal than a signature!
The bracelet is made of 925 Sterling Silver. A classic rolo chain connects to a 1.3-inch sterling silver bar with a darling matte finish. This bar features your signature or the signature of a loved one. This makes a perfect gift for newlyweds, best friends, long-distance relationships, and as an In Memoriam bracelet for a loved you one have lost.
We cannot think of anything more touching then celebrating the life of a loved one who has passed away than wearing a bracelet that features their signature or handwriting. It is a sentimental way to preserve their memory and keep them close. Perhaps they signed a holiday card you kept in your collection or left you a sweet note. Submit their handwriting and receive a bracelet with their message made permanent in jewelry form.
A new bride would likely swoon over an IOU gift of this bracelet for her shower. Simply promise the bracelet to her via a gift certificate and have her sign her new name (if she is taking on a new last name) so you can submit it to the bracelet creator.  Nothing gives a new bride more of a thrill than being called by her new Mrs. name. A touching gift with thought before and after is always a hit!
This bracelet is very reasonably priced so it also makes for a great best friend bracelet. Write each other's names and you can wear your own name bracelet written in your best friend's hand. The options for this amazing find are positively endless. We are confident you'll find the perfect application for it!
3. Personalized Name Bracelet Bar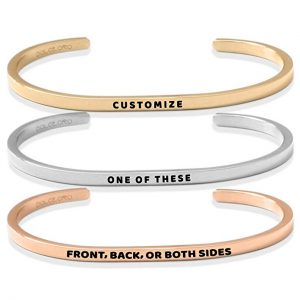 Our next pick is super customizable and great for men and women. The sleek bar design of the bracelet is a little less traditional than the chain and charm design of most name bracelets. A three millimeters bangle style band is available in white, yellow or rose gold color surgical grade stainless steel.  
Dolceoro, the maker of this simple piece, allows you to engrave the front and back of these bracelets. We recommend putting your name on the outward side and a personal, encouraging mantra on the inward side, close to your skin. You'll get to sport a stylishly modern bracelet with a secret meaning just for you on the inside. Consider self-affirming statements that give you those happy warm feelings. We would choose something like "Do more of what makes you sparkle," or perhaps "They can imitate your style, but not your passion."
These would also make a fantastic couple set. Place your name on the outward side and your partner's name on the inside so they are always close at hand.  This same arrangement would be perfect for his and hers wedding or anniversary gift as well!
These bracelets are stackable and will look wonderful paired with a stack of wire and metal bangles.  For a bold look and brilliant use of color, use all three shades of gold. This look will go with any outfit as well. Or order all three colors for a complete memory. Engrave one with a name, one with their birthdate and one with a message that reminds you of your loved one. The bracelet is slightly adjustable with instructions provided by the maker but it can either hug the wrist bones or hang a little more loosely.
While it is not typically associated with "fine" jewelry, stainless steel is a fantastic option for jewelry, especially for people with metal sensitivities.  It is a sturdy, hypoallergenic option that is rust-resistant and less likely to irritate. Since name bracelets are often a regular, daily wear item, we love stainless steel for a budget-friendly alternative to 24k gold or high dollar platinum.
4. His & Hers Jeweled Name Bracelets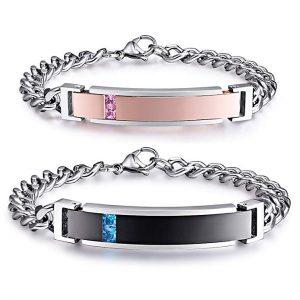 This pair features a bit of sparkle and shine with inlaid cubic zirconia and that is right up our alley. The bracelets combine a suave, linear design with a classic chunky rolo chain of traditional name bracelets. The face comes in a rose or smoke titanium steel. The rose face is inlaid with two pink cubic zirconia. The smoke face is inlaid with two blue cubic zirconia.
You can engrave both the face and the inside of the piece so we recommend your name and your anniversary or important date to your relationship.  If you have a special way to say "I love you," that would be brilliant as well! This jewelry maker lets you select from a series of fonts so you can make it extra "you".  It is a little detail but every detail counts.
This matched set makes this find extra sweet because it is intentionally matched, not just a double of the same bracelet. It speaks to the complementary nature of relationships. You are still you and your partner is still your partner. You compliment each other and make each other better but you do not sacrifice who each of you is as individuals. These bracelets do the same. They go well together but are still, in some ways, different.
The two can be purchased individually so if you aren't into the matching couple aesthetic, you can still hook yourself up with a great name bracelet option. And don't feel beholden to grab the ladies version if the smoke and blue combo matches your tastes. We firmly believe just because the piece is labeled "men's" or "women's" doesn't mean it can't be enjoyed by anyone who loves the look. Jewelry is an outward expression of an inward style. Labels need not apply with a rigid structure. Wear what you love and make no apologies for it.
5. Leather Watch Band Engraved Bracelet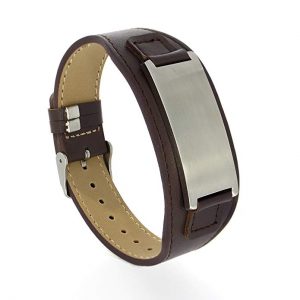 Leather does not get a lot of love in the jewelry world. For the most part, we tend to lean hard into the gleaming metals and sparkling gems. But, handled well, a nice leather cuff or earthy-toned band can look downright stunning. We think this is the case with this leather watch band bracelet. It is 1.5 inches across and holds a laser engraved plate across the wrist.  
Great for men or women, this piece feels very natural but still finely crafted. There is something so incredibly empowering about combine genuine, high-quality leather with the cold, smooth grey of steel. Earth meets industry in a marriage made in heaven. It could even be considered slightly steampunk for those in the cosplay and culture of the augmented Victorian style. This bracelet captures that balance of power perfectly.
Leather is believed to be one of the oldest materials used for jewelry though not much of it survives. The tanned hides held up through time in clothing and household use, but the smaller decorative pieces were often lost or damaged. While we know leather clothes were popular in the earliest segments of human history, it also played heavily into jewelry making. Wood, bone, and stone beads were corded together with leathers, animal hides, and plant-based ropes to form the earliest adornments.  
Leather figures heavily into traditional Native American jewelry, African jewelry, and Mexican jewelry. Much of the intricate beadwork and stitchwork were affixed to sheaths of tanned leather. Mexican leathercraft is renowned for being both beautiful and utilitarian. Their unique and iconic leather stamping techniques are emulated even in today's metallurgy work.
Typically jewelry is defined as something for the express purpose of adornment and beautification of the body, however, there are some realms where a functioning piece can also be jewelry. Belt buckles are a good example of this. As are leather cuffs and bracelets. Original cuff-style bracelets were designed from the bracers or wrist guards of armor. Leather was a popular choice on the battlefield as it was lightweight, cheaper than chain or plate armors and far more readily available.  
This piece is a great gift for those with a more natural aesthetic or prefers more straightforward pieces.
6. Arabic Name Bracelet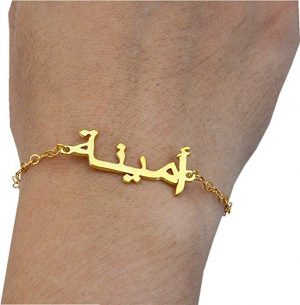 This is an exotic twist on the classic name bracelet. The 925 Sterling Silver is plated with your choice of yellow gold or rose gold or simply polished to a brilliant silver shine.  The exotic element of this name bracelet is rather than a standard script-style font, your name will be carefully carved into the beautiful, visually-stunning Arabic language.
The Arabic language is more than 10 centuries old. It was first spoken by nomads that wandered through the area now called Lebanon, Syria, Iran & Iraq. Arabic actually means Nomad. The spoken language actually has several variants depending on where it is spoken but it is all called Arabic. Recently a shift in the language has begun unifying all these variants into Modern Standard Arabic.
The roots of the written language stretch back to the second century, BCE. One of the Arab nomadic groups, the Nabataeans, wrote a very script style of Aramaic. This same written form of language evolved into the current style of writing. There are two primary variants of the written Arabic language, Kufic and Naskhi.  Kufic is far more angular and while popular in some of the earliest writings in the Arabic language, Naskhi appeared in the eleventh century and has superseded Kufic almost entirely. Your bracelet will be written in the smoother, flowing Naskhi.
You have your choice of bracelet sizes so this will fit everyone. Even if you don't speak or write in Arabic, there is no denying the aesthetic beauty of the writing. As a culture, we have long been fascinated by displaying things of a different language. From tattoos to jewelry, Chinese, Latin, Arabic and Japanese are popular choices.  
This bracelet creates a conversation piece. Or it can be something just for you. Perhaps you get the name of your child written in Arabic or your significant other. You'll know what the beautiful looking word is and can choose whether you share that with other people. Even if they cannot read it, you'll still have a gorgeous piece of jewelry to wear every day that they'll certainly admire.
7. In My Heart Braided Leather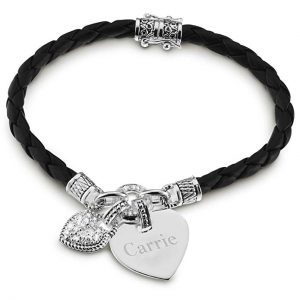 Everything about our second leather bracelet on the list is perfect. From the braided cord to the charm style name and straight on back to the closure, we absolutely love this piece. This bracelet, produced by famed specialty engraver, Things Remembered, is a fantastically affordable treasure. The black genuine leather is braided and capped with detailed finials. The sterling silver caps are detailed with scrollwork relief. This bracelet also has a pin and peg closure intended to make it easy to put the bracelet on by yourself. The pins are even gently sculpted with a tiny bit of flair at the tips.  Such attention to detail will get us every time.
The name charm is a stainless steel heart that will be laser engraved with the name of your choice. This means if you put the name of a loved one inside it, they will always be "In Your Heart." Hanging next to the name heart is a second heart enshrined with round-cut white cubic zirconia stone. It gives the perfect amount of sparkle.  
This is all securely mounted to a black braided leather band. This piece is wonderful for folks who prefer an earthier style, a rocker style, or a biker style.  We think this bracelet worn in the company of turquoise and silver necklace and a pair of white gold with a black crystal hanging earrings would really make for a complete look. Or consider pairing the bracelet with a nice flowy dress in deep colors for a "connected to the earth" vibe. This is the perfect piece to complete a Coachella look as well, with the leather drawing on the au natural feel while the charm and gems still glam it up enough to hold its own on the festival scene.
All the while the heart quietly reminds you of the one you love.
8. Infinity Names Bracelet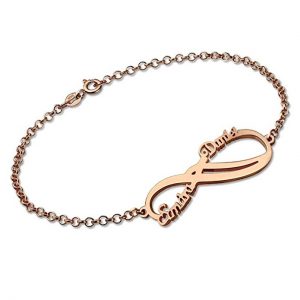 Another classically styled name bracelet, this infinity name bracelet allows you to select two names of people who you will love forever.  You might choose your own name and the name of your significant other. Alternatively, the names of your siblings, children, grandparents or parents would be a touching addition to this rose gold plated 925 Sterling Silver bracelet.
Rose gold is one of the newer trends in wearing gold. The lovely blush color is created by adding a percentage of copper and/or silver to the naturally yellow gold.  Rose gold can come in shades from a pale, pastel pink all the way to an orange-tinted brown, all determined by the chemical make-up used in the refining process.
It was invented by the famous jewelry and goldsmith Carl Faberge, famous for the Faberge Eggs in the late nineteenth century. After the initial surge in popularity, it faded from trend until the last decade or so. Now it has seen a massive resurgence both in fashion jewelry and home decor. The earthy sunset tones of rose gold give a very vintage feel without the tarnish that comes with actual age.
For this rose gold beauty, the metal is shaped into a timeless infinity with the names of your choice looped into it in a playful cursive font. This symbolizes the eternal connection. Everything that is in infinity connects your name with your loved one and this bracelet will demonstrate that will elegance and in vogue fashion.
We recommend this be worn solo on the left hand. Even if this is your dominant hand, the left side of the body is significant as it is the side that contains your heart. An old story maintains that this is why the wedding band is worn on the left hand as well, to be nearest your heart, the source of your love. The loose fit of this style of bracelet means wearing it in tandem with other bangles may get it tangled or spun around incorrectly.
9. Double Chain Braille Name Bracelet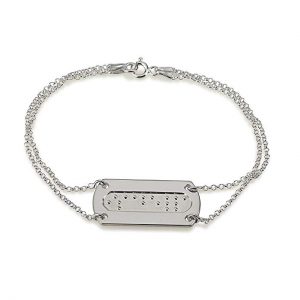 This piece combines the stunning brilliance of sterling silver with the tactile element of braille writing. The bar necklace is hung from the wrist by a fun, flirty double chain; a great break from the standard of the chunky rolo chain favored by most name bracelet creators.
Braille writing was created in 1824 by a man called Louis Braille. After losing his sight in an accident at the age of fifteen, he set about ways to cope with the loss of vision in a sighted world. He created the tactile alphabet as a way to not only read like a blind man but to enable sighted people to read and write at night. This was an age before the modern electric light. Even gas lights were several years off. Reading by candlelight or firelight was hard on the eyes. Braille figured if a blind man could learn to read a language by touch, so to could the sighted.
His idea for people with vision reading at night never really took off. But it proved an invaluable resource for the vision impaired. His alphabet consisted of specifically spaced and positioned raised bumps. Each letter and number has a particular arrangement of raised dots. It is read by dragging the fingertips across each cell to feel for the location of the dots. Then, as you do with sighted reading, your brain can figure out what word is meant to be read.
Tactile aids are more present than we know and not always for the exclusive use of the blind or vision-impaired. We see one example nearly every day. Those little raised bumps or bars on your J and F keys on an English keyboard help you know where to place your index fingers for touch typing.
Even if you rock 20/20 vision, this bracelet is still amazing! You can have your name or the name of your loved one stamped out in braille.  Another fantastic conversation starter in bracelet form has us buzzing! You'll be able to run your fingers over the raised bumps and literally feel the name of your friend or family member at your fingertips. That's just so sweet in our book. Buy a pair as a friendship set and your bestie can do the same!
Wear this one solo for sure. Its beauty is in its pure simplicity. Available in a host of materials from sterling to 24k gold plate and every stop in between, you can pick the one that best suits your desired look. The double chain is a nice touch to this touchable bracelet.