December Birthstone Rings: The Perfect Xmas Gift for Those Born in December!
last updated:
Apr 13, 2021
Birthstone jewelry, like December birthstone rings, is a sleek addition to your jewelry collection. They allow you to carry a piece of your identity with you in a fashion-forward and distinctive way.
Combining your birthstone with a ring allows you to decorate your fingers with sophisticated slip-on jewelry for everyday wear.
From Tanzanite to Zircon, these birthstones are some of the most exquisite you're bound to find. If you're searching for a gorgeous and timeless piece, these rings are some of the best to consider.
Our Top 8 Picks!
1

. Black Bow Jewelry Co. Stackable Turquoise Ring
Sterling silver band
Rhodium-plated
Reconstituted turquoise stone
Prong setting
Turquoise is one of the three birthstones typically attributed to December birthdays. The Black Bow Jewelry Co. stackable turquoise ring looks gracefully worn on its own and is the perfect stacking piece. We imagine wearing this ring with a thin silver band paired with gold accents for an even more dramatic appeal.
Read more
This turquoise Ring has a vintage aesthetic perfect for an old-world look. It's a wardrobe-friendly piece with an elegantly placed turquoise stone in the center of the striking silver band. The polished metal adds the ideal amount of contrast, helping the ring to glisten effortlessly in the sun.
You'll love the simplicity of this piece, as the stone is smooth and glitzy without being too over-the-top. It also looks like it was handcrafted by expert artisans with a beautiful yet subdued prong setting. The sterling silver band is plated in rhodium for a long-lasting finish to elevate the piece even further.
Rhodium is one of the best materials for jewelry as it's anti-corrosive and anti-tarnish. You can quickly wear the ring in the shower or rain without the worry of the band rusting. Also, it won't turn your fingers green, unlike other affordable birthstone jewelry.
You can easily mix and match this vintage piece with other items, whether they're silver or gold. Also, it's a funkier style that will look perfect adorned on any finger, although we love the idea of wearing it on the thumb.
2

. Ross-Simons Italian Ring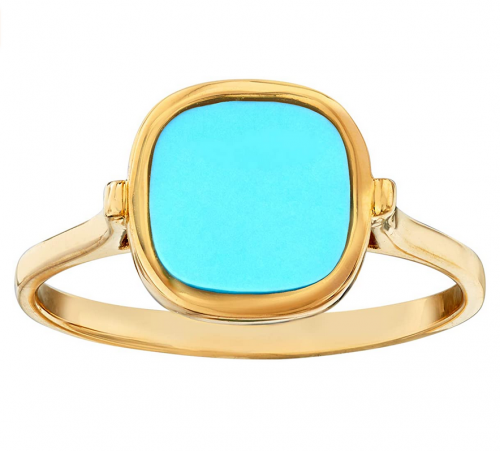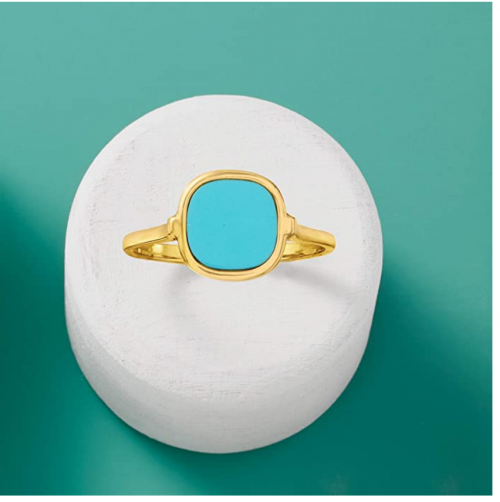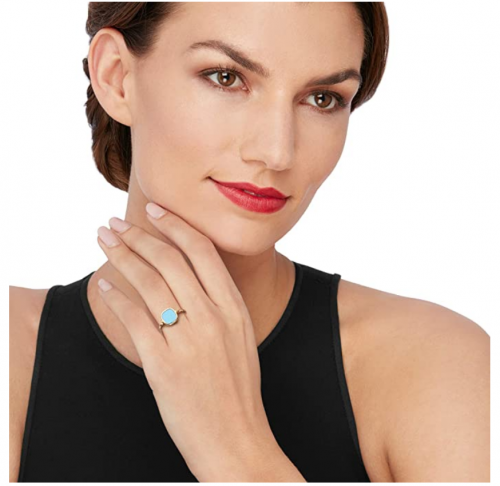 14k yellow gold
Italian turquoise slice
Smoothed edges
A gift box is included
The Ross-Simons Italian turquoise ring in 14k yellow gold is the perfect centerpiece for a vacation-ready outfit. With an ornate and vibrant turquoise stone, it helps to transition traditional birthstone jewelry to a more modern plane. You'll love the simplicity of this piece as well as its stunning top-of-the-line craftsmanship.
Read more
Italian turquoise is unique in that it's far more vibrant and lustrous than other types of turquoise. You'll find the stone in the center of this ring is resemblant to the crystal clear ocean. We especially love the 14k yellow gold band that adds the perfect contrast to separate the stone from the rest of the ring.
The band's beautiful polishing helps it sit perfectly on any finger as it's smoothly engineered. There's no doubt this ring looks expensive, especially with the eye-catching 8x8mm turquoise slice. With the added benefit of gold, you can guarantee you're investing in an accessory designed to last a lifetime.
Fine Italian jewelry carries a luxurious weight that many jewelry lovers appreciate. You can guarantee the piece is held to some of the highest quality standards worldwide.
3

. Gem Stone King Tanzanite and White Diamond Ring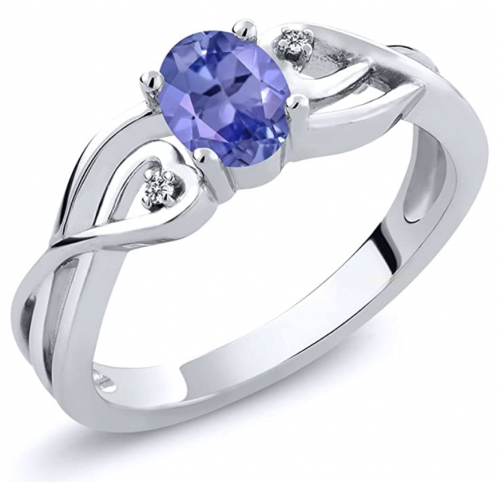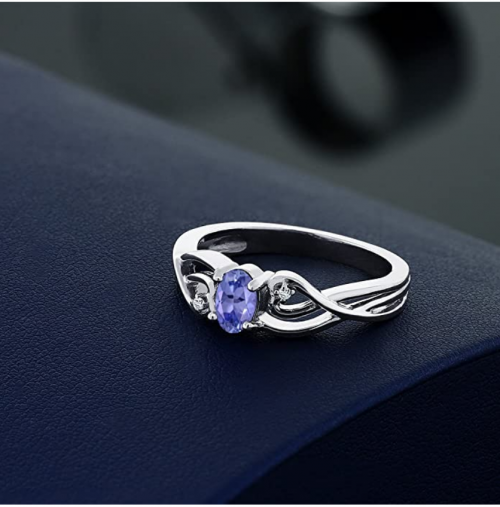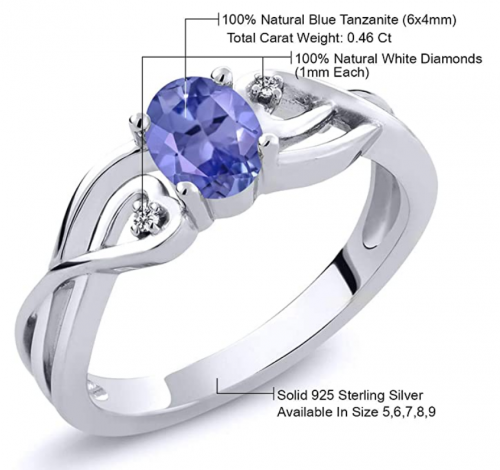 Sterling silver
Natural tanzanite
Gift box included
Here is another December birthstone that will totally enhance the way your fingers look. It is a mixture of the tanzanite blue December birthstone and white diamond, graced with high-quality sterling silver.
Read more
This will pass as a wonderful gift for your friend who was born in December, not only because of its beauty but also because of all the healing powers and good fortune we know to be associated with the tanzanite birthstone.
The design is totally breathtaking. As the oval-shaped tanzanite birthstone sits proudly at the peak of the ring, the diamond graces it and the 925 sterling silver makes it totally enchanting. The ring is made with a prong setting style and weighs just 0.8 ounces. It comes in sizes 5, 6, 7, 8 and 9.
This piece has been in the market for a while and so far, there has been a massive rush for it. Let's not forget affordability, the price is moderate and there is also a two-year replacement policy on this product, so buy it with confidence.
4

. Ruby & Oscar Tanzanite & CZ Serenity Ring
Sterling silver
Individually set cubic zirconia
Large tanzanite center stone
Polished metal
The Ruby & Oscar tanzanite & CZ serenity ring is one of the more luxurious options on this list. It has a glamorous style bound to capture anyone's attention in the room with its flawless styling. You'll find it has a very glamorous appeal that is sure to impress even the most fashionable wearers.
Read more
As another one of the three December birthstones, tanzanite has a gorgeous pastel blue coloring. It's as clear as the sky on a bright sunny day in the middle of winter, breathing life into your other accessories.
We guarantee this piece won't leave you wanting, as it has everything you'd expect from a glittering ring. A perfectly sized tanzanite stone was set in the ring's center, encased by bands of glistening cubic zirconia. Each of the individually set stones is crafted with close attention to detail, speaking to the piece's artisanal quality.
The Ruby & Oscar ring in sterling silver could make the perfect birthday gift. However, its eye-catching design could also double as an engagement or anniversary ring. Compared to many other birthstone ring designs, this is one of the more exotic pieces we've seen.
5

. Elizabeth Jewelry Trillion Ring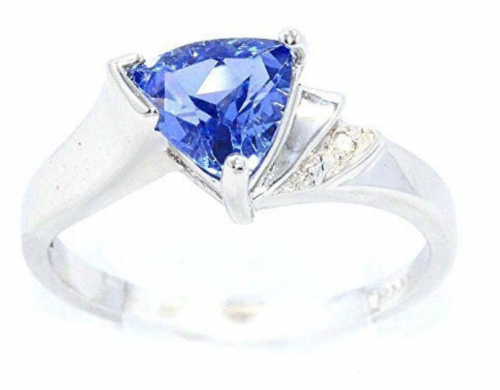 Sterling silver
Rhodium finish
Natural tanzanite
Just because tanzanite looks so good and has so much history, we have decided to bring a second ring made out of it, which will be a perfect gift for that special person in your life. This option is also graced with high-quality sterling silver and comes in a variety of sizes.
Read more
This beautiful ring is decorated with a 10 by 10 gemstone in a prong setting style. It is 13.5mm wide and has a cool triangular look which will look great on your middle and ring finger.
The ring is one of the simplest you will find on this list, but that does not take away its elegance and class. If you are planning to gift this, let it be to a person who is just naturally simple, they are the ones who will appreciate this ring more.
Also, it can be worn to both formal and informal occasions, this is one way to have your friend wear it at all times, which will always keep you in their heart.
6

. Palm Beach Bypass Ring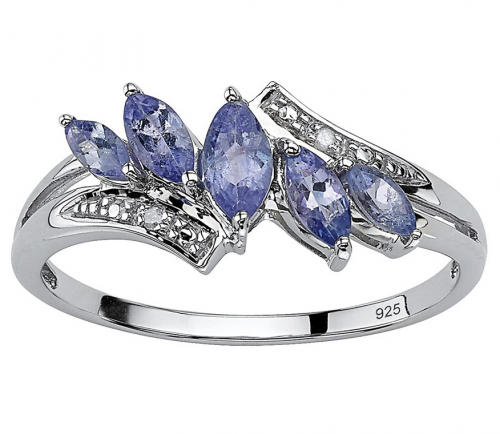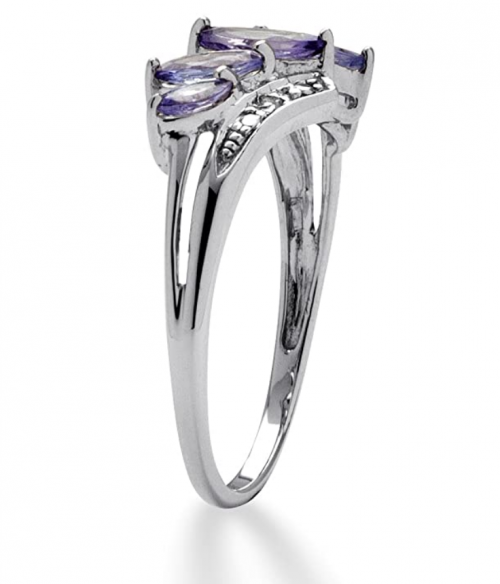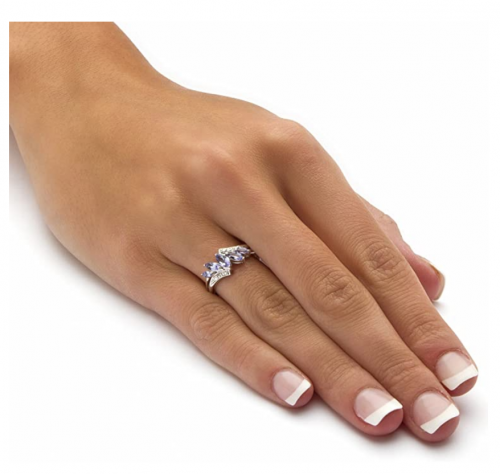 .27 carat purple tanzanite
.01 carat diamonds
Platinum-plated
2 grams of sterling silver
It's not often that you're able to find an edgy yet delicate piece of jewelry to add to your collection. The Palm Beach bypass ring meets every expectation with its exquisite design. If uniqueness is what you're searching for, this is our top recommendation.
Read more
Having a one-of-a-kind ring to pair with any outfit is an iconic way to showcase your style. This option boasts a natural and organic setting with luxurious features. Each of the tanzanite stones is perfectly displayed across the front of the band in an alternating pattern.
The stones are beautifully laser-cut, ensuring they have multidimensional faces to capture the light. Along with the tanzanite, you'll also find individually embedded diamonds that are equally as sparkly. The subdued blue coloring of the birthstone is the most significant focal point of the entire piece.
We love the idea of gifting this ring as an engagement ring, primarily due to its higher-quality construction. There are plenty of stones incorporated in the design to consider, including one marquise-cut purple tanzanite, four genuine tanzanite stones, two genuine diamonds.
Each of the pieces blends effortlessly together, offering a beautiful display that won't soon be forgotten.
7

. Ross-Simons Mosaic Turquoise Ring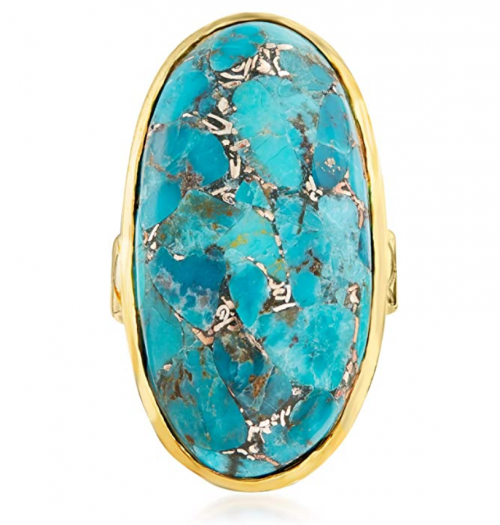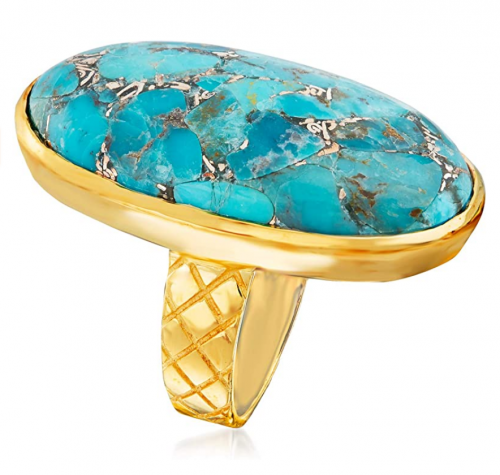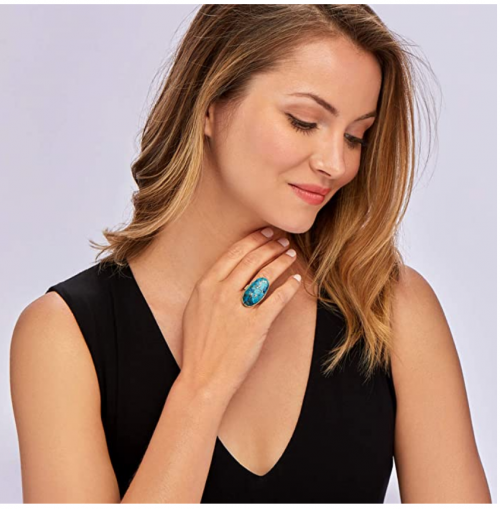 Large turquoise stone
18k yellow gold plating
Sterling silver
Heated brass and copper filigree
The Ross-Simons mosaic turquoise ring is the showstopper of the pack, especially as a standalone piece. If you've been searching for the perfect focal piece for your outfit, this design is finely detailed for elegant wear. There are plenty of unique features built into this ring that you're bound to love at first sight.
Read more
It's easy to see how this ring is red carpet-ready with its spectacularly vibrant turquoise stone in the forefront. The beautifully marbled texture of the mosaic turquoise is what sets it apart from the rest, offering a striking and memorable appeal.
The band is crafted from pure sterling silver plated in 18k yellow gold for a sophisticated finish. It's also polished to offer a timeless shine that can withstand everyday wear. This turqoise ring will indeed become one of your favorite accessories to show off on any occasion.
Heated brass and copper travels throughout the turquoise stone, adding texture and a unique appeal. Compared to other December birthstone pieces, this unique two-tone style is effortlessly graceful. It's also highly versatile, as it can be worn on any finger to add a high-class aesthetic to your other accessories.
You'll appreciate how this piece is prepared for gifting upon arrival. Along with the ring, you'll receive a beautifully packaged gift box perfect for birthdays, Mother's day, or even Christmas.
8

. Ice Carats 3 Stone Blue Tanzanite Ring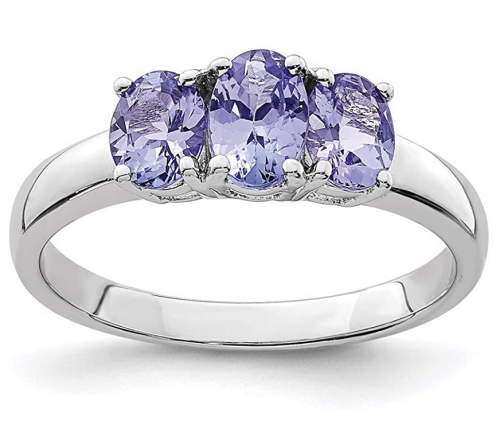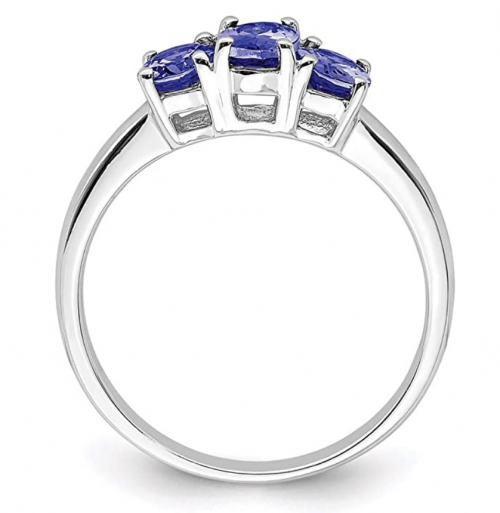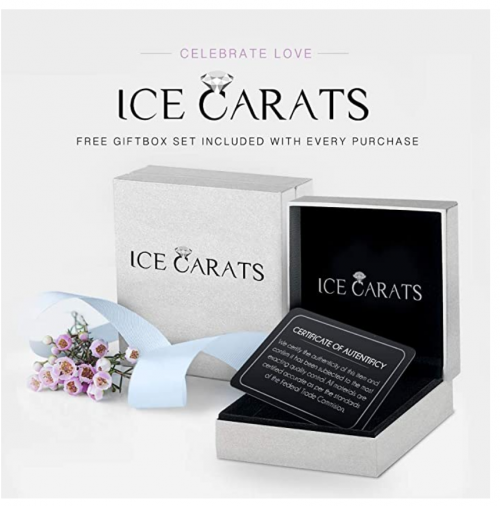 The sparkling blue color of the tanzanite birthstone really shines in this ring, as it is designed in such a special way. The ring comes in the well-known prong setting and has dimensions of 8mm and 6mm for height and width respectively. The sterling silver takes the major part of the ring, while the tanzanite birthstone takes the prominent part.
Read more
At the peak of the jewelry sits the biggest of the three tanzanite birthstones used to make this piece. On the left and right sides of the biggest tanzanite, there are smaller ones, which look beautiful in themselves but also act as a means of channeling emphasis to the bigger gemstone.
Another good news about this ring is that it comes in a wide range of sizes. Even though not cheap, considering the quality of the materials and the clarity of the tanzanite stones, it's worth every penny!
Whoever you give this to will really value it, especially if they were born in the month of December. It is a simple ring that can be worn anywhere, on any color of a dress, for any occasion.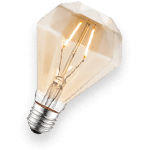 What is a birthstone?
No matter your age, gender or race, one of the things you have in common with other humans is that we all have a birthstone. For those who do not know what a birthstone is, it is a gemstone that is associated with the month of the year in which you were born.
What Are December's Birthstones?
If you were born in December, your birthstones are up to three in number; blue zircon, turquoise, and tanzanite. All three stones of December are known and loved for their blue color, which varies with respect to the type of December stone. These stones are known to be love charms, symbols of success, and also a powerful means of warding off evil spirits when used to make rings.
FAQs
q:

Is birthstone by month or zodiac?

a:

Birthstones are typically attributed by the month rather than the zodiac, as many zodiacs branch across two months. With that said, choosing a birthstone by your zodiac sign could give you a different option from your standard stone.

For example, Scorpios can have topaz as their astrological birthstone and citrine as their monthly birthstone.
q:

How do you choose your birthstone?

a:

Choosing your birthstone is simple, as all you have to do is determine what stone is related to your birth month.

As an example: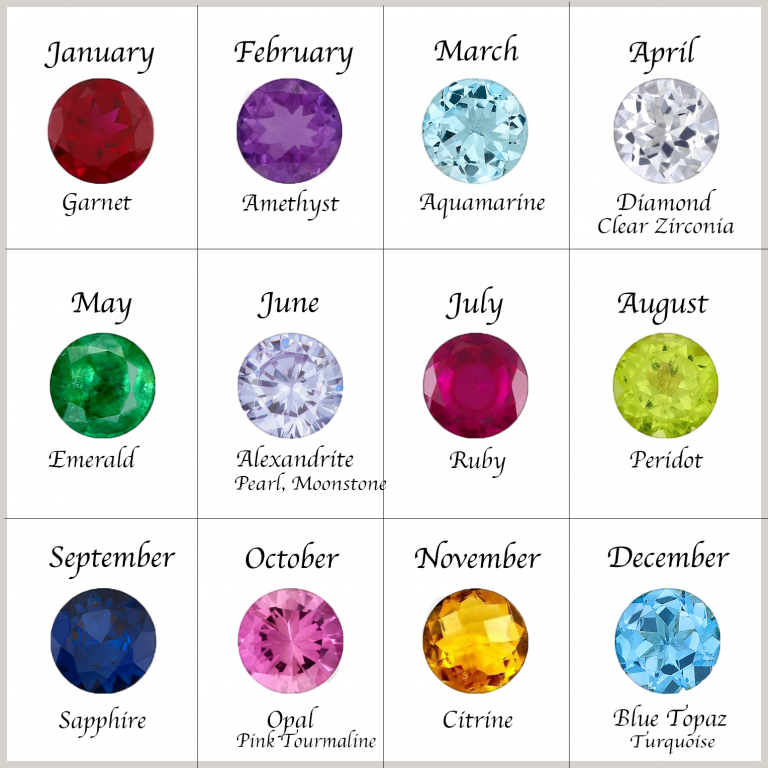 q:

What is the best stone for December?

a:

There are three different stones typically attributed to December birthdays, turquoise, tanzanite, and zircon.

Each has separate meanings:

Turquoise - Good fortune and health
Tanzanite - Spiritual awakening and intuition
Zircon - Wisdom, and protection

Choosing the best one depends on what you feel like you're lacking in your everyday life.
q:

What is the most expensive December birthstone?

a:

Tanzanite is by far the most expensive December birthstone, with turquoise being the least costly. On average, a tanzanite carat can cost upwards of $100, while turquoise is approximately $50.

If you're fortunate enough to find a top-end gem, you could spend more than $500 per carat.