Inspiration / Jewelry
Zodiac Birthstones & Jewelry: a Guide to Buying Birthstones by Zodiac Signs
Some belief the birthstone, also known as natal stone, to have their origin from the Breastplate of Aaron in the Bible. Tradition also links birthstones to the dates and signs of the Zodiac. The former is from a Christian perspective and the latter from a superstitiotheus vein of thought.
Many of them are believed to have healing properties, and some do not. We are glad for zodiac birthstones wherever they came from and whatever they do, or don't do because the gems have been made into jewelry pieces we love and enjoy.
History of Zodiac Birthstones
When you use the Breastplate of Aaron to establish the historical foundation of zodiac birthstones, you can grab a Bible and look at Exodus, chapter 28, verses 15-30. The Bible has 1,704 references to gemstones, which is a certain sign of their significance in religi,ous history.
The Breastplate was worn by the High Priests in order to communicate with God. Twelve gemstones were on it, and each one represented one of the 12 Tribes of Israel.
The tribe of Levi was associated with Red Garnet, Zebulon was the Diamond, Gad got Amethyst, Benjamin was connected to Jasper, while Simeon was related to Chrysolite. Issachar was associated to Sapphire and Naphtali to Agate.
The Tribe of Joseph aligned itself with Onyx, and Reuben was assigned Sard. Lastly were Dan and Asher. They received Topaz and Beryl, respectively. You may see the stones listed for the Tribes don't all correlate with today's birthstones.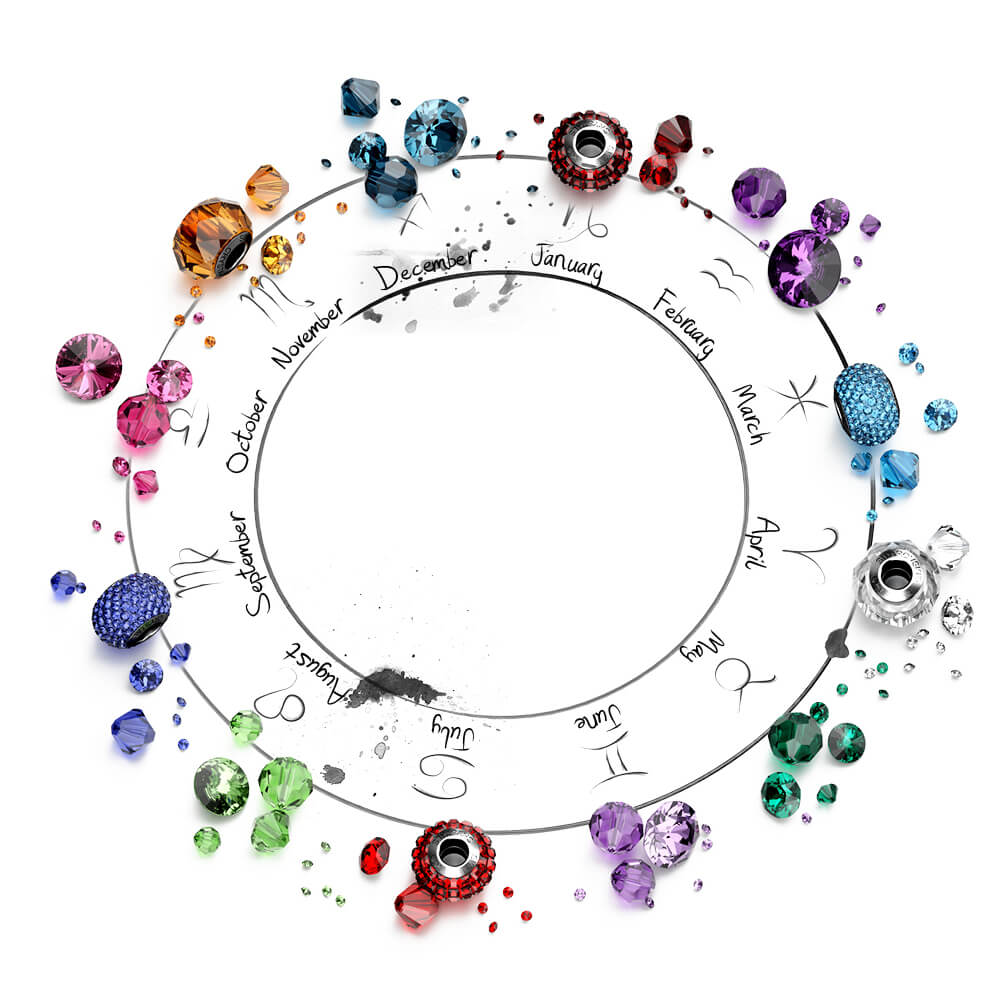 Things have changed over the centuries and, while some of the gems mentioned in Exodus aren't the same as those we commonly use as today's zodiac birthstones, the Breastplate laid the foundation for the pieces of jewelry we cherish.
By the mid 1800s, gem traders began assigning stones to the zodiac signs. It appears marketing was even valued back in the old days. It wasn't until 1912, however, that the "The Jewelers of America" assigned a birthstone to a place in the list of months we use today.
Before that time, you figured out your stone by referring to the zodiac chart of months. The month-by-month list is much easier and less complicated.
Zodiac Birthstones & Meaning
Today, The Breastplate of Aaron is no longer touted as the major association with zodiac birthstones. Now, primarily, the world sees zodiac birthstones as being associated with the signs of the Zodiac.
The diamond is Aries, the emerald is Taurus, the Pearl is Gemini, the Ruby is Cancer, the Peridot is the stone for Leo, The Sapphire is Virgo and the Opal is Libra. A couple more are the Topaz belonging to Scorpio and the Turquoise claiming Sagittarius.
Birthstones are generally associated with a month of the year, or a certain span of dates during a month. Each stone has it's own significance, but throughout hystory, it's been thought that by wearing your birthstone, it will bring you wellness and good fortune.
Below, is a list of the months and the birthstones representing them. They are: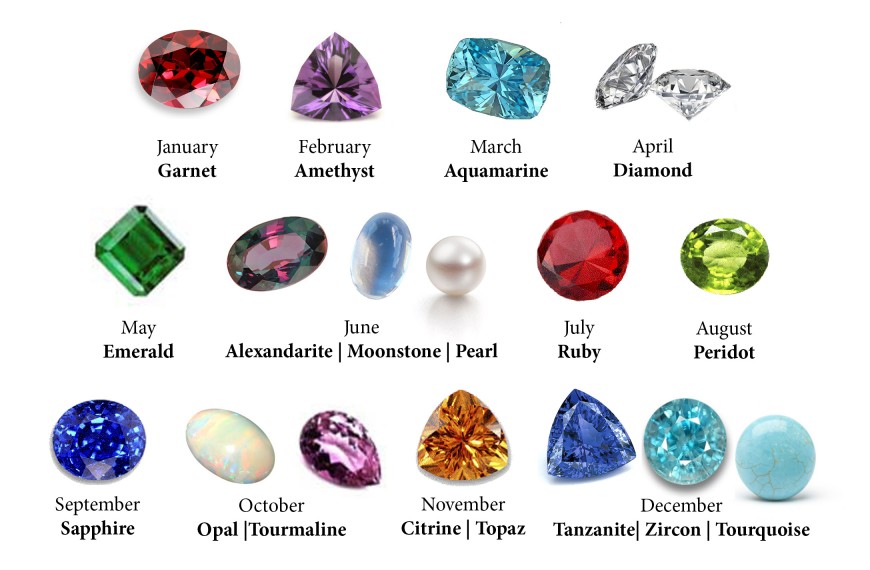 Formation and Harvesting of Zodiac Birthstones
The harvesting of zodiac birthstones occurs across the globe.
You can get garnet in Kenya, Sri Lanka, Brazil, Thailand, India, Canada, the U.S.A., Madagascar, Czech Republic, and Spain.
The amethyst is mined in Brazil, Uruguay, Bolivia, Argentina, Zambia, Namibia, and other African countries.
Aquamarine is found primarily in Brazil, but you can also harvest it in: Kenya, Nigeria, Angola, Pakistan, central Madagascar, Mozambique,  Malawi, Tanzania,, the Ural Mountains in Russia, Zambia, Colorado of the USA.
Australia produces the majority of diamonds, used as zodiac birthstones, and 35 other countries harvest them as well. The three major sources of Emeralds are Columbia, Zambia and Brazil.
However, the emerald is popularly harvested throughout the world. Unlike other gemstones,
Pearls aren't mined but truly harvested. They are created in an oyster and the finest South Sea pearls can be found on the remote coastline of North-West Australia.
Historically, rubies were mined in Thailand. But now, you can find them harvested in Asia, South America, and Europe.
Peridot turns the sand green in Hawaii, but you'll find it primarily mined in Asia.
The sapphire is found in only a few locations in the world. It is primarily mined in Asia, East Africa, and Montana in the US. Perhaps this is the reason for its affinity to royalty.
90% of the world's opals come from Australia. The rest are found in South America, Europe, and the USA.
Brazil lays claim to the most citrine harvested, but it can also be found in Russia, France, and Madagascar.
Last, but not least, is blue topaz. It' mined in Brazil, Sri Lanka, Nigeria, and China.
Various Grades and Color of Zodiac Birthstones
The very awesome thing about zodiac birthstones is no two months share the same stone!
With the exception of January and July and May and August, each month has its own color too, making no two months alike. January and July share the color red and May and August share green.
Among the colors of birthstones, you will find a red, clear, light and dark blue, yellow, light and dark green, purple and white.
We are going to use the Moh's Scale of Hardness to determine the grade of the birthstones. A 10 means the mineral is hard and less prone to scratching, while a one signifies a soft stone and the ability to scratch easily.

Coming in at a 2.5-4.5 is the pearl and after that the turquoise and opal get a 5-6.5 rating on the scale.
Tanzanite, peridot and garnet fall in the 7.5 range. Not far above that we find amethyst, tourmaline, zircon, aquamarine and topaz at 7-8.
Number 9 is the ruby and sapphire and the queen gem is the diamond at 10 on the hardness scale.
No wonder a diamond is thought of as the most prized gem for so many occasions.
How Much are Zodiac Birthstones Worth?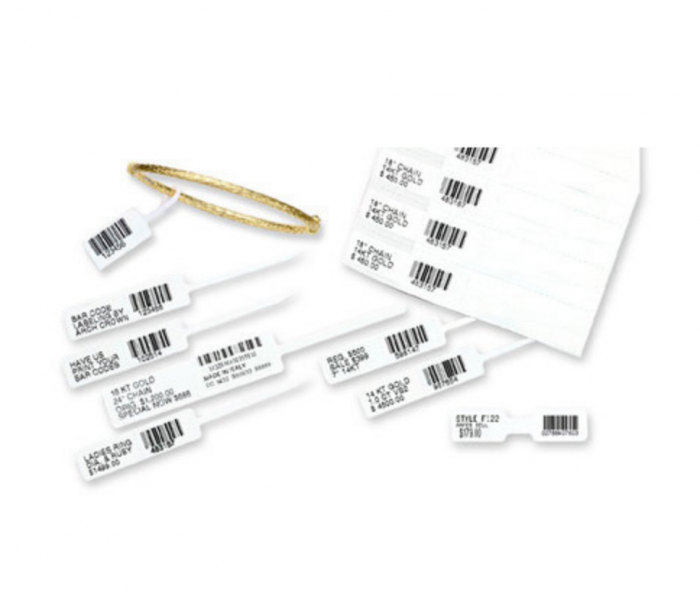 The value of a birthstone is relative to the gem type, quality, size, cut and if it is adulterated (meaning the addition of imperfect additives), or not. Natural stone will be worth more than a synthetic stone of the same type. A better cut will be more valuable than a lesser cut, etc.
For our purposes, we will rate the stones from least to greatest in value and assume each is 2 mm in size.
Coming in at the bottom of the scale are stones for December (turquoise, topaz, lapis lazuli) and August (peridot). Not too far up the ladder are the garnet (January), amethyst (February) and the opal (October).
Climbing up in value are the pearl (June) and aquamarine (March).
The next rung belongs to emerald (May), ruby (July) and sapphire (September).
The winners are pink tourmaline (October), tanzanite (December) and diamonds (April).
The only real way to be sure of a gem's worth it to have it appraised by a jeweler you can trust. A birthstone may mean more to you than money, however.
Many pieces hold great sentimental value and can't be replaced by all the money in the world. These are the true keepsakes; they are invaluable and truly treasured.

Who Wears Birthstones?
While the birthstone of Queen Elizabeth is the aquamarine, she loves wearing sapphires. As a matter of fact so does Kate Middleton, Gwyneth Paltrow, and the late Princess Di.
Some American celebs caught wearing their favorite stones are: Sofia Vergara, Diane Kruger, the late Elizabeth Taylor, Zoe Salandra, Amanda Holden and Jaime King (amethyst); Angelina Jolie and Cate Blanchett wear emeralds; Emma Watson wears diamonds; Jessica Biel loves aquamarine; Nicole Kidman isn't alone wearing pearls; and the list goes on.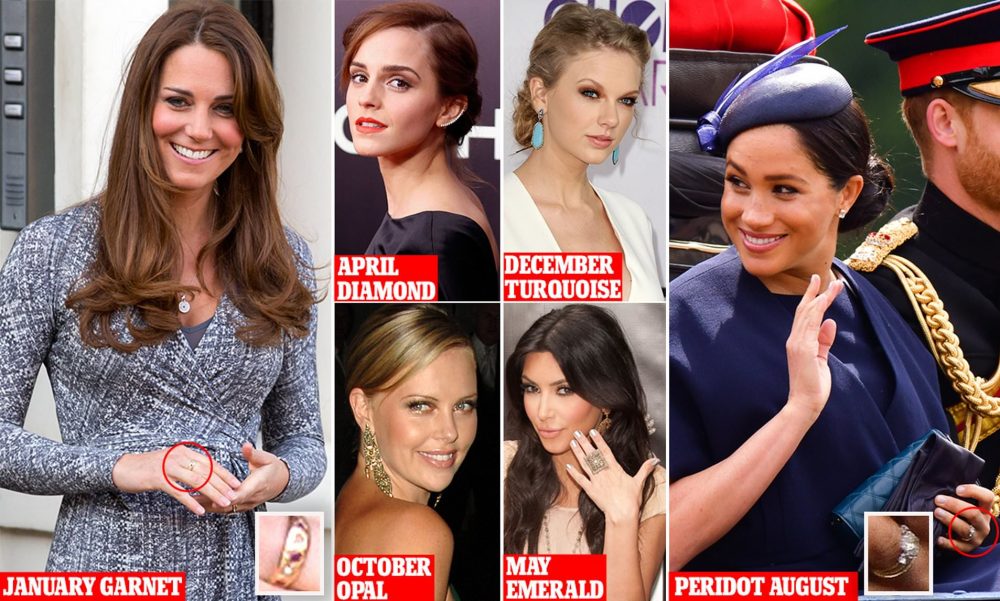 But, who else can wear a birthstone? Why, you, of course! There's no law stating only celebrities can wear pieces to make them feel radiant and special.
Birthstones are is all kinds of jewelry and income is a wide range of prices.
Caring for Birthstones
Once you get your zodiac birthstones and zodiac jewelry, how will you care for it? You will treat it just like any other piece of precious jewelry you own.
✓ First, take it off when doing anything labor-intensive, dirty, or strenuous. Jewelry is lazy and doesn't like the activity.
✓ Avoid wearing your piece in the shower and while doing dishes. Again, it's lazy and thought you might like to give it a bath when you get yours, resist the temptation.
✓ Always follow a jeweler's suggestions for cleaning. Many stones can take a jewelry cleaner, but some like only a soft cloth rub, or a little soak in warm water with non-detergent soap.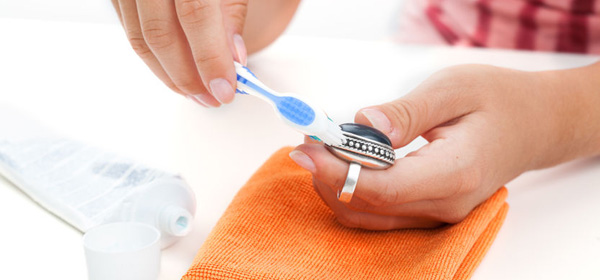 ✓ A good rule to follow is for your piece(s) to be the last thing(s) you put on in the morning and the first thing(s) you remove at night. And, when you got to bed, put it to rest in a soft pouch or cotton-lined box.
✓ It likes to travel this way as well. If all else fails, take it to a jeweler. It isn't a bad idea to do this yearly, anyway, especially with your most prized pieces. Treating them like a precious companion will ensure a long-lasting life and will bring you smiles for years to come.
The Power and Properties of Zodiac Birthstones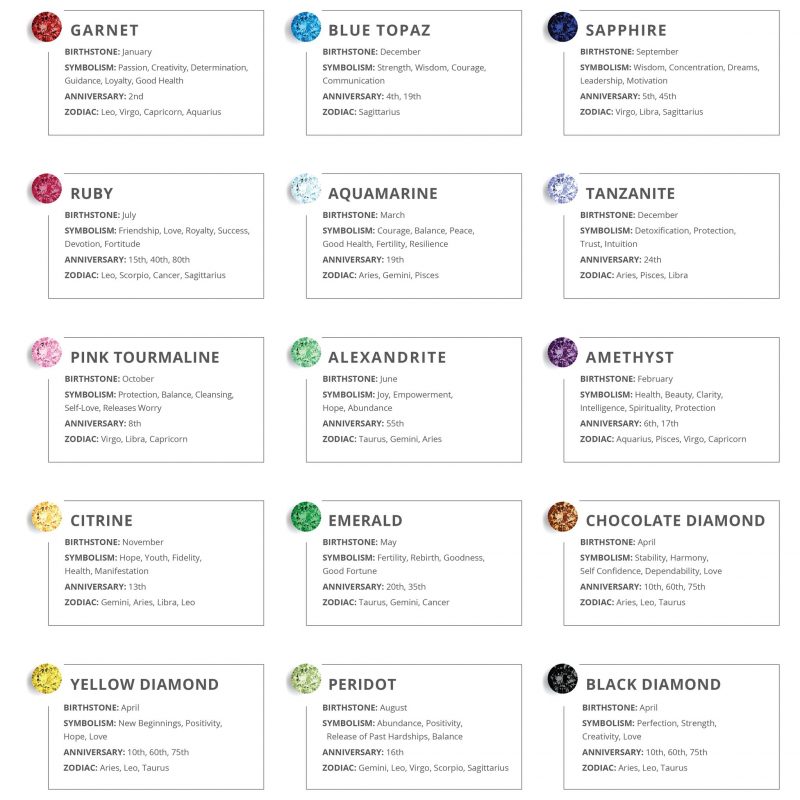 ✓

Physical healing properties

Every stone that's tanzanite (Dec.) is thought to be a help to expectant mothers, while amethyst (Feb.) is purported to protect against drunkenness.

Aquamarine (Mar.) has connections to the throat area and communication.

The emerald (May) may be one of the most powerful healing gemstones of them all. It is associated with the heart and can potentially heal the lymphatic system and help diabetics.

Peridot (Aug.) benefits the endocrine and nervous systems. It soothes your worries and your fears.

Opal (Oct.) could act as a blood cleanser and stimulate the appetite.

Citrine (Nov.) aids indigestion.
✓

Emotional Healing Properties

The garnet (Jan.), gives a love note to the heart. It will help you express qualities of devotion, passion, love, and radiant beauty.

Aquamarine (Mar.) gives energy to your emotional self. It may uplift and revitalize you, help you to be bolder and voice your thoughts and ideas.

Alexandrite (June) is said to transmit love vibrations. It links the mind to the heart and aids your insensitivity to other's feelings.

The ruby stone ( July) gives you the power to express the emotions in your heart. It may heal sexual wounds and balance the reproductive system.

Passion, sex and attraction are powers from the ruby and opal as well.
✓

Spiritual Healing Properties

The diamond (April) birthstone brings clarity of light to what you do. It awakens intuition and raises awareness of the inner you.

Sapphire (Sept.) is associated with enlightening of the mind. It may help you accept your exceptional qualities and make you feel like an earth angel.

The opal (Oct.), depending on the quality of the stone, may energize and enliven you.

Amethyst (Feb.) is also thought to bring the wearer peace and wellbeing. It is also said to stimulate dreams and heighten consciousness.

And, turquoise (Dec.) is considered a philosophers stone, denoting higher truth and wisdom. It is said to give voice to your wisdom.
Our Favorite Zodiac Birthstones Jewelry Picks!
1. CDE Rings Blue Zircon Ring – Sagittarius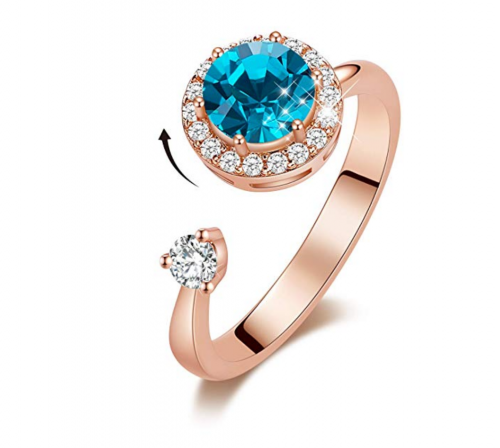 This birthstone ring is the most creative and shows the most ingenuity of any of our picks. If you like classy looking but have a bit of a nervous twitch, this piece is for you. If you're into precious jewelry and like high quality, this is it. The setting of this ring actually has a spinner design… more about that later.
The stone in this ring is a well-cut, round, crystal. It is in a raised solitaire setting and is embellished with Swarovski crystals surrounding it. The rose gold color of the band is a very nice contrast to the stone and gives it the element of just a little something different.
There is another stone in this ring as well. You will find it at the other end of the band. It's a Swarovski crystal solitaire set in three prongs. The band is plated in 18k rose gold and should give you a long life of use and enjoyment.
One size fits all, but recommended sizes are from size 5-9. You only need to bend it to customize this ring to your finger. Whatever size you need.
Get ready to alleviate some stress and lighten your mood with this piece. Spin this ring slow, or spin it fast, depending on your mood and stress level. This is one of the most unique concepts we have seen in a ring.
For what you get in this distinctive ring, we think it's well worth what you will spend.
It's a ring with a function, making it even more valuable.
2. Love Jewelry 925 Sterling Silver Ring – Choose Any Zodiac Birthstone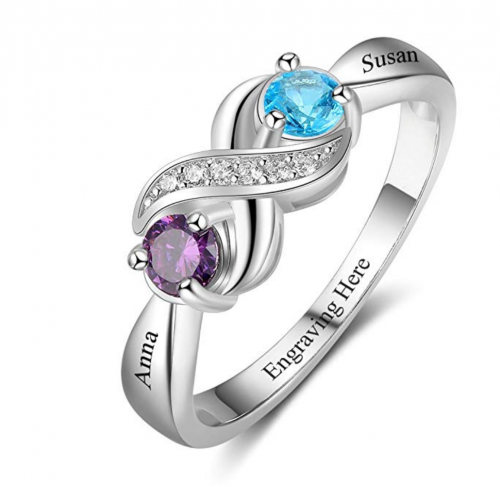 We know it's in the title, but this ring has personalization written all over it. Pun intended.
Two simulated birthstones are placed in the infinity setting of this ring and held by prongs coming from the infinity loop. There is one stone in each loop of the design. Where the loops intersect, are several Cubic Zirconia studs, adding a little more shine to this pretty ring.
This birthstone band is made of Sterling silver and there is room for engraving on each side of the two crystals. If that weren't enough, you can also engrave on the inside of the band as well.
Adding to the versatility of this ring is the sizing component. If you want even more options, try wearing it on fingers other than your ring finger. We think it'll work for you.
It's available from a size 5-12 and there are even some half sizes available.
This is a very nice piece to give as a gift for Mother's day. We like the idea of engraving Mom and Dad's names and using their birthstones, for a more original touch.
We highly recommend you remove it when in water, using chemicals, or if you'll be involved in strenuous activity.
3. Milamiya Infinity Love God Cross with Ruby – Leo (Available in All Birthstones)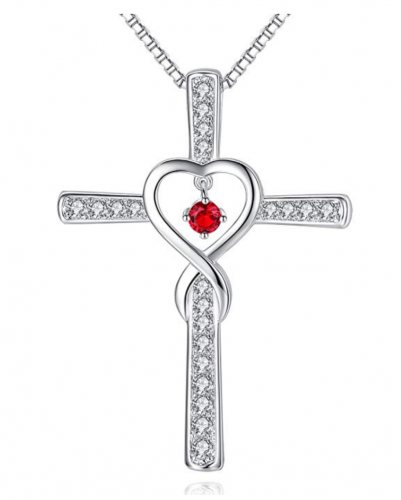 A birthstone pendant necklace that may have your name on it. This piece is a cross shape, but it's much deeper than that.
Each extension of the cross comes out of an infinity heart, making this a very pretty interpretation of a meaningful design. On each extension of the cross are embedded clear Cubic Zirconia pieces, giving it more shine and more beauty.
The infinity heart is reflective of the timeless and endless love shared by the recipient and the giver of this piece.
The zodiac birthstone hangs daintily from the top of the heart and almost seems suspended. The cross, itself, is suspended from an 18-inch box chain. It also comes with a two-inch piece to make it 20 inches long, of you want it longer.
This piece seems to say there is beauty in the gift of love that God gives. That there is joy and beauty in our world and love knows no bounds.
The stone in this necklace is made of Cubic Zirconia and this makes it affordable to most buyers.
4. Falari Pink Tourmaline Bracelet – LIBRA (Available in All Birthstones)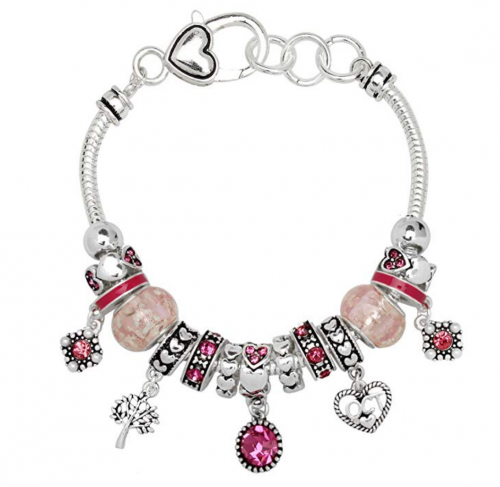 If you enjoy a nice charm bracelet, get this one in any of the zodiac birthstone colors. The beads are made of metal and have the color stone of your choice embedded in them. There are 13 beads and five of them have a charm attached.
You will see hearts, hearts and more hearts. One of the charms is a heart with your month of birth in it. Another charm is a tree of life.
Offsetting the metal beads, are two crystal-looking beads, of a different shade, to give some contrast.
There's no problem getting this on your wrist, either; the lobster claw makes it easy. By the way, the lobster claw, on this piece, is unique as well.
The claw extends to form the top of heart, giving it a more sentimental look. It's also one size fits all, making it even easier, because it takes the guesswork out of sizing.
However, if you find it's too big, one or more of the rings can be removed for more of a snug fit.
This is great for a gift of any kind and guaranteed not to take a bite out of your pocketbook.
5. White FW Cultured Pearl & Sterling Silver Ring – Cancer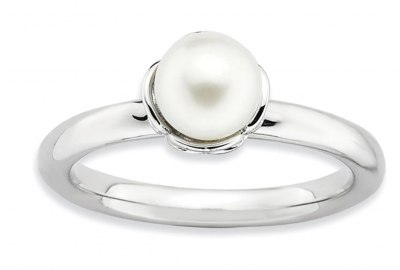 All June birthdays, front and center! If you would like a ring reminiscent of its creation, this one is the pearl ring for you.
The band is a sterling silver color and the setting pays tribute to the creation of the pearl itself. A perfect band if you have allergies.
It is a truly unique design and one that we have not seen before. The rose gold accentuates the pearl, making it stand out on its own…almost as if to say "Here I am, world!".
The pearl in this piece is authentic and about ¼ inch, or 6mm, in diameter. This ring is handmade and a quality piece.
The price for a ring like this is reasonable.
This is a good ring if you need something with some class and sophistication. Get this piece if you like dainty and unique.
A super sweet piece!
6. Amethyst Stud Earrings in Sterling Silver – Pisces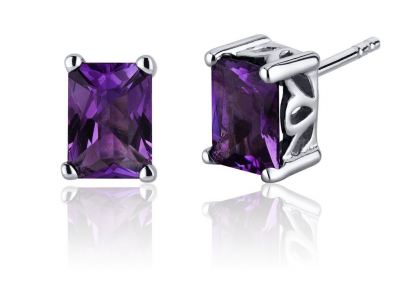 This is our favorite pic of this type of stone. It is perfectly shaped from the square cut of the stones to the prongs in which they sit. The prongs are individual to each stone and to each cut of the stone.
The stones are nestled in the prongs and they are attached to a stud. You will see shades of deep purple to lavender in these stones.
Amethyst is February's birthstone and is linked the Pisces sign of the Zodiac. It is thought to bring out your thoughts and improve your intuition.
We think you should get a pair of these. At this price, they would make a great gift for someone special or invest in a pair for yourself!
That Sums it Up
A zodiac birthstone is a gem that usually represents the month of your birth. But, it really doesn't matter the reason for choosing your birthstone. You may enjoy them for their religious or superstitious background.
Or, you may disregard "the rules" and get one just because you like a stone, the color of the stone, or it matches an outfit you have.
You may purchase a birthstone totally unrelated to the month of your birth, because of the various healing properties associated with it. Think outside the box for personal use and gift-giving occasions.
Whatever your reasons, diamonds are a girl's best friend and ruby slippers are truly magical.
Sapphires will make you feel royal and our Zodiac birthstones picks are solid as a rock!