Jewelry
Turquoise Stone: Benefits, Meaning and Some Great Jewelry Pieces!
If you're interested in one of the most popular and oldest gemstones of all time, turquoise might just be the perfect pick for you. Turquoise stone, beautiful and unique has been used for ornamental purposes in jewelry and other decorations for many thousands of years. Keep reading to check out the history, benefits, and meaning of turquoise. Don't forget to check out our gorgeous turquoise jewelry recommendations too!
What is Turquoise Stone?
First off, let's talk about what turquoise actually is. This is a mineral that is formed from a combination of aluminum and copper. It occurs with tons of varying properties. The most common as well as the most sought-after color of turquoise is a bright robin egg's blue color. This is the color that most people think of when they hear turquoise. However, it does come in other pretty shades as well. Turquoise can be varying shades of blue, blue-green, green, and even yellow-green. It is also very opaque.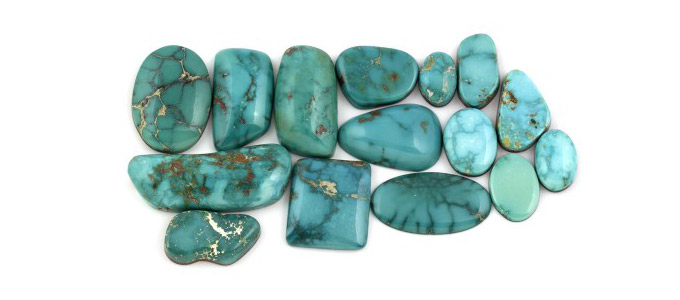 Unlike most other gemstones, turquoise almost never forms in single crystals. It is typically formed inside openings of other rocks. It is most often formed in large pieces and you can't see a crystalline structure on it at all. The shape is dependent on where it forms. Due to the way that it is formed, turquoise is often used with a matrix. The matrix simply refers to the rock or minerals that the turquoise formed inside/around. The stone without any matrix is rare as the matrix is, more often than not, found all throughout the stone. This makes cutting around it very difficult or impossible in many cases.
Sometimes, the matrix is appreciated, though. The matrix varies a lot depending on where and how exactly the turquoise formed. It can vary in color from black or brown to yellow or white. The matrix appears as patches and veins throughout the stone. Sometimes this creates a very beautiful and unique look that can even, in some cases, increase the value of the stone. However, in most cases, the less matrix in turquoise, the more valuable it is.
History of The Turquoise Stone
Turquoise has been a popular jewelry choice since at least 6000 years ago. The oldest one that has been found to be used in jewelry or for ornamental use is in Egypt. One of the most famous examples of turquoise use in Egypt is on the highly recognizable burial mask of the pharaoh Tutankhamen. This pharaoh is more commonly known as King Tut. His gold burial mask features inlays of turquoise and other various minerals like lapis lazuli.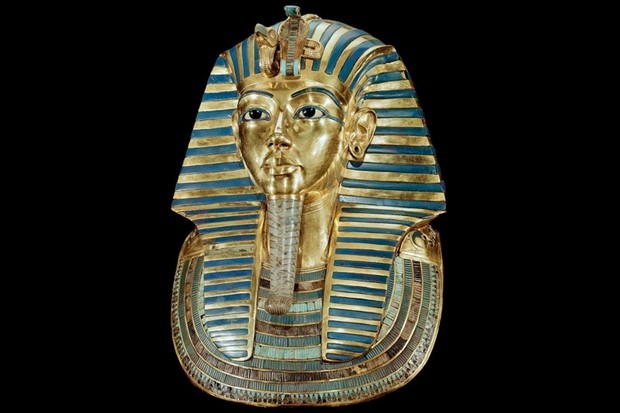 Turquoise history tells us that this stone became a popular choice for jewelry and various decorations on multiple continents around the world before the continents were in communication with each other. This is thought to be due to the unique hues of the turquoise stone. The bright, light blue colors of turquoise are rare among nature and this causes them to seem to spark higher interest than many other gemstones.
This beautiful mineral became very popular amongst Mesoamerican cultures as well as Native American tribes. It was a very commonly traded good. These early American groups used it for various types of jewelry as well as decorative pieces. Even small statues were made from it for decorative and trading purposes.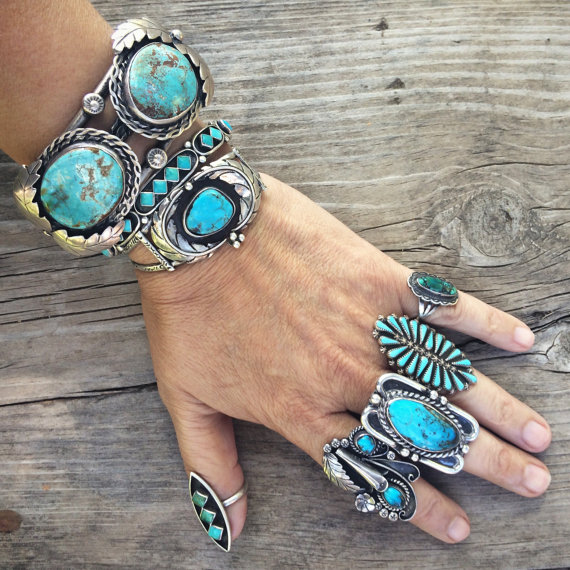 The word "turquoise" itself, actually comes from Europe, though. It comes from the French word for "Turkey" as it originally came to Europe from Turkey thanks to trading along the silk road.
Today, the stone is still quite popular across the world and is used in all kinds of jewelry. Sources of the mineral include places all over the world as well. It is sourced in Iran, Egypt, India, China, and the United States. It now, often, undergoes various treatments to help increase stability and enhance appearance. Of course, untreated turquoise is certainly more valuable.
Benefits of Turquoise Stone
Turquoise has long been thought to have many different benefits to health and well-being. It is a healing stone that has been used amongst different cultures to heal various ailments both physical and mental. Native Americans considered tit to be a sacred stone and it was a common choice used to heal the ill. They believed that it could actually open up a connection between the Earthly world and the heavens above. It is supposed to promote positive flows of energy. This is said to help increase the flow of love and promote strong and prompt healing.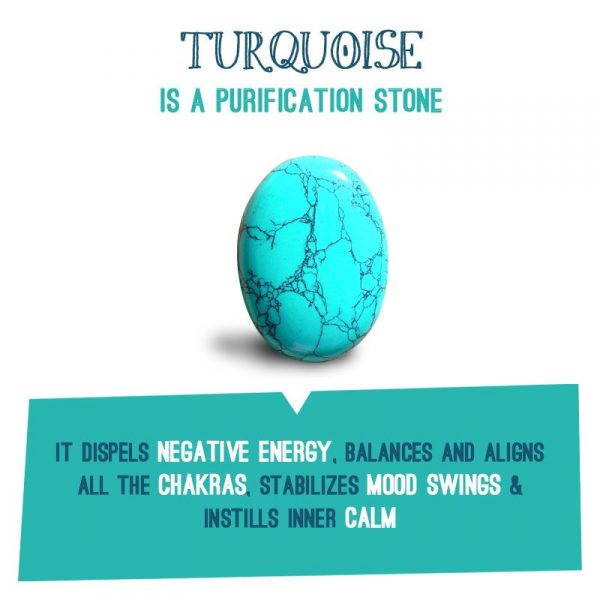 Within the world of crystal healing, the stone is often considered one of the strongest healers out there. Interestingly, it has been considered a stone of healing by multiple cultures around the world throughout the centuries. Even today, there are many physical and mental ailments that turquoise is supposed to help heal.
✓

Physical Healing

While it is believed that turquoise is strong enough to help with healing throughout the entire body, there are a few areas where it is supposed to be especially useful. The respiratory system, skeletal system, and the immune system are some examples that turquoise stone can be specifically beneficial to. You'll often find that it is used to help with the treatment of things like asthma, blood pressure, and dental issues.

One more popular physical benefit is the ability to aid in detoxing. Whatever the person may be detoxing from, it is said to speed the process and ease the undesirable symptoms associated with detoxing.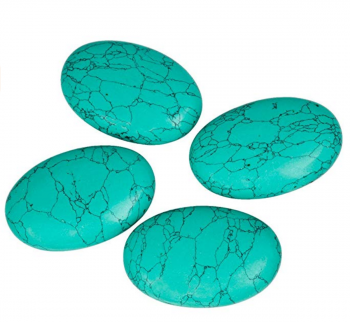 Get the Palm Pocket Turquoise Stone Here
This makes it useful in alcohol detoxing, poison detoxing, radiation detoxing, and simply detoxing from environmental pollution.
For physical healing, you can wear turquoise anywhere. However, it is most suggested to wear it up around your neck or down lower on the abdomen at what is called your solar plexus.
✓

Mental Healing

This highly capable stone is able to do much more than physical healing. It also has a myriad of different mental benefits. This is a stone of self-realization. It benefits you in many mental areas that all come together to help you be more self-aware by promoting a sense of calm and confidence within you.

Turquoise helps to enhance your natural empathy, creativity, and sensitivity. It is supposed to help you become more creative, thoughtful, and positive. This all helps you to be more aware of yourself as well as those around you.

In fact, it is also considered to be a stone of communication. It helps to tear down barriers around you and those around you to encourage better, clearer communication within your life. This improved communication along with the other benefits listed above help to drastically improve friendships and other various relationships within your life.

It also gives you more confidence in general. It is often suggested for those having trouble with things like public speaking because of this trait.
Turquoise Meaning
There are several meanings for this unique stone. One interesting meaning is that it is a symbol of immortality. Native Americans used to use turquoise to mean, "The God alive in the sky in the Earth." It has many other meanings as well. Amongst the most popular of meanings is as a symbol for luck and protection. Warriors used to wear it into battle for this purpose. Wisdom is also often associated with this beautiful stone.
Green turquoise is sometimes used to have different meanings than the more popular blue turquoise. The green stone can be given as a gift to a friend to pass on good fortunate. More commonly, though, it is given between lovers to help signify their devotion and commitment to one another and the relationship.
Top Turquoise Jewelry Recommendations
With such a long, rich history and so many incredible benefits paired with great meaning, there is just no question that turquoise still makes for incredible jewelry today. Check out some of these beautiful and stunning pieces that we just love!
1. Necklaces
Necklaces that feature turquoise are a popular and beautiful way to wear the stone. They also keep it around your neck where it is supposed to best promote physical healing.
POTESSA Beads Endless Necklace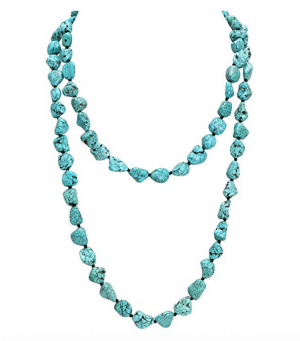 This lovely and simple necklace makes for an excellent choice of turquoise jewelry. A piece like this is quite long, which gives it a lot of versatility. A jeweler has made this necklace out of raw edge beads with a polished shine. It is designed to be worn doubled or even tripled for a nice layered look.
You can even keep the layers even or spread them out so that one layer sits up high around your neck and the second layer is lower down towards your solar plexus. This is supposed to help to intensify healing powers from the stone. You can choose the necklace in either 47 inches or 59 inches depending on your personal preference and how you want your layers to hang. The frequency of the beads also provides maximum exposure to the turquoise for added benefits.
Pink Unicorn Suede Choker Necklace for Women
This adorable Suede Choker from Pink Unicorn has a completely different look that includes considerably less turquoise. This is a great choice if you want the stone look without feeling like you may be going overboard. The choker necklace features two rows of high-quality brown leather suede cord. Each of the cords forms a knot around either side of a metal ring in the center of the necklace. From the metal ring, there are two small charms dangling.
Each of the charms is a beautiful small feather and one of the feathers features a lovely round stone bead at the top of it. This gives it an adorable asymmetrical look. The metal has a tarnished appearance that matches well with the whole look of the necklace, which has a cool Native American feel to it. An easy-to-use lobster claw clasp at the back makes it fully adjustable.
Bluejoy Genuine Natural Necklace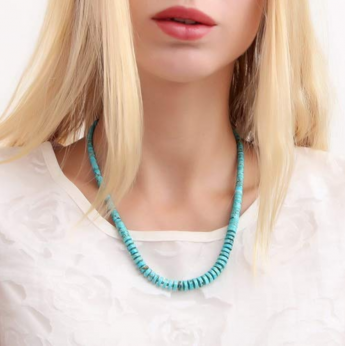 This stunningly elegant piece is yet another take on how to accessorize with turquoise. This choice is designed with uniform beads of beautiful natural stone. The necklace is 17 inches long and strung with beads all the way up the entire length of it. These are heishi beads. That means that they are smooth, flat, round beads. This smooth shape of bead gives the necklace a very nice and clean look.
2. Rings with Turquoise Stone
A ring is another fantastic way to wear the stone. The rings featuring this stone have been popular for a very long time among various cultures. Here are a few picks of our favorite ones!
Turquoise Network Sterling SilverRing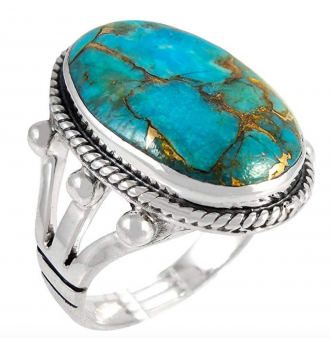 This ring is pretty typical for a more classic option. It itself is made of solid 925 sterling silver. This means you can rest assured that it is nice and durable as well as high-quality. The natural stone of the ring is color-enhanced for a striking look like no other. It goes amazingly well with the silver of the band. The turquoise is large and cut into a smooth oval.
Huang and Co. 8.58 Carat Genuine Turquoise and White Topaz Ring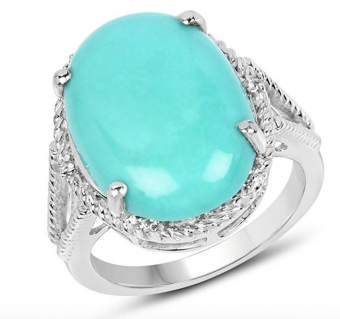 Now here is a show-stopping piece of jewelry. This lovely option is made using bright blue turquoise that has little to no matrix in it. This gives it a higher value, which does obviously mean a higher cost as well. It is completely worth it though just in beauty alone. The smooth blue stone is nearly 9 carats and is mounted nicely by 4 solid sterling silver prongs.
This silver also makes up the elegant band of the ring that features a rope design and high polish. Small white topaz stones decorate the edges around where the large turquoise stone sits.
3. Earrings
Earrings are always a great way to add some extra interest and style to your look and turquoise can be a great earring option.
Silvershake Petite Stud Earrings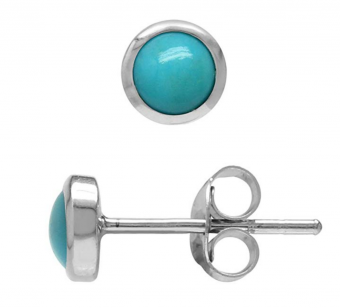 These little stud earrings are a great way to subtly show off your turquoise. This gives you a great option to wear your stones daily without it overwhelming your look altogether. These small earrings measure at 4mm in diameter.
Since the earrings are made of genuine solid sterling silver, there is very little worry about any possible irritation or reaction from the skin. Small backings slide on easily and are nice and discreet overall.
Turquoise Network Dangle Earrings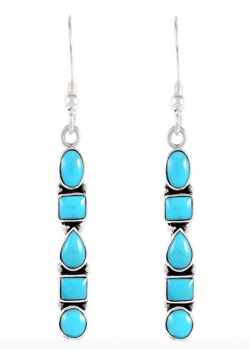 Another lovely option are these super cool dangle earrings from Turquoise Network. These feature multiple stones in different shapes that all dangle down from the earring. The earrings go through your ear via sterling silver hooks opposed to straight sticks with backs. This can help to increase comfort.
There are a total of 5 individual stones. They are all about the same size but come in different shapes.
4. Bracelets
Finally, we chose some beautiful bracelets! These give you a nice piece of interest to your outfit with the wonderful benefits of the gemstone.
Sofia Luxe Handmade Stainless Steel Wire Bracelet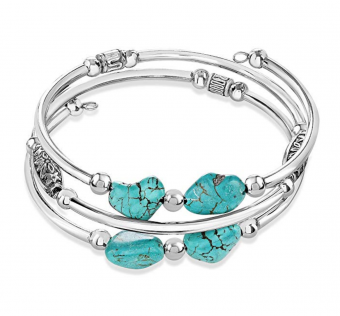 This gorgeous bracelet holds a lot of detail with an impressive design that is sure to get you tons of great compliments! It is a wraparound wire bracelet with a cool bangle-style look to it. It wraps around your wrist in three layers.
Each set of turquoise beads is separated by stainless steel beads that are plated in sterling silver.
SULYSI Essential Oil Diffuser Bracelet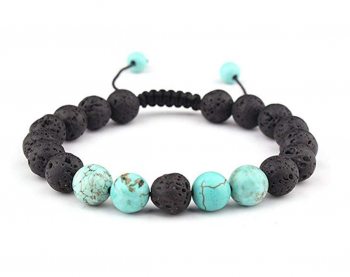 Here is a super cool and unique bracelet with an incredible function to it as well! This is actually an essential oil diffuser bracelet! That means that with the help of it, you can have all the benefits of turquoise PLUS the benefits and great scents from your favorite essential oils!