Mix / Women
Cute Charm Bracelets You Can Stack Up
Marianne 26 Feb 2020
3261
Charm bracelets are awesome jewelry pieces. It can be likened to every other bracelets, they are usually worn around the wrist. The only difference is the fact that it consists of charms; ranging from one to as many as possible and the bangle bracelet itself.
The jewelry is used as a store up of memories as it usually contain personal jeweled memories in form of decorative pendants or trinkets each signifying important events and happenings in the wearer's life. Charm bracelets are beautiful, delightful gifts that can last a lifetime as they expand with new pieces of jewelry to mark special occasions as the year goes by.
The charms are usually small ornament usually dangling from a bracelet or chain, although Italian charm bracelets are an exception. They don't have their charms dangling, the charms are a part of the extending body of the bracelet. Different types of charm have different meanings, which make them vary in suitability for different occasions. There are Spiritual symbols which over the years have always been a popular choice for charms. They are worn as a sign of faith or to bring a blessing to their wearer. Christian symbols include the Cross, Mary, Sacred Heart, Dove and St Christopher.
Some other symbols are popular among other religious sects like in Islam, the moon and stars. Other popular symbols that cross religious boundaries includes guardian angels and heart. The symbols are given to mark religious occasions such as baptisms, in remembrance of a loved one or for comfort during hard times. Another prominent type of charm symbols are the Zodiac Symbols. They are the commonly used symbols that represent the 12 signs of the zodiac, as well as the planets and other symbols drawn from astrology.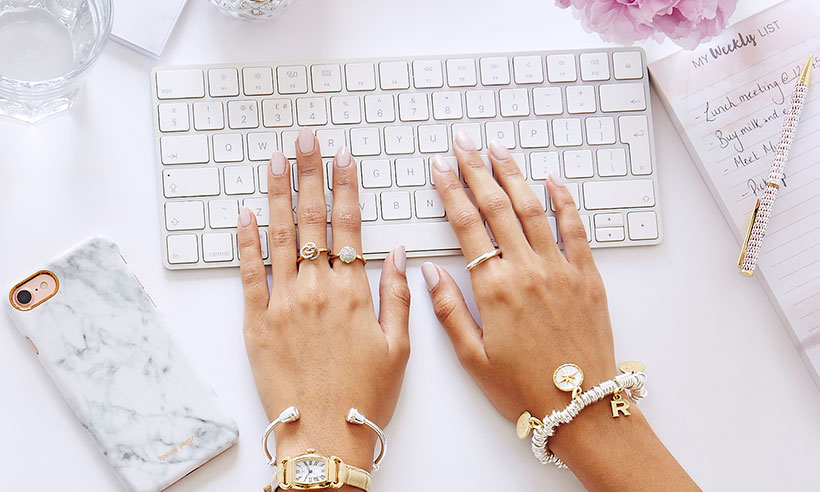 These are often combined with a precious stone or gem representing the birthstone associated with each star sign. They are perfect gifting ideas for birthdays or the arrival of a new baby. Another symbol is charms of Love, Luck & Inspiration. They include quotes that encourage self-belief, interlinked hearts representing enduring love, and classic good luck charms, such as horseshoes, "lucky rabbit's feet" anchors, nautical wheels and four-leaved clovers.
Nature Symbols is another type of charm. It includes a whole range of insects, animals and plants feature on charm bracelets. Popular choices include ladybirds, bees, cats, dogs and various types of leaf. Variations on the 'tree of life' symbol also feature on many charms, a sign that has spiritual meaning for some people.
During the pre-historic period, jewelry charms were made from shells, animal-bones and clay. After lots of years of evolution, charms were made out of gems, rocks, and woods.
Below is a list of cute charm bracelets that we'll so love to stack up.
Our 10 Favorite Picks!
1. i1it A Delicate Name Bracelet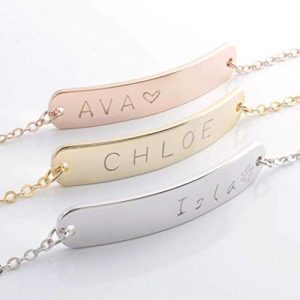 The i1it initial charms bracelet is an awesome piece. It is very beautiful and feminine. It consists of an A to Z, 1 to 9 Initial Blank or Personalized Hand Stamped Name Bar in Gold; White Gold and Rose Gold Plated. It is an elegantly simple everyday piece consisting of a chain and charm. The chain has a length of approximately 7.5 inches and the charm is sized to have an approximate dimension of 36 mm x 7 mm Stamp. The Bracelet is made from dainty 16k Gold, white Gold (silver) and Rose Gold plating.
The charms are in uppercase 2.5mm and 3mm Stamped Letter. The delicate name bar bracelet won't be a bad gifting idea to the loved ones in our lives.
2. 
Angel's Draw Home You are Braver Than You Believe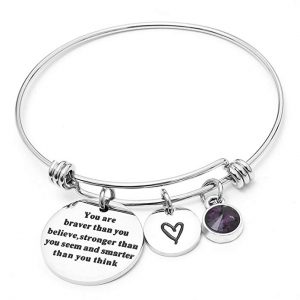 Angel's draw home jewelry is known for its reliable quality, unique design, excellent craftsmanship and top quality and affordable prices. The Charm birthstone Inspirational bangle bracelet has the quote, "You're braver than you believe, stronger than you seem, and smarter than you think". It is such an awesome way to express your mantra, belief, inspiration, love, soul and passion. It gives expression to an undying, unrelenting soul, a perfect fit for special encouragement to your sister, mother, daughter, grandma or just about any of your loved ones.
The adjustable inspirational birthstone charm bracelet features 12 different color of crystal simulated birthstone bracelet, standing for 12 different months, choose the one of your birth month and enjoy a wonderful experience.
The bracelet is made from Stainless Steel materials with the latest German polishing technology; 360-degree polishing, Very comfortable to wear. It has a diameter measurement of 6.5cm /2.55 inch with round pendants of package dimension, 1 inch by 0.78 inches and weighs 0.32 ounces
The birthstone bracelet is such that matches with all kinds of apparel and is suitable for any occasion, packaged in one of the most beautiful Jewelry Pouches, ensuring the most beautiful gift presentation possible and it also comes with a 60-day money back guarantee policy.
3. Hazado Charms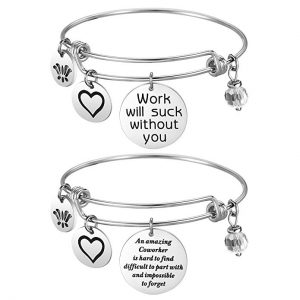 The Hazado bangle is a jewelry piece made for the female folk. It is a perfect gift option for offering farewells. Its inscription reads "work will suck without you, an amazing coworker is hard to find difficult to part with and impossible to forget". It could also serve as a retirement gift or just a surprise gift to encourage a coworker who is finding it really difficult to settle and ease-in to the job. It is made from top quality metal materials; stainless steel.
The quality of the stainless steel meets rigid safety and non-toxic materials standard, it is devoid of distortion, doesn't rust or tarnish and rust. It has a package dimension of 4 by 3.5 by 1.5 inches and weighs about 2.4 ounces. The pack of 2pcs comes ready to gift as it comes with a free jewelry box. Great quality at a competitive price.
4. niyokki Inspirational Jewelry Birthstone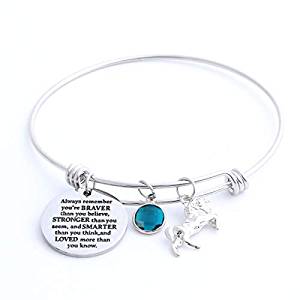 The Niyokki jewelry is a brilliant piece, an inspirational bracelet engraved with "Always remember you are braver than you believe, stronger than you seem, and smarter than you think, and loved more than you know." on the round plate charm to encourage her to face all difficulties. It is the perfect inspirational cum motivational jewelry gift for a friend or family and the best reminder of the things worth fighting for. The inscription is such a powerful weight of motivation, a constant reminder of the innate ability to fight life and get the best of things of it. Inspiring quotes are a constant reminder of those things that matter in your life.
Express your love and show how much the people around you mean to you with this amazing expandable bangle bracelet. The bracelet was designed to fit everyone perfectly. The cute bracelet is made of high-quality stainless steel, sturdy, durable and absolutely beautiful, it is highly rust resistant and anti-allergy. The diameter of the wire bangle is 2.56 inch and the size of unicorn charm is about 0.78 by 0.39 inch. The diameter of round plate charm is 0.78 inch and the diameter of the stone is 0.27 inch. The Package has a total dimension of 4.1 by 2.8 by 1.2 inches and it weighs 1.6 ounces.
Along with each Niyokki jewelry, you will receive an attractive jewelry box for the safekeeping of the jewelry and also for a befitting gift presentation. Celebrate special moments by presenting this beautiful and inspirational bracelet to show your deep love at a birthday party, Christmas, New Year, Graduation, etc. it suits every event, both corporate and casual and can even be used as an everyday piece. This jewelry by NIYYOKI is the language of strength, true love and inspiration.
5. Charmire Inspirational Bracelet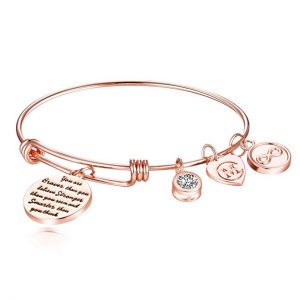 The Charmire jewelry is made of high-quality metal material; 18K rose gold plated over hypoallergenic and nickel-free brass. With perfection as a hallmark of the service offered at Chamire, they ensure that their products are anti-allergy and that they would generally not harm the health. The Collection is a piece of engraved jewelry, a great way to enhance your personal style.
Jewelry at Charmire are comfortable wears, made from eco-friendly materials, an excellent collection of mind-blowing designs, the optimal integration of high quality and favorable price products. At delivery, you will be pleasantly surprised by the superiority in design, quality, and its durability.
The simple but special wire bangle is so chic and minimalist. It is set with a macramé closure. It will fit most wrist sizes as it is adjustable so users can make it as tight or loose as they would prefer, it adjusts from 2.5″ to 2.95″ in diameter, the wire is 1.8mm thick and it has a weight of 0.96 ounces.
It is a perfect fit for any occasion and adds compliment to any outfits. The piece comes in a quality gift jewelry box so as to properly protect the jewelry with its sturdy construction and gorgeous design and it also makes for a beautiful presentation. The Chamire jewelry will make an ideal gift for daughters, mother, wife, and friends for Christmas Day, Anniversary Day, Valentine's Day and Birthday.
To ensure durability, ensure that the jewelry piece is kept in the Charmire box when not in use. Also, avoid spraying perfume directly on the jewelry it could result in a chemical reaction leading to rust and tarnish. Ensure you wipe the piece with a soft flannel cloth after every use.
Trust me, the wire bangle bracelet, featuring an engraved-message dangle charm and three stamped charms with the inspirational message engraved bangle, serves as a must-have jewelry accessory for every lady.
6. QUEEN JULIA Charm Bracelets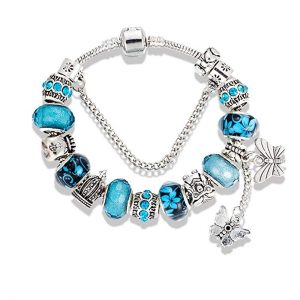 The Queen Julia brand is an American jewelry brand in North Carolina, they offer premium quality pieces of jewelry like this one.
The charm bracelet comes in several sizes, 21CM / 8.3inch in length and charms in 20cm 7.9 inch, 19cm / 7.5inch, and 18cm / 7 inch are also available too.
It is able to fit most women with its variety in size options and design. It weighs 4 ounces and is made from ceramic.
7. Infinity Collection Volleyball Charm Bracelet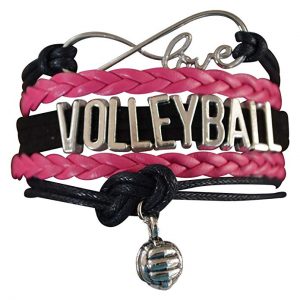 The Infinity collection volleyball charm bracelet is a nice piece for girls and women who loves volleyball. It is a piece that expresses your pride for Volleyball. The charm bracelet is 5 inches in length but expandable up to 8 inches. It is a perfect everyday bracelet for Volleyball players, it could even be used as a team band for all players on the team. Buy one for each teammate; Volleyball players or coaches.
The volleyball bracelet is the perfect gift to wow your volleyball-lover friends for Valentine's Day, Birthday, Surprise gift, Christmas present, or on any Special Day, it could also be a gift to self, probably after masterminding a point. Make up a complete volleyball kit with matching Volleyball jewelry, shirt, bracelet, tank top, earrings, sweatshirt, hoodie, necklace, and this Volleyball bracelet. It is absolutely adorable, it will keep the love and passion for volleyball surging continuously in every Volleyball player's heart. This Volleyball Infinity bracelet is universal as it is a unisex piece and can be adjusted to fit different sizes ranging from kids to adult wrists.
The sporty pink, the black bracelet features a sturdy adjustable clasp to hold it in place. This pretty yet inexpensive sports bracelet makes a great gift, whether for a friend, daughter, girlfriend, Volleyball mom, or teammate. The jewelry package dimension is 6.2 x 2 x 0.2 inches. It has a width of 1.50 inches, length of 5 inches and weighs 0.16 ounces. The jewelry is made from metal, zinc, and alloy and is not resizable.
8. 
AmorAime 925 Sterling Silver Guardian Angel
Get It Here
The silver dog cat paw print bracelet is made of top quality metal materials and is skillfully manufactured. It is crafted in solid 925 sterling silver with awesome design and is quite durable. It comes packaged in a deluxe jewelry gift box, making it easy for gifting. It is a great choice of gift for pet lovers especially those obsessed with dogs or cat generally.
The jewelry is made from Sterling silver and as such, special care should be taken in maintaining it. Paramount of all safety tips is storing it in an original jewelry box. Another thing is that the jewelry be removed when showering or swimming. Also, use a polishing cloth to restore shine and remove tarnish that is natural with normal wear. The jewelry has a package dimension of 3.2 by 2.8 by 1.3 inches and weighs 2.08 ounces. It has a flat-top-setting, chain cable, and a lobster-claw clasp.
9. Alex and Ani Soul Sister Bangle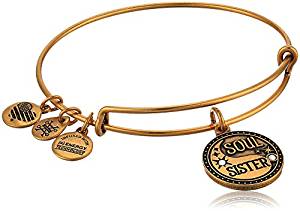 The Alex and Ani soul sister's bangle is an awesome piece that accentuates the love that exists between sisters, it is inspired by the nature and fondness of childhood memories. The bracelet is made from high quality material; Rafaelian Gold or Rafaelian Silver finish. The bracelet is designed to fit almost anybody. It has an adjustable sliding clasp allowed for a customized fit. It measures 2 inches in width, 7 inches diameter and the charm measures 1.1 inches in length and 0.77 inches in width. The bracelet weighs 0.48 ounces and has no chain and no clasp. The jewelry is created using 925 sterling silver material and is decorated with crystals from Swarovski or eye-catching AAA Cubic Zirconia.
It is a perfect birthday, graduation, anniversary or Valentine''s day present, for your sister. Understand that sisters aren't always defined by blood, they could be individuals who complete one's existence, your best friend or lover. Gift them an Alex and Ani bracelet and make them know they are worth much to you and are more than just a best friend; that they are your soul sisters. Extend your love to those that matter with the Soul Sister bangle charm and see them ravishing in the love.
10. Bassion 2 Sets Charm Bracelets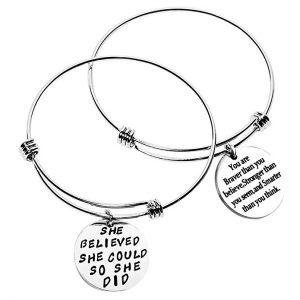 Get It Here
The Bassion bracelet pack is a set of 2 Silver-plated stainless steel metal bracelet. It is quite adjustable to suit different sizes. The bracelets have engraved messages of motivational inspirational words on the round charm pendant on each of the expandable bangle bracelets.
Bassion creates bangles for both males and females. It is the perfect gifting option to a friend or loved one, especially one that is experiencing one of the lows of life and is in need of encouragements and reassurances that they will be fine. Bassion bracelets with its engraved motivational messages ensure that they are constantly reminded of their abilities and strength. It is also a propeller to unleashing the greatness, potential and strength lying fallow on one's inside. While it is the case that your glance always falls on this positive statements and they are the last things you see at night and the first in the morning, there is a way it will just psychologically keep the words perfectly imprinted on the heart.
The bracelet would make a perfect gift for a teen, tween, or a young girl for the beginning of a new year, on Christmas day, Valentine's Day, graduation, or just when you think a new phase of life should begin for your family or friend or even yourself. Imagine the strength of a message like "You're Braver than You Believe, Stronger than You Seem" or a message like "She believed she could so she did". These words will remind you that there is nothing that you cannot accomplish if you put your mind and heart to it. Always believe that you can, and you will.
The bangle bracelets are made from stainless steel and alloy. The bracelets are silver and all the charms are silver too. It is a lovely piece, perfect for everyday wear with its luminous high shine finish. It is a totally new piece with high quality, it was designed to fit well into different sizes of wrists as it has adjustable sliding clasps for a customized fit. It is lightweight; 0.8 ounces and comfortable and is sized 2.6 inches. The package dimension is 2.8 x 2.7 x 0.7 inches.
Did I mention that it is a very beautiful piece, quite fashionable and memorial? It creates fashionable looks at very affordable prices. Bassion even has a 100% customer satisfaction guarantee policy. They are sure you will love their wire bracelet, that's why the product is backed with a 100% money back guarantee. If you are unsatisfied in any way with the products, there will be a refund of your money. The bangle is packed ready for gifting. One bangle is packaged in a jewelry box and another in a pouch inside the box.
This bracelet can be a great gifting idea for the people that matter much in our lives. It is a kind of gift that will be treasured for a very long time. With the inscription of the date on it, it will serve as a store up of details of the memories of that period. Due to the quality of the materials with which the bracelet was made, the bracelets do not fade, it retains the shine and is anti-allergic. It is designed with high-level longevity in mind all at an unbelievably affordable price.
—–
In conclusion, about every jewelry we have listed above are anti-allergy. They will suit just about any type of skin perfectly. The jewelry also has a high rate of longevity, they are all highly resistant to tarnish and rust.
To get the best of your jewelry, maintenance is key. For the plated jewelry, the plating will wear off or tarnish fairly quickly over time. Here are some tips to keep them intact for a little longer.
To avoid scratches, keep it separate from other pieces of jewelry. Wrap your jewelry in a soft cloth after use or cleaning, do not spray perfume, hair spray or any type of products containing chemicals on or around it. The chemicals may interact with metal. Also, ensure you clean it with a soft cloth or cotton ball to remove the daily dust or dirt every time after use by rubbing the surface gently to restore its shine.
While specifically for silver plated pieces of jewelry there are many reasons silver plated jewelry tarnishes but the most common reason is the high level of acidity in the skin. Everyone produces a different level of acidity through their skin, which is why different folks react differently to pieces of jewelry. A silver plated jewelry can outlive its life span if the jewelry is kept in an air-tight place, this is because tarnish develops as a chemical reaction most commonly through the air. Although the tarnish will still eventually develop, maintenance will slow the pace.
For a tarnished gold jewelry, just pour three or four drops of a mild liquid dish soap into a bowl of warm water then put the gold jewelry into the bowl, soak the gold for five minutes, rinse your gold jewelry, dry the jewelry with a clean cotton towel and then rub the gold with a jewelry polishing cloth.