Earrings / Gemstones / Necklaces
10 Best November Birthstone Jewelry Pieces!
Today! We'll be talking about birthstones specifically for the last month of the year. The 2, topaz and citrine are crystals known for their cool demeanors. Especially when they're sitting on maybe a ring or acting as a pendant on a necklace. Still, let's not move too quickly! We first have to go through why you should definitely invest in at least one of the stones for November. Either for yourself or for someone you love.
Topaz
Topaz comes from the Greek word "Topazios"—which is an island found in Egypt. Albeit nowadays, the greatest supplier of topaz is Brazil. Having said that, let's move on to the stone's color. Topaz can be found in the very popular gold or yellow but there are other colors too. You can find something in blue, red, pink, and honey. For the topaz items on our list, we decided to pick items made with blue topaz (more on the reason later).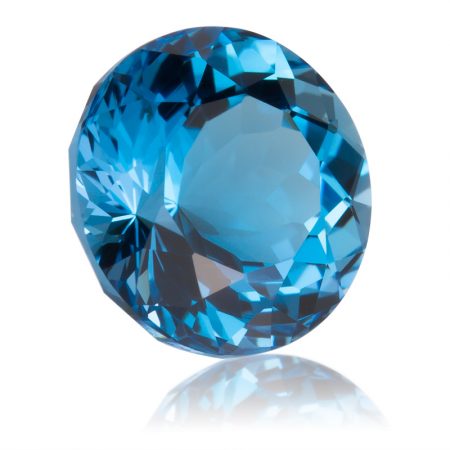 Now, if you were to ask us about the stone's meaning, then you've literally hit the nail on the head. Topaz stands for healing and protection and including it in a piece of jewelry means you get both. If you're giving this to your daughter or mom, think of the meaning!
As the name implies, citrine means French for "Lemon" and it's considered a gift from the sun. We don't know how true that part is, but we do like the meaning it gets. Citrine was used as protection against snake venom (a bit harsh) and evil thoughts/intentions.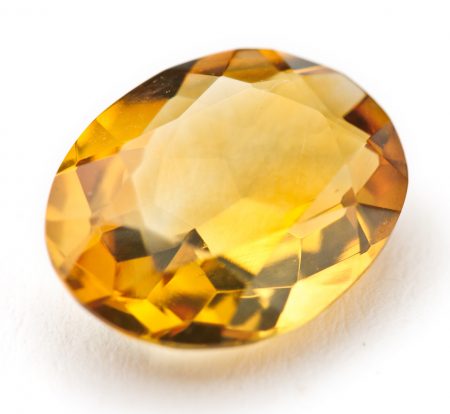 But nowadays, it's a representation of success. So here, we would like to ask this question; who're you giving the citrine stone? We would like to apply it to anyone you know whose wedding or anniversary is coming up.
Or Fave November Birthstones Picks!
As we're dealing with 2 different types of stones with very unique meanings, we've decided to divide the section into 2. One section for topaz, the other for citrine.
1. Sterling Silver Pendant Necklace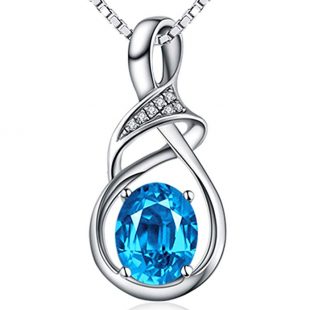 With the HXZZ pendant necklace, you get a looped design with a blue topaz set at the center. We didn't mention this, but topazes with a blue shade are the rarest kind that you can buy. Nevertheless, that's not the hottest thing about the necklace. Remember when we said topaz stands for healing and protection, that's not all because you have to consider what comes next. That is the application of the necklace. To that, we fancy the idea of a wedding anniversary. If you have anyone whose anniversary is coming up soon (your mother perhaps), you can give her the pendant necklace to act as a memento. Obviously, you won't be seeing her all the time, so something of yours should be on her body constantly. And what's better than a piece of jewelry that means you've got her back indefinitely? This should lead to a lot of calls down the line.
Other than this, the topaz hangs on a necklace made completely out of Sterling silver. That means the usual goodies like long-lasting durability and a generous amount of aesthetic appeal. The first is important in the case of rough situations due to work while the second means enough appeal to flow with any setting (formal, chic, casual, etc). Combine both of them, and it's a piece of jewelry that lasts in her 'Favorites' section for so much longer.
2. Elda&Co Tree of Life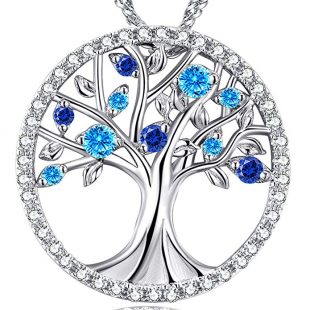 Here, let's firstly talk about the tree of life. The symbol stands for a really strong connection. Betters yet, it means a deep bond between all creation. But instead of thinking like that, let's just limit the bond to you and the person you're giving it to. This particular jewelry isn't one that can be kept to only yourself as its real worth only shows when it's instead used as a gift (preferably for a birthday). The only exception to this rule that we found is if you buy a pair and give one to someone worth it.
Having said that, the tree itself is studded with stones (topaz) to form this shiny effect that's both subtle and gorgeous. Right after that, the metal that creates both the necklace and pendant is made out of Sterling silver. That includes the same repertoire of benefits as the piece of jewelry we mentioned above. In other words, enough durability to perform excellently in situations that are rougher than normal and the right type of aesthetic appeal. For the latter, we mean something applicable to different scenarios that she'll be.
Now before we move on from this particular point, understand that this is a gift for anyone you know who spends an equal amount of time working and playing. They're on the go constantly, so giving them an item for the road sounds really nice. Before we go, the stones come only in a shade of blue, which is rather nice since it goes with really anything.
3. Gem Stone King Sterling Silver Earrings Set (With 18 Inch Silver Chain)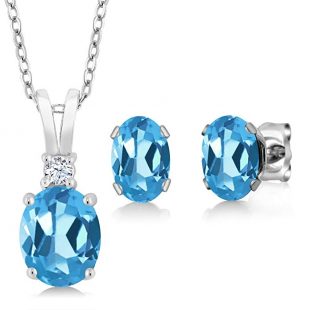 Unlike the other 2 above, Gem Stone King packs its topaz necklace with a pair of earrings made from the stuff. The stones are bright blue and combining the 2 together makes for a beautiful sight. Let's try to put it in proper view—you have two pieces of jewelry that are perfect for any formal occasion you can think of. If you have an anniversary coming up soon, it has the perfect shade and thus, vibe to softly attract attention. Alternatively, it can act as a gift to a friend who's always at work. You're giving her a gift that's fit for her element in terms of aesthetics. And when it comes to durability, Sterling silver is more than strong enough to ensure she'll use it for a long time.
With the physical part done, let's move on to the meaning. Topaz, as discussed, is a November stone that means protection and health. You giving someone both on her birthday is simply getting her a gift tagged with good intentions. If you're a dad or husband, try this out. On the chance that you're getting something special for yourself, you should throw anyone you know the idea to try out with their own months too. The merrier, the better is applicable here.
4. Snowflake Necklace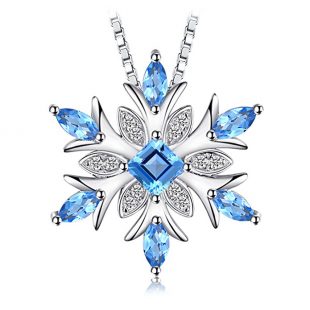 The necklace comes in the shape of a 6-pointed star, wherein the brand's choice in metal is the 925 Sterling silver. That means the same iconic durability and aesthetic appeal like the rest. It's going to see a lot of use before you'll ever start thinking of purchasing a replacement. Nevertheless, the main topic isn't the use of Sterling silver. Instead, let's talk about the intricate design which subtly makes use of topaz set at each end of the star and at the center.
The look is a bit eccentric which adds to the overall vibe of playfulness that we gave off. Trust us, we all took turns bouncing descriptions off the pendant necklace—and the only word other than "Playful" that came up was "Carefree". Now include the definition and even significance of a birthday, and you have the ideal gift for the occasion. Just make sure that the setting is romantic so you can easily seal in the flow.
If it's going to be an anniversary present, we think you should buy a pair of topaz or citrine earrings to celebrate the occasion. Women always love an extra pair to wear, you're just making sure the gifts hit home.
5. Peora 14 Karat White Gold Pendant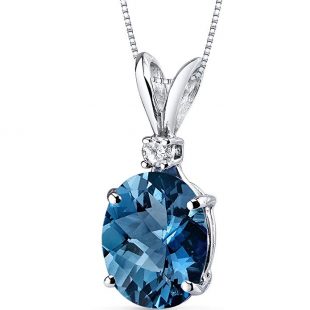 The Peora pendant necklace's highlight is the big topaz in the middle. Heck, we can go ahead and say it's the first thing everyone who looks at you will notice. Notwithstanding, the diamond-shaped carries the same meaning as the little ones that you've seen above. Also, it carries a considerable price tag when compared to others that we've talked about.
Moving on, the pendant hangs from a 14K white gold chain. Since you're giving the jewelry to someone on their birthday, we think it's a great option if you're looking for a piece of jewelry that's both pricey and still inconspicuous. Especially if the person you're giving the gift to doesn't necessarily enjoy getting looks while walking down a simple street. Albeit, keep in mind that topaz, as we mentioned, will do the same thing.
That said, when it comes to applying the gift itself, you don't necessarily need the excuse of a birthday before you can give it. Let November roll in, and you can give an appropriate surprise gift to anyone you love. New year is coming up real soon, so a jewelry item that carries both protection and health along with it is one of the best ideas we can recommend to anyone.
6. Citrine Gemstone Sterling Silver Pendant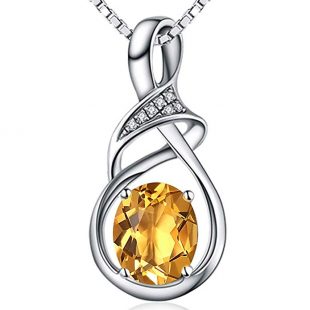 With the section for topaz jewelry out of the picture, it's time to move on to the second section—the various citrine-made items that we chose. Coming up first here is HXZZ, the same company that brought the first item in the topaz section. The item makes use of citrine (gold color) while the chain that it hangs on is Sterling silver plated with 18K white gold. The result of this is a piece of jewelry that practically adapts to any situation that you can think of. That is, if the necklace is going to be worn to work (dinners), you're covered in terms of appeal. Alternatively, if it's for your anniversary night, the pendant necklace feels like it was created with that kind of occasion in mind.
The stone is certainly beautiful enough and the meaning is right. Wherein the latter is even more important since it stands for success. Hence, the famous question of "Who doesn't want that?" comes up here. Consequently, our advice is to give the pendant necklace to anyone in November. Especially if it's for a graduation or even commemorating a new job or milestone at the office. The possibilities here are literally endless in the grand scheme of things.
7. Amazon Collection Dangle Earrings

The primary thing here is the fact that the dangle earrings do not only include citrine. You'll find stones like amethyst, peridot, garnet, and blue and white topaz here too. The way we see things here are simple. We think of any stone other than citrine as complementary ones. So while citrine carries its original meaning of success, garnet, and amethyst backs that up with happiness, peridot and the blue topaz represents well-being, and white topaz gives strength.
With that repertoire of advantages, it's only normal to want that for everyone and anyone. Though here, let's try to keep everything within November. So if you have an anniversary coming up, a birthday that needs you to hold back nothing in terms of the gift (hence the many colors), a romantic dinner, here's the surprise package that we would also give.
The chain is plated with 18K gold while the metal itself is Sterling silver. When it concerns our experience with the plating so far, we can verify that it's been awesome! The gold is more or less another layer. Though, it's one that's extremely thick to easily resist wear. On the part of the Sterling silver, it's pretty much the same old thing. Both durability and pleasing looks are the normal here too.
8. Beaux Bijoux Pendant Necklace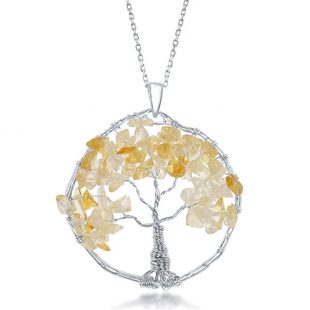 The Beaux Bijoux uses the same design as the Elda&Co necklace above, with the stones used being the only difference between the 2. That said, where this pendant necklace beats the other one is in the use of the stones. The citrine is cut into tiny, flat shapes that heavily resemble the tree. So in addition to the Tree of Life which stands for an unbreakable connection, the citrine present there stands for success.
The combination of both of them is that you're telling your partner that your bond is there to last forever. At the same time, success isn't excluded from the formula. It's that kind of gifts with a subtle tone of maturity mixed into things. So when you're considering giving the gift to your partner, is she the type to spend a lot of time at work? If she is, it's the ideal gift for her lifestyle since the whole thing can take a beating and still look pretty. On the other hand, if she's not the type that likes such things, you should try giving her something made with topaz. Always keep her taste in mind to make a powerful impression.
Both the chain and Tree of Life are made from Sterling silver for the durability and beauty it brings. Still, it's how the Sterling silver is twisted into the shape of a tree that's the most impressive aspect of design. The attention to detail really stands out here.
9. Raw Citrine Antique Bronze Necklace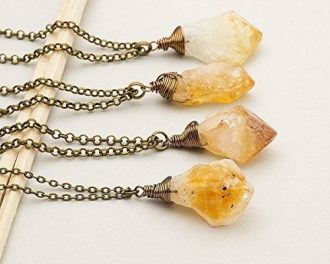 Here, the citrine is not cut, polished, or even in color. Instead, the stone is raw and so, a bit wild. At the same time, it's beautiful too due to the washed-out colors. Now, the only difference between this necklace and the others is that it's the only one that has a chain made out of bronze. That means it's not in the typical bright silver color that you've been seeing so far. Rather, the chain is brown in color and has strings wrapped tightly around the stone (citrine).
Despite this apparent change, the necklace can still be applied to practically anywhere that you can think of. Although, where it shines (pun intended) the most is in casual or simple settings. For example, imagine giving the pendant necklace to your girlfriend as a surprise on the first day of November. It's like wishing her success whilst still providing an item that easily carries a lot of sentiments.
Other areas where this is applicable as a gift includes her birthday (an obvious move), after work-related milestones, and just as a surprise gift anytime in November. It's the end of the year and this is one of those gifts that'll portray your intentions for the next year perfectly. You should also try including a gift card with the pendant necklace to set a romantic tone. Write something like "Together with you isn't even enough. Love you beau!" if you think she'll appreciate corny lines. If she won't, a simple "Got your back" is better.
10. Feng Shui Citrine Gem Stone Bracelet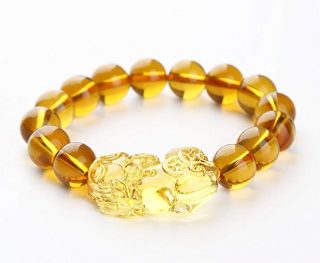 Instead of the usual necklaces that you've definitely grown accustomed to seeing, we're taking a different path here by going with a bracelet instead. The 15 beads are citrine and they're a vivid orange color that goes well with any outfit and most settings. So you're practically covered in terms of casual and formal situations. Even down to ones that tend to get rough since the build quality has you covered.
When it concerns who you're giving the bracelet to, we recommend close friends and family members. If you give it to your daughter, you're essentially hinting at the level of success you want for her. Likewise, if you give it to your partner, you're backing her decisions which goes to the idea of graduations. Anyone whose graduation is coming up pretty soon, try giving them this bracelet.
In fact, include a topaz necklace to complete the package. The bracelet is subtle and delivers a silent punch with the aforementioned meaning. On the other hand, a topaz necklace easily stands out. And for people who know what it means, they'll know you're protecting her. If not in person, then through a stone that carries a lot of sentiments and good intentions.
Q&A
Which color of topaz is the most valuable?
Despite the fact that blue is a shade that's extremely rare, it's definitely not the most expensive that money can buy. Rather, that honor solely belongs to a variety of topaz with a golden orange-yellow shade. This shade type is rare only because of the price. Not because it's not common.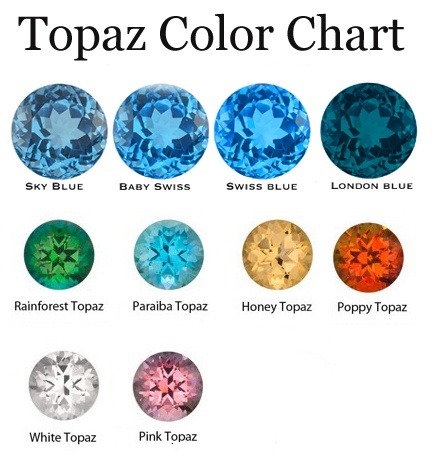 How hard is topaz?
We think the best explanation we can give you is through a little comparison. But first, let's explain what a Mohs scale is. Mohs comes from the name of a German mineralogist called Fredrich Mohs. The aim of his scale was to determine the hardness of a mineral (diamond, topaz, etc) by scratching one with the other. It's a rather funny method, which is also slightly incorrect. Still, it works and here is an example.
Diamond is a 10/10 on the Mohs scale, which means it can scratch pretty much all others minerals. They are talc, gypsum, calcite, fluorite, apatite, feldspar, quartz, topaz, and corundum.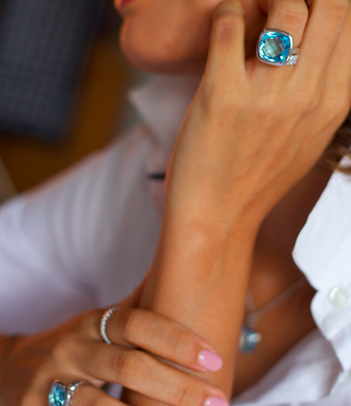 So here, talc stands for 1/10, fluorite scores a 4/10, and in that order, topaz scores an impressive 8/10. This means you're well covered in terms of durability. Diamond only has 2 points on the stone which is rather generous considering the fact that the difference in price between the 2 is like night and day.
What are the other meanings for topaz?
Whilst topaz easily stands for protection and perfect health, that doesn't mean there aren't other definitions for you to attach. You can use jewelry that includes a well-sized topaz to convey loyalty and faithfulness to literally anyone you want. Obviously, both of these things only work effectively when couples are included in the scheme. So think mostly weddings and anniversaries. Other than that, the rest goes to deep bonds found between best friends and also the relationship between a parent and his/her baby girl.
Which is better between topaz and citrine?
Our answer here is none. It all depends on your preference and what you're trying to communicate. Topaz is a stone that's purely meant to be shared between couples, or family members which places somewhat of a limitation on things.
On the other hand, citrine is a stone that means success and as we mentioned, most people that you know will love something of this type. So which one are you to choose? Choose the one that fits what you have in mind. But if both are applicable to the situation, you should go ahead and purchase items with both types of stones.
Where does citrine come from?
Most of the citrine on the market comes from Brazil, but we doubt we can really call the stone authentic. The citrine produced by Brazil is artificial and it's also heat-treated amethyst. How the principle here works is that the higher the temperature, the darker the colors become and thus, the price automatically increases.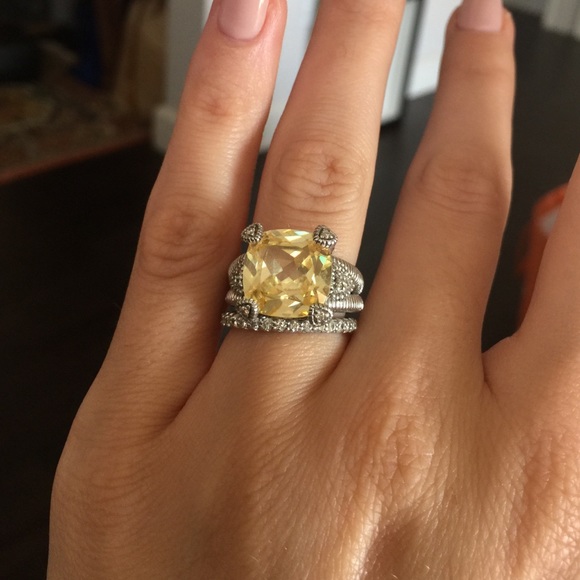 If you're looking for natural citrine, you'll find that in Russia, France, Madagascar, and some others. The natural ones are pale yellow to pale orange.
What does citrine represent other than success?
To gain success, there are other tools that you need—which we can also say citrine represents. The stone can mean creativity, hope, strength, and youth. Giving someone a citrine necklace (any of the ones above) and writing these definitions down for her is romantic due to the meaning behind it. Creativity helps at work, hope is a driving force throughout life, strength comes in handy when you're pushing yourself, and youth simply translates to indefinite use and the ability to keep up. This is a healthy mix that can stack up well against the best.
How hard is citrine?
Citrine wins a 7/10 on the hardness scale and compared to topaz, it's just one point below. So theoretically speaking, the stone is hard enough to resist most scratches and likewise falls even if you're using it daily. When we saw this, we actually decided to test out the stone's resilience against topaz. Specifically, we tried a scratching test between the Wenmily bracelet and the HXZZ necklace. The results we got were satisfactory enough.
Our Final Thoughts
Pick any one of the products above with the mindset that you're getting an item with the most influence. It's more or less a mix of good looks, budget-friendly prices, and enough toughness to keep up with any situation.
At the same time, the meanings of both topaz and citrine complement the whole thing. They are gifts that will easily act as constant reminders in as much as they're worn.