Other / Watches
10 Wooden Watches for Men: Gift Your Man a Special Watch!
Marianne 10 Mar 2020
2329
Are you looking for a gift for a man? Sometimes it can be a difficult task. For most of us, buying a gift for a woman probably seems easy. There are very few things that women don't like, right? No matter their personality or interests, there is something out there that is easy to find and would make a great gift. A bracelet, necklace or earrings would be great gifts, as well as wooden watches for men.
If she's active she may like a health-tracking watch of some worst. You can also count on most women like clothes, flowers, or chocolate and a nice card. Does she like pictures? There are so many online scrapbooking sites now that you can be sure to find her a book or gift card that she will love. And most of us women would never say no to a candle or a bath bomb, am I right? The list could go on and on off the top of our heads about what gifts you could give to a woman.
But when it comes to giving a gift to a man, it might not seem as easy! Where do you even start? Are his hobbies affordable for gift giving? Does he have any sort of collection that maybe he would want to add to? What is something that he has shown interest in in the past that maybe he would still want? Now, we're not saying that all men are like this.
Because that would simply not be true! But if you are asking yourself this Father's Day or Christmas what on earth you should buy for the man in your life, know that you are not the first person to ask that! Most of us have been stumped when a birthday or another holiday rolls around, and probably more than once. If you know the feeling, we've got good news for you! We have found an awesome gift to give a man and we are going to share our favorites with you!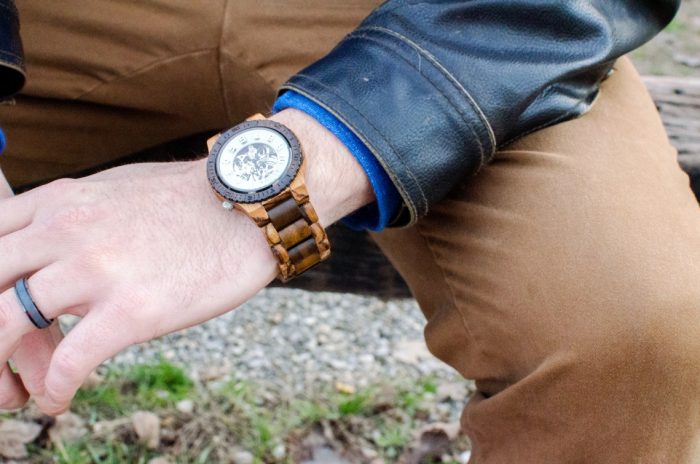 What is this gift that we speak of? It is one of the coolest things in the jewelry right now. It's very unique, but also becoming more popular every day! It's a wooden watch! Yes, a wooden watch. How fantastic is that? There are lots of different kinds of these wooden watches out there. Some of them are made completely of wood, from the band to the casing and the face. Other watches have elements of wood throughout, such as a wooden face and casing with a leather band. Regardless of whether its all made of wood or just portions of it are, these watches really are so cool!
They make a great gift because they are special and unique. In most cases, it's probably something that he doesn't already have a collection of. Even if he has an abundance of watches, this one will stand out from the crowd! In our 10 featured wooden watch list, we have found ones that will fit in your price range and will make gift giving simple and inexpensive. These watches are fantastic and we can't wait to give you a taste of this new trend. So let's check them out!
Our 10 Favorite Picks!
1. Sentai Handmade Vintage Watch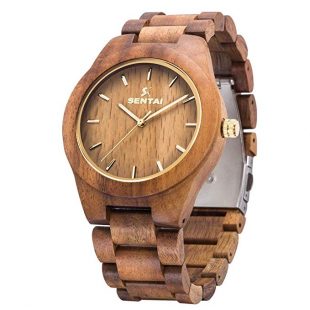 First up we have this stunning all over wood watch. The entire piece is handmade from natural wood by Sentai. It is perfect for someone who may have allergies to metal or other materials. This watch is hypo-allergenic and is non-toxic. The hands on the watch are luminous, making it easy to tell what time it is even when it is dark outside or in the room.
The piece has a Japanese Quartz Movement which is always a great sign when looking for a quality option. It operates on battery power that is expected to last up to two years. The Japenese Quartz movement is a good thing to look for because it is efficient and functional. It will save energy, making the battery last a long time. But that's not all that this type of movement guarantees.
Have you ever had a watch that is really loud? You know, sitting in class or at work and you can hear the tick, tick, tick. As if its already not in your head enough as you anxiously wait for the workday to be over, this can make the time seem to go by even slower. It can also be a bit obnoxious if you are in a quiet place like a meeting or trying to sleep at night. That's another thing we love about Japanese Quartz movement is that it is sure to keep your watch ticking by quietly.
Lastly, we love that the movement on this piece is accurate. Have you ever had a clock that seems to be a minute or two behind every day? That can be so frustrating as you try to figure out what time it actually is, because that is the reason you bought this watch, right? It's supposed to make life a little easier, not more confusing. This piece will remain accurate over time and you don't need to worry about the hassle of resetting it to make it the correct time again at the beginning of every week.
The watch has a folding clasp that makes it easy to take on and off. The band is adjustable, making it possible for you to customize it to fit your wrist perfectly. It is not waterproof, as it will damage the natural wood. So try not to get it wet or soak it in anything. It comes in half a dozen colors of wood, including acacia wood, black sandalwood, black walnut wood, olive wood, zebra wood, and red sandalwood. Each of these watches comes at a very reasonable price. This watch comes in a brightly colored gift box and would make such a cool gift for any holiday or special occasion.
2. Sentai Natural Wood Watch with Gift Box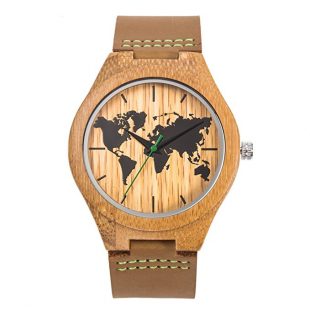 We are completely smitten by this Sentai men's wristwatch. One of Sentai's missions as a watch company is to invite a connection with nature through jewelry. We love the way they take this on with their watches and use material from nature to hand make each piece. The way that these watches are made so crisp and clean, yet look so raw is the perfect way to give you a taste of nature as part of your wardrobe every day.
The case is handmade of natural bamboo wood. How awesome is that? It is hypo-allergenic and great for anyone with any sort of allergies. But let's be honest, this watch would be awesome for any man out there. It is such a unique and intriguing piece. We can't get enough! Each piece may have some sort of individuality as the grain of the wood can look different on each one.
We love the way that they have designed the dial with the World map! It makes this watch so special and it would be the perfect time capsule to pass down from one generation to the next. It gives off a very retro vibe which we love. This World map watch is available in brown, with a black map and number tick marks. It is also available in black with a light gray map or in a raw bamboo wood color with a compass design on the dial.
Next, we have the gorgeous band. This is made of calf leather. You will be extremely pleased with how light and comfortable this is on your wrist. It is smooth and fits your wrist perfectly even after wearing it all day. It includes Japanese Quartz Movement that is sure to keep your watch working properly for years to come!
It comes in a bright box which makes it easy for gift giving. It also comes with a one year warranty, so if any attention is needed during that year, your recipient can utilize that. This is such a fantastic piece and we are thrilled with its characteristics and quality!
3.
Bewell W109D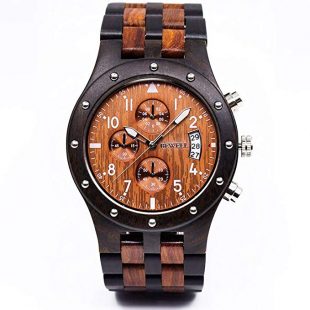 This handsome piece is made of a gorgeous combination of black and red sandalwood. They don't use any paint or chemicals to create this piece, making it the perfect watch for someone who wants that raw nature product and looks.
The piece has a sandalwood band that is threaded with two colors. The face of the watch displays 4 additional sections that include a 1/10 second counter, a minute counter, and a second counter. Near the 3 on the clock, there is a calendar window to display the date. It also has a stopwatch feature as well as easy access to adjusting and returning the time.
It's available in black and red sandalwood, black sandalwood, red sandalwood, and zebra wood. It also features luminous pointers to make it easy to utilize it even in the dark. This would make a fantastic gift for someone who has a large wrist, considering that the diameter of the dial is 44 millimeters wide. It would also be a great piece for someone who has a passion for connecting with nature or who loves to play outdoor sports. This is such a great option for a wood watch and it comes at a very reasonable price.
4. CUCOL Bamboo Wooden Watch with Brown Cowhide Leather Strap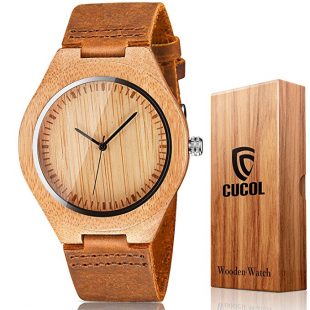 This next piece gives a unique sleek look to the wood watch trend. The case is made of real bamboo wood and the face is the perfect look for a man who is a minimalist. It is simple and features the most important thing your watch can tell you, the time. Like the other option we have seen, this one has an imported Japenese quartz movement installed that makes it last up to a couple years and guarantees that you will get an accurate reading from your watch each time you read it.
Though the face is made of bamboo, we don't see that all throughout the piece. The band is then made of smooth cowhide leather that will shape to your wrist for the perfectly comfortable fit you have been searching for!
It comes in a box that is just as cool as the watch is. You can purchase it for a pretty low price, making it a fantastic gift option if you are searching for something unique for the special man in your life.
5.
CUCOL Casual Watch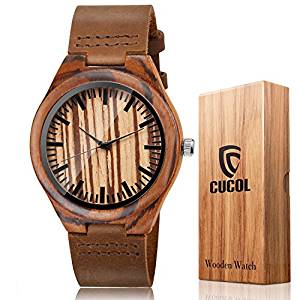 This Cucol piece is a lot like the last one that we saw, but it is so unique still that we had to share it. It is a fantastic quality piece made of real wood and authentic leather. The real wood face is a round shape and is covered with glass that will keep your watch safe and functioning properly.
The case diameter is 1.77 inches wide and the band is about 9.8 inches long and just under an inch wide. The authentic leather strap is soft and made of top quality brown cow leather. The watch is unique with its striped wood and simple design.
We love the way that the brown and black striped vibe make this a perfect choice of an accessory no matter what you are wearing. Because of that and the quality of this piece and how it functions, this would be a fantastic gift to give to someone. You will also be thrilled with the price and the way that it makes gift giving simple and inexpensive.
6. Viable Harvest Bamboo and Sandalwood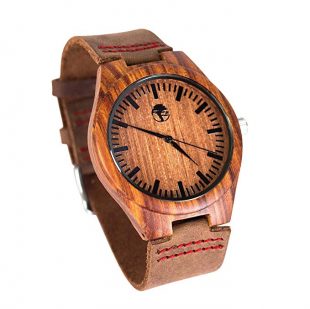 This cool option is a Viable Harvest men's watch that is priced just how we like them for gift giving. This is a wood watch that you will get constant compliments on. It is made from organic sandalwood and bamboo that is all natural. It's so lightweight and comfortable that you will just forget you have it on. The band is made of authentic leather that shapes to your wrist and within no time you will feel like it was custom made just for you. The watch is made with the ever promising Japanese quartz movement that will keep your watch ticking at a consistent and quiet pace while keeping the watch accurate and functional.
With this option, they say that the battery can last up to four years. How fantastic is that? No more panicking because your new watch stopped unexpectedly. This one is one that you can trust will uphold its duty of keeping track of the time for you and being reliable for days, weeks, months, and years to come!
You can purchase it in a few different ways. It is available in a dark sandalwood as well as a lighter medium shade of sandalwood, both of which are crafted with the leather band. We love the red stitching on the brown leather that gives it a pop of color and individuality. You can also find this watch with the same classy sandalwood face, but with a wood band if you want an all over classy wood watch. Lastly, you can purchase the sandalwood version, the one with the leather band that is the medium shade.
What makes this last option different is that it includes a pair of wood sunglasses to match the watch. We love this idea!
7. Wonbee Handmade 100% Natural Red Sandal Wood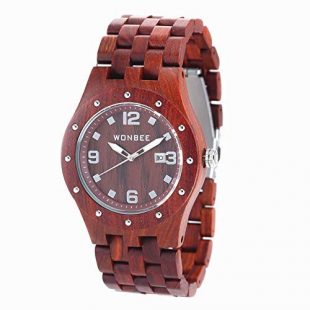 We are so excited about this option because it puts a twist on the typical wood watch you would expect to see. When you think of a wood watch, what color first comes to mind? For us, the first thing we picture is a brown watch. But this option does not fit the norm, because it adds a little spice to your typical wood watch. It's still made of a gorgeous and original sandalwood, but it is a jaw-dropping deep red color!
We love how unique this is and how it would stand out with any attire. The casing around it is lined with gemstones at each hour, 1-12. This pop of shine attracts the eye and contrasts with the red beautifully. The watch is large, with the case measuring 46 millimeters. It is very flattering and masculine with its handmade wood band as well. We love how the different shades of dark red are mixed together throughout the band.
It's crafted with imported Japan Citizen 2315 quartz movement and is sure to hold its accuracy ensuring that it reads the right time. This would make a great gift for any occasion. And not that you will need it, because we are sure you will love this watch, but it does come with a 100% money back guarantee.
8. Maui Kool Wooden Watch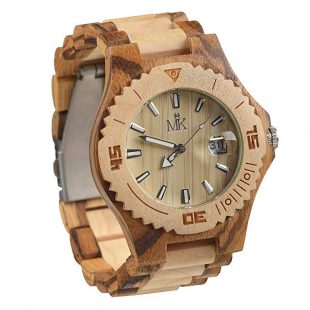 This Maui Kool piece is as cool as they come. The design of this watch is so unique. We love the chiseled casing around the face. It is a unisex option, so it's not quite as large as some of the ones we have seen before. However, it is still a good size for a man and would fit like a large watch on a woman's wrist. It is 42 millimeters throughout the diameter of the case and the band is 25 millimeters. It's a great size for a man of any age. The chiseled case is wide enough to fit time tick marks as well as a 0, 15, 30, and 45. It is gorgeously crafted with tiny details all throughout it. It is a little more pricey than others on our top 10 list, but it is fantastic quality and it's a watch that you will be so excited to own or to give to the special guy in your life.
It comes in four colors, each one ranging a bit in pricing. It comes in maple and zebrawood, maple wood, zebra wood, and black sandalwood. The center stripe of the band on the maple and zebrawood version is the simple maple color while the outside of the band is the gorgeous zebra wood. The variety throughout the band makes for a very stunning variation. The band is easily adjustable and you can make it the right size for you by easily removing as many links as you want.
Another great thing is that you can have extra links included in your purchase for no additional charge. Yes, it's true. If you know that the man that you are gifting this watch to has a larger sized wrist, simply request a few extra links and you can be sure that it will have the flexibility to fit him just how he wants!
9. Treehut Zebrawood and Ebony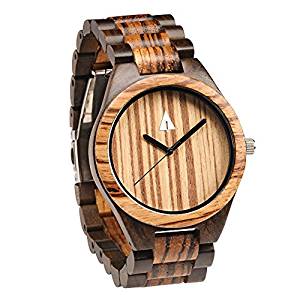 This option has manly man written all over it! Are you getting a gift for the man in your life who is super in tune with nature, maybe even works in nature? This would be a fantastic option for him. This watch is super simple and sleek, and the all over wood is so handsome!
It's made of zebrawood and ebony wood. It is made of high-quality wood that is durable and will last you through daily wear. One thing that is unique is that it does have a bit of water resistance. That is something you don't see in a lot of wood watches because any tiny amount of water may affect or even damage the wood. However, you don't need to panic in a rainstorm if you have this one on because it can hold up against a little bit of exposure to water.
It has a stainless steel clasp on the watch band that will not tarnish over time or change colors. The band is expandable up to 8 and a half inches which you can do by adjusting the screwed pins on your own or preferably with a jeweler. This is a stunning and high-quality piece and would make a great gift for any man, but especially that outdoors guy in your life!
10. Viable Harvest Walnut Waterproof Black Steel Case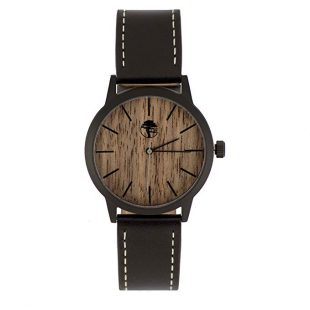 To finish up our list we have this Viable Harvest highly reviewed men's wood watch. It has a walnut face and a leather band. The walnut face, stainless steel, and leather build of this watch make it unique to those in the wood watch family.
It's special because it can be worn indoors or outdoors for your daily routines without you having to worry about whether or not it will hold up. These materials are water resistant for your daily tasks, like washing your hands our working outdoors. So don't stress taking it on and off all day long. This piece is durable and made to work properly for years to come. It is such a high-quality piece and we think it would make a fantastic gift.
—
After seeing these watches, we hope you are as excited about this style as we are! They are great quality and are sure to please the lucky recipient who you are gifting it to. There are so many options out there, but we think these 10 are some of the best quality ones and the most stylish as well!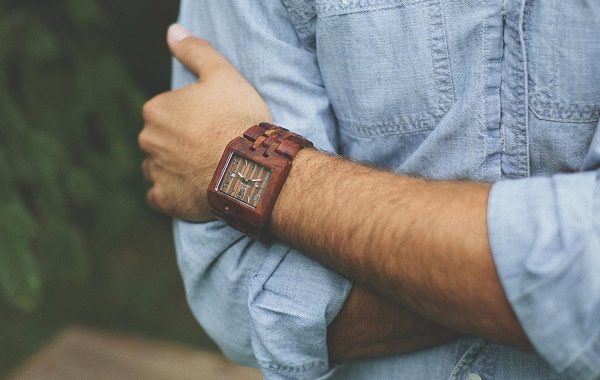 This Christmas or Father's Day, don't find yourself stumped and stressed out about what to give your man. You don't have to be discouraged about this process at all this year. We've found the coolest gift for you to give him that both of you can finally be excited about! This is the year for a wooden watch.