Romantic and Sweet Couple Rings Worth Spending On
last updated:
Mar 05, 2021
We know there are many romantic and sweet couples out there looking for the perfect couple rings.
We have decided to do the job for you so we have searched the internet for the best matching ring sets at an affordable price for all.
This was a hard decision on our part because there are so many selections we know you would love, and we have chosen 10 there are our absolute favorite!
These sets also make great gifts for birthdays, anniversaries, Valentine's Day, romantic getaways and any other special occasion that celebrates the love you have for each other.
Take a look at our choices because you won't be disappointed!
Our Top 10 Picks!
1

. Sassu Fine Adjustable Couple Rings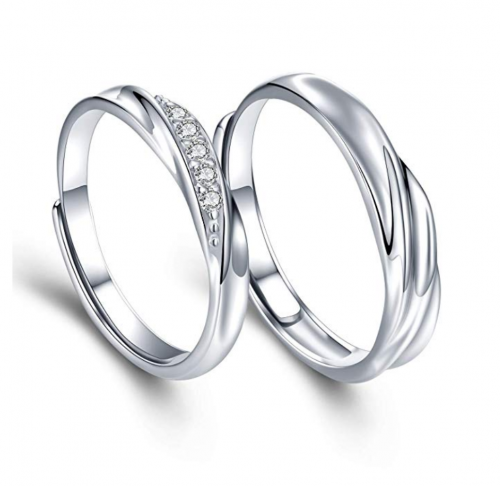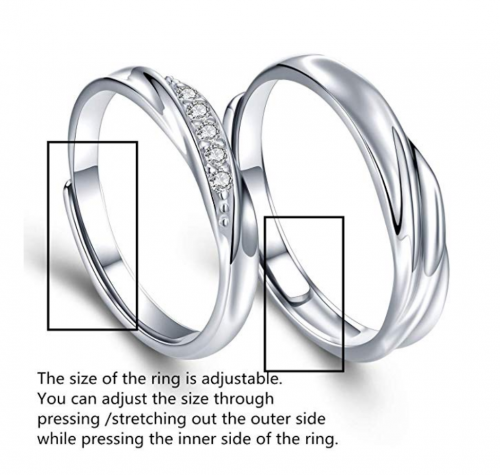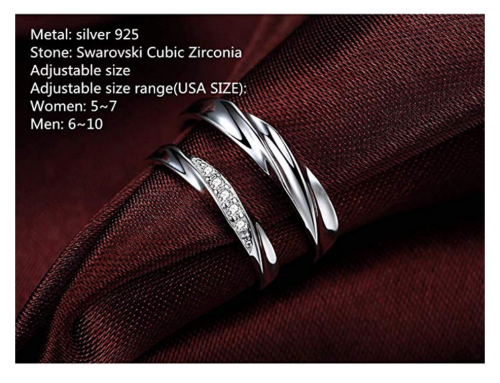 100% sterling silver bands
Swarovski cubic zirconia
Adjustable rings
This set features 100% sterling silver bands along with Swarovski cubic zirconia stones in a wrapped setting. The lovely couple rings make a great gift as engagement, promise or wedding rings!
Read more
These bands are very delicate, elegant and extremely comfortable to wear. The bands are adjustable and the sizes range from 5 to 7 for women and 6 to 10 for men.
The set will arrive complete with a ring box and a jewelry polishing cloth. There is a 30-day 100% satisfaction or your money back guarantee.
The price for the set is super affordable so if you're on a limited budget, this pick is right up your alley!
2

. Loversring Couple Ring Set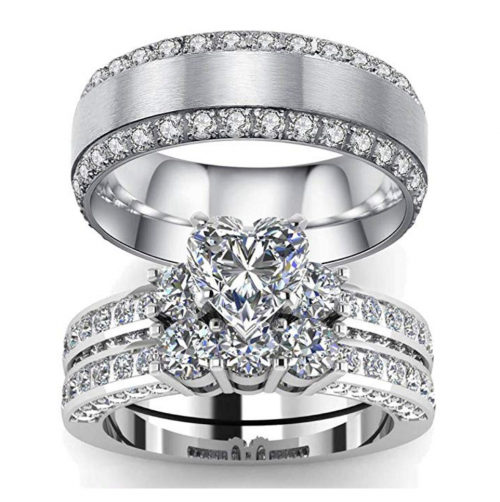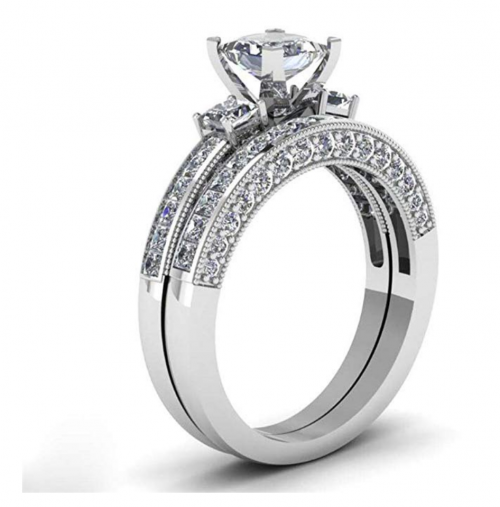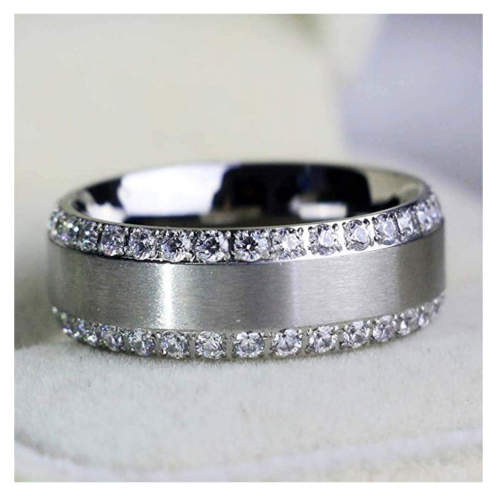 White gold-plated
Cubic zirconias
Free shipping
We hit the jackpot when we found this gorgeous set of couple rings for for him and her. The women's ring has a beautiful antique and feminine look and has two bands. It features a cubic zirconia white cut heart, along with pave AAA clear sparkling cubic zirconia stones.
Read more
Every stone is inlaid and won't fall out of the ring. Women's sizes range from 6 to 9.
The men's ring is 8mm wide with a titanium scratch-proof, strong band. It is also an elegant piece and will look great on the ring finger of your sweetheart.
The set is guaranteed to be 100% perfect, nickel free and won't turn green.
This perfect ring set symbolizes love on those special days in your life like anniversaries, Valentine's day, or vow renewals.
The set is gift ready since it will arrive in a beautiful jewelry bag so if you're looking for an affordable way to surprise your partner with a little jewelry gift, we recommend this option.
The rings are guaranteed for 60 days with a full refund in case you feel it's not exactly what you expected!
3

. Jeulia Couple Sterling Silver Band Set
925 sterling silver
Variety of sizes
Heart-shaped inlaid stone
This selection has 5 star review ratings on both items. Consumers are raving because both rings look exactly like they do in the pictures!
Read more
The man's ring is a simple silver band with a cut-out heart shape. The band is engraved with the words 'endless love'. The texture of the band is super smooth and polished.
The women's ring is a gorgeous solitaire, dainty piece. What we love most about it is that the band thins out towards the center where there's a gorgeous heart-shaped crystal in a prong setting.
The gemstone is a Jeulia stone. Julia lab-creates it's own stones to make them just as hard and sparkling as natural gemstones while selling them for a fraction of a price you'd have to pay if you were to choose a precious stone.
The carat weight of the heart crystal is 2.3 so you're getting a good amount of dazzle!
Jeulia also offers you the choice of customizing details on your rings by engraving it. You will have to pay a little extra for engraving but considering how affordable this set is, we think the little extra is worth every penny!
4

. MABELLA Stainless Steel Ring Set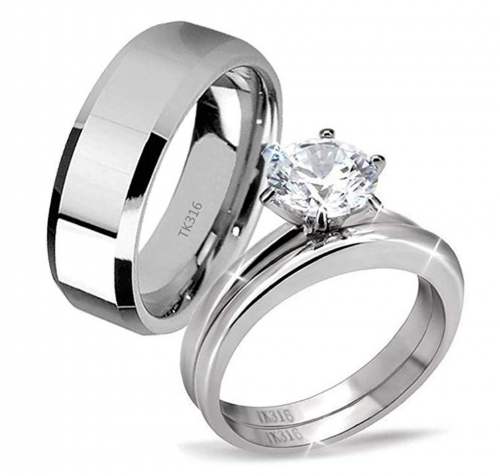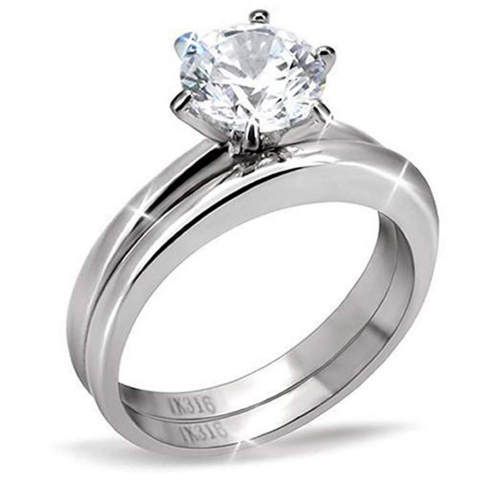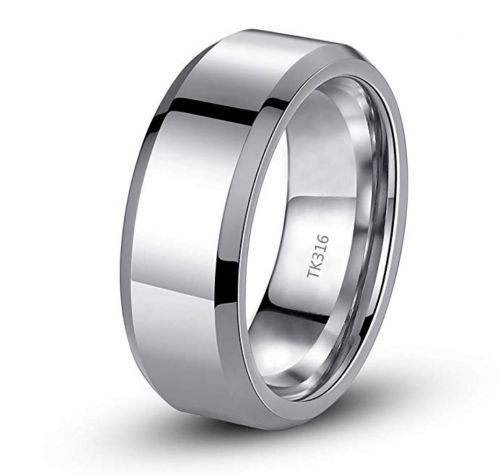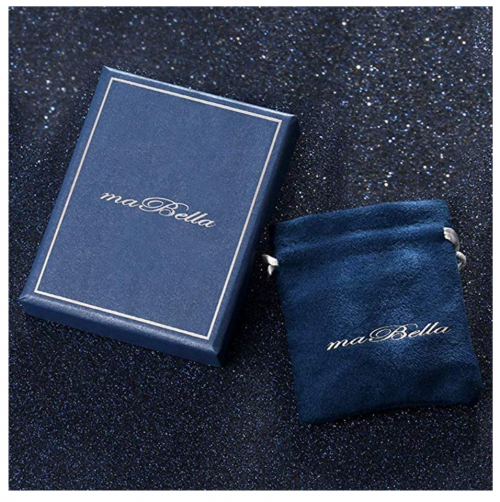 Stainless steel
Nickel-free
Highly polished
We selected this beautiful set because it's simple, classy and elegant with an old fashioned flair. The cubic zirconia stones in this ring are set in a brilliant round-cut prong setting. The matching bands are both made from stainless steel!
Read more
The men's band has a comfort fit design that is highly polished and 8mm wide.
The women get a ring set which includes a gorgeous band with a solitaire cubic zirconia stone and a simple band which you can choose to stack with your solitaire ring. The stone is round cut and comes in at 1.28 ct!
The rings arrive in a beautiful gift box and include a 60-day money back guarantee return policy and a full refund.
There is a large variety of sizes and the price is among the most affordable on this list!
5

. Jeulia Sterling Silver Couple Rings
925 sterling silver
Engraving option
1 year warranty
This exquisite set of round-cut sterling silver rings come in very unique designs. The men's band consists of 9 diamond white Jeulia stones (lab-created gemstones) that resemble a cross.
Read more
The women's band is very unusual and has a unique pattern of hearts around the band.
There is one beautiful, shimmering diamond white stone set in the middle of the band of hearts. The stone size is 5 mm and the carat weight is 0.9. The gemstone is set in a prong.
This is a great selection for any couple because of the beauty that both bands bring out together as a matching set.
Jeulia offers the option to engrave any of the bands by paying a little extra on top of the set's price.
6

. Dazzlingrock Collection Ring Trio Set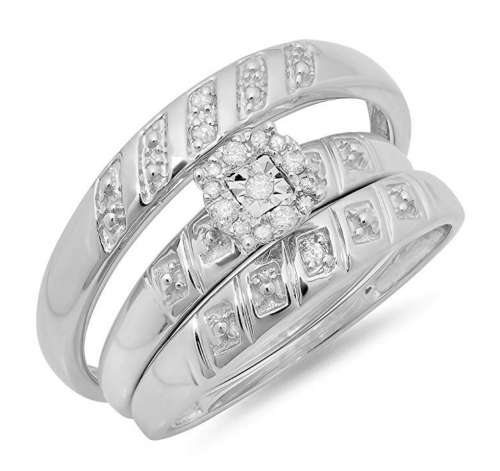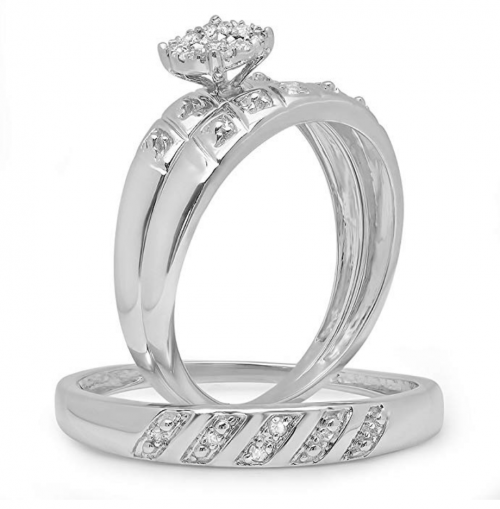 Diamond accent stones
Sterling silver
Prong set
This lovely set of rings is a wardrobe creation. All white diamonds are sparkling and 100% natural.
Read more
The bands are .925 sterling silver and come with a white diamond included in a prong setting.
The man's ring is a comfort fit band while the women get 2 rings, both with a very particular design and diamonds encrusted in it!
Considering you're getting natural diamonds, this pick comes with an expensive price tag; however, we think it's worth the splurge!
Dazzlingrock offers a 90-day warranty and will repair your ring for free if you lose a stone or your setting is damaged.
7

. Jeulia Heart Titanium Steel Couple Rings
Two tone rings
Titanium steel
1 year warranty
We love this set since each band feature half of a heart which means that when you place the bands together, the heart becomes one. This would make a great engagement or wedding set for couples.
Read more
This selection of two-tone couple rings are made from the highest quality of titanium steel.
This means the set is scratch-resistant and won't tarnish in time. Each ring also 2 sweet romantic words engraved on the outside of the band, the words are 'Eternal Love'.
The man's band features a black-colored half heart while the women's half heart comes in a yellow gold tone.
Both the black and yellow gold tones of the hearts are perfectly complimented by the silvery shade of the titanium steel!
The bands are 5mm wide and Jeulia let's you engrave both bands for an extra $20.00.
You'll also get a 1 year warranty and a 30-day money back guarantee.
8

. HEWINZW Tungsten Rings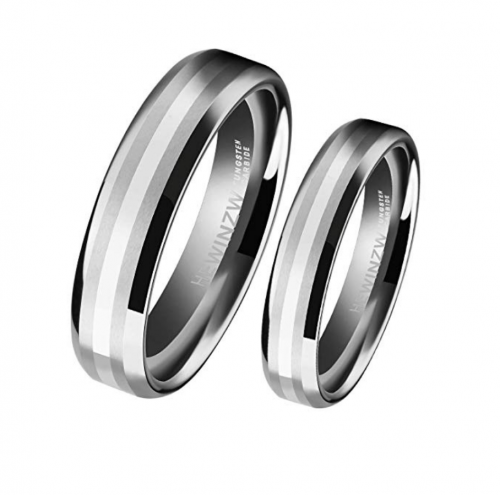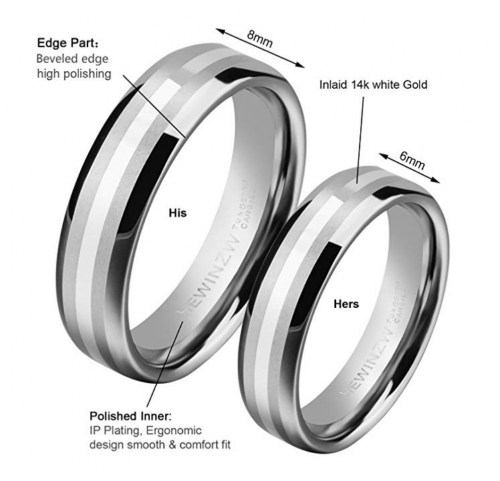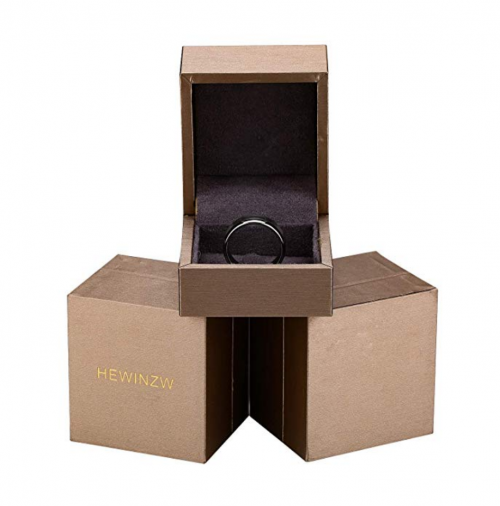 14K white gold
Tungsten carbide
Comfortable fit
These tungsten rings are plated with 14K white gold and are excellent because tungsten is known to be a super durable material that is 100% scratch and tarnish-resistant.
Read more
The rings have great workmanship when it comes to the inlaid white gold surface and a high polish, smooth texture.
You have 12 sizes to choose from (including half sizes) and the set is completely hypoallergenic so if you're looking for rings that are perfect for those prone to skin allergies, this is your option!
The brand behind this set is known for excellent customer care and they add their own touch to each product by designing a personal packing box for each ring you choose.
9

. FlameReflection Couple Ring Set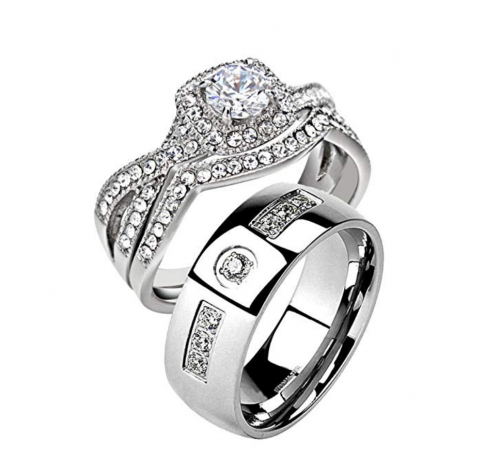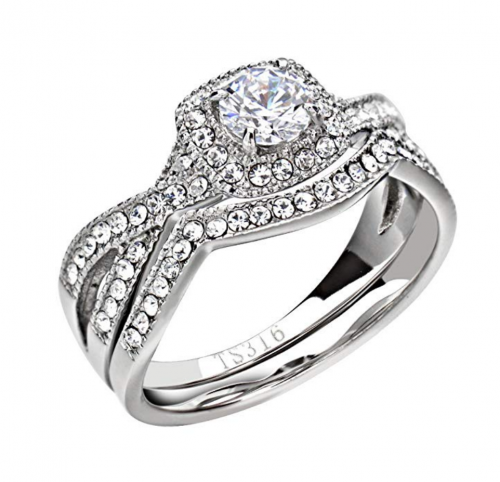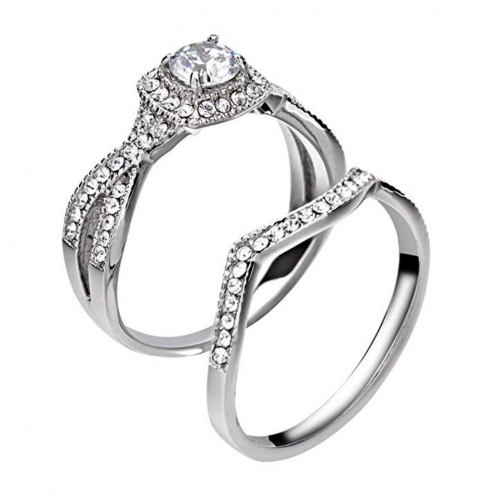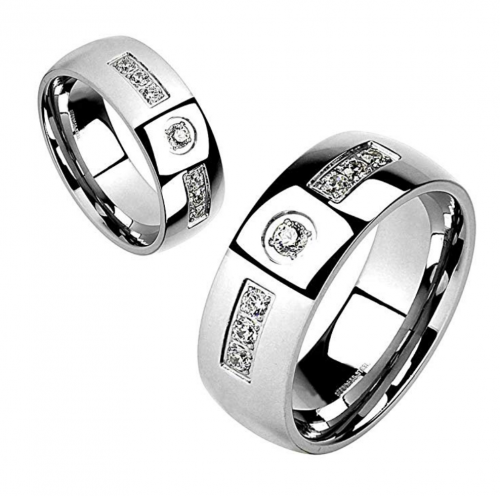 Stainless steel
You get 3 rings
Super affordable
Now here is a seriously dazzling set of rings! This set includes 2 rings for her and a beautiful chunky band for him.
Read more
Made with stainless steel and cubic zirconia stones, the set is perfect for those looking for flashy, super dazzling couple rings.
The 2 rings for her include a dainty, twisted style band encrusted with 24 round cut cubic zirconia stones. The band perfectly compliments the chunkier ring which features a large, center stone surrounded by 16 smaller cubic zirconias in a halo setting.
As if this was not enough bling, there are an additional 30 cubic zirconias set into the sides of the ring!
The man's band is equally beautiful and sparkling as the women's set. The design is sleek and simple with a comfort fit and there are 7 square cut zirconias in a pave setting.
We just love how flashy this set is and since you're getting AAA quality stones, it means that these will sparkle just like a diamond would!
The set is one of the cheapest on our list and the brand promises a 30-day money back guarantee and full refund in case you're not happy with your purchase.
10

. Jeulia Cool Black Titanium Steel Couple Rings
Identical rings
Engravable
1 year warranty
While our previous pick was super flashy, this one is elegant, simple and classy! The black titanium stainless steel bands are the perfect option for those of you looking for bands that look the same and are beautiful on both a man's finger as well as a women's one.
Read more
Made of stainless steel, you know you're getting a durable set of couple rings. Both rings feature a black titanium inlay which is super polished and smooth, almost matte in color.
The black inlay goes so well with the shiny, silvery surface of the stainless steel. The man's band is slightly larger that the women's one but other than that, the rings are identical!
This set works well as wedding bands and as promise rings.
Just as with all Jeulia rings on this list, you can engrave both bands with up to 12 characters.
The engraving will cost you a little extra but since the set is quite affordable, it's well worth the extra cost.
Evaluation Criteria
Style
We decided to select these 10 couple rings because they are classy, elegant and exquisite; the perfect keepsake jewelry. Some of the sets have a contemporary look, while other sets have a beautiful antique look.
The gemstones are genuine and dazzling, while the bands themselves are polished to the utmost shine.
The designs are unique and perfect for daily as well as evening wear. The jewelry is extremely affordable for any budget.
These sets symbolize everlasting love for all couples who plan to be engaged and married. They also symbolize lifelong friendship with a touch of style.
Wear Comfort
The reason these couple rings are worth splurging on is because we only chose styles for comfort wear. The pieces are all very beautiful, while looking masculine enough for men and feminine enough for women.
We decided on our 10 choices because they are made from high quality metals and are scratch-resistant, won't turn green, keep their shine for years and come with an excellent warranty.
The rings and bands are designed for the perfect fit and easily slide on and off of your finger.
Durability
We are comfortable with all the companies we decided to feature on our list. The brands are honest and use all genuine stones in their products.
The ring size is correct and the gemstones are of the highest clarity. The metal used is polished to a high gloss and the sterling silver is .925 certified.
The prices of the ring sets fit all budgets and every set is guaranteed with a warranty or full refund. If your ring is damaged due to normal wear and tear or a stone is lost, your ring will be repaired free of charge.
All of the sets we selected arrive in either a lovely gift box for easy storage or a pouch.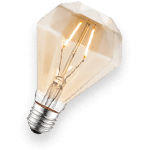 How to choose your perfect ring set
Our selection of couple rings is perfect for everyday wear and regardless of your personal style, we bet that there is at least one set that's just your perfect match.
You don't have to be a couple to purchase one of these stylish sets. Splurge on one of our options and wear it as stackable rings.
Since these are all sets of rings, each one goes perfectly with the other ring included in the set!
How to choose your perfect ring set
If you love pink heart jewelry, we have quite a nice selection. Options 3, 5 and 7 feature either a heart-shaped stone or a heart design on the band.
If you like adjustable bands, choose option 1. The set is simple yet classy and perfect for any couple who loves elegant rings without the flash.
Our favorite pick is option 8 which are just simple affordable, yet sophisticated bands for the perfect couple.
FAQs
q:

Why are couple rings so popular?

a:

Many couples express their affection in different ways, but a ring is still the sweetest symbol of love - and, who doesn't love jewelry?!

The reasoning behind this is couple rings are romantic and sweet, and they also symbolize a bond that is full of promise and loyalty.
q:

Do couples commonly splurge on ring sets?

a:

The tradition of splurging on an expensive set of rings is not as popular as it was in recent years.

One study claims that men who spent under $500.00 or more than $2500.00 on a wedding or engagement ring have a higher rate of divorce than men who spend somewhere in the middle!

It's not about the price tag or keeping up with your friends, it's about what you can afford!
Finally...
The selection of rings for sweet and romantic couples to splurge on has been an interesting journey. Times have definitely changed and couples are moving away from traditional jewelry and becoming more practical.
Being in love doesn't mean you have to put a price tag on your love. We have kept in mind to search for the most affordable prices, the more comfortable ring sets, a variety of available sizes, ring sets that are durable, highest quality of gemstones and strong metals.
We looked for sets with warranties, including little extras like pouches, gift boxes and gift wrapping.
We delved in and studied the clarity and cut of the gemstones, read about the companies, reviewed what the customers said and read about the artists creations.
We have chosen our favorite picks that we found to be exquisite, dazzling, simple but classy. We looked at the styles and determined these sets can be worn daily with pretty much any outfit.
We hope you take the time and peek at what we found for you to browse. There is a set for every couple that is within their budget.
If you are a single shopper, there are many bands you will find affordable and interesting as well!