Buying Tips / Jewelry
Best Engagement Ring Styles: How to Choose the Perfect Engagement Ring
There are few decisions in life more important than selecting your perfect engagement ring! Whether you are making the decision for your ring, or if you are selecting the ring you'd like to propose to your partner with, this is a piece of jewelry that will be part of your life forever; however, there are so many engagement ring styles you may be overwhelmed with choices!
For that reason, it makes sense that you should put a lot of time into deciding what the perfect engagement ring looks like to you, but don't forget to check our selection of men's engagement rings as well.
So, how do you decide what perfect is? There are a lot of factors to consider. First of all, the price. While we all wish we could pick out a ring without any budget in mind, that just isn't realistic.
Thankfully, there are so many options out there today that no matter your budget, you can find a gorgeous ring. Seriously! We'll even prove that to you later on in this article.
Once you've established a budget, it's time for the fun part, picking the ring itself. There are three main components to consider when selecting the perfect engagement ring: the stone, the cut, and the band.
At each step, there are so many options to choose from, but we are going to break them all down to help make choosing your perfect ring an easy, fun experience. Let's get to it!
Decision One: The Stone 
The most logical place to start when choosing the perfect engagement ring is to decide which stone to go with. The obvious choice here is a diamond, but it isn't your only option!
Increasingly, more and more people are going with a unique stone for their engagement ring. If you do want to stick with a diamond – there's nothing wrong with that! It's a classic choice for a reason – it is timeless, elegant, and goes with everything. A diamond will never go out of style.
However, if you do want to go with something unique, you should feel free to. At least explore your options! Do you want something different that will stand out from the crowd?
Make sure when making this decision that it is something you can see yourself wearing for the rest of your life (or that your partner will want to wear for the rest of their life).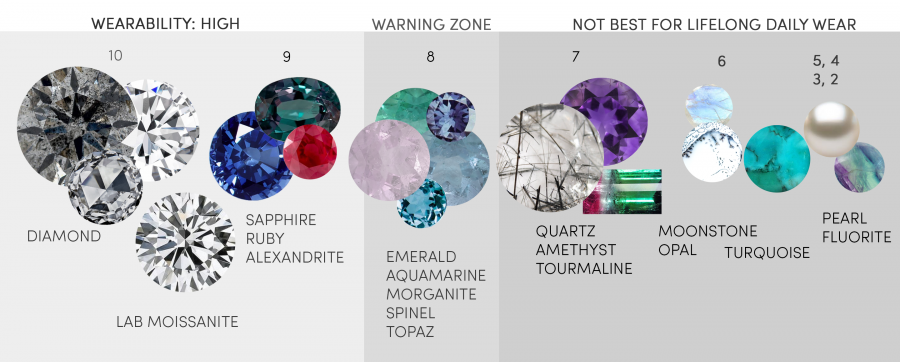 It may be incredibly trendy to go with a colored stone for an engagement ring, but when that trend goes out of style, will you still be happy with your decision? If the answer is yes, then go for it! If you are undecided, we recommend sticking with a diamond.
Here are some of the most popular stone choices to consider (besides a diamond) that may be your beginning to choosing the perfect engagement ring:
? Sapphire: The gorgeous bright blue stone is a stunning stone option to consider if you want a unique, bold look to your ring.
Sapphire stones actually come in other colors as well, but for most people, if they decide they want a sapphire ring, they want that iconic blue shade.
Sapphires are incredibly durable stones, making them a practical choice as well for an engagement ring. Wear this ring each day without fear of the stone chipping!
? Morganite: Rose gold is having a major moment right now, and has for years. If you love the rose gold trend and see yourself loving it forever, morganite is a stone you should consider given it's rosy, light pink shade.
This stone will look great with a rose gold band, and possibly set off with either diamonds or another white stone to provide some contrast. If you want something unique, yet on-trend, this is your perfect option.
? Moissanite: If you love the look of a diamond but not the price tag, moissanite is your perfect stone. This stone is almost as hard as a diamond, making it an excellent alternative that has almost identical durability, and in many cases, appearance.
In fact, when this stone was first discovered, it was thought to be a diamond!
? Opal: Opal's are gaining a lot of popularity these days. They used to be considered a bit old fashioned, but like many trends, they have come back around and are seen a lot more frequently these days. Their distinct look makes them a great stone choice if you want that pearlescent, timeless look.
However, something to keep in mind is that the opal stone is less durable than many others. If you think you won't wear your ring all of the time it can be a great choice, but if you are someone that is planning to wear your opal ring and never take it off, an opal may not be the best choice.
? Emerald: Finally, with that classic, gorgeous green shade, many people love how rich an emerald looks. If you have more of a vintage style, an emerald may be a great choice, especially when paired with a gold band.
They are another fairly durable stone as well, making them a great choice for a ring that you plan to wear all the time.
Decision Two: The Cut
Once you've decided which stone you want, the next big thing to decide is what cut you want. In fact, we actually think that this decision can make more of an impact on the final look of an engagement ring than the stone choice itself.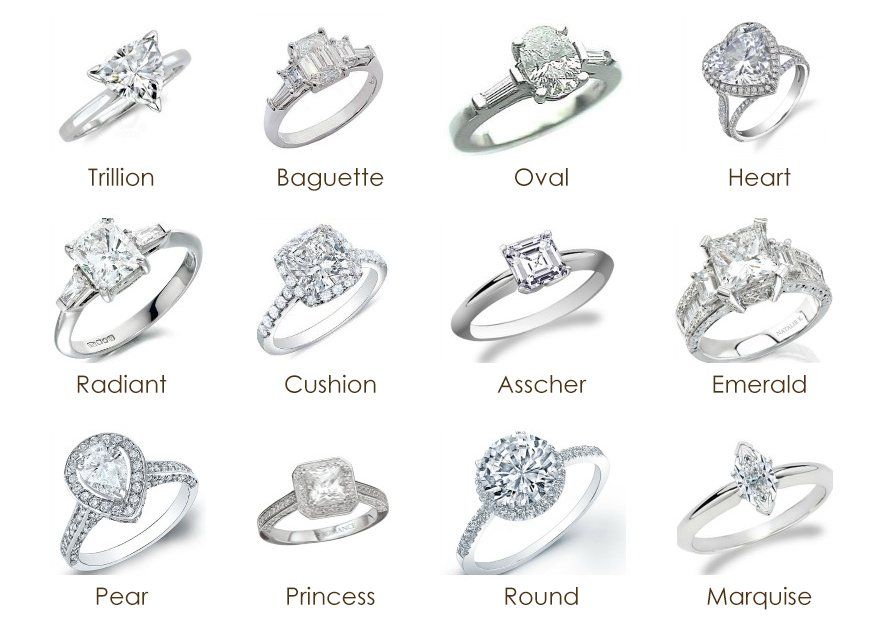 From classic cuts to more modern styles, you might be surprised how much different one stone will look like in a variety of cuts.
Here is a quick list of all the most popular cut styles you can choose between:
? Round: It doesn't get more classic than this. Round-cut stones are some of the most popular, and with good reason. These will never go out of style and always have a brilliant sparkle, no matter the stone (but especially with diamonds).
? Princess: Another classic, popular style, princess cut stones are square in shape and are a great balance between modern and traditional styles.
Princess cut stones can lean either way, making them a great option, no matter what style of ring you go with!
? Cushion: Cushion-cut stones have become incredibly popular these days with their 'pillow' like edges that are more rounded. Cushion cut stones are pretty much a mix between round and princess cut stones and give a more vintage, soft appearance.
Even though they are popular now, they are likely to stay popular for a while and aren't overly trendy.
? Emerald: If you like a bold, glamorous looking stone, an emerald cut is a great option for you. This has a perfect vintage appearance and is completely sophisticated.
Given its rectangular shape and the way the sides are cut, it has less of a sparkle than other brilliant cuts.
? Pear: Pear cut stones have also become quite popular these days, as a modern take on the round cut shape without being too different. If you want a feminine, delicate-looking stone that is unique without being too trendy, a pear-cut stone is perfect.
? Oval: Oval cut stones are beautiful and have become popular these days with anyone who wants the appearance of a larger stone thanks to its slightly elongated shape.
It can also help elongate the appearance of your finger as well! If you want to trick the eye while still having a pretty traditional shape, an oval cut stone is perfect.
? Asscher: The perfect balance between vintage and modern, an Asscher cut stone is considered an updated cut from the emerald cut. The square-cut design is still similar and is not considered a brilliant cut, so if you want a lot of sparkles, this isn't the cut for you.
However, if you want a more unique style with some vintage elements, an Asscher cut is something to consider.
? Marquise: A truly unique cut, marquise cut stones are very narrow, meaning they also give the finger an elongated appearance, similar to oval cut stones.
This is definitely a far less popular cut, especially when it comes to engagement rings, but is perfect for the woman who wants something truly unique.
? Heart-shaped: If you love a good trend and really want to get something unique, you can always go with a heart-shaped stone. What says love more than a heart, right?
Perfect for the woman who is outgoing and loves to be totally unique, this is a shape that will compliment her style.
Decision Three: The Band 
Now it's time to put everything together! You've got the stone and cut in mind, but what about the band itself? Do you want accent stones? What metal type do you want? There are so many styles of ring out there; it can be hard to narrow the list down!
There are three main categories we typically group engagement rings into classic styles, vintage styles, and modern styles. We're going to break down each style of ring to give you a better idea.

By the end, you are sure to have a clear idea of the style of ring and diamond shape that will give you the engagement ring of your dreams!
Are you more of a visual person? Don't worry; we are too. For each style, we are also going to share some awesome rings that fit each style perfectly. Use them for inspiration – or hey, go with that actual ring!
Classic/Timeless Styles
You can never go wrong with a classic or timeless style ring. These rings have always been and will always be in style. If you are the type of person who doesn't like to experiment with new trends, a classic ring is likely the choice for you.
With a classic style, you know that year after year, you will still love your ring and feel like it perfectly fits in with whatever the style of that time is.
Most classic style rings, as you will see, are known for their simplicity. From a clean band, to a classic round diamond, it's an elegant type of ring that will never look dated. It's timeless!
There are still plenty of options to consider once you decide you want a more timeless looking engagement ring. Here are some of our favorite classic/timeless rings.
Classic/Timeless Ring Ideas
Houston Diamond Direct 
SolitaireDiamond Engagement Ring

Price: Expensive
Band: 14K yellow gold
Stone: ¾ carat Diamond
Cut: Marquise
If you know you want a diamond, and you want something unique that is still timeless, this combination yellow gold band and marquise cut diamond ring are perfect.
The simple, sleek band puts all the attention on the diamond, and when you've got a unique cut like this, that is exactly what you want. This gives you just enough of an update to super traditional rings without going overboard.
Clara Pucci Moissanite 4-Prong Ring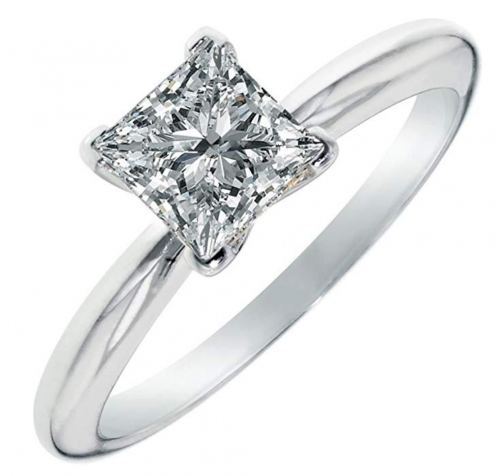 Price: Mid-range
Band: 14k white gold
Stone: 2 carat Moissanite
Cut: Princess
A truly classic engagement ring; this is perfect for anyone who wants to stick with something that they know they will love forever. The princess cut is timeless, and the solid white gold band is as well.
This is also a moissanite ring, meaning the cost is far less than a traditional diamond, but it still gives a very similar appearance.
DovEggs Solid Moissanite Diamond Engagement Ring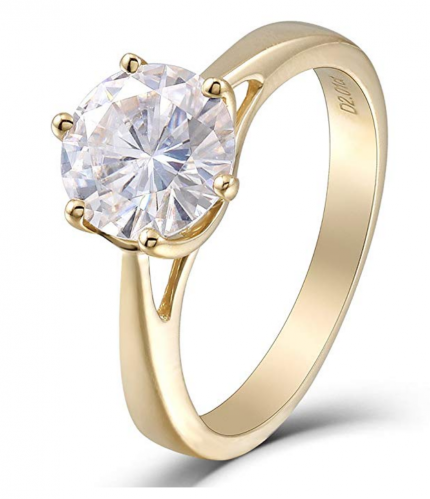 Price: Mid-range
Band: 14k yellow gold
Stone: 2-carat moissanite
Cut: Round
Another great, timeless option is this gorgeous pick – the gold band and round diamond make this the perfect, classic ring. This is another example of a moissanite ring, making it an affordable option without sacrificing quality.
Stunning Flame Solitaire Engagement Ring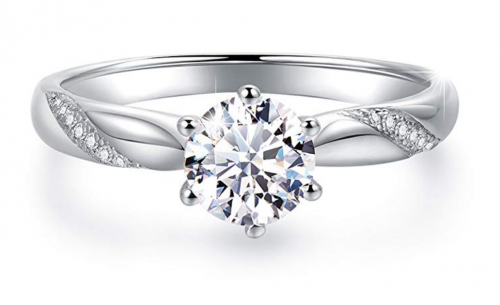 Price: Super affordable
Band: 18K White Gold Plated 925 Sterling Silver
Stone: 0.75-carat cubic zirconia
Cut: Round
If you want something a little bit unique while still maintaining an overall classic appearance, this pick is a great option. The two small side bands of diamonds give this ring a little something special without being too much.
Overall, the band is still sleek, and most of the attention is on the classic center round stone. Best of all, this is cubic zirconia, making it the most affordable option on this list. If you do not have a large budget but want to get something nice, this is perfect.
Clara Pucci Designer Statement Ring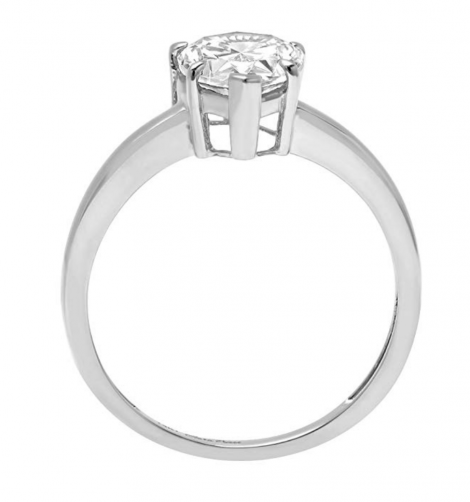 Price: Low-mid range
Band: 14k white gold
Stone: 1.9-carat cubic zirconia
Cut: Pear
For a slight update on the ultimate classic ring style, why not swap out a round diamond for a pear-shaped one? This gives you a subtle difference in appearance while remaining totally timeless and without fear of the ring looking dated in a few years.
Vintage/Antique Styles
Vintage or antique style engagement rings might be our favorite. These rings have a distinct appearance to them, and while they are vintage, they feel total 'in the now.'
Vintage-inspired rings may be some of the most popular at the moment, so if you want to get something that is on-trend, but that still will hold up to the test of time, a more vintage style ring may be perfect for you.
These rings tend to have more intricate bands or more stones that accent the main center stone. Some lean more feminine and dainty, while more have an art deco appearance.
There is definitely plenty to choose from when it comes to vintage style engagement rings.
Vintage/Antique Style Ring Ideas
Kobelli Three Stone Emerald Ring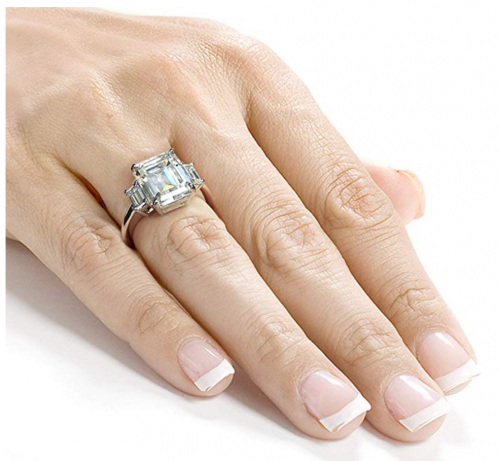 Price: Expensive
Band: 14k white gold
Stone: 5 ½ carat moissanite
Cut: Emerald
An emerald cut ring is a classic vintage style, and we love the three stone look of this ring. Each stone is emerald cut, giving it a very vintage appearance. The simple band ensures that all attention is on those three gorgeous emerald cut stones.
This ring features moissanite stones, which allows you to get a large stone for a much smaller price. This is a 5-carat ring! If you were to purchase a 5-carat diamond ring, you would find a much larger price tag.
BERRICLE Sterling Silver Halo Milgrain Ring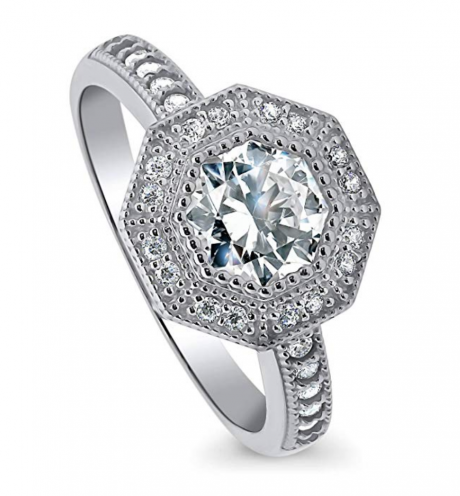 Price: Super affordable
Band: Rhodium-plated sterling silver
Stone: 1.25 carat Swarovski zirconia
Cut: Octagon sun
This is an all-around unique engagement ring that screams The Great Gatsby (or at least, it does to us!) We love the art deco inspiration for this ring; it is a very vintage style. If you want a full vintage ring (as opposed to a more modern ring that has vintage elements) this is a great option
. It also features a unique octagon-shaped stone, something that is very vintage and not seen a lot in rings today. Best of all, this is an incredibly affordable pick, making it a viable option for anyone.
Myraygem Cushion Engagement Ring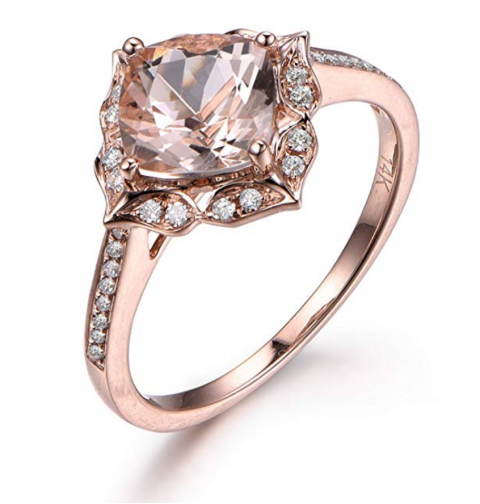 Price: Mid-range
Band: 14k rose gold
Stone: 1-carat morganite
Cut: Cushion
Every detail of this vintage-inspired ring is gorgeous. The rose gold is delicate and feminine, the cushion cut softens the look, and the floral accents around the center stone gives it that perfect vintage appearance. It perfectly balances vintage elements with a modern touch.
If you love the rose gold trend, this is the ring for you. The band as well as the stone has that perfect rosy hue. What's more,  the accent white-colored stones give it just enough contrast.
Clara Pucci Asscher 3-Stone Classic Solitaire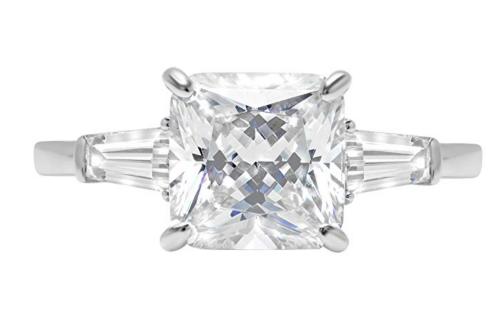 Price: Mid-range
Band: 14k white gold
Stone: 3.5-carat cubic zirconia
Cut: Asscher
This is another gorgeous vintage style engagement ring featuring three main stones – this time, however, they are Asscher cut instead of the emerald cut. This still has a very vintage style to it, but the Asscher cut gives it that slight modern touch.
Keep in mind that these types of stones are known more for their luster than their brilliance – meaning if you want a lot of sparkles, you should go with a different cut.
However, for a truly vintage-inspired setting, you can't go wrong with this. Because this is cubic zirconia, you can get this 3.5-carat ring for an absolute steal.
Gem Stone King Blue Sapphire with Diamond Halo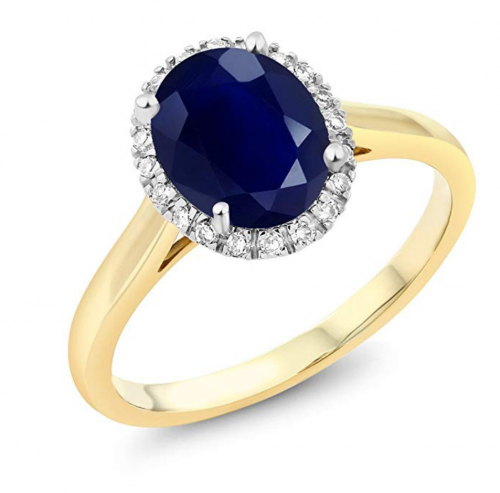 Price: Mid-range
Band: 10k white gold
Stone: 1.7-carat sapphire
Cut: Oval
Colored stones are very popular vintage styles – as they used to be more popular than diamonds when it came to engagement rings!
We love the sophistication of a royal blue sapphire and love the contrast with the diamond halo. This is a perfect vintage style ring that has a timeless elegance. If you do not want a diamond (or diamond look-alike), a sapphire is an excellent, vintage style stone to consider.
Modern Styles 
If you want something totally modern and unique, modern style engagement rings are perfect for you. Whether it is a more unique colored stone, unique shape (go for that heart-shaped stone!), or a bold band design, these rings are in a class all their own.
Keep in mind that these styles are bold and may be something you won't want to wear forever. What is trending now will not trend forever.
However, if you are always on the hunt for something that is unique and stands out from the crowd, a modern ring is the perfect pick for you. At the end of the day, your engagement ring should match who you are!
Modern Ring Ideas
14K White Gold Moissanite by Charles & Colvard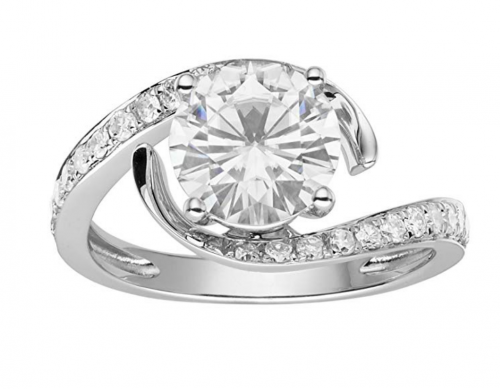 Price: Expensive
Band: 14k white gold
Stone: 1.7-carat moissanite
Cut: Round
This unique band design gives this ring a contemporary look that we love. The band surrounds the center stone in a cool way, giving this a super unique look while still retaining some more traditional elements with the round center stone and white gold band.
This is a perfect balance of some classic elements, along with some modern touches.
Modern Contemporary Rings October Birthstone Solitaire Ring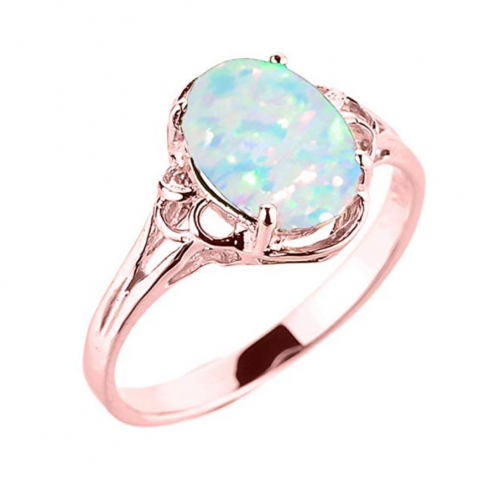 Price: Affordable
Band: 10k rose gold
Stone: 0.5 carat opal
Cut: Oval
This pick is a great idea if you want to go with a different center stone is to pick your birthstone! If you were born in October, for example, your birthstone is the opal.
This is a nice way to do something different, but in a personalized way – it isn't just a random stone. The rose gold also keeps this ring nice and trendy.
Perfect for the unique lady who wants something totally outside the norm for her engagement ring.
Omega Jewelry Halo Bypass Style Ring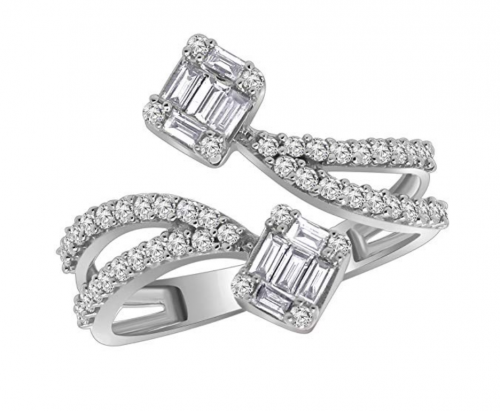 Price: Mid-range
Band: 10k white gold
Stone: 0.55-carat diamond
Cut: Round and baguette
This is an incredibly intriguing, unique ring that features an awesome band design that curves around and features tons of small round and baguette-shaped diamonds.
There are two larger stones at either end – perhaps to symbolize two partners in life? This is a very contemporary style, perfect for anyone wanting something super modern and "now" in terms of design.
Marimor Jewelry Cubic Zirconia&Stainless Steel Ring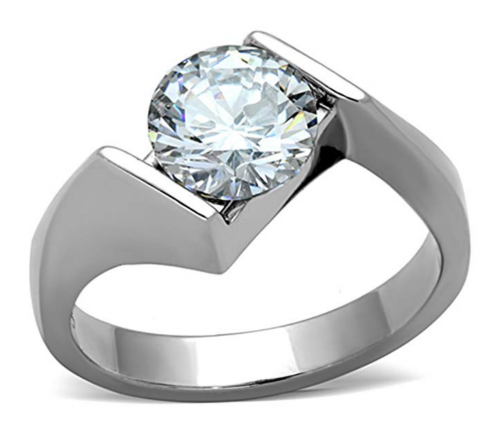 Price: Super affordable
Band: Stainless Steel
Stone: 2-carat cubic zirconia
Cut: Round
This is the only stainless steel ring on this list – a very modern material that is seen more in male wedding bands. It features a very contemporary band surrounding a more classic round center stone.
Even though the band doesn't have any stones, it actually is more of the focal point than the center stone, in our opinion, with its sharp lines and unique design.
It's perfect for any woman who wants a simple engagement ring that has some sparkle, but not too much!
Best of all, you cannot beat this price. If you need an affordable yet eye-catching ring, this is it.
Clara Pucci Heart Cut Band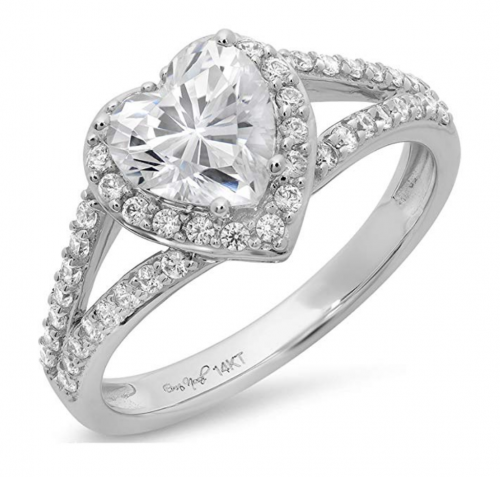 Price: Mid-range
Band: 14k white gold
Stone: 1.75-carat cubic zirconia
Cut: Heart
If you really love the idea of having a heart-shaped engagement ring, here's a ring for you. We love this pick, and it's doing its best to change our minds into wanting a heart shaped stone!
The center stone is surrounded by a gorgeous halo of stones, and the band features plenty of stones as well. This ring does a great job of making it not focus too much on the fact that the center stone is a heart.
This is a great way to do something totally different and modern without being too obvious with it.
Wrapping Up
Choosing the perfect engagement ring can feel overwhelming, but hopefully, this engagement ring style guide will help make the decision-making process easier by going step by step! By breaking down the process, you can more easily decide what your perfect pick will look like.
Start by determining the stone you want, then move to the cut you prefer, and finally, decide on your band. Between classic, vintage, and modern styles, you'll be able to decide what the perfect ring is for you or your partner.