10 Best Pear Shaped Engagement Rings
last updated:
Nov 22, 2019
Pear engagement rings offer a beautiful alternative to traditional round brilliant cut and princess cut engagement rings.
The pear shape makes a stunning centerpiece in an engagement ring.
It draws attention to your lovely fingers and creates a unique silhouette that is sure to capture everyone's attention.
Also referred to as "pendeloque" or "teardrop" shape, the pear shaped ring can make your fingers look slimmer and longer because of the elongated shape.
Because a pear shape is the fusion of the round brilliant cut and the marquise cut, it contains many facets.
As a result, it acquires higher levels of brilliance and fire, more than you could ever find in any other cut stone!
We have scoured the internet for lovely pear shaped engagement rings that you don't see every day.
If you're after a pear shape ring, check our top 10 fave options!
10 Best Pear Shaped Engagement Rings
Criteria Used for Evaluation
Jewelry Metal & Gemstone Quality
Pear shaped engagement rings allow you to either keep things simple or more extravagant. This style comes with a variety of cuts and settings, which provides plenty of options to choose from.
From our list, you can see we went for minimal solitaires, classic designs, and even included unique gemstones and vintage-inspired styles.
The rings feature a variety of gemstones from natural white diamonds, moissanite, sapphire, ruby, cubic zirconia, simulated diamonds.
We also included pear shaped engagement rings with accent stones for added sparkle and a modern twist.
Your pear shaped ring will make an impact when set in the right metal. We chose a variety of metals, which include yellow gold, white gold, rose gold, and sterling silver.
Price
Our list is great for every budget. If you want to go big and splurge on an engagement ring, you will find options with real diamonds in our listed options.
If you have set your heart on sparkling and sizeable pear shaped diamond engagement ring and you are on a budget, we feature diamond alternatives with killer gemstones.
Most have an expensive, high-end-look with so much sparkle. You will get the majority of these options at a fairly reasonable price.
Style
Pear shaped rings are incredibly versatile, and this is one of the reasons why we picked this style of an engagement ring. It is one of a kind and ideal for everyday life.
But why is this so? The pear shaped works best in all worlds and suits unique settings.
The curve and the pointed end create a cut that presents itself to a variety of settings and styles.
For example, our list showcases several simple solitaire rings featuring a pear shaped gem in the traditional prong setting.
We also have options that sport a pear shaped gem with a halo and pave gemstone band. They are sparkly and stunning too!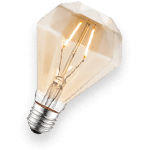 Styling tips
No matter the gemstone or its size, or whether worn pointed out or towards your hand, a pear shaped ring always gives a little more sparkle and shimmers more than its counterparts.
Ariana Grande, Victoria Beckham, among many other celebrities, have certainly made the pear shaped engagement ring popular, and it's all we want to wear now!
From minimal solitaires in traditional settings to unique gemstones and vintage-inspired styles, it all boils down to what your personal preferences are.
For those of you who don't want a classic solitaire ring, you can go for a coordinating band or a ring featuring side accent stones.
These extra details will make the ring look like it was taken out from a princess fairytale!
Styling tips
Also, the side stones add extra sparkle, complement the center stone, and create an illusion of a much bigger ring.
Don't shy away from the color. Go for rubies, sapphires, and other precious gemstones.
Because of its elongated shape, a pear-shaped ring visually slims your fingers and makes them look longer, giving you a feminine and flattering look.
There is no conventional way of wearing your pear shaped engagement ring.
You can wear it with the pointed end facing towards your hand, or outwards, sideways, or a bit off-kilter; it's your choice!
FAQs
q:

Do pear shaped diamond and gemstones sparkle?

a:

The pear shape is a brilliant cut, and this means it maximizes sparkle. The pear cut is a combination of two cuts, which include the brilliant round cut and the marquise.

This creates a modified cut with 58 facets. These individual facets account for the exceptionally brilliant sparkle associated with pear cuts gems and a teardrop ring shape.
q:

How should I wear my pear shaped ring?

a:

Traditionally, pear shaped engagement rings are worn with the pointed end facing towards the hand.

However, there is no right or wrong way of wearing this type of teardrop ring.

The advantage of having the pear shaped ring with the point out is that it can visually slim the fingers and make them appear longer.
q:

Do pear shaped rings have special meaning?

a:

There are no traditional or official meanings associated with the pear cut gems, but the shape can symbolize raindrops and tears of joy (that's why it's also called a teardrop ring).

Some traits are also attributed to those who wear pear shaped rings.

For example, it's believed that women who wear pear shaped engagement rings are romantic because the teardrop means there will be tears of joy in that union.
Finally..
Call it a comeback or a resurgence, but pear shaped engagement rings are here, and we love this style.
Also called a teardrop ring, It is one of the most elegant choices when it comes to engagement jewelry. It's classy, timeless, and truly stands out.
No matter the shape, the gem, or how it's worn, a pear shaped engagement ring always seems to have more sparkle than any other type of ring.
The pear cut offers more options from simple settings such as minimal classic solitaires to unconventional and non-traditional settings.
A pear shaped gem can be set in a traditional prong setting, pave, bezel, tension, melee.
Its brilliant-cut, otherwise referred to as a modified fancy cut, will show off the gems shape the best.
Whether set in yellow, rose, or white gold or even sterling silver, a pear shaped gem always makes an impact.
Its signature silhouette is so recognizable and lovely it is one of the most popular choices for truly beautiful engagement rings!
Our 10 favorite picks range from dainty options to bold, super sparkly rings, and whatever your personal preference is, we still think there is something on our list that with make your heart flutter!