Jewelry / Trends
Jewelry Trends for Summer/Fall 2023: What's Hot and What's Absolutely Not
Marianne 20 Sep 2019
2578
When it comes to jewelry, are you the type of person that is completely fluent in the jewelry language so to speak? By this, we mean the kind of person that you know what is in with each passing season and year, and you latch onto it with all that you have? Autumn can be an awesome time to showcase some fall jewelry trends.
If so, you are probably the person who has Pinterest boards full of jewelry lines and a collection of jewelry boxes bursting at the seams in your bathroom or closet. We salute you, jewelry lover because jewelry is worth obsessing over. We admire the way that jewelry can tell such a beautiful story about a person. Whether it be that the pieces you are wearing have been passed down from generation to generation and you carry on your Great Grandmother's legend, or that it truly allows you to be expressive and show who you are without having to hold back. Jewelry is exciting in that sense too because you are able to switch that up as you mature, or as the seasons change. We love how timeless and classic so many necklaces, earrings, rings, watches, and bracelets tend to be. You may find yourself bringing out collections that you didn't know if you'd wear again and incorporating them into the developing trends.
Maybe you read that and thought, nope, no way, no how. You might not fit any of those characteristics. And that is okay too! We love that you are here and interested in spicing up your jewelry stash. You may want more pieces, your first pieces, or something meaningful that will last you for years to come. Do you feel like the waves may be washing over you when it comes to jewelry and what is trendy? Things may change too quickly for you to keep up with, and you find yourself struggling to know what is acceptable to wear this time of year.
The good news is, jewelry is timeless, really! It is the perfect way to bring life to your wardrobe and highlight what makes you, you. Don't stress too much about what the trends were last year or what they will be once winter comes. For now, just get excited about what is hot currently and will carry over into autumn. Whatever your reason for being here, welcome. The girl with the Pinterest boards on her computer and an endless amount of jewelry boxes to match, or the newbie who is looking to add excitement and fun to your style. We are excited you are here and we can't wait to show you what is hot or not this summer and autumn season! Sit back, relax, and enjoy the show. With that being said, we completely understand if relax isn't the right word for how you feel about this. Because we are completely thrilled and giddy to show you what's in store.
Let's get started! Are you looking to find what's hot and what's not in the jewelry fashion world as we transition from summer to fall this year? If so, you have come to the right place. Overall, we have definitely seen a few trends that are coming in like wildfire.
To put it simply, the '80s are making a comeback ladies. You will not be disappointed by the amount of big, bold, and bulky jewelry that you can easily pull off this season has it comes into style in full force. We are talking the whole nine yards, a whole lot of glam and showy pieces that will be turning heads. So don't be the kind of person that is stuck in the trends that were popular three years ago or even two seasons ago. Grab onto this gorgeous and fearless trend and embrace it with open arms, with clinking thick bangles while you're at it. We are going to break down the trends we are obsessed with categories of different types of jewelry.
We'll talk about earrings, necklaces, bracelets, rings, and even body jewelry that is coming back with a bang. Some of it is exactly what you may remember from the '80s or have seen in your mom's old collection. If that's the case, good news, because you can expect to confidently rock that in the months ahead. But there has also been a stunning twist on some classic pieces that we are excited to tell you about!
Earrings that are hot
What earrings are hot and which ones are not right now? You may be used to wearing your dainty gold or diamond pieces. Whatever earrings you have been wearing in recent seasons, brace yourself for the fun switch up that is ahead! We are completely enamored with the vibe of the earrings that have taken off in this seasons line up. You will be excited as we are when you shop for these jaw-dropping and astonishing pieces!
First, let's talk about natural pearls. Awe, pearls. You can never go wrong with this timeless piece, right? Do you love pearls as much as we do? For your sake and for ours, we hope that you do! Because they are coming into this season's line up in full force and we are obsessed with it. Like we said before, this is totally a piece that you may be able to find from your jewelry collection already or even from your mom's classic 80's assortment. As perfect as those pieces would be to bring back and we honestly recommend it, there is a new twist on the summer and autumn style of pearls in 2018.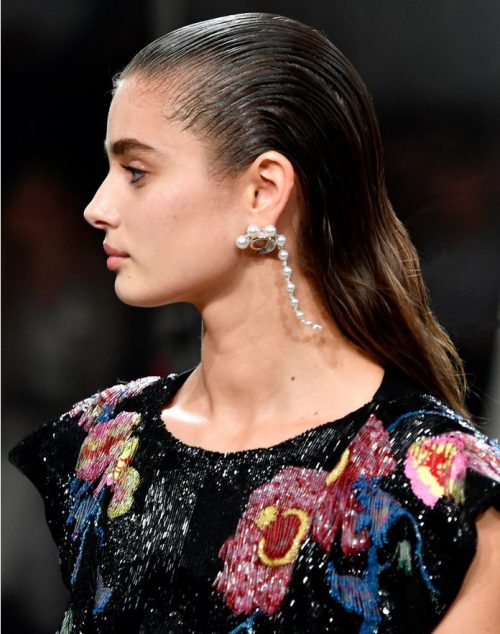 The most prominent way we have seen the pearls styled is displayed in gorgeous dangling earrings. I hope you're thinking, yes, yes, yes! Because that's how we are feeling about this trend. Think gold dangles with a thick and bold pearl on the end of the dangle. This is absolutely timeless and flawless. Grab a bold pearl necklace while you're at it because these are pieces every woman should own. The next kind of earrings that we are obsessing over this season is bringing a new level to dangling earrings. These gorgeous pieces are adding inches to the dangling earrings we are used to seeing, and brushing down and past the shoulders.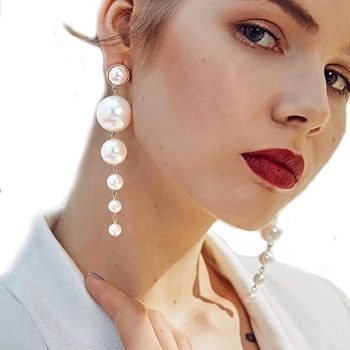 This is such a gorgeous look with your hair pulled back. It is truly one of the most elegant and classy looks we have ever seen with the earrings. But these two chic looks are not all that we are seeing when it comes to earrings this summer and autumn.
Furthermore, we are bringing back the 80's in full swing. By that, we mean disco balls. Yes, they went there. And we are thrilled about it. Whether you flaunt a full-on dangling disco ball set of earrings or switch it up with an ear lining piece that is lathered in white crystals and shimmers as you walk, you are right on track. The disco ball is being revived and it is so much fun!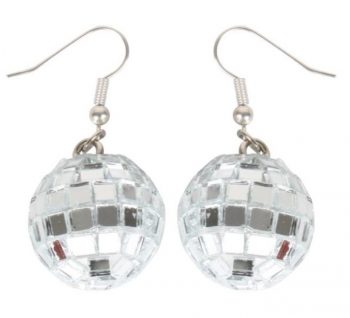 Another exciting trend that you might recognize from the '80s is that of the clear and plastic looking jewelry. Find some large dangling earrings that look like drops of clear water, crystal pendants, or for the classiest version of this look, go all out with a glass set that is transparent and will turn heads as you walk by. As if this isn't good enough, we are seeing a movement of earrings that are sure to bring a big smile and maybe even a giddy giggle. Fruits, vegetables, healthy foods, plus earrings.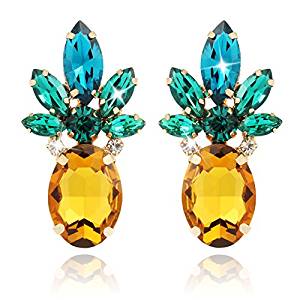 Yes, we didn't expect that either but we are so happy about it! During fashion week there were numerous displays of this, including carrots, bananas, grapes, and even large lemon earrings. How incredibly fun is that? If you love a specific fruit or vegetable, don't be afraid to flaunt it on your jewelry this season because it's really a thing. Isn't it fantastic?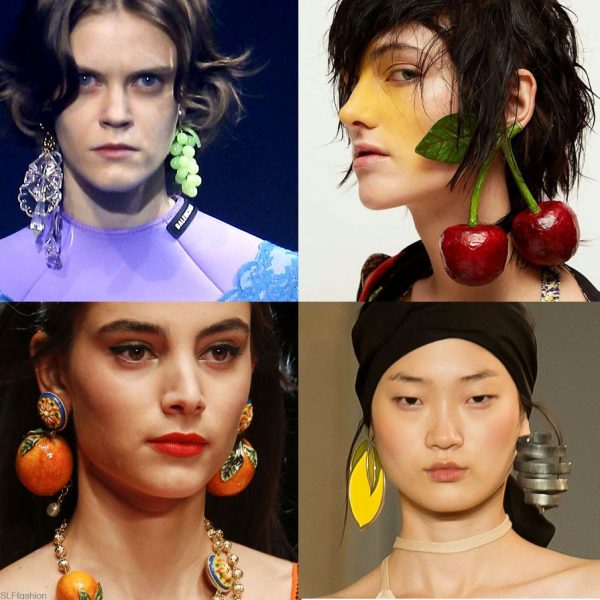 Whatever you choose to wear this season, from large dangling pearls to thick ring hoops, just think big! Literally. It's a go big or go home kind of season. We love these looks and are so excited to see the transition into these beautiful pieces as summer turns to fall.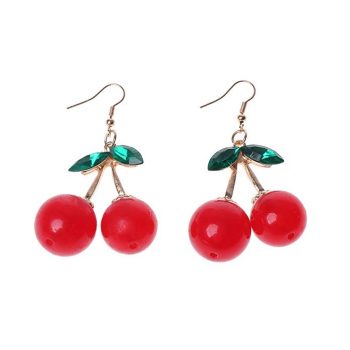 Are you the type of girl that would walk down the halls of high school and show off the latest trends in jewelry to your classmates? You were right in line with the year, absolutely, but you had it down to a T with the seasonal changes and statements as well. Was that you back in the day or is that you now even? Or were you the type of girl that would think, what is she wearing?
Whether you loved it or hated it, you weren't used to seeing this out of the ordinary style your best friend would show up to class wearing. You'd question her silently at first, only to find out a few weeks later that that style was actually totally in and you should probably add it to your collection too? Wherever and whoever you were or are, get excited for how on top of it you can be these summer and fall seasons because we are here to help! Make the statement and don't hold back with the gorgeous earrings we just talked about.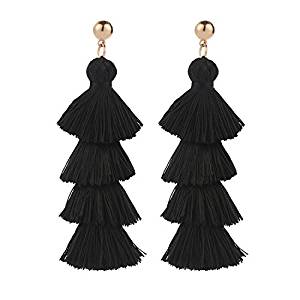 On on top of that, be ready for even more options with the other jewelry we have found that is super hot this time of year! Whether it's at work, walking down the road, or strutting through the hallways of the school, you can feel confident about the pieces you are bringing to life. Getting ready in the mornings will be fun and exciting as you add bright colored details to your look.
Necklaces that you'll want!
Have you been wearing small and simple necklaces recently? The bar necklace has been very in lately, but this season we are seeing jewelers step away from dainty here too, and bringing in jewelry accessories with a bang! You may get the dainty necklace look still, but it's flashy with a pendant or gemstone. You may be as excited as we are about the big and bulky fashion that is hot right now. It definitely carries over from earrings to the necklaces, and big is hot here too.
Let's talk about the fabulous 80's comeback necklaces that we are seeing. For starters, the choker necklace. We know that the choker has been holding on and we really do love it around here. But is it still going to stay in style for the coming seasons? We are happy to say that it is, but with a twist, if you will. It has evolved or maybe flashbacked, this season into something more bold and daring. We're stepping away from the velvet and thin black stretchy chokers that we have been used to seeing the last few years. Of course, they are forever in style and you'll want to hang onto them. But don't be confused by that 80's trend when we talk about chokers for the summer and autumn of 2018. The specific chokers that you will see are the rigid torc necklaces from the '80s. What does that mean?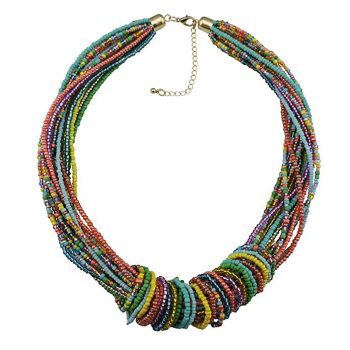 This necklace is a great happy medium between the choker and a regular necklace. It sits beautifully at the very base of the neck and is flattering to the neckline and face. It draws attention to your face in a way that will keep people's attention. The bigger the better with these retro necklaces, they are a thick round piece that will make you feel sexy and spontaneous. Next, we have the chain necklaces.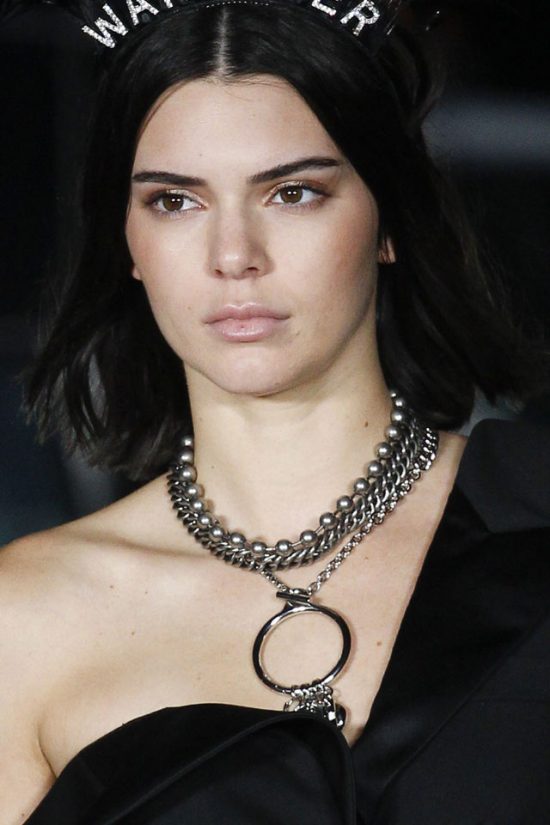 This season you won't find the word dainty frequently used in your jewelry vocabulary. These chains are not the small and simple chains we've seen lately, but a bold and eye-catching chain. If you are struggling to see it, think big links of gold or silver dangling around your neck. This style is so adventuress and dramatic. What more could you want?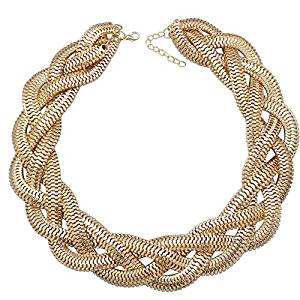 So for those of you with more reserved personalities, you may be worried that these hot trends of the season are not for you. Are all of the styles going to be big and bulky? We have good news for those of you that might be feeling that way. There are some alternatives. With that, another type of necklace that is one to look for this season, and flaunt, of course, is more of a Boho look. By that, we mean a sleek thin chain with simple pendants like leaves and feathers. The natural architectural look is fun and easy to pair with any outfit, but especially in your casual and business casual looks.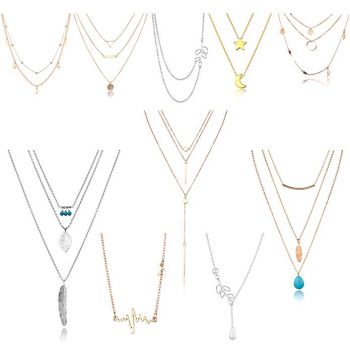 Pair it with jeans and a v-neck shirt to ensure a flattering look on curves or a slim look, but don't hesitate to wear it with a blazer to work. This necklace gives just enough show that it will stand out, without the bold look that you may be holding back from with the rigid torc necklace. Along with that, we are also seeing ultra-thin chain necklaces accented with pendants. What kind of pendants is hot this season? One that is showing up all over is the simple, but large, gold medallion. We are seeing it on these necklaces as well as in earrings.
Though some of these may seem like very different styles, they are all in this season and are the perfect ways to dress up your fall wardrobe. We love the way that these styles of necklaces are being paired with sweaters for autumn. For example, one look that is especially taking off is to wear a turtleneck sweater with the necklace laying over top, yes that includes the retro rigid torc necklaces on top of the turtleneck.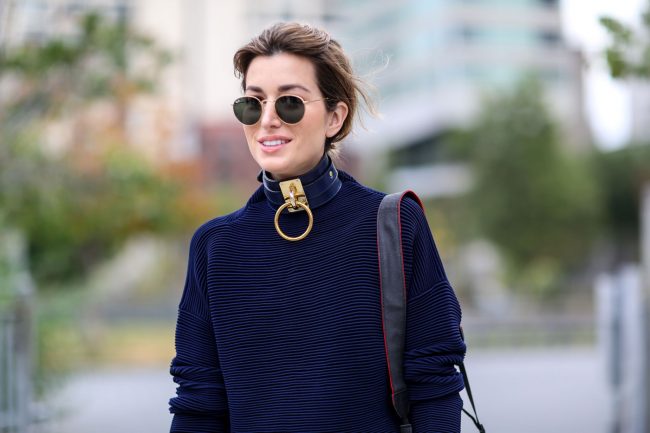 The necklace stands out and adds character to your wardrobe, rather than being hidden or surrendered to the turtleneck. Get excited about your necklace collection this season, because it's sure to be a timeless addition to your stash that is going to switch up what you've got. Have you been looking to add some bravery and edge to what you are used to wearing?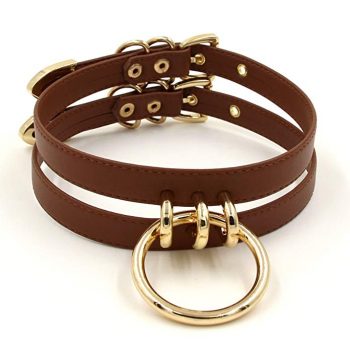 Now is the time ladies and gentlemen, because that is exactly what all the craze is about this season and going into fall.
Bracelets in bulk
The weather is changing, the temperatures dropping, and maybe even the leaves changing colors on the trees outside your house. We've seen that the trends in jewelry are changing too, with outstanding pieces being added to the lineup or brought back from decades ago. So now that we know that necklaces and earrings are switching things up from the dainty look, can we expect the same with bracelets? The answer is yes. Bracelets are also hopping on the big and bulky trend. You may have bracelets that seem simple, but don't worry.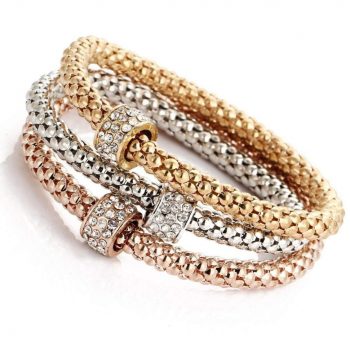 You might just be able to turn them into the bold look that is absolutely hot right now! Some of you may have an old collection of bulky bangles. Well, bring them out and dust them off. These are all the craze in bracelets this season and we encourage stacking a chunk of them for extra flair!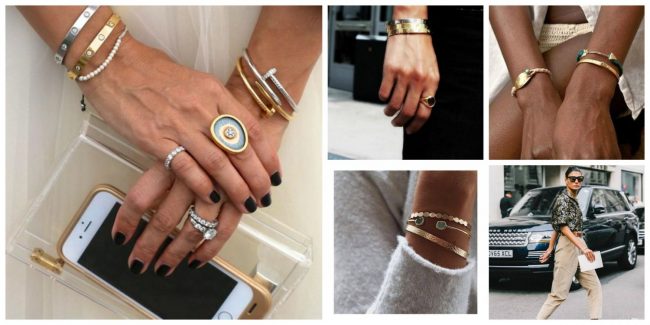 The imbalance is key to this fun style. Stagger your bracelets at random with some chunkier than others, but don't hold back. Add a few and for an absolutely gorgeous look in fall, pair it with a long-sleeved sweater. Flaunt your bangles over the sweater to show your boldness and confidence.
Additionally, numerous styles that we are seeing with earrings and necklaces are being carried over into the bracelets category. Look for thick chain-link bracelets, large pearls placed on small gold bracelets, and even the architectural vibe of leaves, feathers, and flowers. Regardless of what style of bracelet you decide this season, or even from day to day or outfit to outfit, you can always be safe with color this season.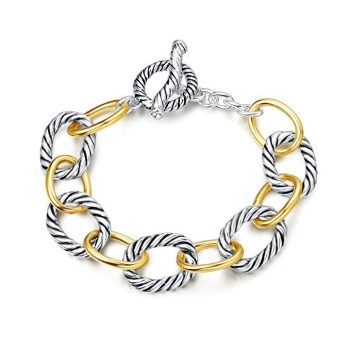 Find different shades of the same color or pops of blue and green on the leaves to create the perfect look for your summer and autumn attire. We love all of these ideas for summer and autumn. We love the diversity and flexibility that you have in this season's style guide.
Additional jewelry you'll be drooling over
We've talked about the basics, but we are seeing other jewelry stand out this summer and autumn season. Don't hesitate to wear some body jewelry. Bold and chunky head crowns covered in large rhinestones are in right now to dress up your already fancy attire. Another fun piece of body jewelry that is popular is wrist wraps.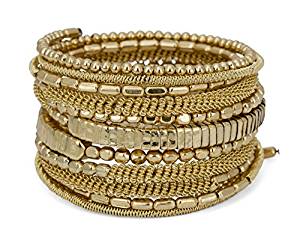 Find a gold piece that will boldly line your hand and wrist to compliment your arm and hand. Furthermore, body accenting chains are making a comeback. This goes all the way from small chains that line the body with small jewels or pendants, to that of the thick linked chain, especially wrapping around the waistline.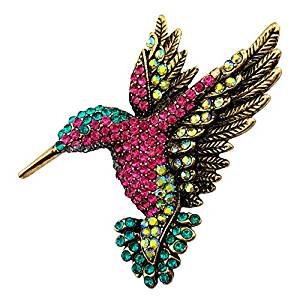 On top of that, brooches are back with a statement. Remember that style of the gold medallion?  Turn it into a brooch and display it on your blazer or on a sweater. You can't go wrong with your brooch style, from dazzle to butterflies and even wild beasts. Overall, just remember to keep it bold and you are sure to uphold the expectations of the season.
So what's not hot this season
With all these options, you may be asking yourself what is absolutely not in style this season? What is just not hot right now? The good news is, there aren't a whole lot of pieces of jewelry that are throwing red flags. You may be confused by that because we have said that big and bulky is the way to go, and you may have a collection full of dainty pieces. Well here's the thing, you can still wear those pieces. Whether it's that dainty bar necklace we talked about or the pearls you have from the '80s. There has absolutely been a change this season, but you can use your jewelry to do that. So how do you go about that? Layers, layers, layers! Stack those bracelets, wear your bar necklace with an extra layer or two of necklaces. Glam up your pearls, rather than wearing them simple.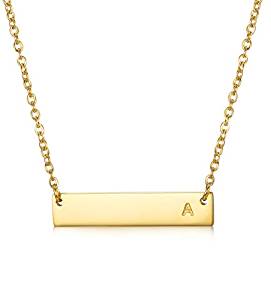 Color and boldness is everything this summer and autumn season. Don't hold back from any colors, the brighter the better! Black and gray are not so hot this season, but dazzle them up with rhinestones or color gems, and you've got yourself a piece that will be exactly what is trendy right now. Anything architectural or natural, such as wildlife or feathers, are going to be in style right now, but go big! Don't get tiny stud earrings, find yourself the perfect pair of hot pink dangling crab earrings.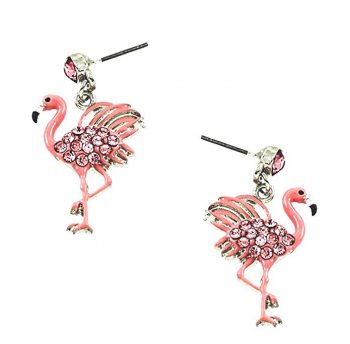 Seriously, don't hold back this season. Are you ready to use your imagination? As long as it's full of color and fun, tap into it and rock it!
That's a wrap on all the hottest, and not so hot, pieces for summer and autumn this year. Are you excited about the new hot trends? We are loving seeing pieces come back from the '80s, as well as the fun add-ins like fruit on earrings. We admire the way the pearls from your old collection are coming out with boldness on thick jewelry or large gems on smaller chains. Are there additional trends that you are seeing that you are loving this summer and fall? Are some of the trends making you excited and so ready to embrace this season and next season? We certainly hope so because there has been no holding back from Louis Vuitton, to Prada, and Chanel and everyone in between.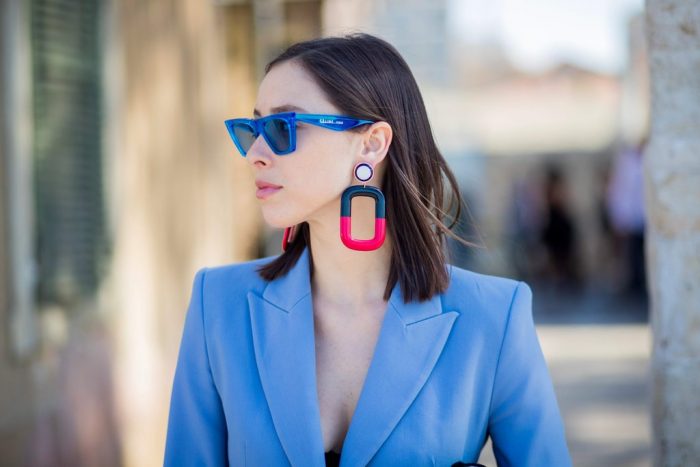 Are you feeling the vibes that the jewelry world is putting out there this season? We are obsessed with all of it! As thrilled as we are, it may seem like a lot of changes from what we've been seeing lately. So now that you have heard about a plethora of jewelry styles that are sure to excite you this summer and autumn season, let's go over the basics. More than anything, bulky is in!
Bulky and dazzling are hot, hot, hot! Does that maybe scare you a little bit? Are you more of a reserved person or an introvert? Be daring this season. Think outside the box and be creative with what you bring to the table as you amp up your wardrobe with your jewelry. And for those of you who are naturally outgoing, maybe you have more of a yellow or red personality, summer and autumn 2018 are your seasons when it comes to the jewelry department!
Go all out with everything you've been wanting and dreaming of wearing. Because now is the time more than ever to be flashy, colorful, showy, and bold. What's hot and what's not this season? Well my friends, let's sum it up with one simple motto: bigger is better and aim for more glam than ever! Because that is what is hot right now and in the coming season. So be confident and rock it girl, this jewelry is hot and so are you!