Mix
The Must-Have Cufflinks for Men to Include in Your Collection!
Today cufflinks for men aren't quite as popular as they used to be but they are making a comeback. We still they are classy and attractive. With the development of and the ease of the button cuff people don't use cufflinks as they used to, which makes us sad.
We, however, still think cufflinks are classy and a perfect men's accessory. In fact, we like them so much, we compiled a list of of our favorite ones!
Before getting into it, we thought you may be interested in the story behind these beatiful accessories.
In ancient societies, the idea of "status" began to evolve and along with it came status symbols. Clothing fasteners like buttons and other elaborate fasteners were developed. In the 1600s, nobleman used ribbons to tie their cuffs. The elegance of the ribbon determined the status of the nobleman.
Eventually, the ribbons were replaced by jeweled buttons, which gave the aristocracy even more status. In the 1700s the buttons became much fancier.
In the mid-1800s, the cufflink arrived on the scene. When the French cuff or double cuff shirt became popular, the cufflink began its rise to becoming a fashion trend. Alexander Dumas, the author of "The Three Musketeers" added greatly to the popularity of the cufflink.
In his book, he gave detailed descriptions of the turned back and elegant sleeves of the men. It was the stimulus for an elegant men's fashion trend. European designers fashioned cufflink holed shirts and they had become a mainstay in England.
The funny thing is, French cuffs were not just for men! They found their way into women's fashion as well. By 1882, machines were invented that could mass-produce cufflinks very cheaply.
Soon, everyone was able to enjoy what was once a possession of only the wealthy and privileged citizen. In the 1900s, enameled cufflinks were highly sought after. During the Art Deco period, their popularity soared.
Fauberge perfected them and, today, this designer's enamel cufflinks for men are sought after at auction houses all over the world. When the roaring 20s came around, it was the height of the cufflink revolution.
Cufflinks were now the men's accessory of choice. They exuded a sense of coolness and class, creating an air of sophistication. Now, there are so many different kinds of cufflinks, it's almost overwhelming.
However, by browsing our list you may just find your perfect pair!
10 Elegant & Unique Cufflinks for Men!
1. Baban Deluxe Steampunk Vintage Cufflinks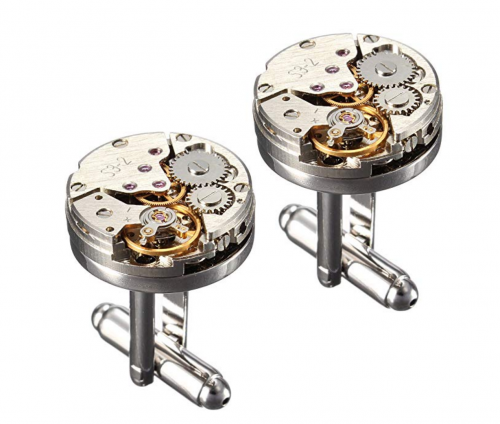 Find a happy place somewhere between steampunk and classy with these vintage cufflinks. These are a collector's item. Each cufflink was made by hand.
The lid is reversible and can be closed tight and flat. While the clock movements do not work, they are actually taken from watches from the early to mid-20th-century. You will actually be wearing engineering at its finest.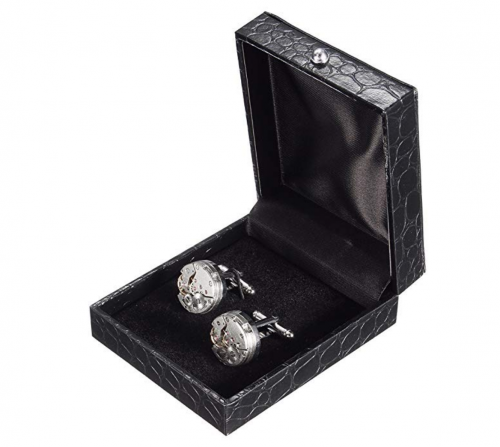 Each cufflink has a toggle closure and looks like the inside of a working watch. The metals are copper and silver. The face is attached to the plate and the plate is attached to the post. The post has a hinge pin that has a bullet back or clasp.
The best part? These cufflinks are very inexpensive.
They are a bit over a half an inch in diameter and they are 1.10 inches long.
2. Silver Clover Silver & 18K Gold Plated Closure Cufflinks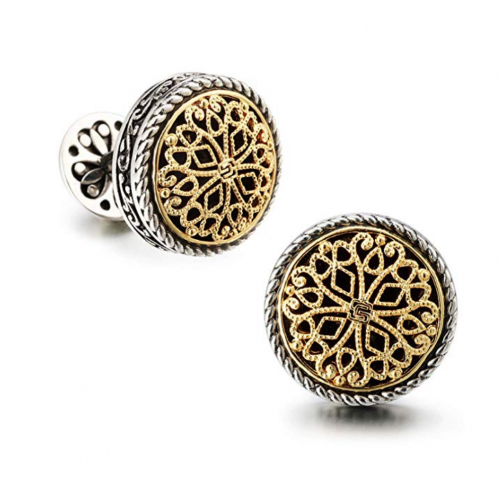 These luxurious cufflinks for men are 18 karat gold plated. On the front face, the cufflink is platinum plated. There is a vintage Celtic cross with an intricate filigree floral design on the face. It is quite elegant and would be perfect for a wedding.
On the perimeter of the gold filigree, there is a rope design that goes around the circumference of the cufflink. On the side, there is an inlaid and detailed scroll pattern. The back of the cufflink also has a filigree pattern of its own.
On the post is a button back closure. The button back closure has its own pattern on it. This is a very fancy set.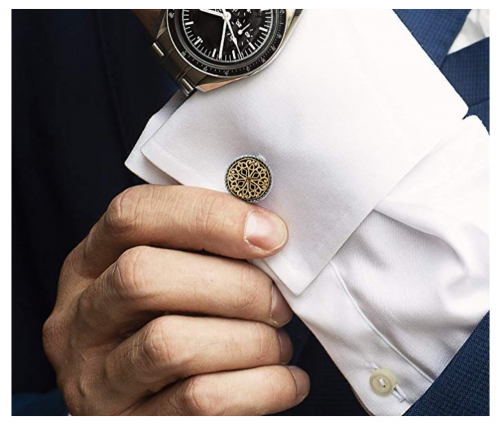 Do you remember when we said cufflinks were used for women as well? We think this is the perfect choice for the women in your life. You could even get his and her sets.
This set of cufflinks has a higher price tag. While not outrageous, they would be suitable for formal occasions such as a wedding or a formal gathering.
3. Lux & Pair 18K White-Gold Plated Initial Engraved Cufflinks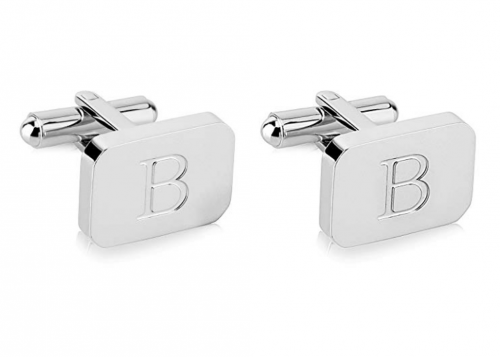 This elegant pair of initial cufflinks are another set that could be used by women as well. They are 18 karat white gold plated and engraved.
The set is silver in color. They have a classic and simple style. They are made of 316L stainless steel and the engraving is also clean and simple. The face is in a rectangle shape and the corners are rounded.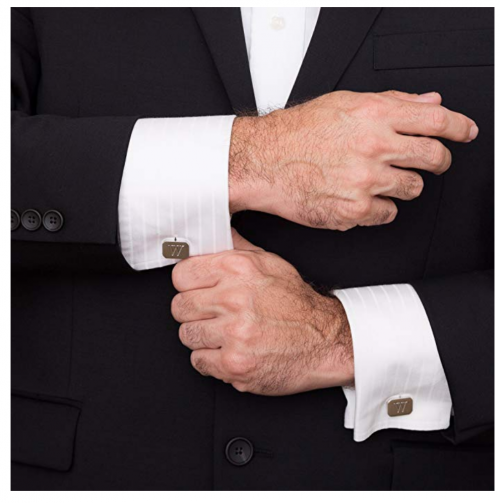 The face is attached to the plate and the plate is attached to the post. The post has a hinge pin that has a bullet back or clasp.
The price of this set is very reasonable. We think they would make a great gift for the man in your life!
These are 1.80 inches wide almost ¾ inches long and 3.30 inches tall.
4. Montblanc Meisterstuck Cufflinks for Men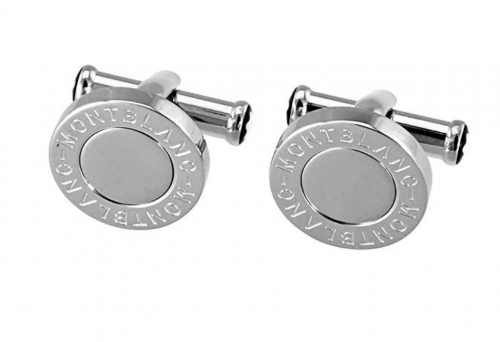 If you want status, these are the cufflinks for you. The face of these is plain in the center without any writing, design, or engraving. There is a circle around the center.
Around the top of the circle, is the word MontBlanc and it is mirrored on the bottom of the cufflink circle. They have a silver-tone stainless steel finish. The face is attached to the plate and the plate is attached to the post. The post has a hinge pin that has a toggle back clasp.
This fantastic pick would be for very special occasions only and they have a very special price, meaning they are very expensive. This pair is the perfect choice for weddings and the perfect gift for a groom!
The cufflinks are 17 mm in diameter, or a bit over a half an inch in diameter.
5.Prime Jewellery Gun Metal Textured  Cufflinks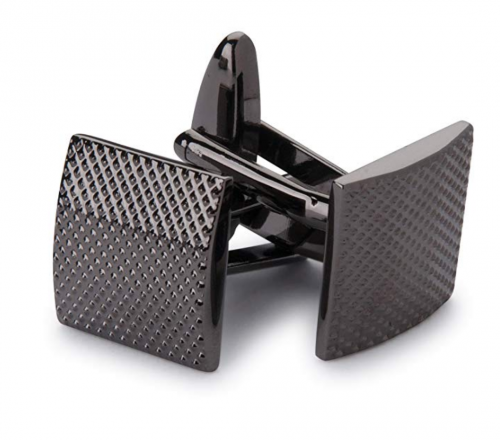 These gunmetal textured cufflinks for men are our favorite pick! They are very cool looking and fashionable, yet they make the jump from being very basic to very dressy at lightning speed.
They are versatile, sleek, modern, and provide an elegant complement to any shirt you could wear. The color is stunning. It is a shiny charcoal black.
The cufflinks are square shape, but they are raised in the middle. You might say they are arched. The face has a bumpy texture that is interesting and impressive.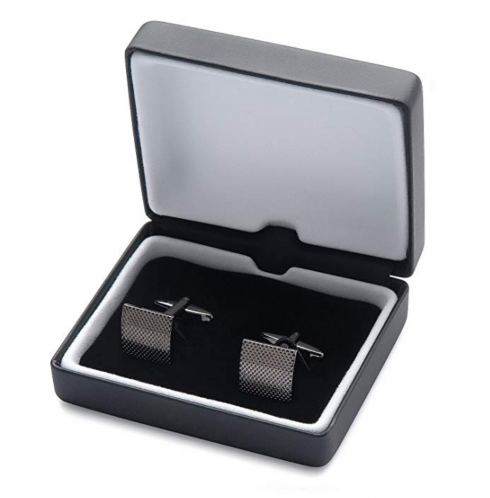 The price of this item is very reasonable. You could afford to buy them for more than one gift recipient.
These cufflinks are 1.5 x 1.5 cm or a little over half an inch by a little over a half an inch. They are just at the right size.
6. Stacy Adams Gold Cuff Link W/Crystals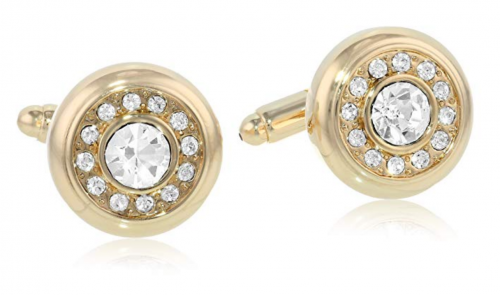 This is a set of round gold cufflinks. They have a crystal pavé face. In the center is the main round crystal and surrounding it are 12 smaller, clear, crystals creating a border. They are in a bezel setting.
This is the perfect set for an elegant occasion. The face is attached to the plate and the plate is attached to the post. The post has a hinge pin that has a bullet back or clasp.
For a fancy looking set of cufflinks, these have a not so fancy price. They are very affordable!
These cufflinks are a perfect size. One-size-fits-all.
7. Stacy Adams Silver Ruby Crystal Cuff Link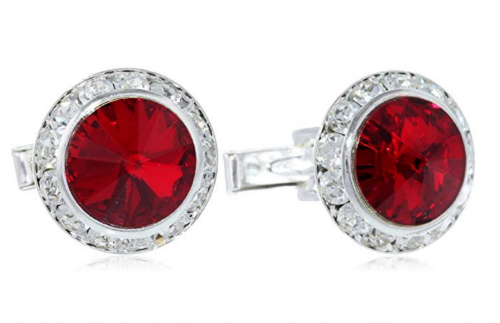 The silvertone cufflinks feature a ruby crystal rondell, or round center with a clear crystal border.
The Rondell ruby cut gives a gorgeous shimmer and shine to these cufflinks. The play of the light on these cufflinks is truly dazzling!
The composition of these cufflinks include 63.5% copper, 33.7% zinc, 1.77% tin, 1% rhinestones, and .03% rhodium. It is a metal alloy. The face is attached to the plate and the plate is attached to the post.
The way the toggle closure is shaped almost reminds us of the hull of a catamaran or a sailboat.
The post has a hinge pin that has a bullet back or clasp.
8. Gem Stone King 24k Yellow Gold PlatedCoin Cufflinks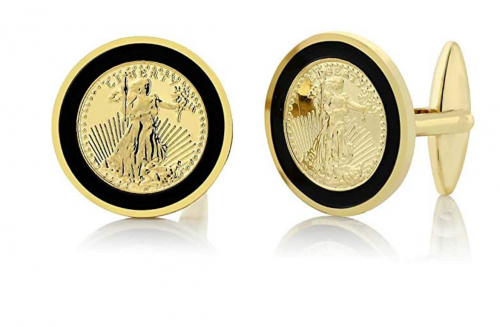 These are made of a high-quality 24 karat gold plated base. On the face, is a picture of Lady Liberty! Around the perimeter of the coin is an outline of black.
The contrast between the gold and the black is very classy and quite stunning. The face is attached to the plate and the plate is attached to the post. The post has a hinge pin that has a football shape back or clasp.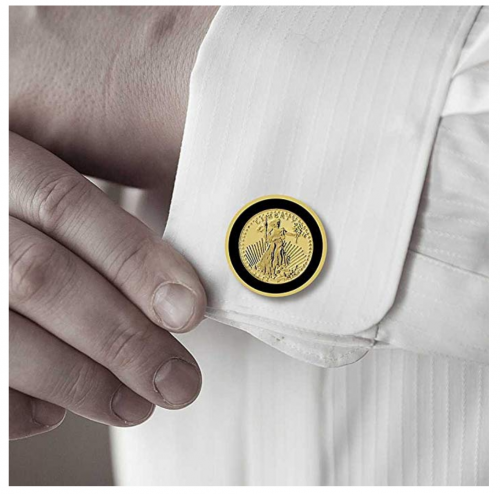 The cufflinks come at an outstanding price. They would make a great gift for the history buff you know or anyone looking for peculiar cufflinks to wear!
They measure 22 mm, or just a bit over ¾ of an inch. They weigh 16 grams or just a shade over ½ an ounce.
9. Daptsy Black Rhinestone Crystal Cufflinks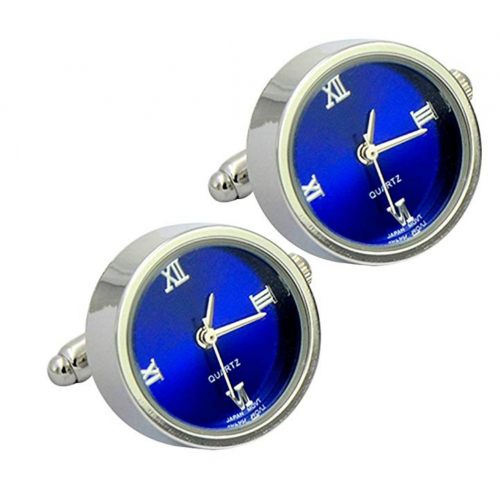 You don't need to wear a watch with this set of cufflinks for men. Each cufflink is an actual working clock!
The face of the clock shows the twelve, three, and nine in Roman Numerals. The hour, minute and second hands are working parts. The cufflinks are made of 100% brass and silver plated.
The face is attached to the plate and the plate is attached to the post. The post has a hinge pin that has a bullet back or clasp.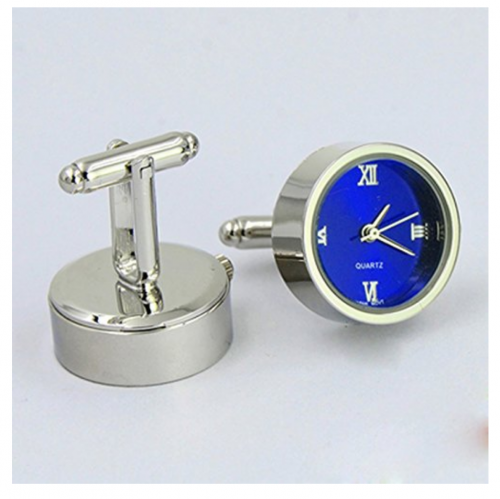 For such a unique set, you might expect to pay more. These cufflinks, however, come at an affordable price.
The length is 0.63 inches.
10. DANFORTH Clover Cufflinks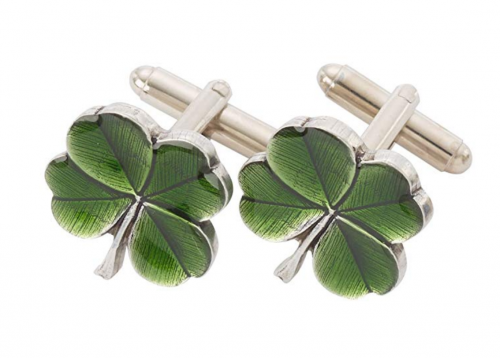 If you are going out for St. Patrick's Day, these are the cufflinks for you! These four leaf clovers are handmade in Middlebury, Vermont.
The cufflinks are made of pewter and are a silver color. Each of the leaves, on the four-leaf clover, are etched.
The green painting is hand-painted over the etching. The four-leaf clover face is attached to a backplate, and the backplate is on a post.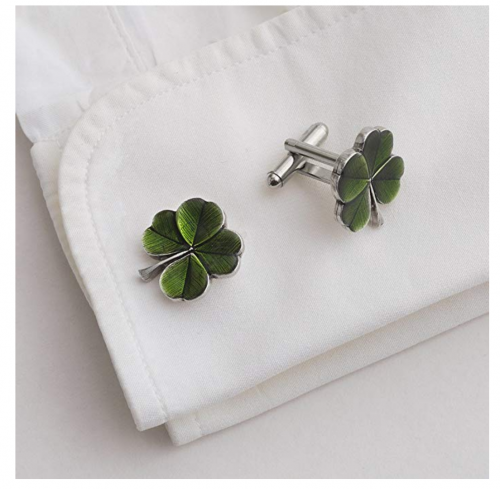 The post has a hinge pin for the toggle or bullet clasp.
This is a very nice set of cufflinks. Maybe you will experience a little bit of the luck of the Irish when you wear these!
A nice set of cufflinks for a nice price. They are affordable.
The face measure ¾ of an inch.
Style Tips
Today, dressing your best may elevate your career, land you that dream job, get you a date, or simply make you feel confident and absolutely great about yourself. Cufflinks are a must-have accessory for a well-groomed man. They exude elegance and class.
To wear cufflinks for men, first, you need to make sure you have the correct shirt. Make sure the cuffs are folded back and they form a neat crisp line. This will ensure your cufflinks are presented properly.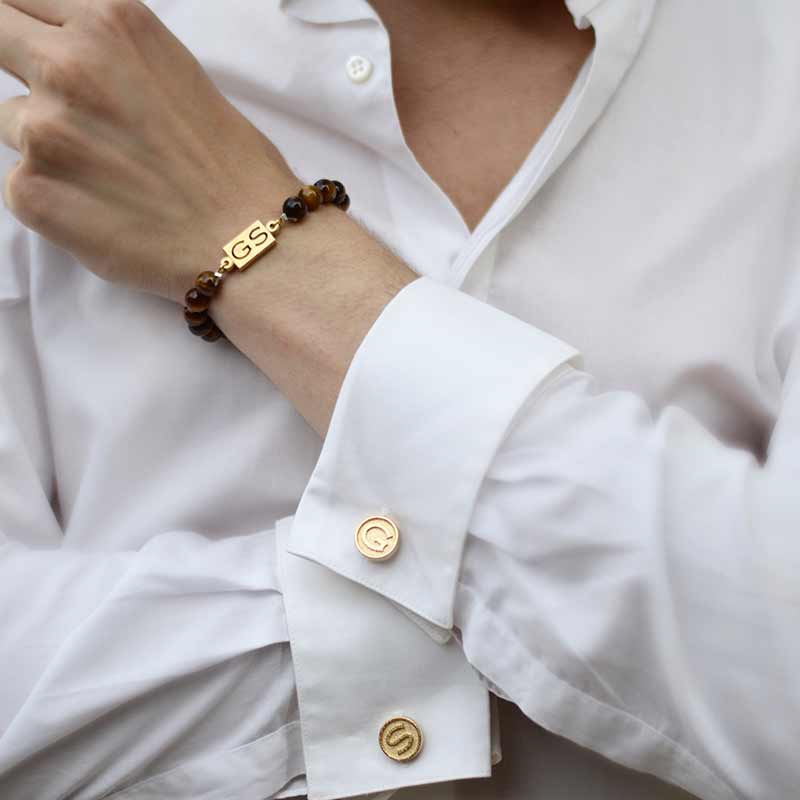 If this is your first go-around with cufflinks, take it easy, and just make sure they are either silver or gold. These are simple and classic metal tones for your first set.
Make sure you match the cufflink color to your belt buckle and your wristwatch. When wearing cufflinks, you pair them with other jewelry, just as a woman would pair her earrings, necklace, and bracelet.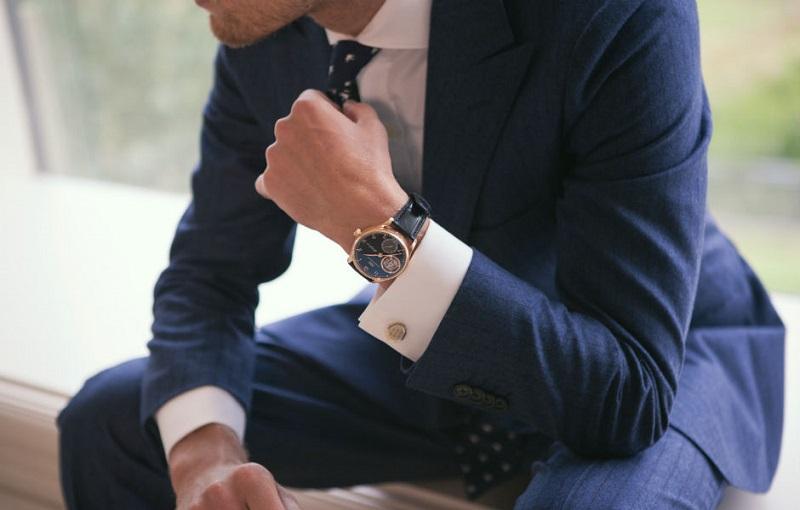 Patterns and color say a lot about your individual sense of style and your taste in fashion. Some shirts have studs, instead of buttons, on the shirtfront. Your cufflinks should match those studs.
To make sure you are wearing them correctly, the decorative face of the cufflink should be on the outside. When you stand with your hands at your sides, the cufflink face should be outward, not toward your slacks.
You can wear cufflinks with, or without, a jacket, but you need to have the proper shirt in order to wear them.
For formal occasions, stick with muted and subtle color cufflinks. For fancy parties or more informal dinners, live it up a little and choose a set that has more color and pattern.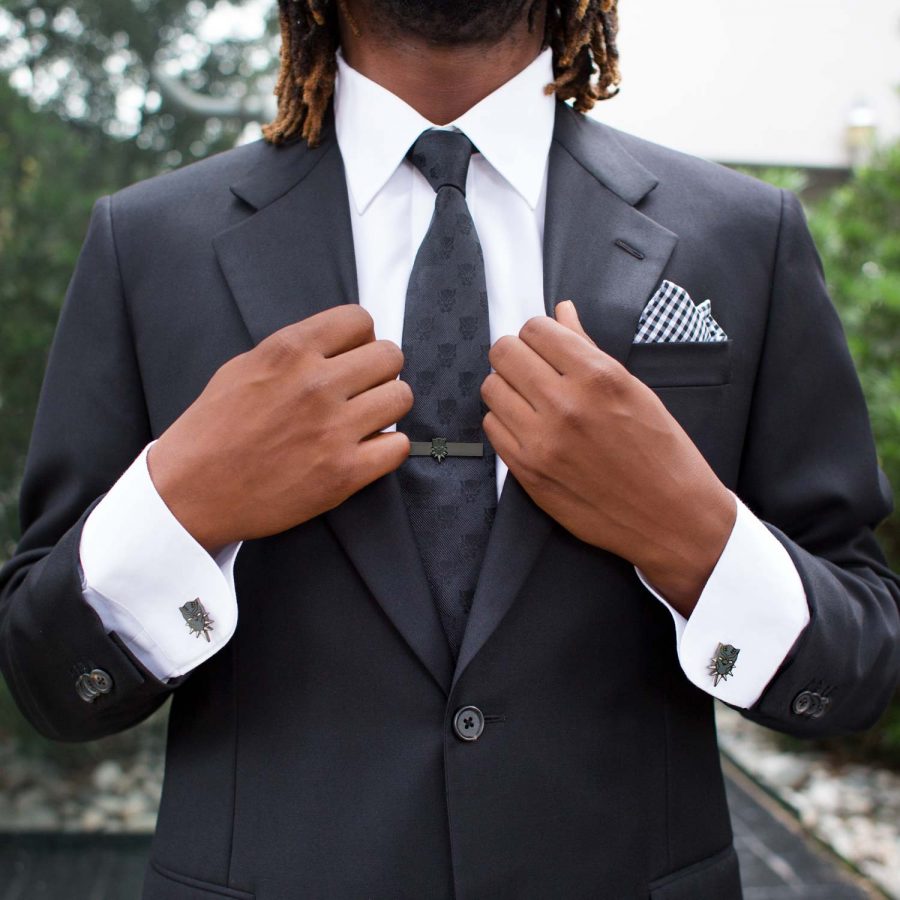 Make sure your cufflinks match your shirt. For example, if you are wearing a pink shirt, opt for a black tie with pink polka dots and a pink seashell, or maybe a pink and silver cufflink.
For informal gatherings and more sporty occasions, you can always choose a cufflink representing the theme, or the sport. Most importantly, enjoy your cufflinks. They will make you look suave and debonair!
Criteria for Evaluation
We used a few criteria to bring you our cufflinks for men selection. They were style, durability, quality, and comfort. We wanted to show you pieces that were handsome and attractive. Let's face it, if your cufflinks don't look awesome, and don't match anything you wear, you won't use them.
If they don't jive with your style or the style that's trending, you are not going to wear them. We want your cufflinks to be something you look forward to wearing, or it's a waste of your money. That's the last thing we want.
Our first and main criterion was the ease of wear. We didn't show you anything too heavy and in fact, all were the total opposite. The bottom line is, with our picks, we want you to be comfortable all the way around.
One other aspect was durability. We wanted to bring you sets that were sturdy and, with the proper care, bring you years of class and sophistication. We do feel that the cufflink trend is timeless, so we wanted sets that will last you a long time.
Nothing brings more satisfaction than getting a good deal. These sets will give you great value, for the money you will spend. When cared for properly, these picks will flatter you, wear well, and last a long time.
FAQs
1. Q. When did cufflinks become popular?
A. Britain's industrial revolution is when the middle class began adopting the use of cufflinks. Because people couldn't afford real gems, they used to rhinestones in the place of diamonds and substituted Pinchbeck, which is a copper and zinc alloy for gold.
Cut steel marcasite was used for silver. Their popularity, however, really soared with the publication of "The Three Musketeers ". They took off, yet again, in the 1920s.
2. Q. Why are some cufflinks for men so expensive?
A. Cufflinks operate, price-wise, on the same premise as women's jewelry. The more expensive the material, the more expensive the cufflink.
If there is more than one material, such as stones or gems, the price will reflect that as well. Often, the old adage applies; "You get what you pay for".
3. Q. Can you wear one with a regular button shirt?
A. Good news! You can wear your cufflinks with a regular shirt. If you have a shirt with sleeves that are too long, it will require some modification, but it is a definite alternative to buying a brand-new shirt.
And, it is very simple. All it takes is someone who can sew buttonholes. Rollback the cuff and so a few new buttonholes in the appropriate places so the cufflink can be put in place. Voilá, you now have a shirt suitable for a cufflink.
4. Q. Are cufflinks cool?
A. You bet! As a matter of fact, we think they are downright sexy!
5. Q. Can women wear cufflinks for men?
A. Yes! In fact, blond bombshell, Gretta Garbo, wore them. They are great for special occasions and the workplace.
6. Q. What is a motif?
A. On a cufflink, the motif is the visible parts or the part that you see. It can be a monogram, a birthstone, the symbol of a hobby, or any other numerous designs. The possibilities are endless.
Types of Cufflinks for Men
Cufflinks can be made from all kinds of a different material. They are usually made of glass, leather, stone, precious metal, or metal. Cufflinks are usually secured by a toggle closure. These are called toggle-back cufflinks.
Another type is a whale–back cufflink. Some, however, are called double–panel cufflinks. They do not have a toggle back. Instead, they have, what looks like two buttons joined by a chain.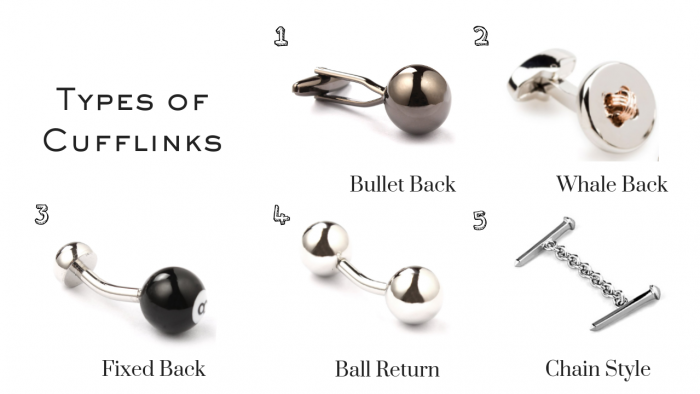 There are also some very cool fabric cufflinks. These come in knots and you often get a set of these when you get a French cuff shirt. The knots are called monkey fist, or Turks head knots.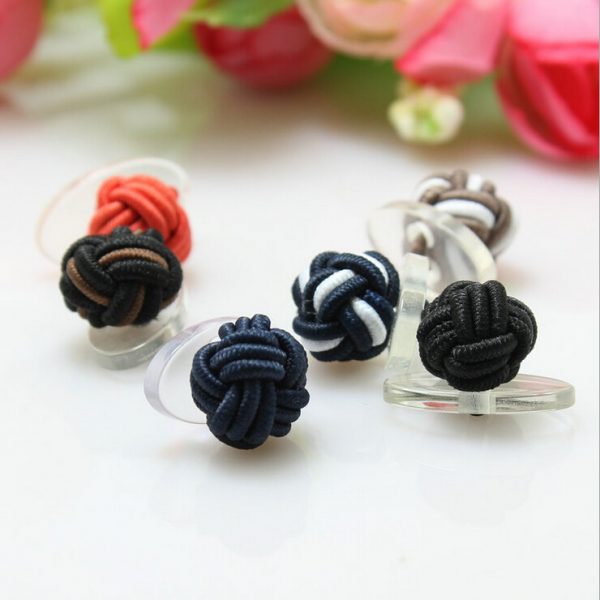 There are also interchangeable types. If you think of a charm bracelet, these cufflinks operate in the same fashion. You can take the decorated panel and swap it out for something different. This makes the cufflink very versatile and even more cost-effective.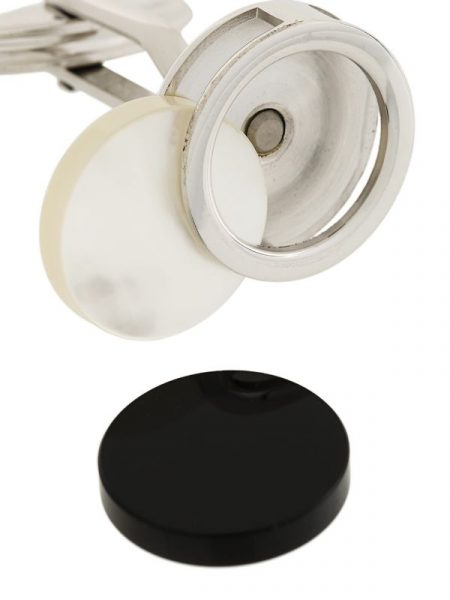 The tops can be decorated with any number of two, or three, dimensional materials. The top of the cufflink is called a motif.
Conclusion
There is just something about a guy in a uniform and a guy in cufflinks. In the roaring '20s, cufflinks for men used to be all the rage. If you want to keep your roaring and raging for a very long time, there are several guidelines to follow.
We want you to get compliments on your cufflinks (and the compliments will start rolling in). Taking great care of them will ensure they always look spectacular.
✓ Do things like keeping them dry and not wearing them while bathing or swimming.
✓ Avoid sprays, like cologne and hair spray, and lotions.
✓ Try not to touch them a lot. The grease and/or sweat on your hands may cause discoloration or tarnishing.
✓ Clean your piece with a soft, dry cloth, or a magic eraser.
✓Always follow the designer's, or manufacturer's method for cufflink care.
✓ Lastly, always store your cufflinks in a soft lined container or pouch.