Men / Mix
Hoop Earrings for Men: A Selection of 10 Best Ones Picked by Our Team
Hoop earrings (no matter any contradictory comment from anyone) deserve some credit for staying popular over the years. The accessory has been around since 2500 BC, so yes, everyone needs a pair in their collection, even men! That is why we have created this guide to best hoop earrings for men.
Today, we'll be focusing on the most unique hoop earrings for men. Some options might be dainty, others might be accessorized with gemstones, and a few may be eccentric for those men who like to stand out when it comes to their jewelry!
10 Hoop Earrings for Men
1. Jstyle Stainless Steel Small Hoop Earrings for Men

While these are hoop earrings, we prefer to describe them as domed huggies due to the design. So get this, the hoops have a width of 4 mm, while the diameter measures 14 mm across four color options (black, silver, blue, and yellow gold).
With these color choices, you'll have the option to select which color to wear depending on your mood. Moreover, changing between them is straightforward since they're easy to put on.
The choice in metal is stainless steel. We love the fact that it's durable (even though it will need occasional polishing), hypoallergenic (surgical grade), aesthetically appealing, and very much affordable.
The only thing we may not like is that these can get a bit heavy for people who are not used to wearing accessories, specifically earrings.
Other info: The hoop earrings have a gauge size of 0.8mm (20G). They are also tarnish-free and shower proof!
2. Jstyle Stainless Steel Hoop Set

If you're getting a hoop earring for your boyfriend, you can get something matching to create a moment. Otherwise, let's tell you about the features. This hoop earring is from Jstyle, and it comes in five colors across three sizes.
You can get these beauties in yellow gold, rose gold, black, silver, and purplish aqua-green in the sizes 16 mm, 18 mm, and 20 mm. The width stays the same throughout (at 3 mm) while the gauge size is 1mm (18G).
This option is super affordable and perfect for any occasion (that includes both formal and informal). It's also easy to put on, and the quality is outstanding seeing as it's cut from stainless steel.
Other than the quality, stainless steel is also hypoallergenic, so there's not going to be any reaction. Finally, if for some reason you don't like them (or you want another size), the 90-day money back guarantee should cover it!
Other info: Super lasting color.
3. Gabry&jwl 316L Surgical Stainless Steel Huggie Hoop Earrings

Don't let the little known brand name fool you, these hoop earrings for men are some of the best that we've come across. You can get them in four colors, which are yellow gold, rose gold, silver, and black.
As for the size, the range is quite impressive as it allows you to choose between 6 mm, 8 mm, 10 mm, 12 mm, and 14 mm. The rings are made out of 316L stainless steel, which isn't only robust, but also hypoallergenic. You can also wear them under water.
As for the aesthetic appeal, these are quite dainty and perfect for both formal and informal occasions; since they only weigh 1.4 grams, there will be no discomfort or the feeling of wearing a heavy accessory on your ear.
The brand commits to replace your earrings in case they arrive damaged or you don't like them as much as you thought you would. Now that's what we call awesome customer service!
Other info: The gauge size is 1 mm (18G).
4. MASOP Men's Gold Hoop Earrings

The MASOP hoops come in three colors: rose gold, yellow gold, and white gold. In comparison to other options included in this list, they only come in 1 size (diameter) of 13 mm.
Moving on, they are made out of Sterling silver which is an awesomely durable material and then electro-plated with 14K gold. The end result is that the earrings aren't only tarnish-free and aesthetically appealing, they're also hypoallergenic.
You also get a 90-day money back guarantee, so you can return the accessory if they're not to your taste. The last fact is that this product is affordable despite the super quality metals used. So regardless if you're looking for a dainty piece of jewelry as a gift or buying it for yourself, you're good to go.
Other info: You can shower with the earrings on, and it won't tarnish.
5. Kofun Punk Feather Hoop

These hoop earrings from Kofun are something else!. Remember when we mentioned we included some eccentric options for those people who like to stand out?  Well, this is it!
The hoops feature a punk feather attached to the lower end. This is done to create a hybrid design that's good looking enough for just about any collection.
They come in three color options (black, silver, and gold) while you only have a single option in terms of the size (15 mm). They are made of titanium steel; the most notable characteristic of this metal is durability. Heck, it's 2-3 times stronger than steel, while boasting the same hypoallergenic feature!
As for the feather, it measures 15 mm and it certainly makes these hoops unique; these are perfect for the free-spirited person with a personal style that screams uniqueness and boho chic!
Other info: Features 360 degree polishing.
6. Szory Stainless Cross Hoops

Szory is another brand which designs awesome accessories that are super unique and eccentric. These hoop earrings for men double up as dangle earrings since a cross hangs just below the hoop.
You get up to 6 color options to consider: yellow gold, rose gold, blue, rainbow, silver, and black.
There isn't any choice when it comes to the size (only comes in 14 mm), and bear in mind the cross isn't inconspicuous since it measures 16x11mm (LxB). The hoops are made out of stainless steel.
The jewelry comes with a 30-day money back guarantee and the fact that the hoop earrings arrive in a storage bag is pretty cool. This makes it also perfect for gifting. These are affordable and fit any budget!
Other info: The gauge measures 18G (1 mm).
7. LXBSIYI Stainless Steel Huggy Hoop Earrings

When it comes to this pick, the choice in design is minimalism, or better yet, these are the most classic hoops on our list. They come in 3 colors: yellow gold, silver, and black. As for the sizes, you'll find these available in 10 mm, 12 mm, 14 mm, and 16mm.
Like most of the options we've featured so far, these are also cast from stainless steel. This means they're both hypoallergenic and durable as well.
If you're getting them for your man, we think he'll love the simple approach the design takes, and the variety of colors that he can switch between (even though our faves are the gold men's hoop earrings in this set!). Not to mention that it's easy to put them on.
Other info: The lock is super tight, no risk of losing the earring!
8. GreenCatJewelry Fat Hoop Bali Tribal Hoop

The first thing you'll notice is the bold Bali tribal markings running along the hoop. For men, this is a statement earring that we doubt they'll mind wearing.
They are made out of 925 Sterling silver and measure 14 mm in diameter. It's also definitely a bit thick at 2 mm (making the outer width 16 mm), which is why we recommend this for men.
Now, we applaud the brand's choice in materials for a couple of good reasons. First, Sterling silver is both durable (tarnish free) and hypoallergenic (nickel free as well);  so you can practically wear them all they long (even underwater!).
Next up, the metal looks good with its combination of shiny, white gold resemblance, and the visual appeal of the filigree.
Other info: Made in Thailand (the tribal design is Thai style).
9. KRKC&CO Hip Hop Hoops

To begin with, these are also made of 925 Sterling silver, coated with 14K gold. In other words, the earrings are not only robust and hypoallergenic, but the inclusion of a bit of gold also increases their aesthetic appeal.
Having said that, they come in 2 different colors and 2 sizes. The colors are white gold and yellow gold, while the two sizes are 12 and 15 mm.
The next highlight is the design versatility. When you combine the hues (white gold and yellow gold) with their iconic hip-hop design, you get an extremely versatile piece that you can wear on any occasion.
Finally, the earrings are easy to put on due to the secure hook clasp on the back
Other info: They come in an exquisite black gift box.
10. BeGenuine Leather Men's Hoop Earrings

This option is made of a combination of stainless steel and genuine leather to create a gorgeous pair of hoops. Starting with the steel, it gives the accessory a super shiny appearance and it makes it a good investment since the metal is hypoallergenic and robust.
As for the strip of leather included, it spices up the whole design making this pick perfect for all the guys who love wearing leather accessories.
They come in 2 colors: red and black. We love them so much that if you ask us, we'd get them in both colors!
Moving on, they have an outer and inner diameter of 23 mm and 19 mm respectively. This makes the earrings 4 mm thick while the width is 8 mm. The earring is wide, but that means it's bold as well.
There's not a more masculine pair of hoop earrings for men on this list!
Other info: Handmade using materials sourced in Europe.
Frequently Asked Questions
Where did hoops originate from?
The oldest hoops found date back to 2500BC, which is a point in time when ancient Sumerians (now modern-day Iraqi) women wore hoop earrings. They favored gold hoop earrings for men or women, which are a classic hit nowadays.
In Egypt, 1500 BC, even the Egyptians' sacred animal, a cat,  wore a hoop as a decoration. Moving on to Rome, and the trend of wearing hoop earrings for men originated with Julius Caesar; soon enough, the accessory was a status symbol standing for masculinity and wealth.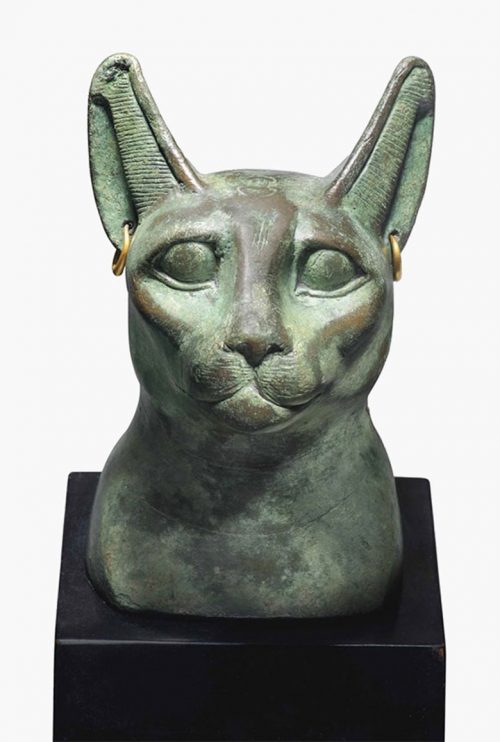 Heck, even pirates wore them throughout their period of reign (1650 to 1730).
A lot of historians believe hoops originally were designed in Africa around the 4th century. However, there is no certainty to this fact.
What are sleeper hoop earrings?
Sleeper earrings are the first pair of earrings you get after a new piercing. And as the name implies, their design is there to make you sleep comfortably at night,  right after having your ears pierces. If you consider the fact that it takes between four to six weeks for ears to heal, you get the idea.
Often, you'll find that they're lightweight and rather smaller than a regular hoop.
What are huggies?
Huggies or huggers are earrings that either exists in the form of a hoop or follow the pattern of the earlobe. They're very comfortable to wear due to their clasp, which really only allows the post to open/close without the use of an earring back.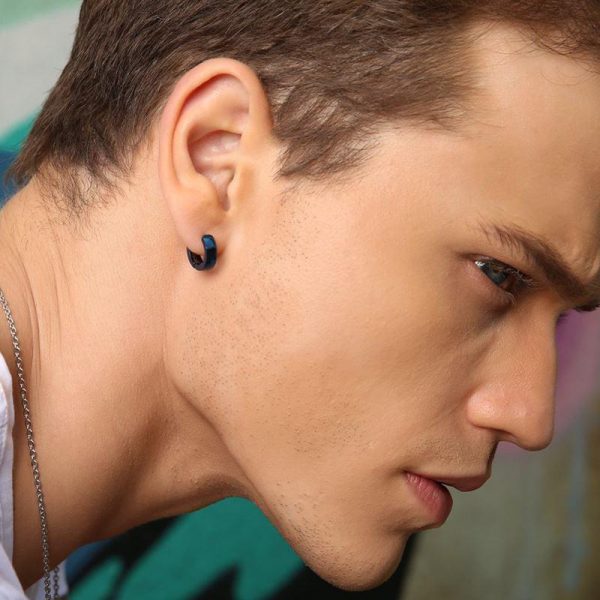 People call them huggies because their design is there to hug your ear.
What are hinged earrings?
Hinged hoop earrings are basically earrings with a split at the back. You have to pop the joint to open the earrings up whenever you want to wear them. The first hoop earrings we reviewed on this list use this design, and as we mentioned, they're effortless to put on.
What are gypsy hoops?
Gypsy hoop earrings refer to ultra big hoops. It's definitely a size thing, but the design can range from slim all-wire earrings to wide ones with a decoration. If you look back in history, these were all the rage in the 1970s and are still worn by the hip-hop community, which translates to a big audience.
What's the place to shop for hoops?
You can purchase hoop earrings for men in any jewelry store; however,  we recommend Amazon due to the unbelievable varied choice of jewelry you will find. From combinations of steel and leather to slim, petite hoops, there is something for everyone.