10 Cross Necklaces for Men and You Can be Sure He'll Wear One of These!
last updated:
Mar 13, 2021
Cross necklaces for men are an iconic staple to any outfit that adds an edgy flavor to any outfit.
It's the perfect display of modernism, fashionable adaptability, and bold confidence that you've been looking for.
Whether you want a long-lasting accessory for everyday wear or a unique piece with intricate details, the options are endless.
Let's explore some of the most exquisite cross necklaces for any guy looking to upgrade their style.
Our Top 10 Cross Necklaces!
1

. Steve Madden Men's Two-Tone Fancy Cross Necklace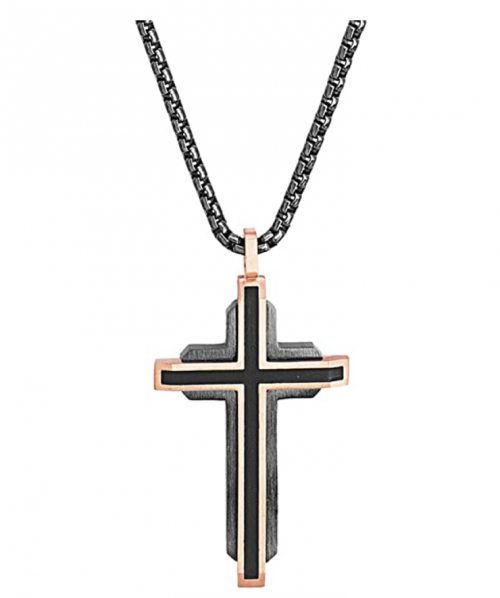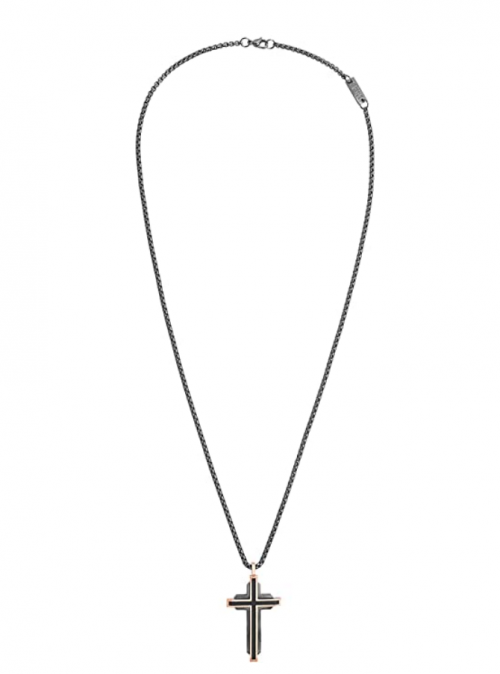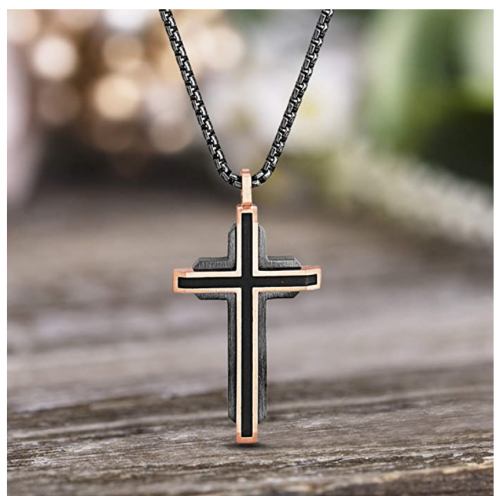 Gunmetal plated stainless steel
Rose gold accents
Rounded snake chain
It comes with a gift pouch
Instead of opting for most cross necklaces' traditional styling, this design from Steve Madden is distinctively impressive.
With a two-tone color scheme, this is the ideal addition to your fashion-forward gothic wardrobe. You'll love the universal appeal of this piece, as it can be worn by men of any age looking for a rocker-style accessory.
Read more
This necklace combines two of the most popular modern materials in men's jewelry right now, rose gold and stainless steel.
However, instead of being standard stainless steel, it has a unique gunmetal plating that appears near-black. With the perfect hint of glistening pinky gold against the dark smoky gunmetal, it's the perfect combination of class.
There's a standard black cross encased in a rose gold edge in the center of the pendant. As a bonus, the gunmetal stainless steel creates an accent frame to make the cross stand out. It's a dapper style choice that makes this piece look like designer jewelry made for confident men with an edge.
The high-fashion chain is unlike other necklaces, with a rounded design that sits comfortably against the skin. It also adds a decorative nature to the piece, and the rose gold clasp that affixes the pendant to the chain.
2

. The Black Bow Jewelry Co. 4 Screw Cross Necklace
Stainless steel
Brushed finish
Comes with a 30-day return policy
We kick off our list with this stainless steel cross necklace featuring 4 screw accents. It has a rugged appeal that will make you look stylish and masculine.
Read more
In only one step, the necklace can add class and character to your overall look. And for the minimalist, this might just be the best addition to their jewelry box.
Everything about this necklace is kept simple, and the only extras are the four screws on the cross.
As a man, you can wear this necklace with your formal outfit under the shirt with an open collar leaving a bit of the chain visible and portray a sharp yet stylish look.
It is fashioned from stainless steel and has a subtle brushed finish. The cross, which measures approximately 1 ½ inch, hangs on a 22-inch curb chain, finished with an impressive lobster claw clasp.
We can say the necklace is medium-priced, but it's pretty much one of those durable jewelry pieces likely to last for a lifetime.
Stainless steel pendant
Adjustable stainless steel chain
13.2 grams
Rust-resistant
Jeulia's cross necklace is effortlessly engineered with exquisitely simple details. It's the ideal option for a modern man searching for a simple, sleek, and slender necklace. The slip-on style also speaks to its effortlessly casual appeal but doesn't take away its expensive-looking aesthetic.
Read more
Stainless steel is one of the most impressive materials for men's jewelry, thanks to its resilience. The metal's hardness is difficult to scratch, ensuring your new necklace will look new for an extended period. You'll also find it has a black coating, making it a more modern and functional piece, easy to pair with anything.
The smoky black texture is smooth and stylish, which makes it a durable and dramatic piece to add to your ensemble. Whether you're wearing a basic white tee and jeans or a three-piece suit, it's a sexy and edgy addition. It's easily one of the most adaptable cross necklaces we've seen, as its low-profile aesthetic pairs well with anything.
With 13.2 grams of stainless steel, it's rather weighty, which makes it feel expensive. You'll also find the comfortable, masculine chain will sit perfectly along your neck and chest for added allure.
Using the adjustable clasp, you can quickly change the chain's length based on your preferences. The stainless steel is very easy to maintain and helps to reduce tarnishing and rusting. Fortunately, you won't have to remove your new piece when you're showering, swimming, or working out.
4

. Boston Bay Diamonds Cross-within-a-Cross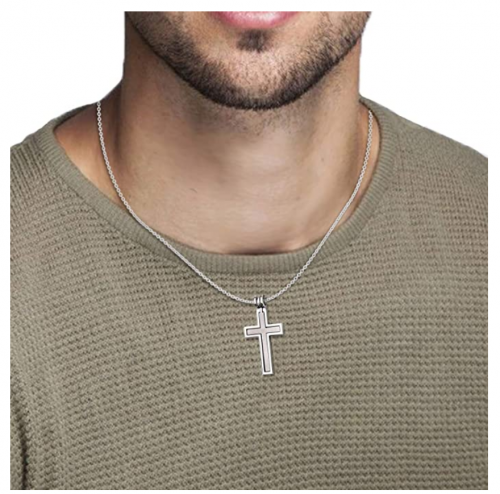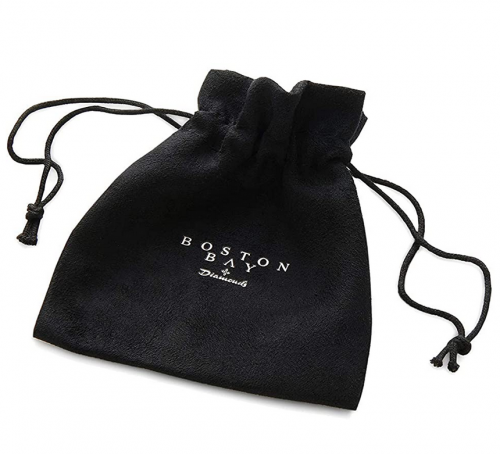 Solid stainless steel
Adjustable lobster clasp
Easily maintained
Matte and polished metal
Boston Bay Diamonds Store is known for its versatile designs, including the stainless steel Cross-within-a-Cross necklace. It's the perfect combination of professional style with a distinctive flair that offers a dapper design for any man. This piece takes your style to a new level, as it combines modern needs with a flexible piece of jewelry.
Read more
Instead of being a standard single pendant, this necklace technically has two pendants in one. As its name suggests, there's a solid cross pendant within a hollow cross pendant for flexibility. Both pieces fit within one another, which adds a unique edge to the shimmering polished metal.
The main pendant features a matte finish, while the hollow pendant is glistening stainless steel. The two-dimensional style makes it adaptable to any man's wardrobe, especially if you want an expensive-looking accessory. There's an inherent sleekness to this design that offers a sharp edginess with casual comfort.
All of the edges have been immaculately rounded, which makes it comfortable against the skin. You'll also find this finishing choice makes it ideal for active men who need contemporary jewelry. The stainless steel has been perfectly finished to have a silver-tone with the benefits of high-quality metal.
5

. The Black Bow Jewelry Co. Double Cross Necklace
316l stainless steel
24-inch box chain
Can be engraved
We promised you a galore of men's cross necklaces, and this time, we are giving it to you in double. Modern and sleek, this pick has a layered cross design. It is simple yet meaningful.
Read more
It is crafted from 316l stainless steel and has a clean white polished finish that would work well with any outfit. The double cross pendant not only makes this piece look incredibly unique, but it's also suitable for engraving.
The bigger pendant measures approximately 1 1/8" x 1 ¾" and hangs on a sturdy, smooth matching 24-inch box chain that ends with a fancy lobster claw clasp.
The double-cross pendant is a stylish accent piece that is a perfect accessory for the man who wants to keep it simple and still look classy. It will make an excellent religious gift to a devoted Christian on Christmas or Easter.
The price tag for this cross necklace for men is moderately high, but the gorgeous design and the quality make it worth every penny.
6

. HIJONES Nail Cross Charm Pendant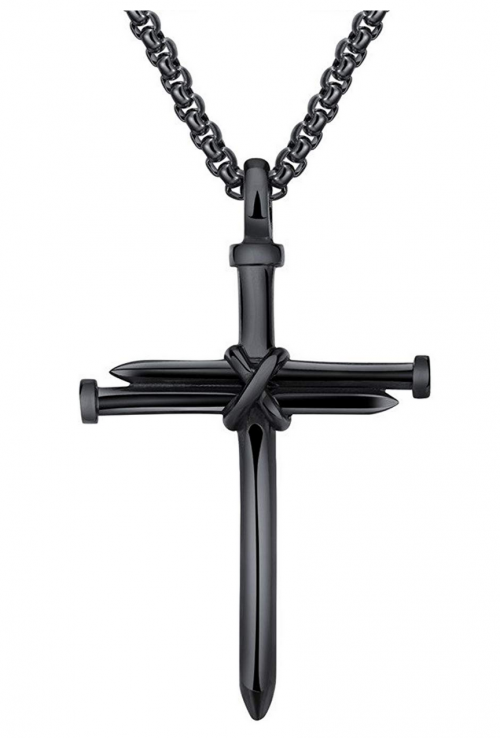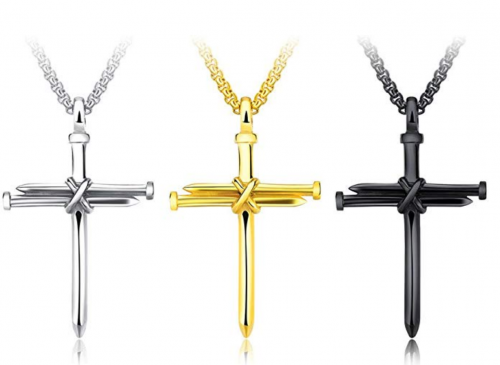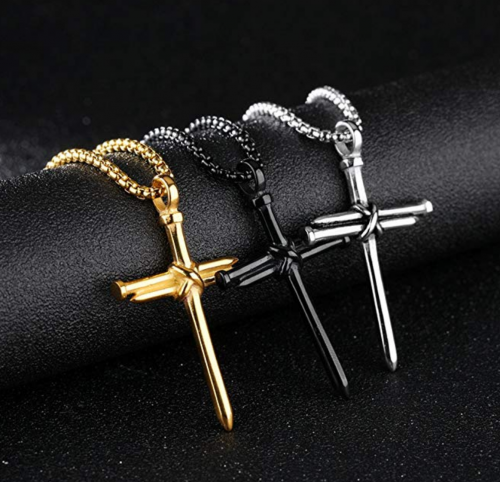 316l stainless steel
Lasting polished finish
Unique nail cross design
You have to love this modern stainless steel cross pendant featuring an edgy black nail design with a matching black chain. If we are to rate this cross pendant necklace based on aesthetics, we will give it a clean 10.
Read more
It is bold and creative and certainly an excellent choice for a man who is not afraid of expressing his personal style. It might not be the first thing that someone sees in a crowded place, but this piece is a statement on its own.
Inspired by Jesus' cross, the pendant features two nails attached in a crisscrossing design to form a necklace. It is crafted of black stainless steel, which is accountable for the black buzz motif.
It's further enhanced by the matching 24-inch stainless steel link chain, which will sit slightly below your collarbone with the pendant hanging close to your chest.
The best news about this uniquely designed nail cross necklace is that it's available in 3 different colors, including this black piece, gold, and silver. You can choose the one that best suits you.
We couldn't wait to announce that this piece is a steal! It is extremely budget-friendly.
7

. Amazon Collection Polished Cross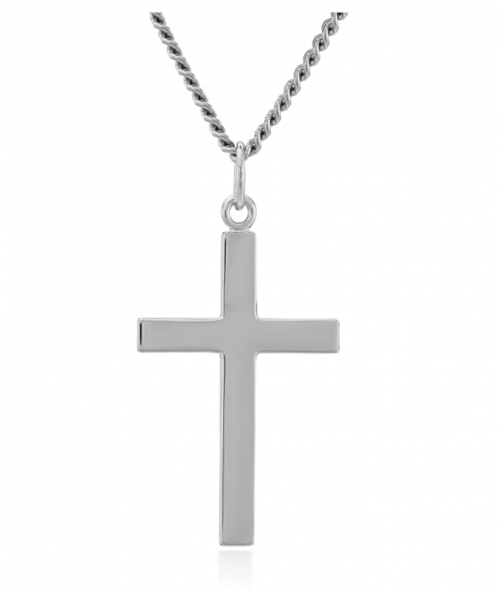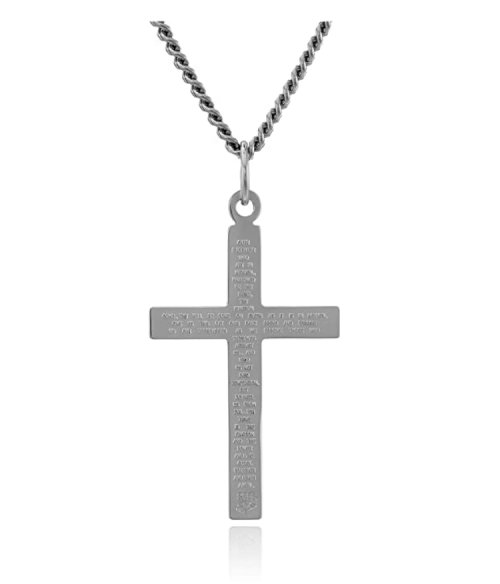 Stainless steel chain
Rhodium-coated stainless steel pendant
Adjustable 24" chain
Everyday wearability
If you're a fan of sterling silver jewelry, this option is ideal. Its uniquely versatile appeal is what makes it the perfect choice for jewelry lovers and first-time wearers alike. This piece has a hidden, graceful religious meaning behind it that makes it a fantastic gift for yourself or a loved one.
Read more
A unique component of this necklace is that it has a discreet inscription of the Lord's Prayer on the cross. It's embossed on the rear of the cross, but you can also opt to wear the pendant to where the prayer is shown on the front.
At its core, this necklace is a wardrobe-friendly option that you can easily wear anywhere. The chain's length is also exceptional, allowing you to wear the cross close to your heart or further down your chest. It has a hassle-free aesthetic that looks high-class and timeless for everyday wear.
As you can tell, most of the necklace is crafted from sterling silver, which is ideal for sensitive skin. It also features a rhodium plating to prevent it from tarnishing and scratching over time as an added luxury. The lightweight stainless steel chain is plated for wearability, so you'll never have to take the piece off.
Compared to other metals, sterling silver with rhodium plating is relatively easy to maintain. Although it's highly resistant to water, it's recommended to keep the metal away from cleaners and astringents.
8

. HZMAN Philippians 4:13 Cross Pendant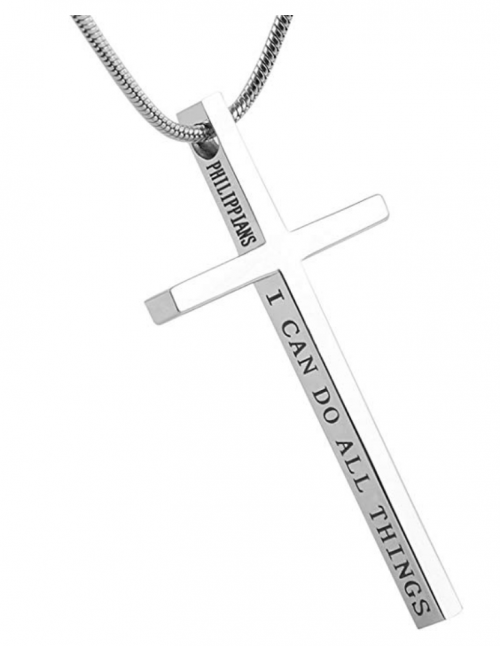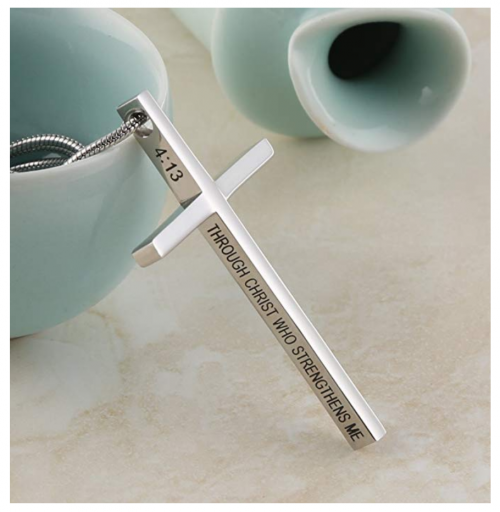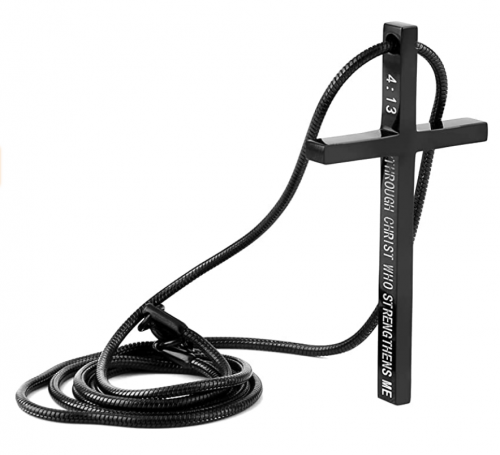 High-quality stainless steel
Engraved with an inspirational bible verse
Available in different colors
This necklace has a unique and simple design that we absolutely love. Not only do you get to wear a meaningful piece with a symbolic pendant, but you also get words of inspiration with it. The pendant has been elaborately engraved with an inscription lifted from a popular bible verse, Philippians 4:13, which is all about strength and perseverance.
Read more
The cross necklace is made of stainless steel. The pendant hangs on a 22+2-inch stainless steel link chain finished with a lobster claw clasp.
It would be an ideal piece for daily wear. We also think this necklace has a unisex design and provides a good option for layering.
With just a few bucks, you will have yourself the cross pendant necklace. It's one of the most affordable options in our picks.
The best part? It's available in different colors, including silver, gold, and black.
9

. Ruby & Oscar Garnet Cross Pendant Necklace
Oval-cut garnet
Sterling silver
Adjustable sterling silver chain
Prong-style setting
Garnet and silver are two jewel-toned materials that add an intricate and exquisite contrast. This option from Ruby and Oscar is a charming addition to your collection. It boasts a unisex style, with an open-worked appeal, featuring clustered garnets set amongst brilliant sterling silver.
Read more
The effortless elegance of this piece is what makes it an outstanding choice for men and women. Each of the precious oval-cut garnets is adorned graciously, set in the sparkling sterling silver clasps. The dangling pendant will sit casually on your chest or the base of your neck, thanks to the adjustable necklace.
What you'll love the most about this prismatic piece is that it boasts premium-grade materials for longevity. It's time you invested in a delicate accessory designed to last years without showing signs of wear and tear. You can guarantee the radiance of the red gemstones will show off your personal style with minimal effort.
The stylish silver chain and the clasp make it highly versatile for any fashionable man searching for an everyday piece. The eye-catching garnets are sure to glimmer in the faintest hint of light, contributing to an expensive tuxedo or suit.
There's also a smoky texture to the gemstones, which alludes to a deep-rooted mystery that's sure to make you a topic of conversation.
10

. The Black Bow Jewelry Co. Diamond Accent Necklace
Stainless steel
Diamond accent
Ball chain
Get this stunning stainless steel cross necklace for men intricately designed with a diamond accent. This very elegant piece is set with a .03 carat diamond, which gives it a rather subdued but noticeable sparkle that we love.
Read more
The cross pendant is made of stainless steel, which says a lot about its durability and quality. You can count on it withstanding the test of time. What we love most about the pendant metal is that it has a brushed and polished finish that gives the diamond accent a beautiful background.
Measuring approximately 1 ½" x ¾" including the bail, the cross pendant hangs on a 22" fancy ball chain designed with a lobster claw clasp.
This is one of the expensive cross necklaces featured on our list of cross necklaces for men. The necklace has a diamond accent, and the cost can be attributed to the carat value.
Criteria for Evaluation
Jewelry Metal & Gemstone Quality
A cross necklace for men should feel comfortable and casual.
We picked necklaces mostly made of stainless steel, sterling silver, and gold plated for a good reason. These are neutral chains that are more likely to offer a timeless and masculine look.
The durability of the material used also matters a lot. We wanted you to get value for your money and have a cross pendant necklace that doesn't sacrifice durability.
All our picks are made of an extremely durable material like stainless steel, which will withstand the test of time. You can count on most of them not to tarnish, scratch, or rust.
Wear Comfort
A necklace will go through your neck, and most likely, the pendant will lie flat slightly below your collarbone or chest.
We are aware that some jewelry may cause skin reactions, and that's why we played it safe with stainless steel, sterling silver, and gold-plating.
Wearing your necklace shouldn't be a hassle, and neither should you worry about your chain coming off or falling.
Most of our picks are built with strong chains and finished with lobster claw clasp to keep them securely in place.
Style
We chose cross pendants with classic yet subtle design. You don't want a necklace to draw attention to your neck, but instead, it should complement your outfit and bring out your overall charm.
Most of our picks are ideal for daily wear and can be matched with casual tees and shirts. We paid attention to the chain length because it affects your overall style.
Most of the pendants among our picks rest on chain lengths ranging from 22" to 24". The pendant will hang just below your collarbone.
With this length, you can let the cross pendant hang above your shirt or t-shirt. You can hide it underneath your t-shirt or button-down shirt and leave the links to the chain visible with an open collar.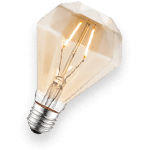 Styling tips
The beauty of a cross pendant is that it's not only meaningful (in a religious way), but also a stylish and fashionable accessory.
We have seen several celebrities wearing cross pendants and looking more dapper than ever before while showing off their love for their religious faith.
We have also seen non-religious stars and fashionistas sporting cross necklaces as a fashion statement.
For example, Justine Bieber does love his faith and shows it off in a stylish manner. He has been spotted numerous times wearing gorgeous cross necklaces even when performing in concerts.
We wanted you to keep it simple and classy. A cross pendant is a safe option for a man's necklace. It has a classic design that is not overly loud or bulky.
You don't want your necklace to wear you: instead, it should complement your style. It should make you feel natural and not self-conscious.
Styling tips
The length of your chain will significantly determine your style. Most common chain lengths range between 18" to 24". This will fall slightly below your collarbone.
A longer chain offers a relaxed feel and will complement your tees and draw attention to your broad chest.
A shorter chain, on the other hand, will be more visible and can be worn with formal shirts and preferably with an open collar.
Do you prefer a layered look with your chains? We say, go for it. You can layer your cross pendant necklace and experiment with varying lengths.
In fact, men with beards look exceptionally well when they wear shorter chains length against a longer chain.
Lastly, wear your cross pendant necklace with matching metal accessories. If you are wearing a silver watch on your wrist, go for a silver cross pendant necklace and a silver buckle. This will give you well put together look.
FAQs
q:

What is a cross necklace?

a:

It's a type of necklace featuring a Christian cross pendant. The cross symbolizes the crucifixion of Jesus, who selflessly died to redeem Christians from sin.

It's a sign of Christ himself and represents the Christian faith.
q:

Who wears a cross necklace?

a:

Anyone can wear one. Most Christians wear cross necklaces as an indication of one's commitment to Christian faith. Some Christians believe that wearing a cross offers protection from evil.

However, the majority of people, including Christians and non-Christians, like the cross necklace for its style. They wear it as a fashion accessory.
q:

What is the best chain length for men's cross necklaces?

a:

When it comes to men's necklace lengths, the most common length ranges between 18" to 24". With this length, the pendant and the chain will rest slightly below your collarbone. Anything shorter than 16-inches borders with the choker category.

The length you go for will significantly depend on your style. Longer chains (24-30-inches) offer a relaxed look and are ideal for a night out or weekends. Shorter chain lengths pair well with formal outfits like shirts.

Your height matters a lot when it comes to the length of the chain. Shorter people look better with average and shorter chain lengths and should avoid overly long chains.
Finally...
Cross necklaces for men are a fashion trend that has been around for years, and there is no doubt that the trend is here to stay. The cross is symbolic and meaningful. It denotes Christian faith.
However, as much as it carries deep meaning, the cross comes off as a stylish accessory. The design appeals to many different guys (and women) of all ages (Christians and non-Christians), as a major part of the jewelry collection.
Most men love the cross necklaces for their simplicity. They are understated and simple and stand out as stylish accent pieces. In most cases, the cross pendant falls slightly below the neckline and lies against the body.
These pendants are versatile and can be worn underneath a shirt with an open collar. They also look fantastic when paired with casual outfits like t-shirts.
We picked options that are not outlandish or loud. Most will complement your outfit and not overwhelm your style.
Just like a ring or a watch, or a good set of cufflinks, a smart choice when it comes to a men's cross necklace is like an accent piece that puts the final perfecting touch to any style or outfit.