Men / Mix / Women
Plug Earrings can be Beautiful and We Found 10 Worth Your Money
If you are all about fashion styles that are absolutely wonderful but comes in simple and chic design, then plug earrings are just for you. With their perfect shape and teeny sizes, they stay right there on your earlobe and twinkle away. You can certainly use them for all occasions and they will be amazing with any type of outfit you choose for yourself.
Thinking of what to wear for that special dinner (especially jewelry), then you can trust plug earrings to be that piece that will be there for you. What's more, they are lightweight so you don't even feel them there.
Why You Should Buy Plug Earrings
Earrings are perfect for any occasion, you can use them to complement your entire outfit and not go wrong with any color choice. However, you might be thinking 'why not choose any other type of earrings?'. Well, there are certainly a lot of options to pick from, but plug earrings are just so stunning it makes a great choice. They have this cylindrical shape that can be decorated with diamonds, silver, or other gemstones.
They are very flexible when they are being crafted so you can have them made in glass, stone, wood or metal. The only thing you have to do is to just look for the one that is aesthetically pleasing and good for your skin. That said, while plug earrings are a delight to see and use since they're quite distinct, we weren't the one that started the tradition.
Historically, the Egyptians had so many accessories that they used to adorn their body, and earrings were part of the set. They had different types for different parts of the body, but plug earrings were specially reserved for the ear. It later spread to cultures like the Americans, the Mayans, the Aztecs, and the Incas. However, with so much modernization, the earrings have now been refined to such standard that royals and even celebrities adopt its use. Certainly nice to hear, since it makes so much valuable. So from Hollywood to wall street, you can see several people dazzling with their quaint piece of jewelry shimmering all-around their ear.
In this article, we have put together a list of the best ten plug earrings that should steal attention.
Our 10 Favorite Plug Earrings!
1. Black Screw Stud Earrings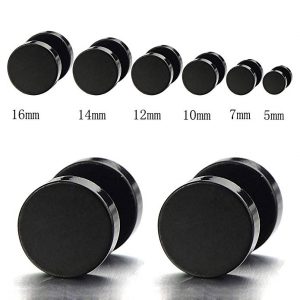 Plug earrings are really nice for those who want to keep up the latest fashion trend without having to stretch their piercings. This is one fantastic earring made by CoolSteelBeyond. With definite attention to every little detail on the already small piece, there is perfection written all over it.
Made with stainless steel and finished with a matte black color, the 1.2 mm dimension of the gauge is just the right size for you. Although you can find different sizes, there is certainly one of the various ranges that is just what you need. If you are all about comfort, then 5.5 grams' metal won't be a bother for you. You can wear it all day and even all night if you are all about night outings.
To make the price affordable, the stainless steel material used might not be suitable for everyone. It is very important to check if you don't have any allergies to it, to prevent skin rash or irritations. However, with an absolutely chic design, you can be sure that you would simply love the simplicity infused with a brilliance that defines these earrings. For even more guaranteed satisfaction, the jewelry comes packaged in a perfect little box that can be used to store the earring whenever you are not wearing them.
2. JewelrieShop Assorted Colors Stud Set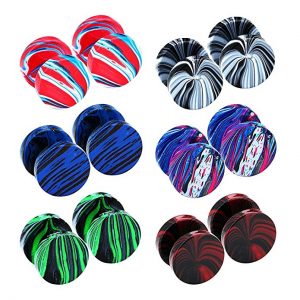 Brands that make the best jewelry are usually careful in selecting materials for consumers. Better yet, the quote "Safety First" is taken seriously. This case is not an exception, because with hypoallergenic stainless steel you can be sure that your ear won't suffer any irritation when you use this. But safety is not the only interesting feature of this plug earrings. It comes with different designs that look so good that they can only be described as breath-taking.
This pair comes in at 10mm diameter with a length of 1.2 mm. In turn, it makes for the perfect wear. It also has an illusion tunnel with real colors on both sides for beauty. What will amaze you the most is that the package features a different set of design, made with various colors. So you can easily switch any pair according to what you have on.
You certainly would love what you see when you look in the mirror before stepping out. They are also good as gift accessories, especially for your teenage daughter. Check the link to see the nice collection you would be getting when you choose to buy these plug earrings.
3. Circle Stud Earrings Steel with Cubic Zirconia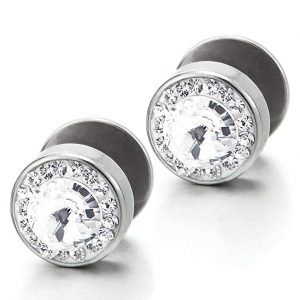 Here is another stunner from the best collections of CoolSteelAndBeyond. The piece has a quint but beautiful sparkle that brings out the light in your eyes. Crafted with quality material every inch of the earrings was made to ensure that you get nothing but the best.
The first thing to note about this product is the stainless steel that was used to make the body. Measuring 10 millimeters in width and gauged 1.2 millimeters, the earrings are just perfect to cover your earlobe. You can trust the polish finish to prevent any rust and allow you to enjoy it for a long time. There is also the Cubic Zirconia set into the stainless steel, and this will be the source of all the sparkle you need.
You can worry less about losing this earring since it has a screw back for securing it in place. Another perk that ups the game is the fact that it is very affordable and come nicely packed in a branded box. Modest, impressive and dashing are good words to describe what you will get when you choose this product.
4. Bling Jewelry Surgical Steel Black Spider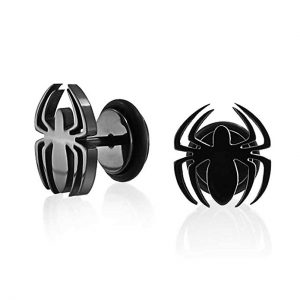 If you have someone that is very interested in comical characters, then this is just perfect for them. The plug earrings come in a spider design. There is no Cubic Zirconia, but the matte black color is pretty cool enough to make it look awesome.
The earrings are made with stainless steel plated black. With a weight of 4 grams, you can wear it all day without worrying that it would be too heavy. The 16-gauge plug is also made to be perfect enough for your earlobe not to be stretched. Also, the grade of stainless steel used is the surgical type, which means you can be sure of safety when you put it on.
So if you are thinking of that costume party coming up soon, or you just want to spice up your style with a fashion piece. Then you should absolutely get one of this and you wouldn't want to ever take it off. You can also get one as a gift for your loved one on their birthdays, valentine or any other occasion that comes around.
5. Pair of Clear CZ Center & Paved Rim Ear Plugs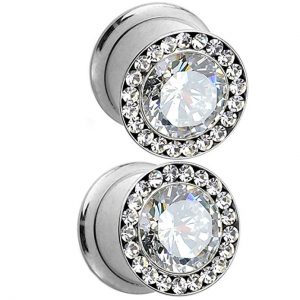 Have you had your ear piercing stretched recently and you still want to enjoy a simple plug earring, then you certainly want to take a closer look at this one. Made by BYB plugs, the earrings have a beautiful design that catches the light at all its angles and gives out a perfect reflection. You can use it for any outing you have and it is a perfect fit for any simple style that you have chosen from your collection.
Crafted with stainless steel that is internally threaded, there is one clear Cubic Zirconia fitted right into the heart of the earrings. You can also see the sparkle of about a dozen more glass crystal that circles around the edges of the product. Perfection is not far from this earring and it was crafted with absolute professionalism.
Its round shape is great for your earlobes and it won't cause you to have a rash or breakout when you use it. You can click the link to see the amazing picture that you would have no trouble falling in love with.
6. Surgical Steel Pair of IP Ying Yang with Black Inlay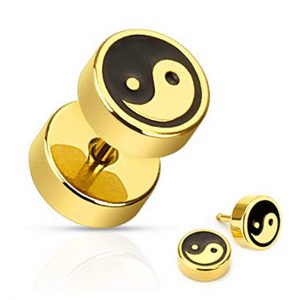 Cylindrical plug earring has always been very special with their modest appearance but they can add that touch of beauty for any occasion. This is one masterpiece form U2U that was specially crafted with expert hands. It has a yin and yang logo to symbolize union, harmony and a sense of balance.
That said, U2U fake plug earrings come with a hypoallergenic surgical steel grade of stainless steel. This simply means that you can trust the material not to start peeling any time soon or harm you in any way. The length of the product is 8 millimeters and its width is also 8 millimeters. Quality, durability, and affordability are all present in this compact but stylish beauty.
Now check this; while it is essential to get a great piece of earplugs, you might have to worry about cleaning. But with the sterilized and strong materials used for it, that won't be a problem. So if your budget is around the range of the price tag, you should certainly go for it.
7. Ferido Crystals Piercing Jewelry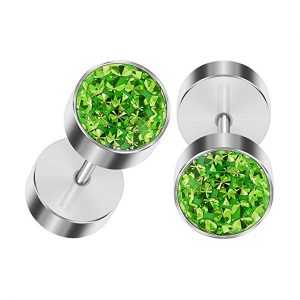 Gauges and plugs are usually confused together, but you should rest assured that all the product that we have on the list falls within the range of plugs. To that, here is another plug earring that is pretty lovely. This fashionable piece of ear accessories is made to dazzle and glimmer with so much beauty.
To start, we would have to take about the quality stainless steel that was used in making it. The durability and biological compatibility of the material make it perfect. With such an implant grade material you don't need to worry about your allergies. It also comes with a unisex appeal that adds elegance to the outfit of both men and women. It has a simple screw at the back to make it secured to your earlobes.
For even greater appeal, there is the clear crystal that is used to accent the top of the earrings, created in the lab, it was made to give off beautiful reflections. The pair suits all occasion and it is an all-around winner for your aesthetic pleasure. Taking the measurement, it is 12 millimeters in gauge and you can pick from Clear, Aurora Borealis, Rose, Blue Zircon and Peridot. With the price, you certainly would love to have one for yourself or gift it out.
8. Satin Finished Pentagram Star Screw Studs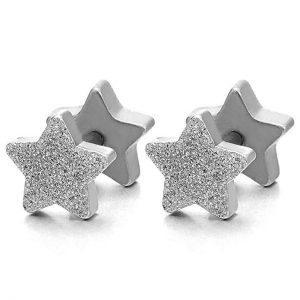 It might seem that all the plug earrings that you can find are cylindrical, however, here is one that 'breaks that norm'. From CoolSteelAndBeyond, these steel cheater earplugs have a star shape that is pretty fantastic. Following the perfection used in crafting the jewelry, you would love having this on you everywhere and at all times.
The earrings come with a stainless steel material that is made magnificent by its polish and satin finish. There is also the 1.2-millimeter-thick gauge that puts the weight of the product at 1.2 g. Combined together, the whole weight and dimension are built for a perfect fit.
One fantastic thing about this lovely pair is the shiny top they come with, you can be chic, stylish and gorgeous when you use it. Just like all the other ones from this brand the packaging carries its name just to guarantee that you get nothing but the absolute best.
9. Unisex Mixed Styles Set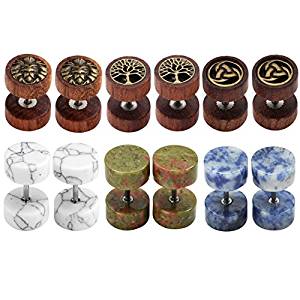 Zysta is one brand that combines creativity with style to craft masterpiece that stands out. This collection of accessories from them features colorful earplugs that are pretty awesome. With colors that are exquisite and expert craftsmen, this is one earring that you will want to grace any occasion with, no matter the time or place.
Made with 316L stainless steel, the high grade of metal gives you an assurance of durability and safety. You can count on the mixed colors and stylish finish to stay cool even after a while. It doesn't contain any nickel or lead, which make it hypoallergenic. Boys, girls, men or women, anyone can use it. The product is great for your ear and trusts us, they won't take up excess space.
They can be worn on a casual outfit and is very good for informal outings. There are also several choices to pick from as there are up to six varieties that were designed by the brand. You can show your colorful taste in fashion when you use it.
10. Opal Glitter Fake Cheater Plugs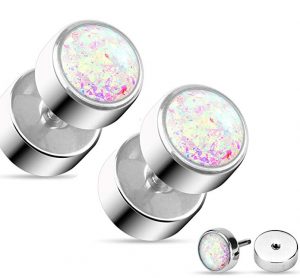 Well, this is the last piece of plug earrings we have in our collection and it's amazing. Piercedowl has a group of professional jewelers working to make sure all their product is nothing but the best. They craft this earring to meet the exquisite taste and match any style you wish to adopt.
With a stainless steel material, a resin that imitates the looks of opal was set into the top of the earrings. This causes the same shine you see in any piece of jewelry that was made with opal. It's pretty beautiful when you look at the radiance with which the surface glimmer. There are about three colors that are used to decorate the top of the product and there is nothing but sophistication all around.
You won't have to worry about you not getting the best match for your piercing size with the 0.57 inches' diameter that comes with it. You can get different design when you choose this brand including green, white and pink imitation opal. They all come with great prices and you won't need a budget turnover for this one.
Frequently Asked Questions about Plug Earrings
What is the difference between plug and gauge earrings?
Plugs and gauges are not the same even though they are sometimes used interchangeably in online stores. The major difference between them is in their size and what exactly that is used for. When you talk about an ear gauge they are mainly used to describe the thickness of an accessory. It is also very important for those that wish to have their piercing stretched. Ear plugs are however accessories that also come in different sizes but are mainly short, cylindrical jewelry, worn with piercings of a larger gauge. They can even be used in other areas of the body apart from the ear.
Are plug earrings suitable for ear piercings extension?
No, they are not, if you want to get your piercings stretched then you should buy big gauge earring to help you stretch it. they are also several ear products that you can use for this purpose.
How can I care for my new plug earrings?
Plug earrings are not so big and complex, so caring for them is pretty easy. Just make sure you keep them in a soft pouch or the package they came in when you take them off. And for the ones made with materials like wood, avoid having them soaked into too much moisture.