Gorgeous Titanium Earrings Selection | Hypoallergenic & Skin Safe Earrings!
last updated
Oct 08, 2019
Ever wondered why titanium earrings are the safest way to introduce yourself to the jewelry universe? Titanium metal offers stylish earrings that are absolutely safe to the skin.
What makes this metal unique is that it is completely nickel free. In most metals, nickel is the cause of allergic reactions.
Titanium has hypoallergenic properties, which minimizes any negative effects on the body, including swelling, itching, skin discoloration, and other reactions.
In addition, it is highly inert. This means that any jewelry made of titanium is less likely to react with sweat and other body fluids, thus significantly reducing the risk of corrosion.
If you have super sensitive skin but still love wearing gorgeous & dazzling earrings, it's time to go all titanium. In this guide we have listed 10 stunning pieces.
We believe you will have a tough time picking your favorite!
Our Top 10 Picks!
1

. The Black Bow Jewelry Co. Round Hoop Earrings
Made of polished titanium and cubic zirconia stones
Lightweight and durable
Hypoallergenic
Look all sophisticated and glamorous with this pair of titanium zirconia earrings. This pick might just be the small detail you need to complete your evening wear or glam up your office outfit.
Read more
The round hoop earrings are made of polished titanium.
On the side, there are cubic zirconia stones embedded on the sleek surface, snuggled nicely in a line.
Both materials not only give these earrings an attractive quality, but they are so refined they can easily be mistaken for platinum and diamonds!
As expected, these are absolutely safe on skin. They are hypoallergenic, meaning they will cause no harm to the skin.
In addition, they are lightweight and extremely durable. They weigh approximately 3.81 grams and are about 1/8 x 3/4 inches in size.
They feature a very simple minimalist design. This makes them quite versatile and easy to match up with any outfit, whether casual or formal. The earrings are the perfect accessory to transition to evening wear effortlessly.
This pick is unisex and would look stunning on both men and women. If you are looking for something simple yet elegant enough to make a subtle statement, this pair is the perfect option.
The earrings come in a complimentary gift box and a relatively high price tag to match the quality.
2

. Bling Toman Titanium Earring Set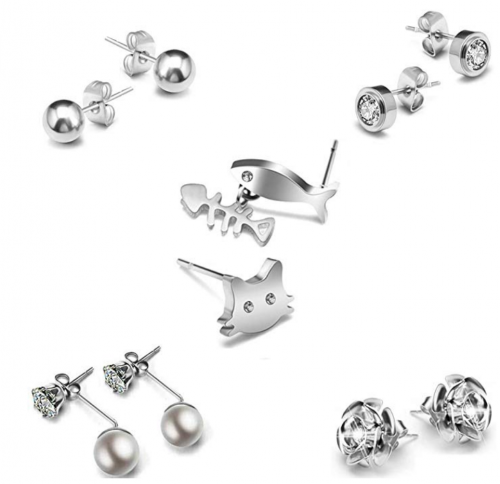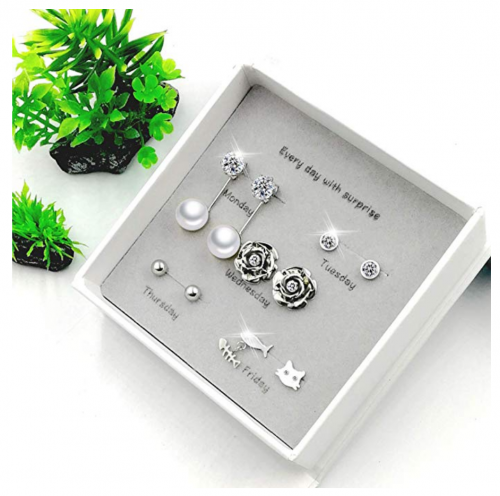 Surgical steel earrings ideal for sensitive ears
Hand-polished
Come packaged in a high-grade gift box
Your week just got sorted out with these 5 sets of titanium stud earrings. With this set, you will always have a lovely surprise for your ears every day!
Read more
And they are all absolutely stunning! Even the box tells you which earrings go best depending on the day, Monday to Friday. Quite thoughtful, right?
The cute stud earrings are charming and sparkling. They feature decorations, which include AAA+ cubic zirconia stones in a 6-prong setting and lovely pearls.
They come in different shapes and sizes, which include 6mm Diamond earrings, 5mm Ball rings, 13mm Rose earrings, 8mm Cat earrings, and 7mm pearl earrings.
The different pieces are not only gorgeous, but they also give you a bit of versatility. You can wear several from helix to lobe.
You can also let your imagination run wild and create your design. You can pair them with any outfit, from casual to formal. These are the ideal definition of everyday jewelry.
Most importantly, the earrings are designed for sensitive ears. They are made of highly polished hypoallergenic surgical steel, hence will never fade or tarnish.
They come with a rubber plug, and the seller includes two extra ones for back up!
The best thing about these little cuties is that they are ideal for both mom and daughters. We believe the set would make an excellent gift to your daughter, mom, girlfriend, or wife on special occasions.
We love how they come packaged in a delicate gift box with a beautiful bow. They are so reasonably priced.
You can even go ahead and pick two boxes, one for yourself and another one for someone special in your life.
3

. Black Bow Jewelry Co. Titanium Fleur De Lis Post Earrings
Light, durable and hypoallergenic
Made of polished titanium
Add a touch of royal glamour to your personality and elevate your style with these titanium fleur-de-lis earrings. These are an everyday accessory and may become your all-time go-to pair.
Read more
They are elegant and casual. If minimalism chic is your style, then this might just be your favorite pick.
The pair is made of polished titanium and features traditional friction back post design. They are convenient and easy to pop on and off.
These small-sized studs measure approximately 3/8 x 1/2 inches. They weigh 1.42 grams, which means they are lightweight; the more reason why they are ideal for everyday wear.
The beautiful floral symbol offers a variety of dressing and pairing options. You can match these small fleur de Lis earrings with a drop necklace and a bracelet. Also, they can easily transition from casual to formal outfit or evening wear.
This is a fantastic set, simple and elegant. It's an expensive pick as well!
4

. Raneecoco Gold Plated Love Knot Earrings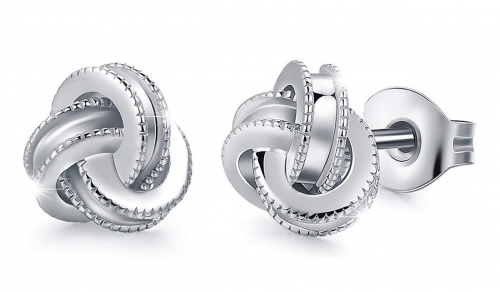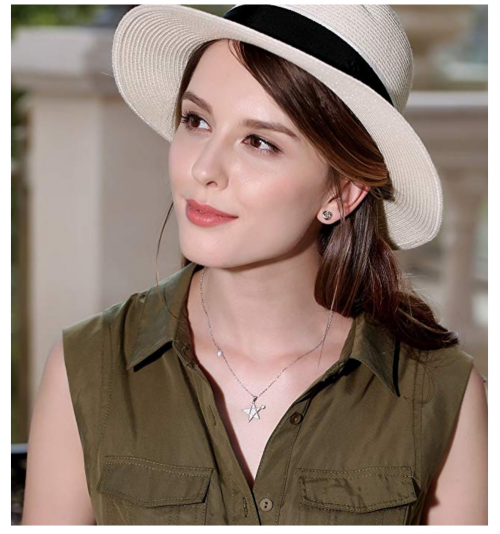 Made of gold-plated silver
Lovely design
30-day money guarantee
Show that special someone in your life that love is forever with this gold-plated, sterling silver love knot studs. The classic earrings ooze timeless elegance.
Read more
They are well crafted and neatly tied into a knot, a symbol of unending love and bonds of friendship. They are not only classy but also meaningful!
These love knot studs will dress the ears in a luxurious white gold texture. They are made with gold-plated silver and feature an intricate three-dimensional hollow design. Nickel-free and hypoallergenic, which means they are skin-friendly.
These are classic studs measuring 8mm in length. They might be a tiny accessory, but the knot earrings will make all the difference.
They are an excellent way to dress up any look and will nearly go with any outfit of your choice. The term versatility comes out clearly with this pair.
Whether you are wearing them with a pair of jeans, or your formal black dress or anything in between, they will effortlessly help you achieve the look you want.
The earrings come with a friendly and affordable price tag. We believe they a suitable gift for special occasions such as anniversaries, weddings, Valentine's Day, and Mother's day!
5

. Black Bow Jewelry & Co. Titanium CZ Earrings
Made of polished titanium
Cubic zirconia design in a channel setting
Designed for sensitive ears
Sparkle and dazzle all night wearing this lovely pair of titanium cubic zirconia earrings. These are classic hoop earrings and the perfect pair to match with all your favorite jewelry pieces.
Read more
The earrings are simple and elegant. The details are well emphasized by the channel setting around the cubic zirconia stones. The CZ is flawless and features a nice cut.
They are made of polished titanium, meaning the jewelry is hypoallergenic, lightweight, and durable.
The combination of these two materials gives this pair a luxurious and expensive look. You can easily mistake the earrings as being made with diamonds and platinum!
These are classic traditional round hoop earrings measuring approximately 1 3/8 and weigh about 7.04 grams.
The earrings come with a relatively high price tag, but they are so stylish they will always give you a special sense of beauty and elegance.
We also believe this lovely pair would be a worthy gift to celebrate someone special in your life.
6

. TGNEL Titanium Small Circle Huggie Hoop Earrings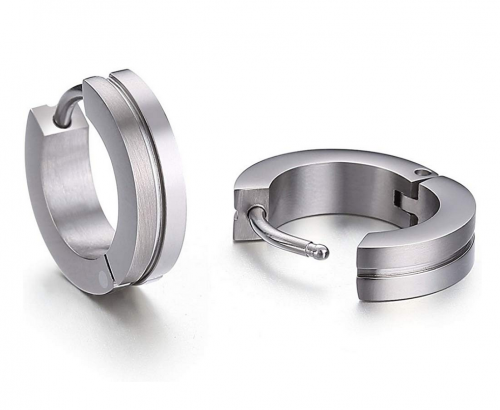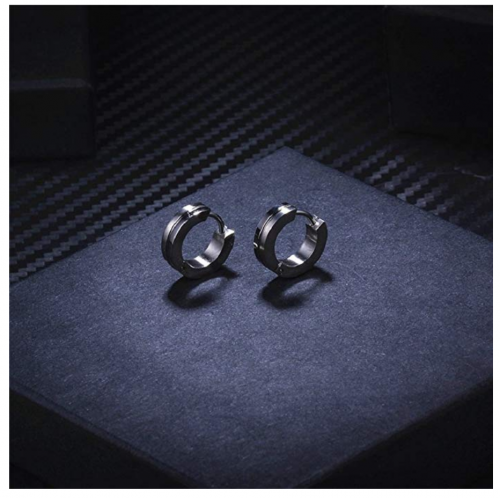 Made from 100% titanium material
High polish mirror finish
Cubic zirconia in a wrap setting
Our next pick is a classic pair of huggie hoop earrings that truly never go out style. If you have been looking for earrings that will go with everything you have in your closet, then this exquisite pair should be added to your cart immediately.
Read more
These will add a little extra charm to pretty much any outfit you choose to put together. They are made from 100% pure titanium. This goes to show that they are nickel free, hypoallergenic, and a safe pick for sensitive ears.
The titanium material is highly polished to achieve a luxurious matte mirror finish. The extra detail is noticeable from the 5A-rated cubic zirconia in a wrap setting. This certainly complements the pair and adds extra sparkle.
These are super unique and stylish and will compliment any outfit, no matter how minimalist. Moreover, these are suitable earrings for both men and women.
Even though they are extremely thick, these earrings are incredibly light. You can practically wear them all day long, and it will not weigh down your earlobes.
This is one of our most affordable picks. We believe the price tag is a steal for the outstanding quality and design.
7

. Black Bow Jewelry & Co. Titanium & Cubic Zirconia Lever Back Earrings
Bold and stylish
Skin-friendly polished titanium material
Bezel-set cubic zirconia stones
This stunning pair of titanium and cubic zirconia earrings have to be our favorite pick. They are simple and minimalistic when it comes to design, yet breathtakingly bold in style.
Read more
This is another classic pair that never goes out of style. The traditional circle lever back earrings have somehow managed to keep their place in the jewelry universe for ages. This means the gorgeous pair will always be a staple in every jewelry box.
Above all, you will be able to rock and dazzle your outfit in comfort without any worry of allergic reactions.
These earrings are made from polished titanium. They are hypoallergenic, making them a perfect choice for those with sensitive skin.
The pretty earrings have been designed with cubic zirconia stones in a bezel setting. The stones have a brilliant-cut and lay delicately snug in each earring; you might mistake them for their more expensive counterparts, diamonds!
We love that they are dainty and boldly classy at the same time. They might not be overly out there, but these earrings will make a statement and create a focal point when it comes to your jewelry accessorizing.
The cubic zirconia stone gives off a stunning sparkle and you can be sure the pair won't go unnoticed!
These are effortlessly modern, and we love the geometric simplicity that defines them. They come with a medium-high price tag.
8

. TGNEL Titanium Small Heart Earrings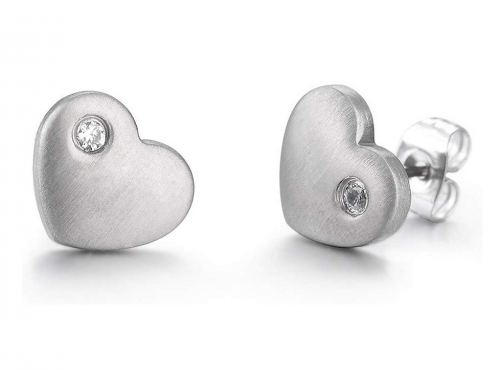 Made of 100% titanium material
Brilliantly cut cubic zirconia stones
30-day product warranty guarantee
How cute are these heart-shaped titanium stud earrings? Wouldn't they make an excellent Valentine's gift? A great way to show love and affection even in the smallest of ways? We believe these small studs are sweet, and they do speak the language of love.
Read more
They feature an elegant design making them pretty easy to match with other complementing accessories. Moreover, they can easily style up any outfit, whether it's a casual or formal one.
Featuring a square round design, these earrings are made from 100 % titanium. They are the perfect studs for anybody and especially those with sensitive skin; nickel-free, hypoallergenic, and a perfect choice for ear piecing.
What makes these earrings achieve a stunning simplicity is the brilliantly cut cubic zirconia stones in a channel setting. Set right at the edge, the CZ looks incredibly gorgeous and gives off a fabulous sparkle.
The design speaks for itself. They are subtle, classy, and elegant!
The best thing about these earrings is that you will be paying just a fraction of the price for outstanding quality.
9

. Bedrock Jewelry Opal Studs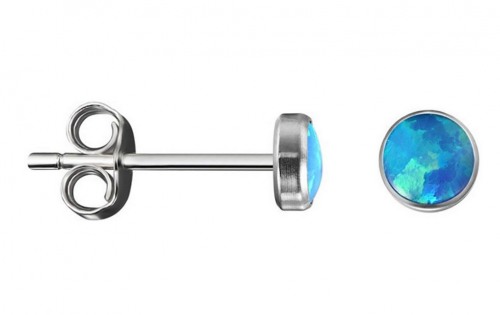 Made of safe medical-grade titanium
5mm opal size gemstone
Free antiseptic prep pad
These titanium-bezel set opal stud earrings emanate timeless elegance. This is a must-have in every jewelry collection because surely you do not want to miss such a versatile classic piece.
Read more
These opal studs feature gorgeous opal stones measuring 5 mm in a bezel setting. They ooze natural elegance, making them a suitable accessory to wear with anything.
They are subtle yet bold enough to make a statement with their shimmering sparkle shine.
These are made of medical-grade titanium. They are not only elegant but safe on the skin and a perfect choice for anyone susceptible to allergy reactions from metal.
Minimal but stylish, the earrings come to you at a fraction of price. What more could you ask for?!
10

. Body Candy Swirl Titanium with Swarovski Crystals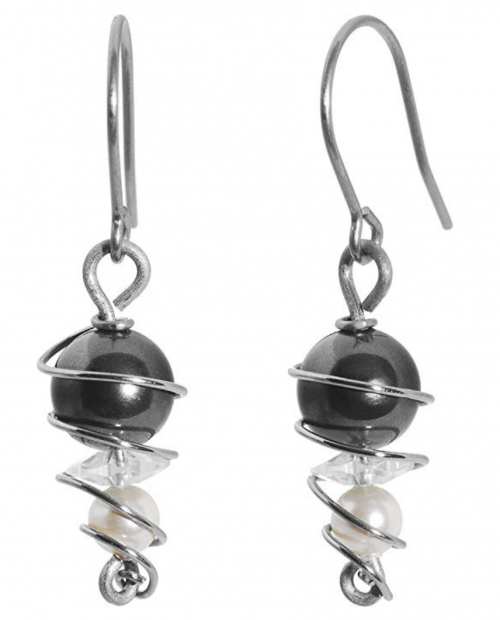 Made of solid titanium
Created with Swarovski crystals
Hand ensemble in the US
Knowingly or unknowingly, we seem to have saved the best for last. Our last pick speaks for itself. If you have been struggling to find a pair of earrings that are simple yet elegant enough to bring your outfit together, this pair of swirl titanium earrings with Swarovski crystals is beyond stunning.
Read more
The gorgeous earrings are enriched with genuine Swarovski crystals. Only good things can come out from a combination of titanium and Swarovski crystals, and this pair is all the proof you need!
Crafted in a flawless swirl design on a solid titanium mount, these earrings will surely have you shining and dazzling all day long. They twinkle and sparkle with timeless elegance.
They are perfectly sized, measuring 1.25 inches. As expected, they are lightweight and absolutely safe for the skin.
Dress up your evening wear with these timeless pieces, and they will surely transform your entire outfit, from plain ol' jane to someone who knows their jewelry.
The Swarovski crystals make this pair truly pop. They are sparkly enough to dazzle up any drab outfit.
To say that this pair is a steal would be an understatement. It's one of the most affordable picks we have listed!
Criteria Used for Evaluation
Jewelry Metal & Gemstone Quality
The greatest advantage of titanium earrings is that titanium can co-exist peacefully with our bodies and cause no havoc to the skin. Let's just say it offers peace of mind to anybody with sensitive skin.
All of our top 10 picks are made of titanium, which is an inert metal with hypoallergenic properties.
It does not react with the skin and the human body. Also, titanium is incredibly light. It will not weigh down earlobes or cause any strain.
Durability
The designs we featured stand out with clean-cut lines and geometric-inspired shapes. All of them are timeless pieces that will last years to come.
We understand that hypoallergenic and nickel free jewelry is difficult to find and comes attached to an incredibly high price tag.
Our picks are made of titanium, which is an incredibly durable material. They are chic and guaranteed to be comfortable and safe and great value for your money.
Style
Most of the pieces we featured are not only hypoallergenic and safe for the skin, but they are also stylish.
The titanium earrings are timeless and, most importantly, minimal but beautiful. They are fashionable and can be worn every day with nearly any outfit.
They will give you a catchy and attractive look that every woman is always looking for.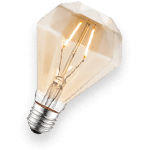 Our team's style tips
Yes, your titanium earrings can be gorgeous and pretty. Our top 10 picks are all the proof you need that you can find titanium jewelry that is in style and look as high end as their expensive counterparts.
And just so you know, titanium jewelry is trending and has increasingly become popular over the past decade!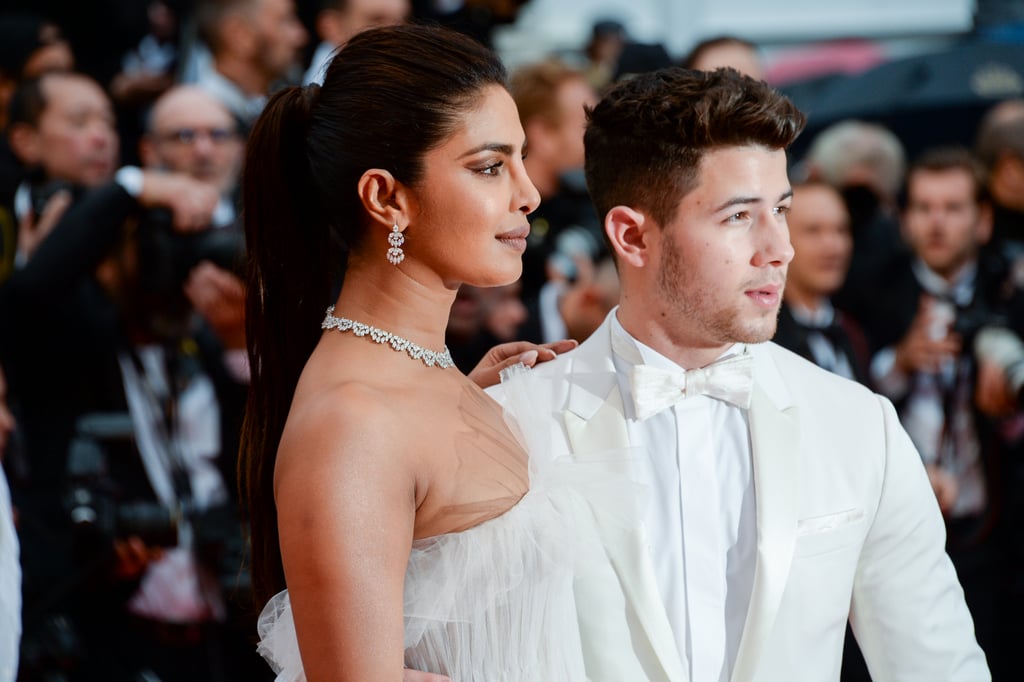 For example, this year, during Cannes Film Festivals, a few celebrities dazzled the red carpet wearing titanium earrings. Indian actress, Priyanka Chopra Jonas stood out with a diamond pair (47.42ct).
American Actress Bryce Dallas dazzled in hoop earrings in 18ct white gold and titanium.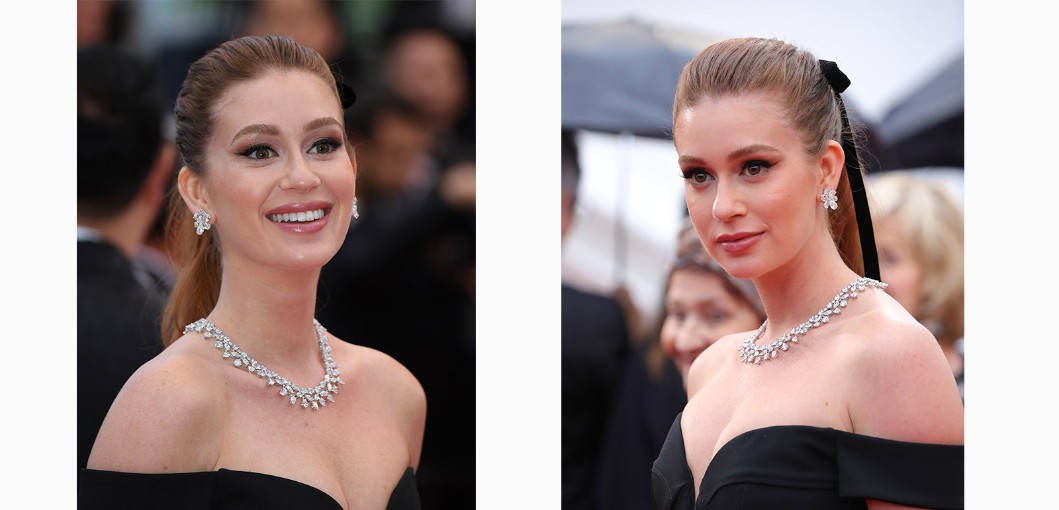 Not only is titanium jewelry super skin-friendly, but also, when polished, titanium jewelry looks stylish and similar to other expensive metal options such as gold, diamond, and platinum.
This metal is incredibly durable and strong. It is lighter than stainless steel. Even if you wear a wide pair of earrings made of titanium, they will not put extra strain on your ears.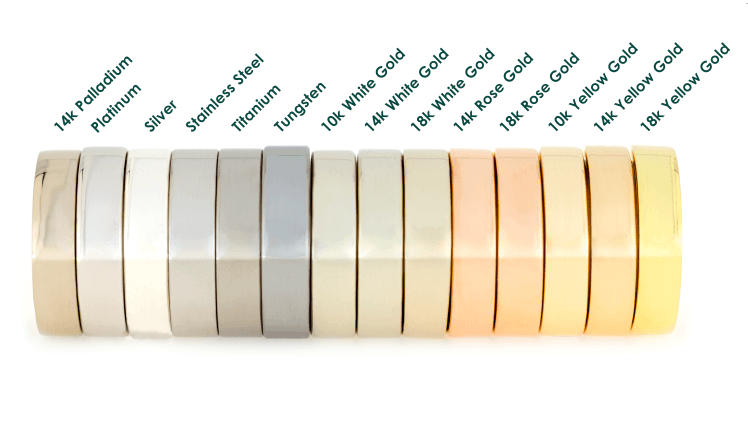 Polished titanium is timeless, modest, and minimal. Our picks are all fashionable without being overly trendy. They are everyday essentials that go with every outfit of choice.
Our team's style tips
This type of jewelry is versatile, so whether its a pair of jeans and top, a formal dress or anything in between, our picks will compliment anything you wear.
You can't go wrong pairing these titanium earrings with accessories such as gold, platinum and silver necklaces, bracelets, and even rings.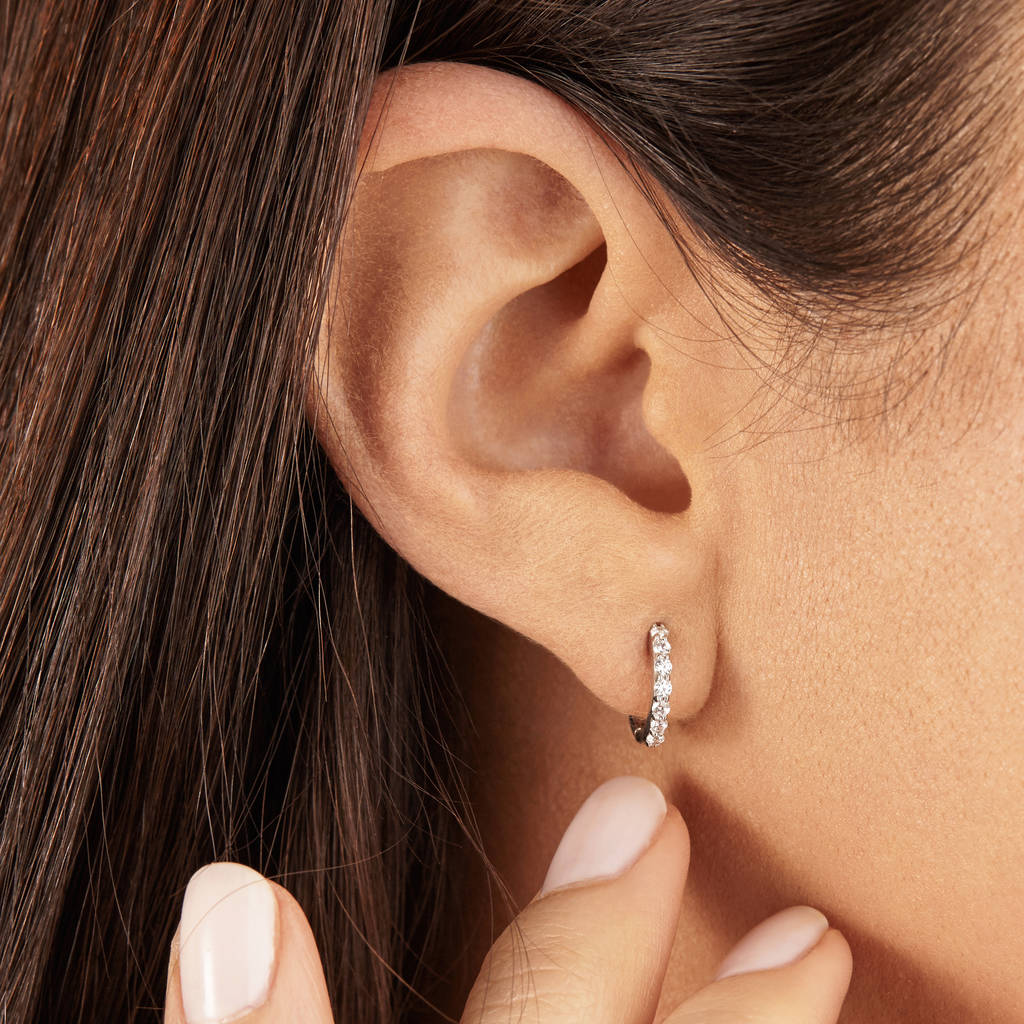 If you pair them well, you get a dressier and a classier look. In fact, the stud-type picks will highlight all the other accessories!
Most of the options have a sparkling element going on that makes them pop. This will draw attention to your face, neck, and hair.
No rule dictates what you can or can't match your titanium earrings. Choose your pair, your outfit, and add your confidence!
FAQs
q:

What is titanium?

a:

Titanium (Ti) is a chemical element like silver, platinum, and gold. It is a lightweight, silver-gray, non-ferrous, low corrosion metal known to have a higher strength to weight ratio than any other known element. One remarkable characteristic of titanium is its inert nature.

This means that it is completely corrosion-resistant; therefore, it does not react to sunlight, saltwater, and other external elements.
q:

How strong is titanium jewelry?

a:

Titanium metal is exceptionally strong than most other conventional metal materials. Jewelry pieces made of titanium, such as rings and earrings, will maintain their shape forever without showing any signs of deformity.

They might scratch slightly with time, but not as easily as gold, silver, or platinum.
q:

Are these types of earrings as durable as platinum and gold?

a:

The most striking characteristic of titanium is its durability. Your earrings will outlive other similar earrings made of other elements such as gold, or platinum.

Among all other known elements, titanium is the only one with the highest strength to weight ratio.
q:

Will the color fade or wear off on my titanium jewelry?

a:

Titanium doesn't change its platinum gray color, and neither does it tarnish. However, the colored area is likely to fade off as it is not scratch resistant.
q:

Will my titanium earrings scratch?

a:

As mentioned above, your earrings are likely to scratch. However, these scratches will only be superficial. They can easily be re-polished.
q:

Can I swim while wearing my titanium earrings?

a:

Yes, you can. Titanium is inert. Therefore, it will not change color or react with the swimming pool water.
Finally..
While gold and silver still dominate the jewelry market, titanium has slowly paved its way into the diverse world of jewelry.
This is thanks to a few world-class designers who have discovered its featherweight qualities and limitless possibilities.
When it comes to getting wedding bands and earrings studs, most people will opt to go for titanium, mainly because of their style.
There is nothing not to like when it comes to titanium jewelry. This unique metal is smooth; it has an amazing silver-white color, not to mention its impeccable durability.
But, what you may not know is that titanium jewelry goes beyond its looks and has more to offer. You would be surprised to learn that wearing titanium jewelry is beneficial to your health.
It has ionizing effects which help in maintaining the electric balance in the body. We bet you have never guessed that a small piece of jewelry can be enormously beneficial to your wellbeing!
Also, it's hypoallergenic, which means it will not irritate your skin or cause any irritations.
Other than being skin-friendly, titanium earrings are versatile, timeless, and classic. Moreover, titanium is the most economical option compared to gold and platinum.
We truly hope that you will find the perfect earrings to add to your collection. All our picks are fun to wear and, most of all, affordable!