Mix / Rings / Women
Want a Uniquely Colored Ring? Check Our Selection of Peridot Rings
Marianne 06 Apr 2021
4339
Peridot, topazios, chrysolite – what's in a name? Peridot has been known by many different names throughout history. First discovered in Egypt's Foul Bay around 1500 BCE, this magical olivine gemstone was mined on Zabargad Island. It was referenced in the Christian bible as Pidah, the Hebrew name for peridot. Even the modern Arabic name of peridot references the historic Zabargad Island – zabarjad! Peridot was archaically known as chrysolite, which included several gemstones such as topaz, tourmaline, and zircon until modern gem testing was able to distinguish it from the others. The ancient Ptolemaic Egyptians were the first to collect this beautiful gemstone, naming it the gem of the sun. And the modern name of peridot comes from the Arabic word for gem, faridat. It's amazing how one stone can be known by so many names throughout history! This stone is perfect for peridot rings.
One of the most surprising facts about peridot history was Cleopatra's gem collection. Cleopatra herself held the claim of the oldest peridot mine in the world – the mine in Zabargad. For centuries, it was believed to be comprised mostly of emeralds, but upon further inspection, many were discovered to be peridot of extremely high grade and clarity, enough to where they looked just like emeralds. The same was found of the Shrine of the Three Magi located in Cologne Cathedral in Cologne, Germany. This amazing gilded reliquary was long believed to be inlaid a massive emerald but was discovered that it was in fact peridot. These peridots are extremely rare outside of Egypt, as the stones tend to be under ten carats and do not possess that rich, green hue found in emeralds outside of the region. Because of this, peridot has long been mistaken for emeralds by those in Europe, as the gem was relatively rare outside of Egypt.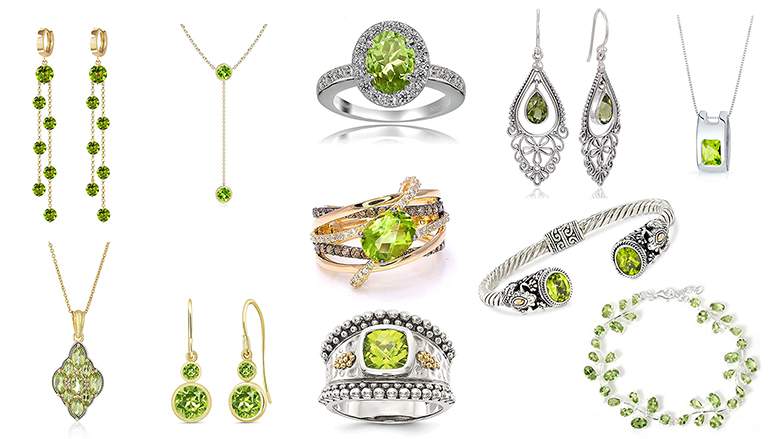 There are many stunning examples of peridot found in museums today aside from Cleopatra's gem collection. If you ever have a chance to visit the Smithsonian, check out the National Gem Collection there. They have a peridot which comes in at 311.8 carats from Zabargad Island, which is possibly the largest peridot known to man.
There are several other peridots which are over 100 carats – it's an incredible sight to see such large gems. Peridots have also been used in royal jewelry, with the Habsburg Peridot parure to be one of the most decadent and beautiful. It was created for the Austrian Archduchess Henriette initially in the 1820s and passed down ultimately to Isabella, wife of Archduke Friedrich, who was the Duke of Teschen. Upon her death, it was discovered in a bank vault, simply wrapped in cloth. Since this piece was so incredibly stunning, it deserved much more than to be hidden from the world. It was sold in an estate sale to Count Johannes Coudenhove-Kalergi, who gave it to his daughter Marina, who were members of the present-day Czech nobility.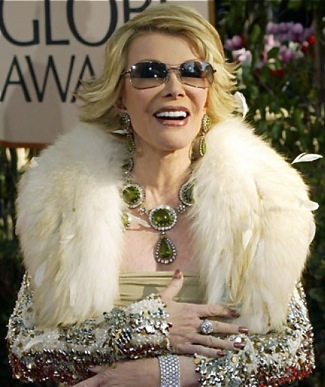 The set was purchased by Fred Leighton Jewelry in 2001 after being held for those two generations and was loaned out to celebrities for public appearances. In 2004, you can see the set in action at the Golden Globes, worn by Joan Rivers. It really is a spectacular piece! Lily Safra, known philanthropist, acquired the set in 2012, and sold the brooch and earrings to Christie's Jewelry in 2012, where it was part of the "Jewels for Hope: The Collection of Mrs. Lily Safra," a charitable donation event with jewelry totaling $37.9 million! It's incredible how many hands this set exchanged – from royalty to celebrity to philanthropist!
How to Spot the Original
Peridot is unique geologically as it's one of a few types of stones that occur in a single color. Any non-green shade of peridot you see is either not peridot, or chemically altered to create a different shade. Keep that in mind when looking at peridot jewelry – if it's listed as purple peridot or any other color that isn't a variation of a yellow-green, chances are it is topaz or another type of stone. Peridot is a 7.0 on the Mohs' scale, which is comparable to quartz in strength. Since it is slightly softer than amethyst and emerald, you do need to be careful to not damage it, as it is possible to chip if you hit it hard enough. It's also quite sensitive to chemicals and can lose luster if exposed to common household cleaners, so as you should with any piece of jewelry, remember to take off your ring any time you do cleaning! Remember, if you take care of your stone, and it will give you many years of happiness – just look at how long the Habsburg Peridot parure lasted!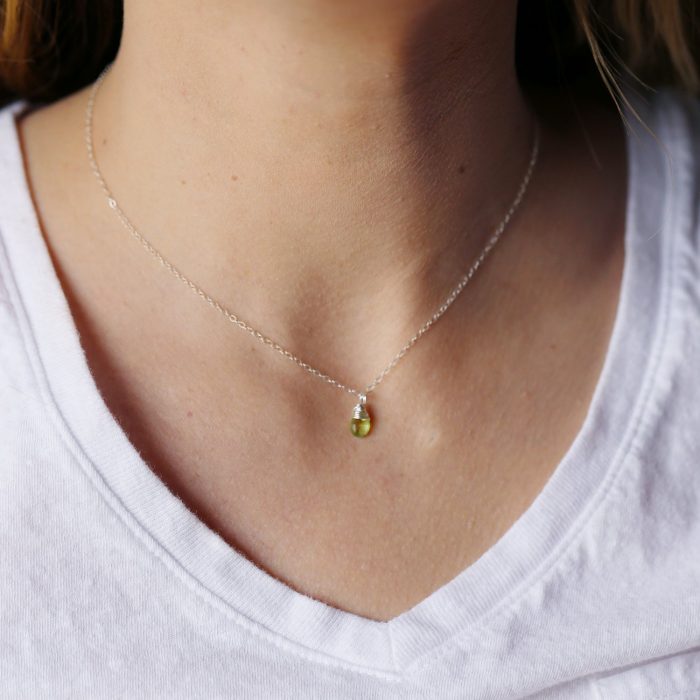 The birthstone of August, peridot represents strength and light, and has been a gemstone people have worn for ages to aid in strengthening their own resolve and spirit. Pliny the Elder, a Roman philosopher from the first century CE, stated that peridot should be worn on the right arm for its metaphysical properties to aid the wearer the best. When peridot was set in gold, either as jewelry or a talisman, it was thought to protect people from nightmares and evil spirits. Peridot was also used in ancient Roman society is the form of drinkware, as peridot was thought to infuse whatever liquid medicine was being administered with peridot's magical properties.
Today, peridot is still thought to hold those magical powers and is thought to bring confidence and strength. If you're looking for love, peridot can help with that too by helping increase your self-esteem. It's also thought to help guide those suffering from depression, as the "light" aspect of the stone is believed to counter negative thoughts and emotions.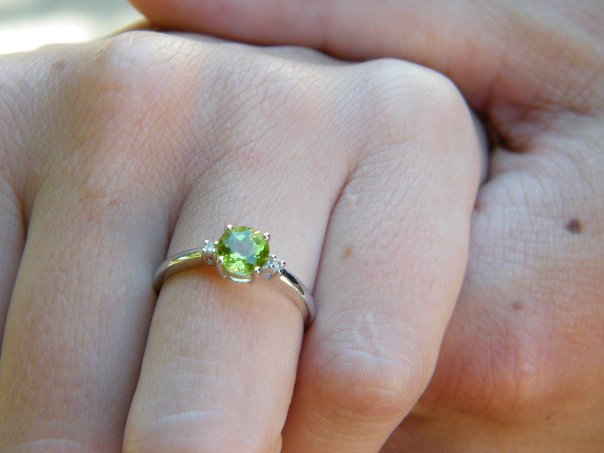 This belief dates all the way back to the ancient Roman era, as they also wore rings made of peridot to alleviate depression symptoms. Peridot can also help with anger, frustration, and other tensions as the stones are believed to bring balance to the wearer. Some spiritual healers believe that peridot, due to its yellow-green color, has properties which heal specific parts of the body, namely the endocrine, digestive, and respiratory systems. But no matter what you believe about peridot, there's no denying it's an exceptionally beautiful stone that's worth having in your collection.
How to Wear Peridot
While peridot is August's birthstone, you don't have to be born in August to wear it! Playing off peridot's lush green color, wear this stone with earthy styles. Think earth tones and anything that channels a nature vibe. But as the Habsburg peridots show, it's not just reserved for every day looks. Class up your peridot by surrounding it in luscious gold and diamonds, and wear at a gala or other special event. The possibilities really are endless with peridot, as it's both a casual, but elegant, stone. If you're a fan of wearing multiple colors at once, peridot lends itself well to the multicolor trend. Feel free to stack peridot rings with other gems such as amethyst or sapphire. If you have green in your eyes, this is a perfect stone to compliment them with too!
Peridot, long associated with love, is also the 16th wedding anniversary gift, so if you or your loved one are approaching that magnificent milestone, be sure to give any of these rings a consideration. Or, if you're not married yet, don't shy away from peridot as an engagement ring! We've included a few labeled as that in the list of rings we found, and it's gaining popularity as a stone to say "YES!" to. It's a beautiful and unique way to celebrate the love you share together. Just remember that since peridot is such a unique color, it may be difficult to pair outfits with, so that should be something to consider if you're going to wear a peridot engagement ring every day.
Peridot tends to look best in yellow or rose gold, as the warmer hues in the metal bring out the beautiful, deep greens in the stone. But if you prefer a cooler toned metal such as white gold or silver, don't worry! Peridot looks quite stunning in those metals as well. With the cooler tones, you'll see more of the yellow in the stone, and the greens will appear darker.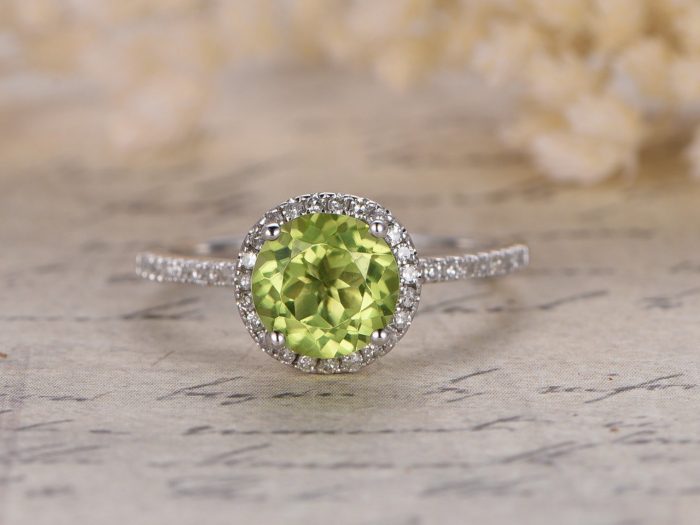 It's up to you how you want to wear your peridot, and what features of the gemstone you want to show off. Rose and yellow gold are certainly preferred for this stone in more classic styles, but if you're a fan of the modern and chic style, go with a silver-tone.
In need of a ring with a color-changing character? We've got just the thing! Take a look at our mood ring list, curated by our editor in chief.
No matter if you prefer silver, yellow, or rose gold, we've got a ring that will fit your style and personality. We've curated ten unique peridot rings below that we're sure you'll absolutely love!
Bright and Beautiful Silver Peridot Rings
1.Vintage Style Emerald-Cut Genuine Peridot Ring (1.7 CT.T.W)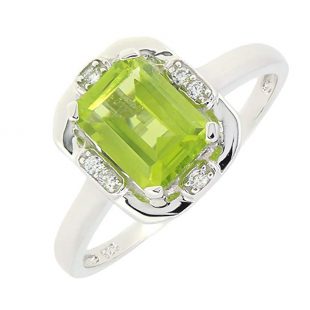 If you're a fan of vintage jewelry, you're going to want to check out this ring by BL Jewelry! One of the best cuts to show off a beautifully clear peridot stone is this rectangular cut known as an emerald cut.  This ring features a huge 8x6mm, 1.7-carat peridot stone in the center, mounted on sterling silver. Surrounding the beautiful gem are six beautiful cubic zirconia, which only adds to the magnificent peridot in the center. The best part is that this peridot is natural and has a beautiful olivine color to it.
The ring itself is made of sterling silver and plated with rhodium to give it a strong, lasting shine. The peridot is set in a geometric halo and is an excellent addition to any Avant Garde style. This gorgeous piece is an excellent, affordable option if you're just getting into peridot jewelry.
2. Sterling Silver Round Green VS Peridot 3-Stone 2.35 Carat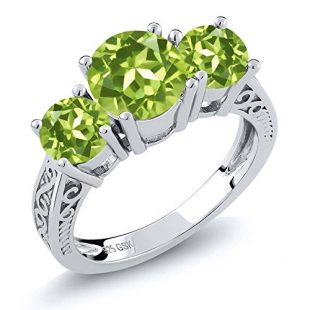 If you want a more intricate peridot piece, look at this one from Gem Stone King. This three stone 2.35-carat peridot ring is set in a beautiful sterling silver filigree band. The center stone is 1.35 carats and 7mm in diameter, and the smaller two are 0.5 carats and 5mm in diameter. These are impressively sized peridots, naturally mined and untreated. These stones glimmer beautifully, and the green is an impressive olivine shade. This is one of our favorite sterling silver rings on this list!
Vintage styled, this ring is perfect for both casual and elegant encounters, and the three stone design is captivating and timeless. The apple green peridots will bring a splash of color with no matter what outfit you wear. They practically glow with how large the peridots are! At this affordable price, it's an incredible value that we're sure you'll be absolutely pleased with. This would make an excellent engagement piece, as three stone engagement rings have been trending for quite some time now. It's also an amazing statement piece, and with a ring this rich looking, you're sure to get tons of attention with it on your finger.
3. RB Gems Marquise Shape 0.70 Carat with Rhodium-Plated Finish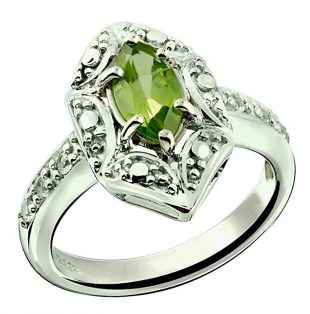 Check out this fun and funky vintage-styled peridot piece! It has a 0.7 carat natural and untreated marquis-cut peridot. This style is excellent at producing sparkle while keeping the clarity of the peridot apparent. Made in the Victorian style, the beautiful floral motif and beadwork accentuate the stone in the center, creating a glamorous, and timeless look. The setting surrounds the peridot nicely, helping to make this ring look more delicate. Held in genuine sterling silver, this ring is finished with rhodium, creating that bright, mirror-like shine. It looks much more expensive than it costs – bring on the compliments!
The ring is low profile, elegant, and incredibly bright. You won't be able to stop staring at your ring! If you loved the peridot, be sure to check out the other three gems this ring comes in: garnet, citrine, and London blue topaz. No matter which color you prefer, you'll be happy with this gorgeous piece.
4. Sterling Silver and 14k Yellow Gold Oval Peridot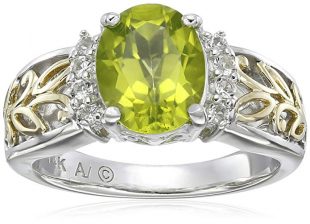 If you can't choose between silver or gold, we've got a solution: two-tone! This beautiful ring from the Amazon Curated Collection shows off an incredible 2.06-carat natural, untreated peridot surrounded by eight glistening white topaz stones. A 14k gold leaf motif is inlaid into nearly half of this genuine sterling silver ring, accenting the peridot's rich color with the sharp, contrasting silver metal. The warm glow of the peridot shines amazingly due to the gold, and the topaz stones framing the peridot make the transition seamless between the gold and silver. This ring has remarkable craftsmanship and is a prime piece of sterling silver peridot jewelry.
The balance of the stone and metal detail is incredibly well done, and the stone accents the band perfectly. While this is a larger sized peridot, the clarity of the stone is wonderful: clear, and rich coloration makes this ring absolutely sparkle. Since the peridot on this stone is large, but not gaudy, and makes a beautiful statement piece. We would recommend wearing it as the only ring on a hand due to its size but make no mistake – it's one you want to wear!
Classically Beautiful Yellow Gold Peridot Rings
5. 14K Yellow Gold Green Peridot
Moving into yellow gold, you can really see how the warm tones of that metal make peridots POP! This sophisticated peridot piece boats a massive 3.0 carat stone in the center, accented with two 0.04 peridots on the sides. The 14k yellow gold band houses these side stones in a cute flower design, while a prong style holds the gorgeous center stone in place. The design of the ring is minimal, meant to accentuate your hands delicately.  It's difficult to find quality peridots in this size, but Gem Stone King has managed to find incredibly beautiful, natural – but most of all, affordable – peridots.
Modern, yet elegant, this peridot piece is perfect for both work and play. The unique band design features a partially twisted, open shank, coming together and then flaring out to hold the peridot. It's whimsical, feminine, and ultimately a beautiful presentation. The peridot sparkles beautifully in any light, and with a stone that big it's guaranteed to draw the eyes of admirers. The stone is a bit different than a lot of peridots you find on the market, as the color is more of an apple green versus the yellowish-green you see in a lot of rings. Remember – deep green peridot is a market of higher quality and thus higher value. If you're into elegant and delicate styles and are willing to spend just a little more, this is a ring that is worth considering!
6. Ancient Roman Art Peridot Stack Ring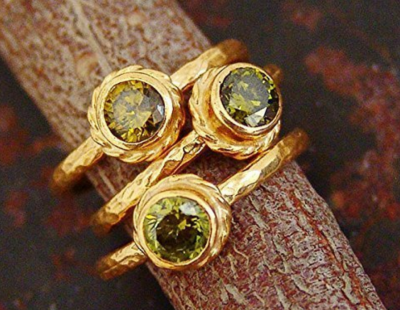 If you're interested in handmade pieces, look no further than this ancient Roman-inspired peridot ring from Atlantis Fine Jewels! This gorgeous ring is made of genuine sterling silver and plated with 24-carat gold – that's an incredible level of gold purity for jewelry! Historically inspired by ancient Roman and Anatolian jewelry, this company specializes in making only handmade pieces that are made to order. They do not make these rings from molds or casts and use unique stones for their jewelry. While the design will be the same as the listing, each piece is unique in construction. Their goal is to avoid mechanized jewelry production and keep the traditions passed down through the centuries.
Designed as a stack ring, this would be perfect for utilizing the multicolor trend of having multiple colored pieces on your finger. It's a cute cupcake style, with a large gold bezel surrounding that luscious peridot. The band looks almost braided, and the artisan craftsmanship is incredible. How cool would it be to have a piece of jewelry made just for you in the ancient tradition? It's such a beautiful peridot piece and one that should have a place in your collection!
7. 10k Yellow Gold Oval Peridot And Diamond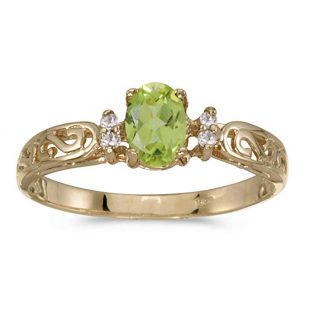 This is a beautiful and sturdy 10k yellow gold peridot ring by Direct Jewelry. With a 0.4 carat natural peridot, it's cut as an oval measuring 4x6mm, this dainty ring is perfect for someone who prefers a delicate style of jewelry over something bolder. With a beautiful scroll pattern adorning the band, this feminine piece is sure to become one of your favorites. The center peridot is coupled with two diamonds on each side, giving this beautiful ring even more shimmer. It's incredibly reminiscent of Edwardian rings, so if that's your style, this is one you want to check out.
The piece is perfect for smaller sized hands and comes in sized as small as 4.5 to as large as 10. The 10k gold makes this ring much more durable to everyday use, and with a stone like peridot, is a helpful addition. Since 10k gold is sturdier than 14k, it's less likely to scratch, allowing you to have a more durable metal for daily wear. The gold color of the metal is also subtle, so none of the harsh yellow overtones that you find in a lot of mid-level gold jewelry. It has a cooler tone and brings out the yellow of the peridot very nicely.
Rich and Warm Rose Gold Peridot Rings
8. 10K Rose Gold 0.54 Ct Green Peridot and Diamond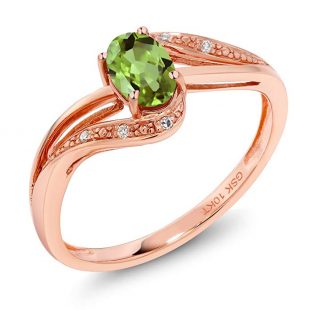 Not a fan of silver or yellow gold? Don't worry, we've picked out some rose gold rings for you to check out as well! Another beautiful ring by Gem Stone King, this gorgeous 10k rose gold peridot and diamond piece will leave you breathless! This marvelous bypass ring has a 0.5 carat natural, untreated peridot in the center, with five round cut diamonds inlaid into the bypass.
This delicately featured piece is a perfect compliment for someone who has a finer taste in their jewelry, preferring them to accent an outfit rather than be the statement of an outfit. It's a fine piece of jewelry, but don't let the engagement ring part of the title scare you away – it's affordable enough for you to purchase for yourself! Like the yellow gold ring above, the 10k rose gold metal is a plus for casual and everyday wear, as it's able to withstand more knocks and bangs. Another benefit of 10k rose gold is that the pink tone of the ring won't be as apparent due to the alloy composition, so if you're hesitant about that warm hue, but want to give it a try, 10k is a great way to test the waters of rose gold.
9. 10K Rose Gold Oval Ring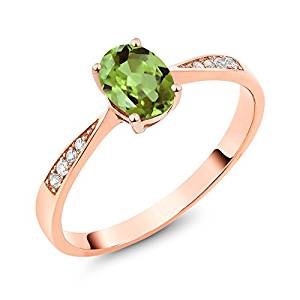 Gem Stone King brings us another wonderful peridot piece. with a gorgeous 5x7mm, 0.80-carat center stone, and 0.6 carats of diamonds inlaid into the delicate band. There is a total of eight diamonds on the band, with beautiful beadwork within the inlay as well. The tapered shank accentuates the oval-cut peridot stone as the centerpiece of the ring, and the rose gold really brings out the rich, warm tones within the peridot. In combination with the unique band shape, it's quite the beautiful piece of jewelry.
Since it has a thinner band, it's a great piece to wear when you're going for the elegant and understated look. The rose gold band is thin, yet sophisticated enough to bring an air of grace and elegance to your outfit. It's perfect for wining and dining and will compliment a little black dress amazingly! One of the benefits of this tapered shank is that, much like teardrop options, they help minimize the size of your finger. If that's a concern to you, be sure to consider this style. Even if it's not, this style is cute, feminine, and perfect for someone who's interested in a subtle flash of color.
10. 14kt Gold Oval Celtic Trinity Knot Ring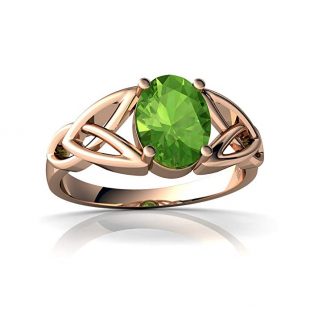 This is our favorite piece on the list! Able to choose between either 14k rose gold, yellow gold, or white gold, this adorable Celtic Trinity ring is set with an 8x6mm, 1.05-carat natural peridot. The oval-cut gem is the perfect size for this band and brings the intricate knotwork together into a beautiful, vibrant green peridot. Both the peridot and the gold have amazing color and shine, and it's certainly a piece that won't disappoint.
It runs true to size and is polished to perfection. While the band is still petite, the detailing is unique enough to have it stand out on your finger, but just enough – it's no statement ring, but more of a sentimental style. It'd go great for daily wear, as a subtle enhancer of your outfit. The knotwork styling has an almost magical feel to it – if you're into fantasy themes, this is a great ring to pick up to add some ethereal flair to your style.
Precious Peridots…Oh My!
Peridot is a beautiful stone that can be put in a variety of settings. Rings are certainly one of our favorite ways to wear it, especially in yellow or rose gold. No matter if you're looking to add a bit of color to an outfit, or bring in positive vibes from this magnificent gemstone, peridot is a great addition to any jewelry collection. It's relatively rare in terms of popular gemstones, which gives you ample opportunity to be a trendsetter in your area by having such a versatile and unique gemstone in your jewelry collection.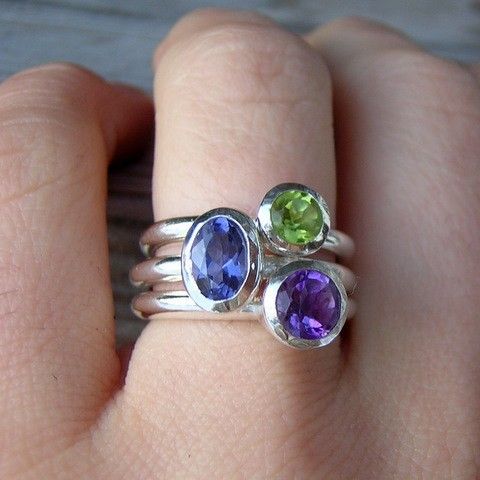 It pairs beautifully with a variety of other colored gemstones, most strikingly with amethyst, sapphire, ruby, or garnet. It also does well on its own as a solo piece of jewelry, and the distinctive green hue will be eye-catching, even with the daintier styles. Wear peridot any time you want a subtle bit of attention in your outfit – you'll be sure to be asked, "what's that beautiful stone?" whenever you wear it.
We hope you liked this list of unique peridot rings – let us know in the comments which one was your favorite!