Inspiration / Jewelry
What is Mother of Pearl?
If you are searching for some new and unique jewelry to add to your collection, you'll probably see mother of pearl mentioned frequently. The problem is, a lot of people don't actually know what mother of pearl is worth!
Are you in that boat as well? Trust us; you aren't alone. If you're like most people, you assume that it is the same thing as a pearl.
Maybe mother of pearl is just the full name for a pearl, and pearl is just a shortened nickname? That's a good guess, but you would be wrong.
While there are certainly similarities between the two, mother of pearl is something distinct and completely separate from pearls themselves.
If you are interested in learning more about what mother of pearl is, how it compares to actual pearls, and want to see how it looks in jewelry pieces, keep reading!
By the end of this article, you will be an absolute pro on all things mother of pearl. 
What is Mother of Pearl?

Let's start with a definition. Mother of pearl is not an actual stone, but rather, is a substance. This substance is formed on the inside of the shell of many mollusks and has an iridescent appearance to it.
This inner substance has nacre, which is a naturally forming material that gives mother of pearl its distinct iridescent appearance.
Typically, this nacre coating is found on the inside of three types of mollusks: pearl oysters, abalone, and freshwater mussels.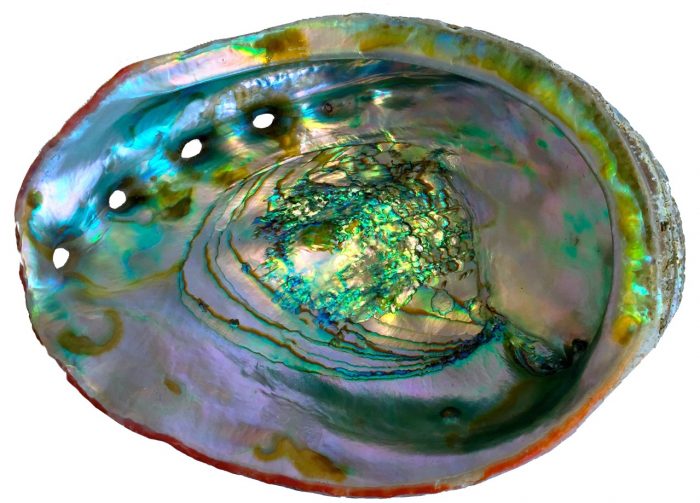 If there is no nacre present on the inside coating of a mollusk shell, the appearance will just look smooth and typically off-white.
However, with the presence of the nacre, the coating appears as it does given the way the light hits and reflects off of it, giving it that multi-colored effect.
Today, the inner substance from these specific types of mollusks is used in a lot of different items, including jewelry, tiles, instruments, and even eating utensils.    
Is Mother of Pearl and Pearl the Same?
We already let you know that mother of pearl and pearls are not the same thing, but if you still aren't sure of how they are different, we are here to explain!
Clearly, the two are similar, but it is important to understand the differences as well. If you are talking about mother of pearl, you are referring to the nacre shell lining of certain mollusks.
Pearls, on the other hand, are completely made of nacre. In both cases, the presence of the nacre actually occurs as a form of protection.
A mollusk naturally secretes nacre to protect itself from foreign objects. When the nacre coats the inner shell of the mollusk, you get mother of pearl.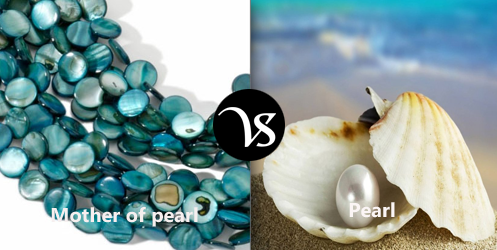 So, how do you get pearls? This actually happens when a foreign object actually finds its way inside of a mollusk and gets trapped inside. This can happen either naturally or via human intervention.
Once the object is inside, the mollusk again secrets the nacre and forms numerous layers to completely cover the object.
After numerous years (typically 3-4), you get a pearl. Even though it is also coated with nacre, it is distinct from the shell lining of the mollusk, or mother of pearl. 
Price and Availability  
Now that you understand the basic differences between mother of pearl and pearls, you might be wondering if those differences impact things like availability or price of these types of jewelry. And you would be right!
There are distinct differences that help to further differentiate mother of pearl from regular pearls.
First off, mother of pearl is way more widely available than pearls. Far more mollusks produce mother of pearl than actual pearls. This is for several reasons.
Most importantly, more types of mollusks can produce mother of pearl than the ones that can produce pearls. For that reason alone, there will clearly be more mother of pearl available compared to actual pearl stones.
It is also never guaranteed that a mollusk that is capable of producing a pearl will actually do so, even in near perfect conditions for that to happen.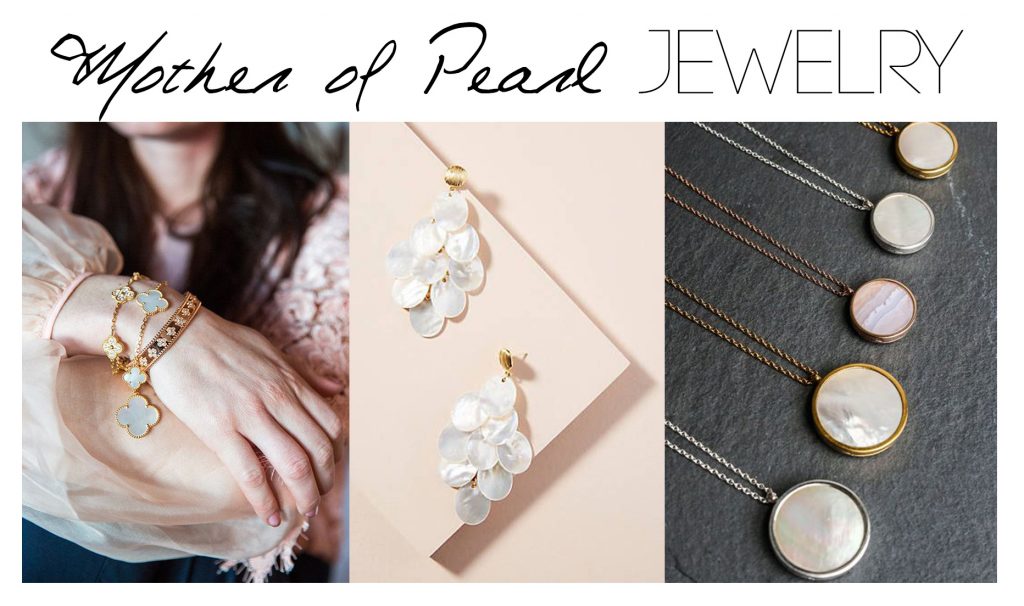 As you can imagine, given the big difference in availability, there will also be a big difference in price. Mother of pear is far more affordable than actual pearl gemstones.
While there is no denying the beauty of mother of pearl, simply given the fact that it is more readily available makes it less valuable than actual pearls.
For this reason, it makes it a great way to enjoy the pearl trend without having to invest in actual pearls.
If you do not have the budget, or if you simply want something different than a typical pearl strand or pearl studs, consider going with mother of pearl! 
Shop Mother of Pearl
Now that you know all about it, are you interested in adding some mother of pearl pieces to your jewelry collection? We're not surprised.
Check out some of our favorite jewelry pieces below, including necklaces, rings, earrings, watches, and more. Happy shopping! 
Necklaces
1. Ross-Simons Mother-Of-Pearl Necklace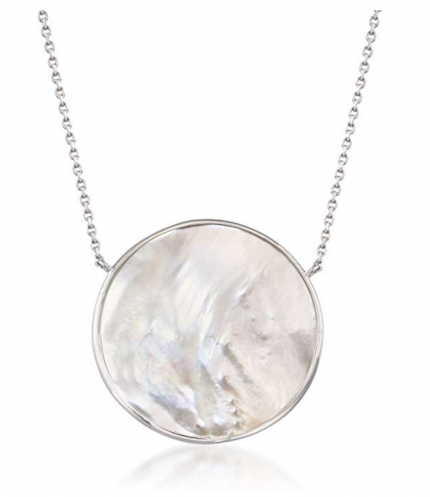 If you are looking for a piece of jewelry that really highlights the beauty of mother of pearl, this pendant necklace is perfect.
The gorgeous white mother of pearl is set with sterling silver, which we really like so that the focus is completely on the pearl (instead of having more contrast if the chain was yellow gold for example).
This is a great necklace that you could easily dress up or down. Wear with a lower cut top or dress, or with a plain high-necked outfit.
The chain is so thin that it almost disappears, giving the illusion of the pendant floating delicately on your chest.
2. COZLANE Natural Shell Crescent Moon Bar Necklace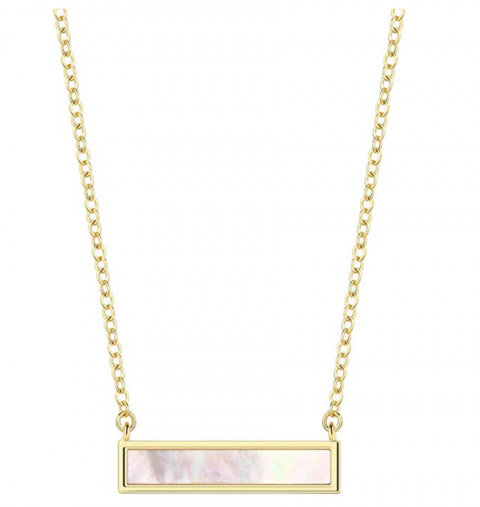 Bar necklaces have been trending for a while now, and if you haven't gotten on board with the trend yet, why not start now?
Instead of a plain gold bar as the focal point for this necklace, the bar is inlaid with mother of pearl.
This is a great modern crescent moon necklace choice that we really love right now. Best of all, the mother of pearl used is completely cruelty-free. 
3. MEGACHIC Women Tree of Life Pendant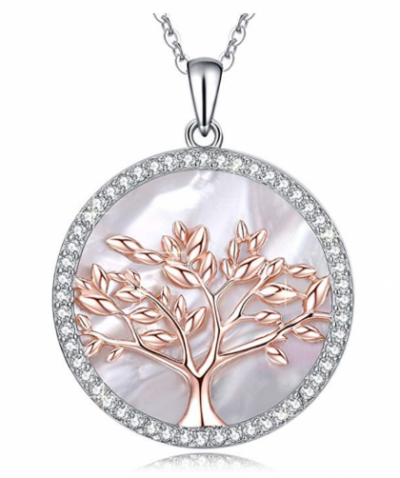 We have always loved tree of life pendant necklaces, and this one is no exception.
Instead of the typical tree of life symbol being on its own, with this necklace, it has a mother of pearl background behind the tree, and the pendant is encircled in Swarovski crystals.
This is definitely a 'fancier' version of more simple tree of life pendants, perfect if you want something more dressy to wear for formal occasions.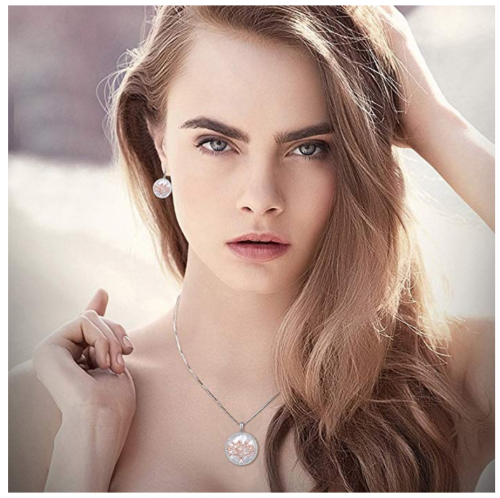 The tree of life itself is in rose gold, and we must say, the rose gold paired with the mother of pearl gives such a beautiful, feminine, dusty pink appearance that is both trendy and elegant. 
Rings
1. JanKuo Ring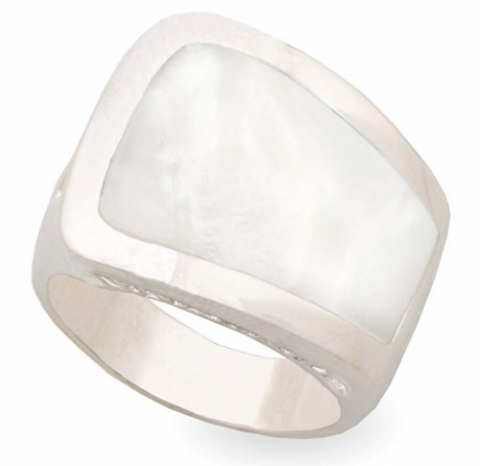 If you prefer chunkier rings, this ring is a great option. The center is eye-catching, yet simple, and the band features a subtle textured design that makes it unique and bold.
This ring would be great to wear on its own or combined with other iridescent rings (think labradorite jewelry) that you already have in your jewelry collection. 
2. Ross-Simons Italian Mother-Of-Pearl Flower Ring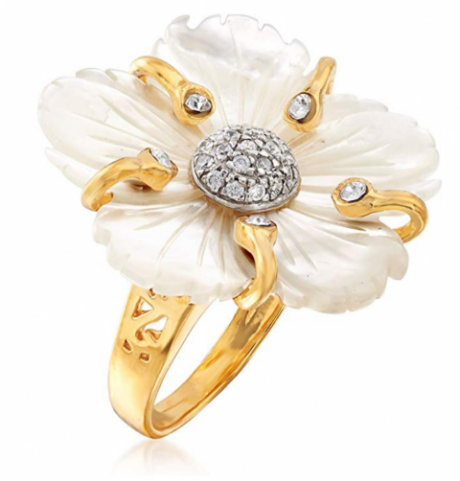 If minimalism is not your thing at all and you want a bold cocktail ring, this beautiful flower-shaped ring is perfect.
We love the intricate design of the flower itself, made in a gorgeous mother of pearl. It is then held in with gold 'prongs' that feature white stones and is completed with a large cluster of white stones in the center.
It is an eye-catching ring, perfect to wear as a right-hand ring completely on its own. With a ring like this, you don't need to wear any other jewelry!
This is the focal point of your look, and we think it's a beautiful way to have fun with the mother of pearl trend.
3. Lucky Brand Heart Ring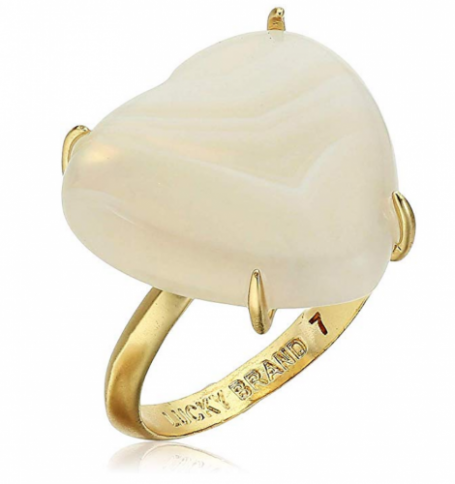 Simple, yet completely unique, we love this heart-shaped ring. The center is a gorgeous heart-shaped design while the band is a simple, thin gold design.
The heart itself is on the larger side for a ring, so we can't say this is necessarily a minimalist piece. However, it is a simple and modern design that we find really cool.
If you want something that features the only mother of pearl, and no gemstones, this is a great ring to consider.
Earrings
1. Rose of Innocence Carved Earrings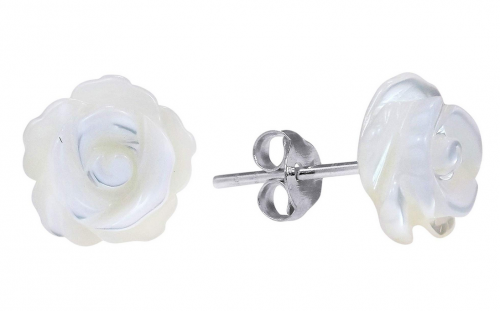 These gorgeous studs are a great addition to any woman's closet. The simple, carved flower design makes them unique, yet still simple enough to wear every day, day or night.
Because these are made of mother of pearl they will have that iridescent sparkle to them, giving them a unique look compared to any other basic stud earrings you may have.
Plus, you can never have enough stud earrings in our opinion! They are an easy addition to any outfit and can complete a look in no time. 
2. I'S ISAACSONG 18k Gold Plated Stud Earrings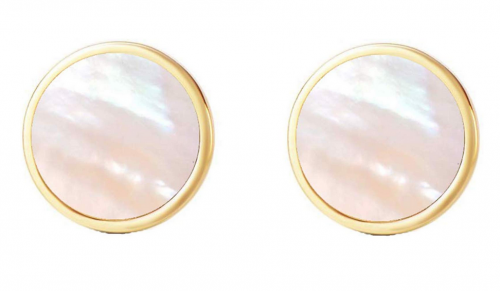 We love the sleek look of these studs. If you are looking for a truly minimalist pair of earrings that feature mother of pearl, these are the ones.
The simple, flat circular design shows off the iridescent material beautifully. Best of all, you can get just the earrings, or you can get a larger set that includes a necklace that features the same circular design.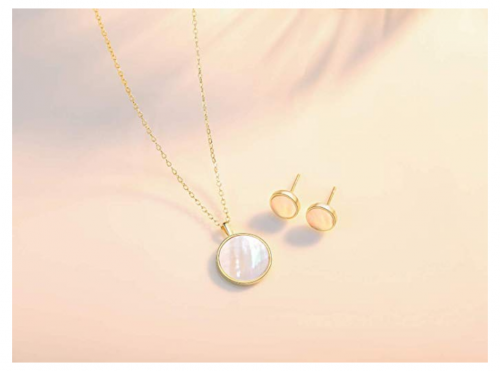 We love the dainty appearance of these studs and think these could easily become a new go-to stud to wear every day. 
3. THE PEARL SOURCE White Earrings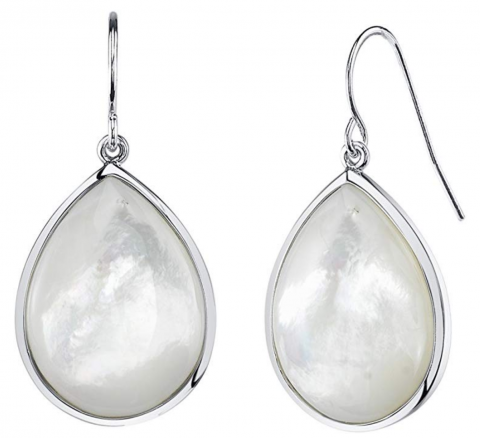 If you want a drop earring instead of a stud, these white mother of pearl earrings is for you.
With a teardrop design, these are gorgeous earrings that are definitely more dressed up than a stud, but yet could be dressed down as well.
If you want a larger earring so that you can see more of the mother of pearl, this is a great option to consider.
Bracelets/Watches
1. Silpada 'Express Yourself' Bangle Bracelet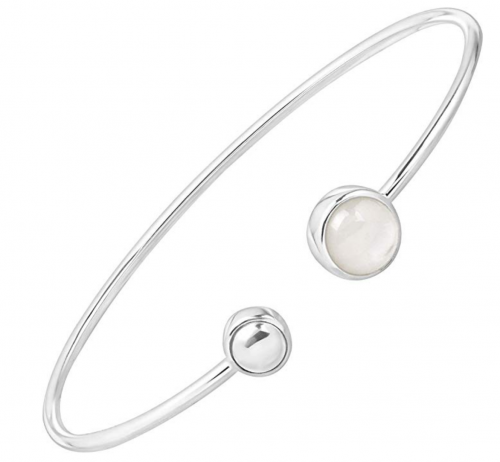 A bangle is a great bracelet type to add to almost any outfit. We love the simplicity of this sterling silver bangle, complete with just a touch of the mother of pearl.
If you are looking for something sleek and simple, it doesn't get much better than this. Easily wear this every day, and dress the bangle up or down.
If you enjoy stacking your bracelets, this is one you can definitely add to your 'stackable' collection.
2. Fossil Neely Watch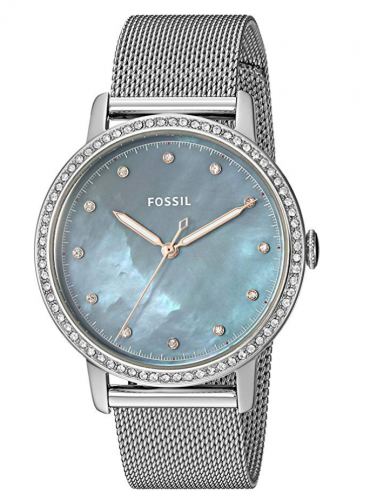 Finally, if you are looking to find a new watch, this gorgeous stainless steel watch is one to consider. What we love is that the watch band itself is silver, yet the watch hands are actually rose gold, and the back is mother of pearl.
On paper that may sound like a bad combination, but the mixing of metals and materials works beautifully. You also get just a touch of sparkle with the gemstones marking each hour.
While there is a lot going on, the watch still retains a beautifully sleek and feminine look that we absolutely love.
Best of all, you can easily wear this watch during the day or at night; it looks like a gorgeous piece of jewelry, not just a watch!  
Wrapping Up
Mother of pearl is a gorgeous, iridescent substance that can be used to make some downright stunning jewelry (as well as other items as well, including home decor items if you are interested).
While similar to pearl, it is different in plenty of ways and deserves a category all on its own. 
If you find pearls a little outdated or too conservative, the nacre material is a great way to have a similar look that is a bit more modernized and unique. It's also a far more affordable option! 
We love the chic, minimalist look that most mother of pearl jewelry pieces has. This is a great way to add something different to your jewelry collection that isn't too bold.
Perfectly dainty and feminine, you should definitely experiment with this wonderful iridescent jewels. Now that you know all about it, it's time to go shopping!