A Labradorite Ring to Put on Your Shopping List. Now!
last updated:
Feb 19, 2021
Labradorite is an incredible mineral that is very unique and absolutely beautiful. A labradorite ring is our latest obsession and if you're looking for stunning gemstones and affordable jewelry, labradorite is the way to go!
The stone is rarely used in mass-made jewelry and is more likely found with smaller-scale companies that focus more on the art of jewelry.
It is a stone that can show a variety of different colors. Generally, the overall stone is a clear, gray, or even black color. However, it often has a special property called labradorescence.
This phenomenon occurs when light enters the stone and reflects off of a twinning surface from inside. It can create a spectacle of different colors.
It's this mesmerizing effect that made us fell in love with the labradorite stone and that is also why we picked our 10 favorite labradorite rings for you to browse!
Our Top 10 Picks!
1

. Jeweloporium Handmade Labradorite Ring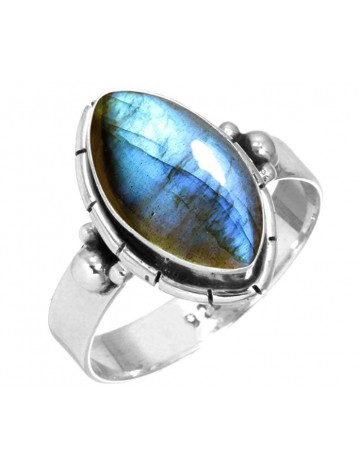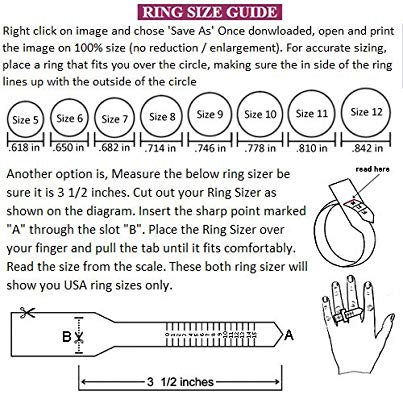 This super cool labradorite ring is incredibly stylish and different. The marquise-cut cabochon stone features bright blue labradorescence with many dark black inclusions speckled throughout it.
Read more
This goes incredibly well with the tarnished design of the sterling silver band.
At the base, the band is thicker, and then as it moves up to the sides of the ring, it splits into two thinner bands that bow out and come to a point at the top and the bottom of the marquise shape of the stone.
The stone itself is a bezel-set, but the setting also features prongs in sharp points that come up around the edges of the stone. The band features details of little silver balls and tarnish between them.
The design comes together to look like an eye similar to that found in Evil Eye jewelry. For this reason, the ring could certainly be used for the purpose of warding off the ill will or negative effects of jealousy from others around you.
It is a very edgy piece that works well with darker styles or lighter bohemian looks. The price is even very reasonable considering the quality and amount of detail that it features!
2

. Sterling Silver Jewelry Labradorite Ring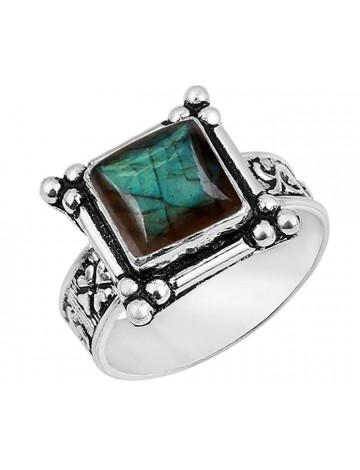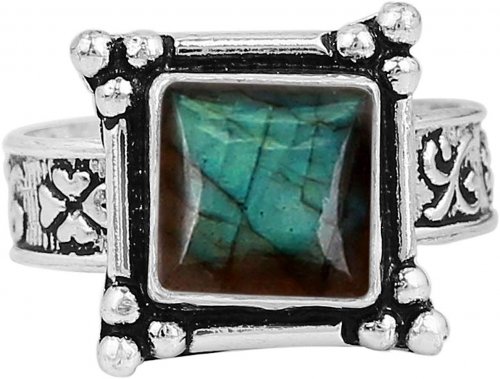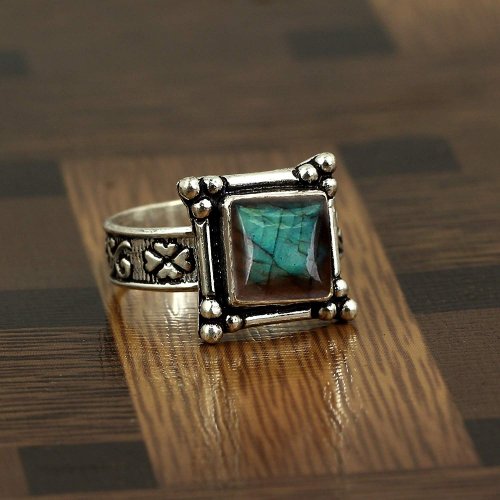 This is a much more refined piece of labradorite jewelry. It can be used in casual settings as an everyday piece but also works excellently as a more formal option.
Read more
The stone features a faceted baguette-cut, and it has a high level of labradorescence to it. It shows a bright blue-green color very similar to that of emerald.
It also has few inclusions to keep it looking smooth and clean. It is prong-set with 4 sterling silver prongs – one on each corner.
On each side of this main baguette labradorite stone, the band includes intricate decorative details with an almost tarnished looking finish.
The band is slightly larger giving this ring a bolder appearance. We think it's a vintage-looking piece of jewelry that looks stunning.
It makes a great slightly more high-class labradorite ring option!
3

. Navya Craft Labradorite Silver Ring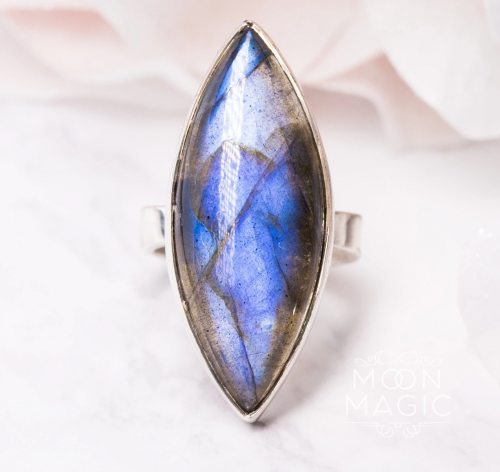 This is a perfect statement piece labradorite ring! It focuses on just the gemstone, and there isn't really much to the setting.
Read more
The labradorite stone is large and has a gorgeous marquise cabochon cut to it. It is a rounded top and a very smooth finish. This helps bring out the various inclusions within the stone.
It has a nice blue labradorescence to it that looks great in contrast with the dark inclusions of the stone.
A thin bezel setting of solid sterling silver holds the stone securely on the silver band.
The band isn't too wide but is definitely thicker than some of the daintier options within our recommendations.
The long marquise cut helps to really elongate the fingers and has an elegant look to it while still doing a great job at drawing in attention.
4

. Koral Jewelry Labradorite Vintage Gipsy Ring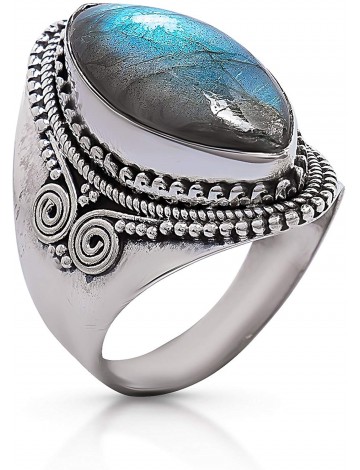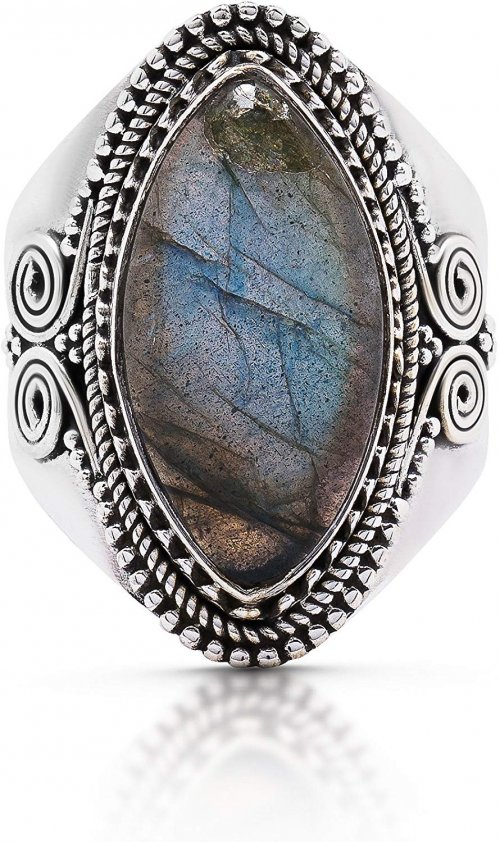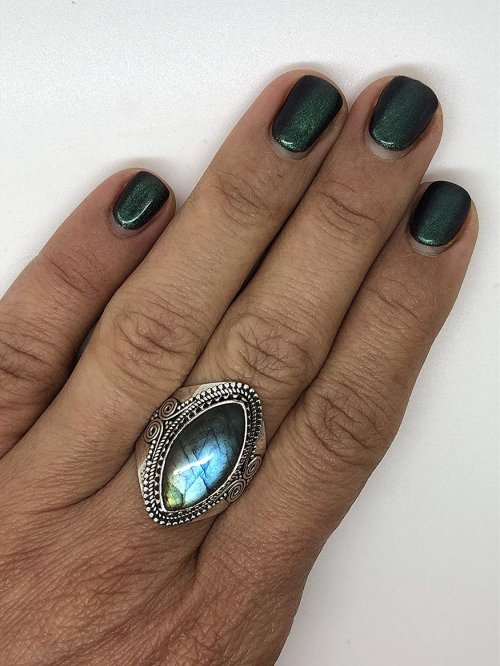 This stunning piece is called Gipsy. It features a teardrop-shaped cabochon piece of labradorite.
Read more
The labradorite stone is really nice as it has multiple colors within it that shine from different angles.
It has a lot of dark blue within the stone but also has some yellowish and greenish twinning surfaces inside of it.
Plenty of inclusions provide more contrast and interest within the details of the stone. A halo of highly polished silver balls surrounds it.
Then around that, there is another slightly larger halo with leaf-like silver details.
together, the rows add a lot of beauty that compliments the stone very nicely.
5

. Anemone Unique Labradorite-Moonstone Ring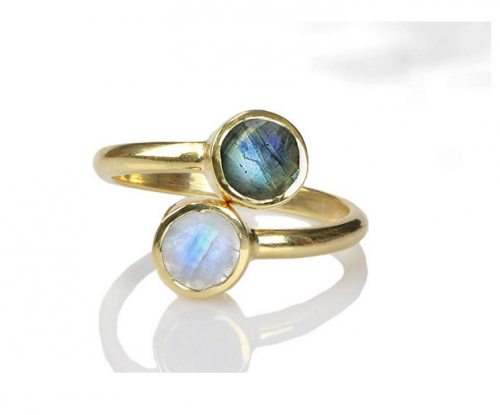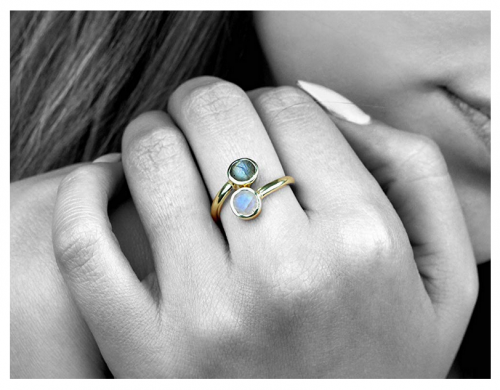 The labradorite-moonstoine ring is a very pretty piece featuring both labradorite and moonstone. It's made from 925 sterling silver and has a fantastic design.
Read more
This is a piece better suited for casual settings. The band is thin for a dainty look that keeps the focus on the main pieces of the ring.
The main attraction of the ring is made up of 2 individual pieces. On the bottom side of the ring is the labradorite stone. It is a fairly sized stone that features a round cut.
It is bezel set in a smooth band of 14 k gold.
The stones are spaced apart only by an inch, and feature the same size.
In this space around the stones, the ring is completely open – not even the band continues here. This provides another unique touch to really set the ring apart.
6

. Stunning Labradorite Ring by Anemone Jewelry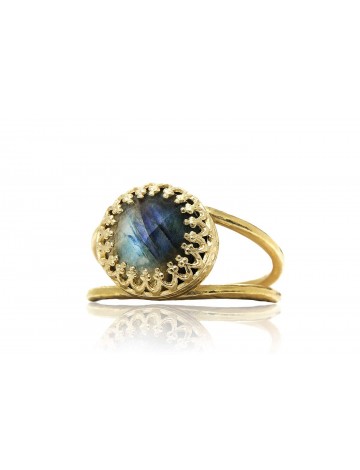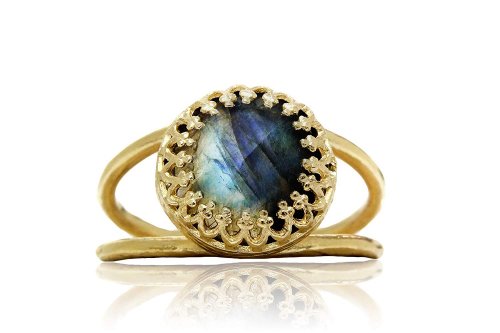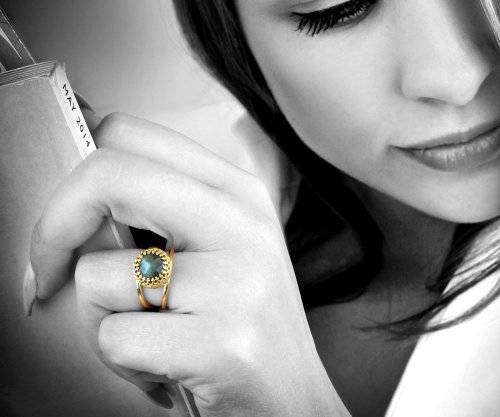 This gorgeous piece is probably our fanciest choice of labradorite ring. It isn't as casual as most of our choices and is very beautifully designed.
Read more
It only comes in the gold vermeil setting. This means the setting and band are made from solid sterling silver but is then coated in 14k gold.
This gives it a beautiful tone for a much more affordable price. The stone is a round cut, which is very unique, modern, and pretty.
The oval labradorite stone is a paler color with light blue labradorescence and subtle green speckles inclusions throughout.
All around the stone, there is a halo of gorgeous gold details. This provides a little contrast to the labradorite and really highlights the unique beauty of the stone.
It is definitely a great choice for the quality piece!
7

. YoTreasure Labradorite Split Shank Ring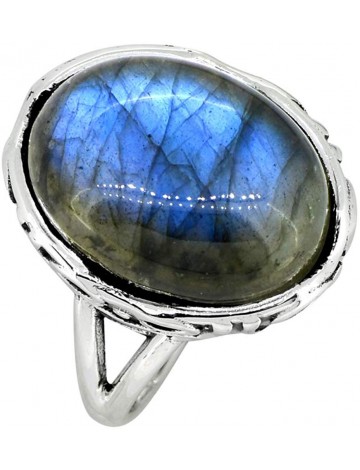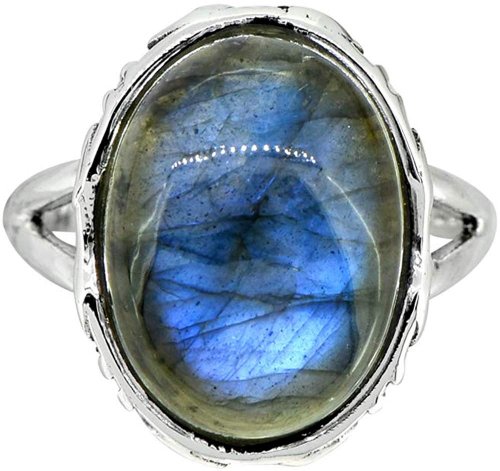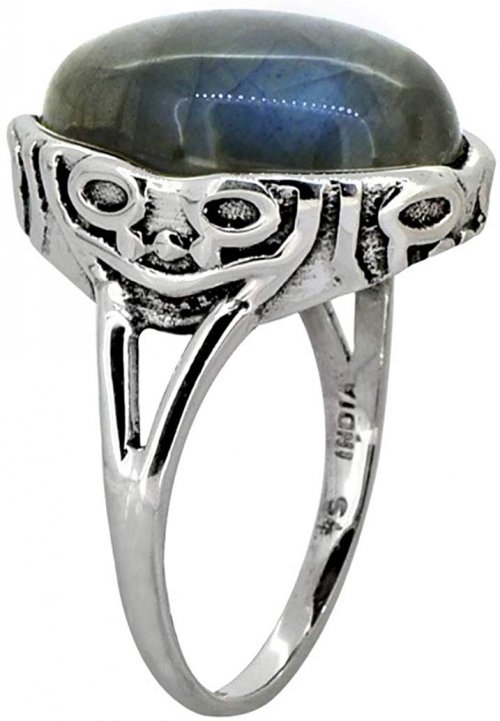 This is a very large labradorite piece of jewelry that really captures attention and shows off the true beauty of the stone!
Read more
It features an oval cabochon stone with a smooth finish. The oval stone has a good amount of the labradorescence property showing mostly in blue with a bit of yellowish color coming out, especially around the edges.
Lots of thick bold inclusions add a lot of interest to the stone as well. The stone is bezel set in solid sterling silver.
The silver edges around the ring also feature small slits in the metal that have a tarnished finish.
This provides a little contrast and draws the attention towards the center of the stone. It is an affordable and very beautiful ring!
8

. Silvershake Labradorite Adjustable Ring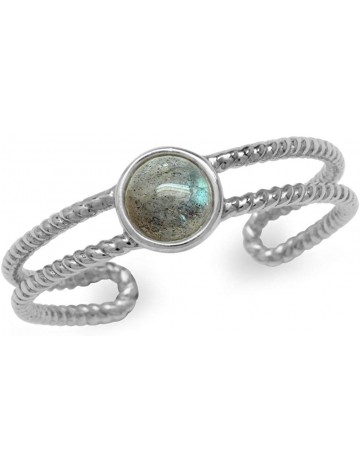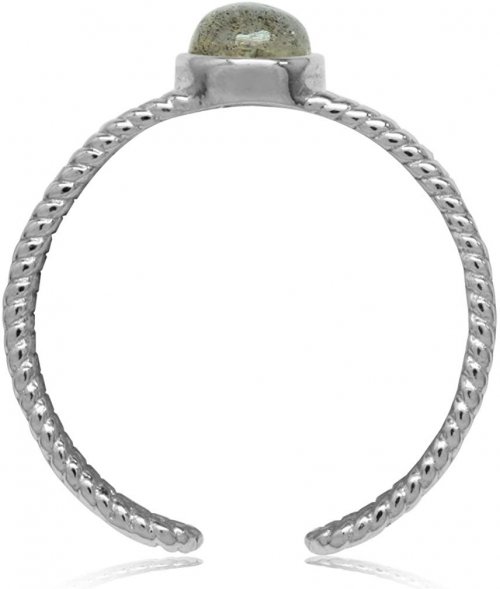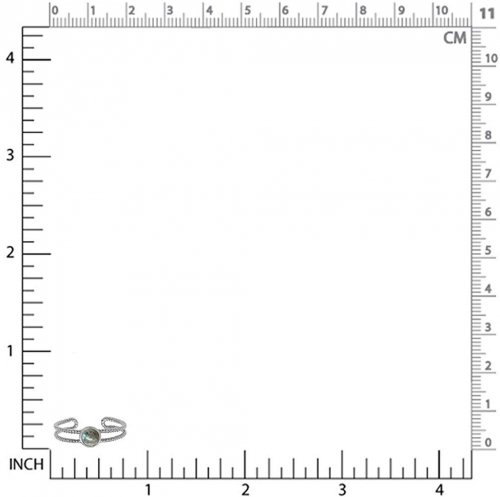 Here is a pick that actually doesn't have much labradorescence going on. It features little to no color and is mostly a shimmery grey.
Read more
It does feature the black speckle inclusions, however, which adds some additional detail to the stone.
It is another oval cabochon stone but is considerably smaller than our last pick. It is bezel set and the setting actually a nice rope design to it.
The band matches and actually consists of two separate silver "ropes". They come together at the base giving the band an angled look.
The silver has a tarnished appearance adding some edginess to the overall design. It is also our most affordable pick!
The best part? This ring is adjustable, so you won't have issues with choosing the right size!
9

. 55Carat Labradorite Promise Ring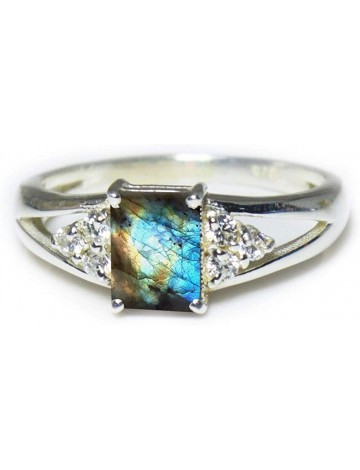 Here is another more refined-looking labradorite ring. It features a small baguette-cut labradorite stone.
Read more
The stone is very blue with lots of labradorescence going on. It looks very clean and has a simple but modern look to it.
The faceted cut and white crystal accent stones bring a classic touch to the overall modern design.
What is particularly unique about it is the placement of the little crystal stones. There are 2 of these accent stones in total.
They sit at the center of each side of the main labradorite stone. The band that the stones are set on is thin with straight clean lines.
It is a very pretty ring great for a variety of settings!
10

. TISHAVI Natural Labradorite Solitaire Ring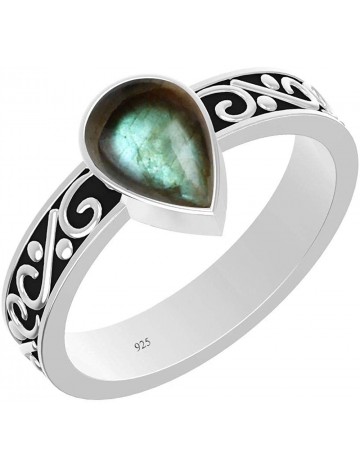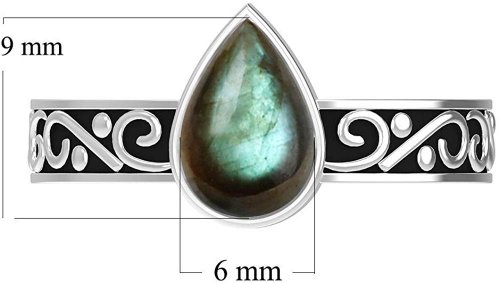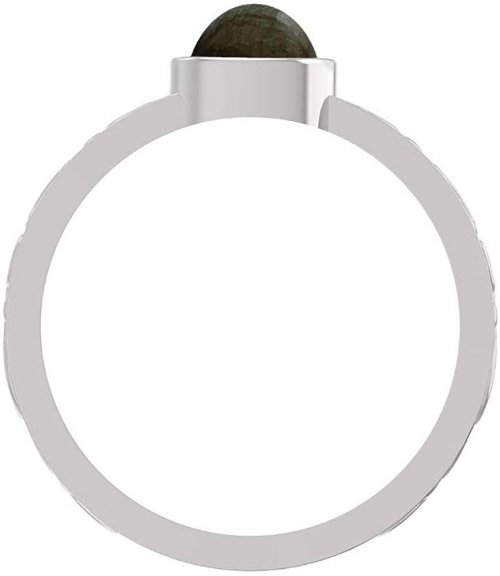 Our final pick is very sweet and adorably designed. It features a cabochon teardrop-cut labradorite stone. The stone is bezel set in sterling silver.
Read more
The band is wider than typical, but it's because of the intricate swirling designs within the silver of the band. It adds a lot of detail and beauty to the ring.
The labradorite itself is a softer green with lots of labradorescence to see the color well from most angles.
The edges of the designs within the band of the ring have a tarnished effect to them.
This provides a nice level of contrast that lets the details be seen more clearly. It has a boho feel to it and is very beautiful in a simple way.
The solitaire ring is best suited for more casual settings and is quite affordable.
Criteria for Evaluation
Jewelry Metal & Gemstone Quality
We aim to only ever bring you recommendations of the best quality jewelry with truly good value to it.
So, as we were searching through various labradorite pieces, we didn't want to just choose the first options we found.
One of the big things that we looked at is the quality of labradorescence. This is when the stone throws off additional colors beyond the more common greyish color of it.
This adds more interest and value to jewelry, so we chose mostly pieces that feature a strong show of this feature.
However, we also wanted to provide a variety of choices. Sometimes the ashy grey color of the stone can be very desirable and creates a different look altogether, so we included a few pieces with that more natural earthy look to them as well.
Materials
The metal used in any jewelry is obviously very important in determining the quality and value of the piece. It also has a huge impact on the jewelry visually.
As we sifted through various options, we put a lot of consideration into the settings and metals used for the labradorite rings.
We found that 925 sterling silver complimented the labradorite better than almost any other metal.
It also provides a great level of durability and quality without raising the price of the rings beyond what most people could find affordable.
For this reason, most of our picks do feature the 925 sterling silver settings.
We also chose a couple of picks with a 14k gold vermeil setting. This is simple gold over the sterling silver.
This changes the look of the ring and gives it a stronger sense of femininity, delicacy, and even formality without costing anywhere near what it would cost for solid gold.
It is a great compromise and provides more variety on our list!
Style
The style has to be close to the top of priorities when choosing jewelry. If the design isn't on point, things like quality and materials just aren't going to matter all that much.
That is why it is key to bring all of these factors together to find the best rings.
We wanted to include a variety of style options regarding the designs of the rings themselves – especially since labradorite is already such a naturally versatile choice of stone.
So, on our list, you will find some simpler options, some more elaborately designed choices, some classic looks, and some really unique options as well!
Sizing Options
Finally, with a piece of jewelry like rings, the sizing is so important. To be as inclusive as possible, it is important to find options that have good size ranges.
This way, most people looking for a stunning labradorite ring can find one here that they don't just love, but that will actually fit them.
The majority of these come in all of the most common sizes ranging from a relatively small 5 up to a size 10.
This covers the average sizes and slightly smaller and larger sizes that aren't quite as common.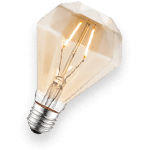 Styling tips
With labradorite being such a unique and interesting stone, it tends to do the best solo. In other words, you don't really want to do a ton of stacking with this particular stone.
There is nothing wrong with wearing another ring or two on the same hand as your labradorite ring – and it may even create a neat look to wear a couple of different options on the same hand – but you just don't really want to go overboard with it.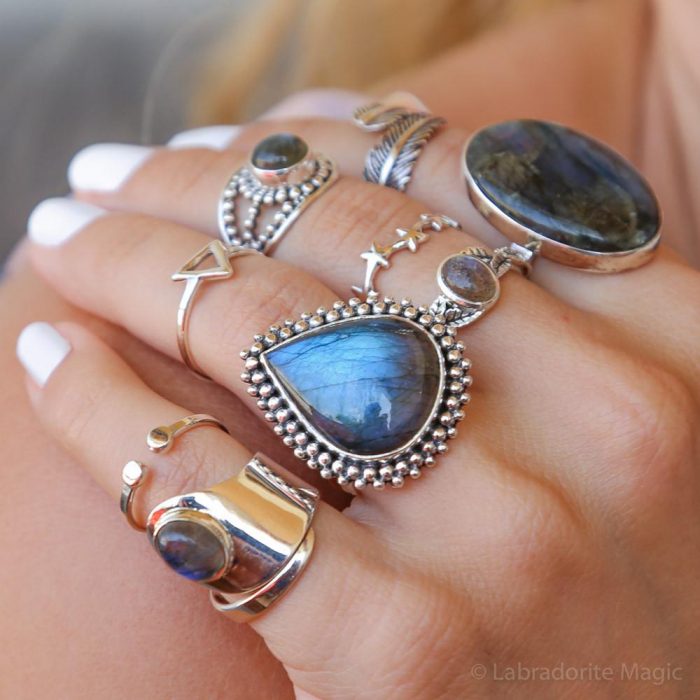 As far as other accessories and the overall style you should try to match labradorite to, it is actually pretty versatile.
Most options have a sort of mystical feel to them, but they can do different directions depending on your style choice.
They make a great addition to a hippie or boho look, but they can also be a nice touch to someone with a darker style.
Remember, though, that the stone itself can take on many different looks depending on the specific design, cut, and setting.
Some labradorite rings can even be quite formal and look similar to sapphires with a large amount of blue labradorescence coming into play.
So, in such cases, it can make a great addition to fancier styles and can even be appropriate for weddings or other more formal events.
Labradorite color & labradorescence
Labradorite color palette includes red, orange, and even yellow.
However, the most common colors that you will usually find in jewelry are blues and greens.
The colors have an iridescent look to them (called labradorescence), and the stone can look very different depending on the specific angle and lighting.
They can also often include speckles and lines throughout them, adding more to the design of jewelry made with labradorite.
Frequently Asked Questions
q:

1. What is the meaning of labradorite?

a:

It is best known as an incredible stone of magic. It is said to hold strong powers and opens the door into the realm of magic.

It is supposed to help those that have natural physic abilities to increase their power and enhance their abilities.

This is a stone that can greatly increase your confidence and help you see yourself with a more positive attitude.

It balances out negative energy both within yourself as well as in the environment around you.

Many believe that labradorite is one of the strongest stones for protection. It protects your aura by helping filter out negativity and shielding you from bad intentions.
q:

2. Is it a healing stone?

a:

Yes! It is well-known for its unique healing capabilities. It is an incredible stone that provides healing both emotionally as well as physically.

In the emotional sense, labradorite does an excellent job of helping you regain emotional energy that you may have lost when pushing yourself too far.

It is highly energizing in this sense giving new life to your emotional well-being and replenishing your creativity and readiness to work on relationships. It is also believed to have many physical healing abilities.

Labradorite is supposed to be particularly useful for respiratory issues and can be used in aiding healing of the lungs.

The stone is also said that to be helpful throughout the digestive system, including body regulation and even improving your metabolism.
q:

3. Does it have any special properties?

a:

Labradorite is specifically known for the very special property called labradorescence.

This occurs when light enters into the stone and then reflects off of what is called a twinning surface from within the stone.

It creates a variety of different colors depending on the specific sample of the stone.

It is a huge reason for labradorites' popularity and uses in jewelry. The more colors found in the labradorite, the more valuable the stone is.

However, the blues and greens you often see are the most popular colors found and used for jewelry.
q:

4. Does all labradorite feature labradorescence?

a:

Not all features the special property of labradorescence. Some samples feature little to no actual color and simply have a greyish look to them.

Sometimes samples without labradorescence are still used within jewelry to create a different look altogether.

So, even without this special property, the stone still holds good use and value.
Finally....
With the interesting and unique properties of the versatile stone labradorite, we feel like it can be a great fit for virtually anyone.
Whether you're interested in labradorite necklaces, earrings or rings, you simply can't go wrong. The beautiful stone reflecting dazzling and iridescent colors makes for the perfect jewelry picks.
We truly hope you have found the perfect labradorite ring for you right here!