A Labradorite Ring to Put on Your Shopping List. Now!
last updated:
Feb 19, 2021
Labradorite is an incredible mineral that is very unique and absolutely beautiful. A labradorite ring is our latest obsession and if you're looking for stunning gemstones and affordable jewelry, labradorite is the way to go!
The stone is rarely used in mass-made jewelry and is more likely found with smaller-scale companies that focus more on the art of jewelry.
It is a stone that can show a variety of different colors. Generally, the overall stone is a clear, gray, or even black color. However, it often has a special property called labradorescence.
This phenomenon occurs when light enters the stone and reflects off of a twinning surface from inside. It can create a spectacle of different colors.
It's this mesmerizing effect that made us fell in love with the labradorite stone and that is also why we picked our 10 favorite labradorite rings for you to browse!
Criteria for Evaluation
Jewelry Metal & Gemstone Quality
We aim to only ever bring you recommendations of the best quality jewelry with truly good value to it.
So, as we were searching through various labradorite pieces, we didn't want to just choose the first options we found.
One of the big things that we looked at is the quality of labradorescence. This is when the stone throws off additional colors beyond the more common greyish color of it.
This adds more interest and value to jewelry, so we chose mostly pieces that feature a strong show of this feature.
However, we also wanted to provide a variety of choices. Sometimes the ashy grey color of the stone can be very desirable and creates a different look altogether, so we included a few pieces with that more natural earthy look to them as well.
Materials
The metal used in any jewelry is obviously very important in determining the quality and value of the piece. It also has a huge impact on the jewelry visually.
As we sifted through various options, we put a lot of consideration into the settings and metals used for the labradorite rings.
We found that 925 sterling silver complimented the labradorite better than almost any other metal.
It also provides a great level of durability and quality without raising the price of the rings beyond what most people could find affordable.
For this reason, most of our picks do feature the 925 sterling silver settings.
We also chose a couple of picks with a 14k gold vermeil setting. This is simple gold over the sterling silver.
This changes the look of the ring and gives it a stronger sense of femininity, delicacy, and even formality without costing anywhere near what it would cost for solid gold.
It is a great compromise and provides more variety on our list!
Style
The style has to be close to the top of priorities when choosing jewelry. If the design isn't on point, things like quality and materials just aren't going to matter all that much.
That is why it is key to bring all of these factors together to find the best rings.
We wanted to include a variety of style options regarding the designs of the rings themselves – especially since labradorite is already such a naturally versatile choice of stone.
So, on our list, you will find some simpler options, some more elaborately designed choices, some classic looks, and some really unique options as well!
Sizing Options
Finally, with a piece of jewelry like rings, the sizing is so important. To be as inclusive as possible, it is important to find options that have good size ranges.
This way, most people looking for a stunning labradorite ring can find one here that they don't just love, but that will actually fit them.
The majority of these come in all of the most common sizes ranging from a relatively small 5 up to a size 10.
This covers the average sizes and slightly smaller and larger sizes that aren't quite as common.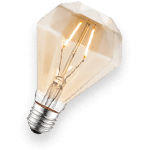 Styling tips
With labradorite being such a unique and interesting stone, it tends to do the best solo. In other words, you don't really want to do a ton of stacking with this particular stone.
There is nothing wrong with wearing another ring or two on the same hand as your labradorite ring – and it may even create a neat look to wear a couple of different options on the same hand – but you just don't really want to go overboard with it.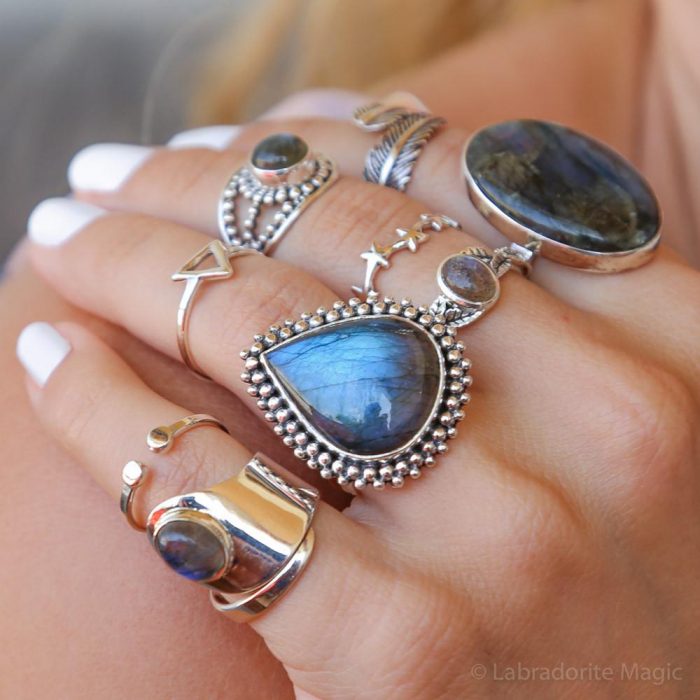 As far as other accessories and the overall style you should try to match labradorite to, it is actually pretty versatile.
Most options have a sort of mystical feel to them, but they can do different directions depending on your style choice.
They make a great addition to a hippie or boho look, but they can also be a nice touch to someone with a darker style.
Remember, though, that the stone itself can take on many different looks depending on the specific design, cut, and setting.
Some labradorite rings can even be quite formal and look similar to sapphires with a large amount of blue labradorescence coming into play.
So, in such cases, it can make a great addition to fancier styles and can even be appropriate for weddings or other more formal events.
Labradorite color & labradorescence
Labradorite color palette includes red, orange, and even yellow.
However, the most common colors that you will usually find in jewelry are blues and greens.
The colors have an iridescent look to them (called labradorescence), and the stone can look very different depending on the specific angle and lighting.
They can also often include speckles and lines throughout them, adding more to the design of jewelry made with labradorite.
Frequently Asked Questions
q:

1. What is the meaning of labradorite?

a:

It is best known as an incredible stone of magic. It is said to hold strong powers and opens the door into the realm of magic.

It is supposed to help those that have natural physic abilities to increase their power and enhance their abilities.

This is a stone that can greatly increase your confidence and help you see yourself with a more positive attitude.

It balances out negative energy both within yourself as well as in the environment around you.

Many believe that labradorite is one of the strongest stones for protection. It protects your aura by helping filter out negativity and shielding you from bad intentions.
q:

2. Is it a healing stone?

a:

Yes! It is well-known for its unique healing capabilities. It is an incredible stone that provides healing both emotionally as well as physically.

In the emotional sense, labradorite does an excellent job of helping you regain emotional energy that you may have lost when pushing yourself too far.

It is highly energizing in this sense giving new life to your emotional well-being and replenishing your creativity and readiness to work on relationships. It is also believed to have many physical healing abilities.

Labradorite is supposed to be particularly useful for respiratory issues and can be used in aiding healing of the lungs.

The stone is also said that to be helpful throughout the digestive system, including body regulation and even improving your metabolism.
q:

3. Does it have any special properties?

a:

Labradorite is specifically known for the very special property called labradorescence.

This occurs when light enters into the stone and then reflects off of what is called a twinning surface from within the stone.

It creates a variety of different colors depending on the specific sample of the stone.

It is a huge reason for labradorites' popularity and uses in jewelry. The more colors found in the labradorite, the more valuable the stone is.

However, the blues and greens you often see are the most popular colors found and used for jewelry.
q:

4. Does all labradorite feature labradorescence?

a:

Not all features the special property of labradorescence. Some samples feature little to no actual color and simply have a greyish look to them.

Sometimes samples without labradorescence are still used within jewelry to create a different look altogether.

So, even without this special property, the stone still holds good use and value.
Finally....
With the interesting and unique properties of the versatile stone labradorite, we feel like it can be a great fit for virtually anyone.
Whether you're interested in labradorite necklaces, earrings or rings, you simply can't go wrong. The beautiful stone reflecting dazzling and iridescent colors makes for the perfect jewelry picks.
We truly hope you have found the perfect labradorite ring for you right here!