Mix / Necklaces / Women
10 Labradorite Necklaces That Will Hypnotize You - Literally!
At various points in history, fine jewelry was not fine at all without the inclusion of rare and precious gemstones. Emeralds, rubies, sapphires, pearls, and, of course, diamonds were the standard. The highest quality pieces, favored by royals and conquering generals were sure to include the rarest and most expensive jewels. The other "less desirable" stones were left to the masses. One of the best uses for these "less desirable" stones are labradorite necklaces.
However, recent trends have swung around. Today any fine jewelry collection will feature an exotic collection of various stones. Styles point to preferring the look of the stone in conjunction with the design of the piece to the perceived value of the stone. We want things to look beautiful and we do not necessarily consider only the power five stones to be exclusively beautiful.
Our more modern aesthetics leave room for stones like moonstone, mother of pearl, tiger's eye, spinal, morganite, and labradorite. These stones depend on beautiful colors, a play of light, and other illusions of geology and science to sparkle wonderfully. This is not to take away from the other more famous jewels. They are gorgeous as ever, of course. But we are incredibly privileged to live in a time wherein our options are far more diverse. One of our more recent new favorite gems is labradorite.
We have located some of our very favorite necklaces that feature the gorgeous labradorite across the web. Some of our very favorite online retailers carry some of the best pieces!
While it was difficult to narrow down the list, here are our top ten labradorite necklaces you absolutely need to add to your collection right now.
10 Best Labradorite Necklaces!
1. Orbit Teardrop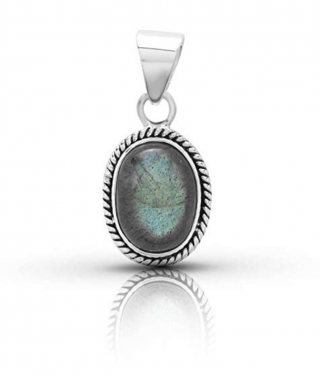 This lovely almond-shaped cabochon of labradorite comes from Silver Palace jewelry.  It features a stone that trends toward the deep, sapphire blue tendencies of labradorite. Slashes of green, silver, black, and turquoise will add a rich depth to your accessory game when wearing this pendant.
The pendant does not come with a chain but that means you can select the length that is right for your preference. The stone is delicately wrapped in 925 Sterling Silver with a simple bale also in 925 Sterling Silver. You can hang this from a wide variety of chain lengths to match any jewelry ensemble.
Wear this one high on the chest to feature it as a solo piece. Select an eighteen-inch length for this application. Alternatively, hang this one from a longer chain in the twenty-four to thirty-two-inch range to add a bright pop of cool color to a layered look. Pair this with other pieces in silver or white gold to keep a mellow yet trendy look on top of your favorite blouse.
It is large enough that it will easily stand up to wearing over a print. This is wonderful because we all have our favorite prints but sometimes struggle to find a good jewelry piece to match.
Perhaps the print will overpower the pendant. On the other hand, the pendant will add too much to the look and the whole thing is just too busy. This piece is absolutely perfect to solve this.
The bold stone can handle the prints without being lost to the noise but it is simple enough to not be overmuch. It makes it a very versatile must-have for any jewelry collection.
2. Ellipse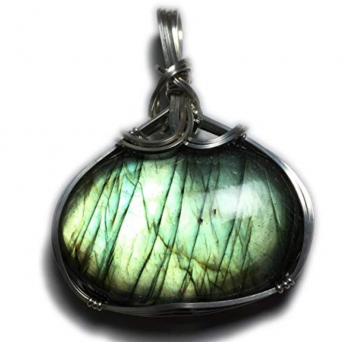 In math, an ellipse is defined as "a curve in a plane surrounding two focal points such that the sum of the distances to the two focal points is constant for every point on the curve." (Wikipedia).  
In looser terms, it is an oval that is constant, predictable and positively perfect. We could not think of a better format to present this lovely piece of labradorite. The ellipse is the perfect shape for the perfect stone.  
A great find from Rock2Rings, this piece of labradorite gem features colors from the green branch of the color wheel. Beautiful stripes of lime, forest, mint, and spring green dance across the surface of the smooth cut stone.
Once again this piece is complemented wonderfully but backing and bale of 925 Sterling Silver and are available as a pendant.  
You get to choose what length to wear this piece. We absolutely recommend a mixed metal presentation if you go with a long length and layers. Use this piece as the center of a group of three. Select other pieces that feature a yellow gold-tone.  
Other green colored stones such as emerald and peridot will really highlight all the variance of the labradorite's natural coloring.
3. Vintage Charm Labradorite
Our next selection is handmade by a jewelry artist out of Canada. We love the symmetry of the artist working with the stone most often found in Canada. She takes her native gems and wraps them with oxidized 925 Sterling Silver. The oxidation process introduces a lovely blackened patina to the silver and complements the dark streaks natural to the labradorite with finesse we could not ask more of.
The top of the hefty stone is wrapped in that oxidized wire, lending it a very natural, down to earth feel. The effect is some version of controlled chaos. This styling lends itself to being featured as part of a host of style aesthetics.  
You can wear this as a part of a very edgy look, akin to the punk rock looks. Channel your inner grunge styling with the oxidized silver and the chunky labradorite stone.  Or you can really feel your high-style Kardashian tendencies as well. We can absolutely see the unflappable Kris Jenner sporting a pendant like this with her clean, put-together looks. It would add an element of nature and a free-spirited edge to any traditional styling.
While the colors may vary as this is a natural stone, this necklace highlights the warming trends in the labradorite in the warm, silvery-white with pops of orange, lime, and lavender, depending on how the light hits it. Pair this with pastels to keep your jewelry a little more muted. Or really make it stand out against a navy or emerald green.
4. Wrapped Labradorite Crystal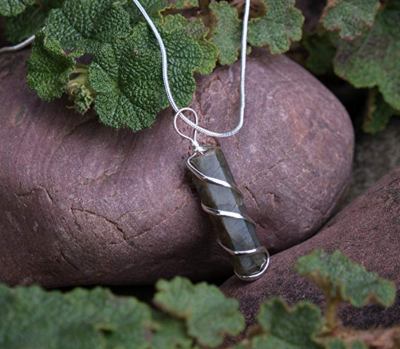 This next piece really seizes on the crystalline structure of labradorite and makes the most out of the natural shape.  The creator of this piece takes a raw piece of the gem and wraps it in beautifully bright white sterling silver. This particular selection of stone makes wonderful use of the brown, ochre, deep grey and black versions of labradorite. Since labradorite can form in a whole spectrum of colors the stone is incredibly versatile in both jewelry making and accessorization.
Our favorite feature of this one, as amazing as the gem is, is the treatment of the pendant itself. The snake-like coil of sterling silver is just perfect! It is an astounding merger of the natural with the industrial without crossing the line into edgy.  
The necklace can add a touch of elegance to a more casual look. Or it can be used to punch in a pop of relaxed effervescence to an evening look. This necklace would be beyond charming when added over top a little black dress.
Another piece that can hold its own as a solo feature or in a layered look, we are always fans of a versatile piece. If wearing as a part of a layered look, be sure to use it as the base piece. The length and weight of the pendant really make it ideal to anchor your layered necklace ensemble.
5. Labradorite Bead Necklace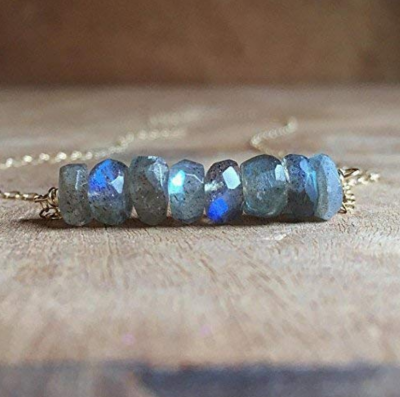 Maryland-based artist Catching Wildflowers combines small pieces of the brilliant labradorite gem into a string of pearlesque perfection in our next selection. This is a handmade piece that features a touch of yellow gold and styling that is simultaneously unique and classic.
Eight facet-cut stones are strung on to a bar and hung from a sixteen-inch gold-filled chain. The stones are static which means no chasing little beads up and down the chain throughout the day. It is also a very modern aesthetic in jewelry design and we really, truly love it.
This is a wonderful piece to feature in your everyday looks. The rainbow luminescence of the labradorite will go with pretty much any color scheme.  The styling has a modern spin on it but is otherwise unassuming enough to complement an outfit rather than dominate it. It reminds us of a happy marriage between a name bar necklace and a pearl accent piece.  
Wear this solo, with the sixteen-inch length keeping the stones perched right at the collarbone. This shorter length also makes it brilliant as the top featured necklace of a layered look. Trying mixing gold and other crystals for a powerful and nature-centric look.
6. Labradorite Tear Drop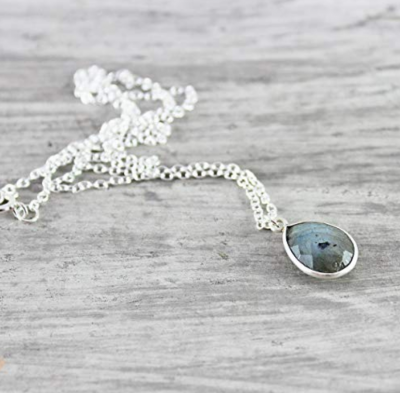 You will weep with joy upon purchasing our next tear-drop option. The stone is smooth cut but the natural striation and labrador escence of the stone give off a look of faceting. This stunning trick of the eye takes an otherwise simple design and elevates it to the world of fine jewelry.
The designer and distributor, Starletta Designs, make the most out of the concept "less is more." 925 Sterling Silver clings to a tear-drop shaped hunk of labradorite, smoothed and polished to highlight to a beautiful gem. The piece is hung from a sterling silver chain and is ideal for either solo or layered looks.
We love the thought of wearing this necklace over solid colors. While any color in the spectrum will work wonderfully with labradorite, we feel like tops and blouses on the darker side will really highlight this elegantly uncomplex piece. Choose a black, navy blue, forest green, or eggplant purple and the gem will do the rest of the work to add texture and variation to the look. This is a perfect piece to feature with a monotone palette!
7. Labradorite and Gold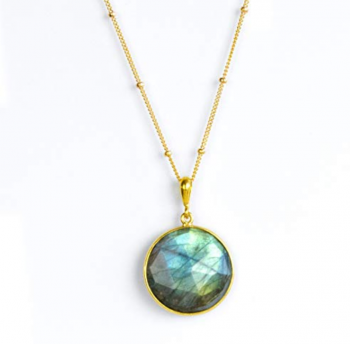 This handmade piece shows off just how versatile labradorite can be. While the gem is most often featured in conjunction with sterling silver and white gold, the warm tones inherent in the stone can really be highlighted with a splash of yellow gold. 18k gold vermeil surrounds the stone and constructs the eighteen-inch chain it hangs from.
The stone is cut and handled as little as possible so you get all the natural angles the stone formed in. It is polished to a shine for aesthetic but as few cuts were made as possible. While the stones may vary gently in color, the artist, Sophia Rose, has elected pieces that lean toward the green, brown, and taupe sides of the stones natural versions.  
This takes our love of the gem to a whole new level. Wear this as the anchor to a yellow gold layered look. Feature it with colors like burnt orange, maroon, goldenrod, and cream to highlight the warmth of the stone and gold combo.
8. Wire Wrapped Gem Tear Drop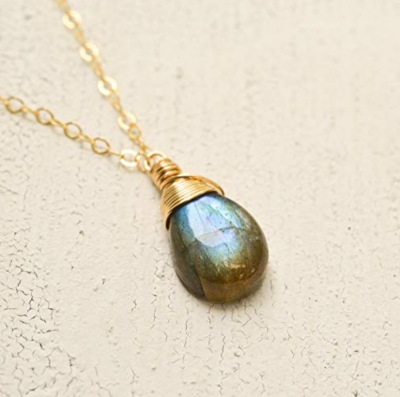 We return to the wonderfully hand-made works and find this piece from Hawaiian artist Kahili Creations. A teardrop of grey, green, and gold-tinged labradorite is wire wrapped yellow gold-toned wire. Hung from an eighteen-inch chain, it is the perfect length for the design in our opinion. The effect is not only stunning but evokes a very free-spirited nature.
We adore this necklace as a solo piece. Of course, you know we are all about that layered life, but this piece is simple yet intricate enough we recommend it run the show all by its lonesome. This necklace is hand-made with care and love on the big island of Hawaii. Channel its island origins and wear it over a bold floral print and linen bottoms.  Use bright, bold colors and let this necklace be the flash of color at your neck.
This whole set-up feels so very summery to us. This means it is the perfect purchase to freshen up your spring wardrobe.  The greens and golds in the natural labradorite plus the use of the yellow-gold toned metal are absolutely brilliant to warm up right along with the weather.
9. Crystalline Gem with Bronze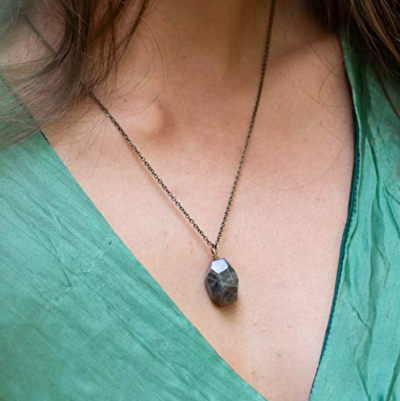 Our next selection is, once more, from a hand-made artist. This time the Australians are represented as their own Luna Tide offers a gem of a gem! The faceted stone is cut in a way to remind both the wearer and viewer of its naturally occurring crystalline structure.
In crystal healing methodology, all those faces and angles help reflect and refract the energies leaving and entering the body of the user. This gem is tailor-made with this idea in mind. The stones selected range to the blue and grey versions of labradorite and hang from an eighteen-inch bronze patinated chain. An optional two-inch extender is included meaning you can wear it solo or as a layered look with ease.
We love the combination of the stone color choice with the vintage feel of the bronze. Another shining example of how this shining stone really can do it all. From white to yellow to the aged bronze color, the stone can make it all work!
10. Dainty Rectangle Pendant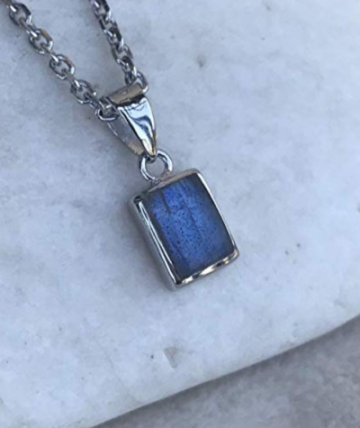 Next up is a dainty necklace hung from an eighteen-inch 925 Sterling Silver chain. The California-based artist selected labradorite pieces from the brilliant, royal blue versions and wrapped the edges in cool sterling for a very icy look.
The pop of color is dramatic against the silver setting. It is perfect to add a pop of bold color to an otherwise subtle outfit.  Pair this with pastel blues, greens, and lavenders for the strongest effect.
Alternatively, you can use this piece as proof that a statement necklace need not be oversized to do the talking. This gently styled necklace when paired with an evening gown will absolutely have plenty to say.
Netted Labradorite Necklace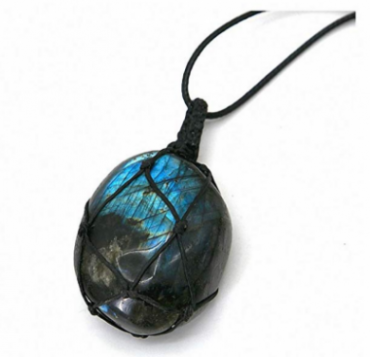 To really drive home the point that labradorite is a workhorse of a beautiful accessory line-up, our next selection features no metal at all. Instead, natural fibers are woven into a beautiful net that encapsulates a piece of smooth stone. The deep black thread crisscrosses the stone gracefully and highlights the naturally occurring slashes of blue, green, black and opalescent white in the labradorite.
We love this piece as part of a more down to earth, natural look. With just the stone and black cord working together, this piece absolutely needs to be included in a boho-chic look. Add it to other non-metal and non-gold pieces. We can see it hanging beneath a lace choker and a leather cord piece with ease.
What is Labradorite?
The gem is most common in Canada although it can be found in Finland and Norway. Its most impressive characteristic is an opal-like shimmer and color variance. It is a member of the feldspar family and is formed by magma. The unique coloration and play of light are referred to as labrador escence. This is a new term introduced into gemology in the last two centuries. Similar to opalescence, it refers to how the colors flash and shift across the surface of the stone.
The stone often features a base color of blue, green, slate grey, and taupe although other colors may surface from time to time in jewelry applications. The surface reflects wonderfully hypnotic striations of blue, green, yellow, red, and oranges.  Slashes of bold, deep black cut across the finest of the gems giving dimension and depth. The mottled look is reminiscent of the marbling in turquoise yet the iridescence is that of the finest cut diamonds. The typically opaque stones seem to glow from the inside with an ethereal, other-worldly effect. This makes the gem wildly versatile. You can wear labradorite with a wide variety of colors and look absolutely fantastic!
The stone is a sturdy, hard gem but it is pliable enough to be carvable. This ranks it up next to jade and ivory. Beautiful shapes can be coaxed from the raw materials, while not sacrificing the lovely color variation of the stone itself.
It's Healing Properties
It is typically associated with the most magical of stones. It is used to open all the chakras at the same time, a feat that is rather hard to accomplish. Most gems fixate on one, maybe two, chakras, channeling energies through them. Labradorite with all the colors traipsing across the surface is capable of opening all of them at once, allowing for the full energies of the universe to course through a person and really unlock latent potential.
It works this way because, according to crystal healing beliefs, it specifically targets the innermost portions of the soul or the consciousness.  Since much of our motivation and inspiration dwells within the innermost recesses of our psyche, the labradorite is able to bring those hidden parts of ourselves to the more accessible surface.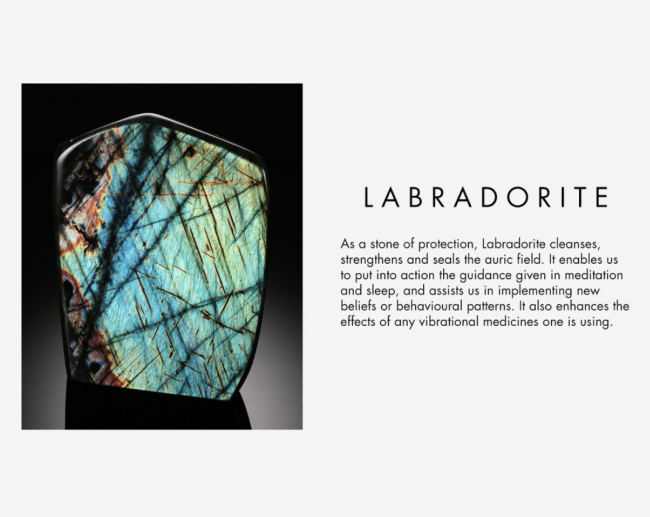 It is also associated with mystical healing. The crystals can help us harness our own immune system and speed up healing of various ailments, especially of the head and emotional duress variety. Headaches are said to be eased by labradorite and the brilliance of the stone can help us develop coping techniques for depression according to crystal healing lore.
(We at Jewelry Jealousy do recommend that crystal healing and its methodology not be used as the only method of addressing ills, ailments, injuries or sickness. Please seek appropriate medical advice and attention. Crystal healing is a wonderful alternative therapy when used in conjunction with proper medical advice and treatments. Any crystal healing advice here on this website should not be viewed as medical advice nor should it supplant seeking medical attention when needed. This is especially true for mental health and emotional distress.)
Caring for Your Gem
It is a nominally hard stone but it is prone to scratching if not cared for properly. Be sure to wipe down your labradorite jewelry thoroughly after each wear. Use a soft, clean, dry cloth and gently smooth away any dirt, grime or oil accrued throughout the day. Our skin naturally and necessarily produces oil throughout the day and some of this will come into contact with your jewelry. This is normal but a good wipe down after everywhere can preserve your pieces and protect the stones from being scratched or damaged over time. While you may not be able to visibly see the scratches or damage, it can compromise the integrity of the piece over time. A proper care routine for your jewelry is a must to keep it long-lasting and shining as bright as the day you first purchased or received the piece!
Additionally, necklaces should be added to your outfit after the application of any make-up you choose to wear. Powders, shadows, finishing sprays and other fine particulate products may accidentally fall or overspray onto your jewelry. Apply those contours with all the skill and finesse you have but do so BEFORE you add your jewelry. This prevents extra grit from coming into contact with your new favorite piece of labradorite.
About Moon Magic Jewelry
A few of our pieces are from one of our new favorite online shopping finds. MoonMagic.com carries a wide selection of gorgeously ethereal crystal jewelry. Moonstone, labradorite, quartz and other powerful stones are featured in perfectly styled and engineered jewelry pieces.
They specialize in bohemian style jewelry featuring some of the most empowering gems. The utmost quality is represented in their choice of materials. As a direct retailer and creator of the jewelry, they ship directly from Florida, cutting out much of the middlemen that drive up prices and add questionable practices between the source and the buyer.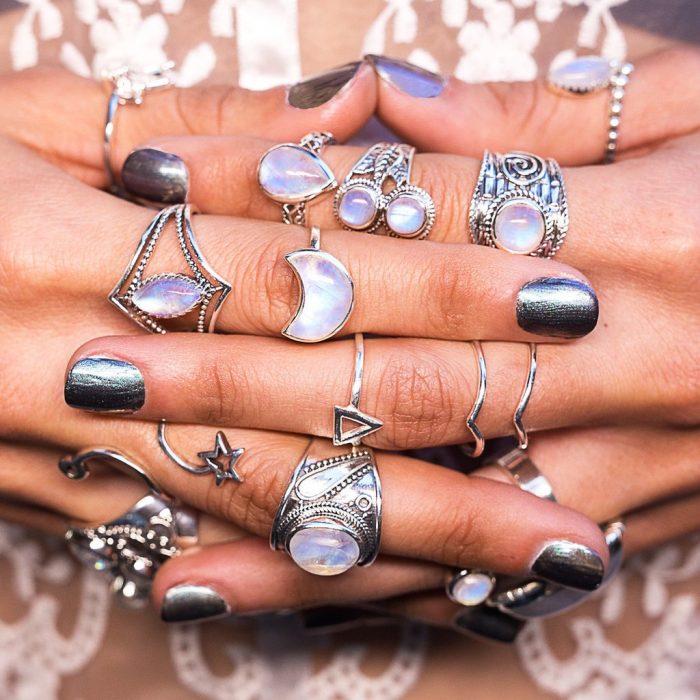 The beauty of their collections is complemented by the beauty of their mission. They have forsaken the traditional brick and mortar commerce models in favor of a fully online presence.  This allows them to keep operating costs low and their business singularly focused on creating wonderful jewelry.  They also give back to the world. They focus on selecting ethically sourced material from around the globe. Additionally, a portion of their profits goes to benefiting Mother Earth herself.  The planet gives up the wonderful stones and gems included in the jewelry. Thus, the creators and visionaries at Moon Magic Jewelry feel it is vitally important to give back to that same planet.
For every piece of jewelry purchased from MoonMagic.com, a tree is planted through a partnership program with Trees for the Future. So you get the brilliance of a carefully crafted necklace, ring, bracelet, pair of earrings or another astounding accessory while also working toward a brighter, healthier future for our planet.
Since we here at Jewelry Jealousy are constantly racing about a company who features a "Give Back" initiative, we are even more in love Moon Magic Jewelry for this.
About Trees for the Future
Trees for the Future is a non-profit organization that works specifically in Africa. Their focus is not just planting trees but teaching the population to actively plant, irrigate, farm, and harvest those trees and their products.  Moon Magic Jewelry joins powerhouse companies such as Amazon, Madera, and Munchkin in supporting the cause of sustainability and empowerment in developing nations.
Their mission harkens back to the old saying "Give a man a fish and you feed him for a day. Teach a man to fish and you feed him for a lifetime." Trees for the Future works with villages across the African continent to develop and implement farming practices that can be maintained with proper resources and training.