Rings / Women
Gorgeous Snake Rings that are Also the Cutest!
Snakes ordinarily are not cute, no matter how you look at them. But luckily, that statement only applies to the real deal. Snake rings are some of the most unique accessory items that people can see on you. And depending on who you talk to, wearing snake rings can mean 2 things.
The first one is that you're aiming to broaden your wardrobe—which is definitely understandable as it gets a bit boring at times. For the second part, snakes are synonymous with fertility and creative life force. They shed their skin all the time, and that process is effectively termed a 'Rebirth'.
Now, here's the actual twist. In some other cases, that rebirth turns into desire. When you combine both of these definitions together into a ring, you have an accessory that'll look good on you, but at the same time—can also be easily given as a gift. To that part, we've compiled 10 snake rings for you to go through.
Our 10 Favorite Snake Rings!
We'll be dividing the products into 2. The ladies section comes first, so skip ahead if you're into a ring for your man.
1. Yfnfxl – Women's Rose Gold Crystal Snake Ring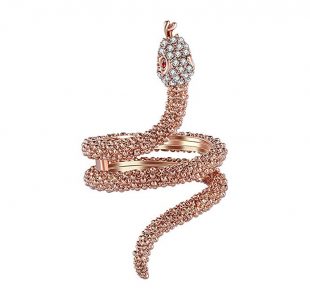 The Yfnfxl piece is more or less a mixture of metal, rhinestones, and rose gold. All 3 work perfectly together to deliver a ring in the form of a coil. What we mean is this; the entire snake ring is made from an alloy, that's been electroplated with rose gold. After that, the entire snake's body adopts the design of a coil, and along the curves, you'll find gold rhinestones. The head of the snake is embedded with white rhinestones instead.
This kind of mixture gives a product that can pretty much be applied to any occasion with the need to flaunt or even just blend well. For the latter, it still doesn't mean you won't get your fair share of glances at the ring. So who's it going to? For one, you can include yourself in the list of the people that can wear it, or you can give it to your daughter. Giving a ring that means rebirth to someone as personal as your daughter means that she's got your backing for all eternity. The fact that the snake itself is cute just adds to the overall appeal.
We advise you to give this to her this Christmas too. The season encourages change too, which is another meaning that snake rings represent. So while you're wishing her good luck for the next year, the gift is tough enough to see her through many.
2. CHOA – Adjustable Punk Rock Piece
The CHOA piece is essentially zinc alloy, covered with rhodium, and then further electroplated by a metal of your choice. You can choose between platinum, silver, gold, and rose gold. Still, despite the differences that you see, the CHOA snake ring is actually pretty basic in looks. It uses a minimalistic design that involves a snake coiled and then coated with any of the colors that we mentioned above.
Application-wise, it's one of those jewelry accessories that can be applied to any part of your wardrobe. If you like to go professional with your look, it satisfies the requirements. For casual use, the toughness is considerable, so it should act as a strong defense against wear. Similarly, the aesthetic appeal, due to the fact that the design is unique, easily gives you an essential for dinners and parties.
We would recommend you aim for anniversaries with this piece. Why? It should easily help develop the bond between you and your partner. Though if your anniversary is long away, it can do as a New Year gift (considering the meaning of snake rings) or even a general gift to your spouse and daughter. It's your choice, as you can further and connect the ring with people on their birthdays.
3. Lavish – 14K Rose Gold Plated Sterling Silver Snake Design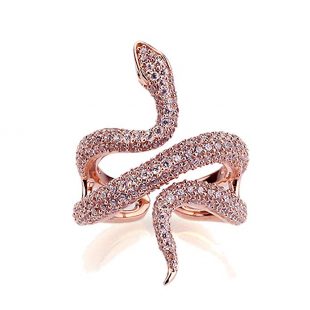 While the other rings were made from zinc and others, the Lavish Snake Ring is made entirely from Sterling silver. On top of that, a layer of rose gold and the Cubic Zirconia lies to boost both the aesthetic appeal and toughness. The result of both gives you the perfect gift for any girl that you know. If you don't know any, you can try giving any guy the idea to use.
Snake rings, when you get past the whole cuteness factor, should be given to others due to their meanings. If you get a gift like this from anyone, they probably have good intentions towards you. We mean, rebirth can apply to a lot of things, and it's not only a new year. Instead, it can be the love you share or even as a means of making a promise to anybody close like your best friend. So why not do the same thing, and find someone close enough to give the gift to. That can your sister, best friend, daughter, or even your spouse (depending on who's reading this). We can say birthdays are good excuses like the last, but this particular one is an exception.
4. INBLUE – Stainless Steel Agate Silver Tone Black Snake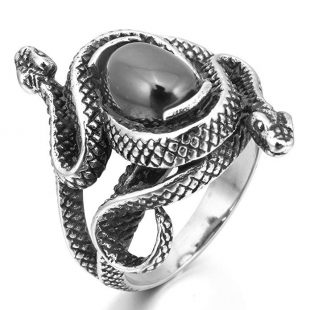 Unlike the other snake rings with coil-like designs, the INBLUE ring decides to take a different approach. It involves 2 snakes, whose stainless steel bodies are merged together to form a bold design. At the center, you'll find a simulated Agate that's tightly embraced by the snakes. But what completes this design is the depiction of snake scales along the edges of the ring. It's realistic and that level of attention to detail will be appreciated by most people.
Yes, this includes anyone you're considering giving the ring to. We mean, from your spouse if you're shopping for an anniversary ring, to your daughter or maybe even mother, if you want a birthday gift. As a matter of fact, you can have your husband giving the snake ring to your daughter, to improve the bond they share. So, the only question now is whether or not you will wait until her birthday or just give her the gift now. Either is fine, since you actually get the ring in a gift bag.
5. Wild Things – Sterling Silver Double Wrap Snake Ring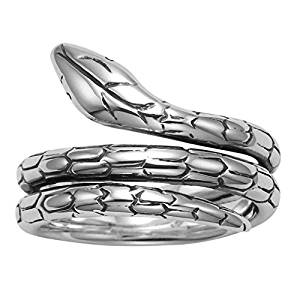 Despite the seemingly wild theme that the maker adopts, this snake ring is actually pretty modest in design. The design depicts a coiled snake and even its scales, which is made entirely out of Sterling silver. This carries the same weight (or rather lack of it), cool looks, and even toughness of Sterling silver.
At the same time, the meaning isn't lost on anybody. Especially if you can manage to add your own personal touch to it. What we mean is this; have you considered having engravings on the ring? The other items on the list obviously can't act as a template for other additions, but this one, due to its plain looks can.
You can go with the phrase; "Together Always" on the inside of the ring to show how much you love her. If you're giving it to your daughter, "Forever With You" is a fine line to use, especially as the snake ring is more than durable enough to see out that phrase itself.
Likewise, the snake ring can be applied to plenty of settings—both formal and informal due to its sleek looks. So it's functional, aesthetically pleasing, and even carries one of the deeper messages you can send to your loved one.
6. Wedding Season Import – Viper Snake Wrap Around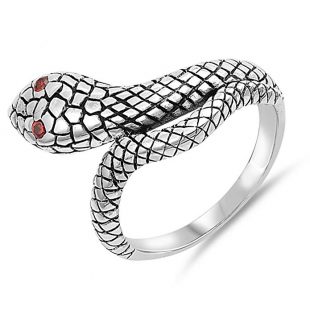 Well, we're back to the coil design, though we have no complaints despite what's being implied. The Wedding Season Import piece is somewhat lengthy, but it does drive home one point. That is, the snake ring was created for weddings—which are some of the most popular events worldwide. Nevertheless, we, personally wouldn't use this on a wedding, but we would love to see it after. Weddings join together 2 partners, and it's considered a holy union. Now, add the snake ring to the after-process, and you have the perfect gift for your woman on D-DAY.
You've already given her the words, and now, you're bringing her one of the best items that can convey your feelings. Love and eternity are the 2 keywords here, and the gift mixes them rather well. Still, you already know this, so let's talk about how the gift will impress her. To that, the snake ring is made from Sterling silver. This, in other words, means it's the kind of gift that's around to stay. So essentially, you're getting her a companion that'll see many of your memories with her.
7. Mastenarium – School of the Viper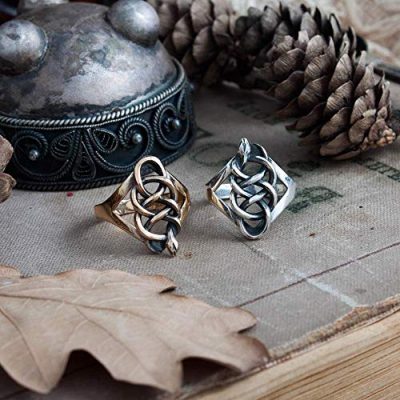 The Mastenarium lineup depicts items from a novel called The Witcher, and one of the most popular schools in the book is the School of Viper. For any girl you know who loves books and games, this is the perfect gift for them. They'll love the fact that you accounted for their interests while at the same time, they'll love you for giving a gift with the right message. Rebirth, despite the fact that it's a cliché at this point, goes well with anybody. Moreso someone with unique interests.
Still, if the person you're giving it to isn't a fan of those departments, then this next part is for you. The piece is one of the better-made ones that you can choose. For example, you have 2 options. You can order the ring either to be made from bronze or you can pick the other, which is Sterling silver. If you ask us, Sterling silver is much better, despite the hike in price.
It brings alongside its beautiful frame, a considerable amount of durability to resist wear. If you'll be giving this on a birthday, believe us when we say the snake ring will see the consecutive ones after that. This is particularly important as you'll be with her in one form or another. Definitely, a perfect way to make a good impression on a girl.
8. Thorsten Rings – VIPER Tungsten Snake Skin Design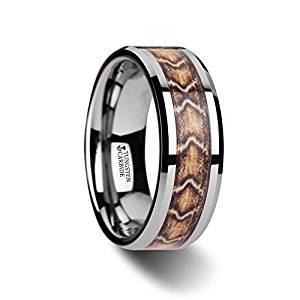 Here, instead of using a design that shows a snake, the maker uses a simple tungsten band. Only, the other addition is that snakeskin is inlaid around the circumference of the band. This creates one of the better and hence, unique snake ring designs out there. There's not a lot of people that'll be wearing this, which goes to our next point.
You're obviously here because you're interested in purchasing a snake ring for someone close to you. To that, we offer this particular one. The ring comes at a price that we consider cost-effective due to the benefits it brings. For one, if your son's graduation is coming up soon, you can pass this ring to him. It's durable enough to keep up with his rough use and the design fits his gender as a whole.
Likewise, as a gift, the whole meaning of rebirth can certainly be applied where it matters. You're telling him you have his back (or finger) for as long as he needs it and even further. The fact that the maker gives you the opportunity of free engravings further complements this definition. It makes it extremely easy for you to convey your feelings as you'll be using words. Just make sure you pick the right ones.
9. LISNION  – 925 Sterling Silver Adder Viper
The LISNION design is quite different from what you've seen so far. Here, the maker designs a ring that's basically shaped into the head of a viper. It's bold, strong, and even looks dangerous to boot. For the first one, every man loves to wear clothes and accessories that'll bring out their innate personality. The same thing applies to the last part (danger) as well.
But for the part about strength, things get tricky a bit. The snake ring is created out of Sterling silver, and it's known for 2 things. First is the fact that it's great in terms of strength as it can easily handle everyday use. Second is Sterling silver's aesthetic appeal in the form of its shiny surface. Both of these things, combined with the vivid image set by the ring, equals a gift that carries both meaning and use.
Put simply, every man that we personally know will entertain the thought of using something like this. But that's based on the looks alone. When you include the fact that a snake, so imposing-looking is actually your way of saying you love him eternally, some memories should be created.
10. Pierce this 2 – Viperstone Ring – Alchemy of England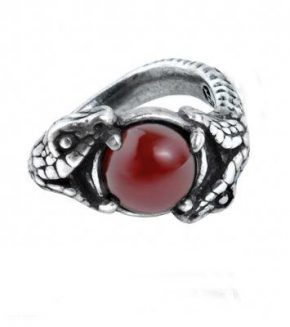 This ring is strictly for couples. If you're one half of the equation, you're in luck as this is the best representation of love on the list. Couple the fact that it's the figures of 2 snakes that was used, and you can (in some way) say it's the double the effect. What we're saying is this; while we can say you're telling him that you love him, it's far better to say the love is there to stay.
Nevertheless, we still have to say that you should ignore the couple's theme if you want. Go for a deeper tone, which is love and apply it to anyone you love. Your children are part of the list, and you can even give it to your old man, to show your support and care.
Frequently Asked Questions
You'll find a couple of questions we compiled that we think you may have. If you don't, we think it's a good idea, due to one thing; it should help you avoid picking the wrong ring for the job.
Where can snake rings not go to?
Yes, while they are acceptable in both professional and casual situations, we think it should be limited a bit in certain scenarios. After all, the rings, as you can see above, have different designs. While some are good enough to use in both scenarios, others may lean towards a particular side.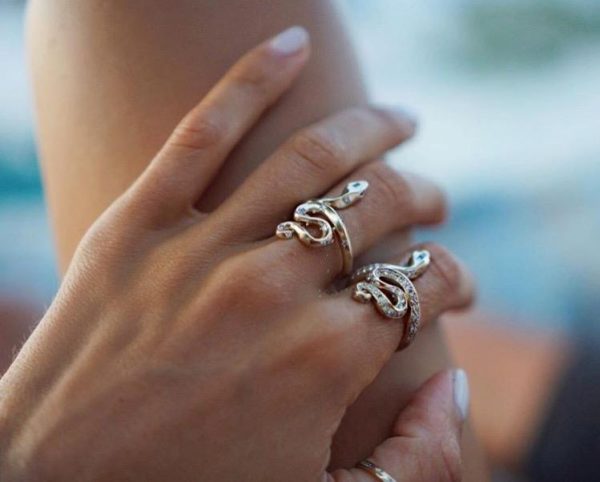 For example, the Mastenarium ring is perfect for work (obstructs not the work-flow). Likewise, it will do well in casual environments as well. On the other hand, there's the Pierce This 2 ring which is an odd mix. It is pretty much comfortable in both professional and casual situations. But at the same time, you shouldn't push it too much when it concerns professional situations.
Is there a workaround?
Yes, there is something you can do about that. You can buy a chain (Sterling silver is nice, but watch out for the ring's color) together with the ring of your choice and present it to them. The best thing about a combination of rings and chains can literally mean anything you want. Here, you're just going for a tone of love.
This is a nice move if you're giving the ring to someone who really isn't the type that loves wearing rings. It easily shows how much time you spent on getting something they can use. Better still, let's say a great gift.
What else do snakes and thus, rings symbolize?
While no one appreciates being on the end of a tentacle (snakes specifically), they are actually good for everyone at the end. A snake's association with rebirth can be easily translated into healing as well. Depending on your beliefs, you can have a go at that definition as there's nothing wrong with it. You're just praying for health on the part of a son, daughter, spouse, or even brother.
Where did the idea of snakes having benefits originate?
The idea came from both Ancient Greece and Rome where they were loved for the simple fact of shedding their skin. It started being associated with rebirth and thus, the benefits come in. Still, that doesn't exactly explain why people started using snake rings, does it?
How did the idea of wearing snake rings start?
As usual, any fashion item needs a good marketing strategy to blow up. In most cases, that strategy needs a celebrity or someone iconic/important.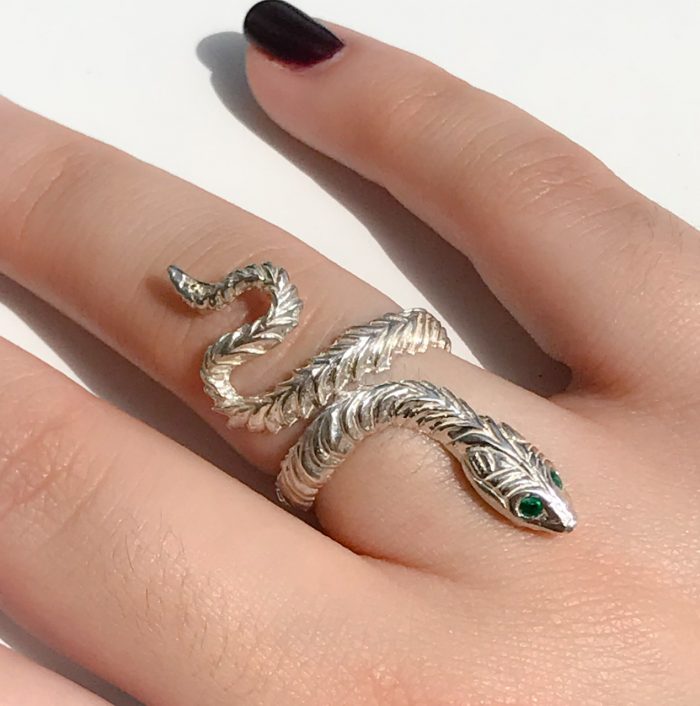 The choice at the time by Prince Albert was Queen Elizabeth who he gave a snake ring to as an engagement ring. It wasn't intentional, but that was the needed spark to see an icon of the time receive something like that. Then, printing and thus, media was added with photography to distribute the Queen's taste in fashion.
What's the final tip if you're giving it to your spouse?
If you want to seal the package with this one, there's a tiny tip we have. Around the time the firstborn comes around, remove her ring and put it on a chain for her to wear. Usually, women may have swollen hands after a point, so just wait for it. This way, you're never away from her and the child.
Why do we think she'll love it?
Funnily, it's the shape or you can call it the design of the snake ring. There's just something feminine about a snake ring on a tribal level for most women. We associated it with grace, which is an area that we want to master. So, she'll definitely the way the ring contorts around her fingers. Scores more points for being lightweight as well.
What's the best strategy if I'm giving the ring to my daughter?
If she's just graduated school, and you want to congratulate her, we think you should go for a snake ring and an ultrasonic jewelry cleaner. The latter will be available for any other jewelry she owns or any even others that you give to her. It's a worthy investment, all things considered.—after all, she'll use the cleaner once in a while and she'll immediately remember you. Regardless if she's near or far away.
Which finger should a ring go?
Due to the fact that there really isn't any rule that states which hands you place a ring on (excluding weddings/engagements), he or she can use it on any hand. Nonetheless, we still have some digits on our hands that carry more weight than others. They largely depend on the person wearing them and how they look. So below are some of the combos that we're talking about.
The Pinky Ring
Astrological symbolism has equated the pinky with intelligence and persuasion. The both of them are 2 traits that basically sums up a businessman/women or in older terms, a hustler. The end result of this is that everybody associates your pinky with statement rings. It's the perfect position which picks you out of the crowd. Something as unique as a snake ring will definitely catch some attention.
The Middle Finger
Under the rather abusive gesture that it represents, the middle finger is actually synonymous with manliness. At the same time, it adds a logical side to things as its position is quite comfortable to look at. The middle finger stands at the center, directly at the apex of your palm. In terms of benefits, the position gives you an odd vibe that screams anonymity. You don't feel dangerous, cunning, or gentle, you're just you for that moment alone. At least that's how we see things from our own end.
The Index or Pointer Finger
The index finger in the past was used to hold rings by the big men of society. In other words, this finger is known to be used by leaders and other people of power and authority. All 3 are attractive to both genders. So if the person the gift is going to is expressive and bold, this is a position that we think he or she should consider.
The Thumb
Wearing a ring on either of your thumbs is a good sign if you can back it up. It's perhaps the strictest rule on the list mainly because it's a position that's only used by people with money and a lot of influence.