Mix / Rings / Women
10 White Sapphire Rings for All the Elegant Ladies Out There
It's hard to resist a sparkling gemstone ring. Whether you're looking for a wedding ring or you're on the hunt for the ultimate gift for that someone special, gemstones make the perfect centerpiece for the band on your finger. And what better rings than white sapphire rings!
White sapphires are a classic gemstone that provides a classy and timeless look for any occasion. Our top ten white sapphire rings provide you with a range of options and include a selection of stunning rings that you're sure to love! But first, let's find out more about white sapphires and what makes them so special.
Why choose white sapphire?
We've already taken a look at blue sapphire rings in one of our previous reviews and it didn't take us long to fall in love with these beautiful gemstones. White sapphires are arguably even more beautiful and not only a great alternative to other gemstones such as diamonds, but stunning in their own right. They should certainly be top of your list when looking for a ring!
Sapphires are probably most famously known as being blue and have been made popular by top celebrities throughout the years. Arguably the most famous sapphire ring is the engagement ring of the late Princess Diana which is now owned and worn by the Duchess of Cambridge.
Whilst this ring contains a deep blue sapphire, for this review we're more interested in the stunning white sapphire. But why should you choose a white sapphire over a blue sapphire or even another gem such as a diamond? Well, to start with white sapphires can be matched with almost any colors and styles.
Whilst blue sapphires look great, they can sometimes clash with other gemstone rings and sometimes even clash with certain colored bands. White sapphires, on the other hand, can be matched with almost any color which means they make the perfect option if you like mixing and matching your jewelry.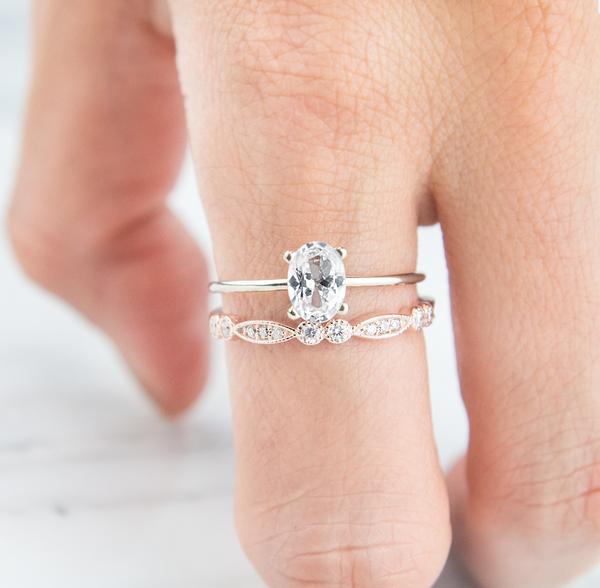 The next reason is that they are likely to be a lot less expensive than many other gemstone rings, including diamonds and sometimes even cheaper than blue sapphires. This is great if you're on a tighter budget as it means that you can get a quality gemstone that looks just as beautiful as a much more expensive ring.
The final reason is that sapphires are tough. And we mean tough! Ranked at 9 on the Mohs Scale, these gems are the third hardest mineral with diamonds being the hardest (the Mohs scale is used to rank gemstones by hardness).
This means that your white sapphire ring will easily take the knocks from day to day activity so you can wear your ring regularly without having to worry about damaging it. Your white sapphire will be scratch resistant which means that it will be as beautiful in years to come as it was on the day that you bought it!
Should I choose a natural or created sapphire?
As with many other gemstones, you have the option of choosing from a natural or created gemstone. Now, you may assume that a created gemstone is not as desirable as a natural one however this is not always the case. Created gemstones will very often be indistinguishable from natural gems as they have been grown in a lab using the very same minerals as natural gems.
However one of the great things about created gemstones is that they will not contain any inclusions (otherwise known as flaws) which are present in natural gems due to the range of variable conditions that natural gems are put through.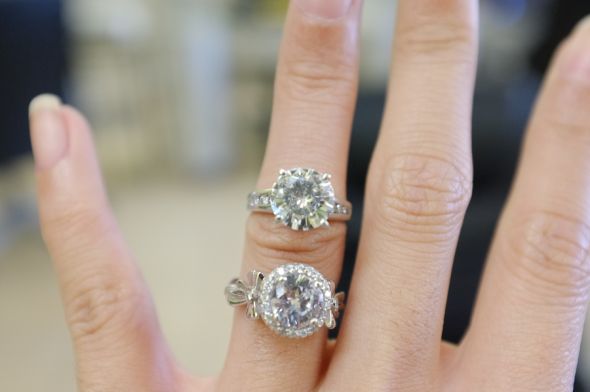 This means that created gems can often be just as hard as natural gems, just as beautiful (sometimes more so if you dislike flaws in your gem) and all for a much lower price tag! Natural gemstones, on the other hand, will vary in price depending on where they are from and how old they are.
As with many items of jewelry, their value will vary depending on a range of factors so you may even end up paying more for a gem that has more inclusions if it is from a more desirable location or time period.
Our advice would be to choose the gemstone that you find most attractive so that you end up with a ring that you love! As you'll see from our top ten list, white sapphires are a truly beautiful centerpiece for your ring!
Our 10 favorite white sapphire rings!
1. 14K White Gold Hearts And Arrows Ring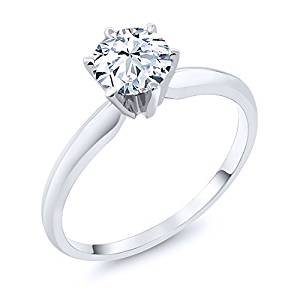 Our first ring is an elegant and sophisticated item of jewelry that really shows of the beautiful white sapphire. This ring has a clean and crisp 14k white gold band that is stunningly simplistic and acts as the perfect backdrop to the 1.2-carat white sapphire. The sapphire on this ring looks huge! If you're looking for an engagement ring that will stand out for all the right reasons, this is definitely worth considering.
The price tag for this ring is mid-high but when comparing this ring to similar bands that contain a diamond, this ring is considerably less expensive. The white sapphire is set in a simple 6 prong setting which gives the stone the appearance that its almost floating above the band and this is one of those rings that you can't help but look at and admire. This large round-cut created gemstone is very attractive and really shows why white sapphires make a great choice for an engagement ring.
The makers of this ring are Gem Stone King and they have been making jewelry since 1903 so they know a thing or two about rings! What's great about this manufacturer is that you'll have peace of mind that you are buying a quality product which has been made with care.
All of their rings are made in the USA and go through an intense quality control process to ensure that they stand up to the company's high standards. You'll also receive your ring in an attractive jewelry box that you can store it in, meaning that it's ready to go if you're planning on buying this as a gift (or to pop 'the big question'!).
2. 925 Sterling Silver White Created Sapphire Ring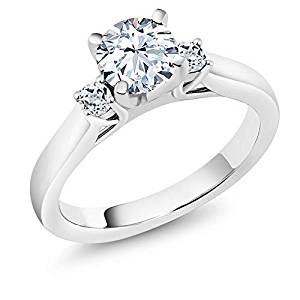 Moving on to our second ring, we've chosen another band that really shows off the beauty of the white sapphire. It includes a 1.20 carat created white sapphire that is sure to sparkle! To complement the white sapphire, the main gemstone is set between two smaller topaz gemstones which balance this ring perfectly. The topaz gems are much smaller at 0.14 carats each and both sit in a smaller 4 prong setting alongside the sapphire gemstone.
This is another ring that really stands out from the finger so get ready for lots of compliments! It is, however, important to think about this before you buy it as the fact that it stands proud of the finger means that it might take some getting used to if you have been more used to wearing thinner bands (the ring may also catch easily on clothes/furniture).
One of the most impressive things about this piece is just how reasonably priced it is, especially considering that you're getting a huge white sapphire gemstone and two beautiful white topaz gems. Perhaps one reason that the ring is less expensive is that you're getting a sterling silver band rather than gold.
This doesn't, however, draw away from the beauty of this ring so unless you are specifically looking for a gold band, this ring is definitely worth considering. One really positive thing about having a Stirling silver band is that it is a very strong metal which means that your ring is durable and won't easily damage.
What we love most about this ring is that it really showcases the beautiful created white sapphire gemstone and offers that extra sparkle through adding the two smaller topaz stones on the shoulder of the ring.
This is another option made and sent to you by Gem Stone King so you're getting high-quality craftsmanship, a lifetime guarantee and even smaller details such as a beautiful jewelry box that you can store your ring in.
There's even a money back guarantee so if you order your ring and you're not happy when it arrives, you can return it for free. Although we're sure that you won't want to return this ring!
3. D-GOLD Sterling Silver Anniversary Ring
This ring includes not one but five created white sapphires! In a slightly different design to the first two rings that we reviewed, this band is much thinner and has a more delicate design.
Rather than a single large sapphire at the center, this band includes 4 smaller white sapphires with a slightly larger gemstone as the centerpiece. The effect is that your eyes are naturally drawn along the band which has the effect of giving this ring a much more dainty feel.
The band is made from Sterling silver so you're getting a very strong a durable piece of jewelry and what's even better is that this also brings down the price of the ring considerably meaning that this is the perfect option if you're looking for a glitzy ring on a tight budget.
The seller, D-Gold, describes this as an anniversary ring and we agree that this is a great option to give your partner to celebrate an anniversary. It would look lovely either worn on its own or alongside other rings, although it would be worth bearing in mind that the prong setting that holds the larger sapphire in place does site proud of the band, meaning that this band would not sit flush up against another ring (it may also rub up  against another ring so you might want to match it with another Sterling silver ring).
This detail around the sapphires, however, adds a really nice level of detail to the design and we think makes this ring feel classy and elegant. For such an impressive price tag, we're very tempted to pick up one of these ourselves!
4. Sterling Silver Wedding Band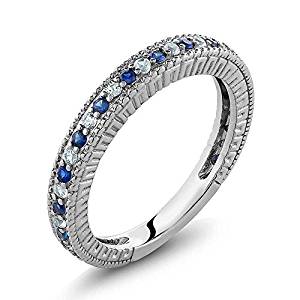 We've mentioned a few times how popular blue sapphires are and also how easily white sapphires can be matched with other jewelry. With this ring, you get the best of both worlds with a beautiful mixture of white and blue sapphires.
This ring is certainly unique and the deep blue simulated sapphires are the perfect accompaniment to the crisp white created sapphires. These gemstones are quite a bit smaller than those found on some of the other rings that we've reviewed, however, the 32 sparkly gemstones are beautifully crafted around the entire band.
The alternating gemstones along with the attractive design on the shoulder of the band, create quite an ornate ring that looks very pretty on the finger. We particularly like some of the smaller detail between the gemstones, including the polished heads of the prongs that hold the gems in place.
The blue sapphires are very pretty but for us its the white sapphires that really make this piece. They really help to soften the bold blue tones and give this ring a clean and crisp feel.
The band is made from Sterling silver which means that you're getting a really tough and durable ring that will last the test of time. Although gold bands are sometimes more desirable, the great thing about Sterling silver is that it's much more affordable and we're really impressed that this is such an affordable piece!
5. 1.00 Ct White Created Sapphire Band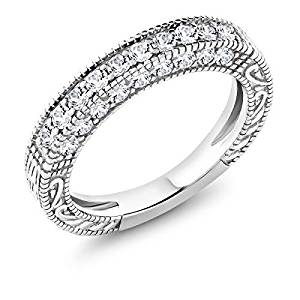 If you're looking for a more ornate piece then this detailed band is definitely worth a look! This is another ring that features a range of small white created sapphires. The 30 gems in this ring are really pretty and it's clear why sapphires are so popular.
Not only are these delicate gemstones located along the top of the ring, but they have also been added to the side of the band which gives it a nice depth.
What's particularly nice with the design of this ring is that lower sections of the band (where the ring meets the side and underside of your finger) has an attractive and ornate level of detail.
Without this detail the ring would probably look quite harsh, however, the additional design on the Sterling silver band helps to soften the square cut of the ring and also helps to draw the eye along the band.
The design is almost Celtic and we really like the level of detail. The designers have also considered your comfort and the section of the ring at the bottom has been polished so that it feels more comfortable.
6. 10K Rose Gold Hearts And Arrows Ring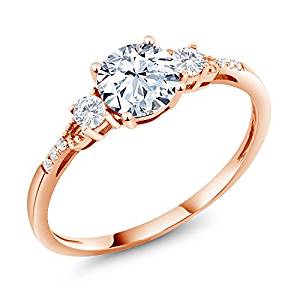 One of the things we love about white sapphires is that they can be matched with a range of colors and styles and this ring really proves it! The centerpiece of this ring is a stunning 1.20-carat white sapphire which is held above the band in a simple 4 prong setting. This sapphire really is eye-catching and sparkles wonderfully, catching the light very well.
Alongside the large white sapphire are 8 smaller gemstones, 2 of which are slightly larger than the other gems which include a selection of white sapphires and diamonds. The effect of placing these smaller rings next to the center gemstone is that it really helps the large white sapphire to stand out and also adds that extra sparkle to the band of the ring.
Now onto the band. The band is made from 10k rose gold and we must say that it works very well with the sparkly white gems. The rose gold color helps to showcase the gemstones and makes them appear a lot brighter and clearer than they would be on a  lighter colored band such as Sterling silver or white gold. We love the simplicity of the band which keeps all of the attention on the gemstones and really shows them off.
The sapphires on this ring are created gems and they work perfectly alongside the smaller diamonds which are natural gems. We also love the simplicity of the 4 prong setting which holds the large gem and the two shoulder gems in place.
This would make a perfect engagement ring although it will be important to have a think about the type of wedding band that you would like as you'll probably want to match this ring with a rose gold wedding band.
It will probably sit a little higher above your finger due to the size of the center stone however due to the band being thin and elegant, this ring will feel really nice when being worn. Its also sure to get the attention of those around you so get ready for compliments!
This piece is yet another that has been designed and made by Gem Stone King and this has to be one of our favorites. This designer offers superior quality and a first-class finish so you've got peace of mind that your ring will be durable as well as being gorgeous.
7. 10K Rose Gold Cabochon Sapphire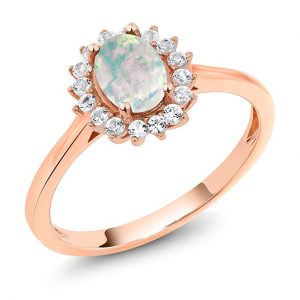 As you can probably guess, we love white sapphires! These gems are arguably one of the most beautiful and versatile gemstones that can be matched with almost anything. Even when they're not the star of the show, white sapphires can help to brighten a ring and give it extra sparkle.
That's exactly what has been achieved with this piece, which includes a stunning white simulated opal at the heart of the ring. This milky white gemstone displays a beautiful range of colors including deep blues and eye-catching greens that really give this ring another dimension.
But our favorite part of this ring has to be those white sapphires! The 16 small created sapphire gems are truly stunning and have been delicately positioned around the white opal. The overall effect almost gives this ring the look of a flower with the sapphires acting as petals.
Each sapphire is held in place by a single prong setting which matches the four-prong setting of the larger opal. This further adds to the design which again looks a lot like a flower.
The band is made from 10k rose gold and the opal and sapphires match really well with lovely rose color. This is another example of how well white gems can be matched with different colored bands.
The band of this ring is very thin which works well to keep the focus on the gemstones. However, it is important to think about the occasion for which you are buying this ring and if you're planning to use this as an engagement ring then bear in mind that the head of the ring is quite large so it may not fit right up against a wedding band. The ring is nonetheless very attractive and sits in a mid to high budget.
8. Dazzlingrock Collection 10K Gold Cushion Ring Set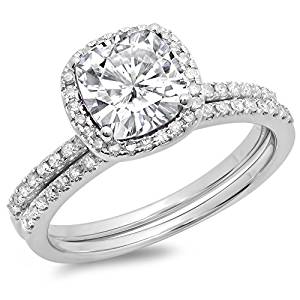 Our next ring really sparkles! The star of the show here is a large white sapphire which is a cushion-cut created gemstone. The sapphire on this piece looks huge and sits very high above the band which will definitely turn some heads.
Again, it's worth bearing in mind that a ring of this design is more likely to snag on clothes but to be honest, it's such an attractive ring that we'd put up with the odd snag!
To complement the eye-catching white sapphire, the head of the ring is surrounded by dozens of smaller diamonds that continue to add to the sparkle. The halo design is very attractive and you can't help but admire the beauty of this piece.
What's more, the band of this ring is also covered in white diamonds which makes this a very glitzy ring. The band is very thin which works well and this helps to draw all attention to the gemstones.
It is sold as an engagement ring set so you're getting an engagement band and wedding band which are made to be worn together. This is really helpful as it means that you don't have to worry about matching a wedding band at a later date and even though this set comes in with quite a high price tag, you're getting a lot of ring for your money.
The designers, Dazzling Rock, have taken time to explain how important it is that their customers can trust them and they achieve this by ensuring that all of their gems are carefully verified by experts and all of their rings come with a hallmark stamp. That's what we love, an ethical designer that puts a lot of effort into looking after their customers!
Another important thing to note is that you have the choice of white gold or yellow gold band. Your choice will affect the overall price of your ring but this gives you the chance to choose a ring that suits your taste. Our favorite though has to be the white gold band, but of course, the choice is yours!
9. Gemstone Solitaire Ring in Sterling Silver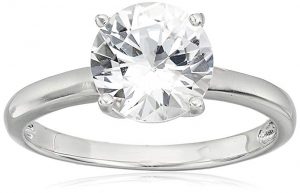 Are you looking for an everyday piece of jewelry on a tight budget? If so our next choice gives you a great looking ring on an incredibly reasonable budget. This piece features a round lab-created sapphire that's sure to catch people's attention!
This is quite a large gemstone so you're getting a lot of sparkle for your money and what's particularly nice with this ring is that it's a really simple and elegant design so it will go with almost any jewelry or clothes.
This would be the perfect choice of ring for everyday wear, or even if you're looking for a cheaper wedding or engagement ring, it really is a ring that can be worn for any occasion. The band is made from Sterling silver so it's nice and strong and the clean design of the band really shows off the white sapphire.
This piece is part of the Amazon Collection who make a range of jewelry and we'd recommend taking a look at some of the other items they sell. We also really like that you have the option to choose other gemstones instead of a sapphire.
The choice of gemstones include amethyst, blue topaz, opal, pink ruby, emerald, and peridot; so you've got lots to choose from (although our favorite still has to be the white sapphire!).
10. 10K White Gold Round Ring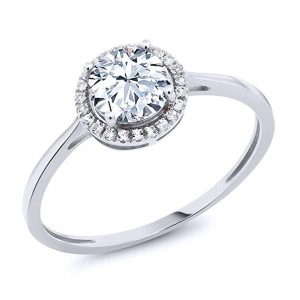 For our final option, we've chosen one that combines a stunning 1.40-carat white sapphire with 32 natural diamonds. The smaller diamonds on this ring offer the perfect setting in which to showcase this beautiful sapphire and the overall effect is a very attractive ring.
The first thing you'll notice is that this ring is very sparkly which is something we normally notice more when there are gems on the band. However, the plain thin band is the perfect backdrop to the sparkly gemstones.
It's also made from 10k white gold so you're getting a lot of ring for your money and this would make a lovely engagement ring. As with some of the other rings we've chosen, it's important to bear in mind that if you're choosing this as an engagement ring, the large head of the ring means that you may have to try on wedding bands to make sure they fit next to this ring.
This is another ring made by Gem Stone King so you're getting a quality ring that comes in your very own ring box. If you're looking for a beautiful ring that sparkles, you won't be disappointed!