We Love These Ruby Engagement Rings!
last updated:
Nov 25, 2019
We think ruby engagement rings are a perfect choice for those of you who are looking for a unique, romantic, and attention-catching engagement ring!
Rubies have always represented a multitude of positive things including passion, love, and commitment.
The engagement ring you choose says so much about you, your partner, and your relationship.
It is a representation of the choice of both of you to spend your lives together and has such a strong symbolism of your love for one another.
Their pinkish red tone is perfect for showing romance and is just such a sweet stone in general.
This is why we selected 10 incredible and uniquely beautiful ruby engagement rings!
Our Top 10 Picks!
1

. Modern Contemporary Rings 14k Rose Gold Ruby Ring


Our first ruby engagement ring option is this breathtaking choice from Modern Contemporary Rings! This is one of our picks that features a real genuine ruby.
Read more
Of course, that does mean that this ring is a bit higher in price than some of our other favorites, but it is worth it to get the real deal!
The lovely ruby stone is oval-shaped for a nice regal look. It measures nearly 7mm in length.
This is the ideal size for easily viewing the beautiful detail of the stone without becoming overbearing or distracting.
A very pretty bright pinkish-red color is deep and engulfing. It is the ideal ruby color and goes amazingly well with the rose gold of the ring. The entire band is made from solid 14k rose gold.
The band is fairly thin and is a uniform width all the way around the finger. A 4-prong setting holds the ruby securely in place at the center. Right above the genuine ruby stone, there are three small natural diamonds set.
You'll also find 3 more diamonds mirrored at the bottom of the ruby stone. All of these natural diamonds are the same size as each other and white in color. They are impressively sparkly and provide a very sweet accent to the larger centered ruby.
Special design in the rose gold band features a trinity knot symbol on each side of the ruby that closes the gap between the stones and the band itself.
This adds incredible detail and very special meaning to the ring, making it an ideal engagement jewelry for ruby-lovers!
The ring is made in the USA and even comes along with a special jewelry gift box. The box is perfect for that ideal proposal presentation, but also serves as convenient storage.
You can choose this beautiful piece in any size ranging from 4 to 12, and that even includes both half sizes as well as quarter sizes.
A huge range of sizes with in-between sizes isn't super common, so it really makes this ring especially versatile and perfect for anyone.
2

. Gem Stone King Created Ruby Engagement Ring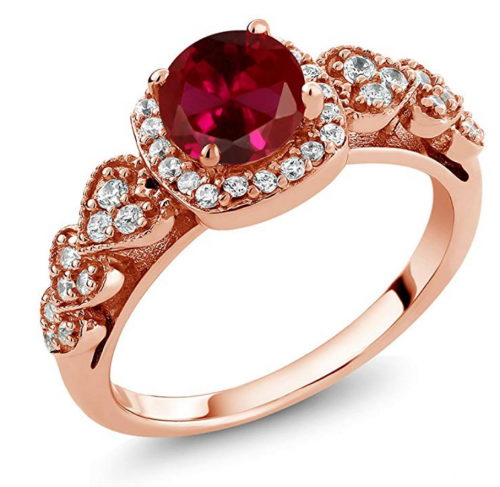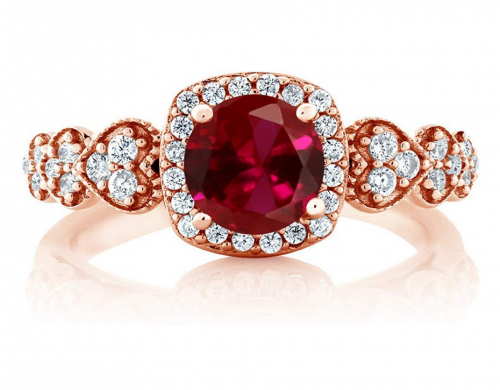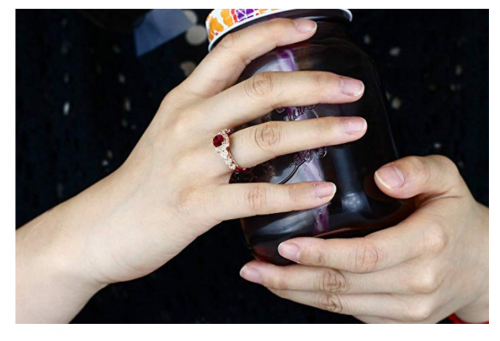 For a more affordable, but still high-quality ruby engagement ring, you'll love this beautiful option from Gem Stone King.
Read more
This pick is featuring a lab-created ruby. Now, this doesn't mean it isn't real stone; it just means it isn't naturally occurring. It was created in a lab, which saves you a lot of money compared to a natural gemstone.
It still has a lovely ruby red color with a hint of pinkish tones in it. The stone is 1.32 carats in size and features a very nice multi-faceted round cut that sparkles and shines all around.
Right around the ruby, there is a halo of sparkling cubic zirconia stones that are set in rose gold plated silver. The halo consists of 20 cubic zirconia stones, all in a bright clear color, just like diamonds.
The rose gold section they are placed onto is square but has rounded corners. This keeps it soft and feminine looking but gives it some variance from the round-cut created ruby.
The entire band of the ring is made from 925 sterling silver for great durability, but it is then plated in 18k rose gold. The rose gold goes so well with the ruby's color, and since it isn't solid, it costs much less than rings that are.
The band is a little thinner near the bottom of your finger, which helps keep it in place without unwanted spinning while also providing some extra comfort.
One of the prettiest and most unique features of the ring is the rose gold hearts decorating the band. On each side of the halo of the ruby, there are three hearts – for a total of 6.
They are all made from the rose gold-plated silver, and they sit touching each other to create a sort of chain down the edges of the band.
Each one of the hearts also features 3 cubic zirconia stones inside it for another great design accent.
Choose this pretty ruby ring in sizes 5 through 9. Since it is Gem Stone King, you will also enjoy a high-quality ring box and a lifetime warranty!
3

. Ruby & Oscar Ruby & Diamond Bypass Ring
Here is a higher-priced Ruby & Oscar pick for a ruby engagement ring that has a very clean and simple modern look to it. It features a very thin and dainty band. It is plain with no added embellishment or changes in width.
Read more
Made from solid 9-carat white gold, it is definitely both durable and gorgeous. It even features the 10k stamp for authenticity purposes.
The white gold is the perfect clean, and crisp choice to go with the simple modern design.
This is another lab-created ruby which drops the price significantly but also gives you a high-quality and beautiful stone for your ring. It is round-cut and measures at 3.5 carats in size.
The stone is prong-set with 4 white gold prongs evenly spaced around it holding it in place securely. All around the ruby, you will also see a breathtaking halo of tiny little diamonds.
The diamonds are genuine natural white conflict-free diamonds. They are all the same small uniform size and set close together to provide maximum sparkle while also creating a really high-quality look for the design of the ring.
Each diamond has its own set of tiny white gold prongs that hold it neatly in place within the halo of the ruby. This gives the little round-cut diamonds a somewhat square appearance before you take a closer look.
It will come insured and delivered free of any charge. This lets you know what the company really things about their products and can help give you peace of mind about the quality, which is excellent!
4

. Dazzlingrock Collection Royal Ruby Engagement Ring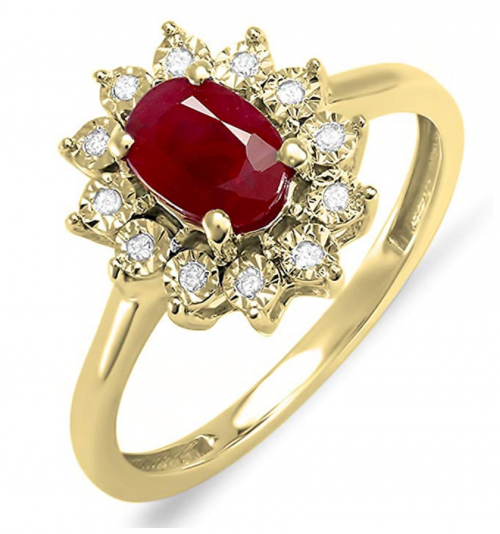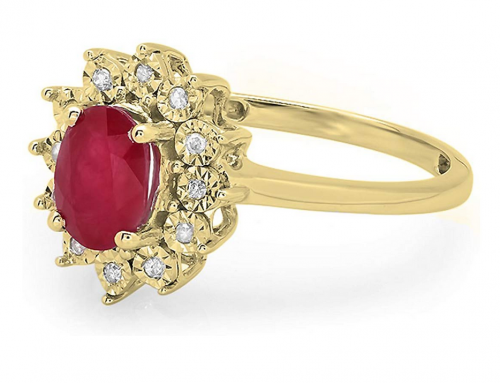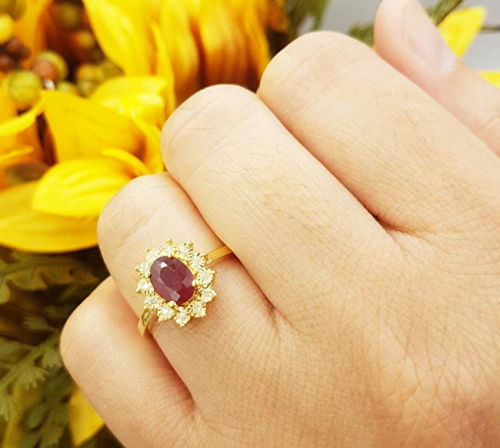 Now Dazzling Rock certainly makes gorgeous ruby engagement rings! This is a great option for women that like to really make a statement with their jewelry.
Read more
This is made with all-natural stones and real solid gold, so it is a bit higher on the list in terms of price. It is one of our priciest recommendations but is well worth the cost if you want something high-end.
The metal of the ring is all solid 14k yellow gold. It is the perfect classic touch to the unique engagement ring.
The band has rounded edges and stays a consistent rather thin width all throughout the design. It stays simple so that all of the focus goes right to the gorgeous stones and setting of the ring.
The gemstone itself is prong-set with 4, 14k yellow gold prongs holding it securely in place at the center of the ring.
It is a natural ruby that measures at just over 1 carat in size. The gemstone has been heat-treated to enhance the natural beauty of the stone.
The oval-cut helps to create a very sophisticated and even royal feeling for this option. All around the stunning center ruby, there are little natural white diamonds in a perfect halo.
What is unique even about the halo is that the diamonds are all bezel set with rings of gorgeous yellow gold all around each stone. There are 12 of these yellow gold rings with diamonds set into them.
They are held in place around the ruby by additional yellow gold prongs that actually take it even a step further in adding excellent detail and interest to the ring. There is no questioning the exquisite elegance held within the design.
It is available in sizes 5 through 9, and a half sizes are available for a better fit all around!
While we adore the classic look of the yellow gold, you do have a couple of other choices.
You can choose the ring in rose gold or white gold if you prefer either of those over the yellow gold!
5

. Houston Diamond District Classic Ruby Engagement Ring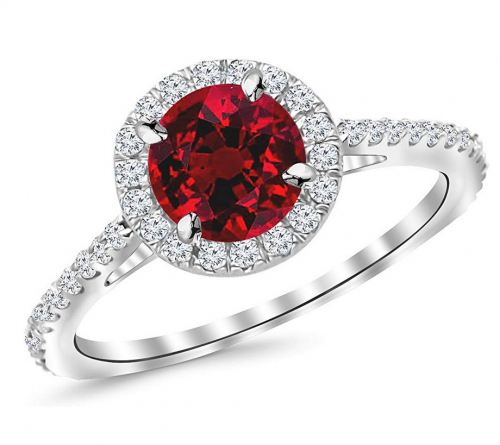 Now here is a ring that any woman would have a hard time saying no to; at the end of the day, who doesn't like ruby diamond rings?!
Read more
This won't be the right pick for everyone, though. Made from very high-quality and high-end genuine materials that leave the price very high as well.
If you do have a considerable budget for your ring, this can be an excellent choice. It is a truly stunning masterpiece of jewelry made with the best materials available.
This band and setting are solid 14k white gold. This is the perfect metal with a super pure look that creates the ideal base for the incredible ruby.
The gemstone of this ring is 100% genuine and naturally formed. It has been heat-treated to enhance the stone.
It is 0.75 carats in size, which is a really nice size for being able to see it clearly without it seeming excessive or overbearing.
The genuine gemstone is round cut for a simple yet eye-catching design. It features incredible cut and clarity, unlike almost anything else out there. It is super high-quality and truly a breathtaking stone.
The nearly flawless gemstone is set securely in a prong setting with 4 white gold prongs spaced out in equal intervals around the stone.
Each one is made to be smooth and symmetrical to keep with the high-end design. All around the base of the ruby, there is a brilliant halo of diamonds!
There are 18 diamonds in the halo, and they are all real natural white gemstones. They feature a round cut to match the ruby and are set in more lovely white gold.
Three-fourths of the way down the band, there are more small natural white diamonds lining the top of it. They feature the same smooth and subtle prong settings.
It is available in any size from 4 to 9, including half sizes. While the price is quite high on this ring, it is definitely an option with unbeatable beauty!
6

. Ruby & Oscar Cushion Cut Ruby & White Topaz Ring
This beautiful piece is one of our favorite ruby engagement rings on this list. This is an expensive ruby ring option when compared to our other recommendations, but honestly, it is worth EVERY SINGLE PENNY!
Read more
The band is made from solid 9k white gold. It has a very clean-cut look with a cubical band that remains the same width all the way around.
At the top center of the band, you'll find a stunning created ruby in a 4-prong setting of the 10k white gold. The created ruby has a deeper red color, which, is simply beautiful.
It features a cushion-cut that is the perfect combination of feminine and modern. It sparkles impressively in almost any lighting.
One each side of the cushion-cut created ruby, there is a set of accent stones. These stones are genuine natural white topaz.
Topaz is basically just a much more affordable diamond in terms of appearance.
There are two of these colorless stones on each side. They are princess-cut for a nice contrast from the cushion-cut center stone.
The ruby gemstone measures at 8mm across and 8mm tall. The contrast between the red of the ruby and sparkling white topaz is perfect for creating an interesting piece with a lot of depth to it.
You can get this ruby ring in sizes 5 to 9. Another noteworthy thing about it is that if you end up deciding that a ruby ring isn't right for you, it is also available with a variety of other center stone choices.
This includes everything from blue topaz, peridot, and citrine to sapphire, emerald, and amethyst.
7

. Diamond Classic Jewelry Yellow Gold Ruby Ring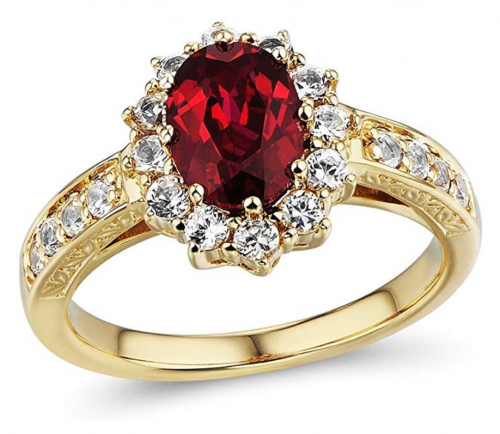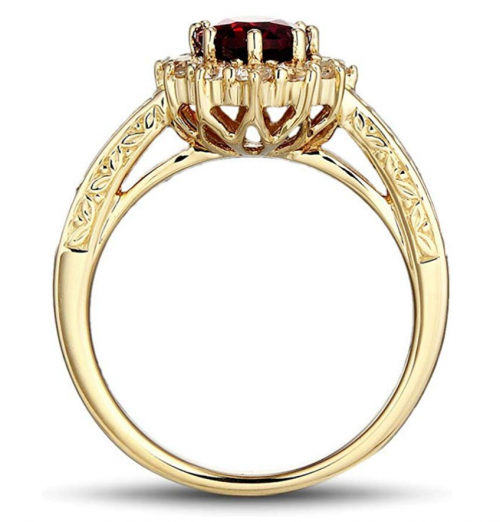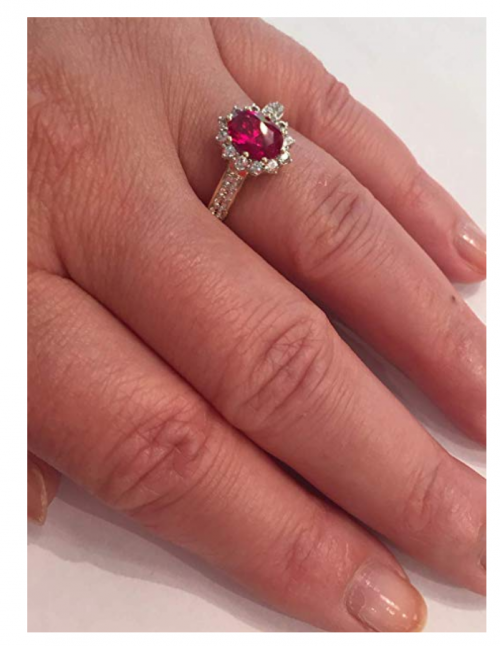 This is a very classic looking ruby and white sapphire ring with lots of traditional aspects to it. Of course, it has the one big thing about it that isn't traditional at all – the ruby center!
Read more
The gemstone is lab-created in a lab to cut down the costs considerably. It is still gorgeous, though, and looks just like the real thing.
The piece features a nice oval-cut that provides that nice sophisticated feeling. It measures 8mm long and 6mm across and is held in place by 8 prongs.
This is more than most rings use, which gives it some additional detail that also helps keep it securely in place.
The gemstone is surrounded by sweet little white sapphire stones. There is a total of 12 of these all set right around the center created gemstone.
They're bezel set with a thin circle of gold around each one. The gold used in the settings and the band of the ring is 10k yellow gold. This is one of those really traditional features of the ring.
The band is a little on the thicker side, but this is great because it provides additional room for incredible detail.
Each side features 4 white sapphires that are set down into the band of the ring rather than sitting on top of the ring. They add the perfect additional pop and sparkle.
The really beautiful and unique piece of this ring, though, is definitely the side-view. From the side of the ring, you will see intricate filigree details all over the upper 3rd of it. Every bit of it is absolutely stunning and it is available in sizes 4 through 9.
8

. LetsBuySilver Genuine Rubies Band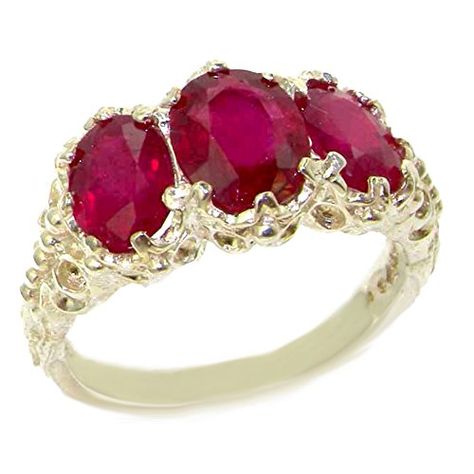 Solid 925 sterling silver makes up the band of this pretty piece. This choice keeps the ring very beautiful and durable but also helps to lower the price considerably.
Read more
In fact, this ruby ring actually includes 3 natural genuine rubies in it and yet, it costs less than many of our other ruby ring picks, partially thanks to the silver band!
The band goes from being relatively wide at the top then becomes more and more narrow until the thinnest point at the bottom of the ring.
This not only provides some additional comfort for the wearer, but it also keeps the ring right in the proper orientation on the finger without any unwanted spinning. The band features beautifully engraved detailing that swirls around the ring.
The silver details even swirl up to create the prongs that hold the stones in place. This provides a very clean and seamless design for the ring.
The middle gemstone is an absolutely stunning oval-cut ruby that measures at 4mm across and 6mm long.
On each side of the main oval-cut gemstone, there is an additional round-cut ruby as well. The different shapes help to bring more interest to the ring while also creating a nice symmetrical design.
To really top it off, there are two more stones on each side of the ring. On the other side of each of the smaller round-cut rubies, you will find two cubic zirconia gemstones bezel-set into the band.
It comes in a huge variety of sizes, so it makes a good option for anyone regardless of finger size.
You can get it in sizes 4 through 12 and that does include all half sizes as well as all quarter sizes!
9

. Diamondere Natural and Certified Ruby Ring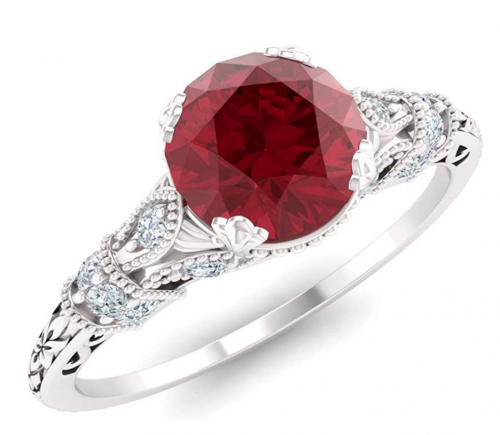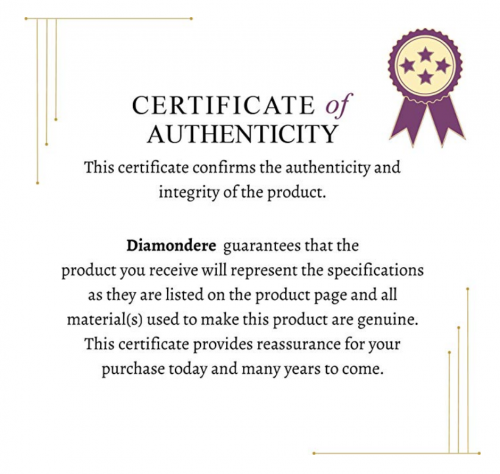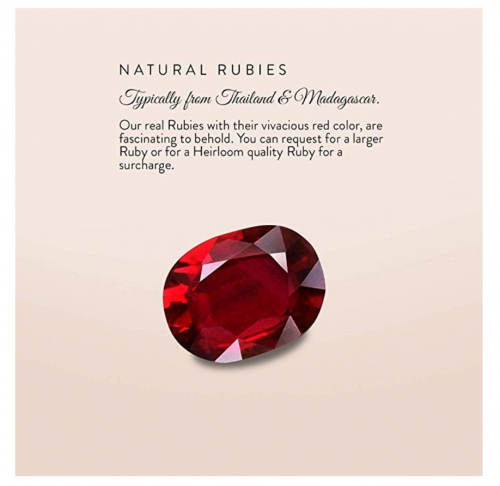 There are few ruby engagement rings out there as perfectly, intricately, and beautifully designed as this one is. This pick is simply a true work of art. Everything about it screams beauty, elegance and high-end design!
Read more
It is definitely one of the more expensive choices but seems well worth the cost for sure considering what you are actually getting with your purchase (the ring itself is made from fine 14k white gold!).
The bottom of the band is thin and dainty, but it begins to widen higher up.
At about the halfway point up the band, you will start to see absolutely incredible and stunning detail. All three of the outside edges of the band are decorated in such a clean and pretty way.
As you get farther up on the band, there is another band on each side of the ring that wraps around the original band. These little bands are lined with tiny silver balls to really guarantee they make a great splash.
Inside the bands, there are small diamonds inlaid and securely set. Peeking out from underneath the accent bands, there are more little details that you will definitely love. This includes more diamonds set beautifully into the design.
The gemstone itself is simply magnificent. It is around-cut genuine natural ruby with amazing cut and clarity. It is prong-set in such a way that the majority of its magnificence is left out for everyone to stare at in awe.
Of course, even the prong-setting is unique on this ring. Each one of the prongs has a lovely design that causes them took almost like little Fleur-de-lis holding the gemstone in place.
You can get it in sizes 4 through 9 with all half sizes also available. It comes in a very high-end ring box that is then placed in a very nice gift box!
10

. Black Bow Jewelry & Co Sterling Silver & Ruby Heart Ring
Our final pick is another lovely silver, ruby and diamond. This one has a neat twist that we just had to include and that is a heart shape that is super romantic and sweet!
Read more
It features a ruby as the main stone but has tiny diamonds as accent pieces that really add an incredible dazzle. The ruby is a created ruby with a sophisticated heart-shaped cut.
The diamonds are I3 clarity, and a total of .054 cttw.
Prong-settings with solid 925 sterling silver holds in place the ruby stone as well as the diamonds. The silver is rhodium plated for added durability and resistance to scratches and discoloring.
You can get this heart-shaped piece of jewelry in sizes 5 to 10. It even comes with a lovely ring box, a 30-day money-back guarantee, and free shipping.
Finally..
There you have it! Our 10 favorite ruby engagement rings and we trust you like each of these picks just as much as we do.
We made sure to pick rings made of the highest quality metals and designed by jewelry companies with a long-standing reputation.
We also paid attention to prices and included options in all price ranges, from affordable to high end picks. No matter your budget, you will find a ring on our list that you can afford!
If you'd like to browse some men's options when it comes to ruby rings, check our men's ruby ring guide we published some time ago!