A Unique Piece of Jewelry for a Guy? Check These Men's Ruby Rings!
last updated:
Apr 06, 2021
Men's ruby rings are a cutting-edge way to showcase your personal style with an air of affluence.
The stunning red gemstone set across a metal band shows an exceptional confidence level that every man deserves.
If you're searching for an iconic and distinctive piece to accentuate your hands, these are some of our top recommendations.
Ruby Rings for Men
1

. Palm Beach Jewelry Red Ruby Ring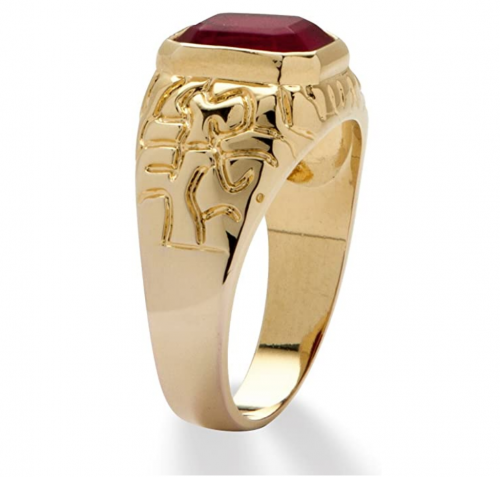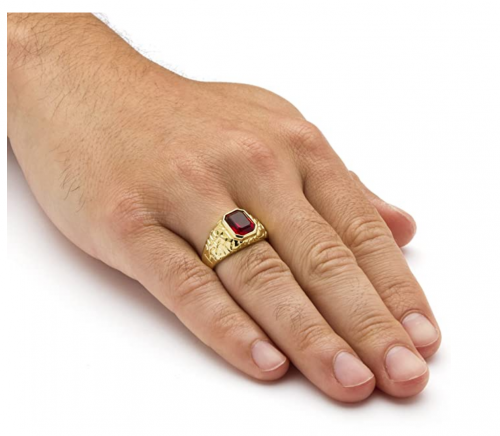 Simulated ruby
24 gold plated
Affordable
From Palm Beach Jewelry comes our first favorite ruby ring for a guy! This piece is fairly broad at 9.5mm wide. The design of this men's ruby ring is simple, yet incredibly strong. The ring starts broad up at the top and gets slightly thinner as it goes down towards the bottom of the finger. However, even the thinnest part of the ring stays broad enough to give that real manly feel all around. A lovely 14k yellow-gold plating has been placed on the ring for a stunningly bright and bold appearance.
Read more
The ruby is a simulated ruby. This maintains the deep, bright look of the ruby without costing a ton.
Speaking of price, this ring is very affordable as far as men's ruby rings go and it would be difficult to find another option this cheap that actually stands up to the quality of this piece.
The simulated red ruby features a great emerald cut with strong yet smooth corners and sides that further add to the manly look of this ring. Raised gold all around the edges of the emerald-cut simulated ruby help to accentuate the beauty of the stone perfectly while hiding all mounting gear for a smoother overall look.
This Palm Beach Jewelry piece comes in men's sizes 8 through 16 for some good variety that should fit most men very well.
2

. Stephen Webster Skull & Bones Ring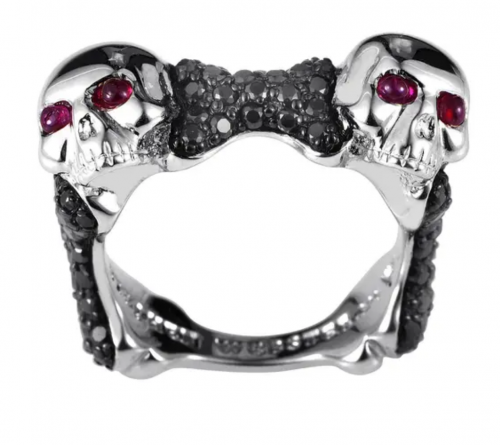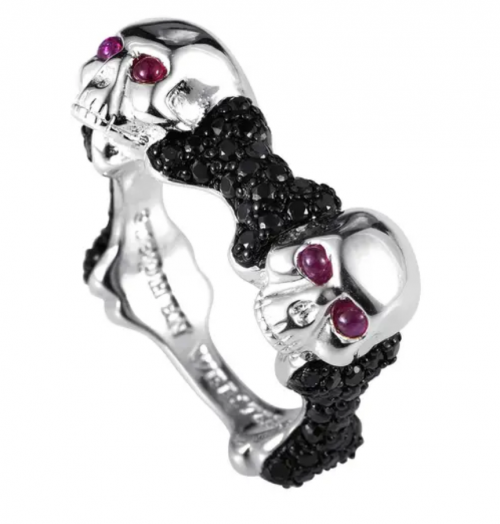 Black and red rubies
Sterling silver band
Steampunk design
Lightweight materials
If you're ready to take the plunge into alt-fashion, this is the perfect piece to help you. The Stephen Webster skull & bones ring is ideal for alternative outfits demanding attention. You'll love the combination of modernism with steampunk-influenced accents for a thought-provoking display. There's no doubt that this ring is bound to be a conversation starter with anyone in the room.
Read more
It has a punk flair that speaks to your inner rock persona with a unique display of two skulls at the forefront. In each skull, there are rubies encased in the eyes, asserting their dominance over the ring.
For a more elegant contrast, you'll find several black sapphires encrusting the remainder of the band. Each stone has been expertly placed to perfectly cover the entirety of the band for a dazzling reminder of who's in charge. The sterling silver skulls add a smoothness to the dazzling exterior.
You can guarantee this is one of the few pieces that are likely to catch light in every direction. As the rubies glisten, your ring will showcase your streamlined style for a superior and solid aesthetic.
It's the perfect piece to help you transcend to a more exotic style with an added ounce of glamour.
3

. Jewelry Avalanche Ruby & Diamond Ring


Tungsten band
Diamond and ruby stones
Brushed gunmetal coloring
Hypoallergenic
When you think of ruby men's jewelry, this piece is one of the first that you should consider. It's the perfect combination of an everyday band with a little glitz and glamour that speaks to your style. Whether you're searching for a new wedding band or an accent piece, this design is highly unique.
Read more
What we love the most about the Jewelry Avalanche ruby & diamond ring is how it combines two stones. Instead of a solo ruby, you'll have three stones surrounding the band. With an alternating diamond and ruby pattern, it adds a beautiful contrast that is fun and masculine.
You'll notice it's a significant upgrade from traditional wedding bands, especially as men deserve some bling as well. The sparkling diamond stones will glisten in the sun with the added luxury of a single ruby. Another feature that contributes to the ring's contrast is the color of the tungsten band.
Tungsten is one of the best materials for men as it's dark, brooding, and effortlessly attractive. The deeper tone of the metal looks phenomenal, displayed against the skin with a brushed matte finish. Around the edges, you'll appreciate the polished metal, which adds extra elegance to the metal.
One of the largest advantages of tungsten is its durability along with its wearability. The material is hypoallergenic, wear-resistant, and scratch-resistant, making it perfect for hardworking wearers. On average, the metal is up to ten times harder than 18k gold and five times harder than steel.
Every purchase receives a specialty ring box as well as free engraving. With your order, you can include a 15-character message to be engraved for personalization. We highly recommend this ring if you need a heartfelt gift that the recipient will remember forever.
4

. UOKOHO Cross Ruby Ring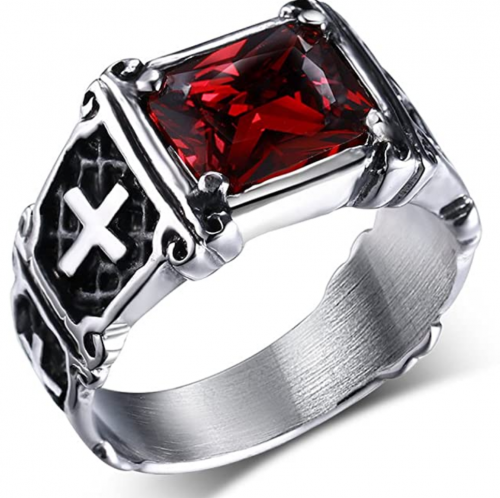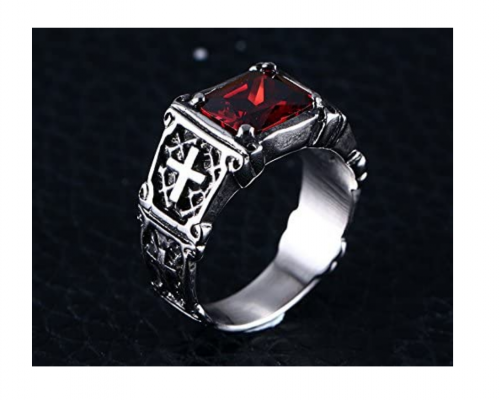 Stainless steel
Red cubic zirconia stone
Hypoallergenic
Here is an entirely different look for a men's ruby ring! This ring is from UOKOHO and is made of a strong mixture of titanium and stainless steel. This allows the ring to remain incredibly affordable as one of the least expensive men's ruby rings that we came across while also being very durable and long-lasting. The ruby itself is actually a cubic zirconia ruby with a square princess cut that gives it a brilliant shine unlike any other and from all angles.
Read more
What is more unique about this piece is the band. The inside of the band is nice and smooth for maximum comfort. The outside of the band, however, appears to be made up of individual squared panels that line up and go around to create the band.
At each corner of each panel, the metal of the ring curls out a bit to create stunning detailed accents all around it. These curling accents are even on the center panel of the ring that houses the cubic zirconia red ruby.
Within the other panels of the ring, a thin criss-cross pattern adds even more sophisticated detail. In the center of each panel along the sides, there is a bright shining metal cross that lies above the criss-cross pattern. This allows the wearer to subtly display his spirituality in a strong and proud way.
Available in sizes 7 through 14, you can choose a size that should fit almost any man. This is a lovely, inexpensive piece of men's jewelry that will stand up great to wear and tear over time.
5

. Dazzlingrock Collection Round Ruby & White Diamond Band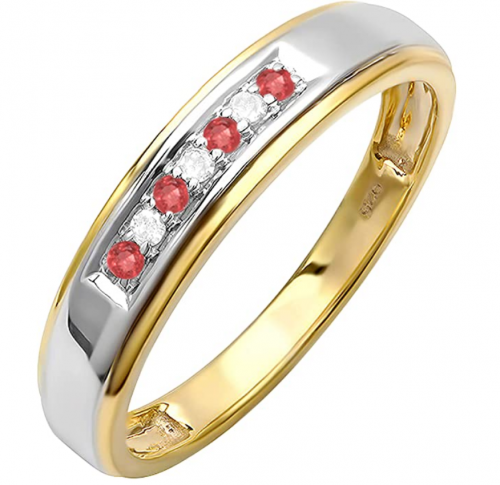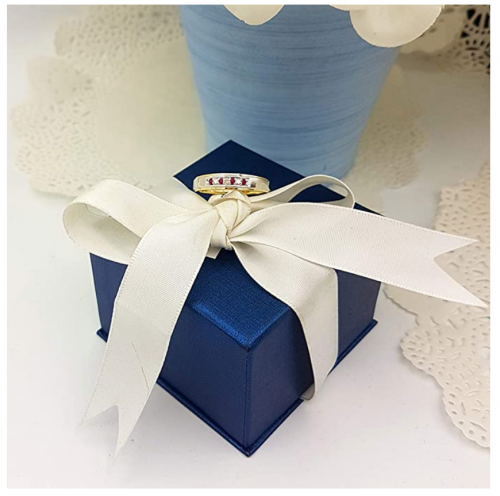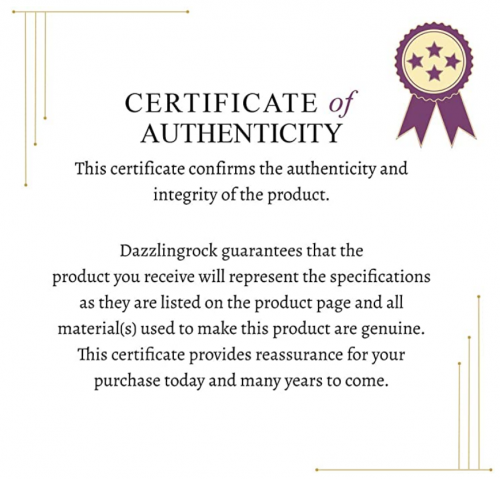 Two-tone design
18k gold and sterling silver
Diamond and ruby stones
Smoothed edges
The Dazzlingrock Collection round ruby and white diamond band is a simple unisex ring for men and women. If you're looking for a thinner band to combine with your favorite statement pieces, this is a fantastic option. The premium-grade materials and expert craftsmanship make this one of the most cutting-edge styles we've seen.
Read more
The first thing you'll think when you see this ring is how delicate and prismatic it is. It boasts a two-tone band along with diamonds and rubies perfectly encrusted in the center of the band. Its thinness adds a level of delicacy with an incredible number of details that make it one-of-a-kind.
It's also easy to maintain, edgy, and has an elegant allure that makes any wearer appear confident and sophisticated. According to the manufacturer, each of the diamonds used in the ring is classified as "conflict-free." You can guarantee that you'll be gifting an accessory with ethically sourced materials meant to last a lifetime.
The symbolism of diamonds is "Forever," which is precisely what you can expect from this piece. You'll love its beautifully reflective yellow gold set on the interior and outer rim of the ring. As the main band material, you'll find sterling silver, which is hypoallergenic and radiant.
This professionally-designed piece offers a dramatic appeal with an ornate display of stones in the center. Each of the stones has been delicately placed and tightly secured, ensuring they don't shift over time. You'll also find it's one of the more minimalistic options, as the band is thinner than expected.
One of our favorite features of this piece is how it effortlessly shines in any light. The immaculate polishing of the 18k yellow gold and sterling silver is unmatched against the glistening stones.
We also love how anyone can take advantage of this decorative piece in their jewelry box. The premium-grade artisan design is highly adaptable to men and women alike.
6

. Ruby & Oscar Ruby Ring in Sterling Silver
Sterling silver band
Round-cut stone
10mm ruby
Hypoallergenic
The ring in sterling silver from Ruby and Oscar takes a whimsical approach to men's jewelry. It has a handcrafted aesthetic that adds to the artisanship and graceful display of a round-cut ruby. It's undoubtedly the statement piece of the season that you can easily pair with anything.
Read more
When you put it on for the first time, you'll immediately appreciate its high-class appeal. The hypoallergenic sterling silver is ideal for wearers susceptible to skin irritation from fake materials. It's truly one-of-a-kind, especially if you're searching for hammered metal paired with an ornate rustic stone.
The highly polished lines contribute to the ring's timeless design, making it comparable to some higher-end designs. It also has a textured flair that plays on the sleek, modernized look of the band. If you're the proud owner of a July birthday, the ruby stone is a personalized piece you'll love wearing.
This ring is for trendsetters looking to make the best first impression. You can guarantee the ruby is the focal point of this piece, as it's ten millimeters wide and takes up the majority of the band. There's something graceful and gorgeous about the round-cut stone, offering a two-tone contrast on the ring.
7

. Peora Ruby-Sterling Silver Ring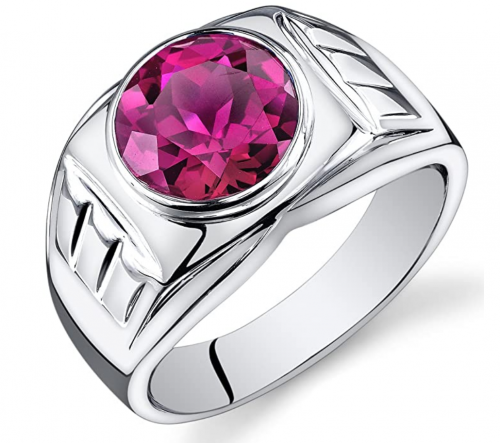 Sterling silver
Rhodium plated
5.5. carat stone
Perfect for a man with a more modern style, this Peora piece is shiny and strapping. It comes in about mid-priced for what it is. The stone in this ring is another created ruby. This helps keep the price down while still holding onto that bold and gorgeous ruby appearance. The ruby features a round-cut that sparkles amazingly in almost any lighting. At about 5.5 carats, this is a huge created ruby that easily turns heads. It measures 10mm across, so it is very broad.
Read more
Surrounding the stone is a smooth, raised halo of silver. Beyond that, the band of the ring juts straight out each side for just a moment before angling out and then curving all around the finger.
On the angled section of the ring's band, a raised surface is broken up by smooth and straight channels that have been artistically cut into the metal. This creates a subtle texture that gives additional detail without taking anything away from the created ruby stone.
The metal of the ring is 925 sterling silver. The sterling silver that makes up the band is also specially plated in rhodium. This gives it an amazingly strong and durable finish that shines beautifully. The band is nice and wide.
At the center of the top of the band, the sides curve slightly inward to a subtle point that faces the created ruby. While this choice is a little pricier, it does feature the real lab-created ruby as opposed to a simulated version.
It even comes with a certificate of authenticity that outlines the parameters used to define the various types of materials used within Peora's jewelry – including for this piece of course.
8

. Ruby & Oscar Ruby & CZ Cabochon Ring
Sterling silver
Cubic zirconia and rubies
Smoothed edges
Hypoallergenic
The ruby & CZ cabochon ring in sterling silver is a luxurious upgrade from the previous Ruby and Oscar piece. Instead of having a single ruby encased in sterling silver, this ring also adds cubic zirconia's elegance. With the sparkling detail akin to luxurious diamonds, this piece adds more prismatic elements.
Read more
When you combine the round cut ruby's beauty with the round brilliant-cut cubic zirconia, it sets the stage. The stones' effortless smoothness speaks to their exquisite nature, especially if you're looking for an exotic piece. It's fashion-forward while adding an element of mystery and superiority.
The band is crafted from high-quality sterling silver, which is hypoallergenic and long-lasting. Over time, you'll want to polish the band so that it can maintain its original luster.
This flattering ring is an iconic statement piece for any finger and can even be worn on your pinky. You'll find several unique attributes that contribute to the ruby being the focal point of the piece. Delicately elevated levels of sterling silver hold the ruby in place, with independently-set CZ at the edges.
We also love the smoothed edges of the ring, which help to reduce skin irritation and discomfort. You'll find that wearing this ring all day is simple, especially if you need a piece with exceptional flexibility. It's cool, ornate, and the perfect way to boost your confidence.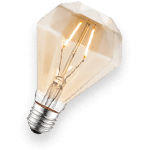 Why Men's Ruby Rings?
Rubies can be a really excellent choice for a man for a few reasons. First of all, the deep red hues associated with rubies are strong and robust.
When utilized well within a great piece of jewelry, ruby can be one of the most masculine gemstones out there. In fact, they have long been considered a gemstone for kings.
Rubies are often associated with power and wealth. They've even been thought by legend to help bring more wealth to their owners.
The Meaning of The Stone
One more cool fact that makes them excellent for men is that they are considered to be stones of protection. They are thought to bring safety and protection over the wearers – especially when worn on the left side of the body. This protection can even extend out and allow the man to better perform the traditional role of protector.
Whether you believe the lore or not, rubies are undoubtedly a very strong-looking gemstone that, when added to men's ruby rings, helps accentuate a man's natural strength and masculinity in a confident and sophisticated way.
Other Factors to Consider
Price
How much is a ruby ring worth? There are several factors to consider when determining the cost of a ruby.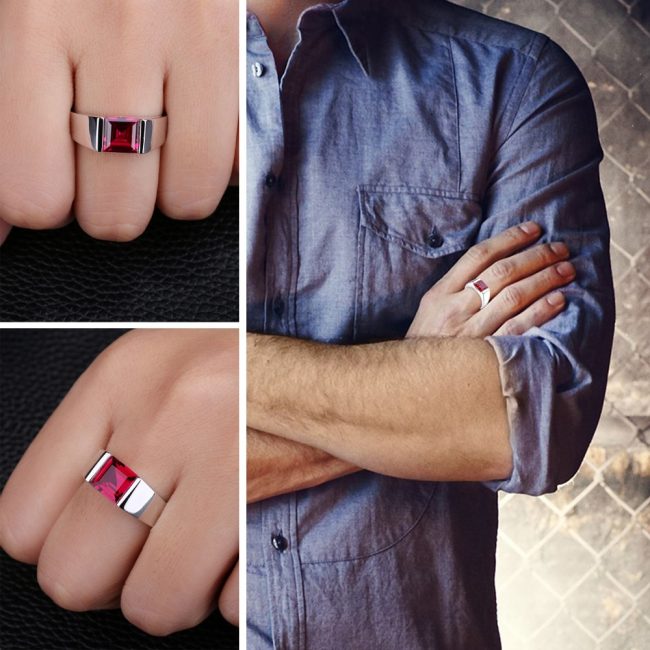 Much like a diamond, where the ruby is sourced from, its clarity and how it's treated can make a significant difference.
Some of the most expensive stones have had prices well above $1,000,000 per carat, but that's not expected of every piece.
The most common factors considered when valuating rubies include:
✓ Color and Hue
The most expensive rubies are vibrant in redness with a small blue hint, which only makes the red more vibrant. Burmese rubies are by far the most precious options on the market, with prices so high they're evaluated piece-by-piece.
Rubies with more yellowed tints are typically valued at less, but they can still catch a good price depending on their cut.
✓ Clarity
Rubies are known to have less clarity than other stones, as they're likely to have inclusions and fissures. Most of the inclusions are likely to be seen by the naked eye, which is why clarity isn't the most important factor in valuation.
Interestingly, some of the world's star rubies are opaque in nature.
✓ Origin
The most influential factor in the price of a ruby is where it's sourced from or its country of origin. As mentioned, Burmese rubies are the most valuable on the market and can double the market price.
If you're able to source a natural ruby, it will fetch a higher price than synthetic varieties, as with any stone.
All in all, determining how much a ruby ring is worth depends on several key factors. It's best to have your ring evaluated by a trained professional to get an accurate price.