A Unique Piece of Jewelry for a Guy? Check These Men's Ruby Rings!
last updated:
Apr 06, 2021
Men's ruby rings are a cutting-edge way to showcase your personal style with an air of affluence.
The stunning red gemstone set across a metal band shows an exceptional confidence level that every man deserves.
If you're searching for an iconic and distinctive piece to accentuate your hands, these are some of our top recommendations.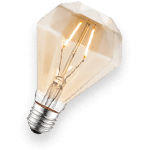 Why Men's Ruby Rings?
Rubies can be a really excellent choice for a man for a few reasons. First of all, the deep red hues associated with rubies are strong and robust.
When utilized well within a great piece of jewelry, ruby can be one of the most masculine gemstones out there. In fact, they have long been considered a gemstone for kings.
Rubies are often associated with power and wealth. They've even been thought by legend to help bring more wealth to their owners.
The Meaning of The Stone
One more cool fact that makes them excellent for men is that they are considered to be stones of protection. They are thought to bring safety and protection over the wearers – especially when worn on the left side of the body. This protection can even extend out and allow the man to better perform the traditional role of protector.
Whether you believe the lore or not, rubies are undoubtedly a very strong-looking gemstone that, when added to men's ruby rings, helps accentuate a man's natural strength and masculinity in a confident and sophisticated way.
Other Factors to Consider
Price
How much is a ruby ring worth? There are several factors to consider when determining the cost of a ruby.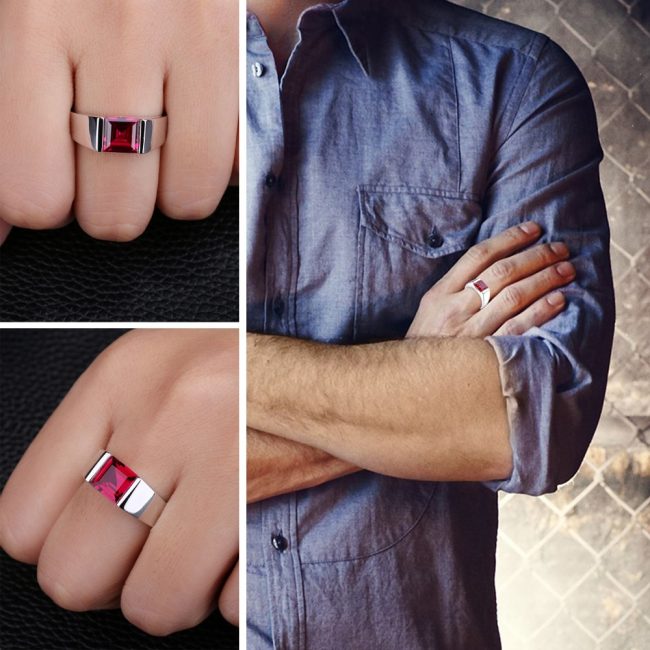 Much like a diamond, where the ruby is sourced from, its clarity and how it's treated can make a significant difference.
Some of the most expensive stones have had prices well above $1,000,000 per carat, but that's not expected of every piece.
The most common factors considered when valuating rubies include:
✓ Color and Hue
The most expensive rubies are vibrant in redness with a small blue hint, which only makes the red more vibrant. Burmese rubies are by far the most precious options on the market, with prices so high they're evaluated piece-by-piece.
Rubies with more yellowed tints are typically valued at less, but they can still catch a good price depending on their cut.
✓ Clarity
Rubies are known to have less clarity than other stones, as they're likely to have inclusions and fissures. Most of the inclusions are likely to be seen by the naked eye, which is why clarity isn't the most important factor in valuation.
Interestingly, some of the world's star rubies are opaque in nature.
✓ Origin
The most influential factor in the price of a ruby is where it's sourced from or its country of origin. As mentioned, Burmese rubies are the most valuable on the market and can double the market price.
If you're able to source a natural ruby, it will fetch a higher price than synthetic varieties, as with any stone.
All in all, determining how much a ruby ring is worth depends on several key factors. It's best to have your ring evaluated by a trained professional to get an accurate price.