Gemstones / Mix / Women
Moonstone Bracelets Are The Only Accessory You'll Need This Spring
Moonstone is all the rage right now.  The ethereal colors and soothing energies of the lunar-inspired stone are perfect for any ensemble. As spring begins peaking around the corner there is no better time to freshen up your jewelry collection with an entire swathe of one of the hottest moonstone bracelets.
Moonstone is available in such a variety, there is no end to the styling possibilities. Even the celebrities are in on the game and we are seeing moonstone appear all over the red carpet and celebrity hotspots.
Celebrities in Moonstone
Drew Barrymore, Julia Roberts, and Paula Patton have all been spotted rocking the red carpet studded with moonstone.  Since moonstone, like moonlight, comes in such a wide range of colors it is a wonderful, other-worldly addition to red carpet looks.  Julia Roberts happened to wear a blue moonstone with a lovely blue ensemble that bespoke the grace Ms. Roberts is known for.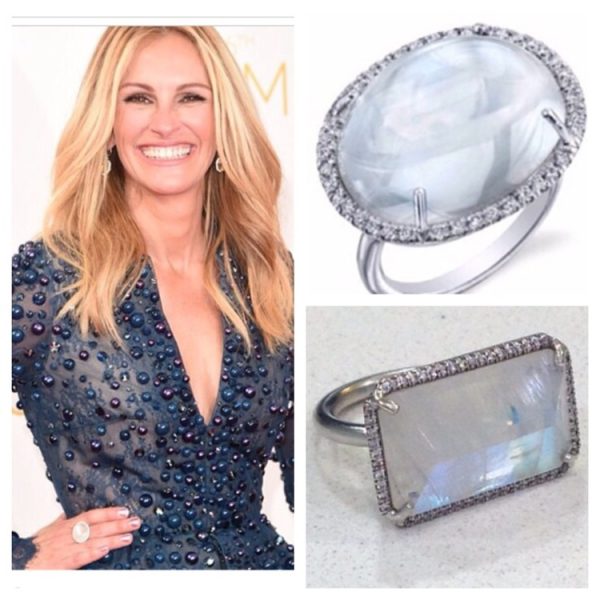 Moonstone strikes a perfect balance between the glint and richness of diamonds with the bright splashes of bold color of opal. It is less intense than opal but that lends it an air of understated elegance without all the in your face iridescence of opal. This makes it the perfect selection for a rad red carpet look.  
Alternatively, it can be fairly muted without losing variety so it is perfect for daily wear or that perfect pop of color to your evening attire.  Dress it up or dress it down, you really cannot go wrong with lunar-inspired moonstone.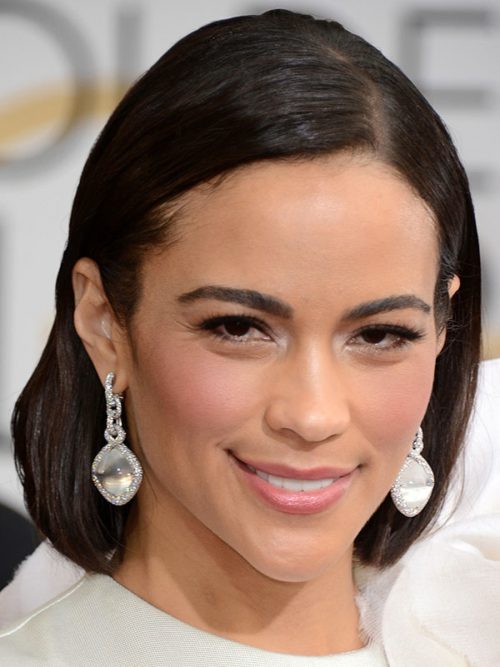 We are so impressed with this stone we have located several of our very favorite moonstone pieces from a wonderful site we found, moonmagic.com.  A whole variety of elegant pieces really spoke to us. We've found our most favorite bracelets featuring moonstone from there and across the world of online shopping.  
Our 10 Favorite Picks!
1. Handmade Boho Style Moonstone Bracelet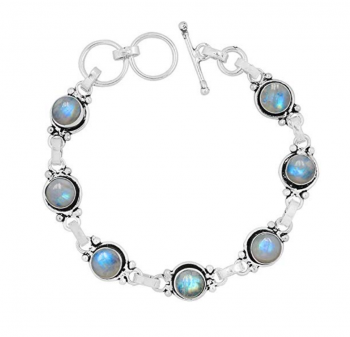 This charming bracelet features a collection of nine almond-shaped moonstones. The rich colors vary from piece to piece. However, they tend to lean toward the cooler side of the color wheel. Blues, mints, and purples will look absolutely gorgeous with this bracelet.
The stones are set in 925 Sterling Silver. The bracelet is eight and a quarter inches with a quarter-inch extender so it will fit loosely on most wrists.  This will allow the bracelet to swirl charmingly on your arm.
This piece is almost tailor-made as a solo piece. Pair the cool jewel tones of the moonstone with the fresh colors of spring.  Pastels of any variety will be perfect.
We especially recommend this piece to juxtapose with the warmer spring tones such as coral and rose. It will truly enhance the blues and greens of the stone by playing with opposing colors on the color wheel.
Consider wearing this bracelet with a fitted coral top, perhaps with high details such as a frilled button color or peek-a-boo shoulders. In order to not detract from the gorgeous bracelet, you will want to avoid sleeves with loud detailing. The same goes for flowy pieces.
We are typically big fans of flowy sleeves and lighter than air draping pieces during spring but we feel it would only draw attention away from the star of the jewelry. The moonstone is so subtle in its coloration, overworking the details in the clothes will not serve you well here.
We do recommend being bold with print and pattern in the pants or skirts you select. Since the whole color spectrum may be gently represented by your moonstone bracelet, the nine almond gems will stand up to louder prints on your lower half.
Play with flowers, stripes, dots, and other patterns. Once more, we recommend snugger fits such as leggings or fitted pants. Pencil skirts are also fantastic to flatter both the figure and your new favorite moonstone accessory.
2. Open Cuff Bracelet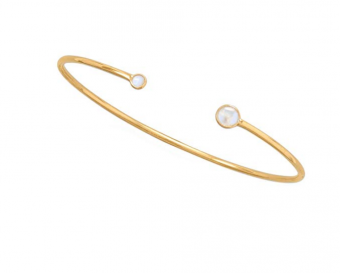 This beautiful bracelet features a cabochon of moonstone measuring a whopping half-inch in diameter. This sizeable chunk of one of the most gorgeous gems on the market is framed by a beautiful gold cuff.
This bracelet is stunning but due to the design, this is not recommended for wear for active lifestyles. It might also cause some discomfort at work if you spend your days at a keyboard. Bangles and wires are far more suited for this. With this in mind, the New Moon bracelet is absolutely ideal for dressier events.
We can absolutely see this subtle piece as a featured bracelet in a bridal ensemble. Spring weddings are so refreshing and effervescent, the jewelry should be as well. The cooler tones can complement any wedding color scheme. The bride could absolutely wear this and it will not go unnoticed. Of course, neither will it detract from the stunning dress.
Alternatively, this bracelet would make a wonderful bridesmaids gift. With all the ladies flanking the bride sporting this lovely, simply designed bracelet, the effect will be positively jaw-dropping.  The stone is large enough to be visible, even when holding the lovely bouquets but not so large as to feel awkward or heavy on the wrist.
Even if a wedding is not forthcoming or in your near future, the bracelet is wonderful to add class and elegance to an evening or formal ensemble.
The band adds depth and a touch of burnishing darkness to the bright silvery stone. The t-bar closure will allow the piece to move wonderful around the wrist, adding a touch of motion to the jewelry choices. It is elegant enough to be featured at balls, operas, ballets or other events that might necessitate a formal gown.
3. Adjustable Sterling Silver Cuff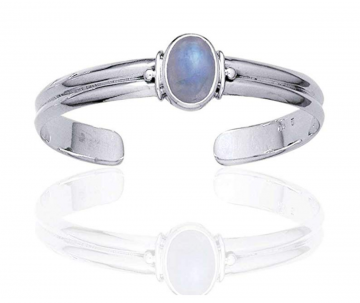 This is the first of the selections that we believe would be a wonderful daily wear moonstone bracelet. The styling is so simple it is almost an understated piece. But since the bracelet includes moonstone, it sends it right over the top to positively perfect. An oval cabochon of moonstone is set in 925 Sterling Silver and attached firmly to a simple bangle style bracelet.
The bangle style is open on the inside of the wrist which means you can easily size it by gently flexing the metal and it will fit on most wrists.  We love bangles for layering as well. This piece is gently styled and we can envision it paired with other wire bangles. Consider matching it to a lovely Alex and Ani piece to add a few charming charms to your look.  
We do recommend you pair it with other silver tone pieces. Normally we are all about the mixed metal life but this moonstone is just large enough that unless your piece happens to be particularly warm in nature, it will do better matched with other white gold and silver pieces. Additionally, we are not fans of mixing media with this bracelet. No matter what we recommend, you wear what you love. If you adore this stunning use of moonstone paired with your chunky resin bracelets, we will not judge you at all!
The sturdy construction means it will hold up to daily wear or use in the office. It might even do well if you forget to take it off during a run or at the gym. Of course, after any such use, you should wipe it down with a clean cloth. Sterling silver is sensitive to humidity. A proper care routine is necessary for even the finest jewelry.
4. Rainbow Moonstone Silver Link Bracelet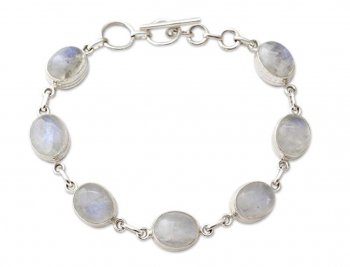 Not only is the name of this piece wildly clever, so too is the styling. Five round moonstones are interspersed between four slightly larger oval gems. All nine of them are framed with 925 Sterling Silver and chained together within a beautiful array. The piece is sure to draw on the powerful elements of the crystal healing world, granting peace, serenity, sureness and, naturally, sanity.
We love this paired with darker colors. Our favorite look for this bracelet, in particular, is a bold black and white look. While spring is typically a bright color season, there is always room for a nice black and white ensemble made of light, airy fabrics.
The black will really make the astounding beauty of the gems pop. It will also highlight the variegated shapes featured in the bracelet. Since the alternating ovals and circles are a key element to what makes this bracelet so wonderful, it is important to style your outfit to draw attention to this brilliant little detail.
Trying pairing the bracelet with a boldly striped skirt and a fitted sleeveless top. Bonus points to your styling IQ if you are able to find a high neck top with a brace ruffle just under the chin. It will channel your inner Elizabethan aesthetic. The moonstone bracelet will keep it grounded as well as modern.
Even if black and white is just a little overmuch for your tastes, no matter how you wear it this is sure to get noticed. It will easily dress up a more casual denim look as well. We just cannot get enough of moonstone and denim if we are being honest.
The silvery blues are just perfect with a nice bright high-waisted blue jean. Imagine this moonstone bracelet peeking out from underneath the cuff of a denim jacket for those chillier spring mornings and you can see where we are coming from.
5. Genuine Moonstone Cuff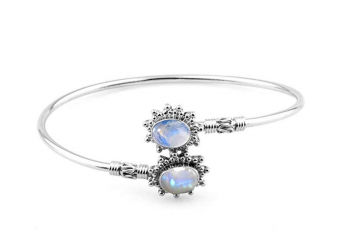 We revisit the wire bangle with our next selection but this time with a twist. Instead of the moonstone gems floating atop the bar side of the bracelet, this piece incorporates two dainty moonstone gems at the open end of the bangle. It is almost as fi the bracelet is spun silk from the inside of the glowing stones.
In fact, this is another wonderful example of 925 Sterling Silver in bracelet form. The bangle is, by design lightly adjustable but it will fit most wrists easily and with no adjustment.
We adore this one for a daily wear look as well. Truth be told, we are tempted to wear this literally daily. It will go with anything. It can add an edge to a more sophisticated, classic look and elegance to a more casual aesthetic. The bracelet is so incredibly versatile we do not even have a "do not recommend" list for this bracelet. As a solo piece, we can see it with just about every style, look, or outfit imaginable. The jewelry is just that perfect!
This bracelet is ideal as a solo piece but it is subtle enough that we do not hate it for layering either. Try mixing the media with this one. Add charm bracelets, a leather cuff, and a series of simple wires to this moonstone feature piece to create a varied, boho effect. If you'd like to keep it in the same family, add a few other open bangles for a stair-step effect.
If you really want to go all out and really push the moonstone agenda, wear it alongside the Dainty Shield bangle for a yin and yang effect. The bold oval of the Dainty Shield and the gentle bead-like quality of Petite Reflections are a match made in moonstone heaven!
6. 14k Gold Plated Bangle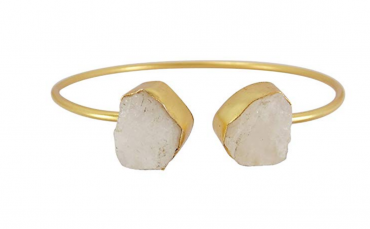 This next find is probably our favorite on this entire list. It finds the crystalline nature of the stone itself and leans hard into it. We could not love this bracelet more if we tried.
The open bangle cuff styling is the perfect design choice to feature to sizeable hunks of moonstone. The gems are cut to pay homage to their original crystalline form.
Spires of beautiful moonstone rise up and reach down from two angular bands. The look is both edgy (as indicated by the truly inspired name of the piece) and gentle.
This bracelet is just perfect for those who follow the teachings and world of crystal healing. Not only do you garner all the wonderful benefits of the moonstone itself, but you really harness those energies by using the crystal shape.  
This is a wonderful bracelet to match a grungier, more hardcore style choice. Pair this with black silver, burnished sterling, and other darker pieces to really pull the concept together. We think this would be a wonderful standout bracelet against a black lace wrist wrap! The two opposites would really work perfectly together.
Even if the edgier looks are not your style of choice, it is easy to wear it with a more traditional look. We recommend pairing this piece with pastel blues, mint greens, and lavender purples to really make those crystals pop. Solids or prints, the choice is yours as all eyes will be on this sparkling example of how to use moonstone the best way possible.
Or pile on the moonstone and wear all three wire bangles and cuffs we have mentioned this far. Each will work well when paired with the others but still manage to let the others speak from themselves.  
7. Celtic Knotted Moonstones
This next piece is the first on our list to feature a bit more metalwork. While our previous six selections were all about the moonstone is the key (and only) feature, this next selection proves that moonstone can share the spotlight and be no less stunning for it.
This 925 Sterling Silver bracelet features gently looping Celtic knots between four generous mounds of moonstone. The gems are set into cabochons which really allow the chatoyancy, or inner beams of light, to shine. As a bonus, this is an absolute bargain price for one of the rising stars in the gem world.  Since the stones are natural, the color may vary but the piece is more silver heavy so styling choices are still endless.
The Celtic Knotwork Moonstone bracelet is absolutely a solo piece. Add other bracelets to the mix and you might miss all the lovely scrolling loops typical of the Celtic knotwork. This is a wonderful piece for the upcoming St. Patrick's holiday as well with a hearty nod to Ireland through the knots and a built-in rainbow in the moonstones.  
8. Offset Moonstones in Gold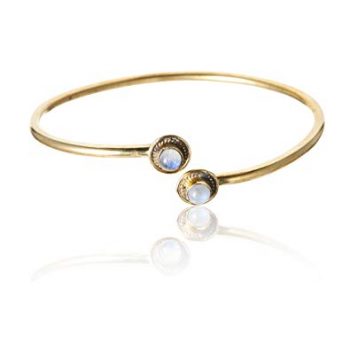 As if we did not already know just how chameleon-like moonstone was, we simply had to include this example of moonstone set in yellow gold. This wire bangle-style bracelet features two round pearl-like gems in moonstone. Each stone is surrounded by yellow gold-tone alloy and hugged by gently textured detailing. Beyond that, it is simply a stretch of yellow gold-tone brilliance wrapped around your wrist.
This is a true testament to the idea that moonstone can go with anything. It is a pure must-have in any jewelry collection. This piece should be included. It enables you to pair warmer colors with the silvery light-capturing moonstone.
Wear this bracelet with the brighter colors as spring turns into summer. Oranges, reds, and bright pinks are just begging to offset the warmth of this bracelet. This is a prime candidate for matching with your louder prints that feature a wealth of colors. Rainbow palettes are perfect a perfect match for this odds-defying bracelet.
This bracelet is wonderful for a layered look, pairing with it a host of other yellow gold bangles, wire bracelets, and bold cuffs. We also think it would look lovely paired with yellow gold-toned bracelets featuring opal, turquoise and moonstone's close cousin, labradorite.
9. Multi-Gem NOVICA Bracelet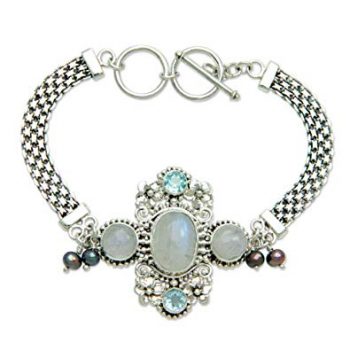 Our next selection is both gorgeous and bold. The first of our offerings to pair moonstone with other beautiful gems, this piece is also a force in the global market. Created by a Balinese artisan named Buana, it is solid through National Geographic's NOVICA program. Designed with an aim to enrich the lives of the talented and skilled jewelry makers the world over, NOVICA pieces are lovingly and carefully crafted by international talents. Proceeds from the sale of these ones of a kind designs go directly to the creators.
This particular bracelet features three generous cabochons of moonstone, intricately decorated with swirls of 925 Sterling Silver above and below. Cultured Tahitian Peacock Pearls dangle from the edges adding a bold dark flash of iridescent brilliance from the edges. Crystals the color of the clear blue ocean cap off the overall look for a decadent look.  
This is a perfect piece to fly solo, adding a rich elegance to your evening look. The bracelet will look positively stunning matched with every girl's best outfit, the little black dress. The variation of color, however, means that it can be the perfect complement to just about any gown in any color. It looks like it is a runway or red carpet ready.
10. Rainbow Mist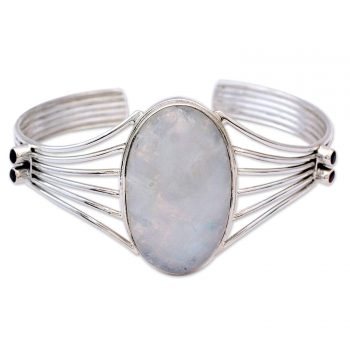 We adore the NOVICA initiative so much, we included a second creation by a NOVICA artist on our list. This next bracelet is created by Indian artist Shanker. He has created a stunning moonstone bracelet that is somehow fascinatingly simple yet makes a strong statement.  
A positively massive portion of moonstone is supported atop an array of 925 sterling silver filaments. These seem to materialize from the moonstone cabochon itself, growing out of the moonlight, spinning itself into a graceful arch around your wrist. Four tiny black gems cease their growth with stunning alacrity.
The cuff is big and bold and we cannot get enough.  Another piece that we feel is best-worn solo, this is not just a bracelet for the highest of couture events. This bold piece will work wonderfully with a more casual outfit as well. We can see this paired with a cute pair of leggings and an oversized top. It strikes us as a very Kardashian-esque find. We can absolutely envision Ms. Kendall rocking this bracelet as she flits about her daily life, running errands and hopping from event to event.  
Moonstone Origins
Moonstone is a type of feldspar crystal. Feldspar covers around forty-one percent of the Earth's surface. It is a type of crystal that forms when magma interacts with a type of sedimentary work. A wide variety of some of the most gorgeous crystals and semi-precious stones are in the feldspar family. Moonstone manages to encompass a host of colors and varieties and to wonderful effect.
The colors remind the viewer of bright, cool moonlight scattering through a veil of thin, wispy clouds. Whites, blues, and silvers are accompanied by subtle dashes of golds, yellows, rosy pinks and stunning ultraviolet rays of light in the most common varieties. The stones can range from relatively translucent to very nearly wholly opaque.
The characteristic sheen and shimmer in the stone is an optical effect known as chatoyancy. Chatoyancy, also known as the cat-eye illusion, is created by the fibrous nature of the crystal.  It creates beams of light that seem to emanate from inside the stone itself. This is also sometimes referred to as adularescence. Aduralescent stones seem to have an inner light or glow.  The phenomenon is common in moonstone, some varieties of agate, opal, and labradorite.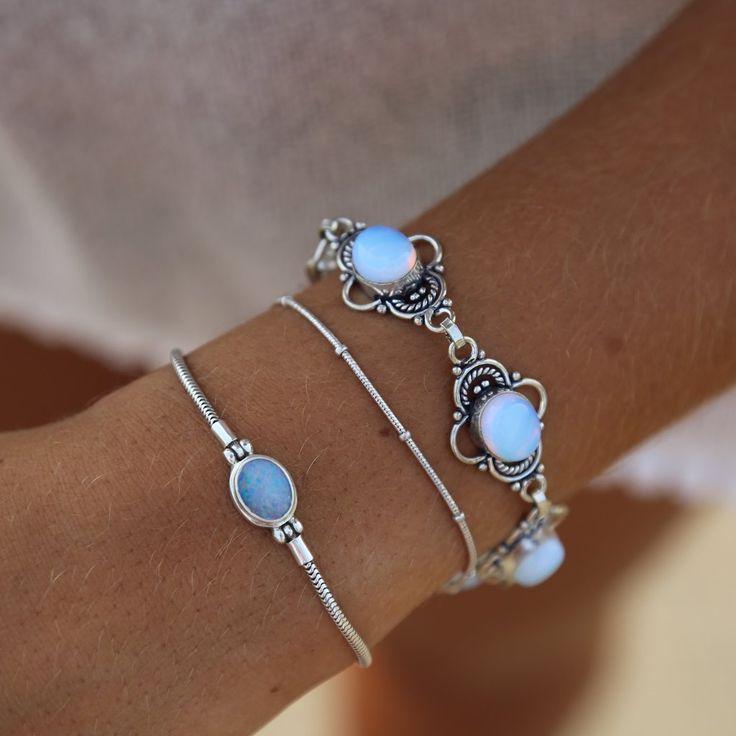 Moonstone has been featured in jewelry since ancient times. The Romans believed that moonstone is quite literally moonbeams made solid. This is true of many Hindu mythologies surrounding the gems as well. It is easy to see how this is the case. Both the Romans and the Greeks associated the gem with their lunar-influencing gods and goddesses.
Renowned French goldsmith Rene Lalique sky-rocketed the popularity of moonstone in the late nineteenth century. He included it in several of his pieces and the demand for the lustrous stone rocketed upward. The Art Nouveau period was a wildly popular period for moonstone inclusions in jewelry.
Moonstone was named the state gem of the US state of Florida in the 1970s. Slightly tongue-in-cheek, despite moonstone not being native to Florida, it was named to celebrate the achievements of NASA and the Johnson Space Center. It remains the state gem to this day.
Moonstone in Crystal Healing
Moonstone is all about balance when it comes to its application in crystal healing beliefs. Most often it is associated with feminine power and balance. For many, it is believed that the lunar cycle influences the female hormonal cycle. So it is no surprise at all that the moonstone is tied to the strength of the woman.
Moonstone is often used to ease or cure those annoying and distracting symptoms of a woman's menstrual cycle.  It is also tied to relieving the discomforts of pregnancy and childbirth. This being the case, it is fantastic for use as a bracelet. Wearing the moonstone on your wrist keeps the stones closest to your midsection where they can directly affect the energies. While the stone itself is most often tied to the crown chakra or energies of the head, its implementation for the relief of the pains of femininity makes it perfect for a bracelet. It really allows the stone to absorb those negative energies that create the discomfort.
Of course, the moonstone carries with it other powerful properties but we absolutely love the feminine tilt to the interpretations and uses when applying it to a bracelet form.