Mix / Necklaces / Women
10 Black Pearl Necklaces that Look Stunning
Black pearl necklaces are of different kinds. For instance, it could be the Tahitian black pearl necklace or the single black pearl or maybe even the natural type. With this knowledge, it becomes the work of keen eyes to recognize the best choices in the market. Still, before we take a look at our top choices, we want to show you how we see necklaces that use pearls. Let's see if you'll see things from our own perspectives.
Why We Love Black Pearl Necklaces
If you take a look at any pearl you can find your hands on, the stone glistens with a kind of creamy/glossy finish. Though, at the same time, it's properly covered in terms of durability, in as much as you treat it like jewelry. That is, it's perfect for everyday use if a high-quality one is chosen.
That said, its attractiveness is a result of the nacre surface. When it is used in making a necklace, that surface is the first part of the design that catches attention. Literally, it doesn't know how to let go. And all of this applies to pieces of jewelry that use white pearls. On the other hand, black pearl necklaces that use black pearls are in another category entirely. While the color black is known for being inconspicuous, black pearls do not fall under the same category. Fact is, black pearls are the rarer, more exotic versions of their counterparts.
They don't look creamy; instead, expect a black that takes on different hues of deep purple. Definitely one of the most mesmerizing looks that we've encountered so far. For this reason, this post is created as a go-to for you to make the best choice of stunning and affordable black pearl necklace. We mean the ones that can keep up with your daily activities and still make you look flawless after all that stress.
10 Best Black Pearl Necklaces
1. The Pearl Source – 14K Gold Round Black Akoya Set
Remember when we mentioned the awesome design the other time? Well, here's what we mean. The design for this a black pearl necklace is simple and attractive. Here, the producer's creativity is clear and visible as pearls instead form the necklace (primary item), bracelet, and even the earrings (secondary ones). It gives a sense of uniformity that any lady would love. Moreover, if it's a gift for her birthday or your anniversary. If those 2 occasions are not coming up anytime soon, there's the whole Christmas gift to worry about and even Valentine if you don't mind the black color.
The necklace, bracelet, and earrings pair come in a box, and inside it, you'll find a collection of jewelry accessories that are made of iridescent nacres. Result of this is that whenever the pieces of jewelry hit the light, there's this effect of black hues across a wide range. It creates a solid profile that you can combine with any outfit in your wardrobe. And when we mean any outfit, we mean both casual and official situations.
2. Mints – Freshwater Pearl Necklace Pendant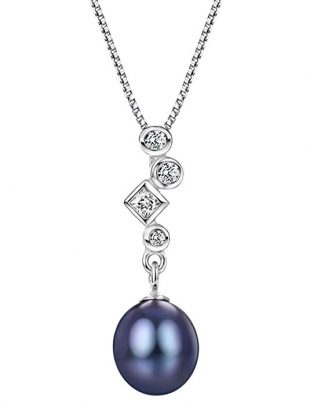 The Mints Freshwater Pearl Necklace is made from Sterling silver and it also comes with a pair of pearl earrings of the same quality. Combining both results in an appearance that comes close to being called perfect. The exact word that would best describe your partner. Hence, we would like to think that you can see where we're going with this. Buy this necklace (+ earrings) if you've been looking for a Christmas gift for your little girl or partner. If their birthday falls in this month, then that's another good reason. Otherwise, keep this idea until her birthday rolls in, where you'll be waiting.
It uses a single pearl to pull off a look that most other manufacturers would use dozens of pearls for. As a result, its precise and clean look form a combo that we appreciate since there are women who don't prefer complicated things. At the same time, Sterling silver is known for its durability. So if you're thinking of giving your daughter something for a birthday, here's a necklace to consider. The looks won't bring any unneeded attention to her and the toughness makes sure the gift will stay on her neck for as long as possible. Advantage of this is that you'll always be on her mind.
3. Grace Jun –  Simulated Pearl Long Necklace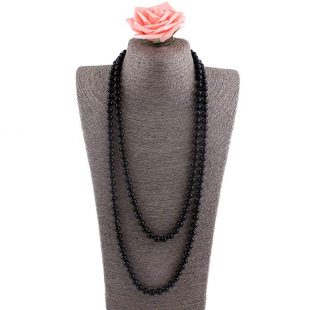 Like the ones above, this is a quality black pearl necklace. But unlike the ones above, it is completely made of black pearls. These balls look as if they are knotted, in a shining connected chain. If you have a dinner at work and you want a jewelry with a look that'll leave the crowd stunned, you can easily pull that look off with this. The necklace's hue gives it enough versatility to mix perfectly well with all outfits. Still, while we would say you should give it to anyone that you know who has an occasion coming up soon, we won't.
This piece will be best enjoyed by someone who attends a lot of official services. So we recommend it to anyone who falls under the category. Or better yet, if your wife or partner is in a lot of these situations, don't ignore this option. If you later decide to give it a buy, the upcoming Christmas season is the perfect time to give the gift since it'll get you massive positive feedback and rep with your partner. If you don't like that time period, you should try out something different. We recommend taking her out for a dinner during the new year festivities—wherein she'll be wearing the necklace throughout the activity.
4. JYX – Seashell Pearl Necklace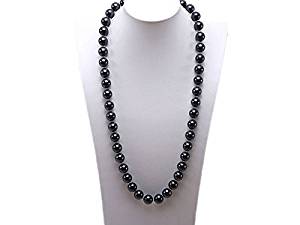 With the JYX necklace, we introduce to you a piece that will improve your personal charm. The personal charm here is the fact that pearls literally make you stand out from the crowd. Whenever we walk down our favorite after-work street in a day, the norm seems to be gold, Sterling silver, and rare cases, platinum. Pearl plays a different game from all of them since it's a stone that's strictly for women. So the question is not whether or not the JYX's necklace is eye-catching, it's if you or maybe she, can deal with the looks that'll come her way or not.
Now, having mentioned the looks department, let's talk about how great the necklace looks. The JYX necklace features 12 mm sized black petals that'll spill down your neckline. Still, that large size makes it imposing and thus, dominating in a way. Do you have anyone like that, perhaps? The quiet women who run businesses like the best of our counterparts. This is the kind of necklace that'll play a huge part in her wardrobe since it fits in so well with her chosen element. It should that there was a lot put into selecting a gift that'll easily fit her taste.
5. VIKI LYNN  – Tahitian Cultured Black Pearl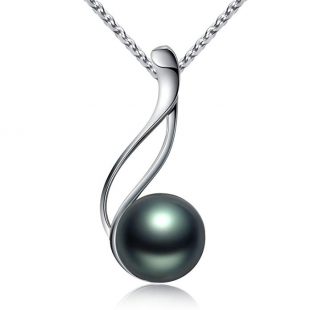 It will be incomplete to list all the designs of pearl necklace without introducing this one. For all the designs of black pearl necklace in this post, they have common characteristics. In a way that none so far has this kind of shade. The VIKI LYNN necklace holds a single black pearl that looks darkish green, rather than black. Adding to the look, the surface is glossy and reflective—hence, the necklace itself is always ready to attract attention.
That said, the chain holding the pearl is completely made out of Sterling silver. That doesn't sound as exciting as the first time we said (we admit), but we still can't help but give it points for the durability it offers. Pearl is not on the level of diamonds or even Cubic Zirconia. So it's always nice to see it hang on something that can take a daily beating.
If you are a man who has been thinking of the perfect gift for your little girl, daughter, or wife—this is an option that you shouldn't miss. Sure it costs a pretty dime, but love doesn't really have a price tag (low or high) if your budget allows it. Just find an occasion good enough to give the gift out. That can be during Christmas, New Year, or even her birthday if it's near. It's up to you to decide.
6. JO WISDOM – 925 Sterling Silver Freshwater Cultured Pearl Pendant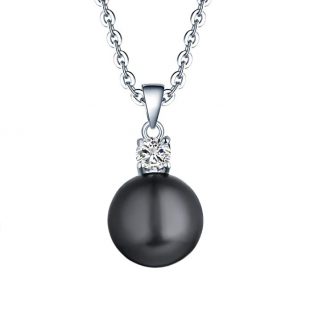 The Jo Wisdom piece consists of 2 things; the Sterling silver or the chain, and the presence of the 10 mm sized black pearl. Combining both together, you have a great ratio of durability and aesthetic appeal. The first one is quite important regardless of who yours giving it to. A birthday or even anniversary is definitely not an occasion to give a gift that'll call it quits after just a bit of use. Instead, the use of Sterling silver instills some trust, especially if you're giving it your little girl (in the case of a birthday). She definitely won't understand why the necklace snapped; only that you replace it. Luckily, high-quality Sterling silver is usually good enough to help avoid that.
On the other hand, the pearl used isn't about toughness. No, it's instead after aesthetic appeal and this, particularly, is feminine. At the same time, pearls are rather rare. More so the black ones. So give this to anyone who you consider a rarity in Your world. Shows you think she's a boss at what she loves. If you decide on this necklace and she falls in love with it, it's an opportunity to always tell her that you've got her back (or chest if you want to listen to some people on the team).
7. The Pearl Source – Genuine Black Japanese Akoya
With the Pearl Source's piece, an 8 mm Akoya hangs above the neckline of your beloved (if you want to get personal) and it speaks elegance. The necklace features a high-quality Sterling silver chain which glows a bright silver when it hits lights—then the pearl that we mentioned, and finally, a CZ stone at the bottom. We like to believe this kind of jewelry belongs to the Classics. A jewelry segment that fits women who are professional and minimalistic.
She loves making a statement without communicating with others (verbal or otherwise). If your mom is like this or your daughter wears the pants in the house, this is a good pick. As to how you can apply it; we have some tips for you. If she has a birthday coming up soon or maybe you're considering the coming holidays, make sure you give her the gift with the most subtle approach that you can think of.
Go smooth and cool, rather than cliche-ish. To that, what we would personally do is leave the necklace in a spot that she fancies. And as the maker has made provisions for a gift box, you only need a card with her name on it. Include a few tickets to a show she loves or maybe a trip to a spa and you would have done alright. Really alright.
8. Orien Jewelry – Black Japanese Solitaire Necklace Pendant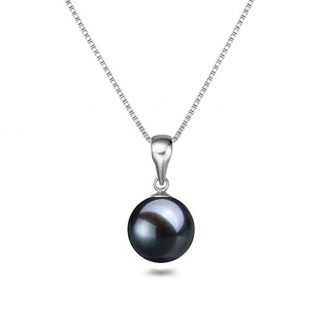 Like the previous option, this piece from Orien Jewellery uses a single Japanese pearl too. Though, what's absent here is a CZ stone which makes the overall look tighter and simpler. So while it's not as professional as the Pearl Source necklace, it makes up for that with the casual vibe that it carries.
Anyone who works from home or even on the go will appreciate something like this. It's definitely inconspicuous, and that's even with the use of the 14K white gold-plated Sterling silver. Now, having discussed the looks, let's talk another our favorite section. This piece comes in a leatherette gift box that's wrapped by quilted patterned paper.
The package is definitely romantic and cute, and the price is also right, at under $50. So we think of this as an item that comes prepared to be given out. We recommend it to your sister, mom, daughter, or even grandmother. As usual, you can give this idea to any guy you know. It's a tip that'll make things easier when his partner's birthday or even Valentines rolls in.
9. Chaulri – Authentic South Sea Tahitian Black Pearl Pendant Necklace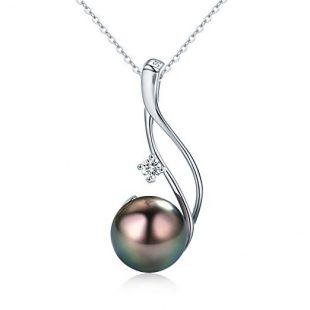 The Chaulri piece comprises of a Sterling silver chain, a small CZ stone, and a south sea Tahitian black pearl. The former is, of course, 925 stamped and thus, good enough for daily use. Asides that, the chain is plated with 18K white gold to give it a luster that just vibrates. On the other hand, the Tahitian black pearl is only present for the sake of pure aesthetics. Our copy's shade filters between gold, green, and black, depending on how light hits it. It's one of the most mesmerizing effects that a girl can see—so we think this particular piece is for girls who have an eye for beautiful things.
It's not flashy, but it is gorgeous with a slice of simplicity. Thus, give it to anyone who fits our description as it'll make the best fit. You're giving her something that she can wear and feel confident about. At the same time, your intentions won't be overlooked. Be it for her birthday, anniversary, or even a simple dinner that you have planned for her. You'll be telling her that you're never far, every step of the way. Try considering this for your daughter if she's graduating soon.
10. Fondgem – Novelty Ivory Pearl Bar Necklace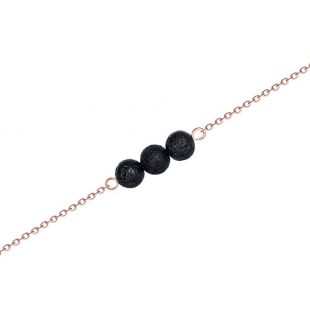 Because of its aesthetic appeal, this black pearl necklace makes the final cut. The three pieces of lava rocks at the base is hand-picked and will all easily resist wear from daily use. Couple that with the use of stainless steel, and you have one of the more durable necklaces on offer on the market. Now, having said that part; this is what we consider a better black pearl necklace. Its job is to satisfy the wearer by being as resilient as possible (as we mentioned) and therein lies its audience. Put simply, necklaces like this are more or less perfect for any woman or girl who has a really playful side.
If this can survive all of her antics, we're thinking she won't forget to remember you in each one. Though, talking about memories, you should consider giving a girl this gift on your anniversary. Doesn't have to be a wedding anniversary, as we recommend this to anyone who wants to please a girl who isn't satisfied with the jewelry that's just pretty. Instead, the accessory must fit her tougher side too.
Alternatively, you can try giving it to your daughter as a graduation gift. It should remain faithful well into her early adult years if she's just finished Highschool or a Uni.
Q&A On Black Pearl Necklaces
What do black pearls symbolize?
Always keep in mind that pearls are just like every other precious stone. So it is quite important to know that black pearls are not excluded from that fact. The stone has some key meanings and these meanings are relative to different perceptions. For some people, it is believed that pearls carry an aura that favors healings powers, while others refer to it as a symbol of hope for wounded hearts.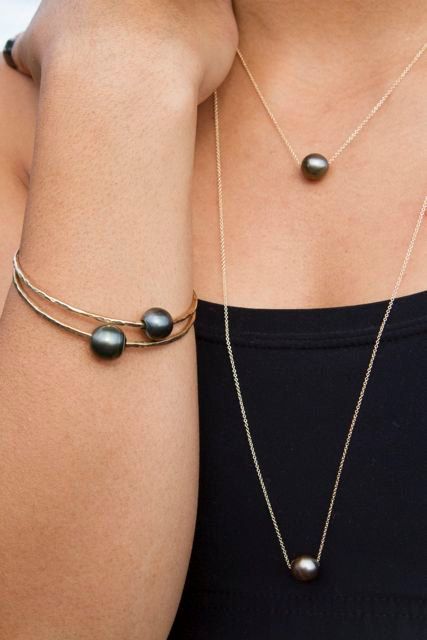 Whichever one you prefer to believe, just remember that either is applicable depending on the person you're giving it to. Nevertheless, no matter how personal these meanings are to you, remember that you control the definitions. You are paying for it and if you want the pearl to hold your love for your partner, then you should do just that.
How much should black pearls cost?
The price of black pearls depends on various factors. Your location and size and a number of the black pearls are just 2. Having said that, let's go through both of them.
Location
A Tahitian black pearl will cost less in Tahiti than in Texas. It's something to consider if you're going after rare black pearls.
Size
Here, you can apply the rule of 'The Bigger the More Expensive'. As you know, a 5A grade, 10 mm sized CD will obviously cost more on the market than a 5 mm stone with the same quality. The bigger you want it to be (count included), the more expensive necklaces are. And provided that the quality is great, it should easily resist wearing too.
Are black pearls rare?
For those of us who prefer wearing things that people don't know much about, black pearls are a delicacy. The color might vary from pure black, can be silver, charcoal, peacock green, or even gold depending on the angle you look at it. Still, regardless of which shade it takes, there's not a lot of stones that shift colors like that. So it's pretty rare.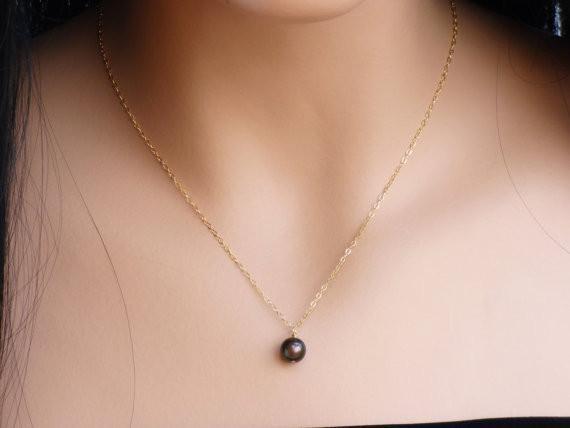 Asides that, there's the whole fact that pearls (regardless of the color) are sometimes cultivated like plants and that means the makers try to replicate the original effect. That is, they try to pull off the same eye-catching look that naturally occurring black pearls (from oysters) are famous for.
How can I tell if a black pearl is original?
There are different tests to determine the quality of a pearl. A quick method is checking for slight blemishes (grittiness) on the pearl. But we can't really say it's foolproof despite being our first recommended test. So we'll take you through some methods.
The Pearl's Surface Thickness
You can use the thickness of a pearl's surface to determine its quality. When you have the black pearl, try rolling it in front of bright light and expect the pearl to blink, depending on the thickness. If it does blink, the quality can then be questioned. You can also observe the thickness of the luster. The thicker the luster, the better.
The Tooth Test
Using the tooth test, you can confirm whether or not the black pearl necklace is fake. The test entails you slightly rubbing the pearl against the front of your tooth. When you do so, try to note the texture of the pearl. A real pearl should feel gritty.
Use Trust to Your Advantage
The best test would be that of trust. Do you know of a reputable seller or brand? Then, investing in one of their pieces would be a wise decision. There are many trustworthy sellers and brands out there that you can find. We chose ones from Amazon since you can check their history. The warranty that follows is just a compliment here.
And finally, you have our list of stunning, beautiful and affordable black pearl necklaces. Black Pearls are one of the most valuable gemstones to invest in; so having a necklace hold one pearl is a great addition to your collection.