Gorgeous Holiday & Christmas Jewelry Picks!
last updated:
Mar 18, 2020
Christmas is approaching fast and the mystery and magical spirit of the holiday season are everything that sparkles (along with Christmas jewelry!).
People are dressed in their holiday finest with sweaters that glitter, dresses that shimmer, and many shades of red and green!
Why not top off your outfits with some sparkling jewelry to add flair and excitement to the upcoming holiday seasonal parties and family dinners?
If you're looking for some inspiration when it comes to Christmas jewelry and the right way to accessorize with holiday-inspired earrings, necklaces and rings, keep reading!
Our jewelry style guide includes everything you need to dazzle up your holiday outfit with some beautiful jewelry pieces.
Our Top 10 Christmas Jewelry Picks!
Evaluation Criteria
Materials
All of our top 10 picks are in style for the holiday season and Christmas parties or dinners and come in the shape of modern materials not limited to metals.
Whether you are looking for more simple Christmas jewelry or statement pieces, we included a variety of styles and jewelry material combinations.
You'll find mesh, enamel coloring, Swarovski crystals, resin glitters featured on our list.
From super dazzling to dainty and minimalist, there is something for everyone on our list.
Wear Comfort
The pieces we chose to include were all picked for comfort. Unless jewelry is comfortable to wear, we think it's a waste of money since it would end up gathering dust in a drawer!
The rings on our list come in full and half sizes so you're sure to find your perfect fit.
The earrings are all easy to put on or remove and feature either fish hook, lever back or post back closures.
The necklaces we chose are standard sizes for comfort and most picks come with an extender so you will be able to adjust your necklace's length.
Durability
The Christmas jewelry featured on our list is made from materials and metals that are durable. This is a criterion we don't compromise on!
Every piece is made either with sterling silver or a rhodium/gold plated alloy base.
The gemstones used are either cubic zirconias or lab-created stones with a good hardness rating which assures that the gemstones won't scratch or break that easily.
All pieces are guaranteed with either a warranty or a money-back option!
Our Tips
Style
When choosing our favorite Christmas jewelry, we picked pieces that could be worn with a casual pair of jeans and a tee as well as with a little black dress.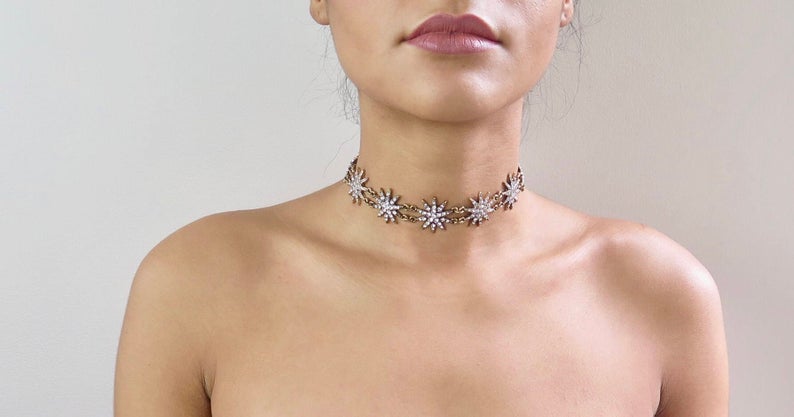 No matter what you choose to wear, any of the 10 picks on our list will look good on you!
Style
If you're one of those ladies who are more than happy to jump on the 'Christmas sweater' wagon, pick number 1, 2 and 10 will be your perfect accessories!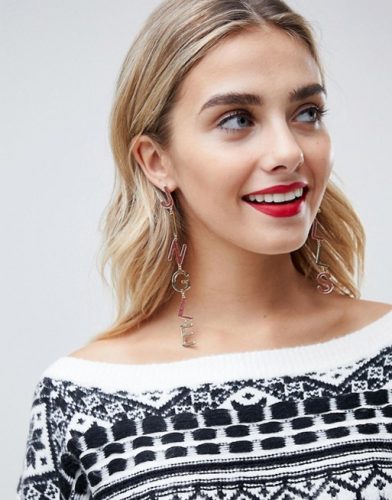 If you decide to go all out and dress up for a Christmas party, picks 3, 4, 6 and 10 are just perfect.
Style
Even though most of our Christmas jewelry picks feature a holiday-inspired design, some of the pieces can actually be worn all year round.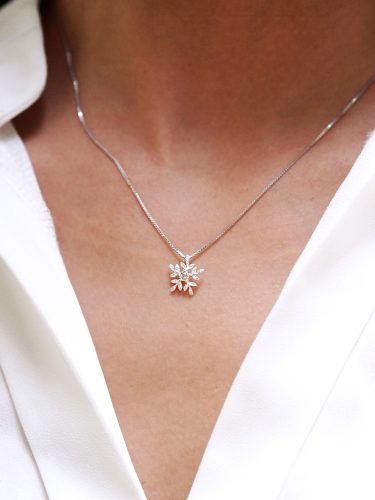 We think pick 5, 6 and 7 will work as the perfect accessories regardless of the season or occasion!
FAQs
q:

How do I clean my jewelry?

a:

The good thing about the 10 picks we chose is that all pieces can be cleaned with warm, soapy water and the stones and metals will glitter like new.

If you notice silver tarnishing, pick up a good silver jewelry cleaner.

Always remember to store your jewelry in a pouch or jewelry box; leaving it around will allow for dust and humidity to affect the metal color.
q:

Can the jewelry on your list be personalized?

a:

The good news is yes, some of the holiday sparkle picks can be engraved.

For example, Jeulia's Christmas Reindeer ring can be engraved for an additional charge.
q:

Can the pieces be mixed and matched?

a:

If you are looking at purchasing a few of our picks for your holiday collection, of course they can be mixed and matched.

The multi-colored stud earrings from Kate Spade that glimmer and sparkle would go along well with Betsey Johnson's mesh bow necklace!

The Holly Berry earrings would look great with Jeulia's monster-inspired ring.

Finally, the snowflake earrings and the snowflake set would perfectly combine with the Christmas Reindeer ring.
Finally...
Our 10 Christmas jewelry picks were chosen to make your holidays a more dazzling adventure.
All of the pieces are as unique as you are, and this is why it's important for you to choose the jewelry options that you feel will match your daily outfits during the holiday season (bear in mind some of our picks can be worn all year round!).
These items also make wonderful Christmas gifts for that special person in your life, are affordable for all budgets, and are absolutely breathtaking when you see how they glitter and shimmer.
If you choose to purchase a few because you love the look, by all means, you are getting a great bargain.
The brands we decided to feature are reputable and most of them will offer you a money-back guarantee or a warranty on their jewelry pieces.
The companies have over a 90% retention rate of returning customers, which tells the consumer a lot.
So, have fun dressing up and wearing your new favorite Christmas jewelry pieces, or enjoy selecting a gift for one of the special people in your life who loves anything Christmas-related!