Designer Jewelry / Mix / Women
10 Kate Spade Bracelets We Think are Beautiful
Bracelets are a super piece of jewelry that carves beauty and charm right on your wrist. You can wear them to any event you are attending this season to dazzle in style. However, there are so many brands to choose from and it can become quite a headache when you want to pick the best one. Kate Spade bracelets are one of the best brands on the market and they have varieties of bracelets with unique features that make them stand out. With expert craftsmen, all their bracelet is a true reflection of elegance mix with perfection.
You need to know a bit about Kate Spade and how she came about creating so much beauty in her good empire. Our list of fashionable bracelets will give you inspiration and that bit of shimmer you need.
Why You Should Choose Kate Spades Bracelets
Kate Spade is quite famous for her line of bags and jewelry items. The owner herself started the business when she launched handbags in 1993. Her handbags gained people's love with its sleek, modern and distinctive look. With the raging success, she had from selling her product in high-end stores, she completely sold the shares of her company and by 2006 she had sold the last of them.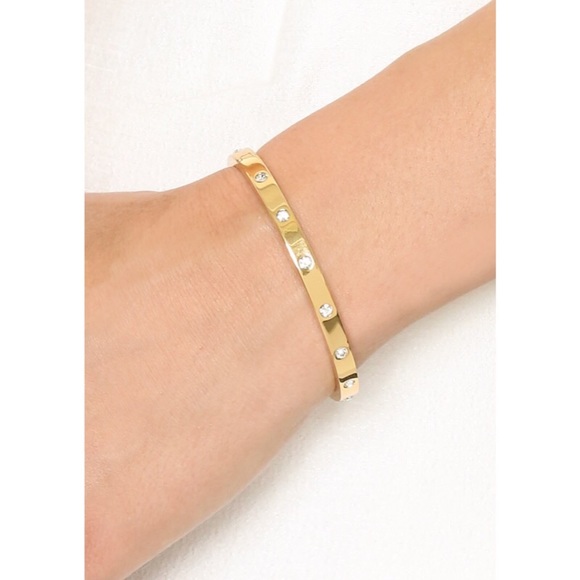 A decade later, she resurfaced with a new fashion brand with her friend as her partner. Cuter handbags, floaty dresses and gorgeous accessories – she soon rose pretty fast again and landed many branches in countries like UK, France, Australia, and Asia.
If you go online and search for accessories by Kate Spades, you might be overwhelmed by the numerous amount of beautiful jewels twinkling over several pages. That is why we have selected just 10 of her awesome collection of bracelets, to help make you make your decision simple
Our 10 Favorite Kate Spade Bracelets!
1. Idiom Bangles 2 Heart of Gold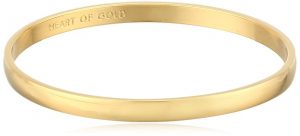 We start off this collection with quite a simple but elegant bracelet. this Kate Spades bracelet is pretty special; it can be quite adorable when you see it. It was created with the intention of sending a message across on women's wrist. It's one jewelry that is great for all women and will definitely be a great fit for you no matter the occasion.
It was made with a 14k metal and plated with gold-tone-base. You can slip it right into your wrist without locking or unlocking any clasp. The 2.75-inches diameter makes it right for a lot of people and the size is simple with its 0.19-inch width. All the factors used in its design makes it very durable and comfortable to wear.
One unique feature that the bracelet has is the engraving on its inner ring. It spells 'heart of gold'. You can easily stack the bracelet with other matching sets that you have or just take advantage of the simplicity and wear it alone. There's nothing better than having a comfortable, beautiful and quality bracelet all come in one package and for a great price.
2. Stop and Smell The Roses – Solid


You would certainly love this wonderfully designed bracelet from Kate Spades. There are different types of a bracelet you can choose, but it is very important to check the one that goes with your taste. But, here is one that suits any type of style.
Made by some of the finest craftsmen in the fashion world, this bracelet comes with a 12K gold plated metal that has a layer of white enamel. To add the dazzle, you need for any special occasion, glass stones were set into the enamel plate. This is certainly one of the products from the top shelf of Kate Spades. With its unapologetic feminine touch, the bracelet has combined confident colors to create something perfect for your wrist.
For comfort, the bracelet is 6.75 inches in diameter and weighs just 0.6 ounces. It also features a hinged closure with a hook for easy slip-on and taking it off anytime you want. It isn't much you want that you won't find in this magnificent piece of jewelry. Just click the link above to see a picture that speaks perfection more than a thousand beautiful words.
3. Mom Charm Bracelet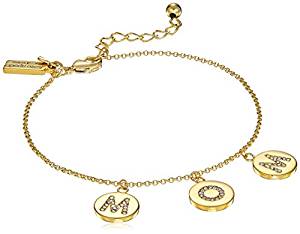 Bracelets are great for a lot of reasons, apart from the fact that they give your clothing aesthetic pleasure, you can also gift them to your loved ones to show them they are on your mind. Well, here is one specially created bracelet made by professionals at Kate Spades. The bracelet has features that make it a perfect gift for mothers.
Made with a gold plated metal chain, this exquisite piece of jewelry comes with three dangling pendants. Each of the round pendants has an alphabet to completely spell the word "MOM". Designed with glass crystals, its right at the center of the bracelet's attraction. Another thing about it is that it's one size fits all, so you don't need to worry about the size of your mom's wrist. Just get one for her.
One thing that is pretty important, is the fact that some people are quite allergic to certain metals. So make to check before buying one. You can get one for yourself or buy it as a gift for mother's day, mom's birthday or any other holiday this season. It's quite affordable too so you won't need to worry about reshuffling your budget schedule.
4. Love Notes Bangle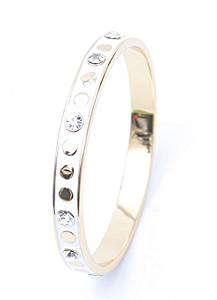 Kate Spade has an array of bracelets that are pretty amazing. From the hinged to the love bracelet, you can find anyone you need among her various collections. One thing you can always trust her product for is quality. And this is because of the finesse used in shaping each piece, and it's with that same attention-to-detail that this hinged bracelet was made.
Crafted by experienced hands and artistic eyes, the bracelet features a brass material filled with enamel. Adding to its astounding glitters is the crystal accents used all around it – with which you can definitely cause a blinding glare. The 'hinged' added to the title is due to a comfortable add-on that allows you to take it off any time you want. It has a total of 2.5 diameters and you can get it in colors like clear gold, rose gold, white black, and silver.
To guarantee that you made a quality purchase, Kate Spade has their signature right inside the band of the bracelet. The other colors of the bracelet also come in different designs with some of them spotting a bow and other tinier ones with a smaller diameter. With all the glitz and dazzle that has been added to it, you might be thinking it would cost you a lot, but it is quite affordable.
5. New York Cuff Bracelet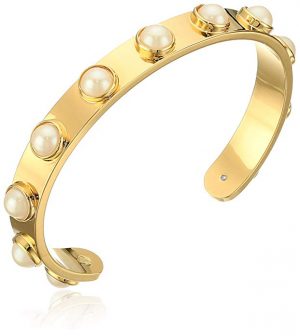 Here is another fantastic option. With a signature style that complements any style you choose, this bracelet is one of the top choices form Kate's collection. It has a special design and is made with such quality materials that you can't go wrong getting one.
This bracelet is a fusion of creativity and antique theme. While the band is made with a plated metal, there are faux pearl stones set into it at a precise distance. The combination of pearl and metal makes the product look wrist-worthy and will certainly make heads turn your way as you stroll along.
For comfort the width of the band is about 2.22 inches, this gives it a very comfortable feel on your wrist and still doesn't feel too loose. It also weighs just 0.8 ounces. Length, size, shape, quality, and price are all great when you look at this bracelet. So no need to worry, and aside from the great quality they also come with great versatility that allows you to make a fantastic statement for any outfit.
6. Spot The Spade Bangle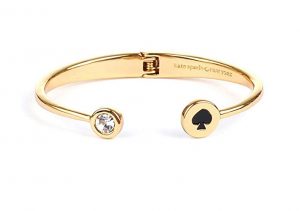 If you are a big fan of the card game, then you know the meaning of the ace. The card basically stands for transformation, unconditional love, and faith. Well, all these are certainly positive signs, the card also stands for life. And this is the same theme that was used to make this bracelet. the wrist jewelry comes with a cute design that has a crystal and a diamond at each end of its cuffs.
Made from rhodium plated base metal, this is the first thing that is so great about this bracelet. you can trust it for your skin's health and is also very durable. The product is also designed with round glass crystal at one end and the Spade shows up at the other end. You won't need to worry about the ease of locking and unlocking it, as it has a hinge to make the process smooth.
With such a simple but stunning style, you can keep your wrist all dolled up without going out of your way. Finally, there is the beautiful Kate Spades signature right inside the band of the bracelet, so redefine your style with 'spot the Spade bracelet' and become the cynosure of your world.
7. Pave Cat Ear Black/Multi-Colored Bangle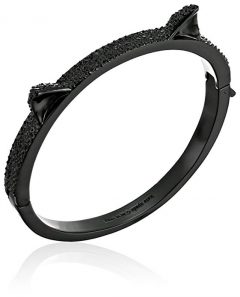 If you love to spice things up a little by breaking the norm, then this is the bracelet you want to buy. With an unusual design that is eye-catching and simply awesome, you will definitely love this piece of jewelry with just one glance.
Created with gold plated brass alloy, the band has a black color and comes with decorated glass stones all through the body. The unique design comes with the addition of two cat ear-shaped placed at a symmetrical distance at one end of the band. This requires perfection and that is exactly what the craftsmen at Kate Spades achieved with this product. It comes with a 2.34-inch diameter and weighs just about 1.6 ounces.
You don't need to worry about losing the bracelet at a party as it comes with lobster-claw-clasp. The bracelet is certainly a perfect fit for a casual outing and can get you much attention at a costume party. There's so much you can achieve with this handcrafted masterpiece that comes at such an affordable price. It also has a multicolored variety that you can choose if you are not a fan of black bracelets.
8. Heavy Metals Ruffle Bangle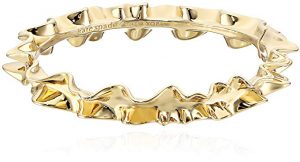 Kate Spades bracelets come with different designs, making each piece unique and different from the others. Here is another of those fantastic bracelet made by the brand. They made use of a ruffle shape to add that needed bit of elegance for perfect styling. The materials used are certainly of high quality with top-notch expertise by professional craftsmen.
It has a diameter of 2.25 inches to get the best fit for just about anyone. For creating a safe and durable product, the use of a gold plated metal was employed. You can tell that there will be a load of shine with the gold plating. From the manufacturers, a Kate Spades signature was crafted into it to give you the guarantee of magnificent quality.
The clasp is the fold-over type which makes securing it on your wrist quite an easy task. One last thing that should spur you on in getting one of this nice bracelets is the packaging. It was packaged by deluxe bangle and hoops box which means that you can store it in the soft pouch when you take it off. All these are for just a very affordable price, check the link for one of yours today and you certainly won't be disappointed.
9. Kate Spade new york Idiom Bridesmaid Bracelet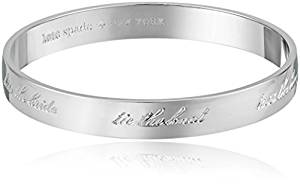 Right from 1993, the aim of those at Kate Spades has been to create an internationally recognized brand that gives an exuberant approach to everyday life. And that's what they have achieved in some years after the company was born, with products that paint colorful living with exquisite jewelry, they are certainly among the best. With all the collection in this article, style and quality are infused by expert's hands and this bridesmaid bangle bracelet is not left out.
Created with a purpose to make something unique for the wedding day, the bracelet was created with white gold plating on 12K metal. You can see the visible wedding idioms that dominate all-around the band in its simplicity but neat style. There is also the silver tone-base that has no chain and is about 2.5 inches in diameter. When you consider all the features of the bracelet, it's pretty obvious that every setting and parts were crafted with absolute finesse.
It also has no hinge or clasp so you can slip it right on and slip it off whenever you want. The bracelet is a perfect choice for your bridesmaid during your wedding, and it also comes with that Kate Spades signature unique to the brand. Get one for yourself or surprise your bridesmaid by getting one for each of them, and it is affordable too.
10. Dazzling Daisies Leather Bracelet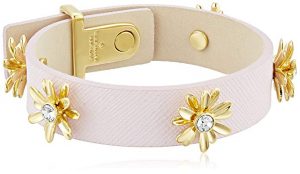 Leather bracelets are pretty cool; they have that band that just feels right with your skin. If you are a lover of skintight accessories, then this is the perfect fit for you. The bracelet was made to fit any style and compliment your outfit no matter the event you are going for. It's a very strong cross between perfection and elegance in one glamorous package.
It is made with saffiano leather which is one of the top quality leather you will find anywhere. To make sure that you are not left with just a plain design, Swarovski crystals were set into gold-plated centerpieces. This look produces a very beautiful and fashionable leather with shimmering all around it. For a one-size-fits-all design, it comes with an adjustable lobster claw clasp, no worries about the size of your wrist.
With a stunning build and top quality, this is one accessory you want to have on your wrist always. You will certainly get a good amount of comfort from using it and be guaranteed that it won't fall out of your preferred jewelry in a short while.
Facts About Kate Spades Bracelet that You Should Know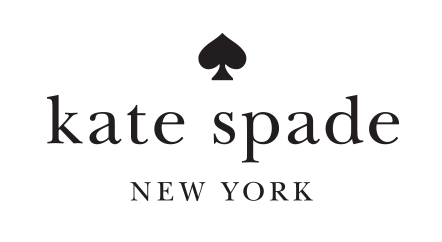 For the last section, we thought we'd take you on a bit of a tour about the brand you already love. Here are some of the things you never knew about one of the best brands of jewelry.
✓ Kate Spade actually created her own bags because she didn't find what she wanted on the shelf of fashion stores. As she puts it in The Boston, 1999 "I was looking for something less serious and more personal, I also wanted timelessness"
✓ She had a journalism degree right about 1985 and worked for a while at the Mademoiselle magazine.
✓ Kate was married to Andy Spade who she met at a clothing store where she was working and they kick off from there.
✓ Her brand name was not 'Kate Spade' because she was married, it comes from the combination of her name and the last name of Andy Spade. She was going to go for 'olive' before, but according to her in The Boston Globe, "I loved olive for some reason. But Kate Spade wasn't frilly. It was just straightforward. It wasn't a fashion-y name."
✓ Kate was also involved in writing books and channeling her resources into television stations. She owns three books namely manners, occasions and style. Along with her husband they owned a small station that broadcast to small areas like Martha's Vineyard, the Hamptons, and Nantucket.
✓ Frances Valentine, a brand of jewelry, is also co-owned by Kate and Andy Spades. They make phone accessories and purses with the Minnie mouse theme.
✓ As of 2018, Kate Spades was worth about $150 million to $200 million.
✓ At her first sale show, Kate was distraught as she couldn't make enough sales. She said she told her husband she hadn't made enough money to even cover the booth rentals, but her husband response was "You've got two of the best stores in America," he told her. "why are you crying? Let's not quit." That was certainly a piece of advice worth more than a dollar as we can see many years later.
✓Actor and comedian, David Spade is the brother of Andy Spade, there are also a series of celebrities that are in her extended family.
✓ Behind the glamour and smiles, Kate Spade threw at the camera. She was battling with her own problems and she eventually succumbed to it as her death was announced in June of 2018. It was a painful exit, but on the bright side she had as much impact as she could in the world in her short life, and one daughter survived her.
Guess that took a sad turn at the end, but Kate Spade's brand is owned by 'other people' so you don't need to be spooked. We didn't want to leave out anything for you. Just check out the ten bracelets listed here and select the one that really suits you.