The Perfect Winter Jewelry Gift? Check These 10 Snowflake Necklaces!
last updated:
Sep 26, 2019
Some of us know the song "Baby it's Cold Outside." So goes the song and winter are looming just around the corner. Did you ever stand outside when it's snowing, and try catching snowflakes on your tongue?
Those are some very cool (pun intended) memories. And snowflakes are such beautiful things, don't you think?!
Speaking of seasons, Christmas is coming and you might need Santa to get a winter jewelry gift for a spectacular and special lady in your life.
Every snowflake is individually unique, just like the person for whom you may be shopping. This is why we think a snowflake necklace is the perfect gift idea for this holiday season.
We are here to give you a hand with our top ten snowflake necklace picks. All items on our list are gift-worthy and great stocking stuffers!
10 Snowflake Necklace Picks!
1

. Amanda Rose Collection Snowflake Pendant-Necklace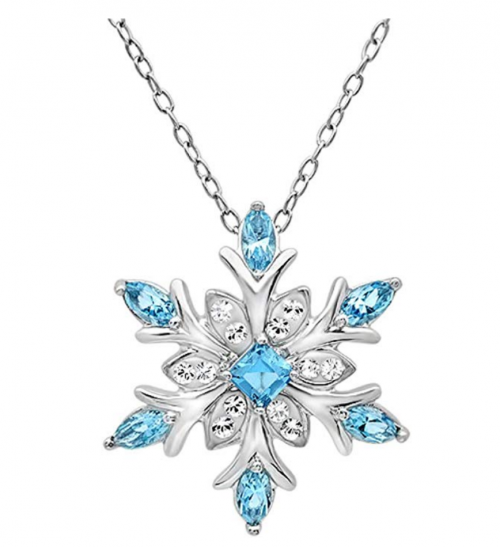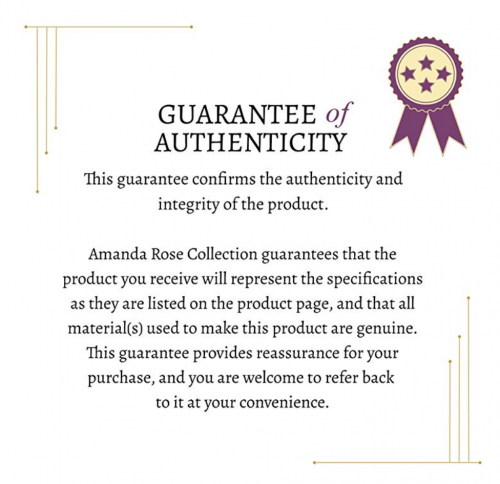 Swarovski crystals
Both chain and pendant are 925 sterling silver
When most people think of snowflakes they picture the common snowflake pattern called stellar dendrite. This snowflake necklace is that type.
Read more
It's made of .925 sterling silver and has the stamp for authenticity. In the center is a diamond-shaped aqua colored crystal. It's set with four prongs.
There is one at each point as well as six arms extending from the center.
The arms extend outward and branch off to the left and right. In the crux of where they separate sits an oval, aqua-colored crystal set with two prongs.
Between each arm is a beautiful clear oval crystal while at the end of the arm there is another gorgeous blue crystal.
This means you get a total of 7 light blue crystals and 6 super sparkly clear-colored crystals!
The cable chain attaches behind one of the blue oval crystals adorning the outer line of the snowflake design and leads to a spring-ring clasp. This really is a very pretty piece!
This icy looking necklace doesn't have a freezing price tag though. At an upper affordable price point, this piece would make a great gift!
The pendant is about the size of a dim while the chain is 18 inches long.
2

. JO WISDOM Frozen Snowflake Pendant Necklace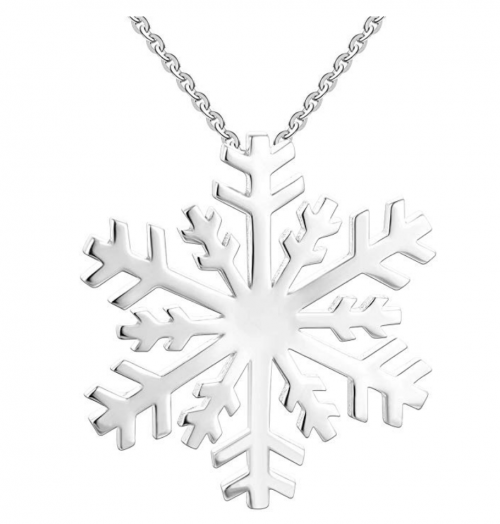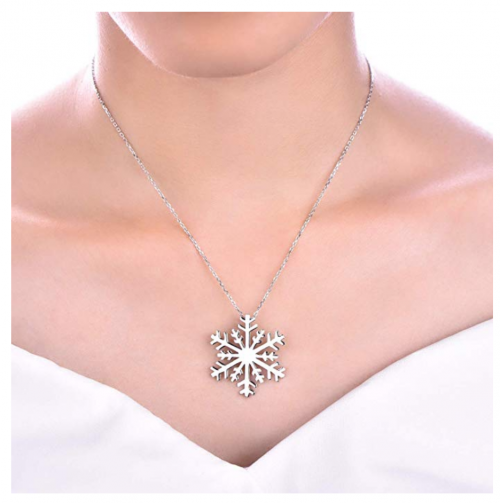 Made in sterling silver with cubic zirconia
30-day money-back policy
There's something about walking on snow that no one has walked on and this piece gives you the feeling of making tracks in the snow. If you are looking for something dainty, elegant and simple, this is your piece.
Read more
The common snowflake pattern called the stellar dendrite is the inspiration for this snowflake necklace.
You won't find any crystals or bling of any type on this pendant; however, the necklace is still pure elegance and style, perfect for everyday wear.
There are six main arms on this snowflake. There are also six smaller arms. The piece is constructed of white gold plating, giving it a bright and shiny look.
Attached behind one of the main arms is a super-polished box chain and spring clasp.
When it comes to its price, it's perfectly affordable and a great steal for the metal quality you get.
You also get a 30-day money back guarantee which is always a good thing (even though we can't think of a reason anyone would ever give this back)!
The chain length, of this snowflake necklace is 18-20 inches and the pendant is 30.3 mm or 1.19 inches; it weighs 5.05 grams or 0.17 ounces.
3

. Finecraft Snowflake Necklace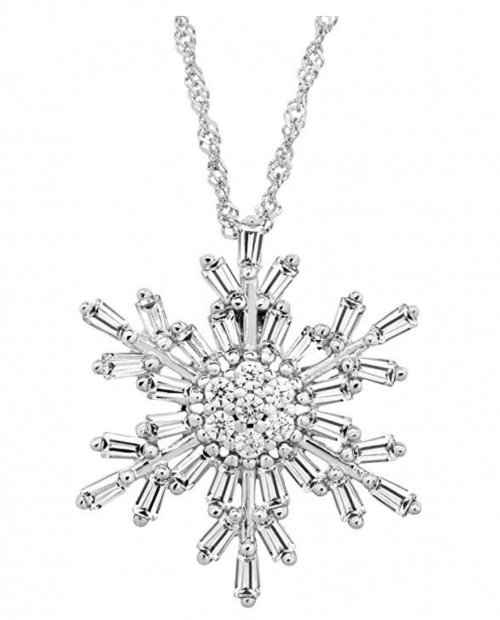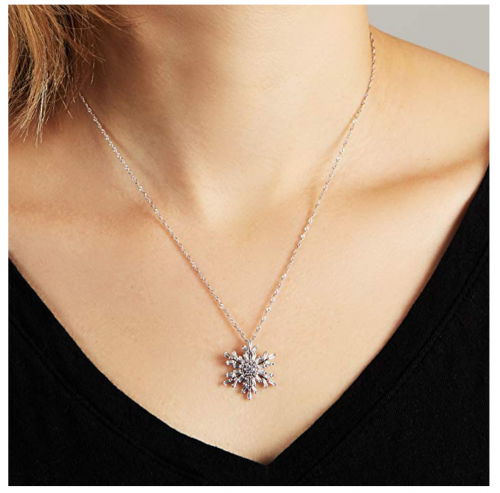 925 sterling silver
Singapore chain
1 ct cubic zirconias
If you like the snow just because it's pretty, then you'll love this pick! The crafting of this beautiful snowflake necklace follows suit with it being made in the formation of the stellar dendrite pattern, just as our previous 2 picks.
Read more
However, this one is a bit different because it has needle-shaped crystals forming the arms.
There are six main arms and protrusions coming from the center and forming the snowflake by ramifying into more smaller arms adorned with crystals.
The center, or face, is round and filled with round sterling silver shapes and tapered baguette-cut white cubic zirconia. There are 37 stones included in this piece!
A spring ring clasp is on a Singapore chain. This is one reason we like it so much. The chain is a different type than most offered and looks just lovely.
This particular necklace is not only great as a winter or Christams gift, it also works as a bridal accessory for a winter wedding!
The snowflake necklace has an affordable price; it has diamond-liked sparkle without the diamond-liked price!
This piece has an 18 inch chain. The pendant measures 7/8 inches by 13/16 inches.
4

. Hallmark Jewelry CZ Snowflake Pendant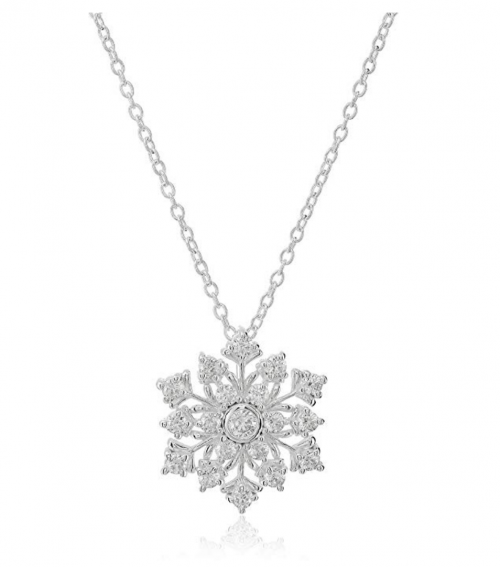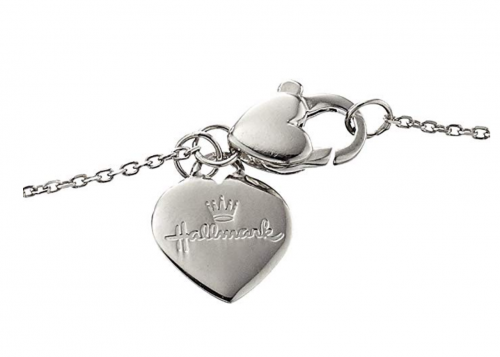 925 sterling silver over rhodium
Cubic Zirconias
Heart-shaped clasp
Comes with a Hallmark sentiment card with the phrase 'Today belongs to you'
Let it snow, let it snow with this snowflake pendant! The pendant is designed after a classic pattern we are accustomed to thinking of when we think of a snowflake. It is made of stamped 925 sterling silver which verifies its authenticity.
Read more
The stones are clear cubic zirconia. There is a larger CZ in the center, held by a four prong setting.
There are six longer arms extending from the center and each has, at the end, a triangle with CZ stones.
Between each main arm, are shorter arms with the same design. Closer to the center, there are more design with CZ stones; cubic zirconias are just as sparkly as little diamonds but, these stones don't cost near as much as the latter (which is a good thing for your wallet)!
The bale is attached to the flat back of the snowflake and the cable chain has a heart-shaped spring ring clasp.
The snowflake necklace has an 18 inch chain.
They say winter friends last forever and this piece of jewelry may just be someone's new winter best friend (our Editor-in-chief just added this fantastic piece to her shopping list so we know who's getting a new jewelry friend this winter)!
5

. Amanda Rose Collection Diamond Accent Snowflake in Circle Pendant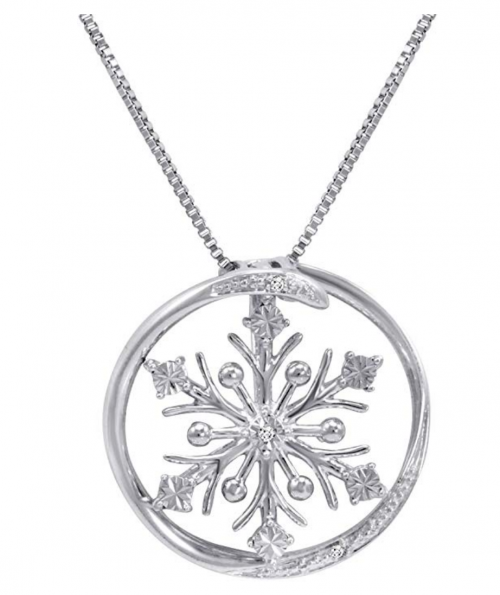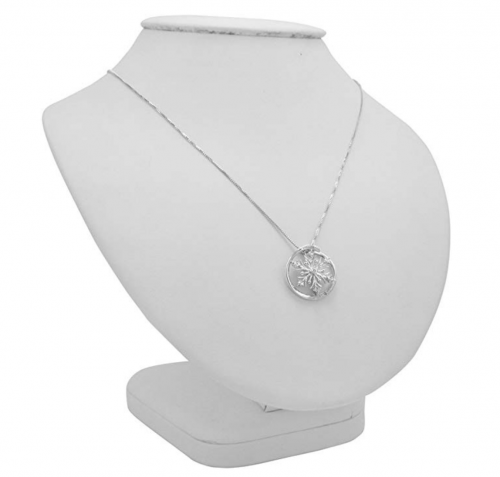 Rhodium-finished sterling silver
925-14K metal stamp
3 small diamonds
Snow makes everything it covers so beautiful. This snowflake pendant will do the same for you. The diamond accent in this snowflake pendant is a bit different and here is why.
Read more
It's floating in a sterling silver with rhodium-finished circle. On the lower right of the circle is a line with metal dots that give the illusion of stones.
At the top, the circle overlaps and there is another row of the illusion dots with a diamond in the center. You'll find 2 more diamonds inlayed into the circle.
There is space between the ends of the circle and this is where the chain runs. The chain is a box chain with a spring ring clasp.
You'll see a beautiful small diamond in the center of the snowflake; it's in an illusion setting. There are six main arms and they have the same type of setting, complete with prongs at the end.
There are also six smaller arms and each of these have a snowball at the end.
If you look at the price of this necklace it's less than a dinner for two and we are talking about a super affordable take out dinner at your favorite Chinese place; get the idea?!
We think this particular pick will sell out pretty fast so if you like it, you know what to do.
The chain is 18 inches long while the pendant measures ¾ of an inch.
6

. PIRATESHIP Snowflake Pendant Necklace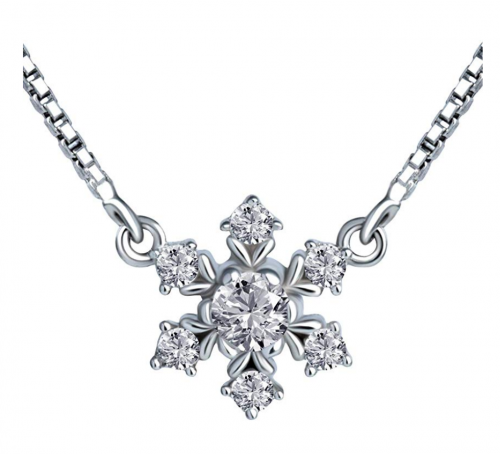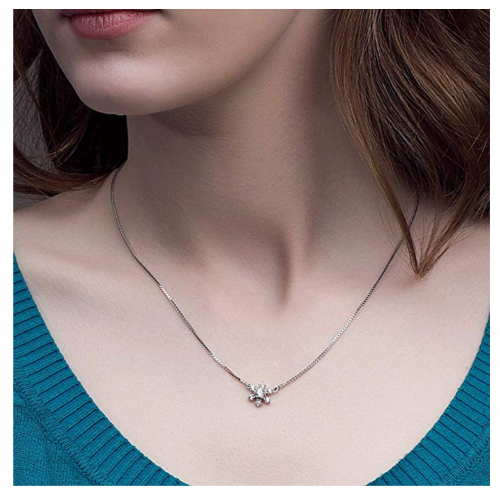 Hypoallergenic, nickel and lead-free
Environmentally friendly
Silver 925 with cubic zirconia
This is our favorite pick on the list because it causes us to reminisce on the snowy memories of childhood. The snowflake pendant piece looks like it's holding on and is along for the ride…maybe a sled ride!
Read more
It's a smaller version of the stellar dendrite pattern we are accustomed to seeing for snowflakes. The piece is made from 925 sterling silver with the stamp of authenticity.
The silver design of this snowflake has a slightly "chunkier" look. We like that since this also means more sparkles!
The gems are cubic zirconia. The larger stone in the center is in a freedom setting. The silver surrounding it has the appearance of a flower.
Each of the six stones at the end of the arms is held by delicate prongs. This particular necklace features a box chain with a lobster claw clasp.
The piece is hypoallergenic, environmentally friendly, nickel and lead-free. So it's not only stunning but it's safe for you to wear as well. Perfect for all the ladies with allergic reactions to jewelry.
Considering the beauty, sparkliness, elegance, and quality of this necklace, the price is a steal!
The chain is 36.5 cm or 14.4 inches with a 5.5 cm or 2.16-inch extender.
You get a total length of about 16.5 inches as well as versatility since you can adjust the length depending on the way you want to wear the necklace.
7

. SIYWINA Statement Necklace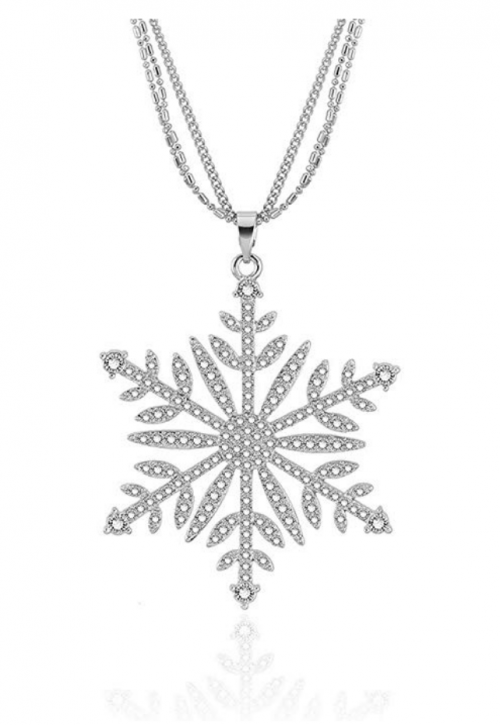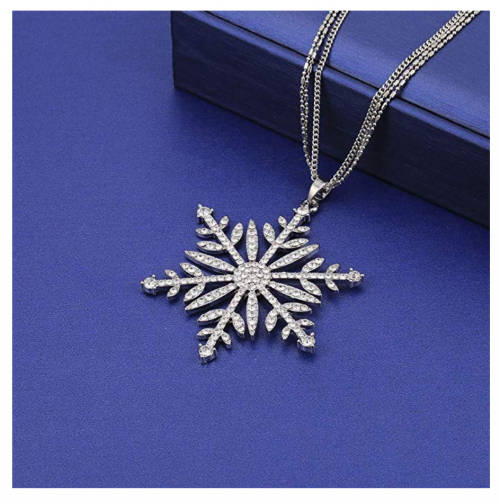 3 beautiful layered chains
Extremely affordable
Good user reviews
There is no need to stand out in the cold to appreciate the beauty of this snowflake statement necklace. It is different and for a couple of reasons.
Read more
First, it has three chain and they aren't all the same. Secondly, the pendant is larger than most, giving this piece the ability to make a statement.
The center is round and the crystals are in a pavé setting. Extending form the center are the six arms characteristic of the stellar dendrite pattern.
These arms are lined with crystal and the one at the top is larger giving the whole pendant even more sparkles. 
The necklace features two bar chains and a curb chain all attached to a spring clasp.
The necklace has a very affordable price point and if you take a closer look at its design, the number of crystal stones used and the quality chains, it's such a steal piece!
The pendant is 6.6 cm or about 2.5 inches. The chain is 18 inches. The piece weighs 27.21 grams and is therefore very lightweight.
8

. SERAFINA ❤️ Womens Pendant Necklace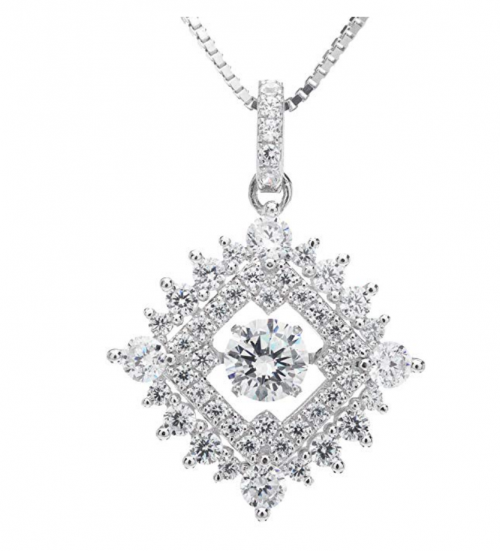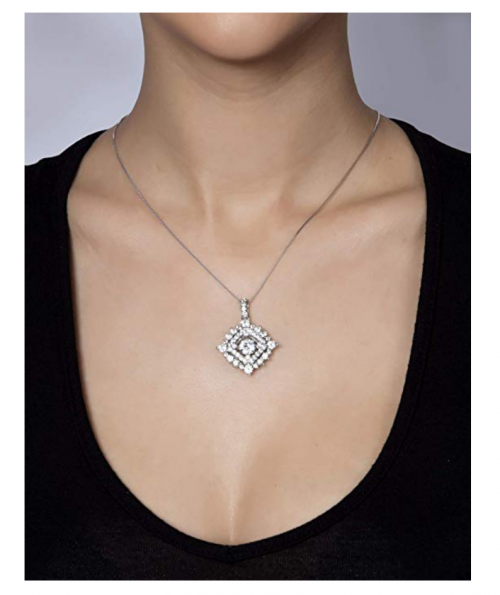 925 Italian box chain
Highest quality lab simulated sapphires
Comes with black velvet pouch
This piece is designed after the hexagonal plate patterned snowflake instead of the stellar dendrite we are used to seeing. Basically it looks like a square, but a darn pretty one if we may say!
Read more
At the center of this sterling silver snowflake is a round, lab simulated white sapphire, in a four prong setting. Surrounding it are a multitude of smaller sapphire stones in illusion settings.
At the top, there is a jump ring that attaches to a bale. The bale is covered in the white sapphires as well  and each are held by four prong settings.
There is a 925 sterling silver box chain and a super sturdy lobster claw clasp.
While you may be thinking that lab simulated white sapphires may not be the real deal, keep in mind that lab created sapphires are an ethical alternative to real diamonds and if you ask us, these stones are just as sparkly as any diamond out there.
This snowflake necklace has an upper/mid price point but considering the number of sapphire stones on it and how pretty it is, it's worth every penny!
The chain on this piece is 18 inches long.
9

. Dazzlingrock Collection Diamond Snowflake Pendant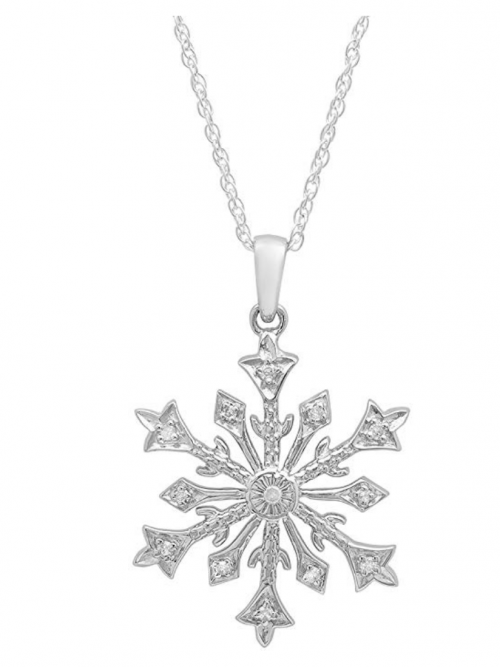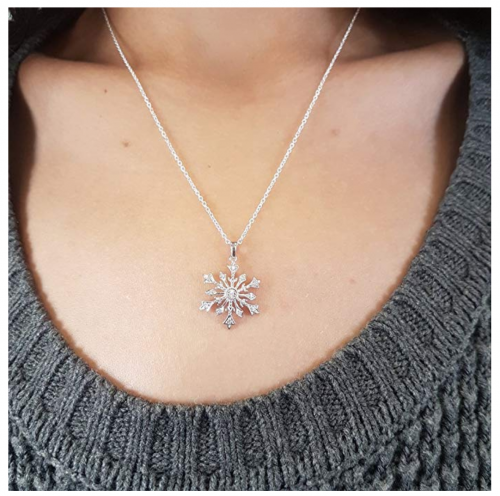 30-day exchange order policy
Conflict-free diamonds
Gift box included
There is no melting away with this stunning snowflake necklace. It is designed for the stellar dendrite pattern. It's made with 925 stamped sterling silver and in the center is conflict free, natural diamond in an illusion setting.
Read more
From the center extend six longer arms. Progressing down each arm there are more diamonds each in a four-prong setting.
There are also six smaller arms. Again, each arm has a diamond in a four prong setting.
The necklace features a simple rope chain and a spring ring clasp.
There are 0.10 carats of diamonds on this snowflake pendant and you get all of the diamonds at a super affordable price tag.
Moreover, the brand behind this beauty gifts you with a a 30-day return/exchange policy in case you feel diamonds are not your best friends after all (seriously?!)
The chain is 18 inches long. The snowflake pendant is 25.8 mm by 17.3 mm or 1 inch by 0.68 inches.
10

. EVER FAITH Austrian Crystal Snowflake Flower Necklace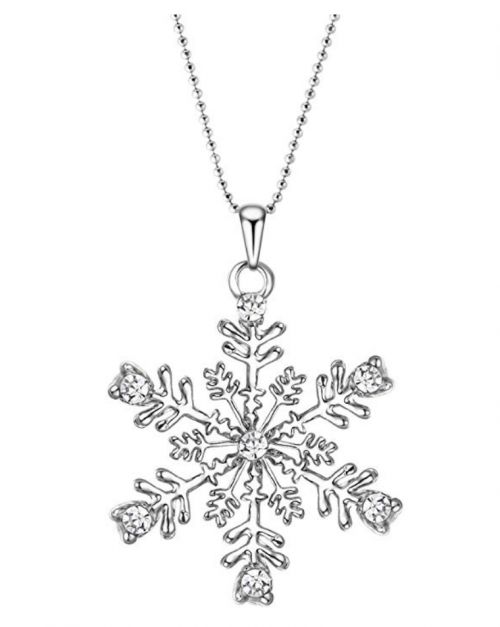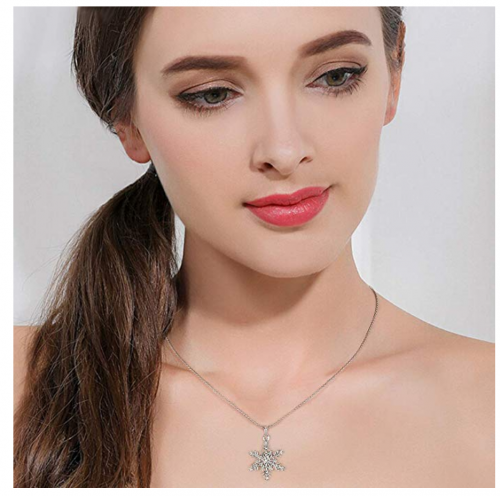 Austrian crystals
Ball chain
Comes with spare crystals
A simple thing, like a snowfall, can become the favorite thing of someone special that you know. This snowflake pendant necklace is that something special.
Read more
The gorgeous necklace has a clasically designed snowflake made of an alloy. However, don't let the word alloy fool you. It's just as polished and good lookin' as 925 silver is!
At the center there is a round crystal. Extending from the crystal are six arms. At the end of each, is a round crystal.
This all sits atop a bar like framework, giving the pendant sturdiness and allowing for an intricate design.
Now the particularity of this necklace comes with its chain. It's our only pick featuring a a ball chain and to be honest, we love it!
A ball chain is perfect for those who are looking for a piece that won't tear easily and is not flimsy looking. It all wraps up with a lobster claw clasp.
As for the asking price, no need to rob the piggy bank to get this piece. It would make such a great stocking stuffer (or a little somethin' to put on your man's shopping list for this Xmas)!
Oh, it's worth mentioning the piece of jewelry comes with a beautiful gift box, a storing pouch and some spare crystals as well!
The chain length on this snowflake necklace is 46 cm or 18 inches to 51 cm or 20 inches. The pendant size is 3.8 cm by 2.6 cm or 1.5 inches by 1 inch. It weighs 6 grams, or 0.2 ounces.
Criteria for Evaluation
Style
We have quite a few criteria we use while picking our pieces. For these picks, the main criterion was that these pieces had to be gorgeous looking!
We wanted to show you pieces that were pretty and attractive. Let's face it…if your snowflake necklaces don't look amazing and sparkly, you won't wear them.
We wanted pieces that were going to look great on you and reflect your personal style.
Wear Comfort
Another criterion was ease of wear and comfort. We didn't show you anything too heavy and in fact, all picks are the total opposite.
We made sure to select items that are easy to put on and take off, sit comfortably around your neck, and feature good quality chains that won't scratch your skin.
Durability
The last aspect was durability. We wanted to bring you items that were durable and sturdy. We made sure to pick pieces of jewelry made of quailty materials which are tear-proof.
So we wanted pieces that will last you a long time. Nothing brings more satisfaction than getting a good deal.
These items will give you great value for the money you will spend. When cared for properly, any pick on our list will flatter you, wear well and last a long time.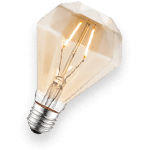 Celebrities seen wearing a snowflake necklace!
Uma Thurman wore a bedazzled cross and snowflake necklace to The Met Gala recently. Quavo purchased a snowflake necklace for Saweetie.
Meghan Markle owns snowflake jewelry, and Seventeen Magazine has featured it in one of their publications.
Leighton Meester, of Gossip Girl, wore a snowflake necklace in the April 1, 2010 episode entitled, "The Empire Strikes Jack".
Now the good news is you don't need to be a star to rock one. Each snowflake is made from a speck of dust, and is totally unique.
Since we realize the weather isn't the same wherever you go, we are going to offer you tips for various climates and clothing types. Just browse our next slide!
Styling tips
Let's start with a t-shirt. Most of our picks can be worn with a simple t-shirt. It will dress it up a bit. We suggest picks 2, 3 and 5 for casual wear.
Then, we'll suggest you wear it with a blouse. Wear it to the office or just around town. Don't forget about a dress.
For example, item 6 on our list is perfect with a simple dress all the way to a more formal dress.
Whatever you do, don't forget about layering. If you're wearing something without a collar, layering is the ticket for a look that makes more of a statement.
One more suggestion is to combine pendants. If you want your piece to look a bit like a charm bracelet, add a couple more pendants to it.
For example, combine more snowflake pendants on one single chain. We love the idea of mixing up items 2, 4 and 10!
FAQs
q:

How does a snowflake form?

a:

It's all pretty complicated, but to try and put it in simple words, a snowflake forms around a dust particle and attracts water droplets. They freeze in a crystal form as the flake moves through the atmosphere.

The differing temperatures and humidity give the snowflake varying shapes.
q:

What is the arm of a snowflake called?

a:

The arm of a snowflake is called the dendrite.
q:

Is it true that no two snowflakes are alike?

a:

Yes, it is true. While all snowflakes fall into certain categories, they are all different.
q:

Can you wear snowflake jewelry in the summertime?

a:

Yes, by all means, wear your pieces in the summer!

Many pendants people choose to wear reflect their love of a certain theme.
q:

What does hypoallergenic mean?

a:

Hypoallergenic means that the piece of jewelry is unlikely to cause an allergic reaction.
q:

What is an illusion setting?

a:

An illusion setting is the way a ring is constructed making the stone look bigger. It's shaped like the gem it's reflecting, making it look bigger.

If you want a bigger diamond but can't afford it, opt for an illusion setting.
Finally..
A snowflake is an ice crystal that has grown and attached itself to others. While all that seems complicated, choosing a snowflake necklace from our fantastic list is no chore at all.
We made sure to pick jewelry pieces we would wear ourselves and, a few of our team members have added some picks to their Christmas shopping list. We suggest you do the same before these gorgeous yet affordable necklaces sell out.
A snowflake takes time to form. You, however, will take no time at all to sparkle and shine with the necklaces featured above!