Mix / Other Accessories / Women
Is Spring Just Around the Corner? 10 Flower Hair Clips You Can Accessorize With!
If you think flower hair clips are only for little girls, we beg to differ. Flower hair clips are trendy and fun, they can make a statement, or just serve a purpose.
All women, young and older gals, love flower hair clips; so do we! Some are big and bold, while others are small and dainty.
Whatever the reason you wear a flower hair clip, you are sure to love our picks for this season. And, in 99.9% of the cases, one size fits all!
Our 10 Favorite Flower Hair Clips!
1. Hotvivid Rose Flower Feather Brooch Clip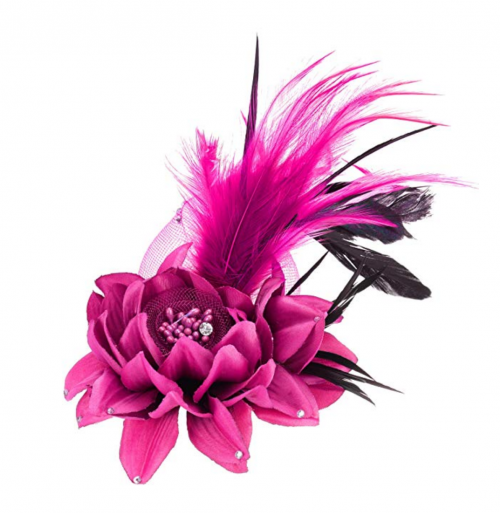 This hair clip is made of cloth and mesh material and had rhinestones and feathers. The feathers extend from behind the flower. It has been finished by hand and you are sure to get a unique piece.
It is super easy to wear and comfortable as well; it has both a sturdy clip and a pin as well. The design of this piece is elegant and has a royal and noble aura to it.
You are sure to be seen and noticed when wearing this flower hair clip. We think it has a retro design, reminiscent of the Roaring 20s and 30s. How fun!
It is 4.33 inches x 7.89 inches, and, one size fits all. But, because it is a larger piece, you should consider how it will appear while you are wearing it.
It can also be used as a hat decoration, brooch or as it was originally intended, used as a hair clip. Do you have an occasion to attend a tea party? Wear this piece to the party.
Also wear them to weddings, cocktail parties, and dances. You can even get fun with it and use it as part of a Roaring 20s, or 30s, Halloween costume.
The price of this pretty clip is really inexpensive. There is really nothing stopping you from purchasing it!
2. DreamLily 3 Pcs Hawaiian White Hair Clip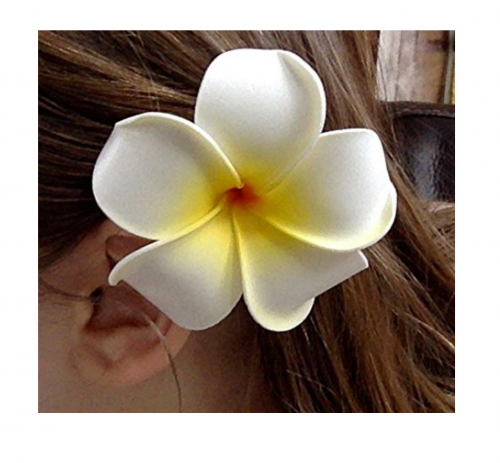 This Hawaiian white plumeria clip is, simply, simple! It's so unembellished yet very pretty. In fact, this is why it made our list of top 10 picks for flower hair clips.
We absolutely love the white color with the dusty yellow center. It looks just like a plumeria flower.
This piece is constructed out of a foam material called EVA, or ethyl vinyl acetate, and attached to the clip.
It has more durability than traditional flower hair clips made from regular material. But, we can't stop there. This clip actually comes in a set of three and It's a bargain.
The largest flower is 7cm or about 3 inches in diameter. The other two are the same size. They measure 4 cm in diameter, or about 1.5 inches wide.
The smaller ones are the same white color as the large one and have the yellow center. Use one for a simple style and two, or all three for a more dramatic look.
When you get so much, you almost expect to pay a higher price. Not so with this set. It is one of the most affordable picks on our list!
These flowers can pull double duty and you don't even need to use them as jewelry.
Use your imagination and do a little decorating with these pieces. We heard someone put them on her bicycle basket. Now, that's creative!
3. USABride Freshwater Pearl and Crystal Hair Clip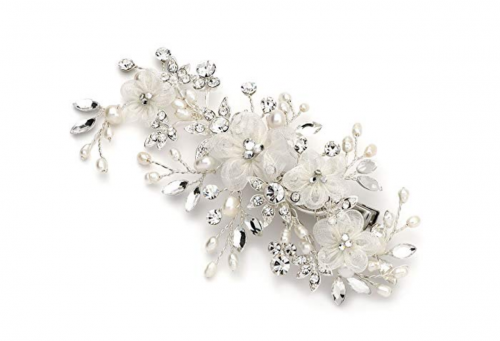 The USABride crystal hair clip is inspired by nature, features freshwater pearl, tulle fabric flowers, and rhinestones. They are the perfect combination to make a truly gorgeous hair accessory.
The clip is a hand-wired design and the wire is silver in color. All of the embellishments are secured to an alligator clip.
Some of the flowers are made from the tulle and others are rhinestones. On the silver wire, the pearls and rhinestone, mimic leaves. This piece is stunning and beautiful.
It's lightweight and easy to wear. It measures 4 inches wide and 2.5 inches tall.
The quality of this piece is reflected in its price. Expect to pay more for this piece. We would definitely put it in our budget.
If you aren't satisfied with the look of only one clip, try two. It is a definite sizing option and would present a more dramatic look for a bigger statement!
4. Love 3 pc. Handmade Hair Claw Clips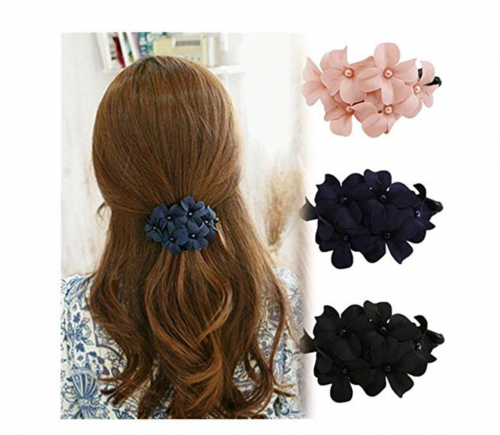 This is a three-piece set. One of the clips is a dark navy and the other is pink and black.
On the clip, each flower has a simulated, plastic, crystal at the center. The claw has strong interlocking teeth and provides a superior grip for any style or "updo" that needs a stronghold.
This clip is either totally handmade, or semi hand made. Everyone is different. That being the case, you are sure to get a one of a kind piece.
The clips are size 2.2i inches x 1.6 inches x 1.3 inches. They are kind of large for a child and we would recommend them for adult use, but only because of their size.
These pieces are super affordable!
This is a great piece for either thin or thick hair. We recommend this flower clip for anything other than formal wear.
If you need an easy to use hair accessory to style your hair, this piece might be it.
It is great for ponytails and a half up/half down style.
5. Meiysh Bridal Flower Side Hair Clips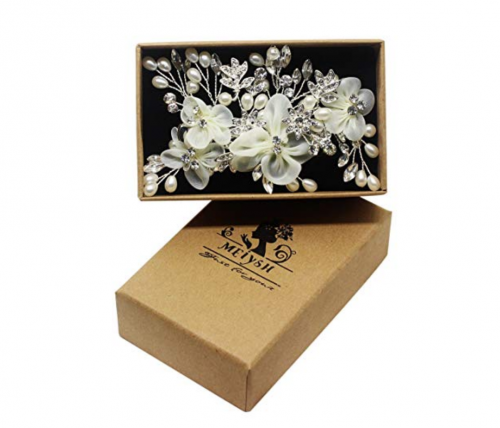 With a slightly vintage look, this Meiysh clip almost took our breath away. We think it's that stunning!
And why not, it is 100% handmade of off white mesh flowers, with silver rhinestone centers.
There are also flowers made from rhinestones. The leaves, in this piece, are also rhinestone, but many are pearl beads as well.
Everything, from the flowers to the rhinestones in this piece are adjustable and you can shape it any way you like. All of the pieces are attached to an alligator clip to keep it securely in place.
You can expect to pay a slightly higher price for this piece. However, it surely will not bust your budget.
This clip is lightweight. It is the perfect size for a dainty, yet simple look.
This pretty clip doesn't need to be on the side of your head. Move it around placing it wherever your hairstyle dictates.
Wear it with any style you like and combine one, or more pieces, for a more dramatic look. This clip is more suitable for occasions such as weddings!
6. QueenMee Vintage Flower Hair Clip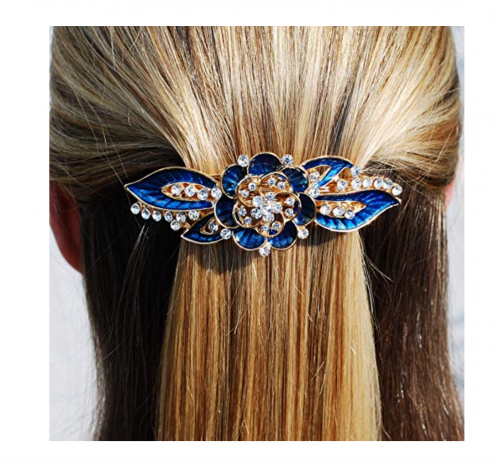 The QueenMee vintage clip is a piece with a hand-painted enamel finish. It has beautiful sparkling rhinestones and truly has a classic vintage look.
This gorgeous clip has a faux sapphire flower and leaves, mounted on a bigger, gold, barrette clip. It is such a beautiful contrast.
The flower and leaves have centers of faux diamond studs and the piece is embellished with more studs throughout. This look is classic.
The clip is 3.75 inches x 1.5 inches. This piece has a large claw and will hold a lot of hair.
There is no option to change the size of this piece. What you see is what you get.
This vintage-looking piece looks like it might cost a lot more than what the designer is asking. We think it's a bargain.
This pick is great for a total updo, or a half up half down style. It could be worn for any fancier party!
7. Bargirl Floral Hair Pin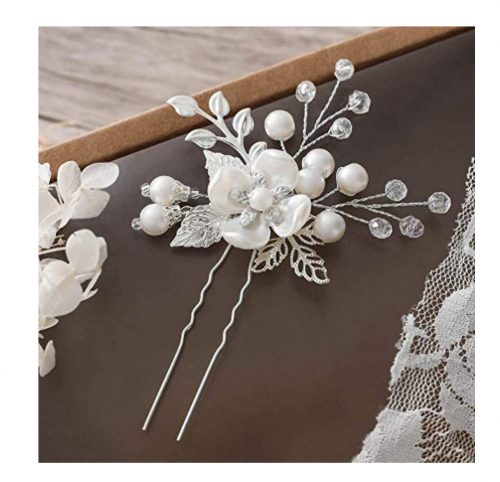 The Barogirl clip is 100%, hand made, of a grade A alloy bobby pin. It also incorporates beads and crystals. At the top of the bobby pin is a flower and in the center is a pearl. The pearl is surrounded by crystals.
At the end of the silver branches, are pearls that represent leaves. In these pins, there are also silver filigree leaves throughout. It is a stunning combination of several materials used to achieve an awesome flowered hairpin.
The beads and crystal are secured to a bobby pin and using this piece will, without a doubt, add graceful elegance to your wedding or evening event. These pins are also a good choice for both women and girls.
This hairpin has no "sizing options". What it does have are styling options!
You can combine a number of these to create a new, dramatic and beautiful look. Scatter them, in your updo for a little whimsy, or cluster them for more drama. The dimensions for these pins are 3.1 x 3.9 inches or 8 x 10 cm.
They are budget-friendly. You would definitely be able to afford more than one set. And we highly recommend it.
If you are using these for a wedding, even the flower girl or bridesmaids could wear them. What a charming look!
8. Tinksky Red Rose Flower Hair Clip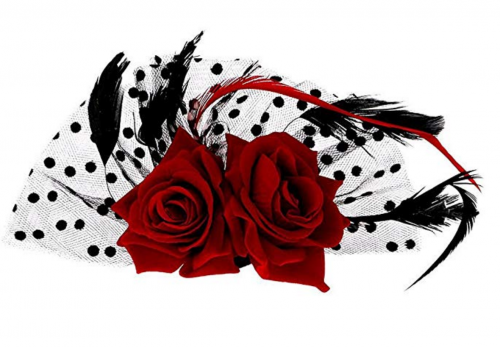 The red rose clip, in a way, reminds us of the Ascot race in "My Fair Lady", or the "Kentucky Derby", or High Tea. It is eye-catching and fun.
This piece is bold and dramatic. At the center of this pin are two red roses that feel like soft velvet.
Surrounding the roses are about half a dozen black feathers and one red feather. There is also gathered polka dot netting as a backdrop for this piece.
This clip's dimensions are 8.7 inches x 6.3 inches x 0.4 inches. It is a rather large feather hairpin. It weighs 0.64 ounces.
With this bold piece, one size fits all. However, we don't think the "all " includes children.
This flower pin will be sure to spice up your attire for themed events such as Mardi Gras, A Great Gatsby Themed Wedding (or costume party).
However, you can wear it for any occasion, where you need some pizazz in your style.
9. Zhooch Hair Claw Clips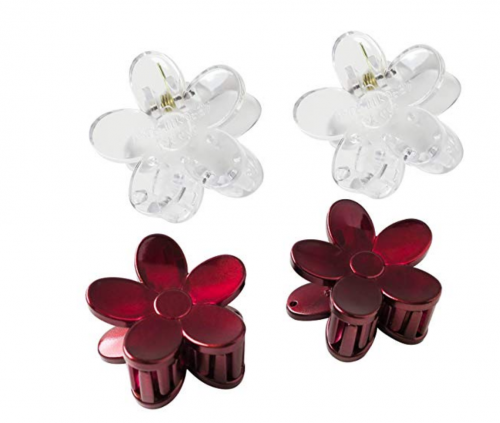 The Zhooch claw clips have a sturdy, minimalist, design. These give a clean look and great for ponytails and updos. Plastic Phlox flowers are run up both sides of the claw clip.
This piece is simple and light looking. The teeth, in the clip, are spaced for a beautiful gather in your hair.
These clips are 1/4 x 1 1/4 x 3/4 inches and lightweight.
One size fits all.
This clip is a claw clip; the price reflects that. The old adage "You get what you pay for" is true.
Wear this piece with confidence, because your hair will stay put. These sturdy pieces are a winner for casual hair accessorizing.
10. Kewl Bohemia Peony Flowers Hairpin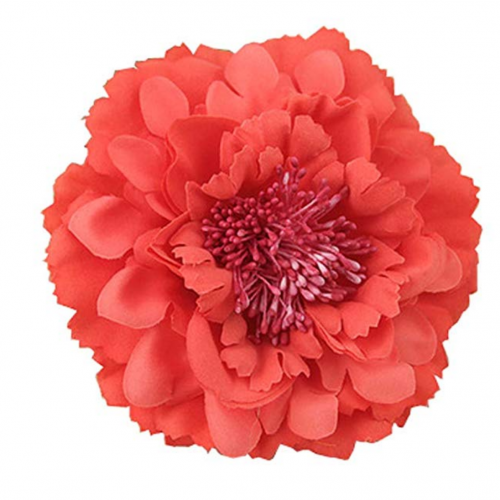 This Phlox clip is so simple. It consists of just one Peony. The fabric is layered to form the Peony. This pin is an easy and fun accessory.
This piece is fun because you can use it two ways; in your hair or you can use it to adorn clothing.
We think it would add authenticity to a Rockabilly outfit, or be fun with a Flamenco dress.
The pin is 11.5 cm or 4.5 inches in diameter. It is lightweight and comfortable to wear.
This piece is super cheap. You could purchase a lot of them and use them as favors for a little girl's birthday party.
Try using this piece to fasten a scarf or shrug. Your imagination is the only limitation.
How about adding it to a hat? We also think this would be fun for a little girl.  It would be a great way to dress up her style.
Style Tips
How can you wear these clips? What can you do with them?
A lot of our picks can be worn as a brooch or an embellishment to another accessory such as a purse, scarf, shrug, or hat. Some of our picks have pins attached, which allow you to do that.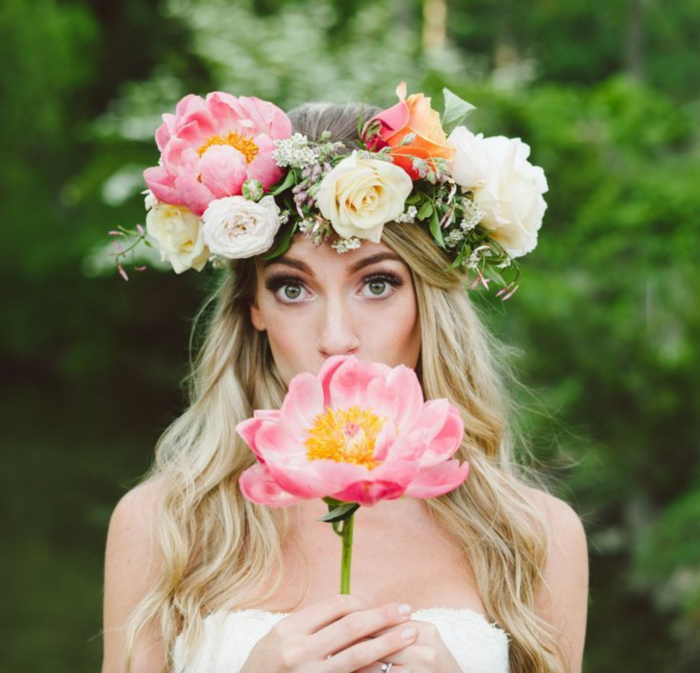 There are a few pins that are smaller in size. Try doubling them or tripling them for a more noticeable look. The bobby pins can be easily scattered though out your hair for a bit of whimsy.
Criteria for Selection
When choosing the flower hair clips for our top 10 picks, we wanted to bring you the best. Many of the pieces we chose have unique sizing options.
They can't necessarily be resized, but they can be added to for a stellar style that will be sure to bring you the compliments.
And, what good is it if the clip is not comfortable. We chose pieces that would work well with your lifestyle and not complicate it. The clips are comfortable and user-friendly.
Wouldn't it be nice if you could have a no-fuss, no muss hair clip? Durability and dependability is our goal. We don't want you to have to worry about your hair during an important presentation or when you go dancing.
FAQs
Q. Do the hairpins come in different colors?
A. Yes and no. Some of them do. It depends on what the designer is offering. Some of the designers only offer one color and others offer many.
Choose a color that will look fantastic with your outfit.
2) Q. Do I need to use hair spray with the bobby pins in order to get them to stay in my hair?
A. No. It is not necessary, but we highly recommend it. It will add to the stability and give you more confidence on your special day.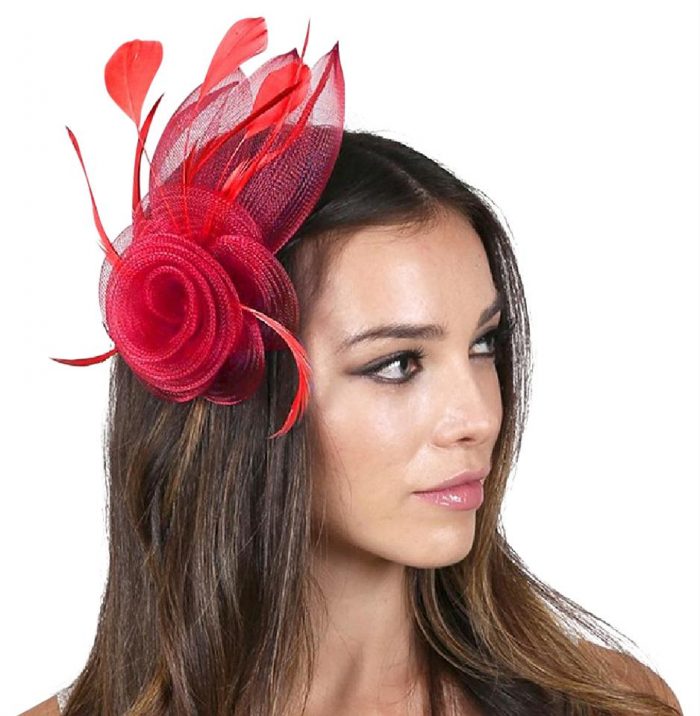 When using spray on your clips make sure to clean them and get the chemicals off. They will last a lot longer.
3) Q. What are alligator clips?
A. Alligator clips are used in making jewelry and have teeth resembling an alligator. They come in a wide variety of sizes and are often used to create hair bows.
They are very popular because they are easy to use. The standard size clip is from 1.35 inches long to 2.25 inches long.
When applying your alligator clip, simply squeeze the square end and the mouth will open. Place in the desired position, in your hair.
4) Q. What is EVA?
A. EVA is ethylene-vinyl acetate. It is a rubber-like substance and can be formed into many shapes. It is used in one of our picks to make the flower petals.
5) Q. Can the pieces be sized?
A. Good question, but no. These pieces all come in one size. Some of them can, however, be arranged and adjusted for different looks.
For example: purchase two, or more pins, and wear them together for a more formidable piece. Or, adjust the silver wires in some of the pieces to create a slightly different arrangement.
6) Q. Can young girls wear these pieces?
A. Yes and no. With most of them, it is a matter of personal taste. There are some pieces that are pretty mature looking and would look gaudy and silly on a child. Also, there are some pieces that are too big and the proportion to a child's head would be off.
Finally…
Be right in style without top 10 picks for flowered hair clips. Flower hair clips aren't just for kids. In fact, we have seen some of the celebs sporting clips similar to these.
But you don't have to be a "star" to look like a star. We brought you a wide variety of flowered hair clips in a variety of prices ranging from cheap to rather expensive. Choose one or many to bring out the glamorous babe in you.
The great thing about flower hairpins is you can choose based on your budget. We have included picks that are so inexpensive anyone could buy it, but we also included pieces that are a bit more high cost and have some more detail to them. No pressure here!
You will definitely be confident wearing these clips and the star in you will shine.