Mix / Watches / Women
These are the Best Betsey Johnson Watches (According to Our Editor)!
Betsey Johnson watches are the perfect accessory for any lady that loves her watches. The designer, Betsey Johnson is known for her fun and quirky watch designs. Her watches guarantee plenty of creativity and freshness.
They're also completely original and are great for those who have a unique and quirky fashion style. By owning a Betsey Johnson watch you can expect plenty of color, fun, and variety. The watches make a fabulous accessory because they will brighten up any outfit and can cleverly reflect your fashion sense and individuality.
A Betsey Johnson can also come in many colors, textures, and sizes. Leather straps, sparkling jewels, and colored flowers, one thing's for sure, this designer isn't worried about standing out! With their collection you're bound to find a watch you like, you could even buy more than one and have a different watch for each day!
Now because there are so many Betsey Johnson watches to choose from we've selected our ten favorite women's watches. With plenty of designs on offer, you're certain to find one that you like!
Our 10 Favorite Betsey Johnson Watches!
1. Betsey Johnson Women's BJ00459-04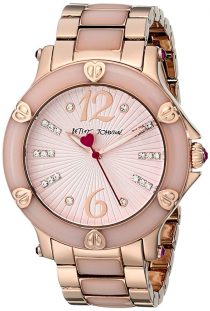 To begin our roundup of the best Betsey Johnson watches we've chosen this gorgeous rose gold watch.
This watch has been crafted from a rose gold stainless steel metal which is beautiful. The face includes pretty detail including small rose gold hearts that decorate the watch face frame. Six of these hearts are positioned evenly around the edge of the watch face.
The watch face only includes two numbers, the number 12 and number 6. We normally prefer to have the inclusion of all twelve numbers however this decision suits the design of the watch. The missing numbers are represented in the form of sparkling jewels which add a much-loved sparkle to this watch. The continuation of hearts is represented in the form of the third dial which includes a red heart at the end of it. The other two dials have been designed in a light pink color that matches the background color of the watch face as well as the number 12 and 6.
When it comes to the structure, the round rose gold stainless steel case is attached to a stainless steel bracelet that includes a fold-over clasp closure. Made from stainless steel, this watch will last a long time and will be extremely durable. You can guarantee it won't age quickly and will be a very good value for money.
This not only allows for comfortable wear but also allows the watch to be worn securely and removed easily from your wrist by having a pressing a release button.
The watch face is approximately 41mm in diameter and the case thickness is approximately 11mm. The bracelet strap has been created to 20mm wide, making a great width and will ensure a comfortable fit for any wearer's wrist.
This gorgeous watch also comes in a stylish Betsey Jonson watch box. Colored in dark pink with black animal prints on it this statement box will keep your watch very safe when you're not wearing it! We love this watch and so will you!
2. Betsey Johnson Womens BJ00688-01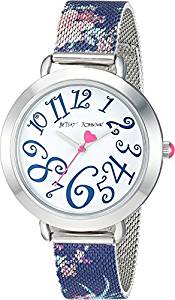 If you love flowers then you'll love this Betsey Johnson watch. With a splash of color, this blue strapped watch includes a colorful flower design. This Betsey Johnson watch would certainly brighten up any outfit!
This watch has been crafted from a silver stainless steel metal. The face has a shiny and smooth finish to it which makes it look very ascetically pleasing. The watch face includes a plain white background with blue numbers, starting at number 1 and finishing at number 12.
Each number has been displayed in a stylish blue color. This watch features the iconic pink heart third hand. The other two watch hands displayed within this watch are both white so complement the blue and white look perfectly.
What makes it extremely unique is the iconic floral strap which is attached to the stainless steel case. The decorative strap has been designed on the bracelet which has been made from mesh. The watch strap has a dark blue solid color and features a pretty flower design, colored in light green, pink and yellow.
When it comes to the size of this watch the watch face is approximately 36mm wide by 36mm high and the case depth is 7 ½ mm. The bandwidth is also 13 ½ mm. The strap includes a jewelry clasp closure which makes it very comfortable to wear.
3. Betsey Johnson Women's BJ00019-72 – Crystal Lips Strap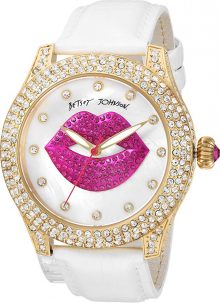 Expect plenty of sparkle with this Betsey Johnson watch! This gorgeous piece is a statement piece that you'll want to wear every day! Sold for a medium price it's also a great investment piece that you'll keep for years to come.
We love the color scheme for this watch – gold, white and pink. These three colors compliment each other really well. The face has been designed for a gold surround that it covered in sparkling circular jewels which add a beautiful shimmer to this watch.
The sparkling diamonds continue across the watch. It includes an image of pink lips in the center of it. This has been designed in a deep shiny pink color with pink gemstones that add a lovely bit of sparkle to the center of the watch.
The watch also includes clear circular gemstones that are used to represent the numbers around the clock.
The clear diamonds that are positioned on the watches bezel work well alongside the shiny white background featured on the clock face. The dials have been designed to tie in with the look and feel of the watch.
They have been designed with an inner white color and outer gold color. The third dial features the iconic Betsey Johnson dial which is colored in pink. As expected the watch also includes the iconic 'BESTSEY JOHNSON' logo at the top of the watch.
It has a white leather strap which includes a lovely white stitch detail along the outer edge of the leather. The watches strap also complements the main watch face by including gold and pink detail.
We love this watch strap because the white leather is very smooth and the width makes it very comfortable to wear. The white strap also creates balance in the watch by toning down the gold and sparkling gemstones.
What's great about it is that the watch face has been created using stainless steel metal. This makes it durable and shiny. The white leather strap also has an adjustable buckle closure which allows it to be made smaller or bigger depending on the size of your wrist. The leather strap also provides a comfortable fit and easy strap method.
When it comes to the detail on the face it features a three-hand analog display with a quartz movement. The striking aspect of this Betsey Johnson is the gemstones which are in fact crystals.
The dials include the pink crystal morganite looking,  embellished lip motif. The watch also features crystal hour markers and a crystal-embellished bezel. The height of the watch face is approximately 42mm and the case width is 42mm with a case depth of 13mm. The watch strap is also 20mm in length.
4. Casual Watch (Model: BJ00040-11)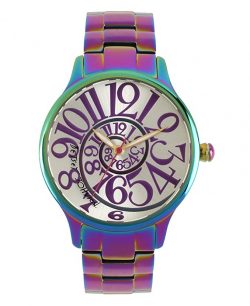 Get It Here
If you're looking for something a bit different then this watch may be exactly what you've been looking for. The stainless steel strap has a unique rainbow color that catches your eye! The rainbow color strap consists of a variety of colors including purple, green, blue, yellow and green.
In contrast, the watch face has been designed with a plain white face with solid purple numbers in the typical Betsey Johnson font style. What's interesting about the watch face is the number pattern.
After the initial to 1 to 12 numbers, the numbers continue to swirl into a spiral layout and gradually decrease in size. This design and layout give you the feeling of the clock in Alice in Wonderland. The watch dials are designed with a gold and white color that makes them stand out on the white background.
When it comes to the structure of the face and strap has been created from a stainless steel metal. The case diameter is approximately 39mm, making it a good size. The case height is also approximately 39mm and the case depth is 10mm.
The watch itself has a quartz movement and consists of a three-hand analog display with white dial features and purple numbers that are featured in a swirl design.
It also includes a convenient fold-over clasp closure so all you need to do is press the button to release and open the strap. Another thing we liked about this watch is the cute pink box that the watch arrives in. The box is simplistic and cute.
5. Black Cat Faux Leather Strap Watch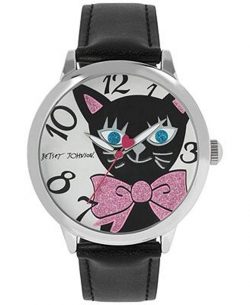 We've chosen another unique Betsey Johnson's watch to shout about. This is a more subtle design but is still just as special as the other watches that we've selected from her collection.
This gorgeous piece has been created using a silver-colored stainless steel metal. The face features the stainless steel frame around the entire circular watch face. This watch itself includes an elegant image of a cat.
The graphics consist of a black cat that has a large light pink bow and pink ears. The cat's eyes are soft blue and silver color has been used to highlight the cat's features.
This includes their eyes, eyelashes, nose, mouth and whiskers. This cat image blends in well on the watch face alongside the black colored numbers. We love this unique design from Betsey Johnson!
Looking closer at the structure the stainless steel watch features two silver and white-colored dials and a pink dial that has a cute pink heart on the tip of the dial.
The numbers located on the clock face have also cleverly been incorporated within the actual visual design of the watch and are not a separate 3D element added to the watch. The watch strap consists of a black leather strap.
Unlike the previous watches that we have reviewed, this strap is slightly narrower adding to the watches simplistic design. The leather strap also includes some simply stitch detail featured either side of the strap which gives it that finished looking.
If you're interested in knowing the size of this watch, the stainless steel watch consists of a 40mm diameter watch case and a 20mm wide strap. The watch consists of an analog quartz movement. The watch strap is also made from a black faux leather strap.
This gorgeous watch will arrive in a colorful pink watch box that will ensure the safe arrival of your precious accessory. Colored in a vibrant shade of pink and black animal design, this box makes a lovely box that you'll want to cherish for years to come.
It also includes the iconic 'BETSEY JOHNSON' logo on the box. What more could you want?
6. Women's BJ00482-14 – Cherry/Polka Dot Print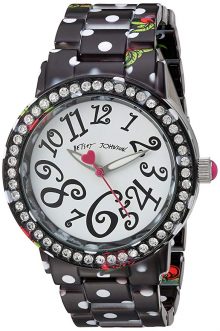 If you're mad about polka dots then take a look at this beauty! This trendy watch has been designed to satisfy ladies who love their polka dots and their jewels.
This lovely watch has been made from a strong and sturdy stainless steel metal, colored in black. When it comes to the design of this watch, the designer, Betsey Johnson hasn't cut corners.
The elegant strap features a mixture of classic white polka dots alongside a pattern of vibrant red cherries and bright green leaves. The subtle inclusion of the cherries and green leaves doesn't compromise the polka dot design all at. It, in fact, adds to the design of the watch and gives it an infusion of color which we particularly like.
Moving onto the watch face, it continues to feature the theme of a black background with white polka dots, red cherries, and green leaves. This pattern also continues along with the bezel however some of the design is concealed via the single line of sparkling gemstones.
These clear crystals add a touch of much-needed class to the watch which we love. The gemstones also work perfectly in breaking up the solid black color.
When it comes to the clock face, the designer has chosen to keep this aspect very simplistic, probably because the rest of the watch is quite busy! The background consists of a solid white color which includes the simplistic black numbers from 1 to 12 on the watch face.
The dials continue a similar feeling, staying quite plain. The main two hands have been designed with a white and silver block color whereas the third-hand displays the iconic pink dial which features the pink heart at the end of the dial.
It features a smart fold-over double push release button that allows for easy removal from your wrist. The round face also features a three-hand analog display with a quartz movement.
The watch bezel also consists of a crystal-embellished finish. This designer has included a stylish watch box with the watch that you'll definitely want to keep.
If you want a fresh and fun watch designed by Betsey Johnson to add to your watch collection then don't miss out on this beauty!
7. 37BJ00682-02BX Poodle Dog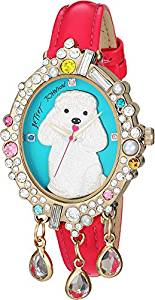 We all know that a man's best friend is his dog. So for you lovely ladies, we've chosen to feature this unique poodle dog-inspired watch. Now, this watch may not be to everyone's taste but we're certain it will appeal to some Betsey Johnson watches lovers, in particular, those that thrive in collecting all of the watches.
This particular design is very decorative and what makes it unique is the contrast between the collection of the studs and hanging jewels against a vibrant red watch strap. Buy this watch and see for yourself!
This unique piece has been designed to appeal to a unique market. It is a very unique watch which we'll talk about in detail. One of the main aspects of this watch that will catch your eye is the striking image of a white poodle dog that fills the watch face.
The image of the poodle takes pride of place and the composition even makes it appear that this image has been placed in a picture frame that would appear on someone's wall or bedside table.
To make the image of the dog stand out it has been placed against a bright sky blue background. Another interesting aspect of this watch is the variety of gemstones that bring this watch to your attention.
Pink, blue, yellow and silver – if there's one thing this watch doesn't lack is a character! If you're a lady that loves your bracelets and rings, this watch would look lovely alongside them.
It also has a slight antique vibe to it, due to the different shape and sizes of gemstones. The three hanging crystals that drop from the bottom of the watch face are also very similar to an antique lamp.
Another aspect of this watch that we can't avoid commenting on is the vibrant red leather strap. This design choice really works in catching your eye and cleverly complements the rest of the watch. One thing's for sure Betsey Johnson knows how to design unique, quirky and stylish watches and this is one of them!
This interesting piece has been crafted from stainless steel metal. The watch face has been designed to an oval shaped frame which features a variety of jewels, embedded and hanging.
The height of the watch case is approximately 47 ½ mm and the case width is 34mm. The depth is approximately 10 1/10mm whereas the watch strap is approximately 12mm wide.
The watch strap this has been made from a thin red leather which includes a stitch detail either side of the strap. The watch strap also features a buckle closure which is extremely easy to use. This is a truly unique accessory so take a look at it now, you know you want to!
8. Women's BJ00131-115 – Spread Love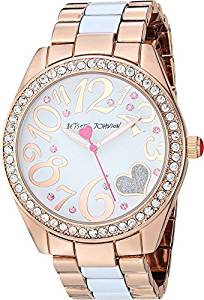 For everyone who loves a touch of glitter, this watch features heaps of glitter in a sophisticated design!
This watch has been created using a gold-colored stainless steel metal which features plenty of gold and glitter to keep you happy. The watches bezel consists of a shiny gold surface with round clear encrusted diamonds. The inner watch face has been designed with an attractive heart that appears in the center of the watch where the dials are positioned.
The background also includes an interesting pattern of colors including silver, yellow, blue and green which gives this watch a colorful glitter texture. This patterned design complements the crystal bezel very well. Once again the three dials include a third dial that represents the vibrant pink dial that has a heart on the end of the dial.
9. BJ00496-53 – Emoji Face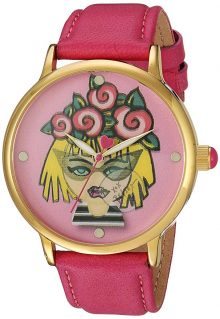 Pink, pink and pinker! If you like the color pink, this is the perfect watch to wear with your outfit!
This Betsey Johnson watch has been created using a gold-colored stainless steel metal. The watch face has been made from stainless steel and includes an artistic image of a lady with blonde hair with red roses in her hair and a black and white top. The watch face background also consists of a light pink color. When it comes to the numbers, this watch doesn't include any!
Instead, it features four circular silver dots that represent the number 3, 6 and 9 and 12. Cleverly these silver dots stand out nicely on the light pink background and don't take away from the design of the watch.
The color pink also continues along the leather strap within this watch. The vibrant pink complements the design really well and if you like pink, you'll love this shade of pink!
When it comes to the size of the accessory, the watch face is approximately 41mm high by 41mm wide. The watch face depth is 11 mm. The pink leather strap consists of a buckle closure and a three-hand analog display with quartz movement. This watch also comes with a stylish Betsey Johnson watch box, making it a great gift for someone special.
10. BJ00235-01 Analog Display Quartz Gold Watch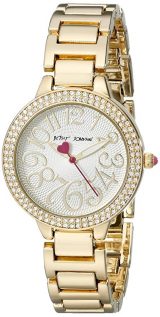 Quite a few of our Betsey Johnson watches are designed with a wider watch face and strap however this watch offers a smaller more dainty style. If this is what you like, you'll love this gold watch.
The watch designer has created this watch using a solid stainless steel gold metal. The watch face has been designed with a more sophisticated feel in mind. The watch bezel features two rows of diamond crystals which shimmer beautifully when this watch is worn.
The face has been designed with a white background with gold numbers. This color combination gives the watch a fresh and minimalistic feel to it! What gives it the signature Betsey Johnson look is the iconic pink heart-shaped dial which we love so much!
Continuing the gold them, this watch has a classic gold stainless steel bracelet strap which shines beautifully. It also consists of a smooth texture which makes it very comfortable to wear.
Some important features to point about it include the crystal-accented fixed bezel which gives this watch plenty of class. The watch is also powered by a Japanese quartz movement. The watch face features Arabic numeral hour markers.
The watch face screen has also been made from a mineral crystal that is scratch-resistant so there's no need to worry about damaging the screen. The watch also arrives in a lovely gift box and is backed with a 2-year warranty. We love this watch and so will you!