Mix / Personalized / Rings
Our Top 10 Favorite Personalized Engraved Rings
Marianne 12 Mar 2020
5449
There are certain occasions where you find yourself looking for a special gift for someone dear to you. Maybe it is Valentines Day, a birthday or just a normal Tuesday, whatever the day or occasion you are trying to express your heart in the sweetest of ways. You find a beautiful ring but there is just something missing. You realize that a customized ring that is one of a kind is exactly what you are looking for.
We have put together a list of our favorite personalized engraved rings for that occasion when you want someone special to know they are truly one of a kind.
Engraved jewelry rings are the perfect way to create a personalized and sentimental gift for any occasion. These engraved rings can be anything from the most eye-catching piece of jewelry to a more subtle intimate dainty design that is just between two people.
Adding a personal inscription to a wedding ring adds meaning to the most important piece of jewelry you will ever own. It makes it yours. It's a heartfelt gesture to engrave an inscription inside a ring, it's the ultimate way to show someone how special they are.
Our Top 10 Personalized Engraved Rings!
1. Simple Expressions Personalized Stackable Rings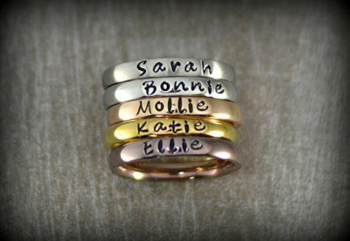 Our first pick is a personalized stackable ring set that is not only alluring but is uniquely timeless? New to the Simple Expressions line is the set, which is available in matte, shiny, rose gold, gold and coffee. Show your special someone that they are one of a kind with a personalized message, word or dates of a significant event in your lives.
These darling rings are hand stamped ensuring they will not fade, tarnish or stain your skin. These personalized engraved rings have a 3 millimeters width which is the perfect stacking size! The quality of this ring is outstanding, inscriptions are very clear to read and they are comfortable to wear.
We love the creative possibilities of this set! Each ring is sold separately so you can mix and match colors or add to your stack as time goes by. These would be an excellent choice for Mother's Day for example! You can design your ring set with each of your children's names or the birth dates of each child. Looking for a best friend's ring set?
Design your stackable set with each of your friends' names and give a set to each friend. We love these because the design options are limitless, you can get creative and have fun designing a ring set that is peerless to time.
2. Paula Max Personalized Jewelry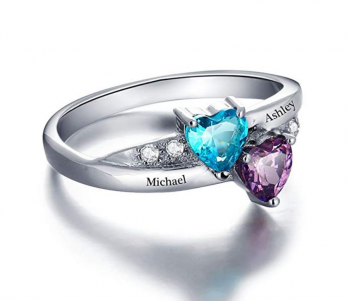 Next up we chose the stunning Paula Max personalized sterling silver ring which is versatile enough to be given as an engagement ring, promise ring or for any special occasion such as anniversaries, birthdays, or graduation. This elegant ring has the option to come with two heart-shaped cubic zirconia birthstones, two names can be engraved on the outside of the ring and/or one engraving inside the ring. We love that this ring has so many options to make it fun and unique.
This amazing ring is definitely going to be a gift that puts a smile on anyone's face. Just looking at it you can see all the details someone thought about just for you. Give your special someone the joy of looking down at their finger and remembering that their heart is special just like this radiant ring.
This Paula Max ring is even fun to design! If picking this ring for your love you start by choosing, for example, your birthstone and your partner's birthstone. You can also choose two gems that coincide with two special months like the month you meet and the month you chose to get married. This ring is totally unique and its beauty is unparalleled which is why we chose it as one of our favorite personalized engraved rings!
There are many beautiful ring sets to choose from these days but we chose this ring as a top contender because we love a strong durable ring with an awesome warranty. Durable as it is, the brands grants you a 3-year warranty against tarnish, just in case. So say you accidentally chip one of your stones, don't worry, Paula Max will repair the ring or replace it.
In addition to all the other amazing features, Paula Max is the only USA seller which means your order will be fulfilled and shipped extremely fast. And when shipped this ring arrives with a unique magnetic ribbon ring box and jewelry polishing cloth.
3. Teeny Tiny Ring by Hannah Design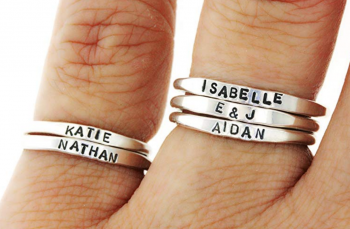 This next option is perfect for someone looking for a ring that is delightfully simple, yet exquisitely dainty and beautiful. This attractive  .925 Sterling Silver ring comes hand stamped with 'teeny and tiny' letters on a 1.3mm sterling silver band. Each letter is about 1mm wide. The letters are so tiny that only someone close to you can see it.
We recommend this ring for anyone who wants to feel like they aren't even wearing one. It is lightweight and comfortable. We love this ring set so much because it's the type of ring you can leave on 24/7.
We also love it because it is simple, so you can wear larger or more colorful engraved rings at the same time as this wonderful Hannah Design ring. This lovely set is a subtle piece, not the centerpiece. The delicate subtlety makes it easy to pair with other jewelry and will match pretty much any outfit or occasion.
This beautiful ring is a perfect choice for anyone who loves stacking engraved rings! Each ring is sold separately and can be individually purchased and personalized to create a unique token of admiration.
This piece is hand made with love by artists in the USA with the highest quality and high polished finish. When shipped the ring is placed in a jewelry box and has a bow delicately tied around it. F
4. Three Simulated Birthstone Rings by Luola Jewelry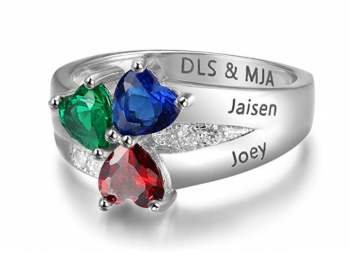 It's always exciting when a piece of jewelry arrives even more beautiful than pictured online. For that reason amongst many others, we chose the magnificent three simulated birthstone ring by Luola Jewelry as our next favorite engraved ring!
This beauty is exclusively personalized and customized just for you! Each ring features three 5mm x 5mm heart cut simulated birthstones and the ring can be engraved with names or dates that are special to you. From January's red garnet birthstone to December's beautiful Tanzanite stone these ringings design possibilities are limitless!
The romantic heart-shaped simulated birthstone symbolizes romance and togetherness. By wearing such a special ring on your finger you're celebrating yourself, a loved one, or someone meaningful in your life. This beautiful piece is an adorable everyday accessory that makes a great gift for just about anyone. We love that you can choose the birthstones of best friends, sweethearts, children or family members, easily making this ring easily a family or friendship treasure
One criterion we look for when choosing engraved rings for our top ten list is customer satisfaction and available warranty. We love that  Luola Jewelry wants its customers to feel comfortable and confident when shopping for this special gift. Luola Jewelry offers a full refund within 30 days of the original shipping date in the rare event you are not completely satisfied with the purchase.
5. Love Jewelry Spiral Twist Ring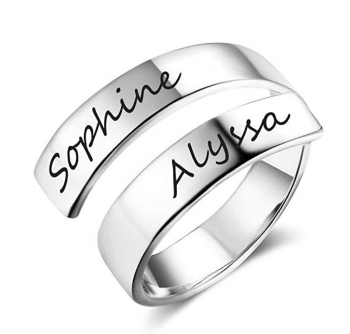 This next top pick is unlike any other option on our list. The eye-catching spiral twist instead of the traditional closed circular ring design gives this ring character and unique quality. Love Jewelry's spiral twist ring is the perfect gift for best friends, mothers and daughters or sweethearts. It can be personalized with any name or text you choose to make it more meaningful. We love a beautiful personalized DIY ring that you can make more meaningful by simply designing with words or two names that are special to you.
Each piece is made with high-quality stainless steel and is hypoallergenic and allergy free. It comes in silver or gold and can be adjusted to fit size US 7-9. Being that this ring is adjustable you are never locked into one finger you can wear this ring on. One day you can make it larger by opening the spiral to fit your thumb if you are also wearing other rings or the very same ring you can also wear on your pinky by closing the spiral. We love the versatility of this ring!
When shipped this ring is placed in a delicate gift box and accompanied with a free jewelry polishing cloth to make it the perfect gift for giving and receiving. We love it because the price is fair, the engraving is free, there is an outstanding 1-year warranty against tarnish and also a 60-day money back and defective exchange guarantee. When 100% satisfaction is key it's easy for this ring to be a top contender.
6. Mealguet Jewelry His and Hers Domed Set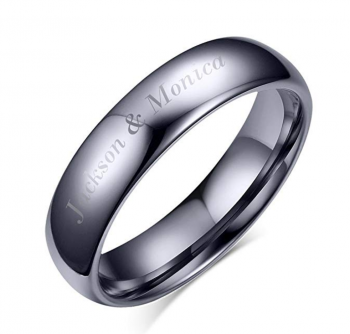 Get It Here
Next up is the sleek tungsten carbide ring by Mealguet Jewelry. We adore this option because it is perfect for the very specialist of occasions with its sleek masculine design. If you are searching for a piece that won't scratch easily, then this tungsten option is for you. Tungsten is a super hard metal. It ranks 8 to 9 on the Mohs scale, only diamonds ranking higher than that. It will certainly last you for pretty much ever.
The plain simple stylish design will make a beautiful engagement, wedding or promise ring. If you are looking for a ring to express your love to a friend, lover, brother, or father this is a great choice!
The polished finish makes this ring sleek smooth and fashionable. It comes in size 4mm or 6mm width and can be customized with a name, dates or a short sweet message.
Customer satisfaction is high on our list of criteria which is another reason why this Mealguet ring made it to the top ten list. Customer assistance and satisfaction is very important so if you have special needs a customer service agent is there to help you. Also, this ring comes with a 30-day money back guarantee. If your love is strong opting for this band that perfectly reflects the indestructible bond between you and your sweetheart.
7. Crownal 8mm Koa Wood and Abalone Shell Ring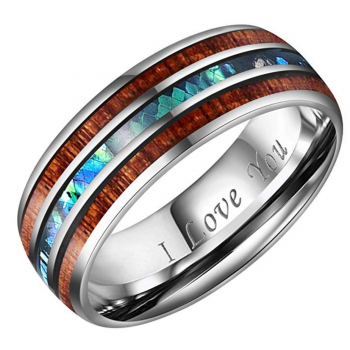 We are so excited about this next pick! This exquisite ring is the perfect fusion of strong tungsten and extraordinary rare wood and shell. This ring is made from Koa wood which is from the Acacia koa tree found in Hawaii.
This beautiful wood is known for its deep rich colors and varied grain pattern. Koa wood is not only beautiful it is also honored in the Hawaiian heritage as highly revered and sacred. This unique option also contains an abalone shell which is known for its ability to promote feelings of peace, enhance the beauty and encourage compassion. And Tungsten Carbide is ranked second hardest next to diamonds on the Mohs scale. So if you are looking for a ring that is strong yet uniquely beautiful this is the ring for you!
This ring is comfortable, easy on the eye and is hypoallergenic and cobalt-free so you never have to worry about your finger or your sweetheart's finger turning green or losing its shine. It comes in two colors; black or silver and can be ordered in size 7 all the way to size 17. With the option to have a personal message, name, date or quote lasered inside this ring it makes a perfect choice.
We love it because it has so many elements in its design to make it so special. Wearing it will take you back to the time you and your partner were on the beaches of Hawaii with its Polynesian feels and oceanic design.
8. Actual Fingerprint or Handwriting Ring by Danique Jewelry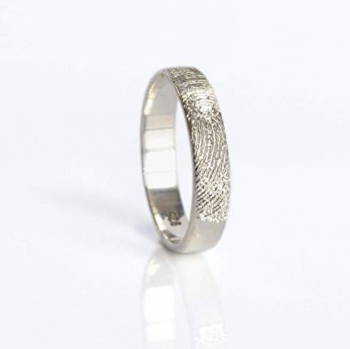 Our next pick is a ring that is truly one of a kind masterpiece! We adore it because it can be a gift that not only is beautiful but can be designed with the fingerprint of your loved one engraved on it. We love the touching story about a daughter who designed a ring special for herself in memory of her father. The father, unfortunately, was ill so after he passed away she made a copy of his fingerprint and took a card he had written her before he passed away. She sent in a copy of his fingerprint and a copy of the message "I Love You" written in his handwriting.
Danique Jewelry created a ring with his fingerprint on the outside of the ring and his handwriting on the inside. The daughter will forever have this cherished piece of her father to wear on her finger. This is just one example of how wonderful a ring can be designed and how something so beautiful can be created in the memory of a loved one.
This custom designed engraved sterling silver ring can be personalized with a text on the outside or inside.
It is made with 925 Sterling Silver and is available in three charming finishes; bright silver, 18K yellow gold, or 18k rose gold. The band can be personalized with text or a photograph of a fingerprint or someone's handwriting.
Danique Jewelry takes pride in creating beautiful and meaningful jewelry for their customers so whether you are shopping for a friend, grandparent, a new mom, or for yourself, every piece can be customized to fit your personal style or to represent every family member. And as seen from our story above, this ring is also the perfect trinket to buy as a memorial of loved ones. We love this ring so much because it is as unique as a fingerprint and beautiful beyond words!
9. Personalized Russian Ring Necklace by My Name Necklace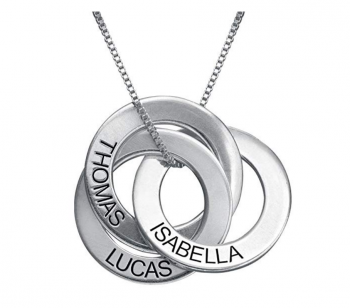 Who said a ring can only be worn on your finger? This next top pick is a Russian ring necklace for those of us who prefer to wear a necklace than something on our fingers. These personalized Russian wedding rings are a classic, and timeless, a symbol of love. This new trend is a fun quirky way to display three of your favorite peoples' names on a single piece of jewelry.
Russian engraved rings are composed of 3 metal bands. The legend is about a mom who tells the son the special meaning behind these beautiful engraved rings. She explains the meaning behind each metal; white gold, yellow gold, and rose gold. The softest metal is the white gold which adapts best to the shape of the finger. The white gold stands for marriage and love, symbolizing togetherness as lovers and partners for life.
Yellow gold is the hardest material and can be knocked around a bit but brought back to its magnificence with just a little shine. Life is tough the mother says, we all get our fair share of tough love but true love will always give you the strength to move forward.
Last is the rose gold which is the rarest, so once you find this love you must hold on and never let it go. This enchanting story of the Russian rings easily land this set on our top ten list! This ring set is the perfect gift for your wife, mother, girlfriend, love one or just as a special gift for yourself.
The pendant measures 20mmx20mm and all letters are capitalized. When designing your set you can choose the traditional combination of metals or you can pick to use all sterling silver or all rose gold or all yellow gold, the design is completely up to you!
My Name Necklace believes that life is about moments that matter between the people we love, the family, friends, and colleagues, so they design each piece with that in mind. They are dedicated to helping each customer capture their special moments and keep them close forever next to their hearts. They believe that there is no limit to the memories you can make eternal. My Name Necklace strives to make every single piece of personalized jewelry as precious, special and beautiful as the moment it commemorates. With a team of dedicated members, this piece is sure to arrive and far exceed your expectations.
10. Lam Hub Fong Infinity Knot Ring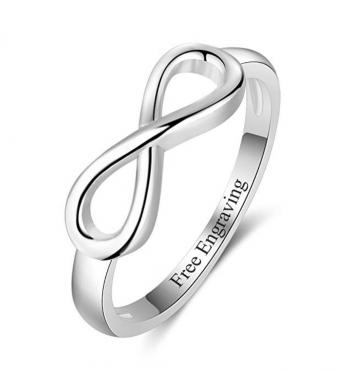 Last on our top ten list is the marvelous personalized infinity knot ring by Lam Hub. The infinity knot originates from the Indian and Tibetan heritage, where the symbol represents perfection and equilibrium between the male and female gender. The infinity knot also represents a bond that has no beginning and no end, a symbol of forever.
This unique rhodium-plated brass ring is the perfect gift to be given as a best friend ring, symbolizing a friendship that will never end. It will also make an outstanding present for Valentines Day, Mothers Day, Birthdays or even anniversaries for girlfriends, wives, or love interests. Customize it by engraving a special date, name or phrase on the inside to make it even more special and unique. Each ring can have up to twenty letters or numbers engraved inside the ring band. We love that Lam Hub includes the engraving free of charge with the purchase of this beautiful ring.
Lam Hub is located in California and each of their designs, the infinity ring included, is designed by hand by a team that values nature and creativity. Being that it is designed in California when shipped it arrives within seven days in a beautiful jewelry box complete with a polishing cloth. We love a product with a great return policy and warranty which is another reason this ring is our top pick. There is a thirty-day free replacement and a two-year warranty against tarnish for free. So in the unforeseen event that the buyer runs into a problem, they are fully covered.