Necklaces / Women
The Cutest Best Friend Necklaces to Share With Your Besties
"You're my person. You will always be my person." Cristina Grey famously uttered these words in the pop culture smash hit, Grey's Anatomy. It began as a statement of cold-hearted fact when the character was required to name an emergency contact at a medical clinic. She picked the title character, Meredith. However as the show and the characters developed, it continued to garner more and more meaning.
Throughout the course of the show, the pair of friends has tackled innumerable struggles, personal tragedies, and defining moments of accomplishment. Through those ups and downs, they remained each other's "persons". It is the modern epitome of best friendship.
We all hope to have a person. Someone in whom we can fully rely upon, communicate with easily, and generally, be ourselves.  Some are lucky to find a best friend and confidante in their romantic partner. But others have an entirely different "person".
Hopefully, we all have memories of sharing a bestie necklace with our childhood friends. Classically, these were a heart split in half. One side of each of the figure would be placed on its own chain. As a symbol, it represents that together each half of the friendship makes a whole. When the friends were together, the heart or figure could be made whole again just as the friends had in reuniting.
We have found ten of the most adorable best friend necklaces you can share with your besties.
Our 10 Favorite Picks!
1.Dual Gold Tone Compass Set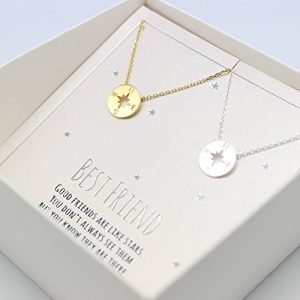 When it comes to symbols for friends, we love the compass rose. As a solo piece, it represents a wandering spirit and adventurous person. It is a great charm for folks who love traveling and exploring.
However, as a friendship token, it represents how you are willing to travel to the ends of the earth for your friends. This could be literally or figuratively. This matching pair is made by an artist out of Seoul, South Korea. DianPearl carefully crafts each pendant out of 925 sterling silver and 14k gold plating.
Each charm is hung from a matching sixteen-inch chain. They arrive on a single card with the inscription "Good friends are like stars. You don't always see them but you know they are there." This is a perfect set for friends who find themselves living apart.  
Since neither time nor distance affects a true friendship, no matter where any of you travels to or lives on the globe, you know you will be there for each other. These matched necklaces are the perfect celebration for your long-distance friendship. No distance is too great for the strength of your relationship.
Given the length and dainty size of the pendant, these necklaces are almost purpose made as daily wear pieces. They will layer well and match most aesthetics. If you would prefer to keep these tucked away, a symbol just for you to know about, add a two-inch extender and keep it tucked inside your blouse.
2. Kitty Ying Yang Puzzle Pair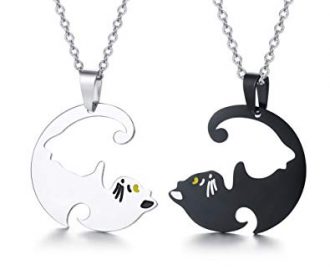 This one is just adorable. It wants to verge on a little juvenile but escapes and leaps straight into heart-melting cuteness. Two playful cats in black and silver stainless steel hang from a silver-toned alloy chain.
Individually they are roly-poly kitties. But bring them together and both fit together perfectly. They form a yin and yang shape. The yin and yang have been associated with friendship and relationships for quite a while.
A traditional Chinese symbol, the black and white circles swirl into each other. Each represents a different aspect of humanity. Not only do the shapes complete each other, coming together to form a full circle, but each contains a small piece of the other. Those little black and white dots in their opposing half of the circle are an important aspect. One cannot be itself without a little part of the other.
And that is just a perfect symbol for friendship. You take all that lovely meaning and add kitties and we are smitten. Both chains measure twenty inches so it is a generous length for display in a heavy, layered look or tucking underneath your shirt.
We also appreciate that these pieces are colored steel as opposed to enamel work. That likely would have pushed it straight over the edge of too juvenile for regular wear for us. But the steel elevates it a little bit. Plus the set is great for people with metal sensitivities or allergies.
3. Split Heart Best Friends Pair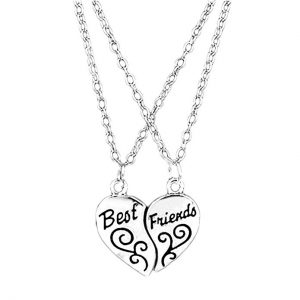 This is the absolute classic of best friends necklaces. Silver-toned zinc alloy forms a heart pendant that is divided into two. The words Best Friends are inscribed on the face, one word on each half. A sweet swirl of filigree engraving accompanies each proclamation.  
The heart shape is a classic representation of love. While most of us associate it with romantic love, the heart is many times used in history for other forms. It first appeared in historical manuscripts as religious iconography. Over time it began to represent platonic, or brotherly, love as well. Thus we can absolutely use it for best friends as well.
This is a simple piece that works well for daily wear. It is also wonderful for friends who regularly see each other and can match their halves up. People who spot your half of the best friends split heart will know that the other half of your heart is elsewhere. It represents that you send a part of your heart with your bestie as well.
The halves come on a seventeen-inch chain. This is an ideal length for display on most people. It will hang just across the breastbone, slightly below the collarbone. If you would like to tuck this away for a private piece, add a two-inch extender to keep it out of view.
This pair of necklaces begs to be worn by folks with more classical tastes and traditional aesthetics. It almost feels slightly vintage. Feeling like a throwback to the days of childhood innocence, this simple piece may be one of the best on our list.
4. Avocado Heart Pair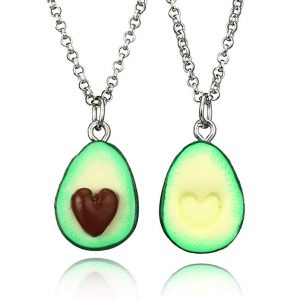 When historians look back on this age there are sure to be a few things that really stand out. First, a significant portion of us lived and died by our social media feeds. Second, the avocado may have been worshipped by particular generations at some point. We will add to this lore with what is likely our favorite pick.
Two halves of avocado are made of clay polymer. One half features a heart-shaped pit. The other half contains the heart-shaped hollow in the green flesh. Both parts are hung from an eighteen-inch alloy chain with an optional two-inch extender.  
We cannot get over just how adorable and generationally appropriate these are. Avocados are considered a superfood. They are packed with healthy fats, vitamins, minerals and a bright creamy flavor we adore. They are also pretty cute for a fruit. (Yes, avocado is a fruit.)
This is a set for the quirkier set of friends. Not only is it a little less subtle than some other options, but it is a little more unique.  The avocado heart pair is also great for foodie friends. If you are your bestie routinely meet up for brunch and avocado test, this is the necklace pair is the one for you.
5. Anchor and Compass Coordinated Pair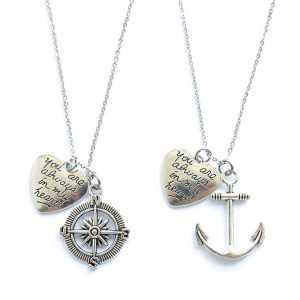 While we have already featured a pair of compass roses on our list, this one takes that same concept one step further. A coordinated pair of a compass rose and an anchor come in a wheat gold-tone stainless steel alloy. An additional heart charm featuring the words "You are always in my heart" round out the necklaces.
The compass rose is an element that guides and directs. It provides a way home no matter how far you stray. An anchor is something that grounds and protects. It keeps still massive boats, even in rough seas and pounding waves. In many friendships, there is the adventurous, wild one and the grounded focused one. This necklace set is the perfect best friend match for these types of relationships.
Ideal for best friends in military service or who serve as first responders, this is perfect for daily wear. Since they are made of stainless steel, they can put up with the daily strain of regular wear with less chance of damage. The eighteen-inch chain is an ideal length to show off these daily wear candidates.  
Plus they are not so overtly best friend themed. Seen individually, they are a wonderful nautical or travel themed necklaces. Since both the compass rose and anchor are richly themed elements, no one has to know these are shared necklaces if that is something you would like to keep just for you.
6. Pizza Slice BFF Pair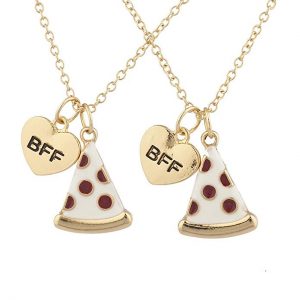 Both food and a quirky sense of fun are represented in our next piece. Two matching slices of pizza in gold alloy and enamel work hang from eighteen-inch gold alloy chains. Disc pendants bearing the tag BFF for Best Friends Forever. Alternatively, it can mean Best Freakin' Friend, which we feel might be a more appropriate phrasing when paired with pizza in jewelry form.
This eccentric matched pair is fantastic for friends who have spent many a late night sharing a pizza and a beverage. Friends who have weathered break-ups and heartaches together know well the power of a pie. Long-term friendships often develop habits and shared loves of comforting things. This necklace is a wonderful example of this type of relationship.
The pair can also be fantastic for foodie friends as well. Pizza is a well-loved food that can include all the major food groups. It checks off all the boxes of good eats for food fans. If you and your bestie love a good slice, whether you fold or fork, you must share this necklace with each other. Share it with that friend who is always down for finding a hole-in-the-wall joint to grab a slice.
We love this for an addition to a nice, chunky charm collection. Add other unique and fun charms to round out the look. Keep it food themed or really hammer in the friend theme. Use charms that encompass your other loves together. Coffee, wine, chocolate, lipstick, and glittering message charms would go wonderfully with these slices of pie. It would evoke those childhood charm bracelets with the wonderful colors and enamel charms you proudly collected together as young best friends.
7. Partners in Crime Trio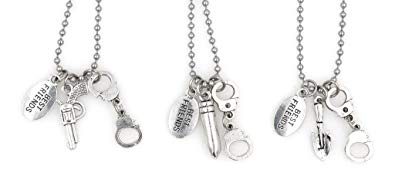 We recognize that besties do not always come only in pairs. The term best friend can often be applied to more than one important person in your life. The remainder of our recommendations include charms for three or more best friends. First up is a fun play on a common term for friends, partners in crime.
Three necklaces feature a handcuff charm in bright stainless steel. Each necklace also includes an additional, distinct charm. One necklace adds a revolver. The second adds a bullet. The third features a shovel. Together they tell a story of mischief done together as friends. It includes the crime, the catch and the potential for getting yourselves out of trouble. Or failing that, you might have to dig your way out.
This is a wonderful set for friends who have routinely found themselves tempted to get up to no good. It is also wonderful for those people in your life you know would not stop you from starting a mess. They would be the ones right next to you in the thick of it.
This is also a set wonderful for men or women who use the traditional style aesthetics. While any of the above sets are great for either sex or gender, these ones feel particularly good for men as well as the ladies. While men do not particularly subscribe to wearing best friends necklaces, we feel these might be a notable exception.
These charms are hung from twenty-two-inch ball chains. This makes it a great length for men or wonderful for a layered look for women. If the chains are too long, one of the best features of ball chains is they are easily shortened. Simply use a pair of pliers with blades to clip off the excess length. Be sure to measure twice and cut once as you can always make a ball chain shorter, but it is a little more difficult to lengthen it once more.  At least not without buying an additional clasp.
8. Fork, Knife & Spoon Trio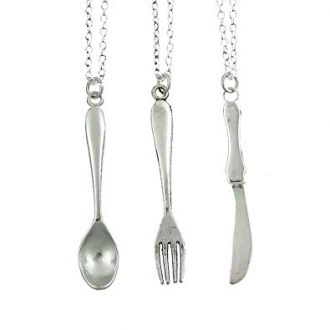 As we browsed the selection, looking for our favorites, it struck us how many we were drawn to that revolve around shared food and meals. Perhaps it is because you rarely share a meal with enemies. Or it might be because some of the fondest memories with friends are created over a plate of comfort food. No matter how we tend to build friendships over food.
What better way to commemorate that than with this handmade trio of cutlery. Created by Arizona artist, Artwonders, this pair not only celebrates the friendship of people and snacks, but it marks the uniqueness of each individual. Matched sets of necklaces are wonderful. Knowing your friends are wearing an identical piece to yours is a great feeling. However, this set allows each of you to be a little unique but still a set.
Cutlery can function by itself and can serve many purposes if you work at it hard enough. You can make a spoon cut but not without effort. A fork might successfully help you eat soup, but it will be a bit of a mess. These are things better together. It is a great allegory for friendship. That makes this handmade set a charming idea for a friendship trio.
9. Handstamped Initial Pendants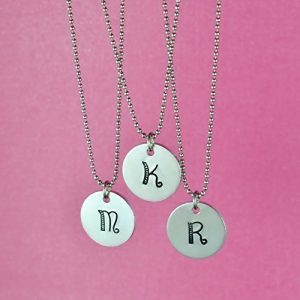 Another handmade creation, we love the extra element of a real person's touch going into creating best friend necklaces. Canadian artist Stamped Love offers a set of three aluminum discs hung from stainless steel ball chain. Each disc is hand stamped with the letter of your choice. No machines or cheats, just good old fashioned hammer and die will skillfully create your one of a kind friendship trio.
Choose your letters and chain length and a custom created set will be sent to you. The font is playful and detailed. While right now there is a trend toward minimalist fonts, we adore the extra little details of this slightly swirly font. Consequently, this best friend trio is also perfect for sisters, mothers, and daughters or a grandmother's set if you are also in the market for those.
As for friendship necklaces, there is something very special about wearing a very personal reminder of your friends on a daily basis. This set is perfect as that reminder of your relationship. The real debate here will be who gets who's initial pendant.
10. Five Piece Named Coin Puzzle Set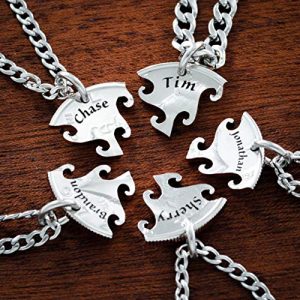 Our final selection is, once more, a handmade creation. Artist Name Coins out of Missouri, USA uses actual US currency to create a completely one of a kind friendship set. This particular offering is wonderful for both men and women. A US coin is skillfully sliced into five interlocking pieces. When brought together they slide back into shape, forming the coin once more.
Individually each charm reminds us of a wave or flame. Each piece has a name engraved on one side. We are enthralled with the artistry of the cut work on this piece. The scrolling waves look so complex for a piece that is relatively small, considering the detail and medium.
You can select whether you would like a half-dollar, a silver half-dollar, or a silver dollar to represent your friendship. Acquaintances may be a dime a dozen, but friends like these are worth every penny, the old saying goes. Best to put your money where your necklace goes?  That one does not work as well but we still adore this piece.
It is wonderful for a set of former dorm-mates, military service buddies, sorority sisters or fraternity brothers.
Alternatives to Coordinated Pair or Trio Necklaces
Our list above is specifically curated to include necklaces wherein two or more charms can fit together or automatically comes in a set of two. However, you have other options when it comes to purchasing jewelry to celebrate your bestie.
Consider trading necklaces with each other's birthstones. Or you may create a custom necklace that includes both of your birthstones. If you or your best friend are not fans of the "correct" birthstones, choose a stone that you fancy and reminds you of each other. It would make for an adorable best friend necklace to exchange each other's favorite colors.
Perhaps a nameplate necklace is more up your alley. Exchange custom cut or engraved pieces featuring each other's names.  Nicknames you have for each other are also a great idea. Or you borrow from celebrities and combine your names into one.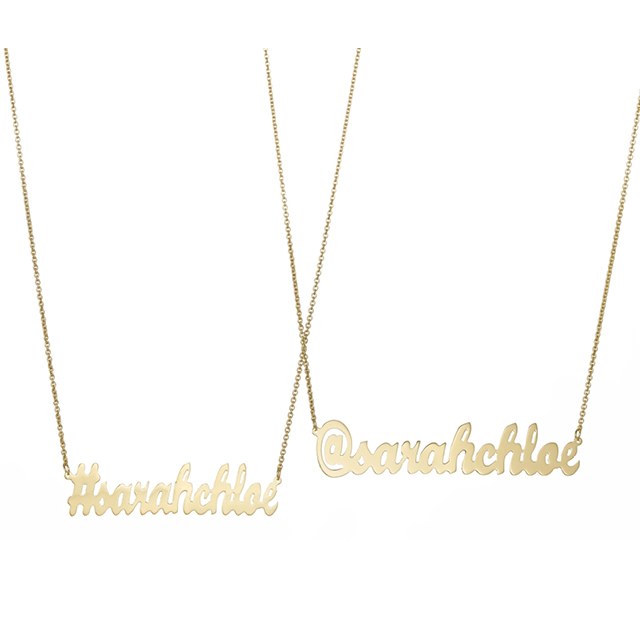 Best friends Kendall Jenner and Cara Delevingne have both been spotted sporting a custom pair of necklaces. The nameplate necklaces feature a portmanteau of their first names, CaKe. Aside from being absolutely adorable, the pair is responsible for surging the trend forward.
You can also buy two of the same necklace. While technically it is just a matching necklace you share with your friend, it can still be a best friend necklace. Differentiate them a little bit by choosing a necklace that comes in different gold tones.  One of you can rock a rose gold while the others takes a white gold tone. Whichever gold tone strikes your fancy and matches your jewelry aesthetic better will work. Add an initial pendant to really add a personal flair.
Finally, buy two separate charm necklaces featuring a charm that represents the other. It may represent a sport, hobby, career, or personality quirk. You wear the charm that represents your bestie. Give the charm that represents you to them. You will always have a reminder of each other in daily form.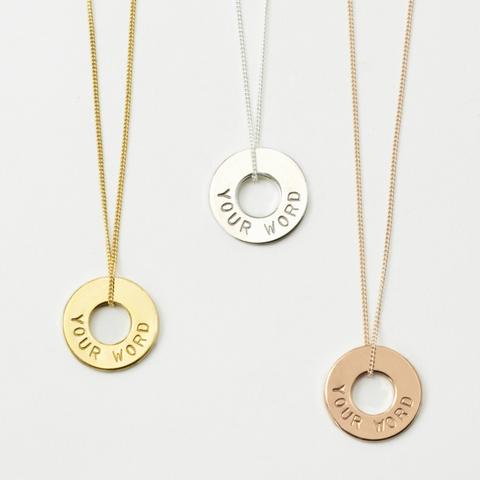 Overall, if this is a necklace both of you intend to incorporate into your everyday look, be sure to pick something on the daintier side. This will blend well with most daily wear and layered looks. If you will only be wearing it on certain occasions, do not be afraid to go all in for some bolder charms or pendants.
Matching Symbols in History
During the early history of the Christian church, the Roman empire notoriously forbade the practice of the Judeo-based religion.  Practitioners were openly persecuted and could be put to death if they were found guilty of being a Christian. This meant that much of the practice had to go underground. Symbols were employed to help identify fellow Christians. Most notable of these symbols was that of a fish or ichthys. When one encountered a fellow potential member of the faith, it was customary to draw one half of the ichthys symbol. If that person was also a believer, they would draw the other half of the fish.
This the idea of matching symbols to identify kinship entered the lexicon and practice. Throughout the Middle Ages and into the Elizabethan period, symbols and items were often used as codes and tests. Messengers and spies would be equipped with half a seal, while their intended contact would maintain the other half.  This ensured that both parties were communicating with the appropriate person.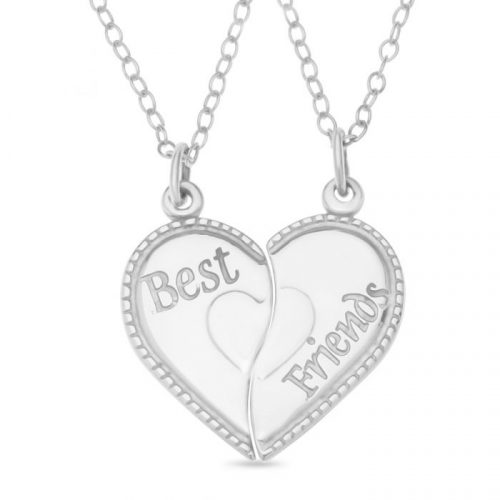 Often times these same seals also contained the keys or legends to the coded messages being carried.  Neither party could figure out the encoded information without the other half of the seal or item.
The earliest necklaces representing a relationship of either friendship or romance likely appeared during the Edwardian or Victorian era. Couples, families members, and close friends finding themselves separated left mementos to remember each other by. It became a common trend to break apart a locket. Each party of the parted pair would take half of the locket. Once together they would be able to unite the locket to once again be whole.
Over time this locket, often split at the hinges, evolved into the halved heart we envision when we think of best friend pendants.  Children still exchange a wide variety of these with their best friends.
A Look at the Word Friend
The word friend is derived from the Old English word freond. This is defined as one attached to another by feelings of personal regard and preference. It arrived in the English language from the Proto-Germanic word frijōjands which translates to friend or lover. Etymologists can trace back the use of the word friend as a verb to 1200 C.E., related to befriend.
As recently as 2005, the word friend took on a whole new level with the evolution of Facebook and other social media outlets. Facebook coined the term Friend as both a noun and a verb as a reference to followers users garnered on the platform.
A friend is one of those words that has not really changed meaning as time marched forward. Nearly every culture features a word for friend. Several languages, including English, have several words for friend, even best friends. From confidante to soul mate to second self, there are countless terms to describe your relationship with your bestie. No matter what you call them though, we are sure you can find a perfect best friend necklace to celebrate from this inspirational list.