Necklaces / Women
Amazing Gold Medallions Perfect for Pendant Layering!
Gold medallions are iconic in so many cultures.  From good luck charms to showing off bits of pirate treasure, nearly every style, fashion trend, and historical era have supported the use of a gold medallion as jewelry.
Terminology: Amulets, Pendants & Medallions
In the jewelry world, the words amulet, pendant, and medallion are often used interchangeably. In one sense, this is just fine as the three can be one and the same. However, the words do have different connotations.
Amulets are typically anything thought to be imbued with magic, blessings, luck or some sort of unseen power. Amulets can be any shape, size or design. They can be worn like any variety of jewelry from tiaras to toe rings and everything in between. They can be simply carried in a pocket or placed in a home as well.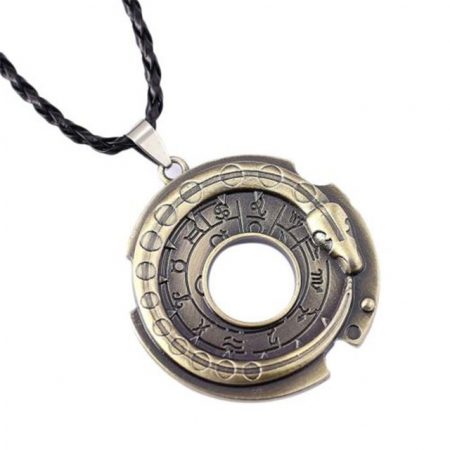 Pendants are specific to jewelry and are any sort of free-hanging item. Once more than can be any shape and suspended from any piece of jewelry. Most important to the definition is that it is allowed its own motion. In today's jewelry lexicon, pendants are typically found on necklaces but bracelets can sport them as well. Think of a charm bracelet. Each charm is technically a pendant.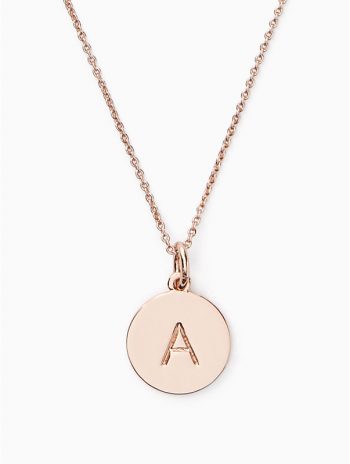 Medallions are the most specific of definition in that they are often a medal-like object and worn as jewelry, normally round or oval although other shapes are acceptable. While it is most common to wear them in necklace form, pins and static mounts such as in breastplates are also an option by definition. Many have meaning or celebrate something but that is not a prerequisite of being considered a medallion. Essentially it needs to look like a medal and be worn to be considered a medallion.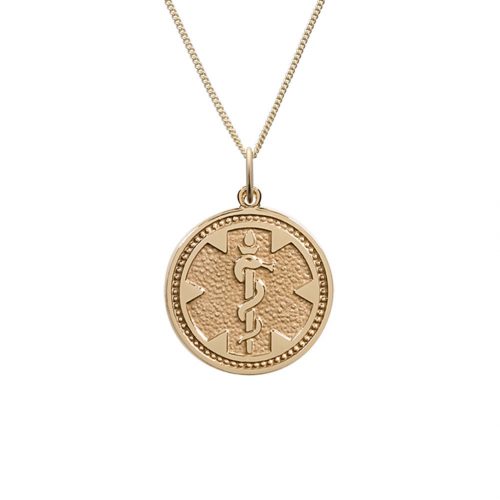 By those definitions an object could be all three things at once; a medal-shaped object hanging freely and imbued with some sort of power unseen.
Medallions in History
Once humankind figured out how to refine precious metals, pretty much the first thing they did was make jewelry. One of the oldest cultures we know of, the Sumerians, buried their Queen Puabi's body in the third millennium BCE with several varieties of jewelry, including a medallion made of gold and lapis lazuli in a vibrant sunburst pattern.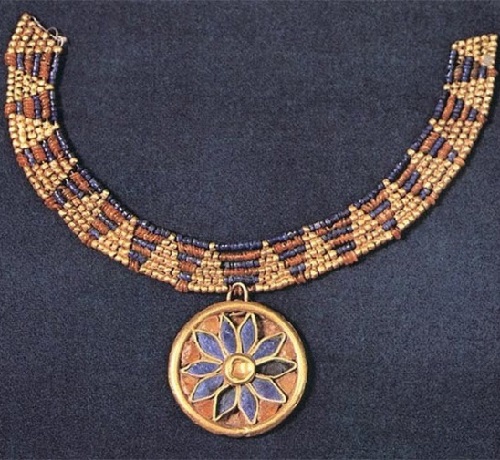 Examples of medallions and medallion amulets are found in nearly every culture that achieved a level of precious metal refining.  From Sumerians to Romans, medallions, both as pendants and amulets, are found in graves and archaeological dig sites.
When we think of medallions, the first image that springs to mind is likely the Olympic medallions. Most of us are familiar with the ancient roots of the sporting showcase, however, medals were not handed out in the Ancient Greek's version. Instead, the single winner of the event was given a wreath of olive branches. The first Olympic medals as we think of them today were not handed out until 1896, with the first gold, silver and bronze medals awarded in 1904.
More pervasive than even that is the pirate medallion.  Bits of "shine" and ill-gotten coin strung up on a chain to show off a pirate's good fortune seem to persist with every pirate costume ever made. And while coins were sometimes made into jewelry at the request of a pirate, it was rarely as a coin medallion. More often pirates would take their treasure to be smelted and reformed to suit their own taste and need, no matter what the movies portray.
Celebrities and their Gold Medallions
Something about a gold medallion hanging from a long chain just begs to be part of a layered look. Varying lengths, chain gauges, and textures with a few different charms and medallions hanging across any outfit really pull together seemingly unrelated pieces, both of jewelry and articles of clothing. A great layered necklace set can be the linchpin in an otherwise hodgepodge outfit.
Since a medallion can be anything resembling a medal, everything from initial charms to good luck amulets can be added into the mix. And again, since gold medallions have been a jewelry style of choice since, literally, the dawn of human history, you really cannot go wrong adding these pieces. Celebrities have been rocking them on and off the red carpet for decades and the look still is not getting old.
Jennifer Aniston is a fan of this trend, sporting a gold medallion necklace layered above a silver wishbone piece.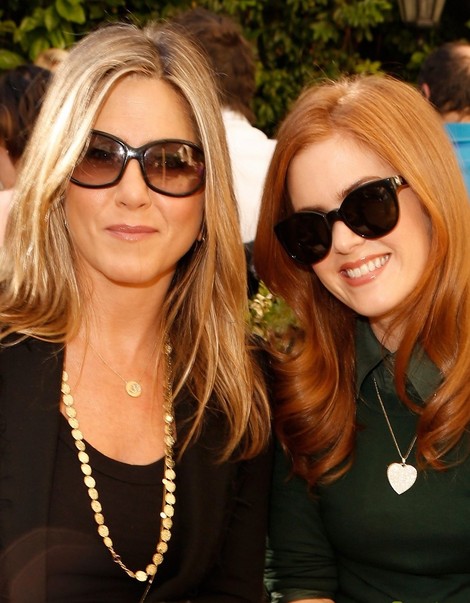 Fast forward to now and Naomi Harris rocked a layered look featuring three gold medallion pendants at various heights at the 2018 BAFTAs. The British Academy of Film and Television Arts is quickly becoming a red carpet ordeal that rival the Emmy's and the Oscars so killing it on that scene is vital. The whole ensemble was beyond stunning but we think her jewelry choices really cinched the deal.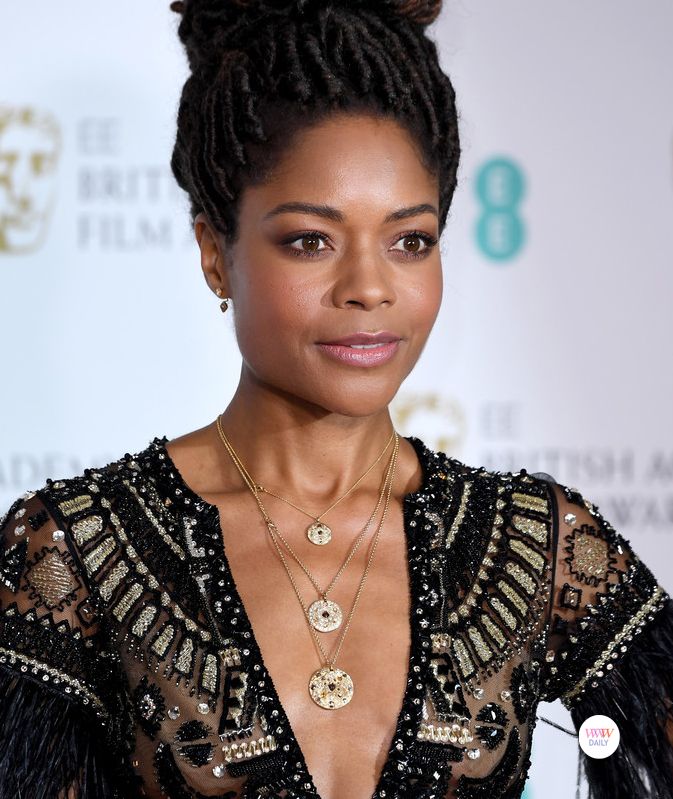 Our selections of gold medallions beg to be layered and this is the look we will recommend every time but they are gorgeous enough they can pull off a solo gig as well. When layering do not be afraid to
Check out our top ten gold medallions you need to go get right now!
Our 10 Favorite Gold Medallions!
1. Citrine Sun Medallion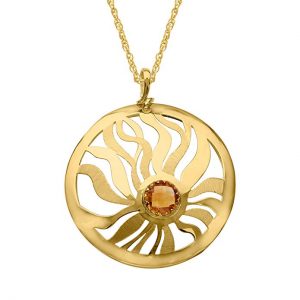 We will start with a shout out to one of the earliest medallions used in jewelry, Queen Puabi's of Sumer. Her gold and blue medallion was an homage to the sun. Our medallion is as well.
This nearly two-inch medallion clings to a 1 ¾ carat natural citrine in a beautiful amber color. Waves of yellow-gold sunbeams emanate out from the slightly off-center stone. It reminds us of a sunset on a clear day.  With the warm stone color and gentle curves of the rays, it is not overly harsh in styling or shape.
Our newest obsession with semi-precious stones is citrine. A member of the quartz family, citrine can come in colors ranging from sun-kissed cloud to warm chocolate with stops at the bright sunshine and harvest wheat. Because this medallion features natural citrine as opposed to lab-created, the color tone of the piece you receive may vary slightly.
The 14k gold medallion comes hanging from an eighteen-inch chain but we heartily recommend swapping that chain out for a longer chain. This sol-themed piece will make an absolutely perfect anchor piece in your layered look. Wear it on the longest chain of the collection to add weight and interest to the lowermost focal point. This medallion is complex enough to draw attention but simple enough not to steal it outright.
Pair this autumn colored beauty with warmer tones. The amber-esque stones will go with a warm purple, chocolate brown, or sunny ivory perfectly.
2. Sapphire & Diamond Scrollwork Medallion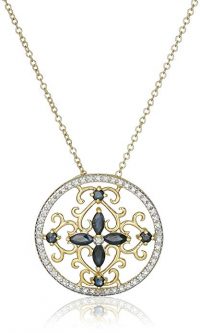 Our next selection stuns with a brilliant combination of sapphires, diamonds, and gracefully elegant filigree metalwork. This medallion is smaller than our last selection measuring under two inches across but the graceful jewels are highlighted by the smaller size.
This one arrives on an eighteen-inch chain and we believe this length is perfect for this particular pendant. It will hang the medallion just below your collarbone and when worn with a low cut blouse or high neck solid colored top, the canvas it lays on will highlight the yellow gold filigree work.
Even with all the sparkling gems, we still feel this piece is perfect for layering.  Select more subdued pieces for the additional necklaces. We recommend a simple chain above and a second shaped pendant below. This will make this bejeweled beauty the star without oversimplifying the look.
The medallion boasts 18k yellow gold plating over sterling silver so it is great for people with metal allergies and metal sensitivities. Quality sterling silver does not contain nickel, the most common problem child for people who struggle with lower-grade metal combinations.  
The white diamonds around the outer ring of the medallion are cleverly surrounded by diamond-cut sterling silver reveals. This gives the illusion of a ring of pave set diamonds while using fewer stones. You get more sparkle for less dough and we are always fans of saving a little cash.  It means we can buy a few more pieces to add to our collection.
3. White & Yellow Gold-Toned Tasseled Medallion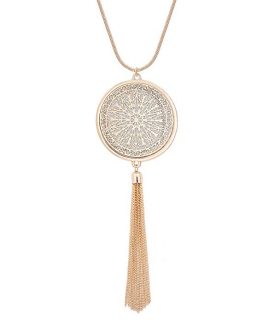 We adore the vintage feel of this highly detailed medallion.  A nearly two-inch medallion anchors a long tassel of yellow gold-toned cable chain. The medallion arrives on a generous thirty-two-inch chain with a three-inch extender. Add the over four inches of medallion and tassel and you have a piece that will easily hang to navel on most body types.
The medallion itself is a pure work of art. A yellow gold ring houses the most gorgeously detailed filigree metalwork. Filigree decor and metallurgical design date back to ancient Mesopotamia. Fine wires of silver and gold were artfully woven together in intricate designs.
This pendant does not have woven wires but it does have the most delicate of laser-cut metal work that carries an almost gothic stained glass window feel. The medallion filigree work reminds us of a mandala as well.
The word mandala is from a Sanskrit word that means circle. These drawing repeat patterns and themes throughout. Typically they represent wellness, wholeness, and protection. This mandala-esque medallion is absolutely going to make you well even if by completing a layered look with dramatic panache.
Wear this as the anchor piece with a good number of hefty, chunky, twisted, textured necklaces. At this length, it might even hold its own under a well-tied blanket scarf or fluffy infinity scarf. Wear it with a nice thick cowl neck sweater for a pop of warmth on a cold, winter day.
4. Tungsten and Gold Tree of Life Medallion
We believe that anyone can wear any piece they fancy but for folks with more traditional jewelry preferences, this combo metal piece is great for men or women's fashion. The base is made of high-grade tungsten carbide with an inset medallion of gold. The gold inset features a tree of life with hammered details.
The tree of life is a symbol almost as ancient as jewelry making. Symbolizing the connectedness of life to the earth and the constant need for both upward growth and solid roots, the tree of life has been depicted in some fashion in almost every culture. From Mesopotamia to modern presentations in jewelry and home decor, it is a powerful symbol.
This is the first of our medallions to wander into amulet territory. Amulets are items said to be imbued with power and in many cases, the belief in a particular symbol gives an object its power. If looking at this medallion reminds you to stay rooted and focused, you have given it power thus making it into an amulet.
Amulets are used for luck and blessing most of the time. (Although there are some amulets designed for cursing, this is not an example of one. We do not really recommend wearing cursed jewelry, for the record. We will stick with the lucky kind, especially in our selections.)
This medallion combines two bright colors of gold and we are definitely fans. The piece looks and feels weighty on the chest and comes on your choice of a twenty-two or twenty-six-inch box chain. This will put it just at the breastbone for most people. Given the heft of this piece, while it can be layered, it feels a bit more solo to us.
5. Lion head Jeweled Medallion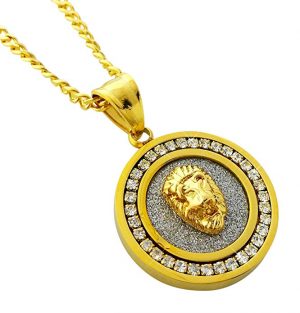 The second piece on our list that works perfectly for men or women's fashion tastes, this lion headpiece is daring, bold and beautiful. The medallion combines yellow gold-toned stainless steel with round cut diamond colored crystals.
The medallion is the size of a quarter and, hanging from a twenty-four-inch chain, will come down to the bottom of the breastbone for most people.
The lion is a symbol of strength, wisdom, and power.  In human iconography, lions are depicted in ancient cave drawings. They figure prominently in the art of Ancient Europe, Asia, and Africa. This is most extraordinary because lions are only native to Africa. This means that the imagery and power of a lion were so impressive the symbol and shape crossed trade routes and language barriers to gain prominence in countless cultures.
While today we can visit just about any zoo and see a lion in all its power and glory, the meaning of a lion head is no less poignant. The lion is even permanently etched into the sky and one of the astrological signs. Leos are known as fiercely loyal, determined, emotionally strong and supportive. This medallion is a great gift for Leos in your life or anyone you see as a strong, supportive person.
6. Rose Gold Celtic Triskele Medallion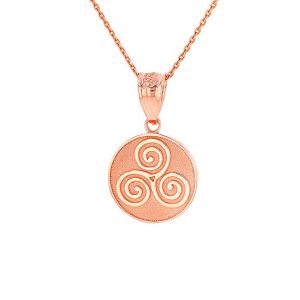 Moving further into the world of amulets, we cannot get enough of Celtic symbols. The swirly-twirly spirals of the Celtic Triskele are outward flowing symbols of the power of three.
The Celtic Triskele, or Triskelion, has many different assumed meanings but the wearer has the ability to decide what it means to them.  For you, the idea of each arm representing the past, present, and future may be more poignant. Or perhaps it is the thought of life, death and rebirth resound with you. Whatever it means, this is the perfect, quiet reminder of how important these three things are for you.
This solid 14k rose gold medallion hangs from an eighteen inch rose gold chain. We love the attention to detail in this smaller piece. While the medallion and bale together measure less than one inch, the makers have taken the time to included a bit of Celtic knot relief work along the top of the bale, or loop from which the medallion hangs.
This medallion sits so daintily just below the collarbone it begs to be worn with other pieces. Combine it with bright silver or white gold to highlight the cooler nature of the rosy gold or pair it with brassy colors of yellow gold to warm it up. Normally we are huge fans of playing with textures as well but something about this piece lends itself to a simple, clean look.
This piece is good for a tandem layered effect since the charm is on the smaller side. Tandem layers take several necklaces of similar lengths and wear them together. Opposingly tiered looks utilizing chains of varying lengths so no two pieces lay too close to one another.
7. Italian Lyra Motion Medallion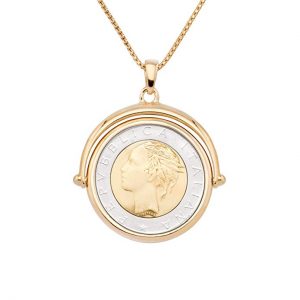 Motion pieces are all the rage recently so when we discovered this motion piece while shopping for gold medallions, it was impossible not to include it on our list. This 18k yellow gold over stainless steel medallion mount frames a genuine Italian Lira. The mounted coin spins in the mount to allow for both sides of the coin to be viewed.
The lira was the currency for Italy until 2002 when Italy began the process of converting to the international standardized currency, the Euro. Official minting stopped in 1999 in preparation for the conversion. The coin on this medallion is a five hundred Lira or 500L. The front face features the head of Italia designed by Laura Cratera. The reverse or back features the Piazza del Quirinale in Rome as described in Braille lettering along the top. This two-tone or bi-metallic coin was first produced in 1982 and was the first to feature braille as a part of the minting.
Since the coin has a built-in two-tone color, this piece is perfect for layering with white and yellow pieces. Spin the coin to whichever side you prefer. Bonus, it is also great for folk who like to fiddle with their jewelry.  
With the lira no longer in circulation, the coin has no value except aesthetic. But we love the texture and feel of the coin, especially with the braille on the relief. It is the perfect centerpiece of a tiered collection on a twenty-inch chain.
8. Lucky Charm Gold Medallion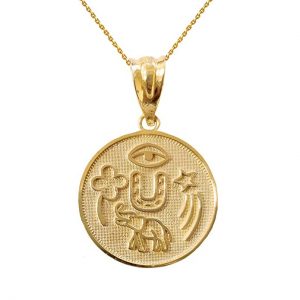 When it comes to lucky amulet medallions, you really cannot get luckier than this one. This solid 14k yellow gold medallion arrives emblazoned with five different lucky symbols.
The shooting star will make wishes comes true according to popular children's song. The elephant carries luck to you in Indian lore.
The evil eye banishes bad luck by staring it into oblivion. The four-leaf clover is so rare you must have been lucky already to even find one.  It is said to bring even more luck if you keep it.
Finally, the horseshoe is said to scare off goblins and demons who fear metal weapons.  
Each of these lucky bringing emblems is shown in relief on the textured medallion. Hanging on an eighteen-inch chain this charm is very dainty coming in at less than one inch even with the bail. That means this massive luck-bringer does so in a very tiny package.
It also makes it ideal for a very simple tandem layer. Wear this with a couple of other small pendants in your collection. Alternatively, you can make a tight, short tier by selecting charms on sixteen and seventeen-inch chains.
9. Jesus & Ruby Layered Medallion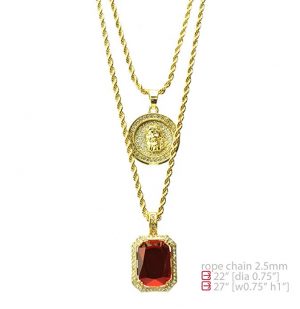 With all this talk of layered looks, it was only fitting we included a pre-matched set for you. This gold medallion features a Christian Jesus medallion on one twenty-two inch chain and a square cut ruby glass stone on a twenty-seven-inch chain.
The medallion and ruby setting are 14k gold plate over stainless steel. While the ruby is only glass stone, it doesn't lack for luster. Both are hung from beautifully chunky rolo style chains that really fit the ethos.
Religious iconography and gold medallions go hand in hand. While this is the only one of its kind on our list, it is very popular for people of the Catholic faith to wear medallions of Christ, the Virgin Mary or a patron saint at all times. Most popular among the saints is likely Saint Christopher, the saint of travelers and children.
Since you get two necklaces for the price of one you can keep them together as a set or wear each individually with other layered looks.  If you keep them together as a set, we recommend wearing just the two chains. Wearing more with such chunky chains and heavy pendants may look overworked.
10. Teardrop Filigree Medallion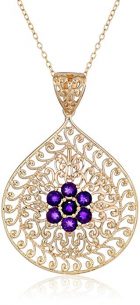 We cap our list off with a last nod to fine jewelry and the only piece on our list that is not a round medallion. This magnificently balanced teardrop medallion presents finely detailed filigree work in well-balanced curlicues. This spin outward from a flower of African amethyst.
The medallion is 18k gold plated over sterling silver and hangs from an eighteen-inch chain. We think this piece would greatly benefit from a longer twenty-seven inch to thirty-inch chain to hang near the bottom of the rib cage or navel height. Combine this with some nice healing crystals and a few plain chains or leaf pendants for a very natural look.
Or wear it below a chunky sparkly, jeweled piece for a heavy and light balanced. The 18k gold is paler in color than others we have seen and we think that is perfect for this piece. It really works against the deeply violet stones of the flower.
Caring for Your Gold Medallion
Proper care for any jewelry piece is key to keeping your jewelry collection sparkling and ensure your favorite pieces are wearable forever, even if they are not the "real" stuff. The bargain-basement pieces can have just as much life as the high-dollar designer pieces with the proper cleaning regiment.
First off, know your gold. Knowing whether your piece is gold, gold-plated, or gold-toned is helpful. Since gold is what is known as a softer metal, it can scratch easily. Avoid gritty jewelry polishes to save the gold. Gold and gold-plate may tarnish with a black patina over time. Some pieces, especially vintage works, may benefit from this but for the most part, a good soak in warm water and mild dish soap along with a gentle scrub with a soft-bristle brush will keep your gold shining.
Gold-toned pieces are often painted or dyed to the color of the maker's choosing. These pieces are best wiped down regularly with a microfiber cloth to remove damaging oils and grit.
Second, store them well.  Storing your gold pieces correctly means that chance for scratches, chain kinks or knots.  It also prevents the gold-toned pieces from contacting other metals, finishes, or substances that may damage their coloration. Most gold pieces will benefit from not touching other pieces while in storage.