Spice Up Your Outfits with One of These 10 African Necklaces We Found!
last updated:
Mar 20, 2020
It can be so easy to get into a style rut. You'll end up wearing the same things time and time again and all of your outfits may actually look pretty similar to each other. If you are looking for an easy way to really bring something extra into your wardrobe, you definitely need to check out these incredible African necklaces of all different styles and prices.
African style is fun and unique often featuring lots of bright colors and stylish flair. These amazing necklaces are all pretty different from one another and that gives you lots of incredible choices on how to really spice up some of your outfits!
Our Top 10 Picks!
1

. TheBeadChest Painted African Necklace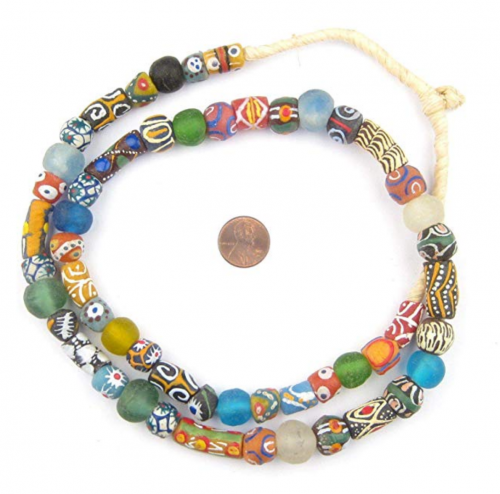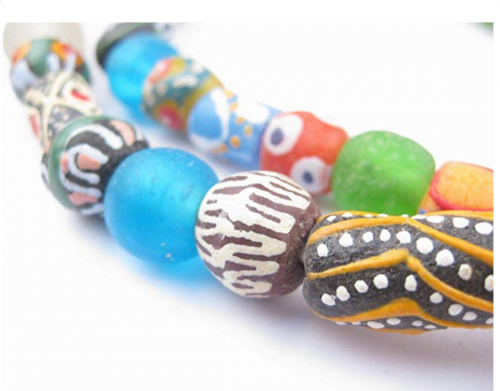 This incredible and unique necklace from The Bead Chest is simply stunning. There is so much to look at and take in with this lovely African necklace.
Read more
The beads all along the necklace are made from 100% recycled glass. Glass from things like bottles and old windows is broken down into a fine powder that is then used to create the base of all of the beads. Each bead varies somewhat from the next for a more eclectic and fun style that gets tons of attention and is almost guaranteed to get you some compliments.
The beads all feature very different lengths that vary from around 10mm long to 25mm long. This variance in length really does add a lot of interest to the piece overall. While the width of the beads does also vary just slightly, they are all right around 10mm wide. The hole in the beads is pretty consistent, though. It measures at 2mm.
Krobo artisans in Ghana are responsible for these amazing beads. They actually even hand paint each individual bead. The beads feature a wide variety of different fascinating patterns and drawings.
Some have stripes, others have dots or circles. Some of them have circles on top of larger circles, some of them have a good mixture of dots and lines, some have only thick horizontal stripes, and others have thin diagonal stripes.
Speaking of colors, the colors involved in this amazing piece of African jewelry are all quite vivid and bright.
The entire necklace has a strong tribal feel to it. You could even call it bohemian by the looks of it.
It isn't our cheapest pick, but it is one of the best possible values because it is all hand-made yet still pretty affordable.
There are approximately 52 of the hand-painted beads on each necklace, which really does create an incredible value that is hard to pass up.
2

. Aczuv Nigerian Wedding Necklace Set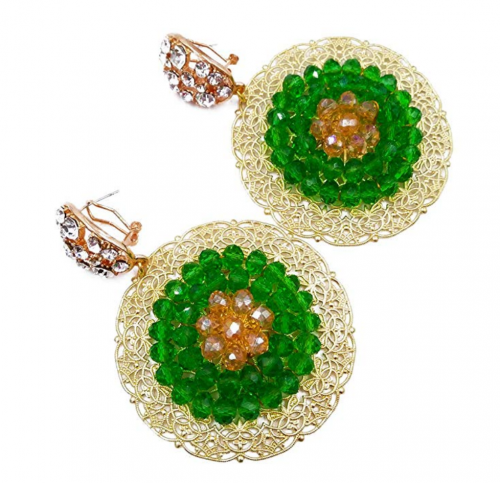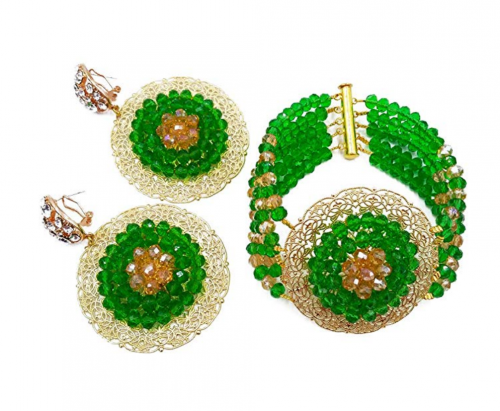 Tons of special African beads make up this absolutely beautiful Nigerian wedding necklace! The necklace is definitely a little more on the formal side, but it is still pretty versatile.
Read more
It takes up a lot of room on the neck, so it is especially great if you've got a low-cut shirt you want to wear.
It features 4 large pendants on it. All of the pendants are the exact same design. They consist of a delicate metal base that then has the African beads strung together in dense groupings in the center of the pendant.
In this particular piece, the colors of the beads are green and orange. However, don't worry if you don't love those colors because you can actually choose the necklace in quite a few different color combinations. The orange beads in the center of the pendants are all shaped vaguely like a flower.
The orange flower is then surrounded by strands of the green beads. On the outside of the orange and green beads, there are very delicate and intricate metal details all around. They really add a ton of interest and detail to the whole piece.
The entire necklace sits relatively comfortably onto the neck thanks to a large number of beaded strands that extends up from the main pieces of the necklace.
These beaded strands alternate colors between the green and orange to create matching patterns on each side of the neck.
What is really cool and adds a ton of value to this purchase is that it actually comes as a full jewelry set instead of just the necklace. A matching bracelet and earrings each feature the same complex and beautiful pendant design.
3

. EVBEA Unisex Wood African Necklace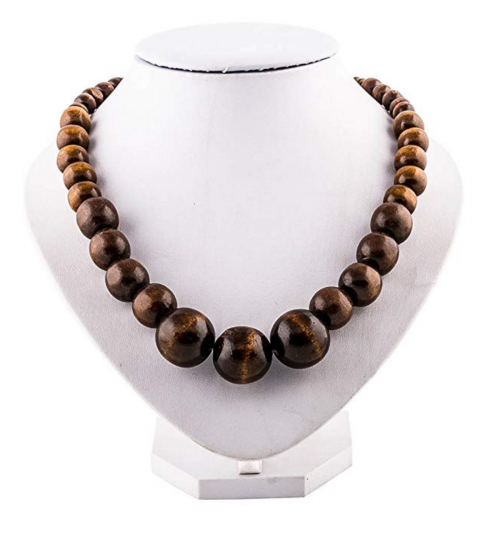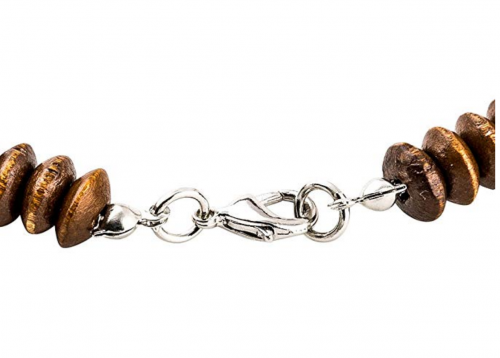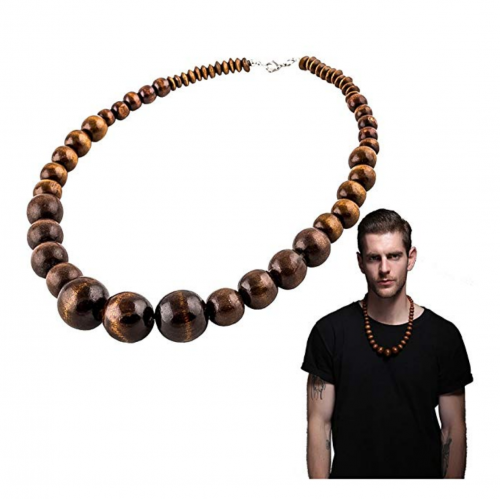 Here is a really cool option that is actually specifically made for men unlike most of our choices. Even so, it actually makes a fantastic unisex necklace. This is a much more minimalistic choice among African necklaces.
Read more
It is much simpler and gives your outfit the perfect boost without completely taking over. Instead of being a focal point, it makes a great accent piece for your outfit.
This is a nice, chunky piece that is made from real wood. It features beads all along a simple chain.
All of the beads are made from real wood. They are mostly spherical in shape but vary in size. The size increases the closer to the middle you get. The changes happen gradually, which gives it a simple but cool gradient affect.
Once you get within a few inches of the back of the neck, the beads actually change from being round spheres into being disc shapes.
This allows for more beads in a smaller space between the rounded ones and the end of the necklace. Once the beads finally do end, you'll see a very simple-to-use lobster claw clasp for easy removal of the necklace as well as to make it easier to put on in the first place.
The wood used is a medium darkness that can really compliment almost any outfit perfectly.
The entire length of the necklace is 12.2 inches. That is somewhat short but allows the piece to sit up high on the neck which can give a really nice look to most outfits for both men and women.
4

. laanc Fashion Nigerian African Beads Set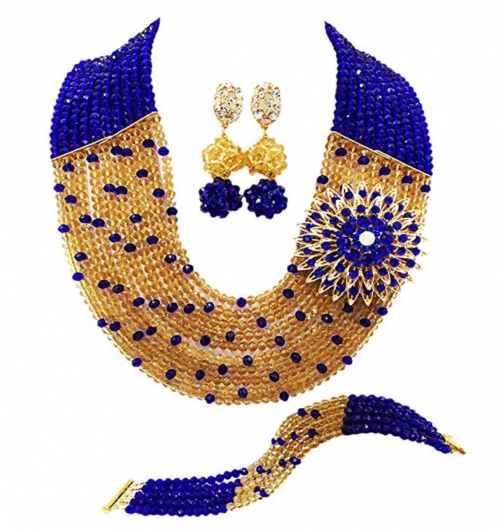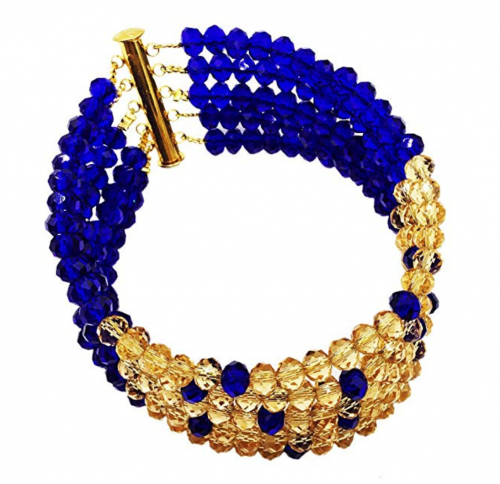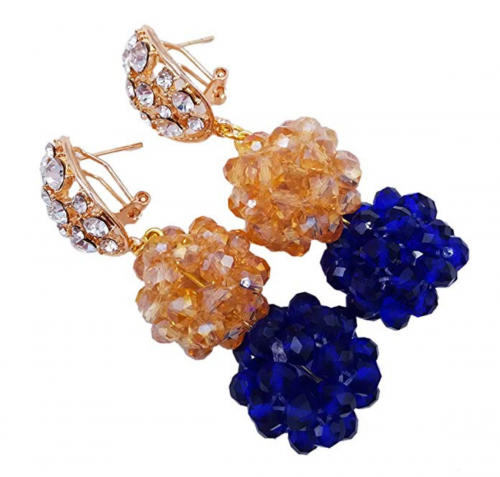 This company is actually called Africanbeads and it sells a variety of absolutely beautiful African jewelry. This particular necklace is very nice and perfect if you want something more versatile. It can easily be dressed up or down depending on what you're going for.
Read more
This is actually another set as well. It doesn't just come with one single necklace. Instead, this set actually includes 2 necklace and a pair of amazing earrings.
You might be wondering why the set includes 2 different necklaces, but it is actually quite common in African culture. In this case, one of the pieces in the set is made to sit up very high and tighter on the neck like a choker.
The second piece then sits a little lower where most typical jewelry is placed. This gives it a nice space between the two different necklaces which allows to easily wear them together for an all-comprehensive look that elegant and sophisticated.
The African necklace is made with the small glass beads that are cut like crystal. Four different strands are run together to create this piece. Each one of the strands is completely filled with beads.
At the center of the long necklace, the four strands all come together to form a single knot that is large and chunky for a cool and interesting look. The beads on most of the piece are alternating between blue and clear.
Then, as it gets closer to the neck, they change to all blue. The earrings feature the same metal detailing for the base with beads all in the center of it.
This set is super affordable, and you can actually choose your bead color from blue, red, brown, gold, orange, and many others.
5

. The Bead Chest Recycled Paper Bead Necklace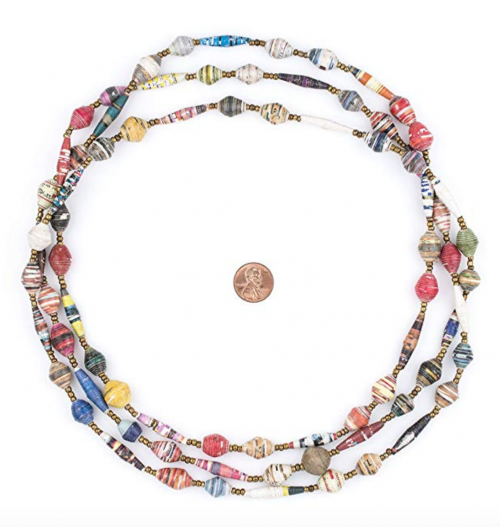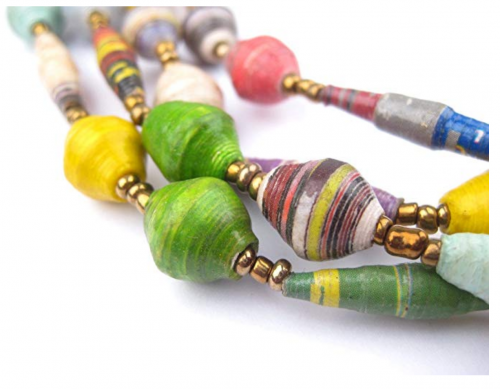 This unique option is hand-made by fair-trade artisans that are located in Uganda. It is another piece that is actually made from recycled materials. So, not only are you getting yourself an incredible African necklace with this choice, but you are also benefiting the planet and helping out artisans all the way in Uganda.
Read more
Rather than being made from recycled glass, it is actually made from recycled paper. The women that make these interesting necklaces are typically single working mothers.
They gather things like old newspapers and put them through a special process they have to create the paper beads on this necklace. The beads are really interesting, and you can actually see the layers of paper in them. Each one is a little different than the other of course. This is simply due to the nature of a hand-made product like this one. In-between each one of the recycled paper beads, you'll find three smaller glass beads.
This provides a good space for each individual bead to have. This makes the piece look much nicer and less busy so that all of the paper beads aren't on top of each other and can easily be viewed separately.
This is a wrap-a-round necklace, so you can actually choose if you prefer to wrap it around your neck just twice or three times. This affects the layering of the necklace as well as the length down your neck and/or chest.
It also provides some versatility as different layering styles can help the necklace to better go with different outfits that you have.
This particular piece is called Christmas Medley because it features primarily Christmas colors like red, green, and white. Of course, since these are all hand-made beads that are from recycled paper, you'll find little bits of all kinds of colors within them.
The Christmas colors make this a great holiday jewelry piece but can still certainly be worn year-round with the right outfit. You also have the choice of different colors if you prefer including options like blue, pink, brown, purple, yellow, and more!
6

. DOLLY DOLLY Zulu Beaded Necklace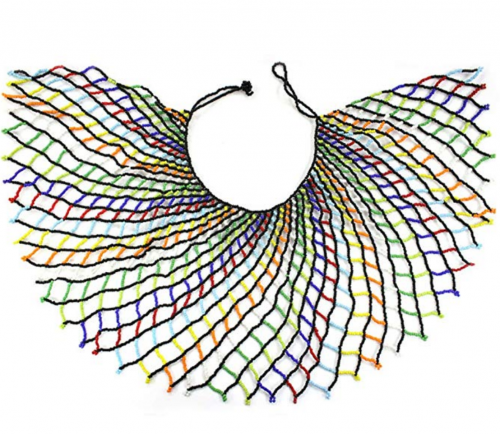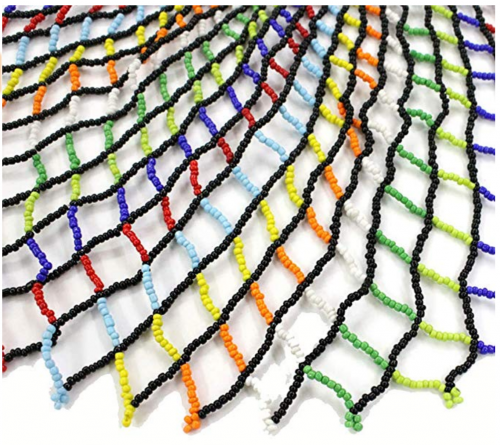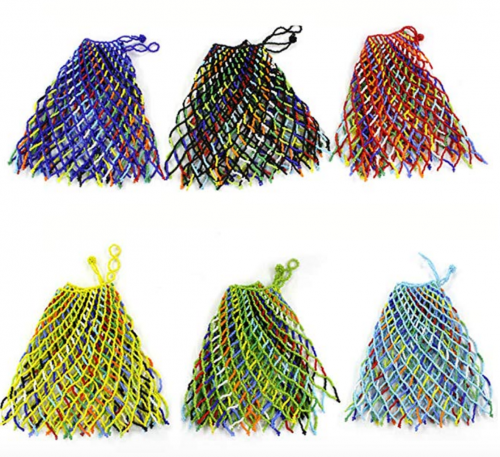 This traditional African Zulu option is likely exactly what you first think of when you think of African beaded necklaces. This is a piece that is impossible to miss. It is large and spreads out over a large portion of your upper torso. It extends out over your shoulders and down towards the top of your chest.
Read more
It is a very bold statement piece that may not work for everyone. If you like attention and love to mix it up with your fashion, though, this can definitely be an excellent choice. The entire piece is made up of tons of tiny glass beads called Zulu beads.
That's because it is handcrafted by Zulu women in KwaZulu-Natal located in South Africa. Zulu women are known for their incredible beadwork and this is a lovely example of it.
The beads start very high up tight around the neck. They are strung in such a way that creates zig-zag shapes from each color. The colors come together to form diamond shapes in rows around the neck.
The lower you get on the necklace, the larger the zig-zags and diamond shapes get. This gives it the appearance of growth as the size graduates down from the neck.
It also gives more space between the rows of beads as you move down. So, the density of the beads right around the neck is much higher than the density of the beads once you get own to the chest or the edge of the shoulders.
The colors are traditional Rasta colors. It is black, green, red, and yellow. These colors alternate in zig-zags all the way down.
At the back of the necklace, the strings of black beads are specially designed to hook into each other to provide a closure for the Zulu bead necklace.
7

. Africanbeads Purple and Gold Jewelry Set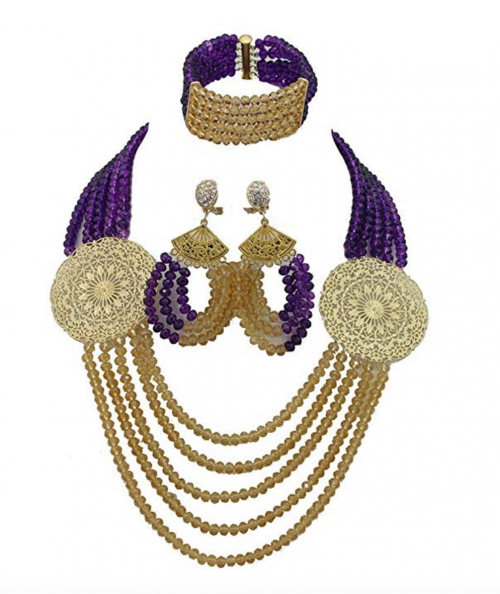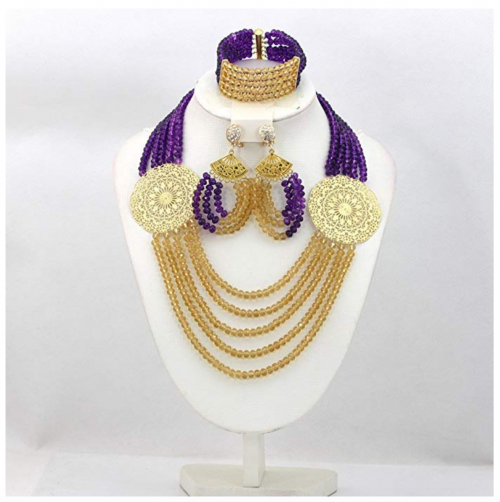 This stunning choice is very feminine and highly sophisticated in appearance. The back or upper part is made up of 5 rows of rich purple beads. The beads are small and crystal-like. They measure at 6mm and are lined up densely on the necklace.
Read more
Right about at the halfway point on the necklace, there are delicate metal disks. These metal disks are very thin and intricately decorated. The designs are very symmetrical and curvy.
They look like flowers in many ways. They actually have a mandala look to them as well due to the perfectly round symmetry of the intricate designs. Then hanging down from these delicate disks, there are more rows of tiny 6mm beads.
The beads on this bottom half of the necklace are a gold color opposed to the deep purple in the top or back.
This simply means that there is a little space in-between each row of beads rather than being strung densely together. It creates a very lovely and sophisticated look.
This is yet another incredibly valuable option that comes with more than just the necklace.
The African necklaces often come in beautiful sets like this one. In addition to the intricately designed necklace, you will also get a bracelet and a pair of earrings with your purchase.
The bracelet matches the necklace almost identically with the deep purple on the back of the bracelet and the gold beads on the top of the necklace.
The earrings hang from beautiful gold-tone metal with intricate designs similar to that of the disks found on the necklace.
There are three rows of beads that hang down from each earring. The rows are half purple and half gold.
Altogether, this set is an amazing more formal option for adding a bold and pretty style to your clothing.
8

. MOOCHI Gold Plated African Strands Choker Set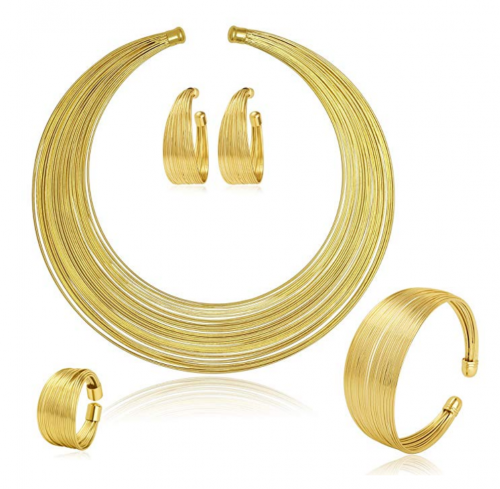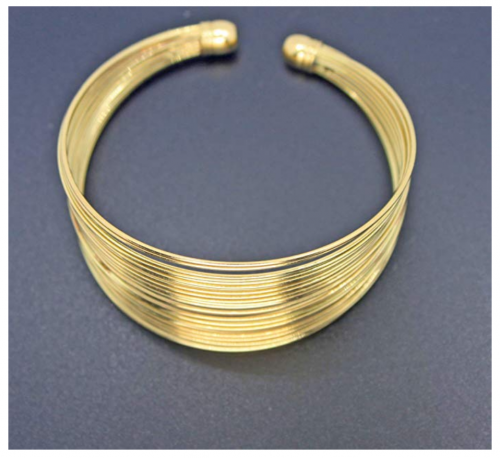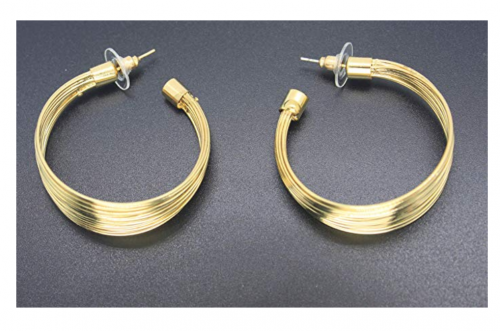 This is actually simple jewelry work to make it onto our list yet. This entire piece is just the one solid color. The beads are all that lovely gold color. It's a gold-plated necklace and earrings set.
Read more
The multi-strand choker necklace sits high around the neck. The set is made from zinc allow then plated in gold. The whole set is nickel free and hypoallergenic, meaning it won't cause any skin allergies, or green stains.
This piece does come with a pair of hoop earrings as well in the same string style of the necklace.
You'll also get an open bangle-style bracelet in golden multi-strings!
The price of the set is super affordable and the brand offers a 30-day money back guarantee as well.
9

. Viva African Maasai Jewelry Set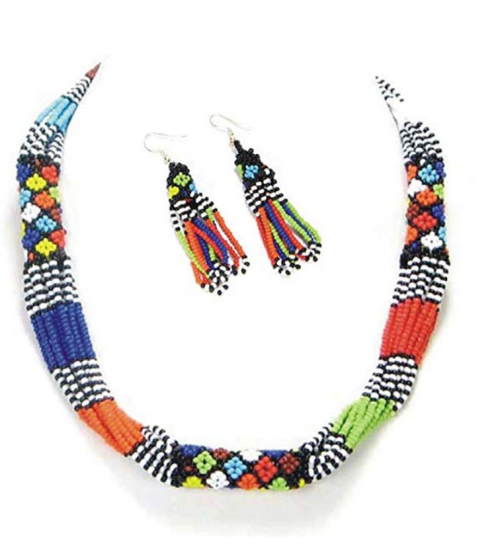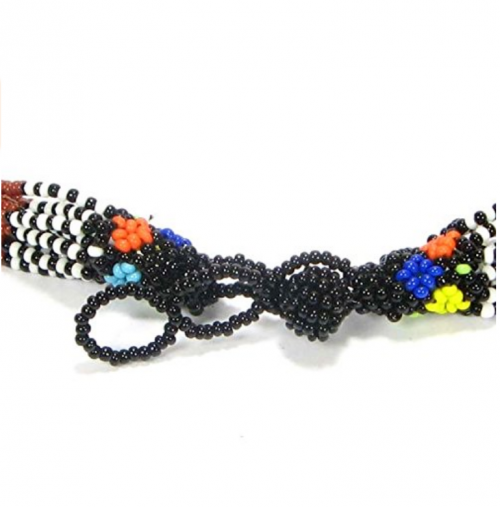 This is another great Zulu bead necklace that is much simpler and more casual than many of our picks. It will work well with most styles and outfit choices. This gives you a much better range of versatility. It features many rows of the tiny Zulu beads; but they are packed densely together rather than spreading out all the way across your upper torso.
Read more
These simply hang around the neck like a more typical style of necklace. This piece also features traditional Rasta colors.
It has black, red, green, and yellow beads on it. The necklace alternates patterns in blocks all the way around the neck. It will have a section a couple of inches long that is all one solid color followed by a section where each color bead alternates one after another including all the colors in the one section.
Then you will have a section where all the rows are woven together to create a zig-zag or cross-hatch look with the different colors of the necklace.
A beaded ball and hoop on the back provides an easy closure option that keeps the necklace easily secured to you.
This necklace is about 53 centimeters in length, so it is relatively short but definitely not a choker by any means. It hangs nicely down near the collarbone.
Since each one of these necklaces is hand-made by the Zulu women in South Africa, you should be aware that each piece will differ slightly.
Some might feature slightly different designs, but all have the same general look to them.
10

. Nataliya African Necklace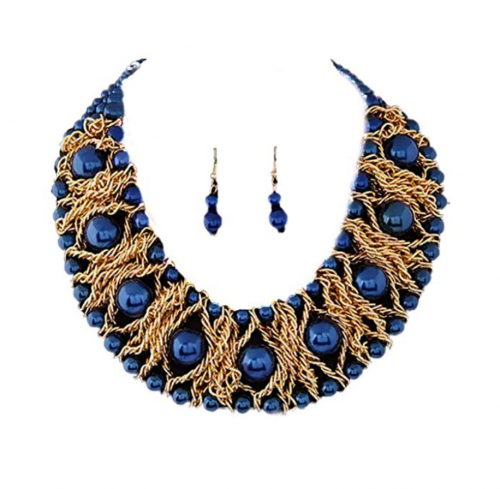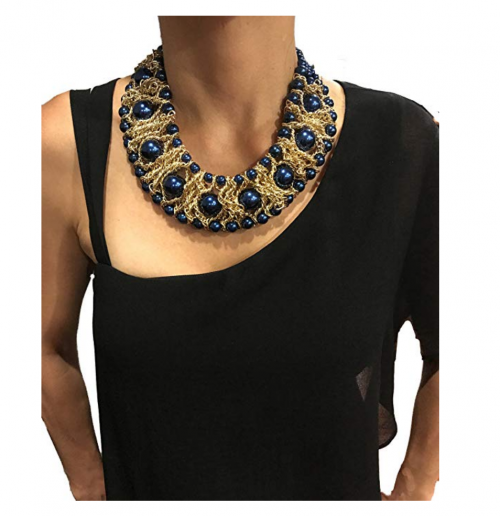 Finally, we have a very unique option here. This is from Nataliya and it is absolutely gorgeous. It features a bright but deep blue color along with lovely gold-toned metal. The metal of the necklace is delicately twisted and woven together into small lengths of chain that stretch between two strands of beads.
Read more
The two strands of beads are a couple of inches apart with one sitting up a little higher on the neck than the other.
This piece does go out to around your shoulders due to the thickness and it also wraps up around towards your back as well as hanging down to past your collarbone area as well.
The two strands of beads feature medium-sized bright blue beads. Each one of these is separated from the next bead by one or two of the small chain lengths that stretches between the two strands.
This gives each one its own definition and prevents it from all running together. The colors and design really are breathtaking, and this necklace even comes with lovely matching earrings!
The earrings are much simpler than the necklace featuring just two beads each. The top bead is a medium-sized blue bead and it hangs right above a larger-sized one.
They are dangle earrings that hook easily through pierced ears.
This is definitely a more formal set and probably won't work well in a super casual setting. It is great for dressing up, though!
Finally...
We hope you like our selection for African necklaces just as much as we do!
All of our picks are unique, budget-friendly and made by African artisans. We made sure to feature reputable brands with high customer ratings so whatever option you choose to purchase, there are no risks.
If you're looking for a unisex African necklace, there are a few options on our list which are the perfect fit for both women and men.
Time to shop some colorful, bead necklaces!