Timeless Dangle Earrings You can Wear Over and Over Again!
last updated:
Mar 23, 2021
Dangle earrings are the ideal attention-getting accessory we've all dreamed of.
With beautifully bejeweled components added to lightweight precious metals, they're an exquisite addition to your outfit.
There are many innovative designs that you can get your hands on to add an extra artisanal flair to your wardrobe. Let's explore some one-of-a-kind complex pieces that are sure to be showstoppers in your jewelry collection.
Top 10 Picks
1

. Jeulia Ice Cream Cone Sterling Silver Earrings
Sterling silver with gold coloring
Features Jeulia stones
Pink and diamond white stones
Lightweight materials
The Jeulia ice cream cone earrings are the perfect way to ring in warmer weather during the summer. If you're searching for a radiant and cute pair of earrings, these are some of our top recommendations. They have plenty of structural details that provide a stunning finish that would look flattering on any wearer.
Read more
The most remarkable feature of these earrings is that they feature Jeulia Stone, a unique material. Instead of diamonds, these stones are designed for everyday wear, as they're scratch-resistant and maintain their luster.
Compared to standard gemstones, each Jeulia stone is handcrafted to offer more impressive optical traits than diamonds.
Another significant benefit of the stones in these earrings is they're manufactured using environmental-friendly practices. Not only will you have shimmering stones that are more beautiful than most diamonds, but they also give back to the planet. You'll find that the sparkling texture of the pink and diamond white Jeulia stones is incredibly impressive.
Also, they dangle effortlessly just below the lobe without feeling too overbearing. Similar to the other pairs of dangle earrings we've explored, these are ideal for sensitive ears. Sterling silver is hypoallergenic and incredibly resistant to wear and tear, especially when exposed to water.
2

. Black Bow Jewelry Beaded Earrings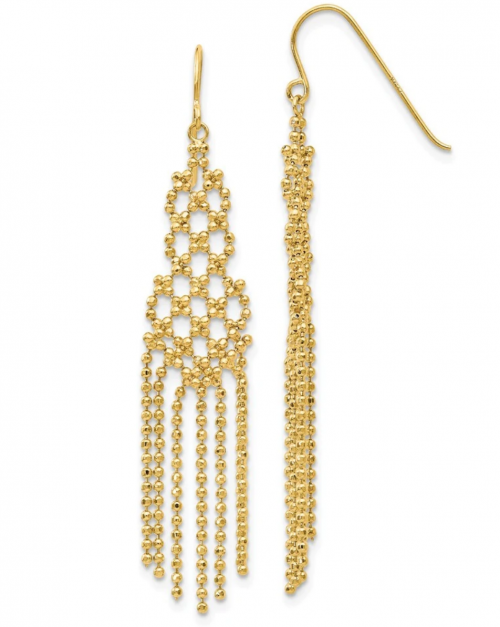 The Black Bow Jewelry Co. beaded chandelier earrings are some of our favorites for everyday wear. They have an effortless boho-inspired appeal that adds an exotic flair to any outfit you're wearing. However, we've found they're finely detailed to help dress up casual pairings, such as skinny jeans and white tees.
Read more
The general design of these earrings is simple, making them one of our favorite options. If you're looking for an accessory that's not too over-the-top, these are the perfect option for maturity and sophistication. The beaded chandelier's streamlined beauty is what sets them apart from other pairs, as the unique styling is iconic.
Every jewelry lover should have the ability to treat themselves to a high-quality piece of jewelry. These chandelier earrings are the perfect option, as they're crafted entirely from 14k yellow gold. Instead of settling for less expensive materials, such as sterling silver, you can have premium-quality accessories.
14k gold is ideal for people who have specific allergies and need hypoallergenic accessories. They're also a fantastic transitional option from standard studs, as the whimsical styling is sure to upgrade your aesthetic. There's a high-class appeal attached to these earrings, offering a more handcrafted appeal than other boring designs.
Compared to other dangle earrings, these have a more substantial length, which is something to consider.
3

. Ruby and Oscar Heart Shaped Topaz Drop Earrings
London blue topaz
Multi-faceted cut natural stone
Sterling silver hook backing
Lightweight design
Blue topaz is one of the most beautiful gemstones you'll set your sights on, especially if you multi-faceted jewels. These drop earrings are a cutting-edge design with minimal embellishments but the perfect carved texture. The precise engineering of the gemstones makes it a contemporary and open-worked piece for anyone to wear.
Read more
The Ruby and Oscar topaz drop earrings are classic and charming. The precious blue stone is clearly the focal point of the earrings, as they feature premium-grade topaz.
The strung earrings sit comfortably in your piercing, offering a lightweight and functional accessory for everyday wear.
Alternatively, you can save the radiant earrings for a special occasion, as the radiance of the topaz pairs perfectly with diamonds.
The earrings are distinctive, with the decorative blue heart-shaped topaz dangling effortlessly from the fishhook backing. You'll also love how the blue fits in perfectly with the solid sterling silver fixture for a dramatic combination of colors.
We love the idea of putting these together with ear climbers or standard sterling silver studs. You'll also find that they look shimmering next to white gold, as the expensive-looking silver speaks to its quality.
Another significant benefit is that these earrings are lightweight, making them great for young and mature wearers. If you have stretched lobes or newly pierced ears, the low-weight is more comfortable for extended wear.
4

. The Pearl Source Freshwater Cultured Pearl Earrings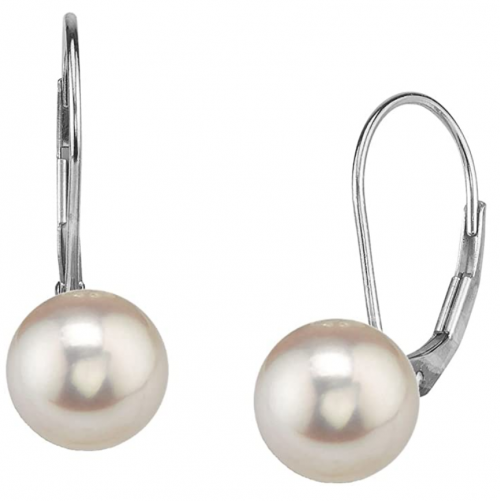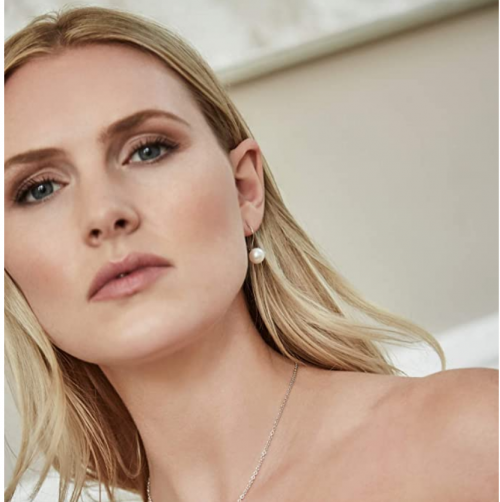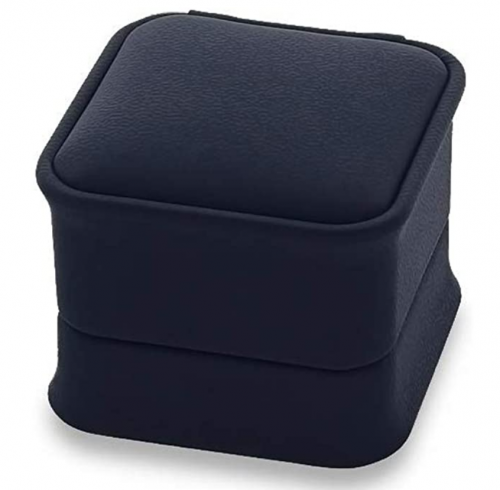 14k gold
Cultured freshwater pearl
60 day returns
This option prioritizes quality over everything. What we mean is this; the earrings make use of 14K white gold and a white freshwater pearl to pull of an elegant design that's practically made for professional women.
Read more
It's feminine and bold, which together, is a personality that working-class women have in spades. If you think you understand your partner's personality enough to recognize where we are going with this, then this is a gift that you shouldn't miss giving.
We have the upcoming Christmas and after that, the New Year festivities. Both are good enough periods to give her a gift that'll last indefinitely. Especially, the latter one since a new year stands for new beginnings, which is rather symbolic. Still, if both these ideas are not good enough, then you need to plan a night out with her.
Make it romantic with it filled with her favorite food, movies, etc. Other people that you can give the pair of earrings to include your daughter, mom, or sister. But keep in mind that their personality should be taken into consideration. If not that, then she must be in formal settings a lot.
5

. Silverline Jewelry TearDrop Earrings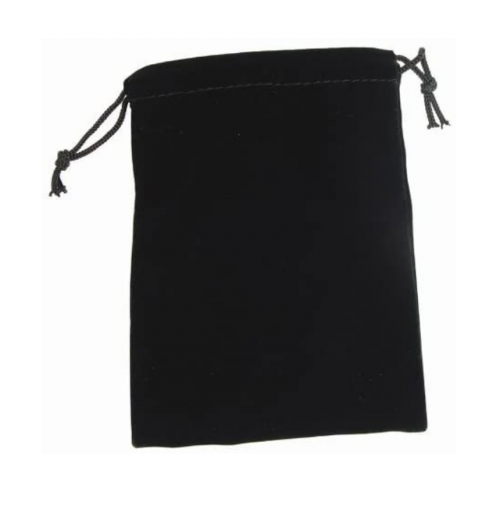 Sterling silver
Affordable
Lightweight
One of the highlights of this earring pair is the fact that it's affordable. The manufacturer uses a teardrop as inspiration for the design.
Read more
The pair of earrings is made from sterling silver which makes the entire jewelry durable enough to resist wear on major scales. And that's without too much maintenance on her part.
Perfect for people who don't like going through the hassle of constantly polishing their jewelry just to make it shine.
In other words, a pair of drop earrings that will work as a gift or as your new jewelry accessory that goes well with any outfit, from casual to formal!
6

. Body Candy Swarovski Drop Dangle Earrings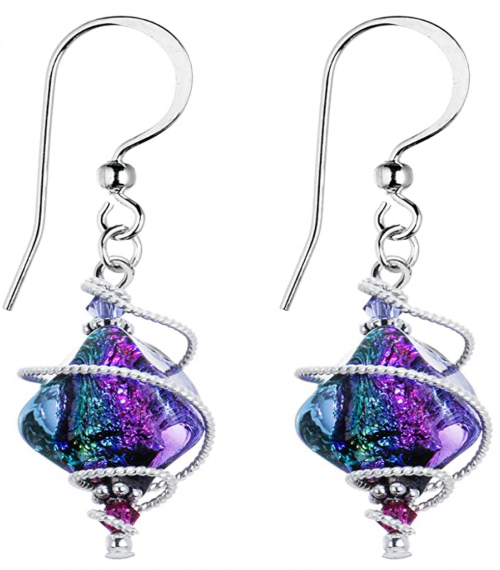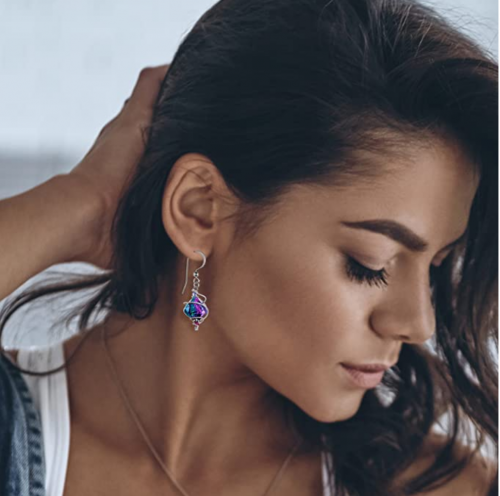 Handcrafted
Sterling silver
Affordable
For those who love colorful earrings, this is a piece that you shouldn't miss. The dangle earrings each come with a purple dichroic glass that reflects the rainbow.
Read more
You also have sterling silver in the form of the swirl holding the glass, and then the complimentary Swarovski crystals. Colors like green, orange, blue, yellow, purple, and pink give it a vibe that's almost eccentric.
This option is made for people who look casual most of the time. The fact that it's colorful and pretty means it'll attract a lot of attention.
It's a great pair of dangle earrings for anyone who likes handcrafted, affordable jewelry that will be noticed and accentuate your style!
7

. Gem Stone King Blue Topaz Earrings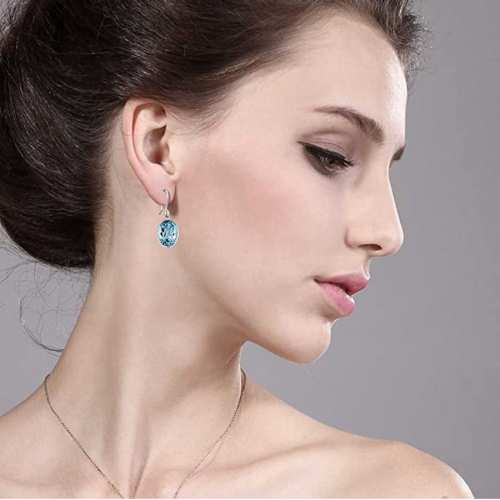 925 sterling silver
Blue topaz
Made in the US
The name Topaz in Greek is usually associated with strength. It is believed that wearers of any jewelry that holds a topaz experience a boost in strength.
Read more
This is one of the better earrings on the list as far as symbols are concerned.
These beautiful dangle earrings have been made in the US by a brand very well known for their craftsmanship in jewelry.
The earrings are 925 sterling silver which means hypoallergenic, shiny and easy to clean. The topaz is genuine, 14CT in size, meaning it's quite big in size although the earrings do not weigh a lot, so the comfort of wear is assured.
What we love most about this option is that it comes at a super affordable price and a money-back guarantee.
8

. Ladytree Vertical Drop Dangle Earrings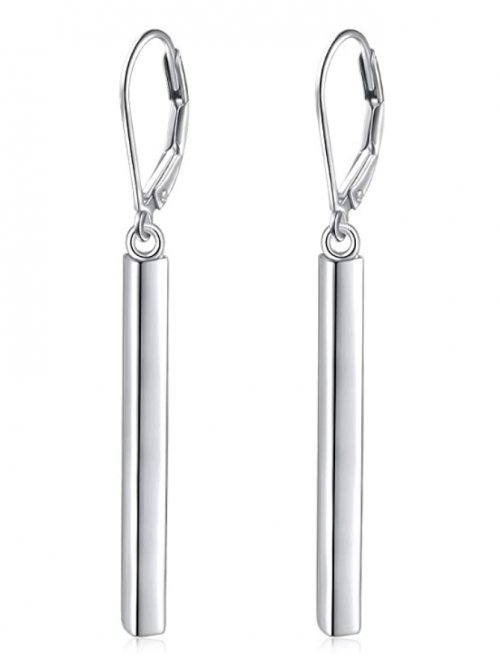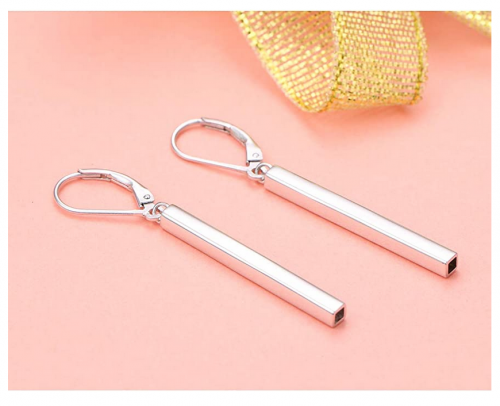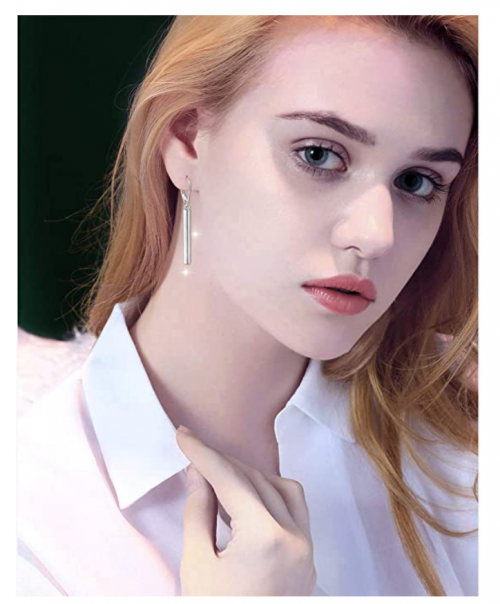 Sterling silver
Lightweight
Nickel and lead-free
If you haven't picked any of the dangle earrings you've seen so far, we think you'll love this one. The pair makes use of simple vertical bars to pull off one of the most impressive-looking pieces on this list.
Read more
The fact that it doesn't break the bank at under $20 is just one of the complements. The pair is made from sterling silver and it's completely bare of any other material. This adds to the overall appeal.
So who's it for? We think you should consider people who don't like flashy jewelry accessories. In fact, the type of people we're talking about would rather go without earrings if it meant they could avoid the extra weight.
This pair of earrings pull of their own sublime comfort levels by being well-built and extremely well-balanced.
9

. Silver on the Web Pressed-Flower Heart Drop Earrings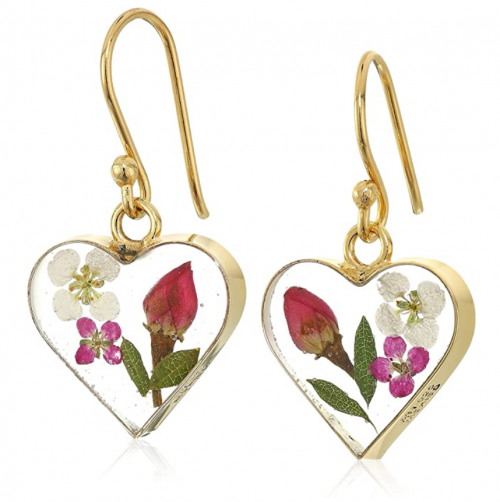 Real dried flowers
Gold plated chain
Affordable
This pair uses a heart-shaped flower-printed design to pull of a pretty look. The design is entirely feminine and attractive.
Read more
But when you note the fact that the chain is 14K gold-plated, you know that the earrings are made of quality materials that will withstand wear and tear.
Having said that, the pair of earrings is perfect for any woman. Whether she's complex, simple, flashy, etc—this is one of the best accessories that a girl can have in her repertoire.
What we love most about this option is the fact that these are real flowers, dried and put into a resin material. The resin has been shaped into a heart, forming a beautiful, translucent frame for the flowers.
The price? A real bargain!
10

. Bassion Linear Loops Earrings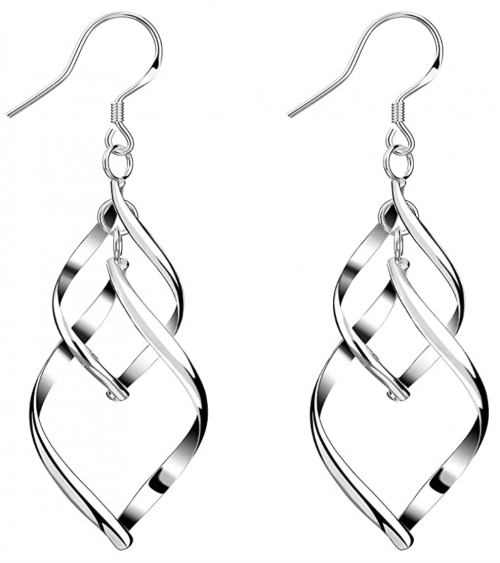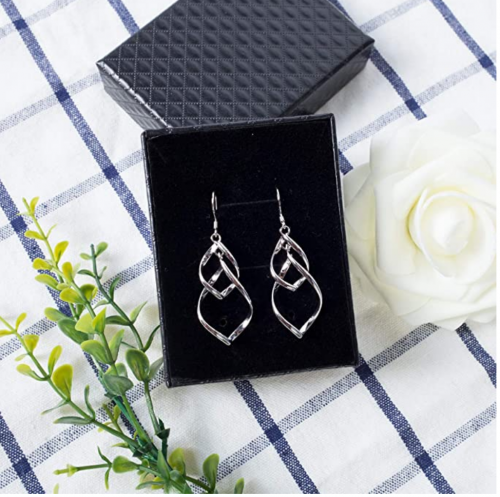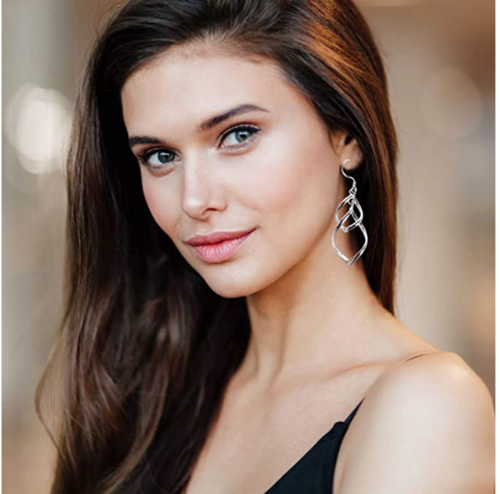 Silver-plated
Available in rose gold as well
Affordable
This option is plated with silver, which makes it almost as bright as white gold. Still, we would have loved to see the use of Sterling silver instead of an unknown alloy. But at the same time, the design is pretty enough and the price is a bargain.
Read more
What we love here is the loop shape of the earrings, making them unique as well as sophisticated. A pair of earrings that can be worn both for formal occasions as well as with casual wear.
The earrings are super lightweight so they won't weigh down on your earlobes. A free gift box is included in case you want an affordable pair of earrings to gift for a special occasion.
You also get a money-back guarantee; so if these don't fit you, you can return them and get your money back risk-free!
FAQs
q:

What is the difference between drop and dangle earrings?

a:

Drop and dangle earrings might sound similar, but they are two unique earring styles to consider. Drop earrings are the less prominent option, as they fall just below the earlobe with minimal overhang.

On the other hand, dangle earrings have exceptional movement as they're often longer and can swing back and forth.

Depending on your chosen style, you might find dangle earrings can be long enough to touch your shoulders. They're a trendy option amongst youthful fashionistas, whether men or women. You'll also find dangle earrings are the perfect option to bring attention to your accessories, as they're more obvious.

Dangle earrings can also be preferred, depending on how you intend to style them. Sometimes, you might be looking for a more understated style rather than a focal point. Dangle earrings can also be lighter, which makes them more comfortable to wear for extended periods.
q:

Are dangle earrings professional?

a:

One of the most beautiful things about jewelry is that they offer millions of designs for anyone to style as needed.

Dangle earrings can certainly be professional, especially if you find elegant and classic options. For example, you wouldn't want to wear skull and crossbones earrings to a meeting, but chandelier earrings are a great option.

Our recommendation is to find several pairs of dangle earrings and try putting them together with your favorite outfits. You'll be surprised at how versatile your jewelry can be, whether it's used to dress up or dress down professional outfits.

We guarantee they're ideal for pairing with power suits and casual Friday looks.
q:

What is a good weight for earrings?

a:

The comfort of your earrings is of the utmost importance, especially with dangle styles. Ideally, earrings that weigh between three and five grams combined should be comfortable for most wearers.

When you get closer to seven or ten grams, you'll experience some skin stretching and discomfort.