Mix / Women
10 Climber Earrings That Will Bedazzle You!
The alluring ear climber earring, also known as an ear crawler is a very popular jewelry trend that is easily becoming a favorite fashion piece for both Hollywood celebrities and the everyday girl who just loves fashion. This year we are seeing body piercings and the traditional earrings being a thing of the past and ear adornments such as the trendy ear climber earring in. Hollywood's top actress and the fashionistas of the world, the ear climber is the perfect alternative to ear cuffs, as they adorn the ear all along its length with their sparkling beauty and create a million-dollar look.
This piece of jewelry is essentially a pierced earring that travels all the way up the ear or the more subtle designs just cover the length of your earlobe. It can be worn on its own for an asymmetrical look or as a pair. Many celebrities have been rocking ear climbers on the red carpet and in their everyday lives, pairing the same versatile earring trend with gowns and jeans.

A few celebs we have seen sporting the hottest trend in ear fashion are Emma Watson, Jessica Alba, Jennifer Lawrence, Bella Hadid, Rhianna, and Gigi Hadid. Whether you are trying to add some spark to your outfit or show off your flair, these ear climbing constellations of bedazzling jewels are definitely a must-have fashion piece!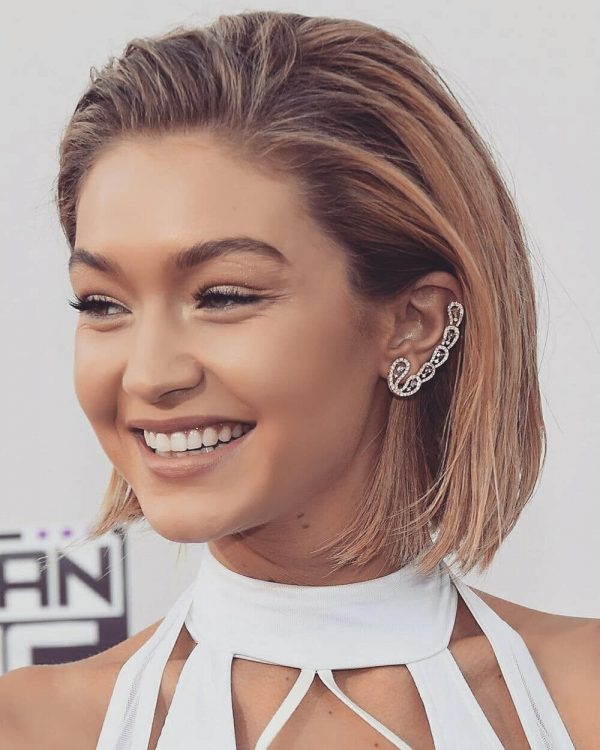 Ear climbers come in many different sizes and shapes, they can be large and attention grabbing or delicate and dainty. They can also be the only piece you need to wear or a perfect compliment to other earrings if you are going for the stacked look.
However you decide to wear your ear climbers and whether they are large or dainty, they will surely be the centerpiece of your fashion statement. We have selected our top ten favorite ear climbers that range from big and bold to small and sleek. Keep up with the hottest trend in fashion and have fun adding a bit more character to your outfits!
Our Favorite Climber Earrings!
1.Elensan 7 Crystals Ear Cuffs Hoop Climber

First on our top ten list is Elensans' seven crystal climber. This elegant piece comes in 925 Sterling Silver. These earrings are rhodium plated to prevent allergic reactions and prevent the skin from turning green.
Furthermore, because pure silver has plasticity, once you receive your earrings you can adjust the arc by gently pinching the silver to fit your ear better. Elensans' beautiful sterling silver jewelry is made in China and Bi yearly the silver is tested to ensure its silver content is high. Nevertheless, the silver property oxidizes easily and becomes dark. Elensans' pure silver jewelry has been electroplated which means it has a good antioxidant effect to increase the service life.
The piece comes with seven beautiful AAA-quality cubic zirconias. Each stone is cut in a meticulous cut which allows the high brilliance and a vibrant sparkle to be easily seen. These remarkable earrings will be sure to add a bit of sparkle to your ear and can be paired with any outfit or given as a special gift. These charming crawlers will make a wonderful gift for your daughter, lover, girlfriend, fiancee, wife, mother, couple, or a friend.
Elensan strives for customer satisfaction so they are  constantly improving the size of the seven star earrings to best suit their customers.
As a happy owner of Elensans 7 crystal ear crawler make sure not to use any harsh soap  while you are wearing them. And when storing your jewelry be sure to store it in a sealed box and in the unlikely event that the earrings do happen to turn a dark color,  you can wipe them with a little bit of toothpaste as it remove oxides.
2. Humble Chic Geometric Ear Climber

Next up we have the remarkable geometric ear climber by Humble Chic. These beauties are elegant and ultra stylish. They are designed to be worn up the ear giving you that bold, modern, fierce look. They are easy to wear, just slide them over your ear lobe and pinch them closed for the perfect snug fit.
These amazing earrings are made with superior quality and are lightweight. They are also have a high shine plated base metal to extend their life. Geometric patterns have always been relevant in fashion and now you can own an ear climber with a geometric design and be the talk of the fashion scene.
Humble Chic is proud to be based out of  New York City, USA. This jewelry brand believes customer satisfaction is key so every purchase comes with a 30 day 100% free return policy. Humble Chic believes that quality should never be sacrificed and keeping up with fashion trends should be fun. So they create timeless jewelry for the modern woman by paying attention to details, quality and value. Many pieces designed by Humble Chic have been featured in Vogue, US Weekly, and People Stylewatch.
Pair these beautiful geometric ear climbers with a beautiful evening dress or dress them down a bit and wear them with jeans and a white t-shirt. Either way these stunning ear climbers give you a look that will make certain your ears are the stars of any gathering.
3. Moon Crawler

Another favorite is the Moon Crawler Cuff by CY Supplies. This swanky handmade leaf crawler is everything we look for in an earring; simple, delicate and versatile. Made in the USA with only the highest quality 925 sterling silver this piece will make a beautiful statement piece and can be paired with almost any style.
This pair comes in 18K black gold, 18K matte rose gold, 18K matte yellow gold, 18K rose gold, 18K yellow gold or 925 sterling silver. With so many options in gold plated finishes it's easy to find exactly what you are looking for.
Ear climbers don't have to be huge or elaborate to get attention. So when wearing this pair that is quite subtle, try to keep your hair swept to one side.
Pro tip, to maintain your CY Supplies jewelry try to limit exposure to chemicals, perfumes, oils, creams, water, etc to avoid tarnishing.
4. S.Leaf Sterling Silver Minimal Climber

This option is formed into a chic simple wave shape yet also has the appearance of a leaf so whether you are a girl who loves the ocean or one who loves the forest, this versatile design is just for you! This piece comes in three different colors; silver, rose gold or gold. Each setis 0.95 inches long and is hand polished to bring out the shine. This earring is comfortable to wear and easy to put on, simply slide it over your ear and adjust it to fit as tight or loose as you would like.
This style of ear climber is a statement within itself but also is not so loud that it will steal the show. So if you have more than one hole in your ear,  you can add a stud earring to give this look another element of character.
5. Dazzlingrock Collection White Diamond Climber

If you are looking for the big and bold option, look no further! This particular ear climber is not for everyone, as it is a bit more expensive. The price reflects the quality and value, this gorgeous piece is made with 0.35 carat round white conflict-free diamonds handset in 14K white gold. (Please note: Dazzlingrock does have other less expensive ear climbers available.)
By choosing one attention-grabbing piece and keeping all other jewelry to a minimum you allow the ear climber to be the showcase.
Fashion tip from Actress Emma Stone, who arrived at the Screen Actors Guild Awards wearing stunning bright white diamond climbers, keep your neckline and the rest of your ear simple so you won't take away from the wow factor with earrings like these.
As always, we value customer satisfaction which is just another reason we love this option. Dazzlingrock offers customers to return or exchanges within 30 days and a 90-day warranty. So just in case, you lose an accent stone or your setting is damaged they will fix it for free. Its things like this that set a company apart from the others and makes them shine.
6. PAVOI 14K Gold Plated Set

The gold plated set by Pavoi is a wonderful curved stud bar earring crafted in 925 sterling silver. These are 19mm in length and come in rose gold or white rhodium. The simple elegant design will make a perfect gift whether it's a birthday, holiday, special occasion or just your average Tuesday and you want to make someone feel special. You can be sure when your sweetheart opens this gift they will be smiling ear to ear.
We love this piece of jewelry a little more because Pavoi was founded on strong principles; service and quality which ensures customer satisfaction. They pride themselves in providing accessible luxury to everyone by crafting high-quality jewelry without the retail markup. Their motto is, when you're happy, we're happy. With this standard of customer satisfaction, you can be confident that when you buy from Pavoi you will be receiving the best of the best.
These amazing ear climbers are simple yet timeless, minimal yet extraordinary. You can pair theme with your little black cocktail dress for a formal occasion or you can dress them down in jeans and a t-shirt.
7. MYS Collection Sparkly Rhinestone Floral Set

These elegant floral set by MYS Collection are nothing short of dazzling. These are classic staple and trendy. They are versatile enough to be worn on any occasion and with any style. You can pair these with your favorite evening dress for a stylish sexy look or with your everyday casual attire for that timeless effortless chic style. As you can see, these stunning earrings are a statement piece that can add flair to any outfit. So pull your hair back into a sleek ponytail and show off this unique piece!
Each set of earrings comes in an elegant jewelry gift box so from the moment they arrive to the moment they are placed on your ear you will be in awe! MYS Collection believes in supplying a well made, affordable yet high quality fashion piece that everyone can enjoy.
They are available in an assortment of different styles and color combinations. You can choose from teardrops, leaves or the beautiful flower design in rose gold, gold or silver. All these choices are lead and nickel compliant with US requirements which is a bonus because nobody wants to wear toxic jewelry.
8. BleSky Lotus Studs

We adore this next pick because the lotus flower symbolizes rebirth, purity of speech, of the body, and of the mind. This beautiful and symbolic limber can be paired with anything in your closet, from your casual everyday outfits to your elegant evening wear even your yoga pants. We love the versatility of this piece and how it can be worn on its own or with another accessory since it is dainty, unique, fashionable and simple all at the same time.
The unique lotus flower design is crafted with silver plated wire. These beauties have an understated but gorgeous and classy look. So if you are looking for an original piece of flattering jewelry then this is the choice for you as they are completely different than other pieces and have a unique design.
They are available in four different colors; rose gold, black plated, silver and gold. With so many options these dazzling set will make the perfect gift for mothers, daughters, girlfriends, wives or any special lady in your life.
When wearing this lotus ear climber you can take a style tip from actress Jennifer Lawrence and combine it with a cuff. When paired with another piece of jewelry be sure to space them out and choose a second earring that is small as to not overcrowd your ear. It's a fun way to add more bling to your style and can add that extra wow factor to your already flattering lotus set.
9. CIShop Simulated Diamond Stud Climber

Next up is the beautiful simulated diamond stud ear climber by CISHOP. This stunning piece contains seven shiny cubic zirconia diamonds set in 92.5% silver. They are 0.9"x0.3" in length so they elegantly crawl up the edge of your ear to give you that stunning Hollywood glow. This piece is perfect for your formal night out on the town as well as a casual stroll through the mall or down the beach. They are perfect for both women and girls alike. We love an earring that can be worn by everyone on any occasion, the versatility of this piece makes it a remarkable choice when considering an ear climber.
These earrings by CISHOP come in black, blue, white and gold. They are a remarkable choice in ear climbers and with the option to come in an array of colors we are sure you will have fun matching them to your favorite outfit.
10. AeodeJ Snake Climber

The snake climber by AEODEJ is a must have! The snake is a symbol of many things, from eternal love to good luck. The snake is popular in fashion with its fierce appearance. This set is made with 925 sterling silver and contains dazzling AAA cubic zirconias in the shape of a sleek snake. They are petite and delicate yet bold and fashionable earrings  measuring in at 0.47"x1.14".
They are trendy, swanky, and stylish, all the aspects of fashion we look for in an earring. Celebrities like Rihanna and Sophia Bush have been spotted wearing snake ear climbers! They are a statement piece to say the least and will be sure to get a lot of attention!
The set is available in black, silver or rose gold. When purchasing jewelry from AOEDEJ you can be sure that their products are exquisitely crafted with high quality materials and that they value customer service dearly.
This design in particular was made to compliment any style and be a luxurious fashion statement. When wearing a snake ear climber it is best to allow this piece to be the centerpiece and to not cluster any other pieces on your ear.