10 Climber Earrings That Will Bedazzle You!
last updated:
Apr 12, 2021
Climber earrings have a bedazzling appeal with bold and brilliant designs.
They're a phenomenal alternative to ear cuffs, with some adorning the entire length of the ear with their sparkling aesthetic.
Whether you need the perfect artisanal piece to go with your casual outfit or a dazzling accessory for formal wear, they're very versatile.
Let's explore some of the most cutting-edge climber earrings you can add to your collection.
Top 10 Picks
1

. Black Bow Jewelry Co. Arrow Ear Climbers
Rhodium-plated 
Sterling silver
Embedded cubic zirconia stones
French wire backing
We love the Black Bow Jewelry Co. rhodium-plated arrow climber earrings for their subtle beauty. Compared to other ear climbers, these are designed to nestle gently along the length of your lobe rather than the whole ear. They have a one-of-a-kind style perfect for fashionistas searching for contemporary and decorative accessories.
Read more
There's no doubt that arrows have become a quintessential part of trendy jewelry, especially in earrings. This option features a delicate prismatic sheen that you'll love wearing. With the combination of rhodium-plated sterling silver and cubic zirconia, they look expensive and exquisite.
The rhodium plating on the earrings is ideal for protecting the sterling silver from wear. Also, you'll find there's very little upkeep with such a high-quality material, as the earrings maintain their shine over time.
Each piece is delicately crafted to sit comfortably on the ear lobe, taking up the space of two piercings in one design.
They look complex on the surface, with the individually embedded cubic zirconia stones and the brilliant, dazzling silver. However, they are incredibly easy to wear and are designed for all-day comfort, thanks to how lightweight they are.
You'll find a French wire back on the back of the earrings designed to keep the earring in place. You won't have to worry about it shifting throughout the day, even when wearing sports.
They're the perfect length, measuring at 21mm, so you only have to worry about wearing one pair of earrings at a time.
2

. Humble Chic Gold-Plated Ear Climbers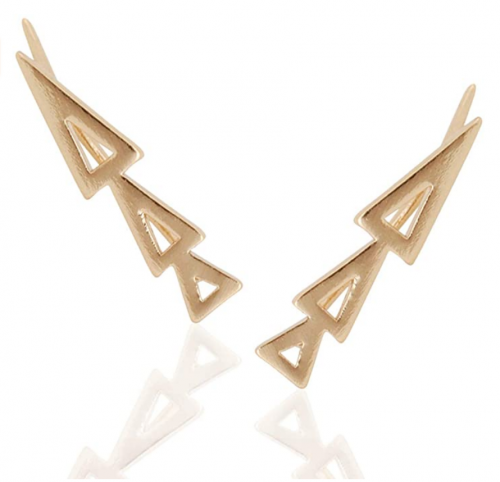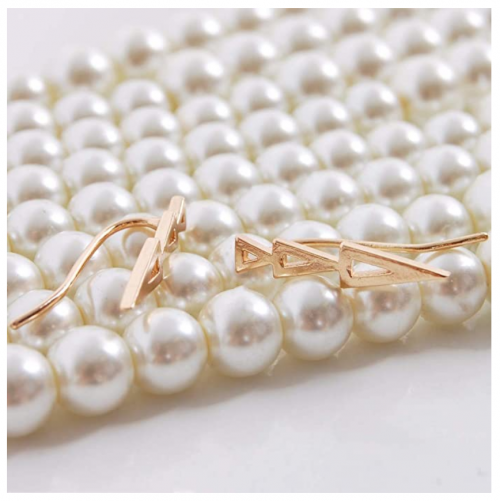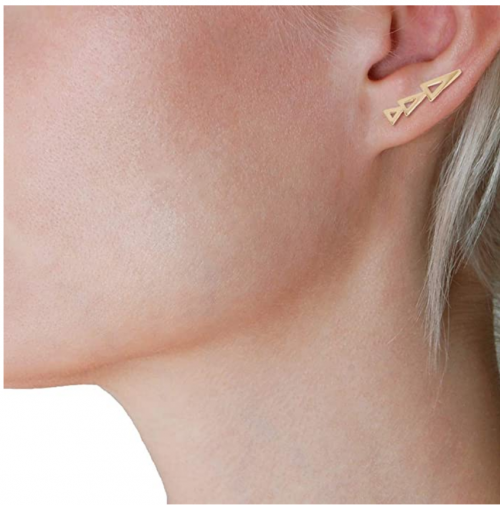 14k gold plated
30 day free return policy
Very lightweight
Next up we have the remarkable geometric ear climber by Humble Chic. These beauties are elegant and ultra-stylish. They are designed to be worn up the ear giving you that bold, modern, fierce look. They are easy to wear, just slide them over your ear lobe and pinch them closed for the perfect snug fit.
Read more
These amazing earrings are made of superior quality and are lightweight. They also have a high shine plated base metal to extend their life.
Humble Chic is proud to be based out of New York City, USA. This jewelry brand believes customer satisfaction is key so every purchase comes with a 30 day 100% free return policy.
Pair these gorgeous geometric ear climbers with a beautiful evening dress or dress them down a bit and wear them with jeans and a white t-shirt.
Either way, these stunning ear climbers give you a look that will make certain your ears are the stars of any gathering.
Solid sterling silver
Rust-resistant
Rose gold accents
Embedded cubic zirconia
The Jeulia heart climbers are the fashion staple you've always been searching for. They combine effortless glam with striking features bound to impress even the most astute jewelry aficionado. With a decorative style and delicate accents, they're the perfect option as a gift to yourself or a loved one.
Read more
When you wear these for the first time, they'll immediately elevate your elegance. The ear climbers have everything you would expect from luxurious accessories, ranging from perfectly polished metal to sparkling stones.
The primary band is thin and curved, matching the delicate contours of your ear lobe with ease. Along with the band, a small rose gold heart adds an iconic contrast between the stone and silver.
One of our favorite features of these earrings is how beautifully prismatic the stones are. They sparkle in natural and artificial light, providing a unique glisten to compliment your other accessories. The glimmering beauty of the earrings is what makes them a fantastic present, especially for a loved one.
It's also important to note the quality of materials and craftsmanship that has gone into this piece. They have a one-of-a-kind appeal, almost as if they were created just for you. When worn, you'll feel as if the earrings are a second skin, making them great for any occasion.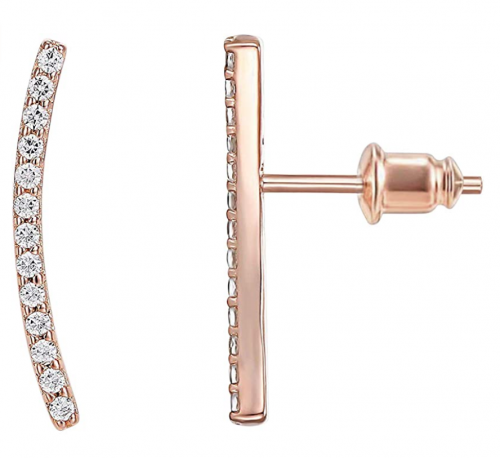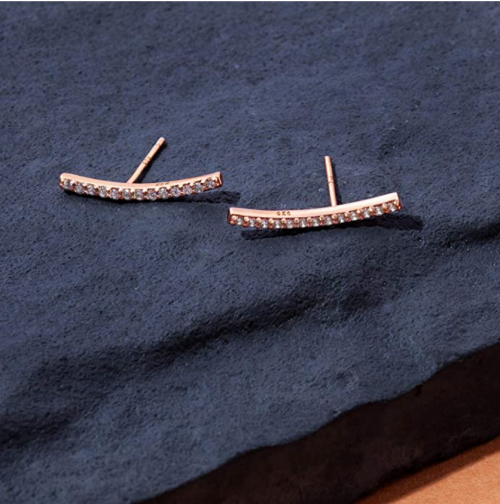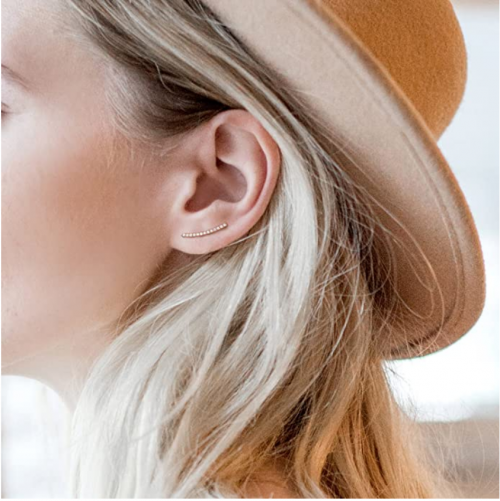 Sterling silver
Hypoallergenic
90 day money back guarantee
The gold-plated set by Pavoi is a wonderful curved stud bar earring crafted in 925 sterling silver. These are 19mm in length and come in rose gold or white rhodium.
Read more
The simple elegant design will make a perfect gift whether it's a birthday, holiday, special occasion or just your average Tuesday and you want to make someone feel special.
We love this piece of jewelry a little more because Pavoi was founded on strong principles; service and quality which ensures customer satisfaction. They pride themselves in providing accessible luxury to everyone by crafting high-quality jewelry without the retail markup.
These amazing ear climbers are simple yet timeless, minimal yet extraordinary. You can pair them with your little black cocktail dress for a formal occasion or you can dress them down in jeans and a t-shirt.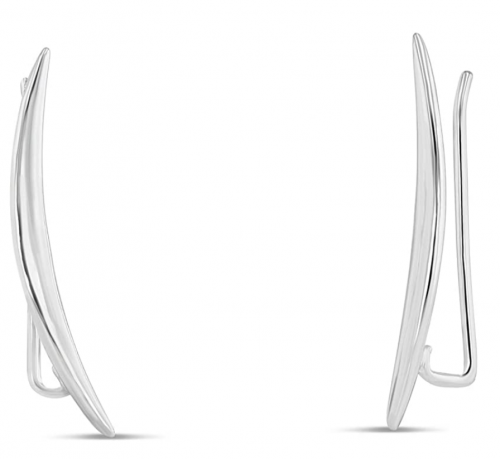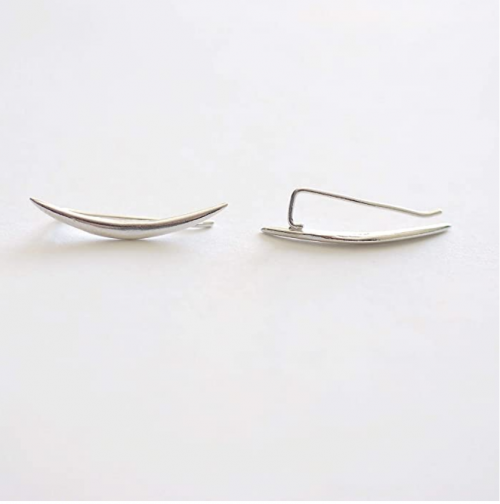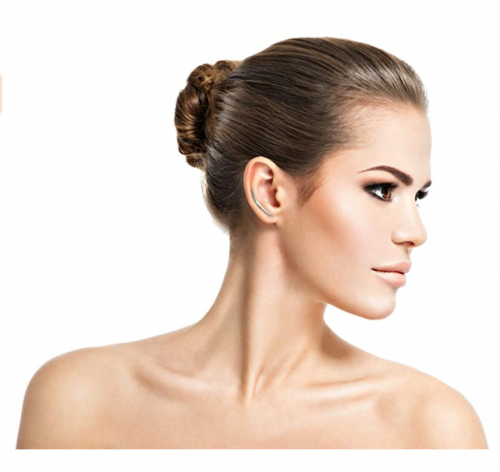 Silver sterling
Many color options
Made in the US
Affordable
Another favorite is the moon crawler cuff by CY Supplies. This swanky handmade leaf crawler is everything we look for in an earring; simple, delicate and versatile. Made in the USA with only the highest quality 925 sterling silver, this piece can be paired with almost any style.
Read more
This pair comes in 18K black gold, matte rose gold, matte yellow gold, rose gold, yellow gold or 925 sterling silver. With so many options in gold-plated finishes, it's easy to find exactly what you are looking for.
Ear climbers don't have to be huge or elaborate to get attention, so when wearing this pair that is quite subtle, try to keep your hair swept to one side.
Pro-tip! To maintain your CY Supplies jewelry intact, try to limit exposure to chemicals, perfumes, oils, creams, water, etc, to avoid tarnishing.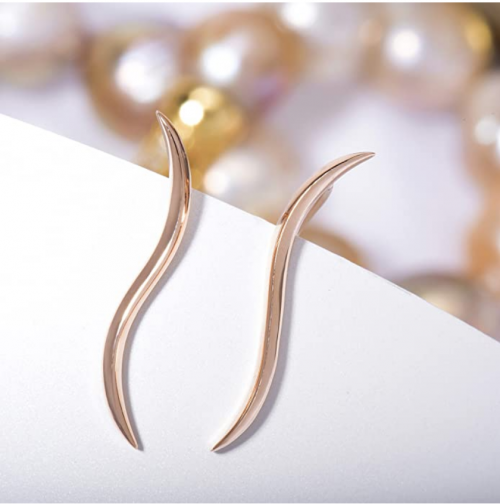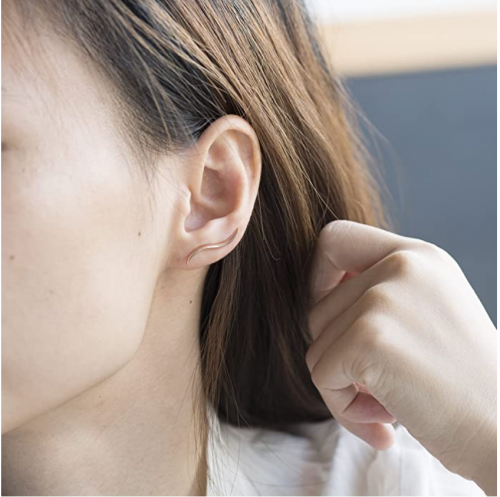 Sterling silver
Hand polished
3 color options
This option is formed into a chic simple wave shape yet also has the appearance of a leaf so whether you are a girl who loves the ocean or one who loves the forest, this versatile design is just for you!
Read more
This piece comes in three different colors; silver rose gold or gold. Each set is 0.95 inches long and is hand polished to bring out the shine.
This earring is comfortable to wear and easy to put on; simply slide it over your ear and adjust it to fit as tight or loose as you would like.
This style of ear climber is a statement within itself but also is not so loud that it will steal the show. So if you have more than one hole in your ear, you can add a stud earring to give this look another element of character.
7

. Elensan 7 Crystals Hoop Climber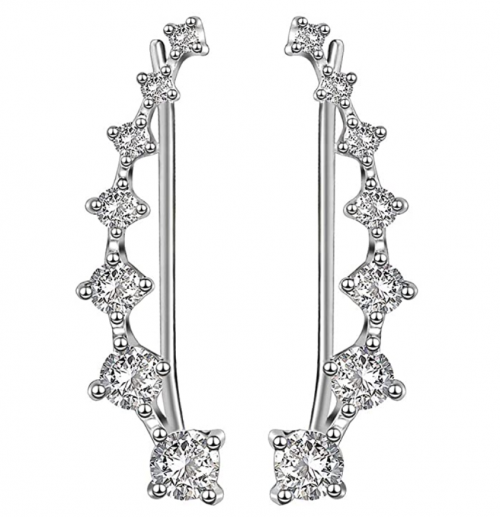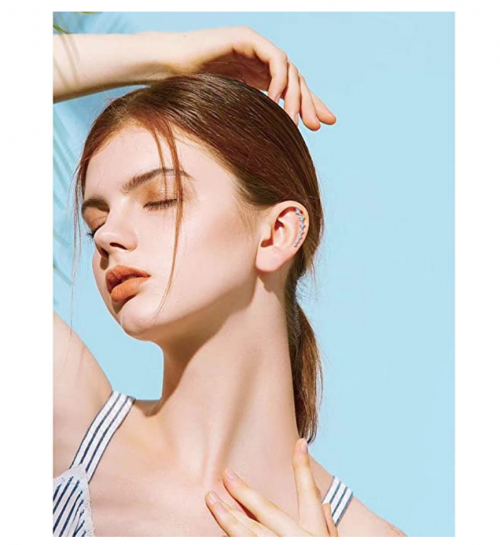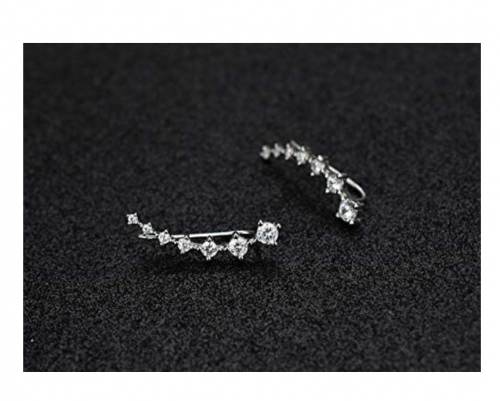 Sterling ilver
Cubic zirconia
Very affordable
This elegant piece comes in 925 sterling silver. These earrings are rhodium plated to prevent allergic reactions and prevent the skin from turning green.
Read more
Because pure silver has plasticity, once you receive your earrings you can adjust the arc by gently pinching the silver to fit your ear better.
Elensans' beautiful sterling silver jewelry is made in China and the silver is tested to ensure its content is high. Nevertheless, the silver property oxidizes easily and becomes dark. Elensans' pure silver jewelry has been electroplated which means it has a good antioxidant effect to increase the service life.
The piece comes with seven beautiful AAA-quality cubic zirconias. Each stone is cut in a meticulous cut which allows the high brilliance and a vibrant sparkle to be easily seen. These remarkable climber earrings will be sure to add a bit of sparkle to your ear and can be paired with any outfit or given as a special gift.
Elensan strives for customer satisfaction so they are constantly improving the size of the seven-star earrings to best suit their customers.
As a happy owner of Elensans 7 crystal ear crawler make sure not to use any harsh soap while you are wearing them.
8

. Black Bow Jewelry Co Stars Set
61 pave cubic zirconia stones
Stud and ear climber combo
Rhodium-plated sterling silver
Moderately weighted
When you're shopping for accessories, you'll want to choose pieces that speak to your individual style. The Black Bow Jewelry Co. stars set is the perfect accessory. You will have the benefit of a fashion-forward ear climber as well as the subtle touch of a radiant stud.
Read more
As mentioned, these earrings are genuinely unique, featuring high-quality, durable materials. You'll receive two coordinating earrings in the set, although they are different styles. The ear climber is dramatic and distinctive, boasting several individually set sparkling stones.
You can adorn the beautifully decorative star stud on the opposite ear, which also features glistening stonework. Instead of wearing two of the same, you can take advantage of a transitional style that's cutting-edge and iconically modern. You'll love the depth of the ear climber, boasting several delicate stars with alternating finishes for texture and sparkle.
Some of the stars are solid polished metal, while others have one to two set stones in the center. The piece's focal point is undoubtedly the most prominent star, which features a reflective cluster of cubic zirconia. The more subdued part of the piece is the stud, as it features three stars, two of which are polished and one is dazzled.
The 61 pave cubic zirconia stones' quality in these pieces is exceptional, featuring eye-catching glimmering in all lighting. They're incredibly feminine and cute, with an added air of sophistication for professional settings.
9

. Sigalita Hammered Ear Crawler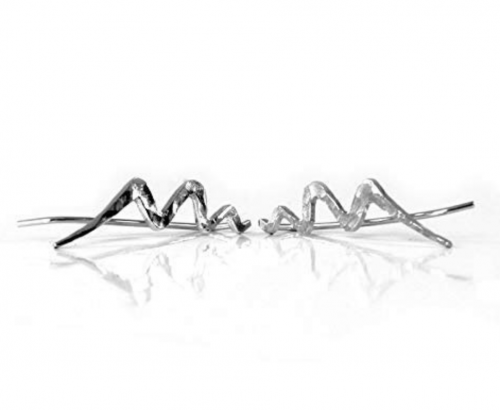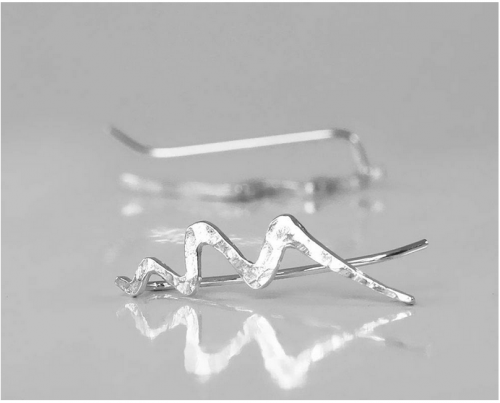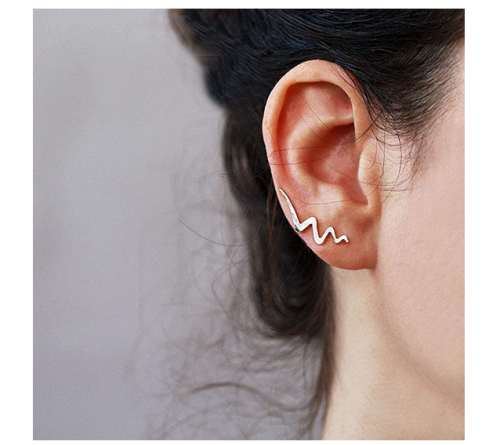 Sterling silver
Handcrafted
Hammered finish
Curved pin backing
Most people begin looking into ear climbers when they're searching for an edgy accessory. The Sigalita sterling silver hammered ear crawler is our top choice for a rocker/punk-style earring. It's incredibly fashion-forward and modern, with its fine sparkling polished metal.
Read more
The sophistication of this piece speaks volumes, especially if you're looking for an exciting accessory. The beautifully designed lightning bolt is sure to capture the attention of anyone in the room.
We love the idea of wearing this ear climber on its own or pairing it with a simple solid stud. It could also work perfectly in a pair of two with one on each ear as the earring is one inch in length. It's an exquisite piece that you'll keep at the front of your jewelry box for special occasions.
There's nothing better than having a fashion-forward accessory engineered for all-day comfort. You'll love the rounded edges of the metal, which help the earring to sit delicately against your lobe. It also offers elegance without the need for sparkling cubic zirconia or glistening diamonds.
Each earring is individually crafted by the seller, so you can guarantee you're getting a one-of-a-kind piece. The hammering on each earring will be different, which adds a unique appeal compared to mass-manufactured pieces. You'll appreciate the sleek polished metal's simplicity and the easy wearability thanks to the curved pin backing.
10

. AoedeJ Snake Ear Climbers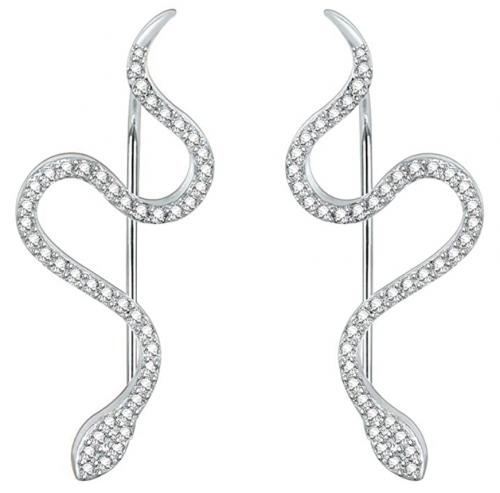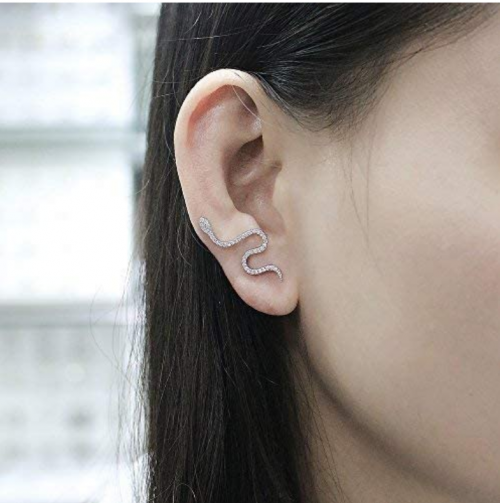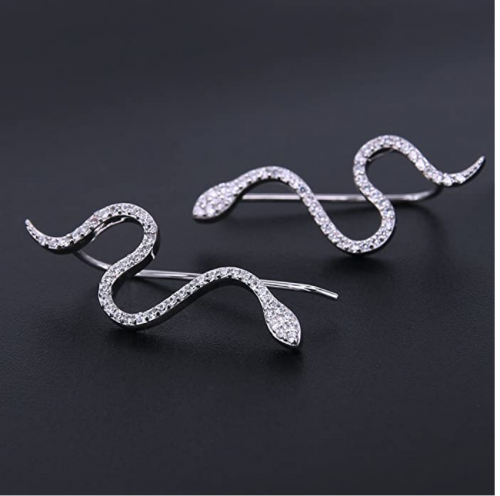 Sterling silver
Cubic zirconia
90-day return policy
The snake climber by AEODEJ is a must-have! The snake is a symbol of many things, from eternal love to good luck. This set is made with 925 sterling silver and contains dazzling AAA cubic zirconias in the shape of a sleek snake. They are petite and delicate yet bold and fashionable earrings measuring in at 0.47"x1.14".
Read more
The set is available in black, silver or rose gold. When purchasing jewelry from AOEDEJ, you can be sure that their products are exquisitely crafted with high-quality materials and that they value customer service dearly.
This design in particular was made to compliment any style and be a luxurious fashion statement. When wearing a snake ear climber it is best to allow this piece to be the centerpiece and to not cluster any other pieces on your ear.
FAQs
q:

What are climber earrings?

a:

Climber earrings are one of the most popular accessories on the market today. They're also available in several styles and sizes, with some covering the lobe and others up the entirety of the ear. Their primary purpose is to add glamour to any outfit without requiring more than one piercing.

When worn, you'll have the climber in a single hole, and the embellishments will travel up your ear. They're uniquely designed to stay in place throughout the day, so you won't have to readjust your accessories.
You'll find many fashionable celebrities love them as well.
q:

How do you wear ear climber earrings?

a:

Climber earrings are easier to wear than they appear, especially with some of the more over-the-top styles. All you have to do is put them in your piercing as you would a stud. Ensure the backing is tightened, and adjust the earring as desired based on how you want to wear it.

For example, you can have the embellishment facing upwards towards your cartilage. The best look is to have the earring appear like it's crawling upwards.
q:

How do you keep your climbing earrings in place?

a:

Climbing earrings should be able to stay in place with the post they arrive with. However, some designs can be heavier than others, making them more likely to shift over time. In this instance, you can find unique tools to prevent the earrings from moving on their own.

Our recommendation is to find stoppers, which go on the post after the standard backing. The stoppers are designed to prevent the closure from slipping, which can loosen the earring, causing it to fall.
Finally...
The alluring ear climber earring is a very popular jewelry trend that is easily becoming a favorite fashion piece for both Hollywood celebrities and the everyday girl who just loves fashion.
This piece of jewelry is essentially a pierced earring that travels all the way up the ear or the more subtle designs just cover the length of your earlobe. It can be worn on its own for an asymmetrical look or as a pair.
Many celebrities have been rocking ear climbers on the red carpet and in their everyday lives, pairing the same versatile earring trend with gowns and jeans.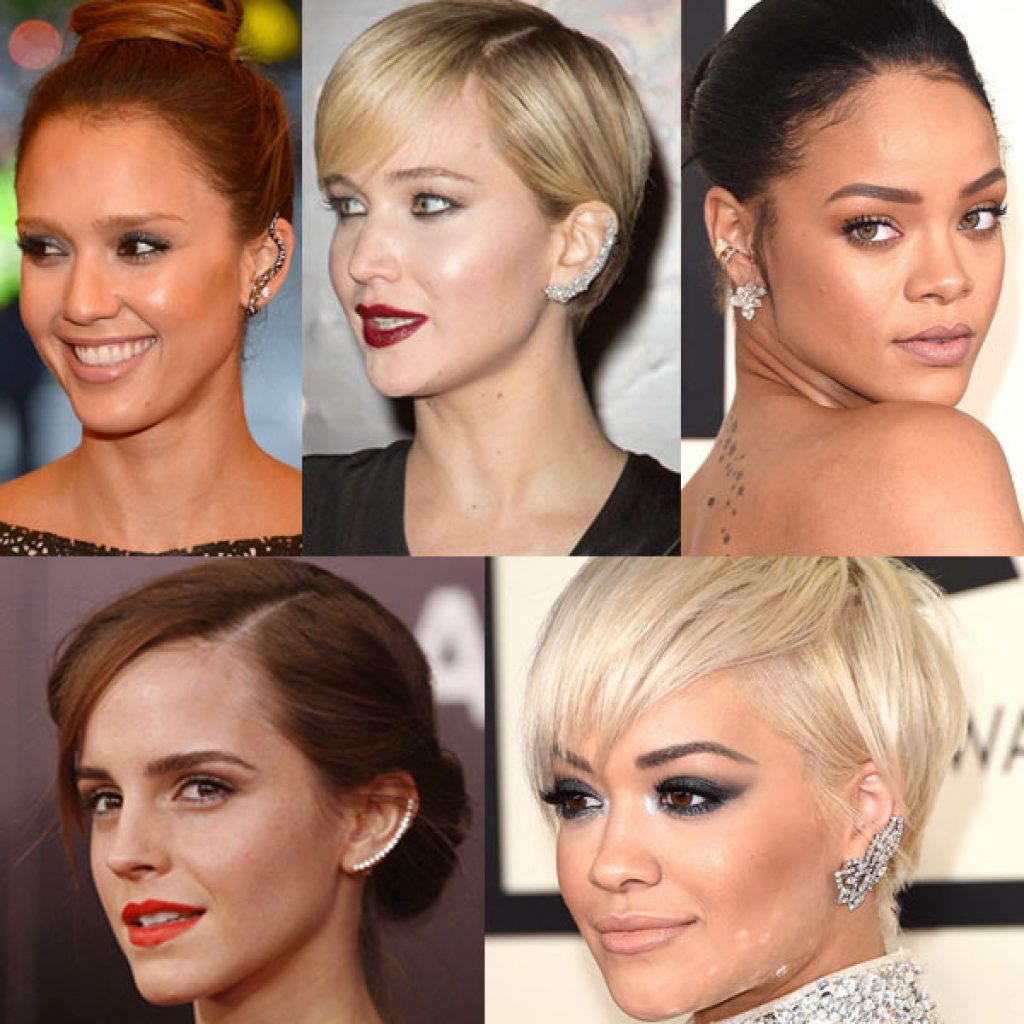 A few celebs we have seen sporting the hottest trend in ear fashion are Emma Watson, Jessica Alba, Jennifer Lawrence, Bella Hadid, Rhianna, and Gigi Hadid. Whether you are trying to add some spark to your outfit or show off your flair, these ear climbing constellations of bedazzling jewels are definitely a must-have fashion piece!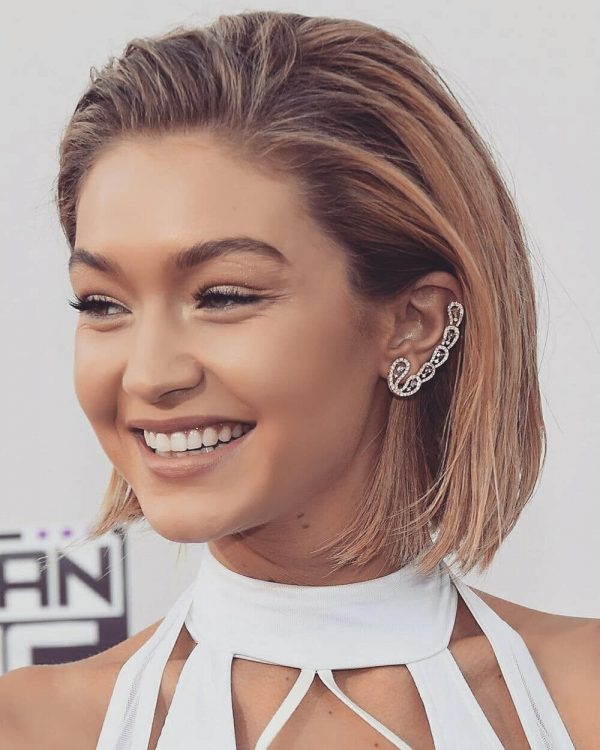 Ear climbers come in many different sizes and shapes, they can be large and attention-grabbing or delicate and dainty. They can also be the only piece you need to wear or a perfect complement to other earrings if you are going for the stacked look.
However you decide to wear your ear climbers and whether they are large or dainty, they will surely be the centerpiece of your fashion statement.
We have selected our top 10 favorite ear climbers that range from big and bold to small and sleek. Keep up with the hottest trend in fashion and have fun adding a bit more character to your outfits!