Our Favorite Custom Personalized Name Rings!
last updated:
Feb 07, 2020
If you thought that its only name necklaces and bracelets that come with personalized names, then think again since we now have name rings as well!
The beauty of name rings is how personalized this type of jewelry is. No matter if you decide to have a ring custom-made with your name or the name of someone you love, it will still be a one of a kind piece of jewelry!
We love name rings and our Editor in Chief, as well as a few members of our team, have been showing off some pretty gorgeous and perfectly stackable name rings.
This is why we have sourced the internet for a range of exquisite custom rings that come in all metal types, price ranges and look fantastic if you ask us (yes, the team writing this article has purchased option 1 and 3, we just couldn't resist!).
Best Custom Personalized Name Rings
1

. Jeulia Stackable Name Ring
Made of sterling silver
Accented with a sparkling birthstone
Hand-stamped with a name of your choice
This stackable custom ring by Jeulia will be the sweetest option if you want a ring that's subtly elegant and dainty. It's also the perfect meaningful and memorable birthday gift for someone close to you!
Read more
The lovely ring is custom made with a sparkling birthstone inset.
It offers a flawlessly clean design with a splash of color and sparkle thanks to the birthstone which you can choose (depending on your choice the color of the stone will change).
Crafted in 925 sterling silver, the sparkling birthstone is handset into a bezel.
As we said it's a highly customizable piece that offers you a chance to put a name on it (literally) and choose the gemstone it comes with.
All you need to do is provide the jeweler with a name (up to 12 characters) and a birthstone of your choice.
The designer has included a ring size guide meaning you can have it made in a variety of US ring sizes from size 3 to 14.
The name is hand-stamped in a typewriter-style font in lower case. Adding the birthstone just makes it sweeter and cuter as well as more personalized!
This ring will look fabulous as a solo piece, especially if you are looking for a minimalist daily accessory.
But you can also stack it with multiple rings since the band is not chunky nor heavy.
Moving onto the price point. This gorgeous custom ring is upper affordable, the more reason why we believe it will make for a great gift as well!
2

. Teeny Tiny Stacking Sterling Silver Ring By Hannah Design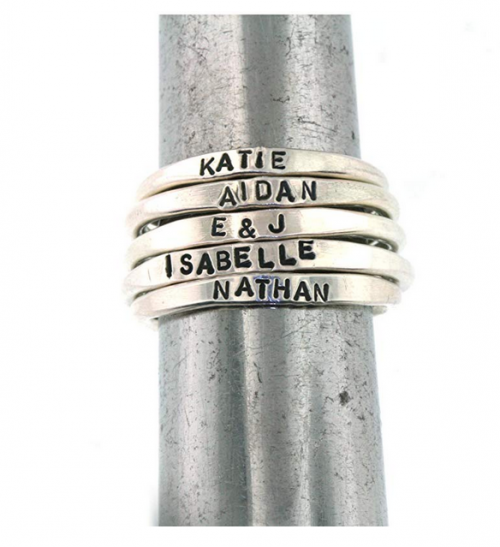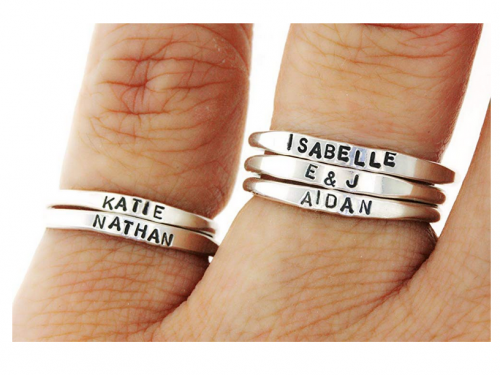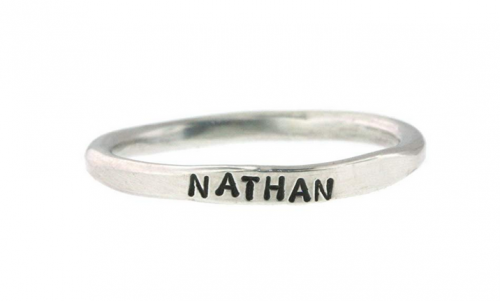 Made of sterling silver
Hand stamped with a name or special date
Available in different sizes
Here is another pick that gives you styling choices and meaning. Made with .925 sterling silver, the custom ring by Hannah Design is super cute and perfect for those who love tiny stacking rings.
Read more
The beauty of name rings is that they are highly customizable, and you can easily design each individual ring to suit your personality or give it a special meaning.
This ring's band measures approximately 1.3mm and features a flat surface where each letter is hand-stamped in upper case.
However, you are limited to 10 characters, which is still enough to spell a name.
If you want to add another name or date, you can always get another ring as these super cute rings are dainty and stackable, and the price is budget friendly.
In fact, we love the idea of getting 2 or 3 of these, each personalized with something different (a name, a date, a word that means something to you!).
3

. MignonandMignon Name Ring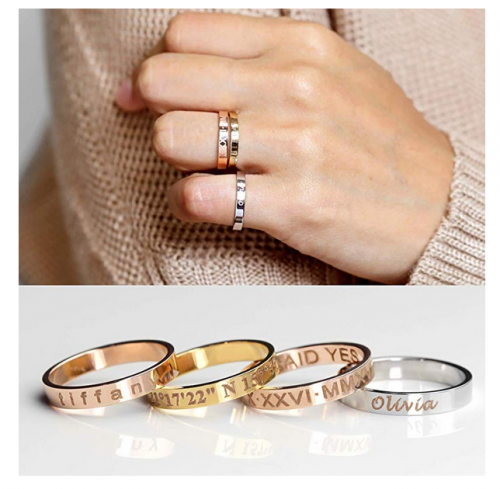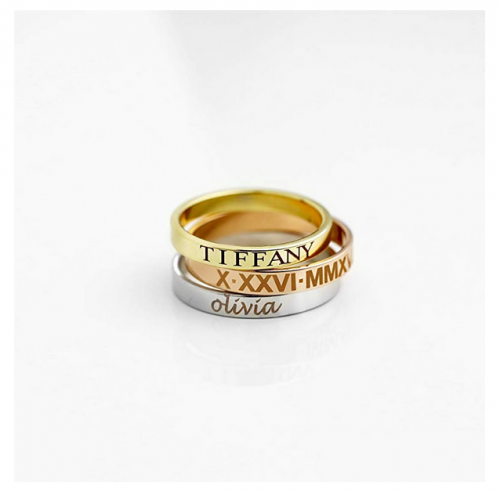 Features a gold-plated base
Available in gold/silver/rose gold
Now look at these beauties, super shiny, polished, elegant and stackable. And we just can't figure out if we prefer them in silver, gold or rose gold, they're just so perfect!
Read more
Just like the earlier option, this pick also makes for a meaningful and thoughtful gift for loved ones on special occasions such as birthdays, anniversaries, Mother's Day (if you get it for mom you can always steal it for yourself!).
And the fact they the ring is so reasonably priced gives you more reasons to buy several pieces either for stacking or making more than one gift.
Above all, this is a quality ring, minimalist and elegant. The ring's band is made of a gold-plated base.
You can have it gold-plated, silver-plated, or rose gold-plated depending on what you prefer most. It's also available in different sizes.
The best part about it is the engraving option. You can have the text engraved in upper case gothic or lower case gothic or handwritten.
You are not limited to names only; you can include dates, initials, other languages, and special characters.
We particularly like the sleek design and the flat, wider band which makes it a unisex ring if you ask us!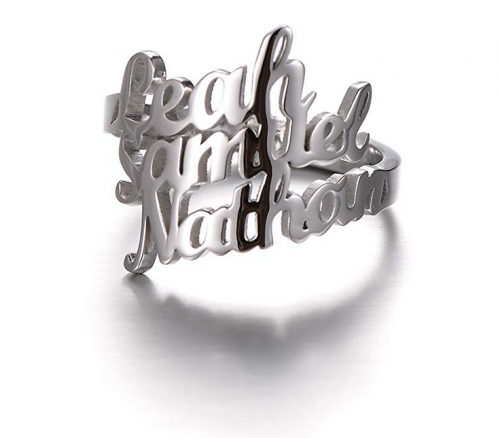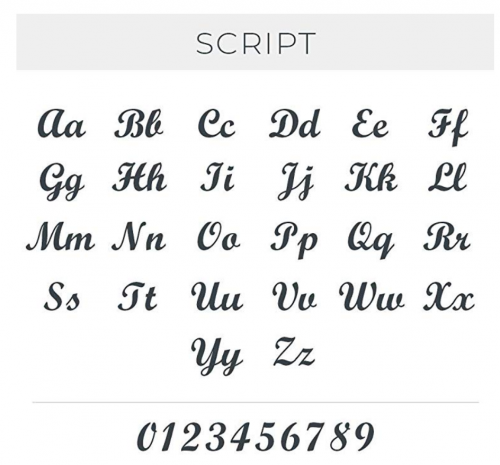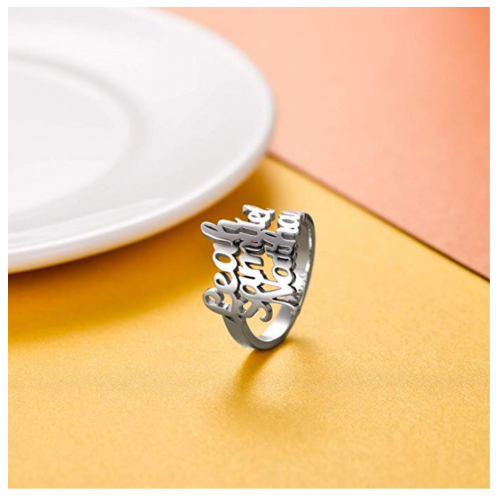 Made of 925 sterling silver
It can be customized with three names
Available in different sizes
If the quality of life is based on people who surround you with love, then this pick will mean you have it all.
Read more
With a playful design, the custom ring by PEIMKO is the perfect piece to show off your love for the people who matter most.
If you are not keen on having names on this ring, you can include initials or texts to express your unique self.
It is crafted from high quality 925 sterling silver, meaning it is lead and nickel free as well as hypoallergenic.
Here is the good news about this ring. You get to include three names, each with a maximum of 6 characters, and the first letter can be capitalized!
When we said you could have all your dear ones on your fingertips, we meant it. All you need to do is give the jeweler your personalization details.
This is also the perfect choice for those who want a personalized piece of jewelry engraved with their motto, some inspiration words or just something they believe in.
Once personalized with whatever you have in mind, the ring stands out like a small crown on your finger.
This option is sure bolder so we wouldn't choose it for stacking but rather as a statement ring.
For the high quality and the unique design, this custom ring is reasonably priced and a great value for your money, no doubt about it.
5

. Caitlyn Minimalist Custom Name Ring in 925 Sterling Silver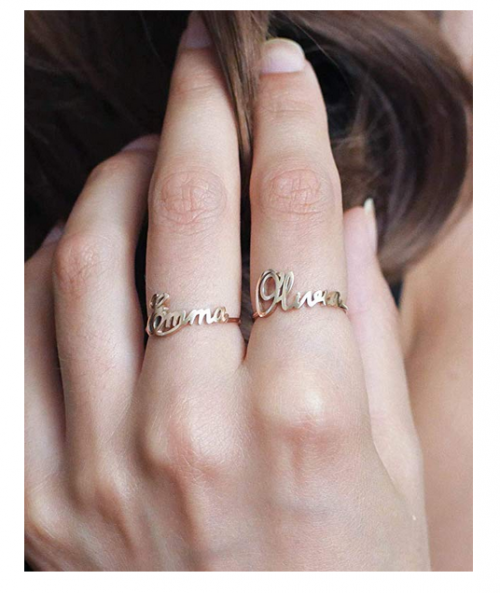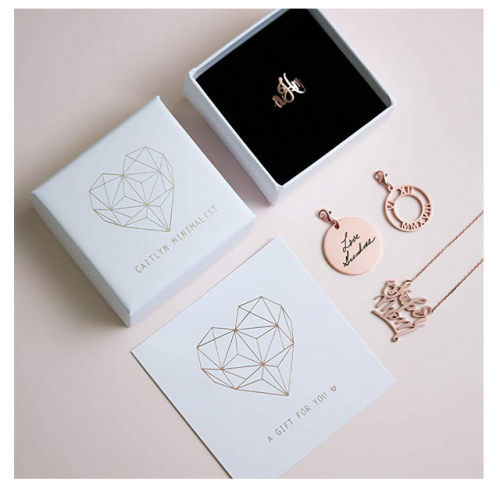 Crafted from solid sterling silver
Finished in different plating
Can be customized with a name or word in any font
This lovely ring gives you a sweet accessory and a pretty unique ring in terms of style all in one piece. It is just so cute we couldn't leave it out on our top 10 favorite picks.
Read more
Made from high quality solid 925 sterling silver, it's crafted with a flat design for exceptional wearability.
You also get to choose the plating and finish which include sterling silver, 18K gold and rose gold.
But it's the letters you choose for personalization that complete this ring and give it an exceptionally unique design.
You can choose to include any name or a special word in any font of your choice.
This ring has a delicate vibe. It perfectly wraps around your finger and despite what you think when looking at it, it's super comfy to wear.
We love the idea of getting a few (in different colors) and wearing one on multiple fingers!
The price tag? Less than what you'd pay for for a couple of drinks at your local pub.
6

. Stamped Love Dainty Name Ring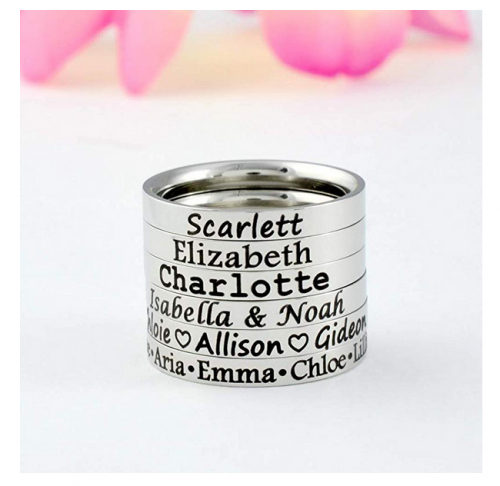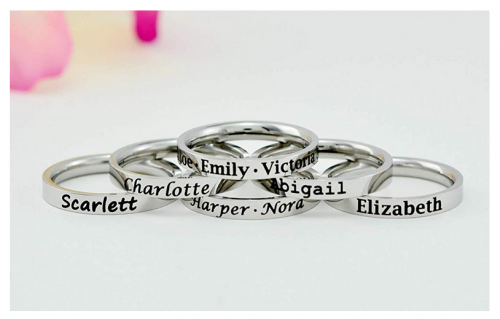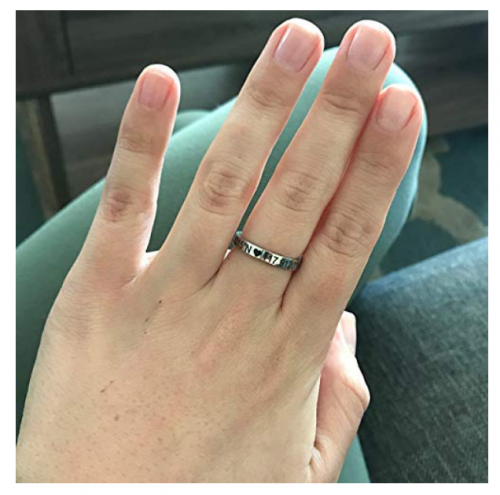 Made of stainless steel
Available in 3 different colors
Gives you a choice of two font options
There are so many ways to show love to the people who matter most in your life without having to say it all the time. And we may have found the best way to say it.
Read more
This unique custom ring engraved on the outside will make an excellent personalized gift for yourself or your soul mate.
This custom ring is simply amazing, and it's one of those pieces that will look gorgeous when paired with your casual jeans and a simple white tee.
Crafted in stainless steel, this is one of our special picks that can be personalized with several names, special characters like a love symbol, meaningful dates, or inspirational words.
It gives you plenty of options to create a customized piece that you can flaunt with pride and in style.
Designed with high-quality polished metal ideal for sensitive skin, the custom ring is perfect for everyday wear.
Even better, it's available in three different platings; original silver-tone, rose-gold, and gold-plated, which gives you plenty of choices.
It measures approximately 3mm with a half-round design inside for maximum comfort.
With an incredibly affordable price tag, there is nothing to stop you from adding this one to your cart!
7

. MignonandMignon Disc Ring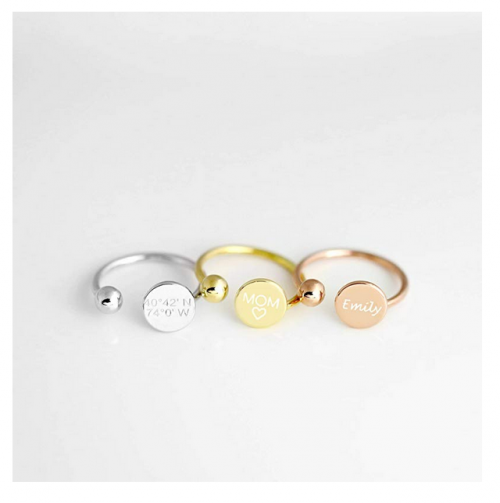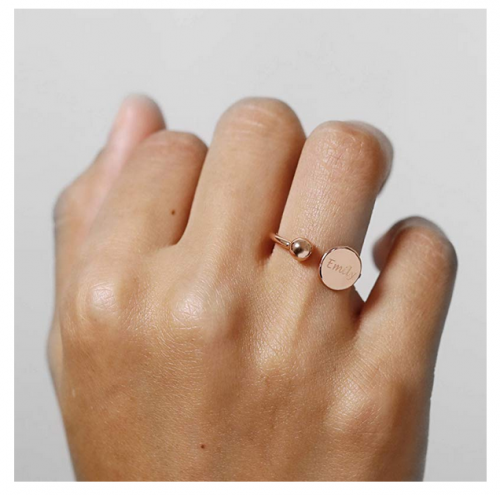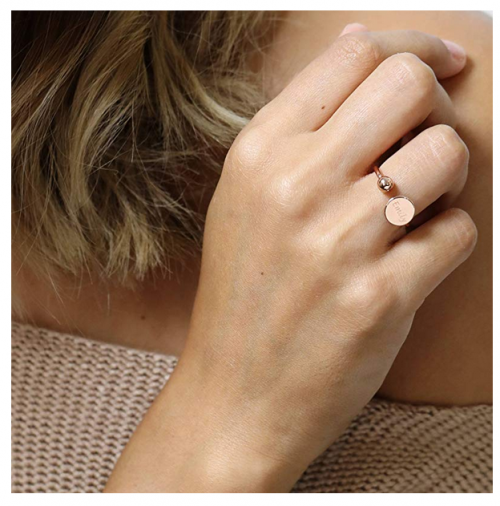 Crafted from a gold plated base
Adjustable open design
Available in three platings
Look at this disk ring; isn't it just so cute? We like this option mainly because it's so sweet as well as quite different from your usual custom name ring.
Read more
When it comes to rings, it's all about the meaning, and this disk ring is full of it.
It includes a coin with ample space that allows you to add a name, initials, a special date, or a sweet message.
We're thinking this is something we would give our bridesmaids or besties on a special occasion!
Featuring a gold-plated base, there are three platings to choose from which include rose gold, gold, and silver.
And because it has an open design, it is easily adjustable, meaning you can adjust it to any size you want or even wear it on any finger.
Pair this lovely ring with a coin necklace, or if you want it to stand out, wear it as a solo piece; we promise you it won't go unnoticed!
And guess what? This ring so affordable it's almost a crime not to order one immediately.
8

. Lam Hub Fong 2-Birthstone Ring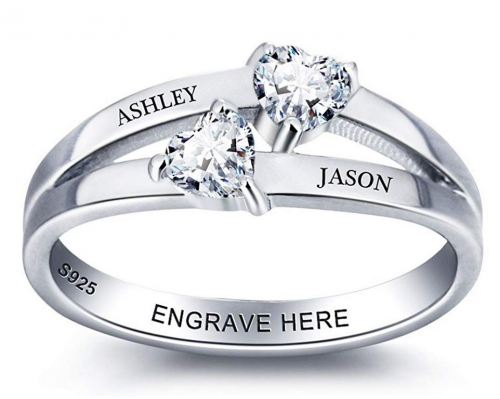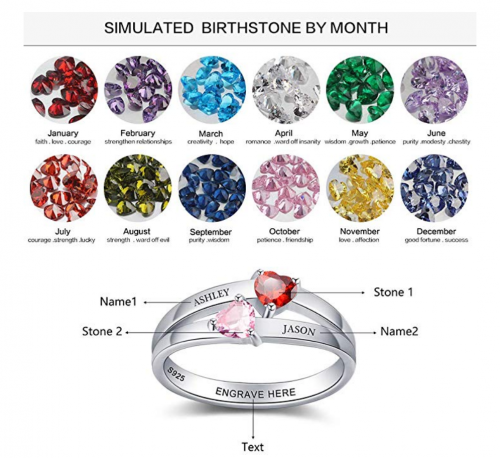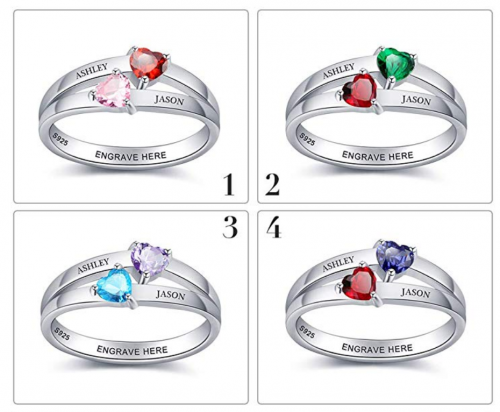 Made from rhodium-plated brass
Features two cubic zirconia gems
Highly customizable
Personalized, stunning, and dazzling is what this Lam Hum Fog custom ring stands for and we couldn't agree more! It was crafted with bling bling in mind, and it came out just right.
Read more
The presence of the 2 simulated birthstones that embellish it makes this custom ring a beautiful piece of jewelry regardless of how, were and when you wear it.
You can make it more special by including 2 names or significant dates or even a special phrase inside the ring's band!
For anniversaries, Valentines, prom night, or even an engagement, this one always goes.
We love the idea of choosing the birthstone of your partner and yours and engrave both your names on it!
This ring crafted from rhodium-plated brass and it's buffed to achieve an exceptional finish.
It comes with 2 cubic zirconia gems each held in place in a 2-prong setting.
It might not be the cheapest ring on our list, but it's still worth every penny!
9

. Gem Stone King 3-Name Ring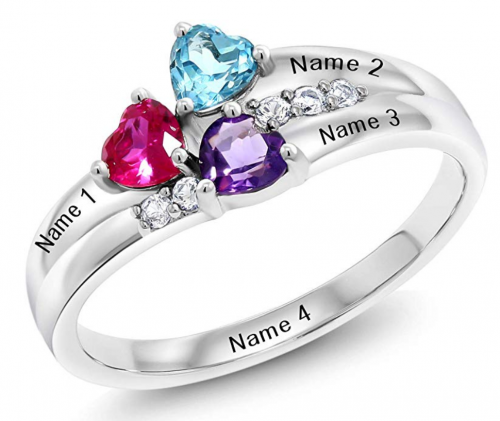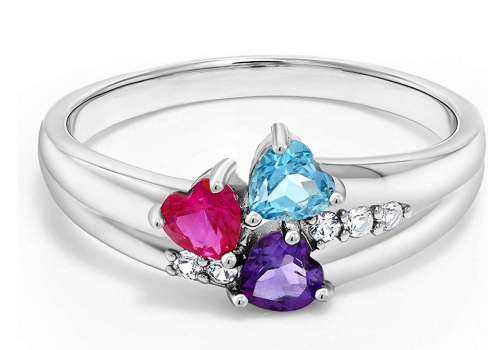 Made of highly polished sterling silver
Features multi-color round hearts and arrows in created sapphire
Show off your love for the people you love by wrapping your finger with this elegant sterling silver custom ring that gives you an option to engrave not just one name but four of them!
Read more
Exquisitely crafted in glistening sterling silver, the custom ring is a lovely symbol of love with three round heart-shaped, multi-color birthstones in created sapphire.
You can choose to include the names on both sides of the ring or add a sweet message on the inside of the band.
This is a meaningful ring that makes an excellent gift for special occasions.
You might have to spend a little more money to get it, but one glance at it, and the price tag won't bother you at all.
10

. The Copper Phoenix Stacking Name Rings - Set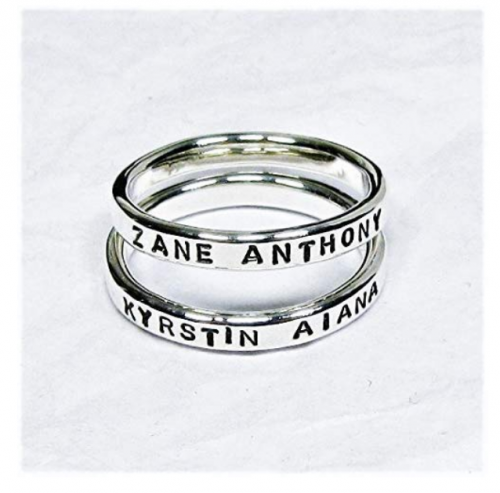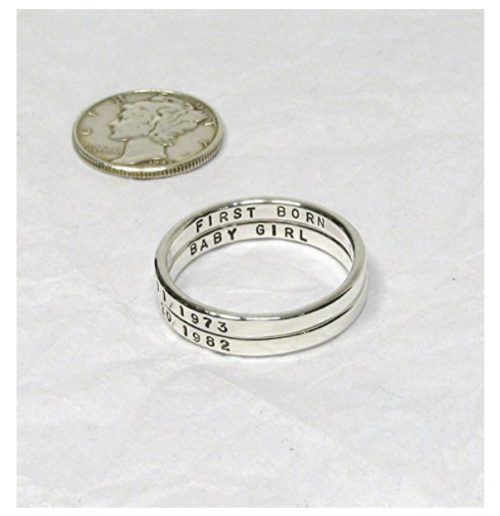 Made of sterling silver
Letters blackened with a permanent oxidizer
Available in different sizes from size 3-13
And the last pick to make it on our list are these two stunning pieces that come as a set of name rings.
Read more
The two custom rings are designed to perfection and are perfect for stacking since each ring complements the second one.
Measuring approximately 2.4mm in width, these name rings feature smooth rounded edges designed to give you maximum wearability comfort.
Of course, we love the sterling silver not only because its sturdy but also because its polished and buffed into a gleaming mirror finish.
Both pieces can be customized by adding names, birthdates, or a special text in upper case outside and inside the band.
Since it's a set of two, you can coordinate the rings with names and a special message.
The price tag is quite reasonable considering that you are getting two personalized rings!
Criteria Used for Evaluation
Wear Comfort
A custom ring is a versatile piece that you can wear every day. For this reason, it should feel comfortable around your finger and the sizing should be just right.
We were careful to pick options that offer different ring sizes to choose from, and most picks include a size guide.
We also included picks with open designs that give you the option to adjust the ring to a comfortable fit.
Jewelry Metal & Gemstone Quality
Your safety is our priority, and that's why we aim at picking pieces that will not cause any irritation to your skin.
If you look at our selection, you will notice that most of the rings we picked are made of a gold-plated base, sterling silver, or stainless steel. All super safe metals.
If the metal used is of high-quality, it also goes to show that it's durable. Your name ring is a precious piece that holds a deeper meaning; therefore, it should last long enough to give you years of happiness!
Some of the pieces selected included simulated birthstone gems because your name ring will feel more personalized if it matches your birthstone.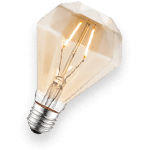 Styling tips
Name rings are cute accessories that can hold a deeper meaning. Who wouldn't want to show off their name or the name of their soul mate with a sweet piece of jewelry?
Miley Cyrus showed off her love for her new bae with a name ring bearing Cody Simpson's initials "CS," and she stacked it with several other rings. We love it!
Khloe Kardashian, after giving birth to her daughter True in 2018, was given a custom ring with the name True engraved on it by her bestie Malika. The ring was simply gorgeous!
You can wear your name ring as a solo piece and let it make a statement about you. It will add a bit of awe and a distinct style to your personality.
Styling tips
You can also stack and combine a selection of name rings to create a look that tells your story.
Mix metals, colors, one or more name rings, and other rings to create your own brand of accessorizing.
You can layer your stackable name rings on one finger, or wear them across multiple fingers because when it comes to stacking your custom rings, there is no limit!
If you are looking for a more subtle way of wearing your personalized rings choose dainty options with a flat, simple band and stack them together on one single ring.
FAQs
q:

What is a name ring?

a:

It's a personalized ring customized with inscriptions such as names, significant dates, initials, or special texts or characters.

It can be made in gold, rose gold, sterling silver, or a stainless finish depending on your style.
q:

How many letters can fit in a ring?

a:

The number of letters engraved on a ring will depend on the jeweler and the design of the ring, but a standard ring can fit up to 26 letters.

The designer will fit your name within the specified number of letters. You can have multiple names carved into a ring.
q:

Can I wear my custom name ring(s) on any finger?

a:

There are no definite rules on which finger you can wear your name ring(s). You can stack your rings on one finger or wear them across multiple fingers.
Finally..
Customized jewelry adds meaning to your personality, empowers and identifies you.
It's a representation of who we are and those that we love. It's not surprising that for years and decades, name jewelry has been a favorite with people.
A custom name ring is designed to give you the option to choose the way your ring will long and add a bit of distinctness to your personality.
Most bear the name of a special person (your boyfriend's name, your kid's name, mom's,or even a friend's name).
Isn't it just awesome how you can wrap the names of your choosing around your fingers (no pun intended!).
We believe that a name ring can be a heartfelt statement piece to wear on a single finger or stacked/layered up on multiple fingers.
Whether you choose to go for a plain script ring or stackable name rings or rings with sparkly birthstones, you will not regret spending your money on it.
And if you are looking for a thoughtful gift for someone close to your heart, we think a custom name ring is the one piece of affordable jewelry that will make their day as well as yours)!