Turtle Necklace Selection and Turtle Jewelry Meaning!
last updated:
Jun 12, 2021
Turtles are a memorable symbol that shows your connection to Mother Earth in Native American cultures.
It's also a brilliant embellishment that pairs perfectly with your other favorite pieces of beachy accessories.
Whether you're looking for an attention-getting piece for yourself or a loved one, there are numerous styles to consider.
Let's take a look at some of the most charming turtle necklaces that everyone can wear with confidence.
Our 9 Favorite Turtle Necklace Picks!
1

. Jessica Simpson Turtle 3 Piece Set
Gold-tone metal
Three-piece set
Semi-precious Amazonite charm
16" maximum length
Stackable necklaces have never been more popular than they are now. They allow you to achieve the perfect elongated touch, accenting the most desirable part of your neckline.
Read more
The color profile of this set is spectacular. It captures the true beauty of tropical exploration with glimmering gold and a soft, pastel turquoise.
You will also love how the focal point of all three pieces is the turtle pendant, as it's the only charm with turquoise.
Each of the chains has a prismatic style that works well with one another. The longest chain also has the most prominent links while working perfectly with the two thinner accent chains.
The individual necklaces are designed with independent clasps, making them easy to take off as needed.
It's important to note each chain is made from gold-tone metal. Also, the turtle bears a semi-precious Amazonite stone, which is likely to damage with exposure to oil.
2

. Aurelie Bidermann Turtle Choker
Multistrand fabric necklace
Gold-colored turtle charm
Nickel-free metal
Green/gold braided necklace
If you've been lucky enough to visit Hawaii, you know how captivating the islands can be.
The Aurelie Bidermann Honolulu choker beautifully captures the essence of the famous tropical destination.
Read more
All of the materials are corrosion-resistant, making them ideal for an assortment of activities.
Instead of using traditional metals for the necklace, you'll find a multistrand necklace made from fabric.
The entwined gold and green colors work perfectly together with subdued hues that capture its tropical essence.
We love the simplicity of the choker, as it looks handmade, almost as if it's a friendship necklace created just for you.
Also, the adorable little turtle pendant is sure to capture the attention of on-lookers, thanks to its chic styling.
3

. Amazon Collection Jade Turtle Necklace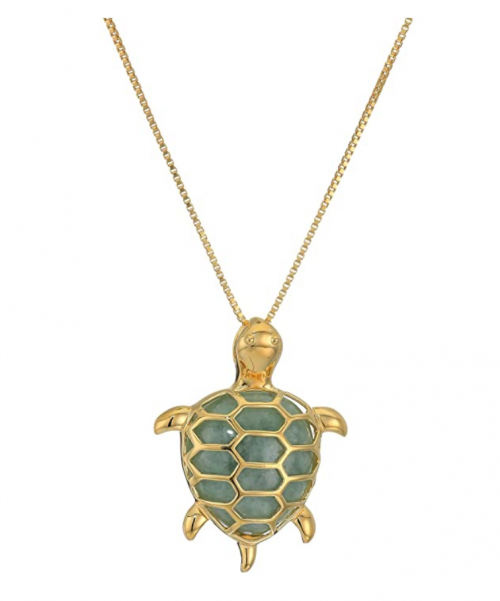 Hand-crafted
18 k gold-plated
Natural green jade stone
We love this whimsical jade turtle necklace! It is a gold necklace with a box chain and has a spring ring closure. This piece is yellow gold-plated over 925 silver. The pendant is 18K gold-plated.
Read more
One of the really nice things about it is you can take the turtle off and swap it out with a different pendant. That gives you some versatility.
The stone is specially cut for this pendant; it is held in by prongs on the back. The color is light green to a darker green.
The turtle is about the size of a quarter. The flippers and the tail extend from the shell. The attention to detail in this piece is spectacular.
The price for this pretty necklace is upper affordable. But, we don't mind because of the quality and the beauty of the piece.
The chain is 18 inches and the metal weight is 1.84 g or 0.06 ounces. The stone weighs 11.75 carats.
4

. Mevecco Gold Dainty Necklace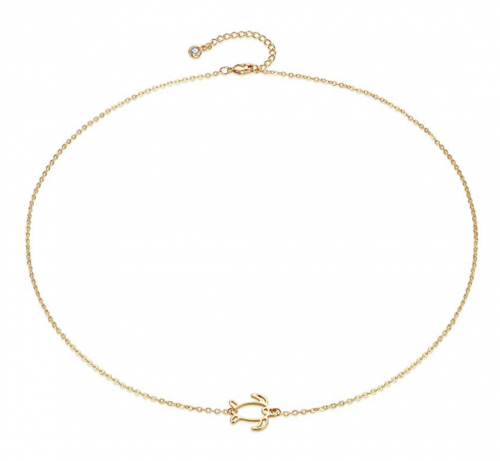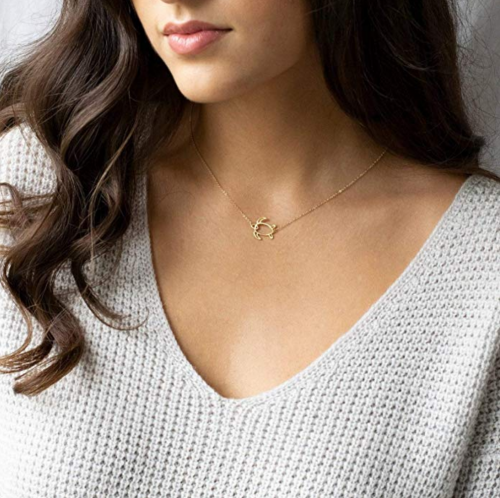 14K gold-plated
Lobster claw clasp
Affordable
This is a beautiful gold turtle necklace. Both the chain and the pendant are 14K gold plated over high quality brass. It is lead and nickel-free.
Read more
The turtle is shaped in gold and the shell and the flippers are hollow (by hollow, we mean empty in the middle).
The pendant is an outline of a turtle and the flippers. The chain is a rolo chain; it is attached to the head and the tail of the turtle.
The turtle is directly opposite the clasp on the chain, so the pendant hangs in the center of your chest. The clasp is a lobster claw clasp which means it's super easy to put it on or take it off.
The price point for this turtle is very inexpensive. We think it's a steal if you take into consideration the quality of the material and the beautiful design!
The chain is 17 inches with a two inch extender. That gives you versatility from 17 to 19 inches in length.
5

. Victoria Jewelry Blue Opal Necklace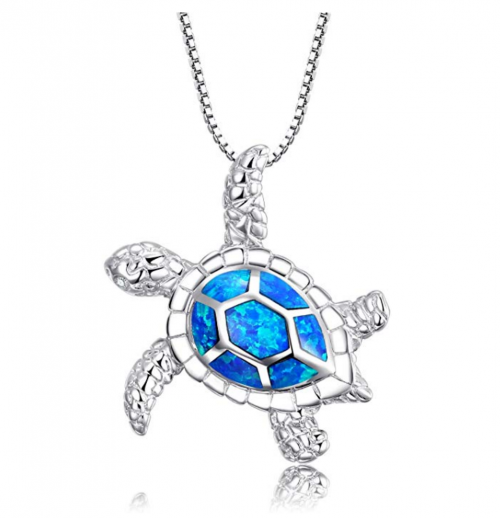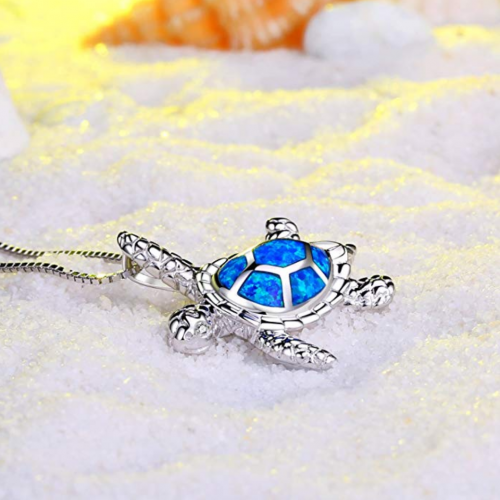 Real S925 sterling silver
Hawaiian design
Created opal
While the opal is the birthstone for October, we don't care. This turtle necklace is so pretty you can wear it anytime, birthstone or not. The design is pure Hawaiian turtle necklace.
Read more
The turtle is crafted to make it look like it's hanging on the chain, or maybe it just wants to come along for the ride.
We don't know the designer's intent, but we do know we would wear this anytime. The chain's a silver box chain. The turtle has exquisite detail on the flippers, feet, tail and head. It almost looks real! 
Also, there is detailing all the way around the shell. The blue opal used for the shell is wrapped in a silver 925 cage. This stone is a gorgeous blue green color, giving this turtle the look of the sea.
This gorgeous necklace is worth every dollar you will spend. It has a mid-price point which makes it attractive budget-wise as well.
This chain is 18 inches long. The stone is 0.04 carats.
6

. Amazon Collection You and Me Necklace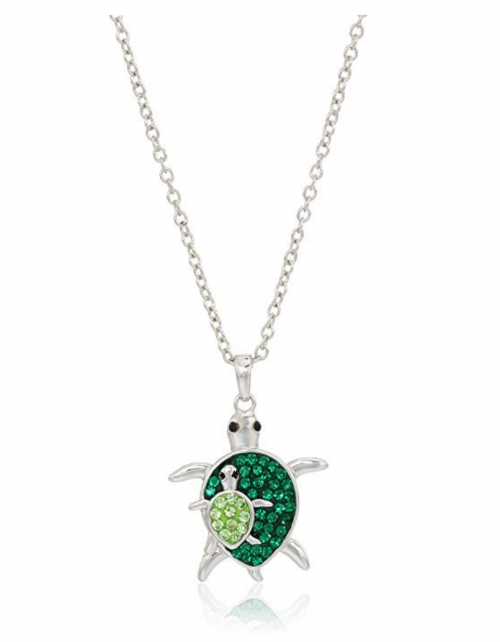 Genuine emerald
Peridot stones
40 sparkling stones
Shed the thought that an emerald and peridot are the birthstones for the month of May. If you love green, this is your necklace. On the silver rolo chain, you get not one but two turtles!
Read more
There is a mother with a baby on this pendant. The bigger turtle features an emerald pavé setting and the baby has the peridot.
Mom has a tail and baby does not; however,  each of them has front and back flippers. The mom is carrying the baby on her back which is a very adorable and a great design to symbolize the love between a mom and a daughter or son.
This is why we think this pick would make for a perfect gift for a mom either on her birthday or Mother's day!
There are 40 stones used in this setting and they are sure to give you sparkle and shine.
This piece is affordable and the necklace is 18 inches long; it is not adjustable.
7

. AeraVida Abalone Shell Necklace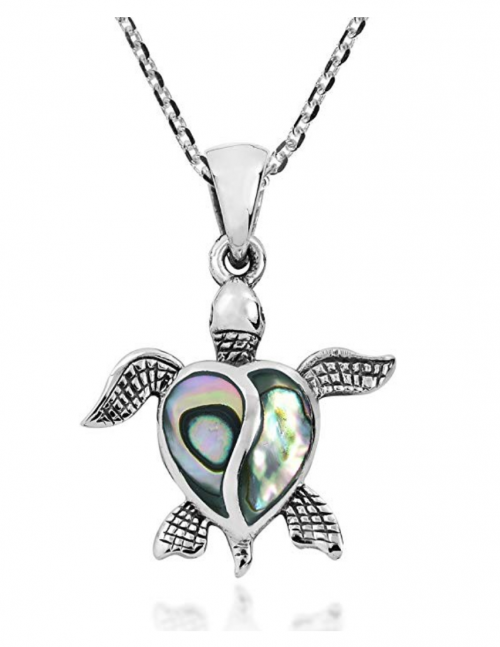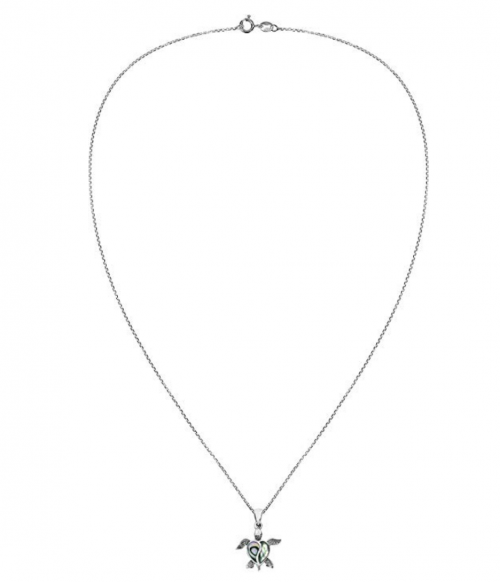 925 Sterling Silver
Abalone shell stone
Handcrafted by artisans from Thailand
Isn't this pick just beautiful! It's made of stamped 925 sterling, giving it authenticity. The piece of jewelry is handcrafted by Thai artisans which makes it even more unique.
Read more
The head and flippers have really good detail. The flippers, head and tail have a checkered etching. The shell is a heart shape and there are two abalone shells inlaid in the shell.
They are opposing and opposite each other, fitting together like a puzzle. From the back, the shell has a concave shape, making it rounded like a turtle shell. A ring is in the mouth and a bale attaches to it.
The bale is attached to a cable chain. There is a round spring ring clasp.
The necklace is super affordable and perfect for those with a limited budget on their hands.
The turtle pendant is 0.75 inches wide and 1.02 inches long including the bale. It weighs 3.9 grams, or 0.13 ounces. The chain is 18 inches long.
8

. Sea Life Collection Honu Charm Necklace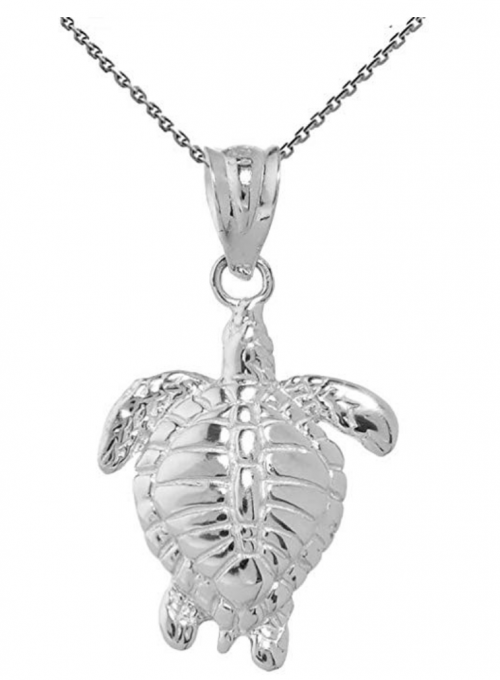 925 sterling silver
Made in USA
Free gift packaging included
This particular silver Hawaiian turtle necklace is very pretty. It's 925 sterling silver through and through. The piece is made in the us and ships directly from the manufacturer.
Read more
It has a beautiful polished finish. The chain is a rolo chain and has a spring ring clasp. The pendant is held to the chain by a bale and the bale holds the ring that attaches to the turtle's mouth.
It is a solid piece with great detail. You can see the outlines on the shell and the flippers. The shell and flippers aren't completely symmetrical, so it looks like the turtle is swimming!
The price point is creeping up from upper affordable. However, if you consider that you also get a free gift packaging option included when you buy this piece, it's worth your pennies.
The turtle pendant can be purchased in lengths of 16, 18, 20 and 22 inches.
The pendant is almost one inch tall and a bit over half an inch wide. It's about as big as a penny. It weighs 1.90 grams, or 3.17 ounces.
9

. Kay Peridot Turtle Necklace
Oval peridot
Lab-created white sapphires
18" box chain
Sterling silver
The Kay peridot turtle necklace in sterling silver is a high-end choice if you're in the luxury market. With brilliant finishes, this elegant piece is sure to capture the hearts of fans of radiant jewelry.
Read more
The playfulness of this necklace is perfectly captured in the beautiful oval peridot nestled in the center of the pendant.
This flawless gemstone is clearly the focal point of the entire necklace, especially as it's encircled by round period gemstones.
Each of the gems is perfectly supported, ensuring they remain in place after years of daily wear.
Another exceptional detail that's sure to draw attention is the lab-created white sapphires that complete the piece.
The turtle pendant hangs gently from the thin box chain, adding plenty of comfort for all-day wear.
You will appreciate the chain's length, offering 18" of drop, ensuring the pendant falls perfectly in the center of your chest.
Fortunately, the necklace boasts an adjustable clasp, allowing you to customize how it's worn.
Criteria Used for Evaluation
Style
We have quite a few criteria we use while picking our pieces. For these picks, the main one was, of course, turtles…and…awesomeness when it comes to style!
We wanted to show you pieces that were pretty and attractive. Let's face it…if your turtle necklace doesn't look awesome and doesn't match anything you wear, you won't wear it. We wanted pieces that were going to look great on you and reflect your personal style.
Wear Comfort
Another criterion was ease of wear. We didn't show you anything too heavy and in fact, all were the total opposite.
The bottom line is, with our picks, we want you to be comfortable all the way around. We want your jewelry to be something you look forward to wearing, or it's a waste of your money.
Jewelry Metal & Gemstone Quality
We wanted to bring you items that were sturdy and, wore well. With the proper care, these pieces will bring you years of love and great wear.
Necklaces are always going to be in style. And whether you are environmentally friendly and want to wear your necklace for a cause or you just love turtles, we wanted to show you turtle necklaces that will last you a long time.
In the end, nothing brings more satisfaction than getting a good deal. These items will give you great value for the money you'll spend. When cared for properly, our picks will flatter you, wear well and last a long time.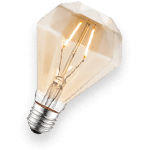 The meaning behind the gemstones: peridot
One of the gems in our list is the peridot stone. Cleopatra's emerald collection turned out to be peridot. Egyptians called this stone the "gem of the sun". It's also the August birthstone and the stone to give if you're celebrating 16 years of marriage.
Some believe if the gem is set in gold that it may dispel nightmares and bad dreams. Others think it will aid friendship and free the mind of envious thoughts.
The meaning behind the gemstones: emerald
Emeralds are also included in some of our jewelry picks. The emerald is to improve eyesight, memory, and intelligence, maintain chastity, heal the flesh, skin and cardiovascular system, and is associated with the skeletal system as well.
It is supposed to cure many ailments such as colic, burns, headaches, influenza, epilepsy, high blood pressure, cancer, and many, many, more.
FAQ
q:

What is S925 silver?

a:

S925 indicated that the piece is sterling silver.
q:

What is jade?

a:

Jade is an ornamental mineral that is usually green in color.
q:

What does it mean when a gemstone is created?

a:

It means that the natural stone has been reproduced synthetically to look like it's real. It's a chemical process.
q:

Are emerald and peridot the same?

a:

No, they aren't. Obviously, they are different shades of green. Peridot is less expensive than an emerald.

It's hard to find an emerald that is eye-clean which is why they're more expensive, while and eye-clean peridot is more abundant.

Emeralds usually are subjected to various treaments to improve clarity, while peridot are good from the start. Peridot is softer than an emerald.
q:

What is eye-clean?

a:

Eye-clean means that you can't see any flaws with the naked eye.
q:

What is gold-plated or rose gold-plated?

a:

Generally this means a piece was made of an alloy and is coated with a more precious metal. When a piece is coated with gold or rose gold, it is less expensive than one made entirely of the precious metal.
Finally...
The turtle has many adventures during its lifetime and comes back wiser and stronger. Just like a turtle, you will come out wiser and stronger after scanning our pics. We have made it that easy!
From here, it's all up to you. You will need to take care of your necklace. If you want to keep your pieces for a long time, there are several guidelines to follow.
Most of the guidelines are standard for taking care of any type of jewelry. We can offer a few tips, however.
Make sure not to get lotion, perfume or any type of chemical onto your necklace. Don't shower with it. If you want to clean it, use a soft cloth and an appropriate jewelry cleaner.
When you wear your turtle necklace with confidence and style you will look gorgeous.
The turtle is a symbol of longevity and health. Whether you wear your piece for that reason or just because you like turtles, you'll be in style from the get-go,