Inspiration / Jewelry
Peridot Stone & Jewelry (Gemstone Meaning + Healing Properties Included!)
The peridot stone is a lovely and very interesting gemstone. It occurs only in varying shades of green. The most common and well-known green color of peridot is a pale yellow-green. It can look to have a golden tone to the green and sometimes has a brownish-green look as well.
Larger pieces of peridot – which are rare – can have a deeper green hue, which can even appear as emerald. The iron found within it is what determines the color of the stone. The less iron, the deeper the green.
Peridots are one of the few stones that are not usually treated and instead are almost always used in their completely natural state. They are relatively soft coming in at around 6.5 to 7 on the hardness scale. They are usually very transparent and have an oily luster to them. The way they form is actually very interesting and unique. They are the only gemstone other than diamonds that do not form in the Earth's crust.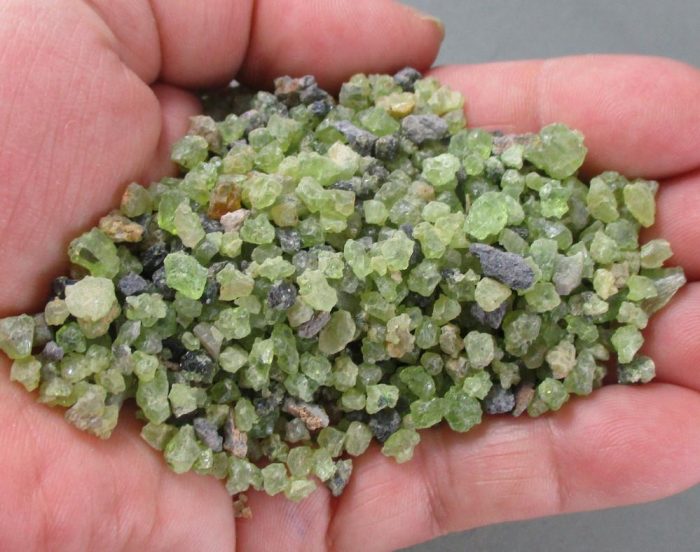 Instead, it is actually formed in the upper mantle of the Earth in slow-cooling magma. The stone is then brought to the surface of the Earth where we can discover it through extreme forces. Things like earthquakes and volcanoes produce the force needed to bring the gemstone to the surface. They aren't just found occurring on Earth, though. These stones have actually been found in meteorites that have crashed into Earth.
While there are many gems that have been found inside of meteorites before, this one is unique because of the size it can be. So far, it is the only gemstone that has been discovered inside a meteorite at a size large enough to be used for jewelry. It is definitely a unique stone and it also has a very rich history.
A Little Bit of History of Peridot Stone
Nobody is certain of the origin of the name. There are two different theories. Some believe it comes from the French word, "peritot", which means, "unclear". Others think the name stems from the Arabic word, "faridat", simple meaning, "gem". Either way, it is well-known that the gemstone has been mined and used in a decorative fashion for many centuries. Evidence suggests that it was being mined possibly as early as 1500 BC.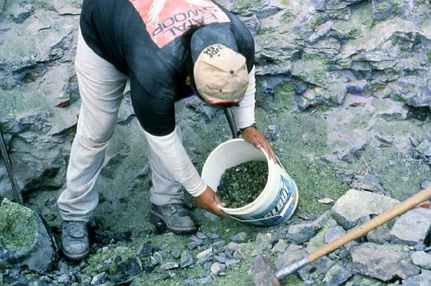 It was especially popular in Egypt during ancient times. It is actually the national gem of Egypt even today. One of the most popular mining sites was an island in the Egyptian Red Sea. That island, now known as St. John's Island, was then called Topazo Island. Peridot was mined from the island for over 3500 years. It was said that the islanders were made to mine the stone for the treasury of the pharaoh.
What is really interesting about it is that the island was actually lost for centuries while nobody knew the exact location of it. It is often hidden by thick layers of fog and therefore can be difficult to find if you don't know exactly where to look.
The island wasn't rediscovered until 1905. From there, millions of dollars' worth of peridot was taken from the island during the 19th century. The Egyptians used to call peridot, "chrysolite" along with some varieties of topaz. This was back before they could differentiate between the different stones. What is really fascinating is the fact that the emeralds that Cleopatra was so famous for adorning herself with may not have actually been emeralds at all. There is a good chance that they were actually just peridots with a deeper green color.
The stones that are 8 carats or larger are rare, but when they do occur, they often have that deeper green color. Sometimes these gemstones are even nicknamed, "evening emeralds" because of their resemblance to the deeper green stones when being put into artificial light. They are most commonly found under 2 carats and any that are 2-3 carats in size are pretty pricey.
There is actually 310-carat peridot in the Smithsonian Institution located in Washington D.C. During the middle ages, Europeans returning from the crusades brought peridot with them. It was used to help decorate church plates and even robes. It has fallen in and out of popularity over the years but certainly seems to be at a high point currently.
The Gemstone Meaning
The stone can hold multiple different meanings. It is a very special and well-adored gemstone. As the birthstone of August, it is believed to give power and even influence to those that wear it. It is also the gemstone traditionally given for the 16th wedding anniversary. It is said to attract a lover as well as help to free you from any envy within your mind.
The stone represents and radiates happiness as well as a good cheer in those that it comes into contact with. This green gemstone is also supposed to help support good friendship. It used to be believed – and still is by some – that it had special magical powers that helped it fight off the darkness of all kinds. This relates to it being known as the sun gemstone, which has to do with its almost yellowish green color.
Supposedly, it can help to dispel fears specifically at nighttime and can also drive away nightmares in the wearer. To reach its full potential as a talisman, peridot should be set in gold. The effects are also supposed to be strongest when it is worn on your right arm as opposed to other parts of your body.
One more cool thing about the meaning is that it is supposed to be able to help protect you against the curse of the evil eye. In case you aren't familiar, the evil eye is an ancient curse that causes you misfortune after someone with the power of the evil eye simply looks at you with malice in their heart.
Healing Properties
Peridot is one stone that is believed by many to have a multitude of healing powers. These healing powers apply to both physical healings as well as emotional or psychological healing. In many cases, the color of certain stones was directly related to the parts of the body that they were known for healing.
This meant that it was especially well-known for healing any types of issues with the liver including liver disease. It is also supposed to help with problems involving the kidneys, the bladder, the gall bladder, and the stomach.
Some of the specific issues that it has long been used to aid in the healing of are ulcers throughout these organs, irritable bowel syndrome, and constipation.
This gemstone is also said to help soothe and heal insect bites and is supposed to have special regenerative properties that can specifically help with skin disease. Peridots are supposed to help you with eyesight issues and are even used in childbirth.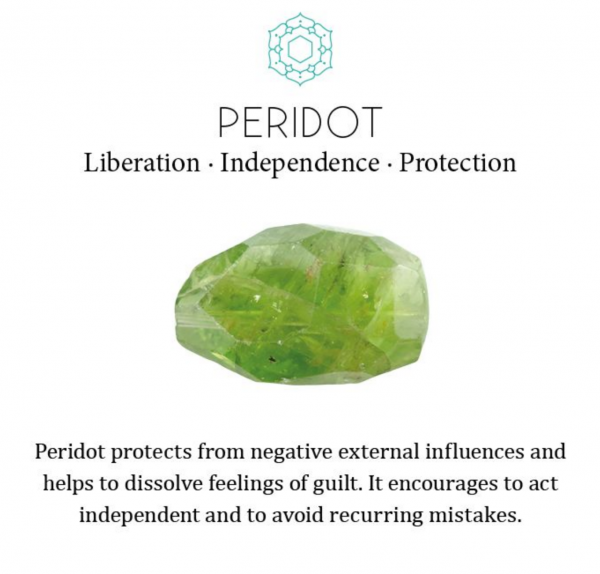 During a woman's labor, the stone can be placed on her abdomen to increase the strength of contractions while simultaneously bringing down pain levels. Popular for helping get passed addictions, it is also used in aiding the detoxification process of the body. It was once common for the medicine to be taken from peridot cups or other containers made from the gemstone. The concept was that it enhanced the power and effectiveness of liquid medications.
Strong emotional healing capabilities help peridot be a very popular choice for treating and even curing depression. The stone is very joyful and helps to regulate many types of emotional problems. It brings emotional balance back to the wearer, which helps take care of depression as well as mood-disorders like bipolar disorder. Since it helps with the nervous system, it also helps take care of lethargy problems.
This allows you to sleep much easier with further aids with emotional problems like depression. It provides security and inner peace. It can also help to promote better self-confidence as it takes away any self-esteem issues you may be struggling with. It is a very versatile gemstone with incredible healing ability for both physical as well as phycological issues of different types.
Peridot Jewelry
Now that you know all about the incredible history and special meanings behind peridots, you're sure to want to check out some magnificent peridot jewelry! Below, you can check out some of our favorite picks!
We have included both genuine pieces as well as simulated pieces to help accommodate all budgets. Enjoy!
1. Necklaces
Starting off, we will show you a couple of amazing necklaces. These are a great and effortless way to add this gemstone into your wardrobe!
Star K Choice of 10k Gold or Sterling Silver Heart Pendant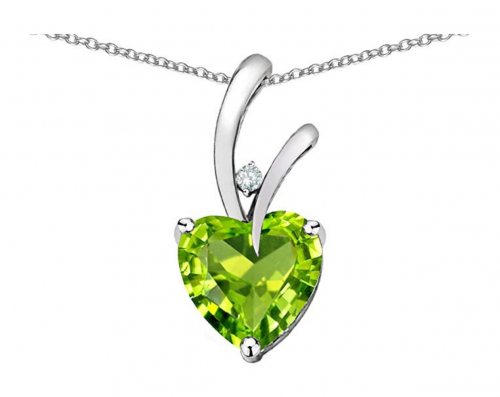 This absolutely stunning necklace is a perfect statement piece. It is refreshingly simple, so all of the attention goes straight to the incredible stone. It is a genuine 1-carat stone with a lovely oval cut that is sophisticated as classic. It has a beautiful bright light green coloring and is quite brilliant.
The stone is held in place in a 4-prong setting of solid 14k yellow gold. This yellow gold looks utterly perfect with the green of the gemstone.
Of course, while we adore the yellow gold, you do have the option of white gold or rose gold if you prefer one of those for your pendant!
The setting has two hoops coming off it in a rabbit-ear-style that adds to the overall sophistication of the necklace. This is what holds the pendant onto the delicate-looking solid 14k yellow gold chain. A small round natural white diamond makes the most enchanting finishing touch.
It is mounted right at the top center of the oval-cut peridot with 4 smaller gold prongs. Oh, and Star K even makes this precious necklace with a large variety of other gemstones. So, you can buy several and wear each one with a different outfit!
The price is fairly high, but definitely, worth the high-end materials, design, and style you get!
Amazon Collection Sterling Silver 4-Stone Necklace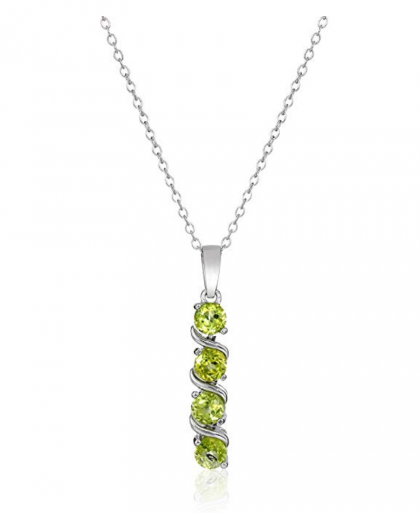 If you love the idea of a genuine peridot necklace, but you need something a bit more affordable, look no further! This Amazon Collection necklace is absolutely perfect!
It is made using solid 925 sterling silver and while it does have genuine stones, they are a lot smaller at 4mm in diameter each. This helps keep the price WAY down from our first pick! This necklace features 4 different small round stones.
They are set in a straight line that hangs down vertically from the chain of the necklace. The design is very beautiful with solid silver swirling between each of the stones helping to hold them in place alongside each stone also featuring two silver prongs. It is a very pretty look that would be excellent for a formal event but could also be played down with something more casual if desired.
The chain is cable-style and 18 inches long. It has a simple spring ring closure for easy operation. The chain and the silver in the pendant are also coated with a special rhodium plating that enhances shine and increases durability!
2. Earrings
Now, we will show you a few pairs of super cute earrings. You could wear these alone or couple them with some of our other great jewelry picks.
Silvershake Natural Stone Leaf Dangle Hook Earrings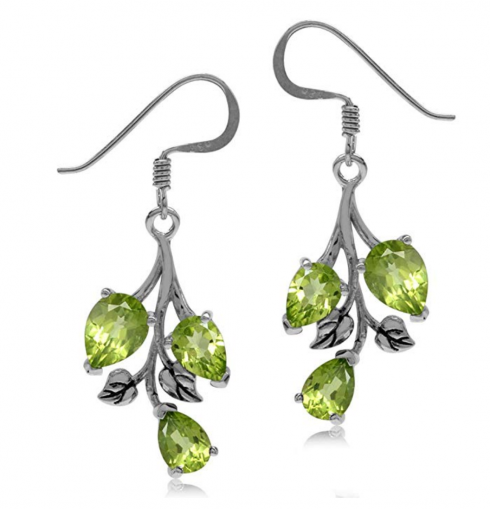 These absolutely precious earrings are an amazing pick. They are super cute and well-designed. They are low-to-mid-priced and use genuine natural stones. There is a total of 6 gemstones with three in each earring. Each earring features a base construction of 925 sterling silver. The silver is also coated with rhodium for increased durability and shine. The silver of the earrings stems from the top of the earrings and spreads as it goes down.
The silver looks to be stems of a plant and goes off into 5 different directions. The two middle pieces of silver flow into cute little silver leaves. Then, the other three stems all end with a lovely stone mounted into a prong setting.
These peridots all have a good cut to them. They are pear-cut, so they look a bit like teardrops. Each earring has one of the stones that are slightly larger than the other two. This stone jets off to one side while the other two go off to the other in a layered design.
The higher two stones on each earring are set with the pointy side down while the bottom stone on each earring is pointy-side-up. This helps the design to all flow together very nicely. The silver leaves have a cool tarnished look to them as well to add the perfect amount of detail.
The earthy leafy design of the earrings is certainly perfect with the natural green color of the gemstone. The earrings feature comfortable and convenient fish-style hooks.
GemStar USA Sterling Silver Genuine Stone Leverback Earrings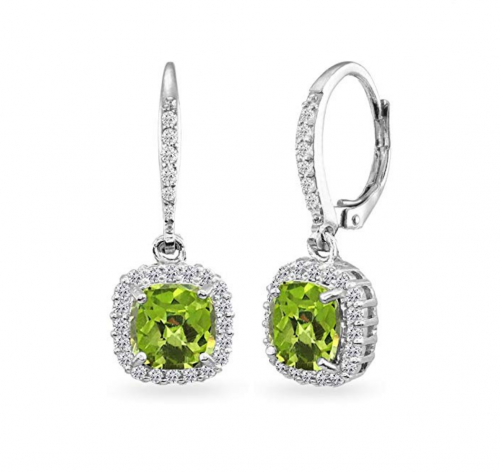 These are the perfect more formal earrings. They have a very sophisticated and elegant design to them. They aren't cheap but the price really isn't all that bad for a good pair of earrings either.
The stones used in these is natural and genuine. Each earring features dazzling cushion-cut peridot. The stones are each 7mm across. The multi-faceted cut is pure brilliance and they have an incredible glow to them.
The gemstones are also surrounded by a very pretty and sparkly halo of white topaz stones. The tiny round-cut white topaz stones look just like diamonds and go great with the green peridots. The hooks of the earrings are lever-style for security and comfort.
They are super easy to use but almost impossible to accidentally lose. The fronts of the earring hooks also have some white topaz stones inlaid into them for a bit of extra detail that helps bring the look together.
3. Rings
Next up, we have a couple of breathtaking rings that you are sure to love. This is the perfect way to wear your peridot on your right arm for the best results with the many amazing powers it is supposed to hold!
Szul Diamond Ring in 10K White Gold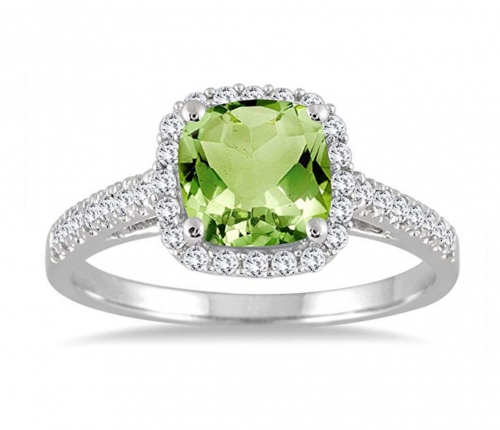 This first ring is seriously to die for! It is absolutely stunningly beautiful and very high-quality in material and design. The multi-faceted, cushion-cut, light green stone is 1 carat in size. This is a great size for showing off without going overboard.
It is prong-set with 4 prongs made from 10k white gold. The entire ring is made from this lovely solid 10k white gold. The gemstone is surrounded by a brilliant halo of natural white diamonds!
These diamonds are all round-cut and set perfectly in the white gold with small white gold prongs. The white gold band is a nice uniform thickness all the way around the finger.
t also features rows of these stunning natural diamonds on the upper half of it. This helps give it a complete look of high-end style and elegance.
This is a perfect ring for a more formal event and could even be used a super fun and unique engagement ring. The price is pretty high, but you are definitely getting what you are paying for.
Gem Stone King Sterling Silver and 10K Rose Gold Ring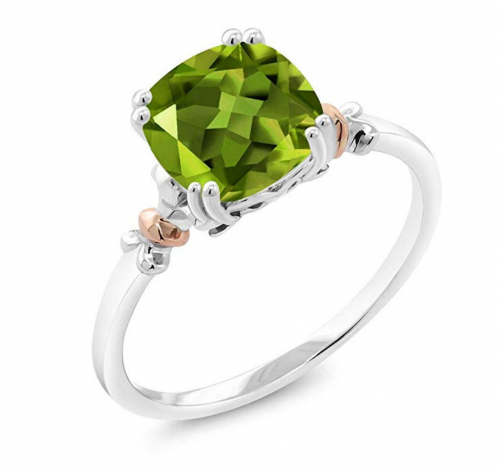 This pick is a bit more affordable and still very nice. It is from Gem Stone King and has a very sweet and unique design to it while still remaining relatively minimalistic. This ring also features a cushion-cut stone. However, this option is 8mm across and has a just slightly deeper shade of green. This stone is held in place in a prong setting.
It features a set of double prongs on each corner of the stone. This gives it a really cool and different look. The prongs, as well as the actual band of the ring, are made from 925 sterling silver. It creates a really simple and clean look that is durable and pretty. Most of the band is a dainty uniform width around.
However, at the very top of the band, the silver spans out a big from the rest of the band to create a small detail that helps give the ring its unique look. Right above this small detail, on each side of the stone, there is a small ring of rose gold added to the band. This gives it the perfect contrast and color combination with the silver and the green of the gemstone. It is available in sizes 5 through 9!
4. Bracelets
Finally, a peridot bracelet is a fun way to add a finishing touch to your outfit. These go so good with the above picks – especially those necklaces! Feel free to mix and match your peridot jewelry or stick with just one piece at a time!
GemStar USA Sterling Silver Oval Gemstone Bracelet

This lovely GemStar USA tennis bracelet features sparkling gemstones all around the wrist. The stones are all relatively small, but still large enough to see detail in. They feature a sweet oval-cut that adds a touch of sophistication to the bracelet. The stones are genuine natural peridot and have a bright light green to it. It goes very well with the solid sterling silver that makes up most of the bracelet.
The stones are held in place by 4 silver prongs each. Then, in-between each of the gemstones, there is a small silver "s" that is very softly and vaguely shaped. Each one matches the next one very uniformly, though. The silver "s" shapes also each feature 3 tiny white topaz stones inlaid into them. They've also got textured edges.
Altogether, this creates a ton of sparkly, shiny detail for a lot of elegance and sophistication. The clasp is super easy to operate and keeps the bracelet secured safely on your wrist.
It is definitely a bit higher priced for a bracelet such as this, but still very pretty and great if you are able to and willing to spend the money.
Ice Gems Oval-Cut Bracelet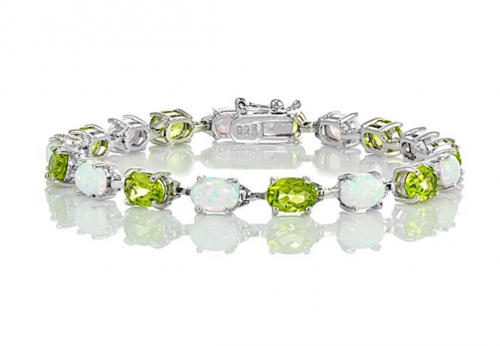 This final pick is absolutely remarkable and stunningly pretty. It is another tennis bracelet, but it is quite a bit different than the last one. This bracelet has a solid 925 sterling silver base and features both peridots as well as opal stones.
The peridots are genuine and natural, while the white opal stones are lab-created. They still look just brilliant but cost less. Both stone types are the same size and are oval cut. They line the bracelet in a horizontal position in an alternating pattern.
In-between each of the stones, there is a small silver link that puts a bit of space between them to prevent the bracelet from looking too busy or crowded.
Each one of the oval-cut stones is 7mm by 5mm. The bracelet has a convenient and secure latch also made from solid sterling silver. The bracelet even comes with a nice little soft jewelry pouch for safe storage and easy gift-giving!
Ice Gems definitely nailed it with this astonishing bracelet. It is mid-to-high-priced, but definitely has a great value thanks to the quality materials and design.