Mix / Women
Good Luck Jewelry? Check Out These 10 Evil Eye Bracelets People Are Buying Now on Amazon
Hearing a term like evil eye, you might not immediately think of good luck. But what we call evil eye bracelets are actually talismans that wards off bad luck and can bring in good!
The Evil Eye is an enduring symbol across many cultures around the world. It is thought that being caught in the sight of an evil eye brings injury and misfortune. Its malevolent stare brings nothing but bad luck to subject under its glare. The curse can be cast by anyone who stares great anger, jealousy or malintent.
To combat this, people will wear talismans or recite chants to ward off the evil. Not only do they divert the gaze of the angry stare, but when not under the curse of the Evil Eye, the talisman will bring the bearer good luck. We often call nazars Evil Eyes as well since the shape resembles an eye.
Evil Eyes in Various Cultures
Greece
In Greek culture, the Evil Eye is called Mati. It began appearing on drinking vessels as decorative story-telling elements as far back as the sixth century BCE. The Greek Mati is cast not by looking on someone with anger but with overmuch admiration.  Because of this, you can even cast a Mati on yourself if you are not humble.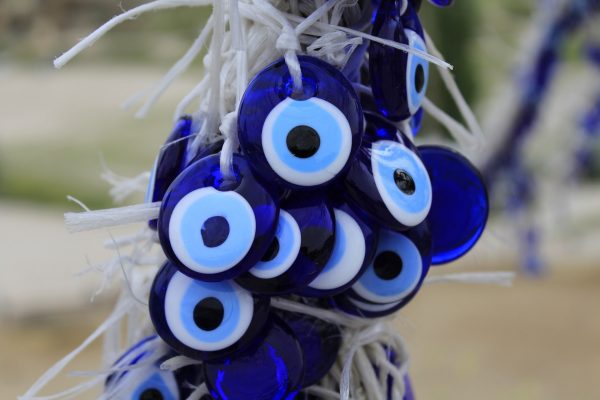 There are many ways to ward off the unfortunate effects of the Mati Evil Eye.  The first of which is to wear a Mati Charm. A mati charm is most often made of alternating layers of blue and white glass, colors synonymous with Greece. Another way is to spit.  Greeks will say I spit so that I won't give you the evil eye and spit on the ground.
In order to truly break the curse of the mati, one must perform a xematiasma. It involves lighting a clove near the afflicted. If it simply burns quietly the unlucky person is just that, unlucky. There is no evil eye. However, if the clove explodes the curse has been cast. It is drawn into the clove which is then buried in the garden.  
Middle Eastern Nations
In the Middle East the evil eye, or Nazar Utana, is thought to be cast when a person receives too many compliments in a day.  They will wake up sick the next day as a result. There are two ways to ward this off. The first is to offer all compliments along with the phrase "With the Will of God."  
Second, one may wear a nazar boncuğu of Old Turkish tradition to ward off the Nazar Utana. Afghan tales call the talismans cheshm nazar while Persian tradition refers to them as nazar qurbāni. These are typically rounded or teardrop shaped beads known as eye beads with concentric circles of blue, white,  and gold although other colors may appear. Several of these eyes may be added to a single bead so that the sight may extend in all directions.
Turkey is famed for the production of eye beads. True eye beads are produced in one of two cities in Turkey. Görece and Kurudere in the Izmir Province are home to the only craftsmen who carry on a glassmaking tradition that reaches back 3000 years.  
Even today this superstition is so prevalent that evil eye amulets and pendants are typically hung around babies for the first year of their life.  Since it is in everyone's nature to want to compliment a new baby on cuteness and because the evil eye can be cast by receiving too many compliments, babies are protected from the foul harm of the Nazar Utana curses.
India
As with other cultures, India's evil eye traditions stretch back centuries. More prevalent in the Northern regions, the evil eye is called Drishti or Buri Nazar.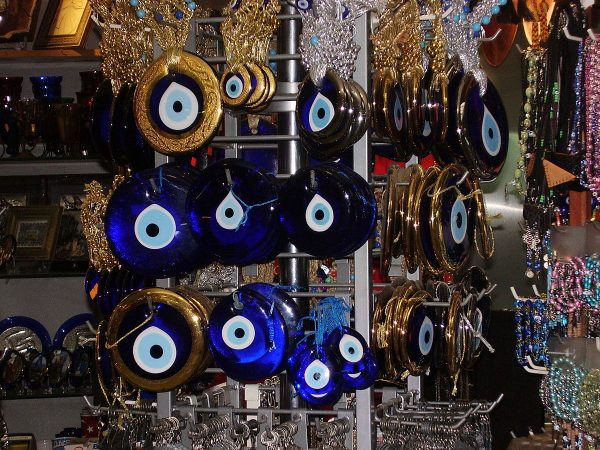 Indian traditions believe that a Buri Nazar is cast when someone stares with malicious intent, thinking bad thoughts about a person while looking at them for an extended period of time. Apparently, truck drivers in India are well aware of the ire they inspire and often paint a ward against Buri Nazar on their trucks. The phrase is "buri nazar wale tera muh kala", translated as "O evil-eyed one, may your face turn black."
Unlike Greece and the Middle Eastern states, Indians believe black is a powerful color to ward off the curses of Buri Nazar. Because one cannot see in darkness, Indian superstition leans toward blinding the evil eye as opposed to staring it right back down. Babies are often smudged with black coal paint to prevent jealous stares from tainting the little one with a curse.
Brazil
Brazillian lore holds that the evil eye or mal-olhado begins in childhood. While babies cannot become the victims of the mal-olhado, children who are well behaved and live up to expectations when young and then turn into maladjusted youth are said to have been cursed. Parents who looked at the well-mannered child with envy when their own children were not behaving as well accidentally cursed the young one.
The evil-eye wards in Brazilian culture are not jewelry-based however. According to Portuguese tradition, a specific layout and type of garden arrangement will suffice to protect children from the mal-olhado. A specific order of vegetation is planted by the door or arranged in pots just inside the home so that when a child passed by them, any curse accidentally placed upon them will be undone.
Alternatively, they believe that a curse can be trapped in a mirror so children are sometimes encouraged to stand and look at themselves. This way the ill spirit gets trapped with the reflection and the real child walks away uncursed.
No matter what sort of evil eye you are worried about, there is a talisman right for you. It helps that our top ten evil eye bracelet picks are also stylish and a great addition to any wardrobe. Whether you prefer beaded bangles or are more of a fine jewelry connoisseur, there is a good luck evil eye bracelet for you. It will add a brilliant pop of color, a conversation starter, and hopefully, an eyeful of luck to your ensemble. Check out our complete list below!
Our 10 Favorite Picks!
1. Braided Leather Evil Eye Bead Bracelet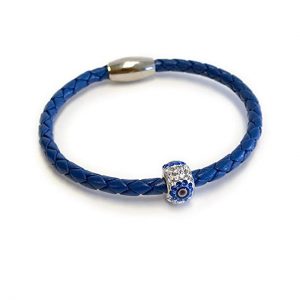 We will start with the simplest bracelet on our list. To be sure though, simplest does not mean any less beautiful. We love the natural look of the leather holding a single bejeweled bead. It really brings attention to the evil eye bead and that is the point of evil eye jewelry after all.
The bead itself is not the classic Turkish style glass bead but rather a crystal inlaid stainless steel bead. The blue and white crystals glint just brightly enough to add some shine but not take away from the overall cohesion of the piece. The crystals are set in what is known as a pavé setting. The stones are very close together in small pockets of the bead, minimizing the prominence of the prongs holding each crystal in place.
The evil eye bead is fixed to the necklace so it will not simply spin around and live next to the clasp. The closure is magnetic which is our favorite. It means you can put the bracelet on by yourself; no assistant needed!  The braided leather band comes in your choice of the following colors: royal blue stamped camo, camel, white, turquoise, silver, red, and black. We prefer blue braided leather as it complements the evil eye bead perfectly.
2. Sliding Chain Rope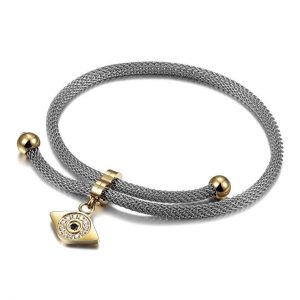 We are astounded by this next one. It is a completely original design on the standard slide bracelet. And it combines two colors of gold which we always love!
A stainless steel chainmail rope is capped on either end with a yellow gold finial bulb. It is threaded through a brilliantly designed slider with separate holes for each end of the chain. This allows you to size the bracelet and incorporates the length leavings as a part of the style. The fastener is designed as a feature part of the necklace. A dainty gold colored evil eye charm hangs from the slider adorned with just the right amount of crystals.
The whole look gives us a very art deco feel. From the industrial feel of the chainmail rope to the clever combination of silver and gold.  Styled by Ciunofor, we think this piece would work wonderfully as a casual, everyday style. The complexity of the work means it is best worn as a solo piece.  
The chainmail rope is lightly textured so it is guilty of snagging some finer materials if it comes into contact with. Keep this in mind when selecting your outfit for the day with it included. Flowy dresses, shrugs, and tops might present a challenge. And your best cashmere sweater is probably off the table. No bracelet, no matter how great, is worth damaging your cashmere.
We love that since it is completely sizeable it will also work as an anklet. Any jewelry that can do double duty and swing some good luck our way is a must-have for our collection.
3. Cubic Zirconia Evil Eye Bolo Bracelet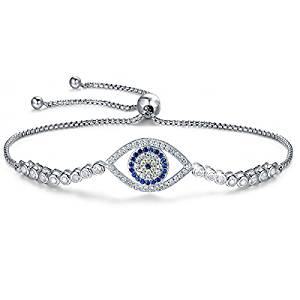 Moving into the world of finer jewelry, this is a fantastic find on Amazon, for an even more fantastic price. Stunning 925 sterling silver surrounds white and sapphire blue cubic zirconia. The evil eye doesn't get more glamorous than this.
Bolo bracelets are so called because of the type of closure they feature. Both ends of the necklace are loose and come together to join under a pressured bead that works as both accent and adjustable closure.
The bolo tie has a long history and has been known as many names by many different cultures. Bolo style necklaces are most closely associated today with Native American and Western Heritage stylings. The bolo bracelet entered the fashion lexicon in the late seventies. Aside from the charms or decor they featured, the overall design of the bolo bracelet has not really altered since. Apparently, there's no improving perfection.
The sterlings silver box chain reaches around to sixteen round-cut cubic zirconia framed in sterling, eight on each side of a gorgeous, sparkling evil eye bedecked with white, gold and sapphire blue stones, using the most traditional colors of the Turkish craftsmen that create the evil eye beads. Even if it doesn't bring you any more luck, you will already be pretty lucky just wearing this piece.
4. Gold, Sapphire & Diamond Piece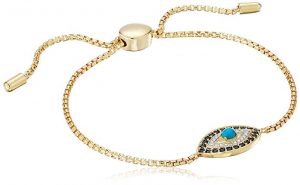 The choice to use yellow gold for the basis of this bracelet could not have been more right. A part of Amazon's exclusive collection, this has all the hallmarks of high dollar jewelry with the price-tag of a novelty store find. The center of the eye is a stunning cabochon of turquoise and diamond, diamond-cut sterling silver and lab-created blue sapphire stones amass around it to ward off those evil eye curses with stunning beauty.
A yellow gold plated box chain drapes off either side of the charm into a simple yet effective bolo-style closure. Each chain is capped with a gold-plated finial whose bullet shape design will add weight and movement to the piece. No unsightly knots or lobster claw closures to spin around and snag on things.
Amazon is able to keep the price so low on this piece because it has cleverly given the illusion of a ring of diamonds through the eye without including many stones. The sterling silver surround is diamond cut so the bright white metal glints and gleams like the single I-J quality, I3 color diamond it holds. While we love ourselves some diamonds, we also love keeping a little cash in our wallet and this beautiful trick of the eye stunt works perfectly for both!
The final ring of the charm is an enshrining eye of lab-created blue sapphire. As we've said before, we have no problem with lab-created stones. You get the jaw-dropping effect of precious stones for an affordable price. Often times the lab-created stones are "prettier." Natural sapphire can appear cloudy or feature waves or gradient of color. While this, in and of itself, lends to the uniqueness of the stone, lab-created sapphire is the brilliant, consistent, rich blue one expects when they hear the term sapphire.
We love all the little cheats in this bracelet and we know you will too, especially for the price!
5. Alex and Ani Evil Eye Expanding Bangle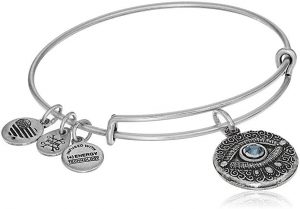 Another clever design and another stunning presentation of the evil eye leaves us shocked.  Rather than including a static charm as with our previous selections, this designer piece includes a dangling charm, accompanied by three other charms with powerful symbols meant to inspire, encourage, and empower.
The dainty bangle is a single piece of wire cleverly curled around itself with slide loops on each end. This means that it will slide open to accommodate your palm and then shrink back down with a squeeze to your desired tightness. Our least favorite part of bangles is that hand origami you have to perform to slide them on, folding your thumb just so and practically removing your pinky. This ingenious design eliminates the hand origami and we love and want more.
The evil eye charm features a genuine Swarovski crystal for the pupil. That crystal is encased in a delicately carved charm, with detailed swirls and dots adding to the overall feel of the piece.  It reminds of us of the gorgeous sand mandalas the artists take so much time and care in creating, only to destroy them after they have been appreciated for long enough.  At least with this charm, you won't have to destroy it after a couple of wears.
Made with what the makers call Rafaelian silver, this bracelet comes in your choice of white, yellow, or rose gold finish. Rafaelian silver seems to be an economical and environmentally friendly use of recycled metals to create their pieces.  So while these are gorgeous, these may not be allergen-free creations.
This bracelet will look wonderful solo or it is just screaming to be matched with a collection of other bangles. Choose a complementary color for your other bangles to really make this good luck charm pop on your wrist. If you select a rose gold Alex and Ani bangle, wear it with a hunk of your best sterling silver and silver bangles to help it stand out.
6. Alex and Ani Evil Eye Cuff Bracelet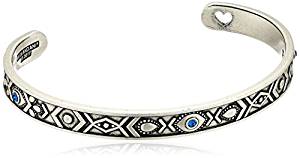 We loved the first Alex and Ani evil eyepiece so much we had to add a second. This one is a classic cuff bracelet, thin and dainty. Made, again, of their ingenious Rafaelian silver, the bright silver color is perfectly balanced with dark burnishing of carved and relieved decorations.
This cuff features three evil eyes in the center and each side, bejeweled with genuine Swarovski crystal in a deep, brilliant sapphire blue.  This ensures that you are covered no matter from which direction the curse is hurled. You have your choice of yellow or silver tones for this slim bangle.
The detailing on this one evokes a certain Native American or American Southwest feel. The angular design of the sculpting with the repeating structure of the design really screams out to be worn at your next festival season. Since the evil eye curse is bestowed by receiving overmuch compliment, this makes it all the more perfect!
Contrary to what would seem most fitting, most Native American lore doesn't seem to reference a sort of evil eye curse, nor do Chinese, Japanese, and several African cultures. Anthropologists are a bit puzzled as to why the evil eye curses plague some cultures and not others. The evolution of the lore is astounding in that so many have tremendous similarities in origin stories and heroes' tales yet certain ideas did not replicate.
7. Three Evil Eye Tennis Bracelet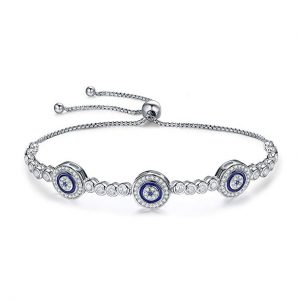 Our final contribution to the finer jewelry creations, this cubic zirconia beauty features three evil eyes that will drape across the wrist perfectly. The tennis bracelet features a bolo-style closure so it will fit just about anyone!
Cubic zirconia in white and blue meld together beautifully to create three evil eye charms to ward off those terrible curses of jealousy and vanity.  How beautiful that something so lovely can ward off all the compliments it is sure to fetch.
The term tennis bracelet is actually fairly new in the jewelry world. It was coined in 1987 during a tennis match in the US Open. Tennis star Chris Everett was playing hard when she suddenly asked the match to be stopped.  Apparently, her diamond-studded bracelet had unlatched during the frenzied play and she wanted to recover it before continuing her match. From that point on bands of stones with low profile cuts and linked in a chain series have been called tennis bracelets.
Unlike Ms. Everett's this bracelet features a far more secure bolo closure, so there is no risk of it coming unclasped. Plus we love the little tails bolo closures leave on the inside of the wrist. It makes the closure as beautiful as the focal point of the bracelet. We love a good lobster claw for security but bolo closures are just so much prettier!
8. Prayer Bead Style Evil Eye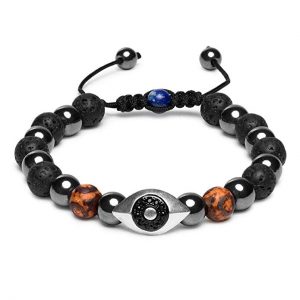 This is the first on our list we think would be perfect for a man or woman. Of course, you do you and wear what you want, but for men with more traditional jewelry preference, this one works perfectly! A sterling silver evil eye is mounted on a cord of orb-like prayer beads. Framing that charm are two Tibetan dzi stones made of agate.
The Tibetan dzi stone is a carved and colored stone with meanings and purpose very similar to the evil eye. They are exceptionally prized as just the right stone must be selected for its natural swirling pattern and certain elements included in the natural formation of the rock. The nature-made striations in the agate stone form eye-like circles that are highlighted through the polishing and carving process.
While historians are sure the dzi stones are not originally from the Tibetan culture, they have become an iconic part of the culture and artistry of Tibet. The tradition may have migrated from China or India but the process died off at some point in the other cultures' artistic heritage but remained strong in the Tibet region (now a part of modern-day China.)
This piece finishes with a collection of onyx-colored beads, beautifully arranged to highlight both the evil eye charm and the stunning amber-colored dzi beads. A smartly braided slip knot style closes the bracelet, reminiscent of a friendship bracelet from our childhoods.
This gift spans the gender divide and is appealing to everyone. We love the stark color contrast and feel this is definitely a daily wear piece.
9. Blue Evil Eye Stretch Bracelet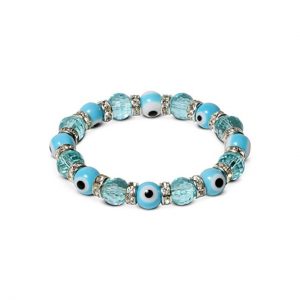 This bracelet uses the most traditional style of beads, based on the Turkish craftsman designs for the blue concentric circles with a black center. These artisan-inspired evil eye beads are spliced into an arrangement of cubic zirconia drenched rondels and crystal cut beads for a shimmering ward against misfortune and ill-wishes.  
The process of making a true Turkish evil eye bead is time-consuming and costly. Called göz boncuğu, the particular form of glass art likely traveled to the Persian Empire and later the Ottoman Empire (the Ottomans Empire would eventually reduce and evolve to become modern-day Turkey) from the Mediterranean area. The beads require a series of specific earthen tools to shape the beads and a special furnace to heat the glass just so to achieve the dotted, eye-like formations in the layers of colored glass.
Today only a small handful of artisans carry on the true art form, often passing both knowledge and tools to their children. Now isolated to a couple of cities in Turkey, between the rarity of the art and the time-consuming, highly-specialized process of making göz boncuğu, most available for purchases are replicas. This does not make them any less stunning and this bracelet is a shining example of that.  
All of these beads are hung from a length of Japanese engineered stretch cord that provides strength with the elasticity so your bracelet will not break easily and you keep that aura of good luck all day.
We recommend wearing this as a solo piece or as a part of a layered look with other beaded and textured bracelet in acrylic, glass or brightly colored materials.
10. Hamsa and Evil Eye Bracelet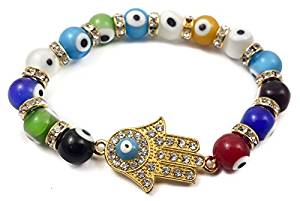 Our final selection combines the good luck bringing evil eye with the protective symbol of the Hamsa, or Hand of God. A traditional symbol in many Indian and Middle Eastern Cultures the Hamsa, meaning five, is often presented with the evil eye in its palm.  
This example comes in a bright yellow gold color and studded with crystals for extra lucky sparkle. It holds together a strand of brightly colored evil eye beads. This rainbow of evil eyes is separated by gold and crystal-adorned rondels. Once more this piece is on super-strong elastic cord to prevent breakage.
This, for us, is a statement piece. Bracelets sometimes have a hard time pulling that off given their location and size on the body.  But this hamsa bracelet features so many brilliant colors, not to mention the deep conversation-worthy symbolism, it is definitely a solo piece to wear with your boldest outfit.  It will go with any outfit and the luck will just keep coming when wearing this piece, we just know it.