Mix / Necklaces / Pendants
Sexy Jewelry for Your Bae? Check Out These 10 Dog Tags for Men!
Dog tags have become the latest must-have fashion accessory for men and after reviewing the latest dog tags on the market we can see why. Read on to find out about our top 10 dog tags for men to see why this fashion staple a great gift for the man in your life.
If you're like us then the first time you hear the words "dog tag" you may start thinking about a name tag for your pet dog. Alternatively, you may be picturing a soldier in the Army wearing an ID tag. Don't worry, both of these are used for dog tags but as much as we love dogs, that's not what we're talking about today!
The history of dog tags
Perhaps the most well-known use for dog tags is in the military to identify soldiers. But whose idea was it to start using dog tags for this purpose and when did they start being used?
As with many items of jewelry, one of the first known mentions of dog tags was by the Romans, when legionnaires were given a lead disc that could be worn around their neck.
The disc would contain the soldier's name and details of their legion so that they could be identified. Over time they have taken different forms and its known that during the 19th Century Chinese soldiers actually wore wooden dog tags which they carried on their belts which contained additional information such as their date of birth.
Dog tags for men become commonplace in the US Army at the start of the 20th Century when aluminum tags were used to record the name, rank and regiment details of the soldier, details of which were stamped into the metal.
Years later this was updated so that soldiers actually wore 2 tags, one of which could be removed to keep as an identifier should the soldier be killed in action.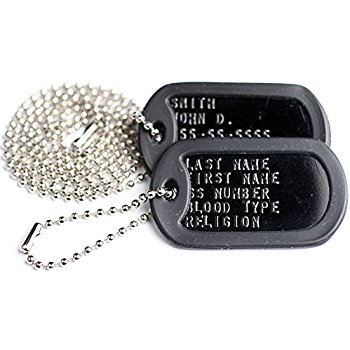 They are still used by the military all over the world and often contain different details depending on the country in question. But where else are dog tags used and why are we writing about them as a piece of jewelry?
After being introduced by the military, they have moved firmly into the civilian world in a number of ways. Firstly, dog tags have become an extremely useful identification method for medical conditions which can help to save people's lives in emergency situations. This includes conditions such as epilepsy, diabetes and heart conditions.
People with such conditions often wear a medical dog tag which provides information to people around them to support their treatment. Dog tags, therefore, play a significant role in keeping people safe.
Another area in which dog tags have become extremely popular is in fashion. Dog tags have become the latest must-have fashion item, not only for people who want to go for a military look but also for anyone looking for the ultimate accessory for their outfit. Fashion dog tags range in style and can be tailored in almost every way.
It's common for people to make the most of their ability to tailor dog tags with inscriptions and it's particularly popular for people to have their favorite quote or song lyrics inscribed into their tags.
Others have added even more bling to their dog tags and there are lots of companies that offer the chance to decorate their dog tags with gemstones. The ways in which you can customize your dog tags are endless!
Which celebrities wear dog tags?
You don't have to look far to see celebrities wearing this must-have item of jewelry. Perhaps one of the most iconic celebrities to bring back the dog tag is Hugh Jackman in his role as Wolverine.
Arguably one of the most popular superheroes to reach the big screen, Wolverine rocks his dog tags throughout the X-Men films and shows why dog tags are such an iconic piece of jewelry.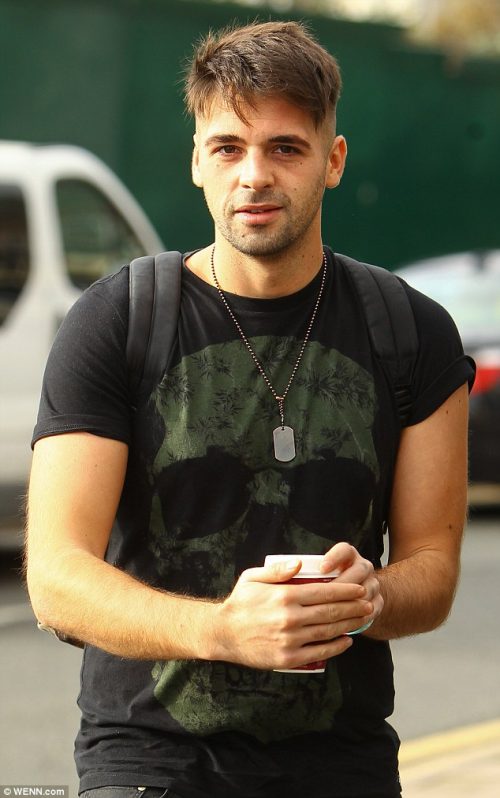 But don't worry, dog tags aren't just for superheroes! Musicians and actors alike are regularly spotted wearing dog tags, not just on-screen but as a key part of their outfit for going out.
This includes the likes of Justin Beiber, Chris Hemsworth, Will Smith and Jamie Foxx who are just some of the many A-Listers spotted wearing dog tags. It's clear you'll be in good company when wearing your dog tag necklace!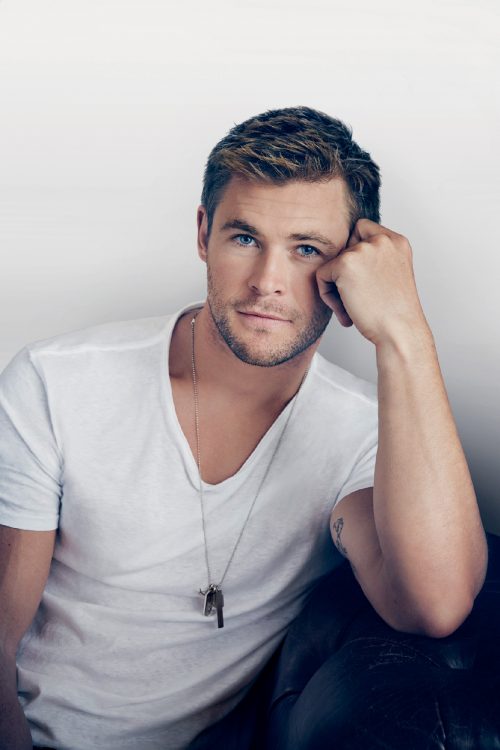 So whether you're looking to buy your first dog tag necklace or even if you already own one and you're looking to expand your collection, read on to find out about our top ten must-have dog tag necklaces!
Our 10 favorite dog tags for men!
1. Interway Trading Personalized Rectangular Dog Tag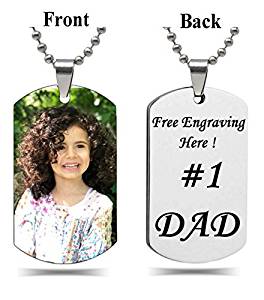 Our first dog tag is the perfect option if you're looking for a dog tag for all occasions. With this dog tag you have the chance to personalize almost everything! The first thing you'll notice is that there is something on the front and back of the tag.
jeweYou have the chance to add a photo of your choice to the front of the dog tag which is added in full color and on the reverse you can add an engraving of your choice.
You've got up to 50 characters to use for your text so there's plenty of space to add either a quote or some special words for the recipient of this stylish piece of men jewelry.
If that's not enough options for you, you can even choose the color and additional decoration of the dog tag, with options including plain silver color, yellow gold color, and gold color with added gemstones. There really is something for everyone!
This tag comes on a 24-inch stainless steel ball chain so it's sure to be long enough for most people and the ball chain is known to be nice and comfortable.
The makers of this dog tag, Interway Trading, have even added a lovely velvet gift pouch which is perfect if you're planning to give this as a gift or to store your own necklace in to keep it safe.
We're very impressed at how reasonably priced this dog tag is, particularly for the amount of customization you have at your fingertips.
2. Custom Engraved Dog Tags for Men – Monogrammed for Free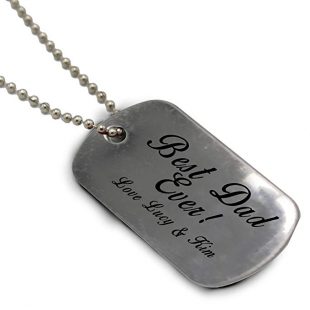 Are you a fan of the classic military style dog tag? If so our next choice is just for you! This custom engraved dog tag offers you the chance to add a free engraving of your choice. This is a nice and simple design and the tag itself is quite a large rectangular shape so there's plenty of space for your engraving.
What's even better with this dog tag is that you have the choice of four different colors for the tag. Normally with a lot of other jewelry you get a choice of metal color however with this dog tag each is made from the same metal and is painted in a bright and colorful shade of either red, blue or black (of course there's the classic silver-tone if you're looking for that more iconic look).
The white engraving on the colored tags really does look great and stands out very well. We also love that on the silver tag, the designers have stuck with a black engraving which works really well with the silver. There are also lots of fonts to choose from so the dog tag can be tailored to suit your style and taste.
The dog tag comes with a 30-inch chain which is nice and light and the silver chain works really well with all of the colors available for the tag.
This chain could be used for a range of occasions including as a medical ID, a simple fashion accessory that can be matched with the color of your outfit; or even as a loving gift for someone close to you that can be tailored with a special quote. And what's even better is that this dog tag is extremely affordable!
3. GoTags/Complete with Chains and Silencers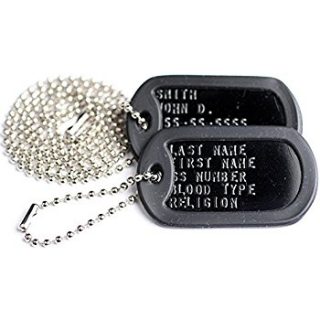 Now, these look like traditional dog tags! What we love most about these custom tags is that they are really simple yet very well designed.
What's more, is that you're getting two tags and two chains so you can either wear both together or you can separate them and share them with a friend. We'd definitely recommend wearing the set though as they look totally awesome together.
With this dog tag, you have the option of adding up to 5 lines of text so there's lots of potential for customization. If you're looking for a range of color options then these dog tags for men will definitely impress you! You can choose from steel, black, blue, green, gold, pink, purple or red so you're sure to find a color to match every outfit.
Another great feature of these dog tags is the silencer that comes with them. Now you may be wondering what a silencer actually is but don't worry, it's quite simple. As you can imagine, due to dog tags being made from metal they are very likely to make a noise as they rub up against each other.
However, by adding a silencer to the tag, this prevents the tags from making any noise. Essentially it's a rubber or silicone mold that fits around the tag.
But what's is even more impressive with these silencers is that you can even tailor them to complement your dog tag. You can choose from seventeen different colors for your silencer which can take this dog tag to the next level. We're very impressed with all of this for such a great price!
4. VNOX Army Pendant Necklace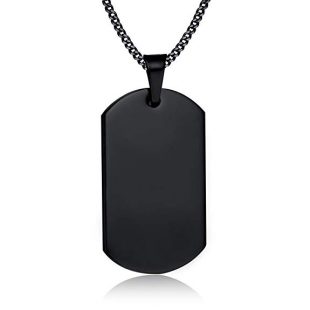 This is a classy dog tag that looks great. As with the other tags that we've chosen, you have the option to add a free engraving with a quote or phrase of your choice.
This is made from stainless steel so it's very durable but also nice and light. But what we love most about this dog tag is the matt finish of the paint.
You have the choice of silver, black, gold or blue color and each one has quite an expensive feel, even though this is a relatively inexpensive dog tag.
This is further helped by the fact that the color that you choose for the tag is, on some of the dog tags, the same color as the chain. This is quite different from a lot of the dog tags that we have seen so far which have tended to have a silver ball chain.
Another feature that is different with this necklace is that the chain is a cable design which we think gives a classy feel to the dog tag. It looks great and also looks like it would be very comfortable to wear as it's quite a thin chain.
It's also likely to remain nice and secure when worn as the designers have used a trusty lobster-claw clasp to keep the necklace in place.
5. Personalized Photo Text Dogtags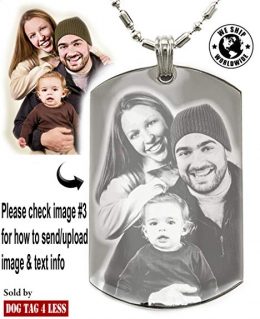 This photo dog tag offers a great way to carry a special photo with you at all times. This dog tag pulls it off really well and the finished product is very impressive. It's a little more expensive than some of the other dog tags that we've reviewed however we think that the extra cost is well worth it.
The makers of this tag actually engrave the photo onto the tag so there's no chance that the photo can rub off. The overall look is very good, although it's worth remembering that the final image will look as though it's black and white so you'll want to choose the right photo to get the most out of the design.
You also have the option to include a quote on the other side of the dog tag so you can choose whether to wear this dog tag with the photo or the engraving showing at the front of the tag, which is really nice as you may want to keep the photo (or the engraving) out of view for sentimental reasons.
The makers, dogtags4less, have also made it really easy to customize your tag. Once you've submitted your order, you simply need to email them a copy of your engraving along with the photo you want on your dog tag and they look after the rest. That's what we like, a nice and easy ordering process!
6. U7 Stainless Steel Pendant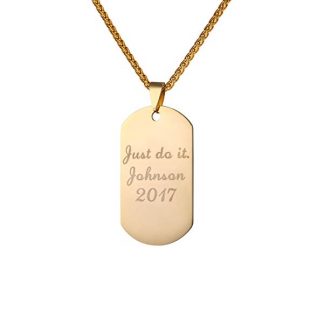 This stainless steel dog tag offers you yet more ways to customize your look. This necklace comes in three colors and you can choose from black, gold, and silver, all of which have a polished finish.
The shape of this tag is really nice and rather than being a rectangle, the top and bottom of the tag is rounded off which gives this a much more relaxed feel. Another thing that works really well for this dog tag is the chain which is a 22-inch Spiga chain.
The chain is adjustable which means that you've got the choice of wearing it slightly higher or lower on your neck depending on what you prefer. This is also really helpful if you are buying this as a gift and you're unsure about the neck size.
Although this dog tag is in the mid-price range compared with other tags we've reviewed, you are getting a quality necklace for your money.
The gold version is actually 18k gold plated so it looks great and you've got peace of mind that it's high quality. It also comes in a velvet pouch and a box so it's perfect as a gift or to keep safe for yourself when you are not wearing it.
This is another option that uses a lobster-claw clasp so it is nice and secure and unlikely to come loose. You can also get this dog tag engraved on both sides so there's lots of potentials to personalize this tag and create your perfect fashion accessory!
7. Mealguet Jewelry Bullet Tags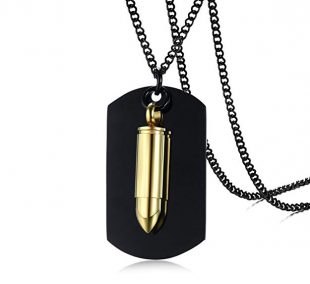 This option offers something a little different. Most of our dog tags so far have offered either one or two tags on a necklace, however, this option includes a single tag along with a cremation urn in the shape of a bullet.
The design of this dog tag is quite striking and this is a very personal item of jewelry that may not suit everyone's taste. It is, however, a great looking item and the tag is fully customizable with text.
The bullet-shaped urn is intended to hold the ashes of a loved one. This isn't, however, the only use for the urn, and this could also be quite a useful pendant for medical identification and you could even store small items within the capsule as the threaded screw design would keep it nice and secure.
In terms of aesthetics, the design of this dog tag is very eye-catching and the bullet-shaped capsule complements the dog tag well.  The dog tag comes in a range of colors including black, gold, silver and blue; and you can choose to have the bullet capsule and the tag each in different colors if you prefer. This actually works quite well and our favorite has to be the silver and blue combination which is quite a unique look.
This dog tag features a 24-inch curb chain so it's nice and long and the necklace comes in an attractive grey velvet bag. Overall this is a very attractive piece of jewelry!
8. Jstyle Prayer Cross Necklace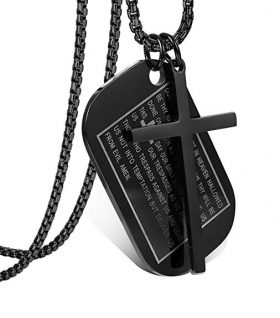 This is another tag that offers a slightly alternative look. Instead of two tags, this dog tag features a single tag in addition to an impressive cross.
In contrast to the other dog tags that we have reviewed, instead of offering customizable text on the tag, you can instead choose from one of four biblical prayers. This is certainly a great option if you're looking for a religious item of jewelry.
Each of the options is quite different to look at and all but one of them are a black metal design with white engraved text. This is, in fact, our favorite out of the two design options as it stands out and looks great.
The silver option is also a great looking dog tag however for us it's not quite as exciting as the black necklaces. But it is of course up to you which one you choose (this may also depend on the quote that you prefer).
The overall look of these dog tags is that they are shiny so may attract the odd fingerprint however the manufacturer, Jstyle, has assured us that the materials used are tarnish-free which is good news.
The chain on this dog tag is a 22-inch rolo chain which looks really comfortable and complements the dog tag really well. Overall this is one of our favorite dog tags so far!
9. Dog Tag Necklace International Flag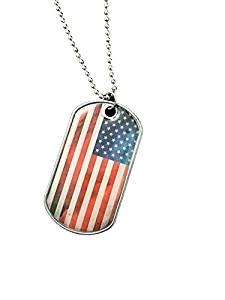 If you're feeling patriotic, this is the dog tag for you! Featuring a rustic American flag design, this dog tag really is eye-catching and likely to match with a number of different outfits.
The designers of this ring, International Charms, have done well to go with a flag design as the shape fits really well into the rectangular tag and the rounded edges soften the design nicely.
Made from stainless steel, this tag is nice and light and is very durable so is sure to last. The chain is also light and is 27 inches long so you'll have no problem with the fit for this dog tag.
Rather than the design on the front of the tag leading right up to the edge, the designers have included a metal edge around the design which acts as a perfect frame for the flag. This is clever as it balances the colors of the tag very well.
For our review, we've chosen the American flag as we think it looks great. There is however a range of other country's flags to choose from including Great Britain, China, France and Spain, so there are plenty of countries to choose from.
This gives you options that are perfect for general day to day wear, to help you support your favorite soccer team; or even if you're looking to liven up your fancy dress outfit for a party.
As with many of our other dog tags, you can also choose to have the back of the dog tag customized with your own text.
10. Custom Engraved Medical Alert ID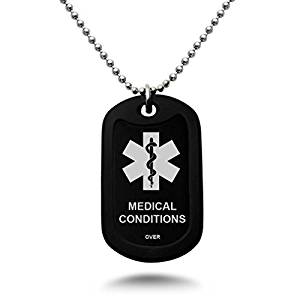 When looking at the history and popular uses of dog tags, we mentioned that they can be used to help alert people to someone's medical condition in an emergency. Well, that's exactly what this dog tag does.
Whilst a lot of the dog tags that we've reviewed can be customized to include details of a medical condition, this dog tag makes it even clearer that the wearer is suffering from a particular medical condition.
The designers, Kriskate and Co, have achieved this by including a bold message on the front of the dog tag that clearly says "MEDICAL CONDITION", as well as encouraging the reader to turn the tag over.
This is perfect if someone were to fall unconscious as it would ensure the bystanders are a lot more likely to see the medical details as it really is a lot clearer than on a standard dog tag.
Another way that this dog tag has been designed to stand out is by including the rod of Asclepius symbol which is a traditional symbol of healing and medicine.
On the reverse of the tag you can choose your message or engraving and this is where you are likely to list your medical condition and requirements in an emergency. Made from aluminum, this dog tag comes on a 24-inch stainless steel chain which is nice and light.
Your medical dog tag also comes with a silencer and is displayed in a really nice box so it's ready to either give as a gift or to store when not being used. Overall we're really impressed with this dog tag as it looks awesome and it's very practical. It could even save someone's life!